On a tour supporting this year's release Go Go Boots, beginning on February 16th in Pennsylvania, the Drive-By Truckers have played a merciless schedule of nineteen dates that ended with a two night run at the Ogden Theater in Denver on Saturday.
Guitarist and vocalist Patterson Hood, despite making mention of his needing rest and dedicating "Mercy Buckets" "to the moms and babies back home," gave no other indication of weariness. In fact, rumor has it that this show was one of the most epic of the tour.
It's nice to know that there is still some honest, down-home, ass-kickin' rock and roll out there in the world. Amidst everything from the countless number of "indie" bands on the scene—to the experimental groups and all of the retro sounding stuff—on down through hip hop and electronic music—the Truckers are keeping it real with old fashion southern rock.
Road weary? Perhaps. Was it visibly or audibly obvious? Not a fucking chance. These guys play 25 song shows on average, with hardly a moment of ass-dragging, and Friday was hardly an exception.
"It's a pleasure to be here for two nights in this beautiful, beautiful city," announced Patterson, and he really seemed sincere. Swinging a beer by the neck, he told the story of his mother's romance in "18 Wheels of Love." He has spoken about how, as a child, he loved hearing stories told by his elders, and aspired to be the elder storyteller himself one day. He is living this dream.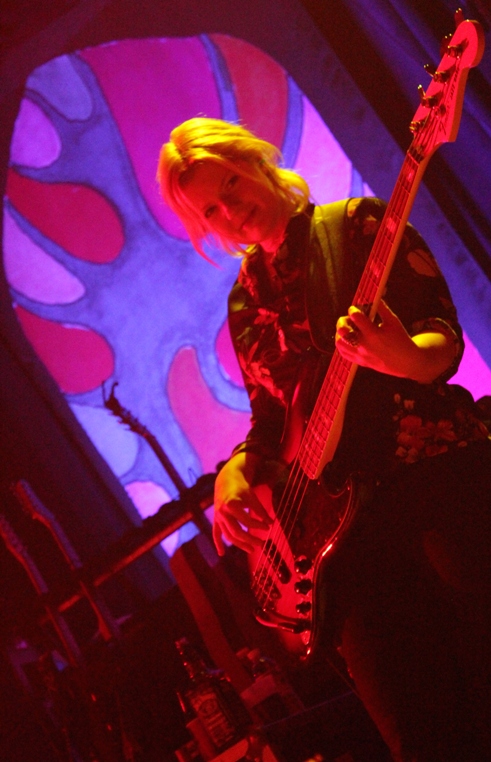 Along with Mike Cooley (guitar, vocals), Shonna Tucker (bass, vocals), John Neff (guitar, pedal steel, vocals), Brad Morgan (drums), and Jay Gonzalez (keyboards, vocals), the Truckers lit the Ogden on fire. It's amazing what a high energy show they can put on, especially at the end of such a restless run.
Cooley ran the crowd through "Zip City," "Women Without Whiskey," and "Guitar Man Upstairs" (all off of Southern Rock Opera) with his country voice extraordinaire, and then showed his softer side on "Pulaski," a song (off of the new record, though in fact written a long time ago) which finally found an album to call home.
Neff flew the rebel pedal steel flag high on "Carl Perkin's Cadillac," and an acoustic "Bulldozers and Dirt," and blazed the slide on "3 Dimes Down" from 2005's Brighter Than Creation's Dark.
"The Man I Shot," had the three guitarists in peak form, epitomizing their sound—a bum rush of triple electric axe meltdown. And this sort of thing went on all night—good, old guitar-heavy rock and roll.
Tucker played the first three or four songs with her back to the audience but came out of her shell for her lone vocal showcase of the evening on "Dancin' Ricky"…and what a smile that gal's got to match her musicianship—angelic, when she shares it.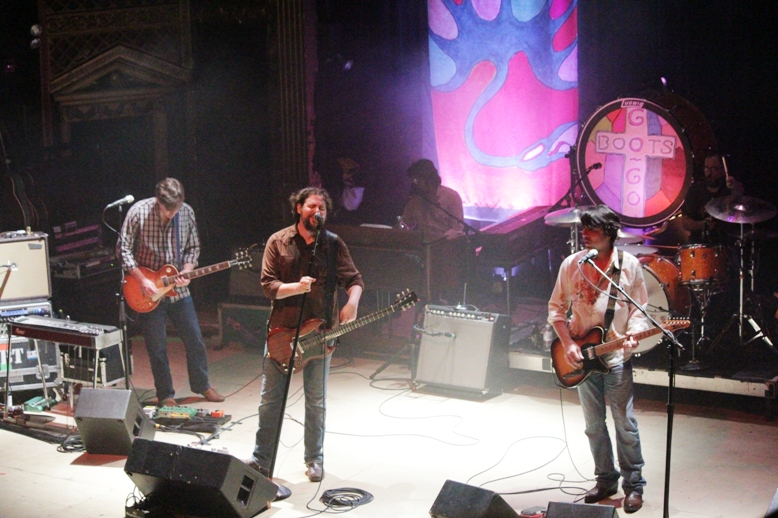 Ironically, during "Marry Me" a fight broke out up front on stage left between a couple of guys, but was broken up quickly by security. "Southern boys and their whiskey," a female fan exclaimed. An appropriate encore of "State Trooper," a Bruce Springsteen cover, with its lyrics: "Mister State Trooper/please don't stop me/In the wee wee hours your mind gets hazy/Radio relay towers lead me to my baby," wished the audience well.