It's a winter night in Manhattan and the three members of Edison are unloading their gear in the exclusive underground stage of the infamous Rockwood Music Hall. There's an electric excitement buzzing between them - the kind that only comes when you're busy doing what you love. After this show they'll load their gear back into their van, which doubles as their home, and drive through the night to be on a radio show in the morning, hundreds of miles away. It's all part of the magic. So is this basement stage, intimate, with tiny oak tables and cafe chairs, candlelit and tucked away underground, beneath the chaos of the sidewalks, the taxis, the millions of people living their lives. When they take the stage it's casual, as if they're playing among friends, but you could hear a pin drop. We're ready to listen.
Coming into this show, I had scant background about the band. I had read a couple interviews and had listened to a few songs on the band's website, but apart from that I had little context for what kind of sound I would hear from this up and coming trio. It turns out my timing couldn't have been better: the three members of Edison, Sarah Slaton, Dustin Morris, and Maxwell Hughes, had just come off a two-week music and writing retreat called The Music District in Denver. It is one of the many perks they attribute to the millions of revenue pouring back into the arts by profits from the sales of legal marijuana. The creative hiatus produced a handful of new songs that were given to us, the audience, like a gift we weren't expecting.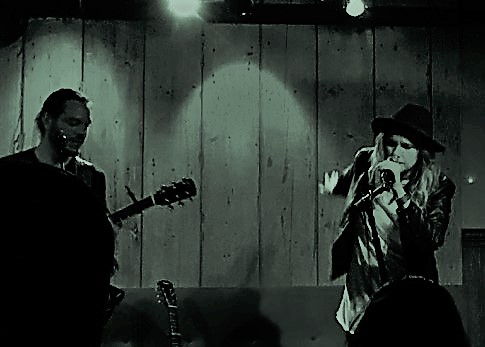 Lead singer Sarah Slaton engages the audience in easy conversation between sets. Introducing her "blue-haired boy" Hughes and sharing rare insight into the inspiration behind some of their biggest hits before falling into lyricism that appears to captivate her own body as much as she captivates ours. Her voice has a mercurial quality that can be smoky, then clear, a Joplin-esque power behind her words. For one of their newer songs, written about the window of time after a bar closes, before you take someone home, about the loneliness that can't be sated from one night's companionship, she takes artistic risk with vocal manipulation in a way both surprising and fitting. Guitarist Maxwell Hughes, whose illustrious solo career has included fronting for The Lumineers, plays a song of his off their record that, as Sarah said when she introduced it, "is unlike anything else." Lastly, although Morris classifies as the drummer of the band, calling him that would be a disservice. He played trumpet, banjo, harmonized, and drummed, sometimes all at the same time. I would be no less surprised if he pulled out a skillet and started flipping pancakes on top of everything else. These three people are so brimming with talent that it spilled over the stage and onto the audience, striking all of us with the infectious desire to create.
These Denver natives are putting in their hustle as aspiring musicians on the road. They're already a year in of living full-time on the road but their enthusiasm for their craft or their lifestyle hasn't wavered. Their song Open Road which will no doubt be climbing the charts any day, is their anthem for this stage of their lives. Before you question their lasting dedication, they shared that a few weeks ago, they got drunk after a show and got matching tattoos. If that doesn't say commitment - then nothing else will.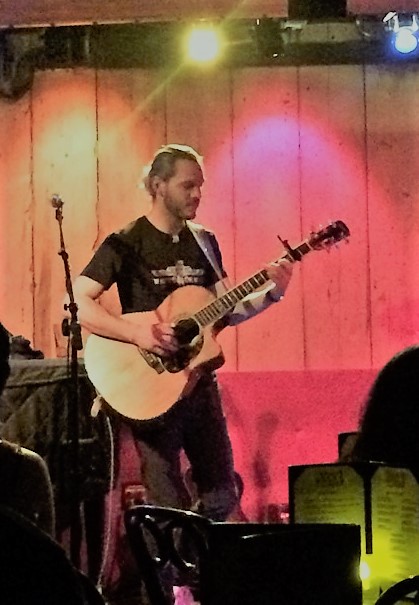 The thread of alternative folk is consistent throughout their hour-long set, but by no means do they always stay in that silo. Exploring electronic, rock, and indie influences, the band keep you leaning forward on your seat until the last song. It is the kind of set in which not one soul checks the time, or glances towards the door, but rather, feels a little deflated when it has ended, and reemerges in the world somehow, slightly, anew.