Fuck men who abuse women. I am a strong woman and I demand autonomy over my own body. Now that I feel my sisters are safe inside this article, let's begin. Electric Forest began Tuesday night, June 22nd, 2022. On Friday, June 25th, the news of Roe v Wade overturned had hit the Forest grounds and it may have been the only part of the default world to slip into this beautiful magical place. There is a total sense of surrender when you enter the gates of Electric Forest. It's so good inside, you figure out how good the world outside can be. You take a sense of empowerment from a gathering like this and you never look back.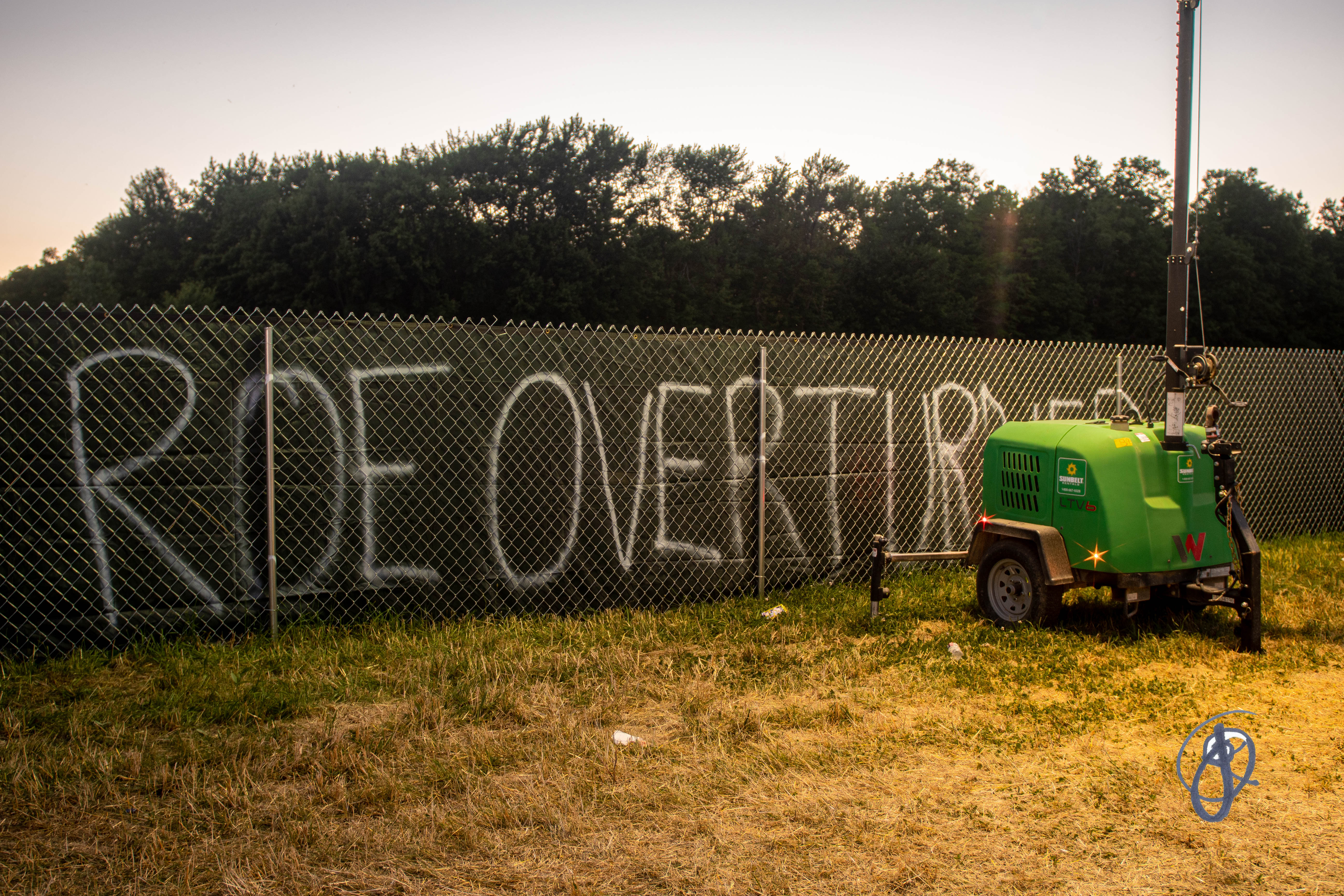 The long awaited return of Electric Forest gave us a sense of hope and renewal. Entering an even more grand and vast EFF, you can tell they have been meticulously preparing for our return. Entering past the Tripolee Stage, to the Ranch Arena, thru the Forest to the Observatory Stage, you get lost before you ever enter the Sherwood Court. There is the Grand Artique, the Trading Post, The Giving Tree, The Chapel, The Brainery, and the Reincarnation Village. Lovingly designed, the Reincarnation Village is floral designs in the shapes of mandalas and hearts dedicated to those who have gone before us. There is a Daniel Popper art installment. There is a magical Portal to another dimension, all before you reach the Sherwood Court and the Honeycomb Stages. The Carousel Club is a totally transformed beach club complete with sand and palm trees, all the way past THAT!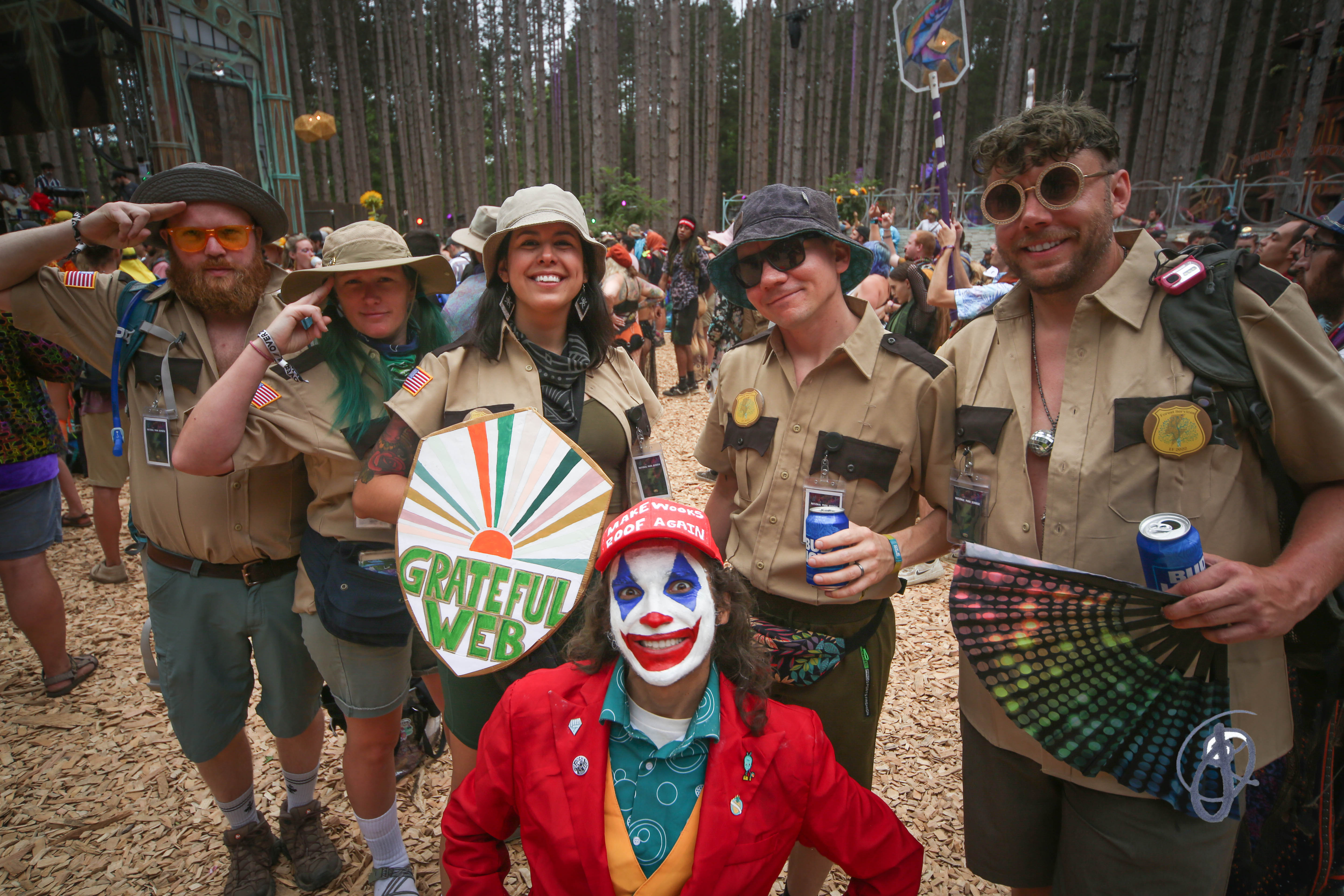 Then you reach the Hangar. There is no real reason for the Hangar other than a front of magical proportions. It's a storefront mall disguising the real reason we are here. There's a travel agency, a full service hair salon, a candy store, trinkets and charms galore. A woman approached us and said "You have an appointment at door #5." We turned the knob but it was locked. As soon as we jiggled the door, we were greeted and welcomed into a bedroom? A bedroom? It had a bed and a man who bounced off the bed and then popped open a door on the opposite wall. This all seemed a bit alarming but we trusted the beauty of Electric Forest. We followed this host thru a dark hallway and realized the Hangar was a front for yet another performance stage. This one was for poetry. We were in a room with about 20 other people having an intimate poetry experience.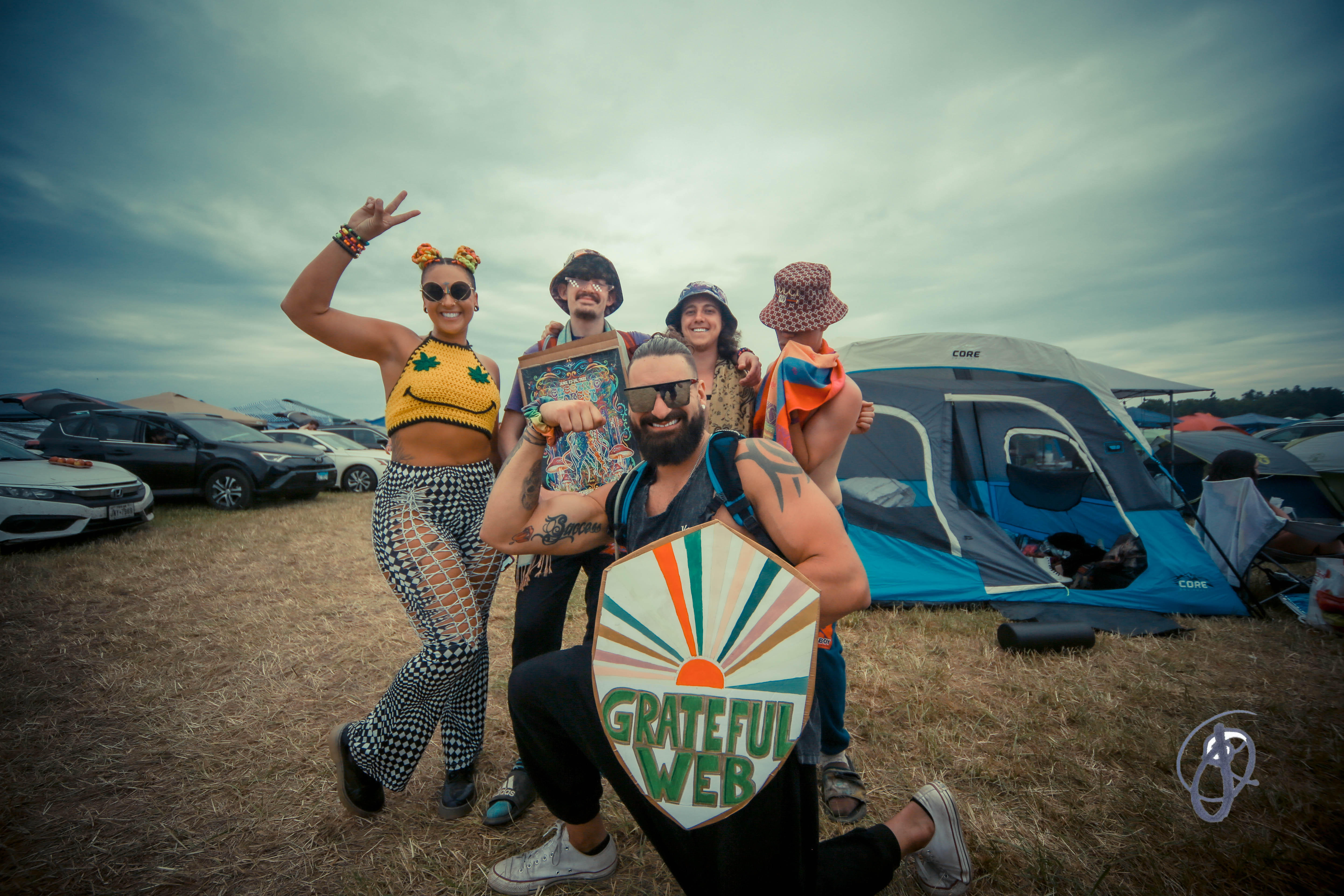 The poetry reading turned into a poetry brothel where about 6 of us were taken to another small lounge and a wonderful woman read us her journal. She took us into her vulnerable heart and read to us of love and heartbreak. We were so enamored with her and her flow that we shouted "Encore! Encore!" until she ran out of small crumpled pieces of paper in her book of poems. She gave us all she had and we thanked her. I would have given this woman all my money if she had a tip cup. However, that is not how it works here at Electric Forest.
We do it all for the love. There was just. So. Much. LOVE. 
Sherwood Court hosted Toro Y Moi and Sylvan Esso on that Friday night, 6/25/22. Sylvan Esso, AKA Amelia Meath and Nick Sanborn had that Passion Pit feel on the same stage Passion Pit played here at EFF in 2012. Around 2012 is when Sylvan Esso formed and created their little big sound. All of 5 ft nothing, Amelia made her presence larger than life bouncing all over the stage and never stagnant for a moment. Her spirit reached the far end of the field. The beats were not hard, they caressed our souls. The tune Ferris Wheel got our cycle started and moving. The underground movement was airborne.
Over at the Ranch Arena, The Kitchen Dwellers, Cory Wong, and String Cheese Incident took us through Friday into this moment. Griz took us thru Friday night. Griz is the boogie buddy you need. He hopped up on his table with his saxophone and attempted to speak on the default world events. What came out was "I just fucking love you guys so much!" We're hurting for the world but we were here to love each other harder and louder than any pain could color this day. 
I had no phone service for the majority of the weekend and I will admit, without it I had no map and no schedule. Delicious Ambiguity is what Gilda Radner would have called it. I set the gear shift of my soul to the Forest and just took a lap Saturday afternoon to see what I saw and follow my heart. What I found was an amazing set by Joe Hertler and the Rainbow Seekers.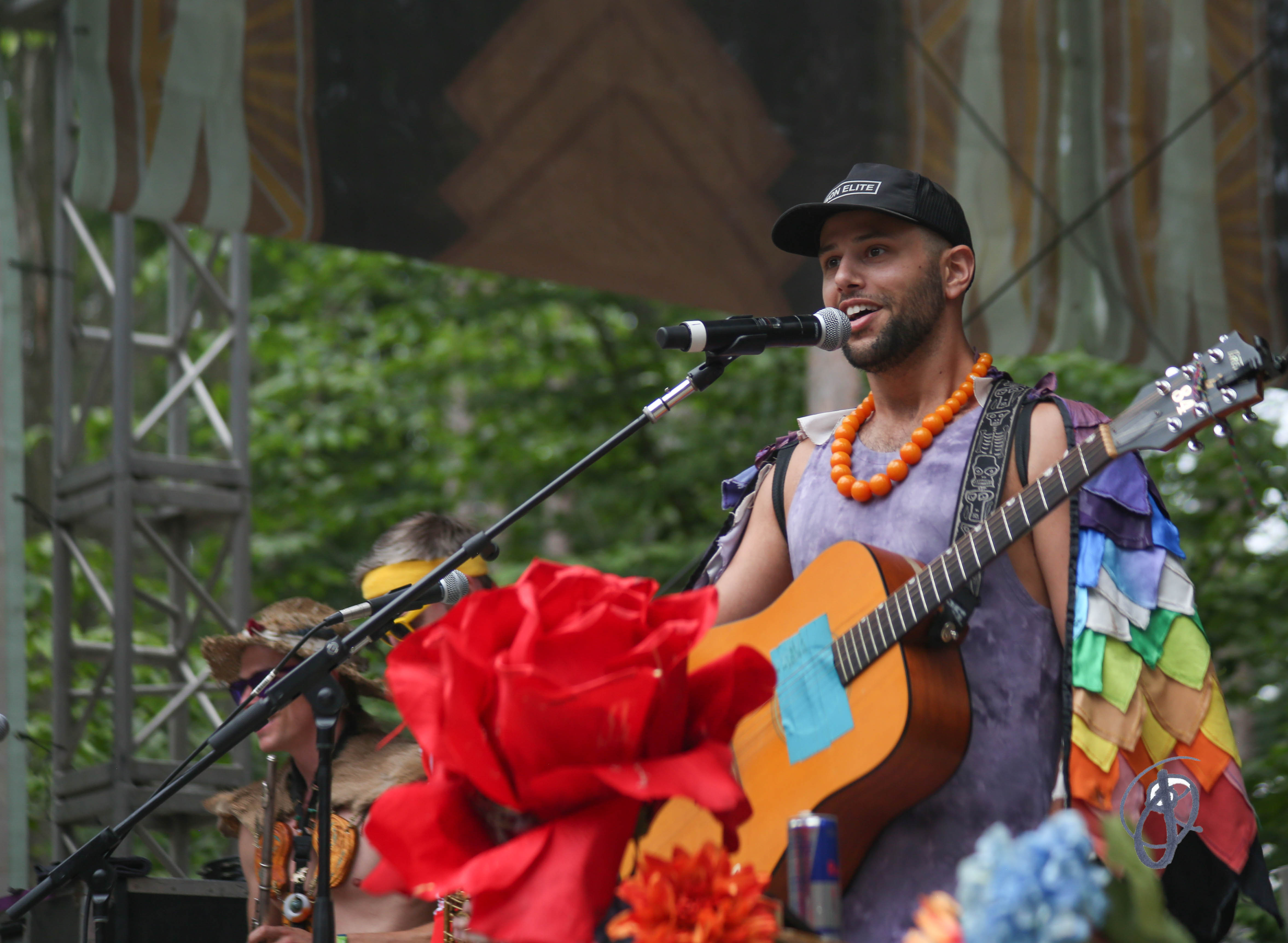 If you like Pigeons Playing Ping Pong, you will love Joe Hertler and the Rainbow Seekers. The crowd was delightful, the songs were adorned with saxophone and flute, Joe Hertler wore a hat that said "non-elite." They had been on my radar for a long time but no shows in the Midwest caught my attention so I stayed for awhile in the loving arms of a band that illuminates the very chambers of heaven. This band had been waiting for me. 
The celebration at the Observatory stage gave way to more mystical unfoldings. The best souvenirs are between the ears. No phones or maps or schedules were necessary although there were still phantom vibrations lingering from my empty pocket. It's hard to shake off the world we live in even when you are transported to somewhere else. The Ranch Arena had the Knocks on stage as I whizzed by I could tell this band would would back for more elsewhere. After our experience at the Hangar the night before, I sensed that nothing is quite what it seems.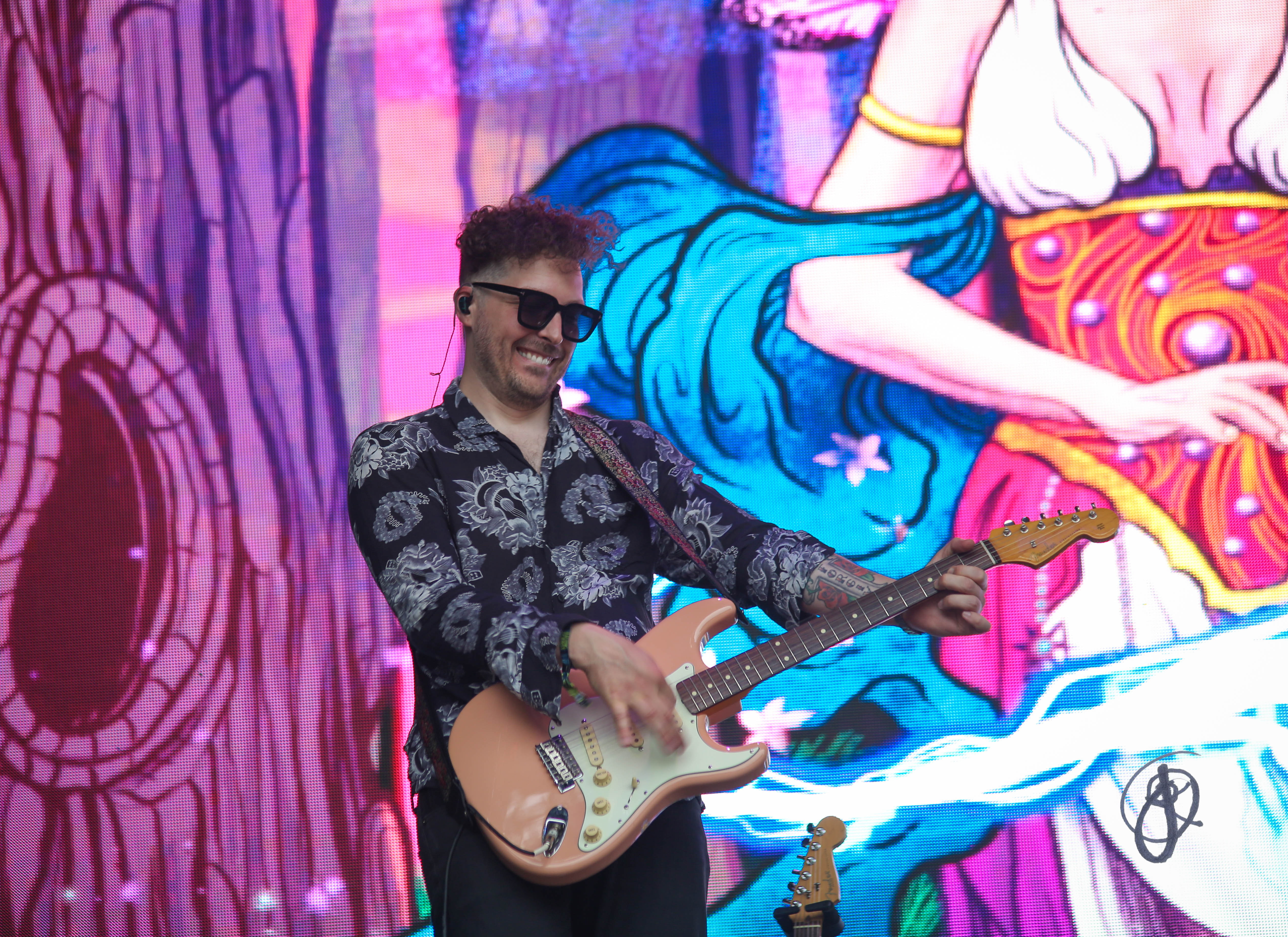 The trusted and built-upon system of Electric Forest is the full family hug that is SCI's Saturday night Shebang. No matter who you came to see or what you came to do, you will feel the magnetic draw of Electric Forest's host band, String Cheese Incident. The Ranch Arena holds us in as we hold each other up to the light and the sound that heals. You can hardly drive to the grocery store without being honked at or cut off in traffic yet here in this parallel universe we were all hugging strangers and smiling at each other. There were so many compliments and connections from 40,000 of your closest friends. 
Hold me closer tiny dancer! We stayed true to our hearts and this is where it leads. Love is really the only weapon we need to wield, hope where there is none, all in an incredible act of service. The gift is love. When Sirens started off the 2nd set, I recalled being here 10 years ago. I knew I needed to untie the not. This may all be too much\ but too much is just enough these days. Can I get a pocket version of this festival to get me thru the other 51 weekends of the year? Ah yes, the catalog of SCI songs will give you a microdose of Electric Forest.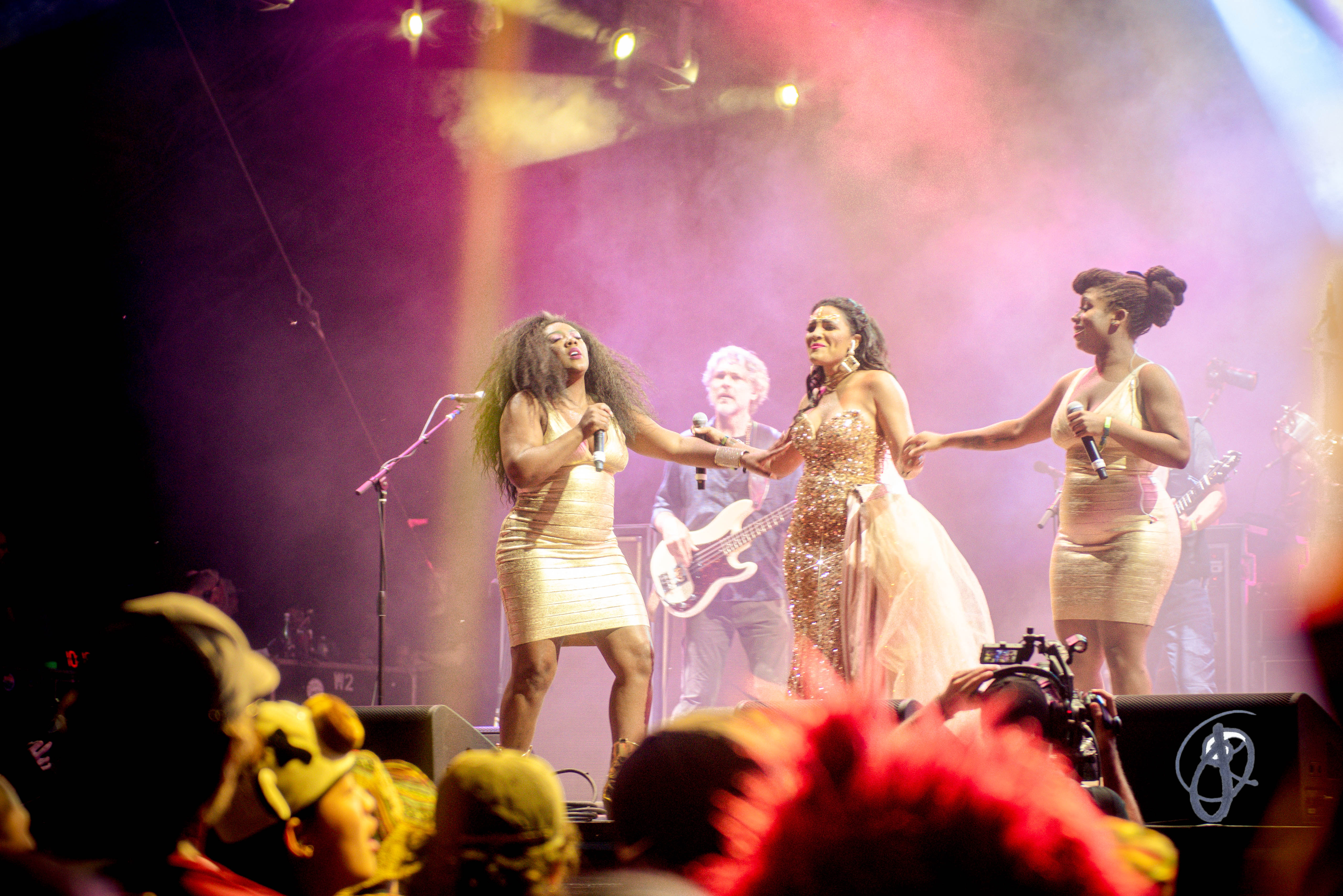 Bring us another song! Get Back. Get Back. Get Back to where you once belonged. This is when my feet took me forward without any idea of what was happening around me. I hate to say I was selfish but my body was moving without my brain. I found myself on the rail with friends that were so kind. They didn't mind me joining the party. Open arms and open hearts were on full blast. SCI Shebang got no time for fussing and fighting. There really aren't many jaded vets in the SCI camp. For all the top-tier bands - and music is such a passion project, I get it. I love the musical debates and I will never tire of having them, but SCI is a constant rotation of new and old fans. Ya just don't hear the nasty comments like the tired pathetic debate about John Mayer. 
SCI took us along on their rollercoaster of ooohs and aaaahs in collective orgasm. To close out the second set, they brought up Elmira, Jamie, and Starr. These singers gave me life as I watched their bold gold bling catch the lights and send stars straight to our hearts. Welcome Home Forest Family lit up from the stage and they launched into Sister Sledge's We Are Family. There were fire skydivers, scary but exciting in the sky. A boom lift held a colossal 60-foot (maybe?) diameter disco ball over the crowd as the tree line along the stage lit up in complete LED dazzling lights. The lasers engaged as you could hear the massive roar of fireworks light up the sky into a choir of With a Little Help From my Friends.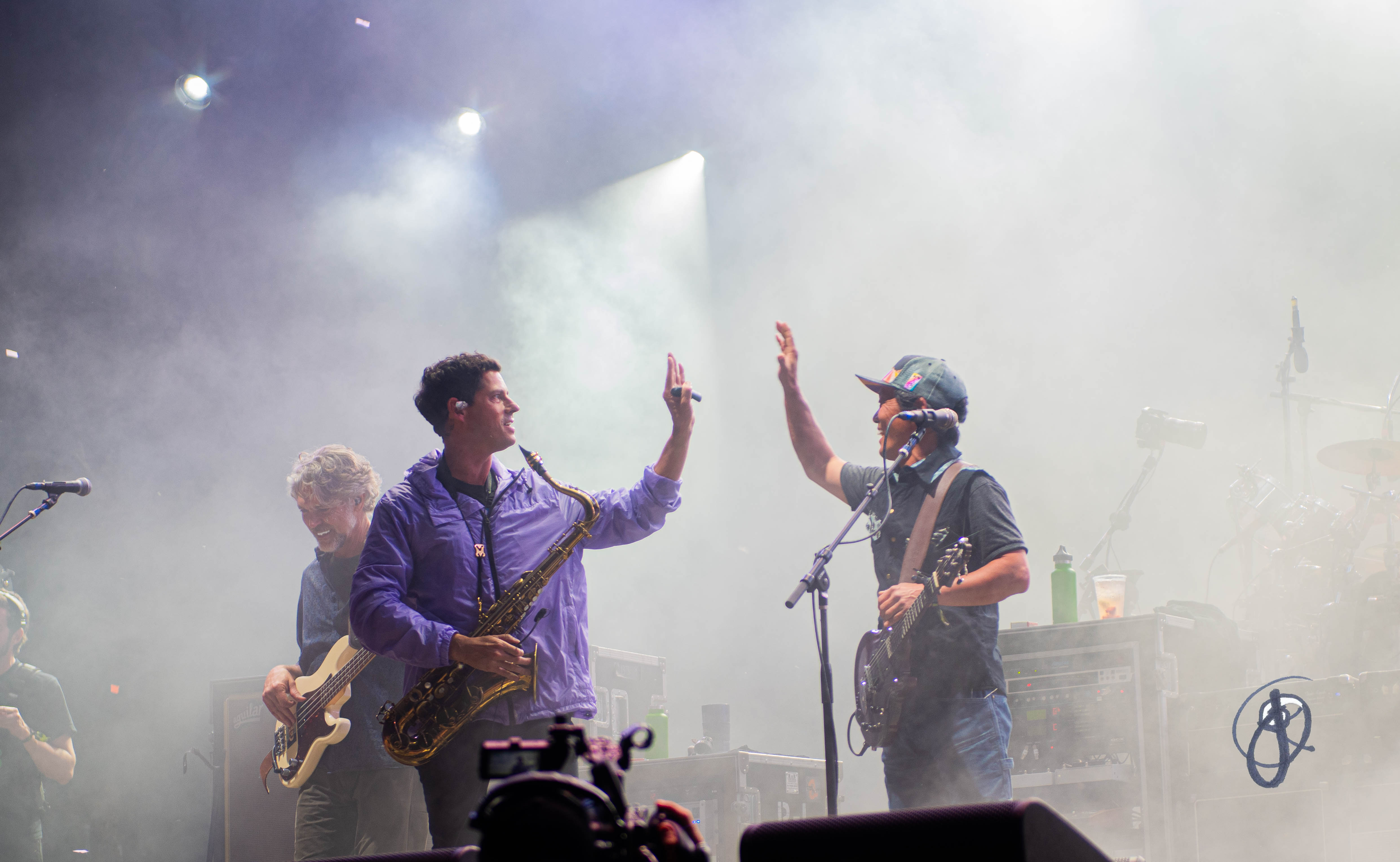 Could it be anybody? I need someone to love. The fireworks just kept going as the tears streamed down my face in an utter cathartic release. The confetti cannons unleashed and as the lights came back up, there was Dominic Lolli from Big G on stage to keep the party going. It's never a party unless you can bring all your friends. The spirit of collaboration is what really sets SCI apart from other bands. It's the supreme love bonanza, never mind the aborted Supreme Court. This energy is structured by music and poetry and visual arts, anchored by the love we all held in that moment. They lifted us up into a Big G Wake Me Up and then back to SCI still with Dom, Bumpin Reel. The third set of SCI's Saturday night shebang helped to regulate my heartbeat. When they played Colorado Bluebird Sky > Rosie, I could breath again. I may or may not have been holding my breath with my jaw on the ground since the confetti cannons. Concluding with a rock n roll Whole Lotta Love, I'm pretty sure the entire crowd of thousands all left the Ranch Arena holding hands, arm in arm. 
CloZee closed out my evening. She had a set at the Sherwood Court that had some issues but as we ladies do, she apologized and made the best of it. While experiencing sound issues, she kept the party going but demanded assistance. We wanted her to succeed in delivering the bass. Electric Forest rewarded her with another Sunday night set at the Carousel Club that completely delivered. Artists need working equipment but it wasn't about her equipment. It was about the sound and the feeling she gave you. It's her. It's what her heart and her soul bring to the tables and not the tables themselves. Composed and in total control, CloZee deserves your ears and open heart.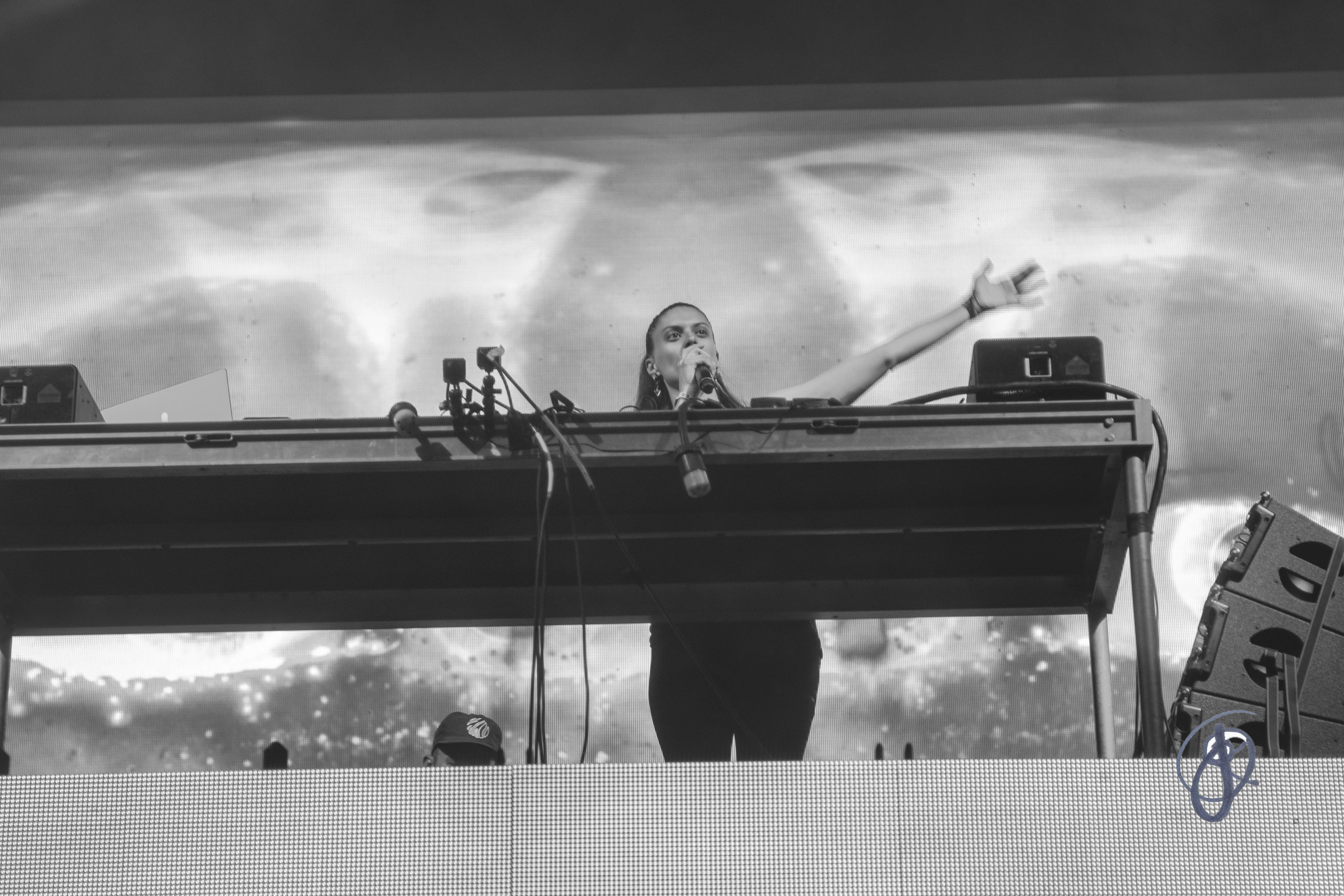 Sunday the word spread fast that CloZee would be back in the beautifully redesigned Carousel Club complete with soft sand beaches in the middle of the forest filled from palm tree to palm tree. The jellyfish danced through the crowd and the family vibe was still alive from Saturday into Sunday as the magic of the Forest would soon be shut down for another long year. 
Maybe they could have turned up the bass but then again, maybe the beautiful Michigan breezes took those sounds back to the Reincarnation Village. If Griz wasn't thumping maybe that is the way it's supposed to be. The saxophone is all about the treble and mids. What do I know? I know that complaining won't help. Let's focus on helping, not harming. Let's remove the argument culture from our DNA. Let's forget that gender and oppression ever existed. Can we erase technologically enhanced aggression?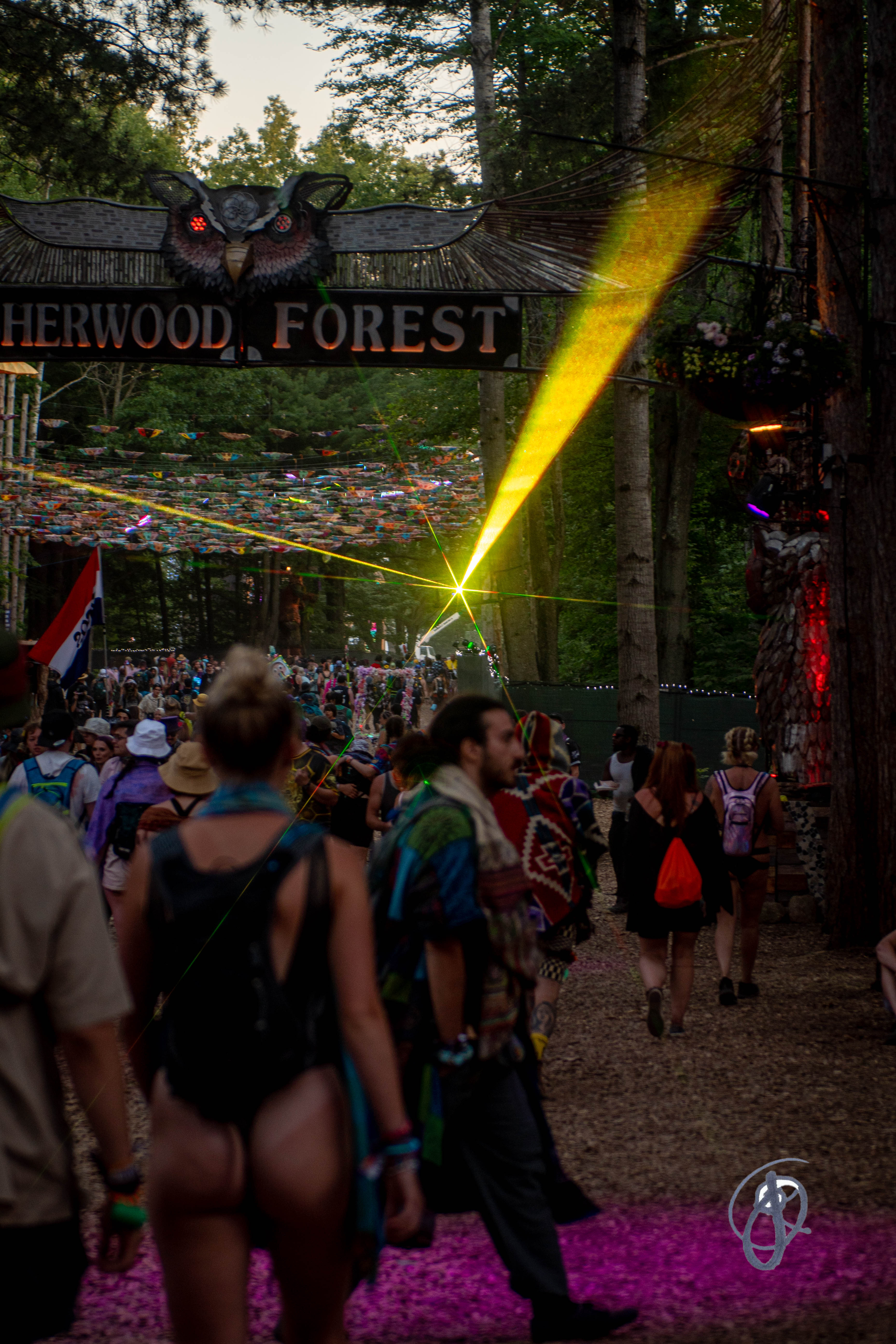 Big G played me to sleep Sunday night as I dreamt of the hope in dialogue. There are so many more miles to walk and so much more music to catch. It's a vibe. It's alive. When we speak with love on our lips, places like Electric Forest live inside us. See you back home in the Forest next year. Until then, keep your vibes high and never forget that love is real. 
Check out more photos from the weekend!