Elton John's three-year, 300-date world tour, dubbed "Farewell Yellow Brick Road," which touched town in Sacramento on January 16, is a perfect testament of love and honor toward a man who created and has sustained his own unique pop-rock musical genre for 50 years. A true living legend and global icon, he has brightened the lives of countless millions, including Queen Elizabeth, who designated the performer with knighthood in 1998 for his dedication to music and fundraising for AIDS charities. On this stormy night in Northern California, John was as gracious and humble as a Sir could be while wearing a jewel-festooned jacket with "Gucci Loves Elton" emblazoned on the back (he wore a different glitzy jacket during the second set).
Even presented in the cavernous Golden 1 Center, there was a feeling of intimacy and inclusion for everyone. After all, "You can call it, 'Your Song,' Sacramento!" John proclaimed before performing the beloved ballad for an encore. The sound quality was outstanding, such that John's frequent orations and chats with the audience were clearly audible, as was the iconic instrument in the (giant) room, a nine-foot Yamaha Disklavier concert grand piano on which John seemed to dazzle everyone with his still dexterous and skillful piano chops. At times, the mechanized piano migrated slowly across the stage, which allowed everyone a proper view of Captain Fantastic at work.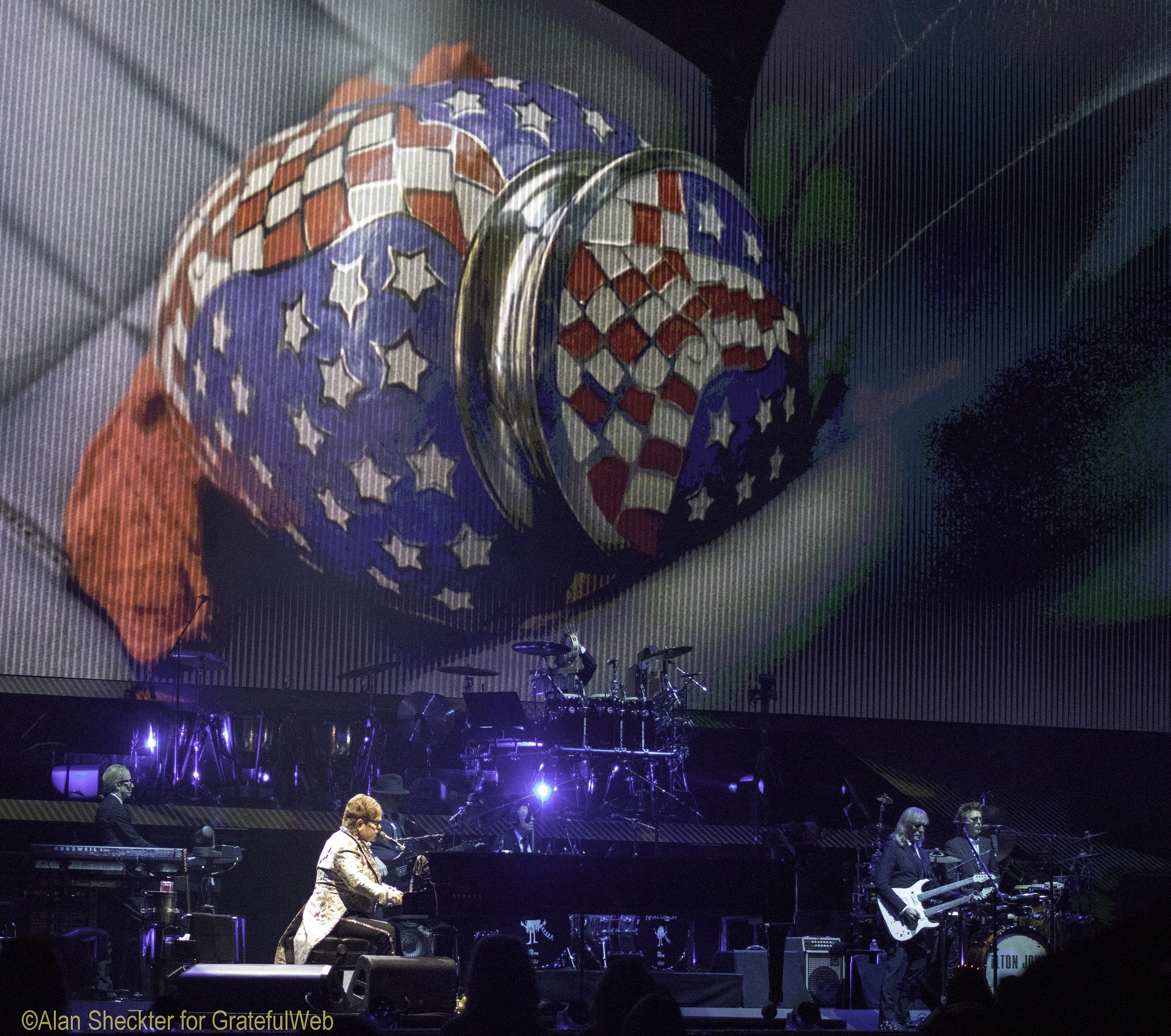 It's hard to overstate the excellence of each facet of the show that all together made for a satisfying, fulfilling event. In addition to the piano's rich, crisp tones that brought new life to all those instrumental phrasings we know from decades of radio airplay, John was also of very good voice, though not attempting the highest of the high notes, certainly understandable for a 71-year-old on an almost endless tour. A gigantic, high-definition video screen emoted various moods and delivered video montages, from psychedelic swirls, to fun and colorful animations, to sad segments, such as a war-based montage to accompany "Daniel," a song about a Vietnam soldier returning home. Yellow bricks (get it?) and color-changing footlights outlined and adorned the monstrous, irregularly shaped stage. A guitarist and a bassist were flanked behind John on what was a fairly disencumbered main stage surface. Above and behind the trio on a two-tiered platform, a keyboardist and two percussionists operated on the lower level, and an additional percussionist worked his magic on top.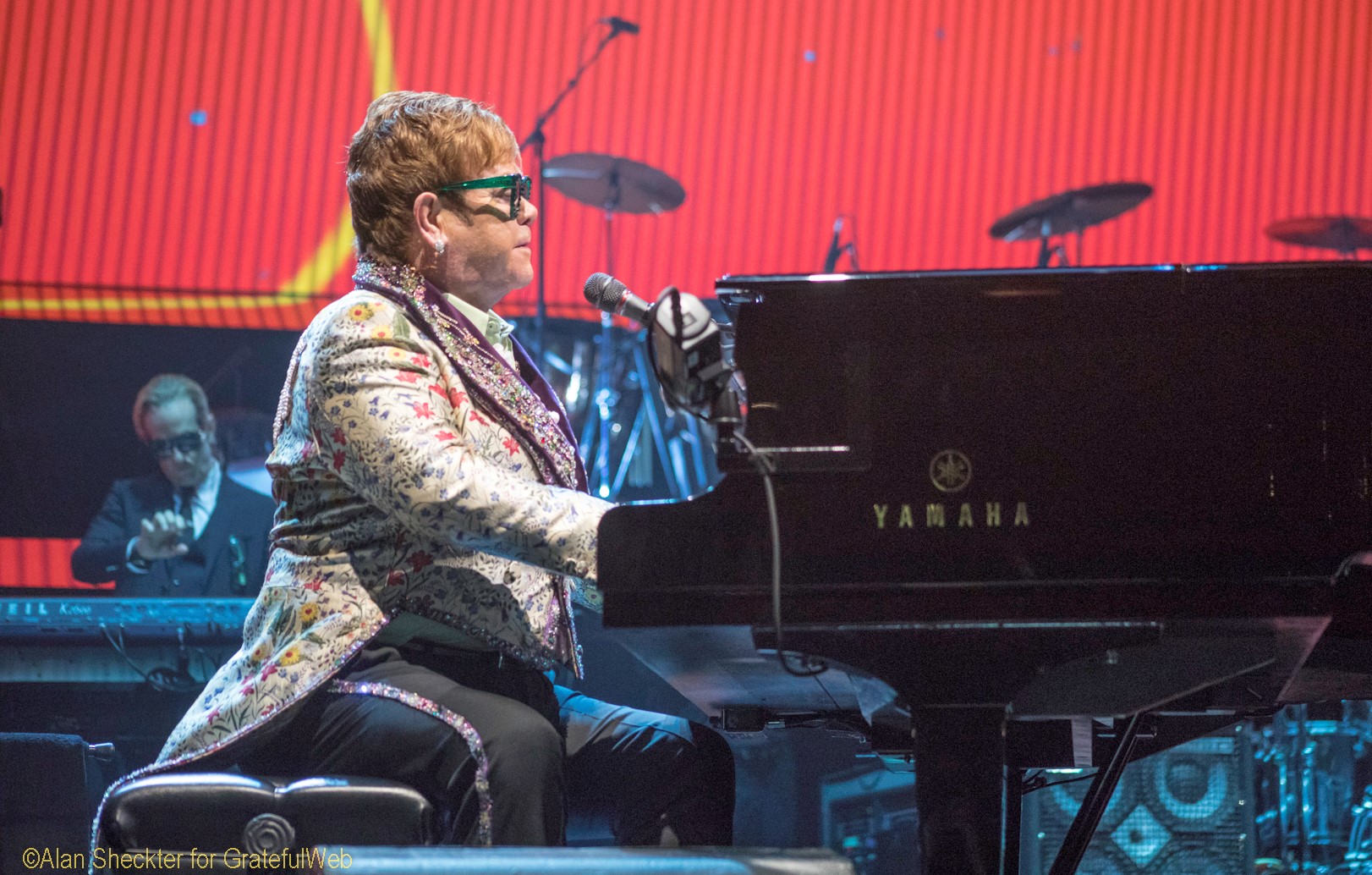 Material presented in the quick-paced 2 ½-hour, 22-song set, plus a two-song encore, the same sequence of songs that is being presented at all shows at this juncture of the tour, included more big hits than one could wish. The lexicon of songs – their uniquely-Elton-John lyrics, instrumentations, and overall structures on glorious display throughout – was an in-your-face reminder that his musical catalog represents an extraordinary body of work. The show began with a bang via "Bennie and the Jets," a song that defies any sort of typical pop/rock record. Instantly, John and the band set the mood by delivering bold piano keystrokes riding atop a booming, beat-heavy rhythmic bottom-end that filled the venue. Next up was "All the Girls Love Alice," one of only two songs that wasn't a bona fide hit, which related a sad story of "a 16-year-old heterosexual prostitute who sleeps with older women before she ultimately kills herself," according to Rolling Stone.
Next was a lively version of the Elton John standard, "I Guess That's Why They Call It the Blues," followed by a gorgeous rendition of "Border Song," a piece of music that goes so far back that when Aretha Franklin recorded it John was not yet a star. He then offered "Tiny Dancer," followed by a danceable-rocker that what was an oft-heard anthem through America's Bicentennial in 1976, "Philadelphia Freedom." That crowd-pleaser preceded the other of the evening's non-hits, "Indian Sunset," a 1971-penned tale of an American Indian warrior and the colonization and the plight of their near annihilation by whites in this country.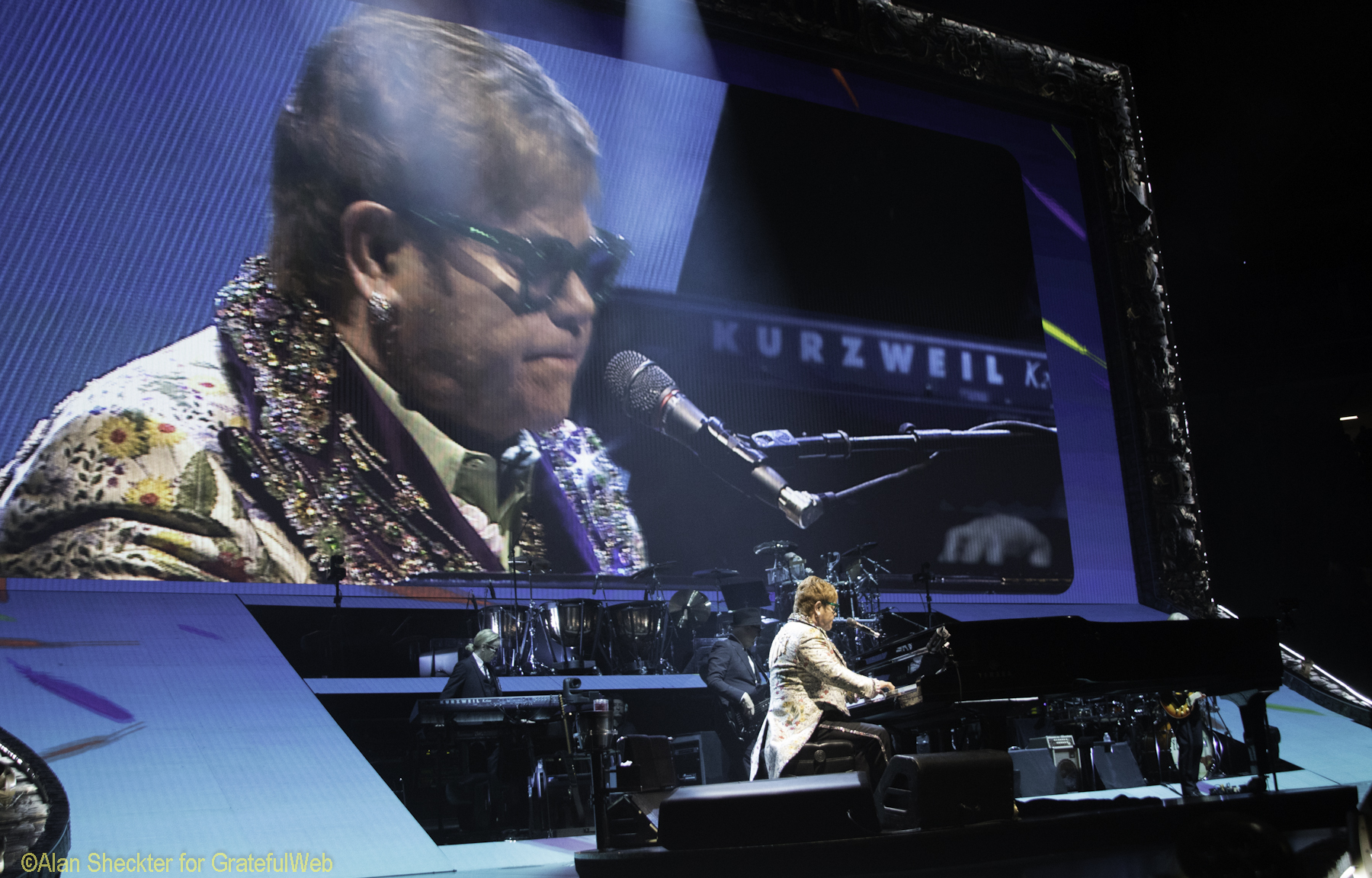 The set then moved on "Rocket Man," a soaring single that was always more atmospherically dynamic when performed live. "Rocket Man" is also a stellar example of John's complete uniqueness in the music world, creating new and unusual pieces of music that resonated with both radio A&R folks and all the listeners at home. The familiar piano flourish of "Take Me To the Pilot," filled the arena next, with a performance that exhibited the band's rock 'n' roll aptitude. Perhaps the evening's most emotional moment occurred next, when John told the crowd that in 1990, he said the three words, "I need help," became clean and sober, and started the Elton John AIDS Foundation, before leading into one of his all-time ballads, "Someone Saved My Life Tonight."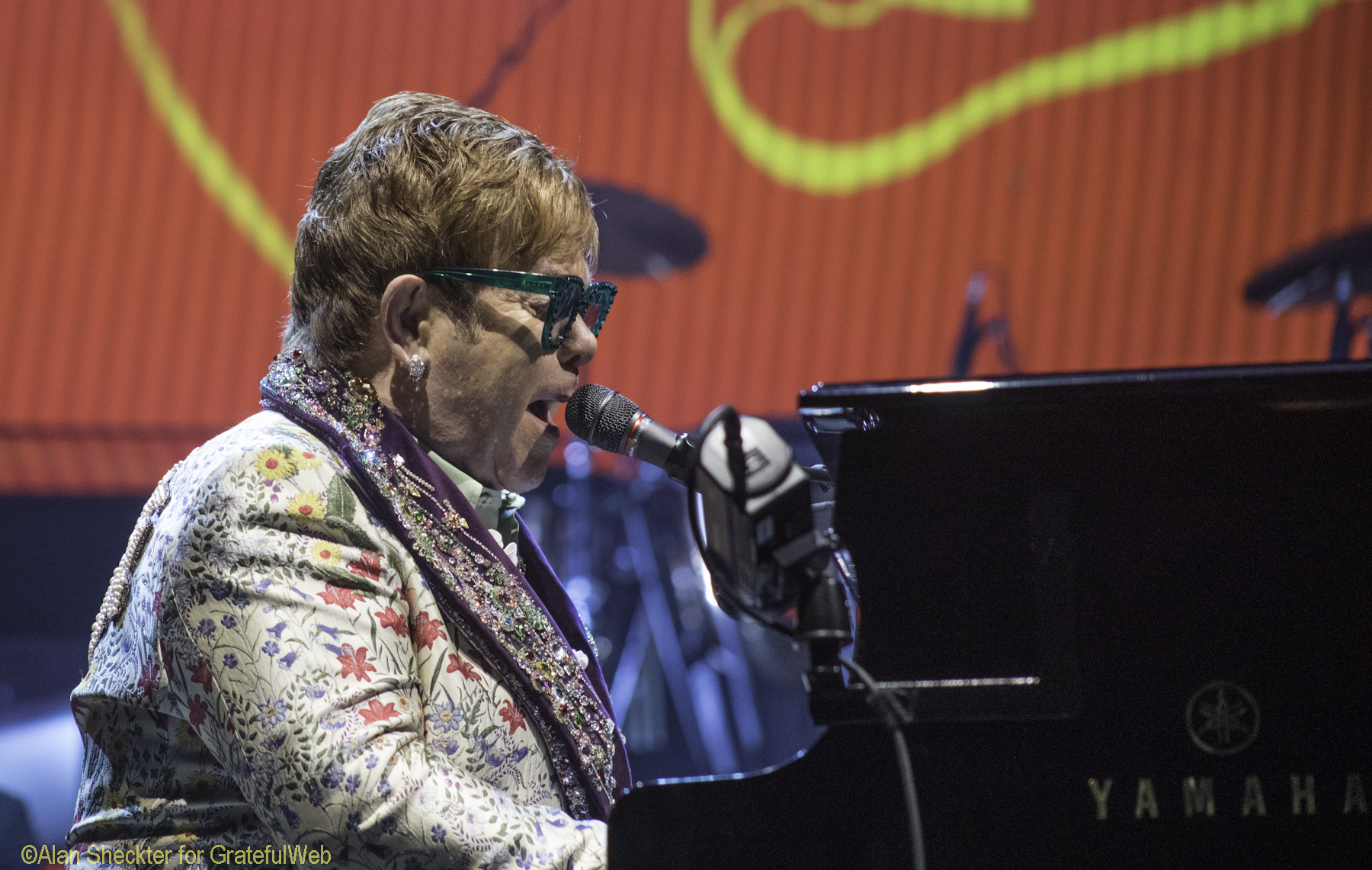 Next was "Levon," a song that wasn't a particular surprise in its inclusion, yet an inspired, extended instrumental component at the end, which is about one minute on the record, lasted an inordinate amount of time. Here, each band member, including John, stoked the fire with layer after layer of inspired jamming that even included a discernable smidge of The Beatles' "Day Tripper." The pace slowed up for the next number, though it was no less compelling, as a backdrop of rarely seen Marilyn Monroe footage, all of it portraying happy-and-free moments of the model/actress's career, accompanied "Candle in the Wind."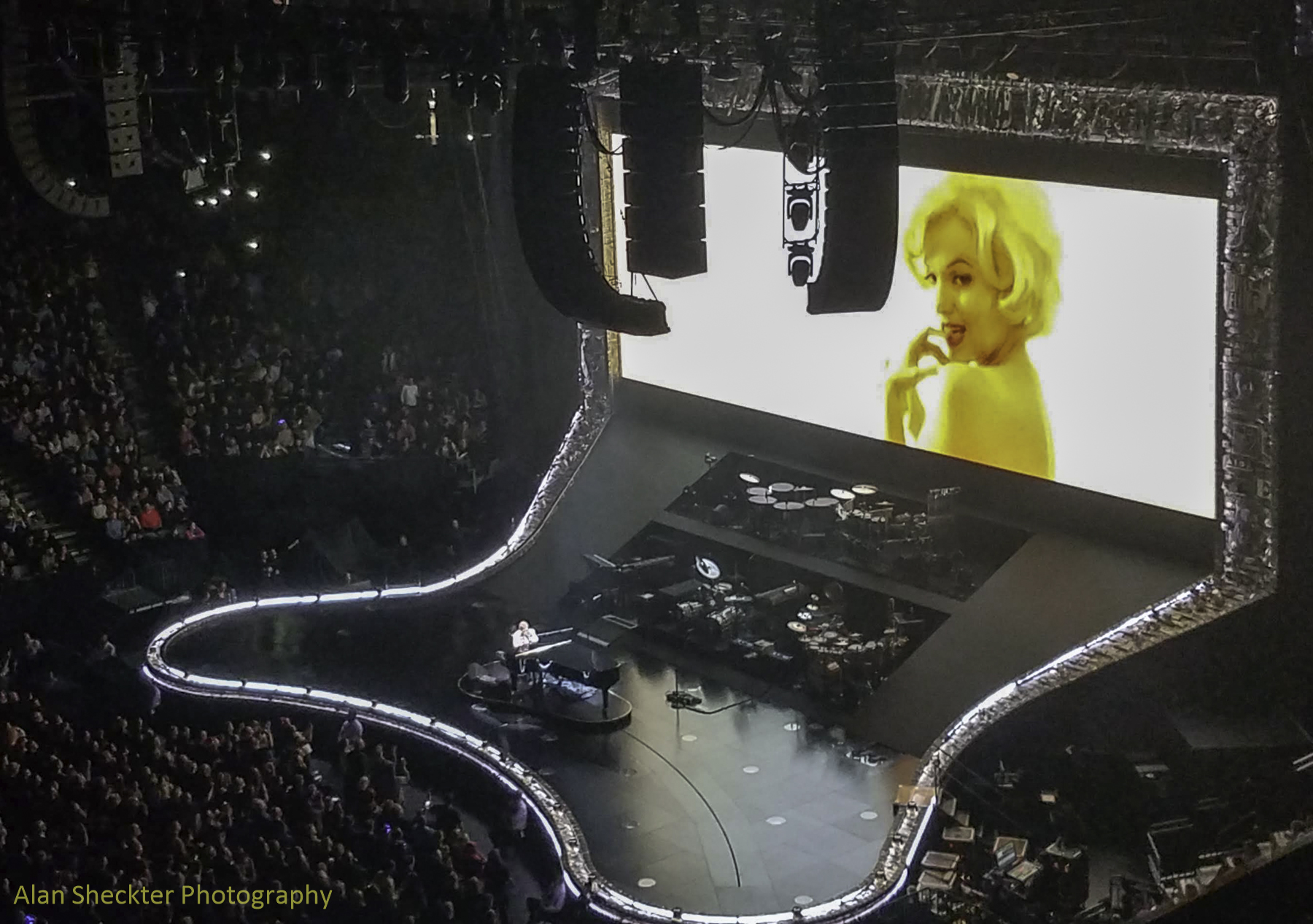 John then exited, not for a set break, but because what followed allowed him a short respite – arena-shaking percussive reverberations, scenery, and fog of a massive thunderstorm, as real as could be artificially produced. Little by little, the crowd realized that the episode was a grand beginning to the dramatic instrumental "Funeral for a Friend," which was naturally followed up with "Love Lies Bleeding," as it did on the record, with John again reappearing, seated and ready to sing. The passionate and complex "Burn Down the Mission" was next, followed by "Believe," a hit ballad from the 1995 album, "Made in England." Next was the aforementioned "Daniel" followed by another mid-tempo pop piece, "Sad Songs (Say So Much)."
John paused several times to bow to the crowd and accept their accolades. He explained at one point, "I wanted to record; I never set out to be an artist. I thought I was going to be a songwriter. Well, I was a songwriter, and became an artist … When I came from England to America in 1970 <stardom> all happened here first. Because all the great music came from America that I loved, it was just beyond my wildest dreams that I could be a part of it. And there's been one constant in this remarkable journey and it's you people out there. <Applause> You bought the 45s, the albums, 8 tracks, cassettes, the CDs, the DVDs, the merchandise, and most importantly of all, you bought tickets to the show. I love to write songs. I love to make records. But as a musician, the greatest thrill for me is to play to an audience and get a reaction from a human being. … I want to say thank you because my touring is coming towards an end. I will never forget you guys, you have been so kind, so generous you gave me everything I never thought I'd have, so from the bottom of my heart from this English guy, to you Americans, thank you so much!"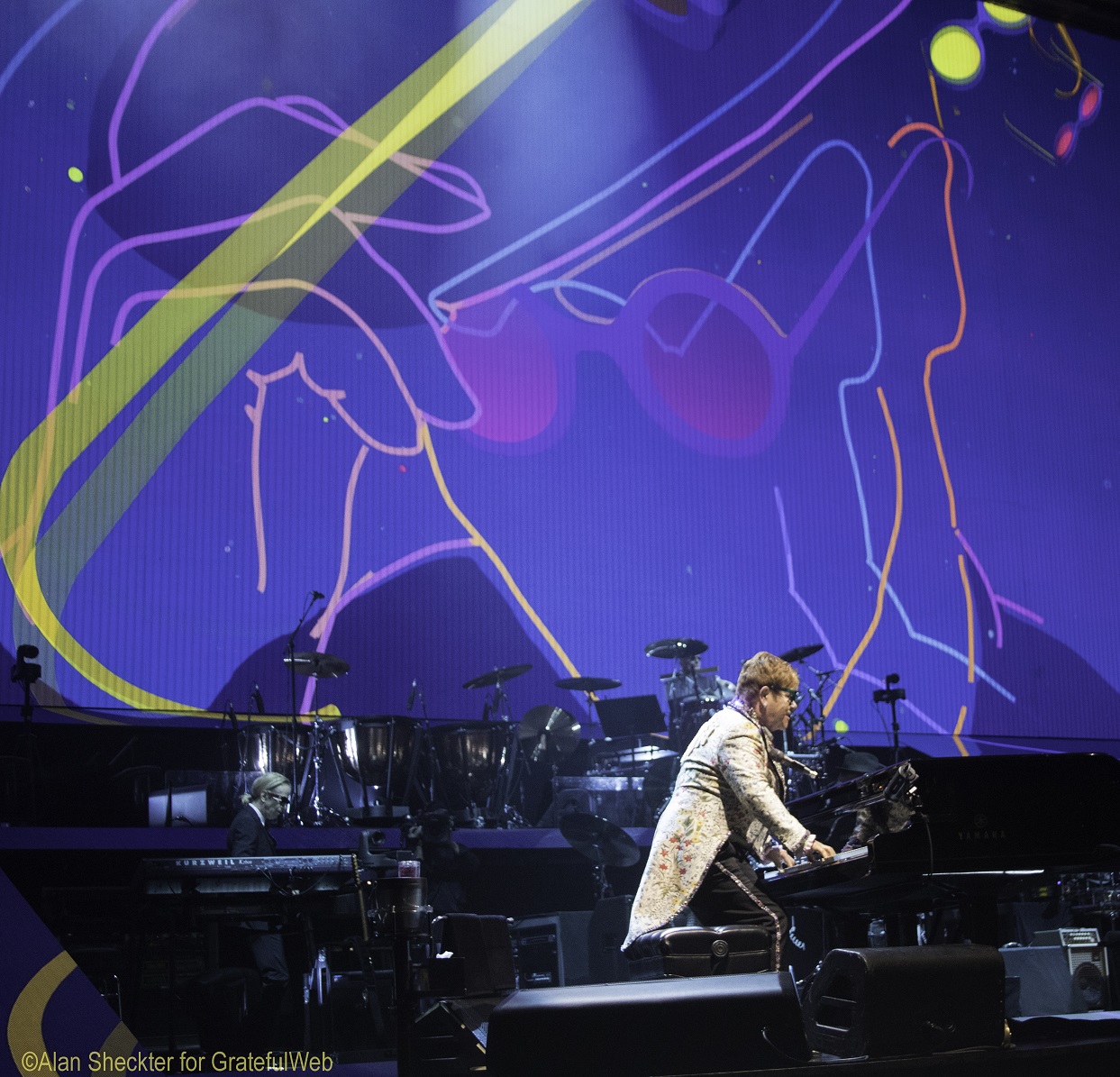 Late in the set, John gave each player considerable praise as he introduced the band, which included several members whose association with him go back more than 45 years: guitarist/bandleader Davey Johnstone, drummer Nigel Olsson, and percussionist Ray Cooper. He then began the final portion of the set with the emotional, inspiring "Don't Let the Sun Go Down on Me," its beautiful lyrics and piano interludes washing over the spellbound crowd.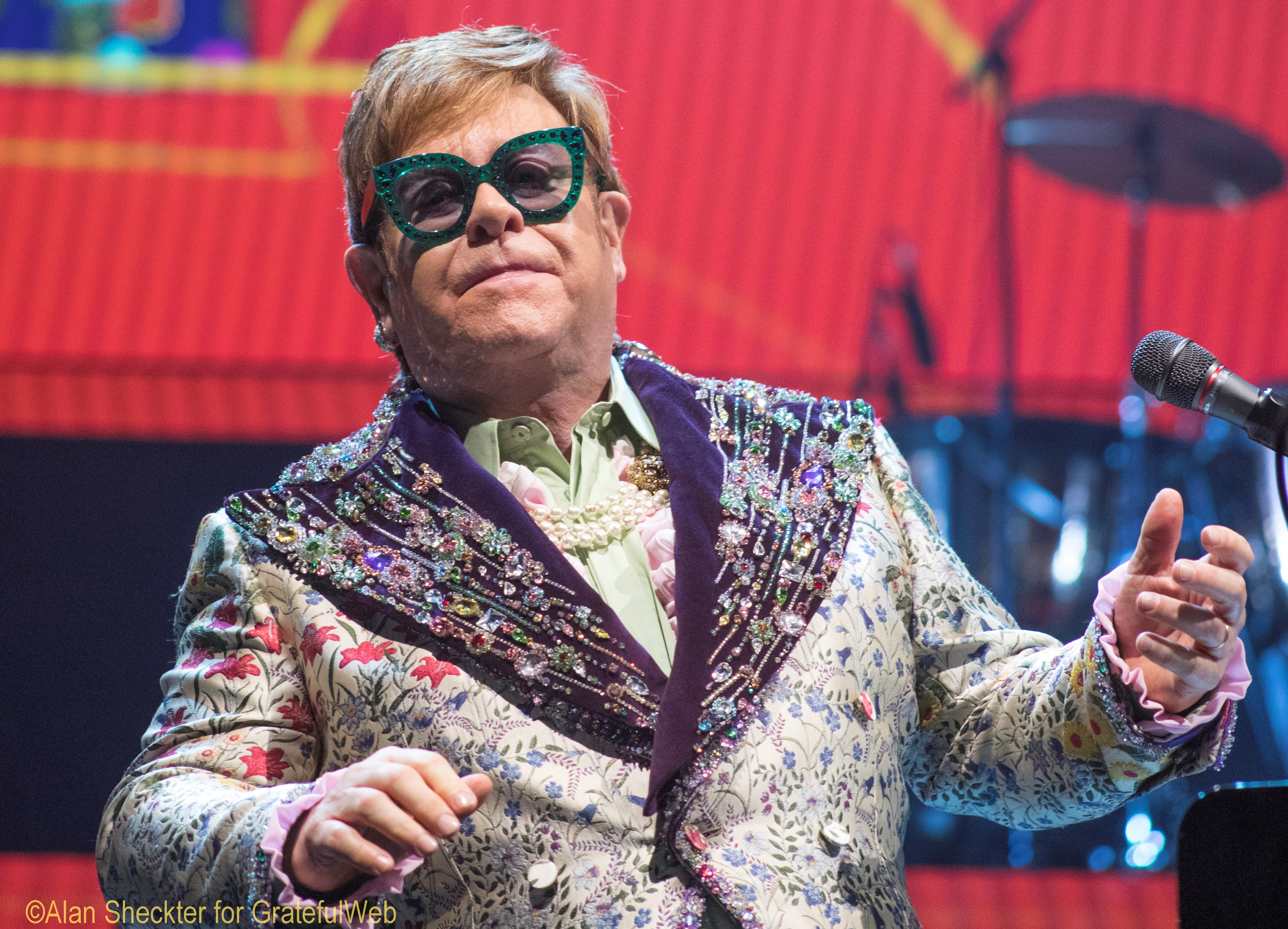 And then came the closing sequence, 25 minutes or so of rocked-out anthems, presented back to back, like the final cluster of fireworks on the Fourth of July. With the crowd energized, singing, and cheering, the band presented, "The Bitch is Back," "I'm Still Standing" (quite apropos for the septuagenarian performer), "Crocodile Rock" (with the band letting the crowd sing the "La – La La La La La La Las"), and finally, "Saturday Night's Alright for Fighting." The finale was so energized that an encore was not owed to anyone. But, fairly spent, the crowd rose in unison a few minutes later when John came out in a dazzling full-length kimono. He sat down alone and delivered a sweet version of perhaps his most enduring song, "Your Song," with the band slowly reappearing back onstage to finish out the song and deliver the obligatory "Goodbye Yellow Brick Road."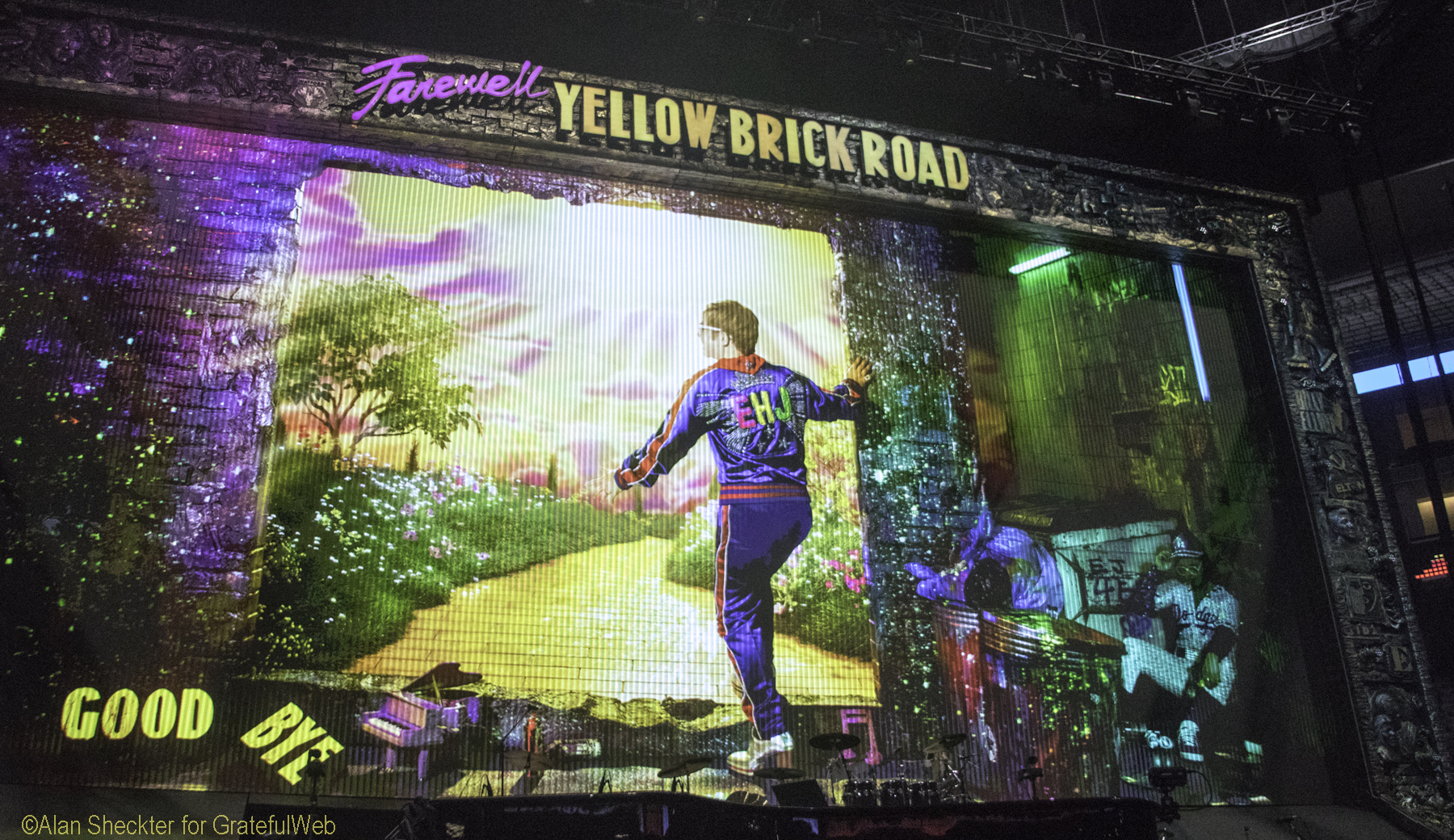 John's farewell tour started on September 8, 2018, and is slated to continue into 2021. The exhaustive world tour won't be the end of his career. John said at a media gathering at Gotham Hall in New York City in early 2018, according to Vogue. "I will be making more records, writing more musicals, doing more exhibitions with our photography. But mostly I'll be taking my kid to soccer academy, which is the most important thing."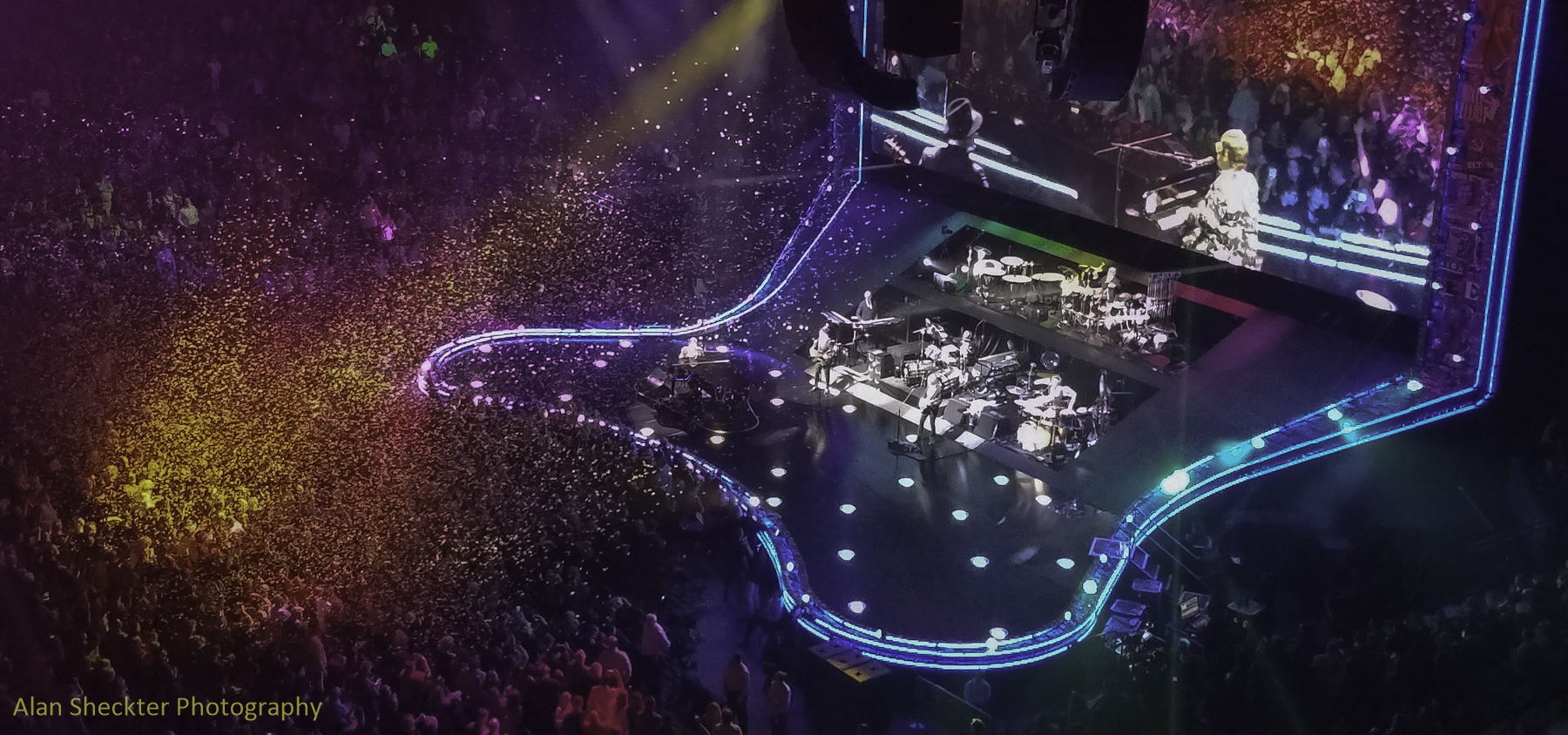 Set list, with songs' year of release and highest position on the Billboard Hot 100, if applicable: Bennie and the Jets (1974/No. 1); All the Girls Love Alice (1973); I Guess That's Why They Call It the Blues (1983/No. 4); Border Song (1970/No. 92); Tiny Dancer (1971/No. 41); Philadelphia Freedom (1975/No. 1); Indian Sunset (1971); Rocket Man (I Think It's Going to Be a Long, Long Time) (1972/No. 6); Take Me to the Pilot (1970/B-side to Your Song); Someone Saved My Life Tonight (1975/No. 4); Levon (1972/No. 23); Candle in the Wind (1987/No 6, originally recorded in 1973); Funeral for a Friend/Love Lies Bleeding (1973); Burn Down the Mission (1970); Believe (1995/No. 13); Daniel (1973/No. 2); Sad Songs (Say So Much) (1984/No. 5); Don't Let the Sun Go Down on Me (1974/No. 2); The Bitch Is Back (1974/No. 4); I'm Still Standing (1983/No. 12); Crocodile Rock (1972/No. 1); Saturday Night's Alright for Fighting (1973/No. 12). Encore: Your Song (1970/No. 8); Goodbye Yellow Brick Road (1973/No. 2).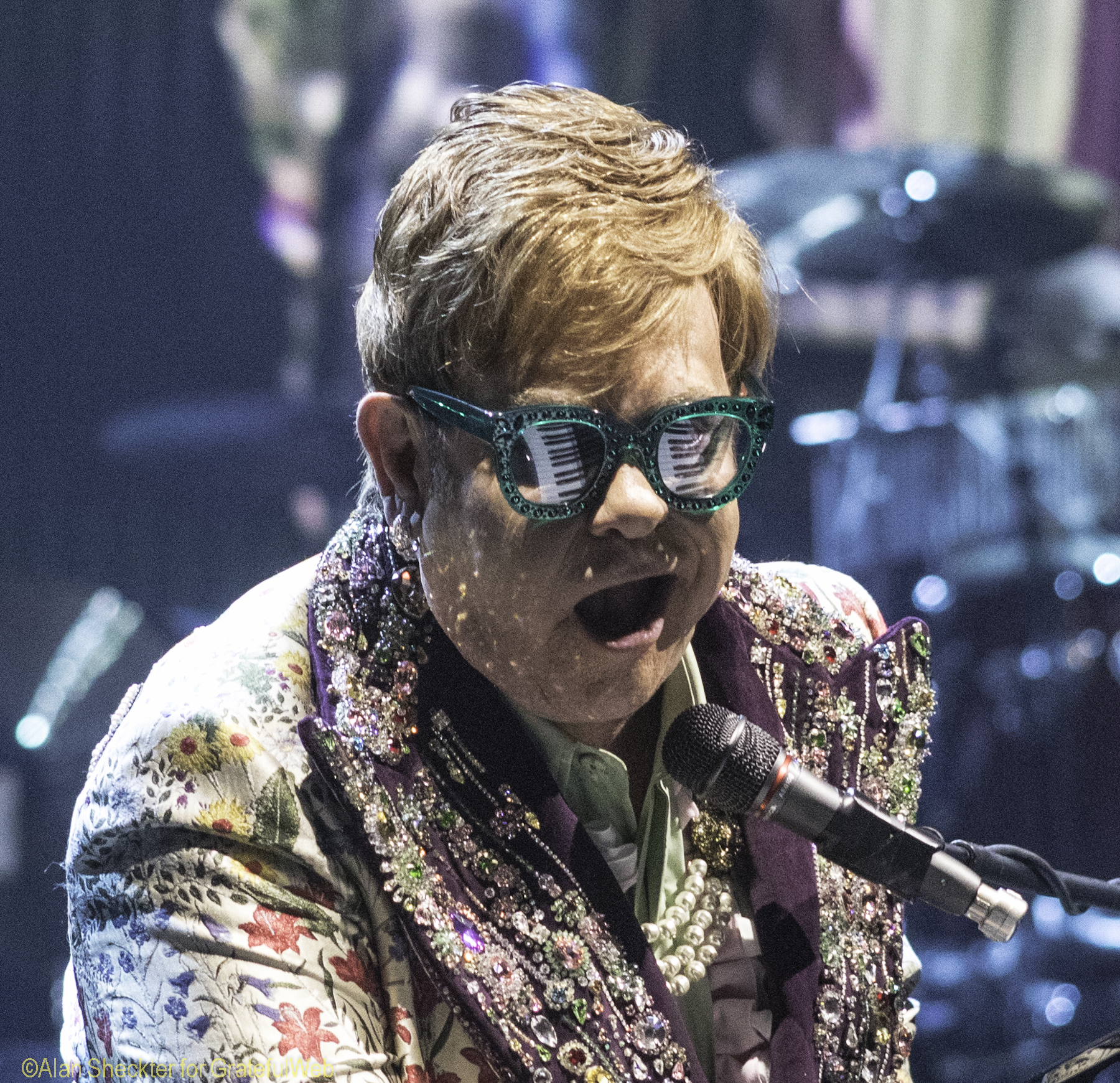 According to Billboard, Elton John recorded 57 Top 40 hits, 27 Top 10 hits, and nine No. 1's, ranking him as the No. 3 artist in their Hot 100' chart's 60-plus-year history, behind only The Beatles and Madonna. Elvis Presley is No. 4.