Seemingly everywhere during women's month are festival line ups coming out that boast of over half of the acts are female. Efforts to see females represented and reflecting the true population of society are growing ever present in the hearts and minds of music lovers.  Will these festivals simply stretch out the current all-female bands available or will they continue to create an atmosphere that will be welcoming for new women musicians to join the party? As more and more women dominated acts grow to visibility, one such contender is Fox Crossing String Band.
After playing together for just over 2 years, this 4 piece all-female bluegrass band from Chicago is heading out on more national tours and just dropped their first album, Box of Memories.  On February 10th, 2019, a Sunday brunch affair, the Fox Crossing Stringband played their first ever album release party. They played at City Winery Chicago, a stage that has hosted many intimate evenings with legendary artists such as Del McCoury and David "Dawg" Grisman with Billy Strings supporting.  But the Foxes did it with their own twist: Mimosas, Bacon & Bluegrass. Yee-Haw!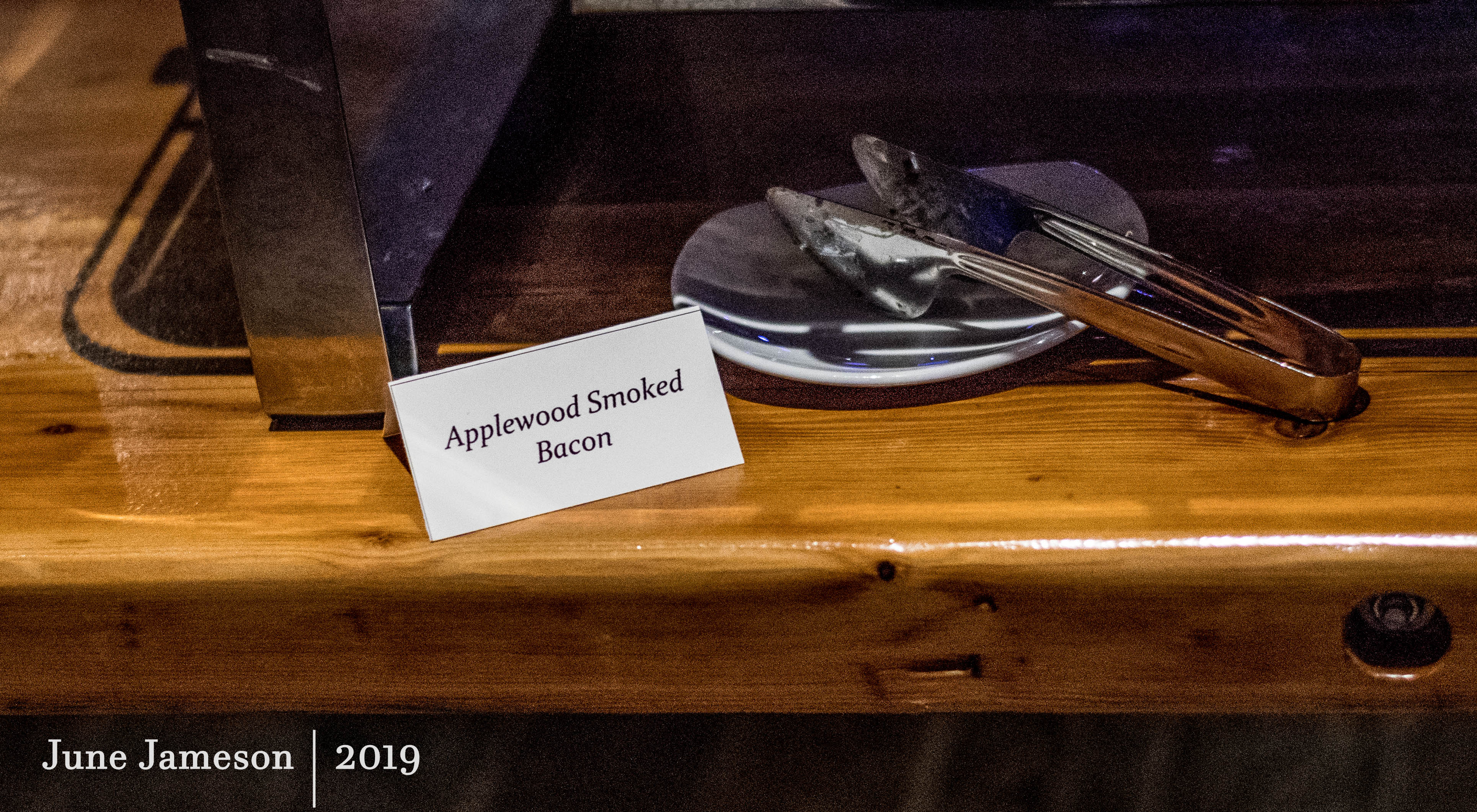 The album takes a female's perspective of nostalgia with the title track to their debut album, Box of Memories.  The lyrics talk about a woman's box of memories and how she's throwing away any shreds of that man from it.
"This is my last toast to you and the memories that we've made. I tore up your love letters and photographs for a ticker-tape parade.  Can't be spending more time on a heart that was untrue. Yeah, I've got a box of memories, but it ain't got room for you."
The album includes 7 originals and 5 fun covers to give the listener a taste of the Foxy style.  The sounds coming from the green room before the show opened were a treat unto itself. So many comparisons can be made, but only one stringband has four women from Chicago creating unique original songs that blend traditional and newgrass, jamgrass, fun country-twang rock with the help of their acoustic instruments.  Cassie Brooks on banjo/ dobro sings like Bessie Smith with an uptempo pick-up, a maria from the sound of music with a smokey sultry soul. Beth Earl on bass and clarinet brings her own talents to the microphone as well. The true Chicago girl Despina, has a punk rock edge that commands attention in her songwriting. When Allison Branch takes her turn, I can't help but giggle. She reminds me of a child prodigy taking the stage at the state fair. The other three ladies have a bit more height on Allison and her bright blonde energy with a great big smile wins over the audience right away. The whole band swapped cheesy grins at this album release party.  Cheesy grins that said, "I just did that!"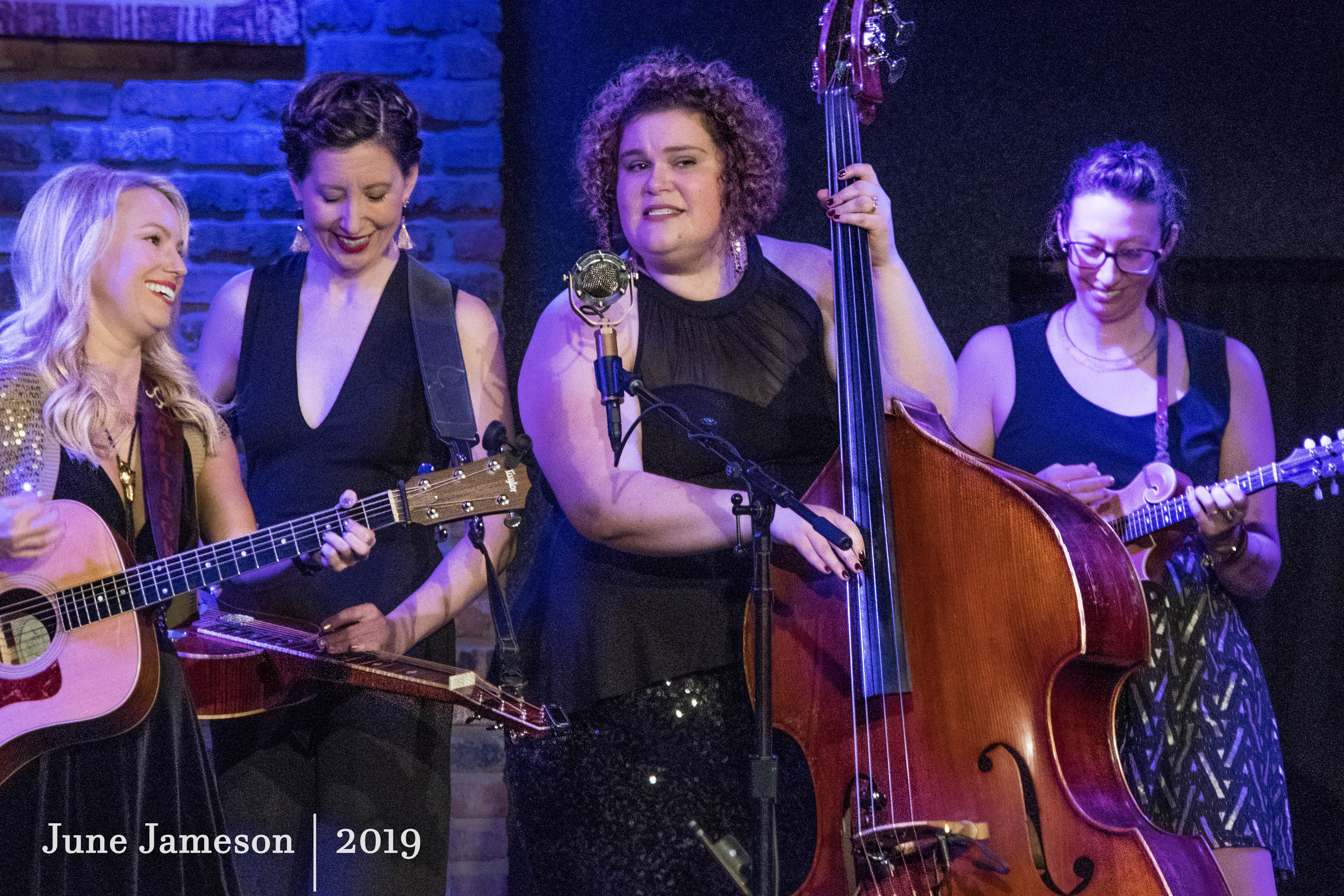 "Your little black heart, takes what it wants, but it can't have mine."
They opened the show with Despina's pipes blowing straight to the back of the room.
"Your little black heart can lie in the bed it made alone!"
"YOU LIE (like a dirty dog) YOU TRY (to win me back)"
But they got no time for that.  They moved right onto a similar femme fatale style song written by Cassie about a bottle of whiskey that would suit the Foxes just as well as another man - but they'd prefer the bottle of whiskey.  
"Nothing you can bottle that's better than me!"
They highlight each other in such a complementary way. It was a scenic route around the angry female anthems that don't always fit the way a woman feels. Fox Crossing Stringband has a conversational tone with each narrative that really plays to the melodrama of it. Mix up some fun winks and giggles with true gems like Blue Man of Kentucky or It Rains Wherever I Go by Lynn Morris and you've got yourself a great start to the day!
There is plenty of stage presence to entertain.  As they played the title track Box of Memories, the audience was all goofy smiling back at them.  Allison and Despina traded licks and they were in full Foxy form. Bassist Beth Earl's parents were in the audience.  They were treated to the Foxes version of Randy Travis's "For Ever and Ever Amen" in honor of their 52nd wedding anniversary they had just celebrated.  
So many female groundbreaking artists come to mind while watching a performance like this.  Wynonna Judd, Carrie Underwood, Emmylou Harris. Despina, the punk rock mandolin player, had no idea who that was but they still covered her "Leaving Lousiana in the Broad Daylight." The crescendo of the Foxes voices in harmony for that was like butter with harmonies blending and melting like fondue all over the eggs benedict in the back of the room.  Butterflies of bass and treble caressed the song. This is where I really noticed the stark pauses in vocals that set their songs to stunning. Then Cassie changes from Dobro to Banjo and away they go with Rains Everywhere I Go - a song to exemplify the carefree easy stylings that make the Foxes so loveable. The Fempire strikes back!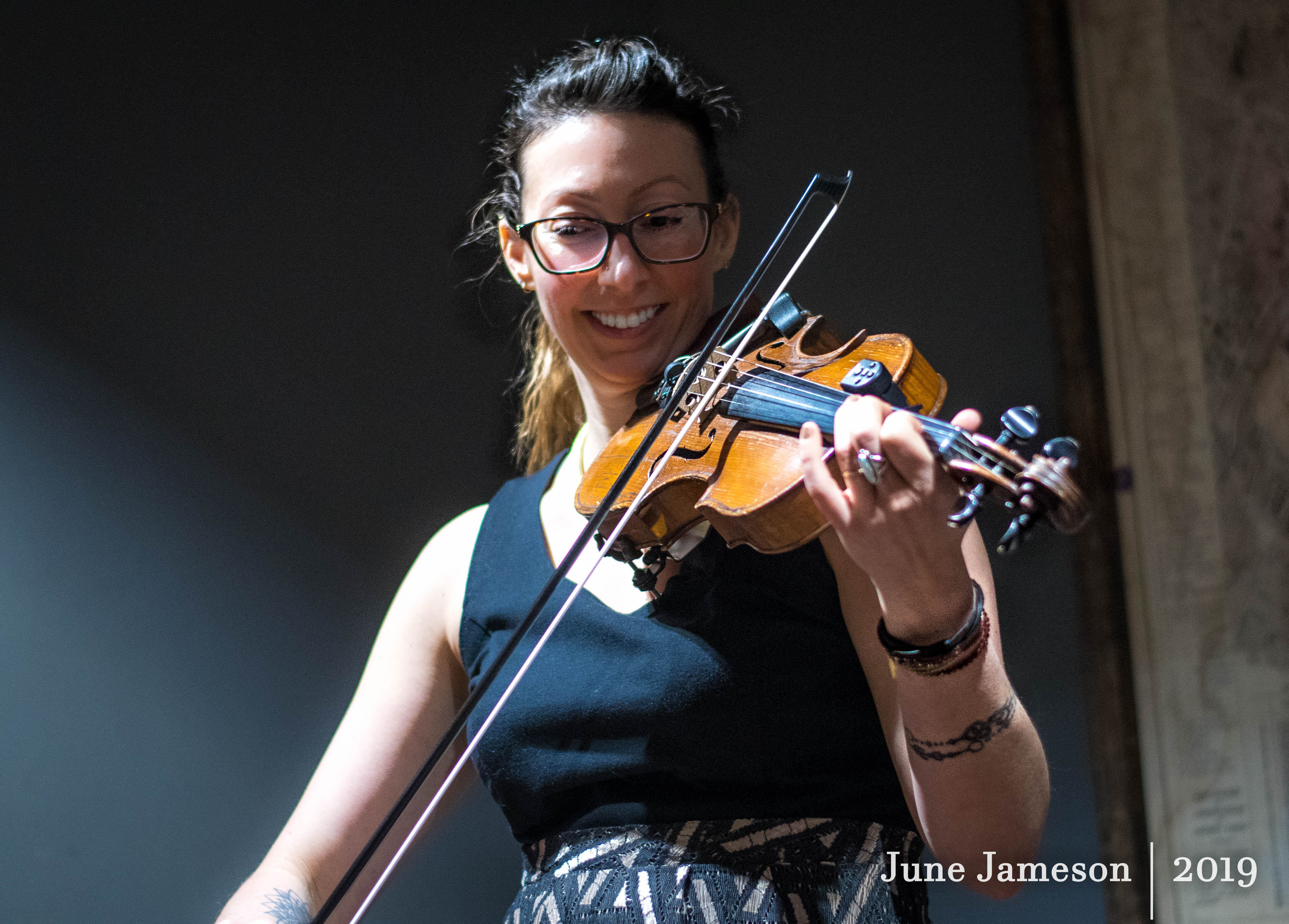 "We wouldn't be a country band if we didn't play some Merl Haggard!" - Allison Branch
They were thick in the twang at the halfway mark.  Using those pauses as suspense builders to turn even Merl Haggard's Ramblin Fever into the female side of being frisky. Somewhere between the Looney tunes coyote and the Magnificent Seven, these four ladies were giving powerhouse vocals to another original song by Despina Pfalides.
"I got it all figured out, least that's what I keep saying.  It'll all work out, come on and dance with me."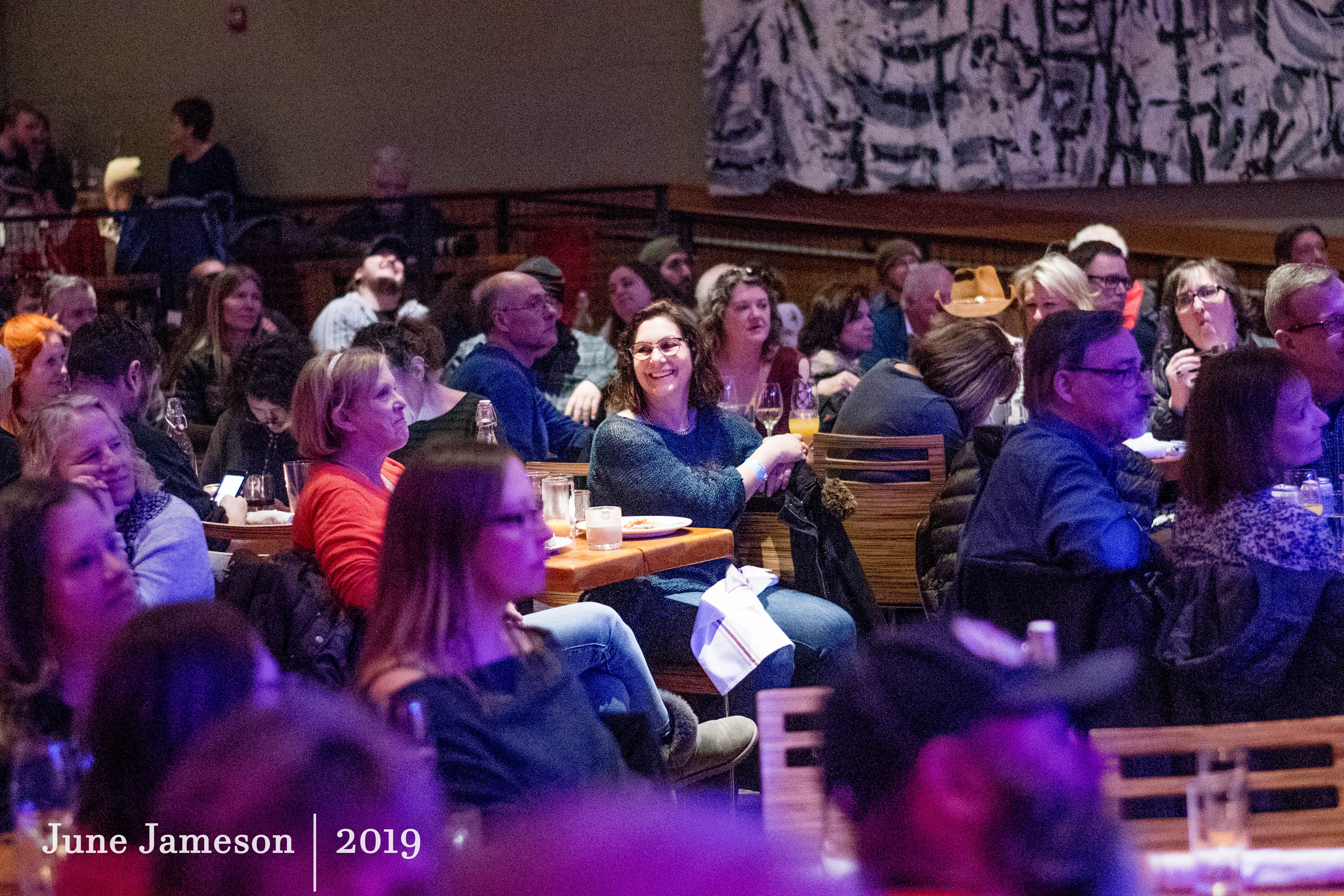 A full 90-minute set didn't pull into the station until they took the crowd with them singing to Dolly Parton's 9-5, whatta way to make a living.  The whole house was seated along with some wall dwellers along the fringes. As they finished their set they went on from that level of excitement to play Peter Paul & Mary's Leaving on a Jet Plane.  It brought an unexpected break in the vocal harmony which brought in the most nurturing version of GnR's Sweet Child of Mine I may have ever heard. The whole crowd loved it, especially the dudes. It was a great unifier and stellar send off to the 1st album release of the Fox Crossing Stringband.
Currently, the Fox Crossing Stringband is in Texas with more tour support shows to follow in Chicago.  Catch the Foxes as they run through your town!