Australian blues/roots guitar sensation Geoff Achison, whose sound combines elements of blues, funk and jam band music, will hit the American shores with a vengeance for an extensive tour starting in March and extending through June in support of his upcoming CD release, Little Big Men, due for release April 10 on Jupiter 2 Records. Little Big Men, which will be available for sale on Amazon.com, iTunes, CD Baby and at the artist's website, contains a re-mastered version of 14 tracks originally released to great acclaim in Australia several years ago but had been in limited release in the U.S., augmented by three previously unavailable bonus tracks.
To celebrate the new CD release, Geoff Achison will embark on a series of shows showcasing his many talents as a guitarist and singer, including some solo acoustic dates, full-band shows backed by his Souldiggers group and some special gigs featuring his good friend, the immensely talented Randall Bramblett (Sea Level, Gregg Allman, Steve Winwood). Kicking off the tour will be a special performance on March 17 from 2-6pm at Terra Blues in New York City as part of Hittin' the Note magazine's annual party during The Allman Brothers Band Beacon Theater concert series. Along with Randall Bramblett, also joining in the fun for this show will be the dynamic rhythm section of drummer Yonrico Scott (Derek Trucks Band, Royal Southern Brotherhood) and bassist Ted Pecchio (Susan Tedeschi Band). After that, Geoff plays March 23 and 24 at the Suwannee Springfest in Live Oak, Florida, with special guest Randall Bramblett, plus the Yonrico Scott/Ted Pecchio rhythm section.
The great Jorma Kaukonen of Jefferson Airplane and Hot Tuna fame said of Achison, "Geoff is one of the finest blues guitarists that I know with a completely individual style.  I have never seen anyone play quite like him." Kaukonen is such a fan of Achison's playing that he's made him a charter guitar instructor at his celebrated Fur Peace Ranch in Ohio. Geoff will be celebrating his 15th year as an instructor at the ranch with the upcoming session in late March.
Since first arriving to tour in the U.S. in the mid 1990s, Geoff Achison has garnered consistently strong reviews. Down Beat magazine lauded his music as, "Catchy, intelligent songwriting. Achison controls an expressive, individual singing voice and he spills out blues guitar phrases that shed further light on various emotional states." Elmore Magazine said, "Achison seems more like a singer/songwriter's soul in Jeff Beck's body."  And perhaps the celebrated Times of London said it best when it called him, "Possibly one of the most gifted musicians to arrive on the scene ... his playing verges on the miraculous."p>One of the hallmarks of Geoff Achison's mix is the incredible array of sounds he's able to coax from his guitars and amplifiers – without benefit of any special effects. This evolved because of his upbringing in an isolated area of rural Australia. Unaware of how the sounds he was hearing on his limited record collection were produced, he invented some of his own techniques - without the aid of pedals or gadgets. Just watching him wrench a myriad of sounds from his simple set-up can be something of a spectacle. Having taught himself to play, he has developed a blues/funk style all his own that can be delicate one moment and explosive the next. He is also a very forceful vocalist with a gritty, soulful quality to his voice. Inspired by the classic blues and r & b music icons, Geoff's live set features an infectious mix of gutsy original tunes, improvised jams and dynamic new arrangements of blues and soul classics.
At an early age, Geoff developed a passion for American blues music and taught himself to play on a beat up guitar he discovered under the stairs of the family home. In his early 20s, he became lead guitarist with Melbourne's top blues band; but after five relentless years of touring, he left to pursue his own musical ideas and formed the first incarnation of his own band, The Souldiggers.
"The idea was to have a name that described the music," recalls Achison, "and I greatly admired the blues philosophy - tapping into one's soul for honesty and truth. That's what 'Souldiggers' is meant to convey."
He formed his own Jupiter 2 Records in 1994 and released the first of many recordings of his original blues/funk/soul flavored material. These early recordings were well received by fans and critics alike and encouraged Geoff to take his music to other parts of the world. Geoff started his worldwide explorations in 1995 with his first trip to the USA. He represented the Melbourne Blues Society at the International Blues Challenge in Memphis and won the coveted Albert King Award for his guitar skills. He went on to accept an endorsement deal with the Gibson guitar company's acoustic division. In 1998, Geoff formed a U.S.-based Souldiggers group and while in the States recorded his third album, Gettin' Evil, in Portland, Oregon.
Geoff had moved to London in 1997 to establish a UK following, which led to appearances on BBC radio and the recording of a live album with his British Souldiggers group. The band was featured on a BBC radio special with host Paul Jones in 2007 and Geoff graced the cover of Blues in Britain magazine in July 2009.
In 2007, Geoff relocated to Atlanta, and during his two years in that city his annual tours extended throughout Australia, the UK and USA, playing either his immensely popular solo acoustic shows or hiring the best musicians available to form The Souldiggers as he goes.
He has won numerous awards over the years for writing, performing and recording. In 2007, Geoff & The Souldiggers picked up the Chain Blues Music Award in Australia for "Group Of The Year;" and a Guitar Player Magazine reader's poll voted Geoff one of their "Top Ten Hot New Guitarists" in June 2008. In 2011, the folks at TrueFire.com  put Geoff on the list of the "100+ Most Gifted Guitarists You Should Know."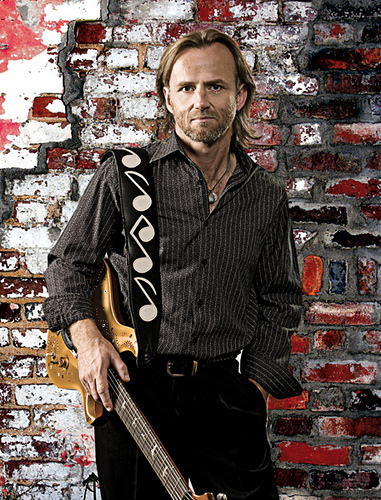 In 2009, his two years of living in the American southeast bore fruit by providing Geoff with an extensive network of top-level U.S. musicians.  He released the critically-acclaimed One Ticket, One Ride, which boasted an enviable cast of ace band members for the project, including guitarist Oliver Wood, drummers Yonrico Scott and Tyler Greenwell, bassists Ted Pecchio and Charlie Wooton and sax player Marcus James Henderson. The CD charted on Living Blues and the Blues Chart as well as making several "Best Of 2009" CD lists.
In 2010, Geoff teamed up with Athens, Georgia legend Randall Bramblett and a new "super-group" was born.  They released a live album, Jammin' in the Attic, featuring Geoff and Randall, with Yonrico Scott, Ted Pecchio and Oliver Wood.  Captured live playing a red-hot show at the famous Eddie's Attic, located just outside Atlanta in Decatur, Georgia, the CD was officially released by Hittin' the Note magazine.
Since returning to Australia as his home base, Geoff's relentless touring has continued with regular visits to the USA, UK and Europe. The tireless travel has kept fans enthused and gleaned several live CD releases from different corners of the world.  He released Live at the Burrinja Cafe, an acoustic tour de force; and for fans of his electric jamming, he produced the smoking Live from Guitars Across the Bay in 2011. 
GEOFF ACHISON TOUR ITINERARY
3/23 - Suwannee Springfest, Live Oak, FL / Suwannee Music Park
Randall Bramblett & Geoff Achison Band (w/Yonrico Scott & Ted Pecchio)
3/24 - Suwannee Springfest, Live Oak, FL / Suwannee Music Park
Randall Bramblett & Geoff Achison Band
3/27 - Moondance Lounge, Suwanee, GA / Solo Acoustic Show - 7:30pm
3/28 - Joni's Artisanal Wine Shop, Saluda, NC - Solo Acoustic Show - 7:30pm
3/31 – Fur Peace Station Concert Hall, Pomeroy, OH 
Randall Bramblett & Geoff Achison Band – 8pm
4/6 - The Crimson Moon, Dahlonega, GA / Solo Acoustic Show - 8pm
4/7 - Eddie's Attic, Decatur, GA / Geoff Achison & The Souldiggers
4/19 - Bamboo Room, Lake Worth, FL / Oliver Wood/Geoff Achison Acoustic Show - 9pm
May and June tour dates will be announced shortly.