In a music career spanning over three decades, Frank Zappa put out over 60 albums. Some call him a genius. Those who don't simply do not understand (pardon me and my asshole opinion—but I am right). Zappa has always had top-tier musicians in his line-ups, many of which have looked at his music charts and shuddered under the pressure. Since his untimely death in 1993, there have been numerous reincarnations of former Zappa musicians (and others) on tour celebrating his music.
On Mother's Day (how fitting), The GrandMothers of Invention featuring Zappa alumni: Napoleon Murphy Brock (vocals, sax, flute), Tom Fowler (bass) and Don Preston (keyboards) along with Chris Garcia (drums) and Robbie Seahag Mangano (guitar) performed "Roxy and Elsewhere and More" at the Boulder Theater.
GMOI played two solid sets of Zappa tunes including Roxy & Elsewhere in its entirety (with the exception of "Be-Bop Tango" and "Dummy Up"), "Little House I Used to Live In," "Let's Move to Cleveland," "Carolina Hardcore Ecstasy," "I'm the Slime" and "Willie the Pimp".
Brock described Zappa's music (in a pre-show interview, which can be read here) as "so far ahead of its time, I'm not sure time has caught up with it yet." And he couldn't have said it better. No group has come around that has the musical virtuosity and the chemistry, both in terms of musicianship and comedic improv stage banter since. It was simply ahead of its time. Other groups have attempted to play Zappa's material, and while the homage is respectable, a lot of the time, they fall short on ability.
The GrandMothers have the experience and the musicianship necessary to not only play these songs, but to preserve the integrity of the songs (basically, play them RIGHT).
"We're going to make sure that the quality and the integrity of the music stays the same and that it remains there, so people could see how it's really supposed to be done". And holy fuck, they did just that. "Cheepnis," for example, came across like a mirror image to the performance on Roxy. The changes were all on point, the banter was perfect, and by the end of the song, young and old fans alike were dusting their chins off from their jaws hitting the theatre floor, thinking, "damn, that's the way it's supposed to be done."
"Village of the Sun," was the Zappa tune that initially hooked me, personally. That particular tune, along with "Sofa # 1," were enough to bring tears to my eyes on Sunday night. Absolutely beautiful!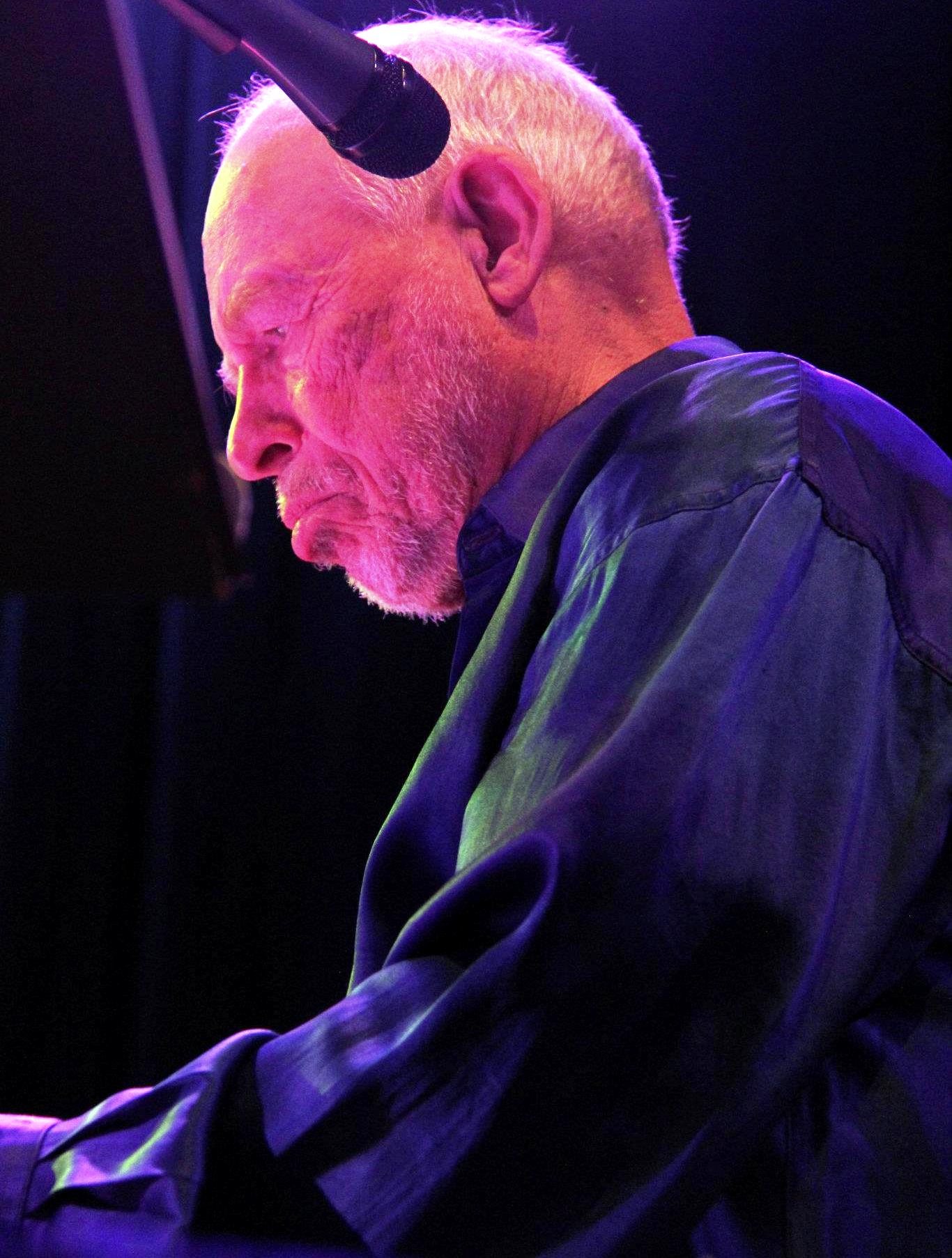 Tom Fowler started playing with Zappa on Over-Nite Sensation and saw him through Bongo Fury...and is no less the machine today as he was back then. Don Preston was an original member of the Mothers of Invention until about 1974, and loomed-focused-over the keys, a true master. Brock was born with a huge smile and charisma, both of which will live on, long after his physical body has passed. He is a proud soldier of the Zappa army. His level of enthusiasm on stage is even perhaps greater now than when he performed on Roxy. He is as animated and enthusiastic as he was back then, and credits his energy to a daily seventeen ingredient smoothie and three hour stints at the gym. Frank is looking down proud on these three.
Garcia, in addition to being about the nicest, most hospitable guy you'll ever meet, gets behind the drum kit and makes it his bitch. What's amazing about this guy is his vast knowledge and mastery of the Zappa catalog (he never played for Zappa). He has taken marimba lessons from Ruth Underwood, is a valued member of the Zappa extended family and was the perfect guy to fill out this line-up. Mangano also had some big shoes to fill. The youngster of the group took obvious delight in providing some tight riffs and solos amidst a stage full of (mostly) seasoned Mothers veterans.
So, in essence, if you love Zappa, this is the tour to catch. Pretty damn seamless; overall, about the best reincarnation of FZ alumni ever. Colorado folk- if you missed it- fret not. They'll be in Denver on July 31st at the Bluebird Theater. For a full list of dates, see their website.
And seriously, get to the show. Whether you're a seasoned Zappa veteran who has had the pleasure of seeing the man in the flesh, or of the younger generations who only have bootleg recordings to rely on—don't miss this show!