Guitarist Skip Grasso and bassist Phil Ravita have recorded a set of original and fresh new jazz, high-quality material that can be adopted by today's jazz artists. They gathered a particularly strong quintet and the results are the nine new originals that comprise Jagged Spaces. With tenor and soprano-saxophonist Benny Russell, pianist Greg Small, and drummer Nuc Vega all adding their musical personalities to the quintet, the Grasso-Ravita Jazz Ensemble on Jagged Spaces performs four songs by Grasso, two apiece by Ravita and Russell, and one from Small.
The set begins with Grasso's "Jagged Spaces," which has a singable melody along with fluent and unpredictable soprano, guitar, piano and drums solos. It serves as a fine introduction to the group. The relaxed jazz waltz "Her Life Incomplete," "Songhai" (highlighted by Benny Russell's tenor solo which is both soulful and explorative), and the minor-toned straight ahead blues "Blue Sunshine" (which has a particularly speedy bass solo by Ravita) keep the momentum flowing.
One piece flows logically to the next one yet each stands out as a potential future standard. "Circles" is mildly funky and has thoughtful piano and passionate soprano solos. "All About Cynthia" is a warm tender ballad while "Latin For Leandro" has a bit of urgency in its theme, leading to inspired guitar, tenor and bass solos. The last two pieces, "The Homecoming" and "Chasing Shadows," conclude the project with optimistic and quietly joyful playing.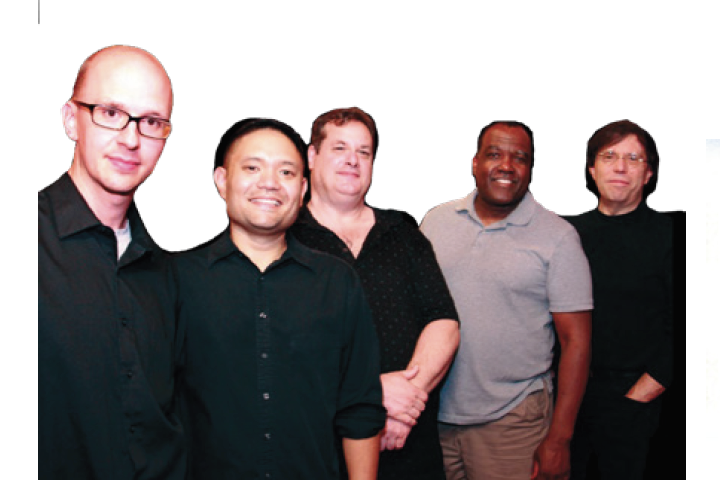 All of the five musicians are skilled improvisers who are active in the Baltimore/Washington area. Skip Grasso is a freelance guitarist and has recorded with the Don Junker Big Band and the Hank Levy Alumni Band in addition to occasionally performing as a solo guitarist. Bassist Phil Ravita has performed in a wide variety of settings with nationally known artists. Benny Russell has led an all-star orchestra (the New York Association), worked with the Next Legacy Orchestra, produced concerts, and written several notable commissioned pieces for large ensembles. Pianist Greg Small, who is also a talented trumpeter, has worked with many local artists at numerous jazz festivals while drummer Nucleo Vega is also in great demand for his tasteful and supportive playing.
Together, these five musicians on Jagged Spaces have not only recorded the debut of their promising group but are introducing nine new pieces that deserve to be heard and savored by jazz listeners.