Spafford. Still waters run deep with this Phoenix band.  Often described as patient jams, they are putting out another dimension for creative types.  The immersive community and collaborative culture they are honing is described nicely by Andrew "Red" Johnson when we sat down to chat about how the Summer tour is going and what we can look forward to in Spafford's future, including their debut performance at Lockn' Festival on Sunday afternoon (2:15 PM).
After playing the Element Music Festival in BC Canada and most recently, Legend Valley in Ohio for the Werk Out Festival, Red is looking forward to than playing a handful of dates with Umphrey's McGee.
GW: So, you have had Joel Cummings up on stage with you, yes?
Red: Joel has sat in with us a few times, and he is a phenomenal musician, a great human being. We love having him up on stage.  I actually sat in with Umphrey's in San Diego last year when we were on our tour with them. That was a lot of fun too, Joel is one of our favorites.  He is welcome to join us anytime.
GW: Are there any other musical influences specifically on keys that you would like to play with in the future?
Red: I've got a ton of players that I look up to, like heroes.  Guys like Bill Payne of Little Feat. I grew up listening to him.  Obviously, I'd love to do something with him. Just a million players that I'd love to have some time with, to be able to jam with… Yeah, gosh you put me on the spot there.  There is a million players not even to jam on stage with but to sit down and pick their brain would be fun. There are a million players I'd love to sit down and jam with too.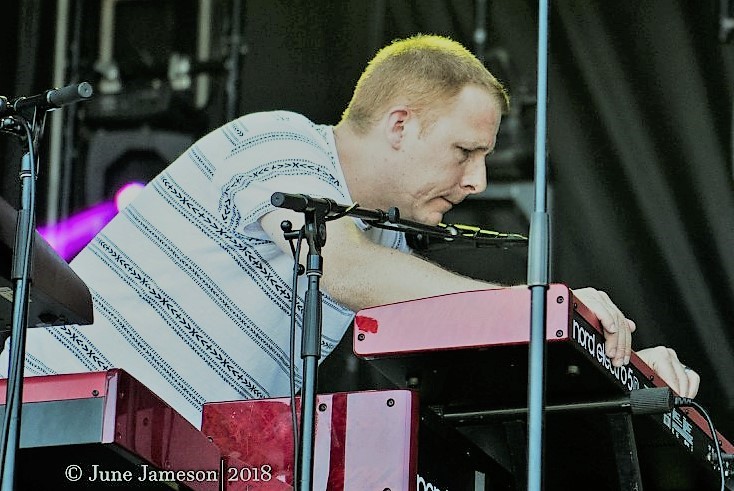 GW: So, maybe an easier question would be, I have seen you sitting while on stage and standing.  I absolutely love it when Page McConnell comes out from behind the keys with Phish so to channel that curiosity; I'd like to ask you, when do you decide to get on up or to stay grounded and seated?
Red: Well, there is not an absolute plan for me.  It's funny; there are a lot of keyboard players that prefer to stand while they play. I just have never been one of those guys, but every once in awhile, the feeling will hit you.  I'll be like, oh I gotta get up. Whether its that its a feeling where I'm really feeling it, it's not really a conscious decision that I make to stand up and jam out. It just happens in the moment.
GW: Tell me the story of Red's Jam.  How did that come to be?
Red: Interesting.  I had an opportunity… this is a really funny story.  I don't think I've ever told this story before. A good friend of mine had been touring with an American Idol contestant.  They were playing a show in Prescott (pronounced like biscuit, Arizona). I hadn't seen my buddy in a while and he said, 'Hey we're gonna be playing in Prescott.  I'm playing with Casey Abrams. Why don't you come out and bring your keyboard; we could jam for a couple of tunes.' I was like alright cool! Getting an opportunity to play with an American Idol contestant… I mean, he was one of the finalists. I don't think he actually won it, but he was a phenomenal musician, great singer obviously.  So he had told me to learn a couple of their tunes. As I was learning those tunes, I was plunking around. There was a chord progression that was a spin-off of one of his tunes. I kept working on it, and after a couple of days, I made it my own. It came together. It is interesting because it is one of those tunes that kinda just worked.  We wanted to keep it as a jam beat, maybe as a way to get from one tune to another. Or maybe we could play it as a stand-alone, but whatever it has really cool chords in it. So yeah, long story short, that song came out of another song. You take inspiration wherever you can find it; you never know when it's going to hit you.
GW: I had made a note about your tune "Leave the Light on." I gotta say, one thing that really impresses me about Spafford is that your improvisation is everything.  I love listening to the 50 minute one single song, but trying to break down your setlists and looking at your live performances… Can you speak to this - Leave the Light on has such a familiar melody but it's so Spafford because of how clean and crisp the surrounding art, lyrics, and images, virtually everything else surrounding that song is totally unique. Do you hear what I am trying to say?
Red: Yeah, I hear what you're saying. That is a song that Jordan wrote, and as you said, there is a certain amount of familiarity that goes into every great song. Jordan is an amazing songwriter, a phenomenal lyricist, and I think that is one of the things that creates the difference between a good song and a great song.  It's being able to keep that familiarity while still being original. That is not just the difference between a good song and a great song but the difference between a good songwriter and a great songwriter. I'll say it again, Jordan is a phenomenal songwriter. That's why I think so many of his tunes make it on the hit list for Spafford.  He is an amazing songwriter, and I absolutely love playing his tunes.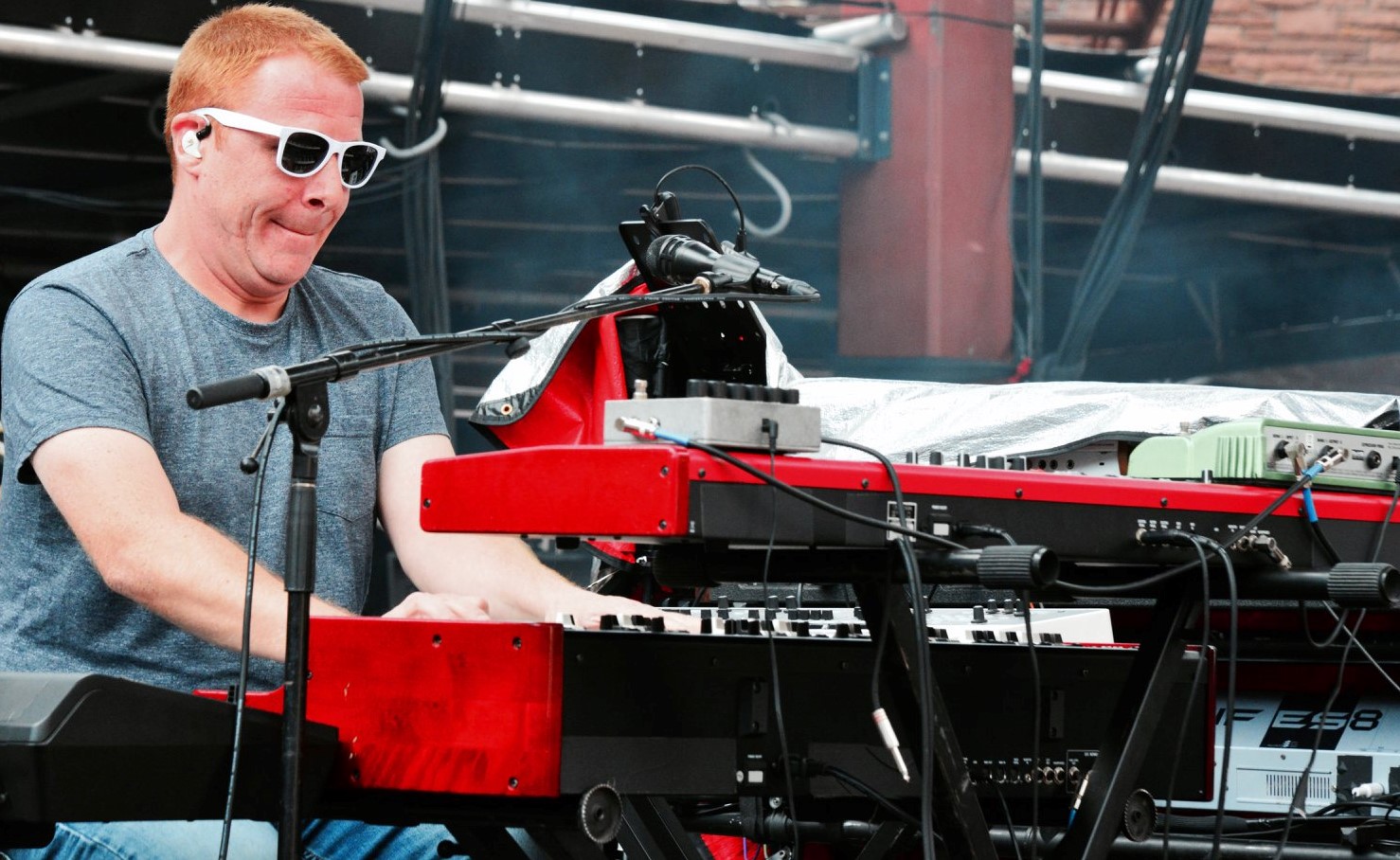 GW: Did he also write "Electric Taco Stand"?
Red: No, I think that is a Brian tune! Again, he is another phenomenal songwriter, and again that is a tune that has that familiarity while still being original.  It's not a carbon copy of anything. It's definitely a Spafford tune. It's got that familiarity to it like you recognize it the first time you hear it.
GW: How do you guys split the songwriting duties in the band?
Red: Sometimes somebody will bring a tune to the table that has been already done, and it's like, 'this is how this song goes.' Another time someone will bring a song that's more open like, 'this one is open for interpretation.' Let's figure out how to make it Spafford. Like I said before inspiration hits at different times, and you just gotta go with it as it comes.  We also rely on, or at least I do, on our good friend Chuck. He is a phenomenal poet, and I really like a lot of his poems. Some of the more recent tunes that I've brought to the table use his lyrics.
GW: What was his name?
Red: His name is Chuck Johnson. He is actually the namesake of the band.  Chuck Spafford Johnson.
GW: Aaahhhhh! I somehow had the impression that Spafford was a smattering of words put together. A word you all came up with together… But it is a name? A real name?
Red: Yeah, that is Chuck's middle name.  That is how the band name was realized. Chuck Spafford Johnson.
GW: That is so dignified, I love it!
Red: He is a dignified kind of guy.
GW: Is his poetry out there in a place where we can check it out? Like Robert Hunter's books? I love Box of Rain.
Red: Yeah, he handles social media outlets where he posts his poetry.  He is definitely out there, and I strongly suggest everyone read his book. He has some amazing stuff. https://thisisyourlifechuckjohnson.com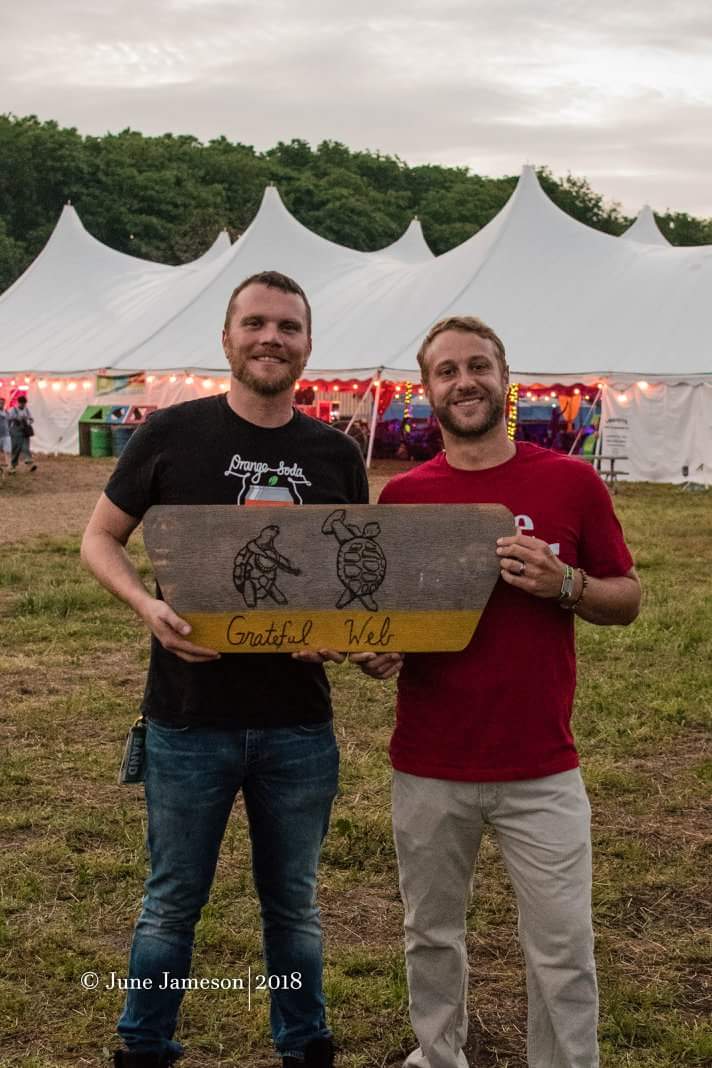 GW:  I got to chat with Brian and Jordan at Summer Camp music festival this past May.  One thing that I regret was that they were spitting out all these amazing artists and I didn't get a chance to write them all down so that I could check them out later. That's why I had to slow you down just now and get the details.  Holy cow, do you guys have a community? How did it come to be that you have poets and artists and people making block prints for you, obviously all the while making amazing, beautiful music? Is this a long time coming? Are these your people? How does this happen?
Red: Ya know what? The answer, the truth of that is, I don't really know.  It just kind of happened. Some of it comes from people enjoying the music, some of it comes from people wanting to be involved, some of it comes from us seeking out people to be a part of this growing thing.  But the truth is we have some of the most amazing fans on the planet. They just want to be involved. We couldn't be more grateful for that. It's absolutely amazing, the amount of support we get from fans and friends. We couldn't be more humble that they want to come out and support this.  We couldn't be more grateful for that. It's absolutely amazing the amount of support that we get from fans and friends. Like I said, people just want to be involved and it truly is an honor. People want to be involved in this circus I guess you could call it. I don't really know where all these amazing human beings have come from. They came out of the woodwork, and we are very happy that they did.  We have amazing people in our family. The Spafford family is truly that, a big giant family. We're all in this together. Every music dream that Spafford has, there is a lot of work that goes into that. There is a lot of people behind the scenes that work to make that so special.
GW: I am still searching out a copy of For Amusement Only on vinyl.
Red: Yeah, me too
GW: Really?
Red: Yeah, I haven't gotten mine yet, but it's coming.  I know it's on its way.
GW: Amazing.  Tell me about the Spaffnerds.
Red: Spaffnerds is a thing that the fans created.  We personally have nothing to do with the Spaffnerds.  That is something that the community took upon themselves to create through social media networks. They have their own website with show stats.  They have forums. They are a crazy bunch of people and I absolutely love em. We have the best fans in the scene. We really do. They are the greatest fans ever, so dedicated. They are a great group of people, truly a great bunch.

GW: Okay, last question.  You seem so appreciative; I want to return some of that love and just say that encore at the Purple Hatter's Ball when you sang "Into the Mystic," that song holds special meaning to me as that was the first dance my husband and I shared.  I wanted to thank you for choosing that cover. I wanted to ask you, is that a favorite for you? How did that come about? You definitely put your own spin on it there, Red.
Red:  Here is the thing, music hits people in very different ways. I grew up listening to people like Van Morrison.  I grew up listening to the Dead. My parents definitely dabbled in hippiedom but they also enjoyed all the classics.  I grew up listening to people like Jackson Browne and Van Morrison and all those cats. Like I said, music hits everybody very differently.  Everyone has their own personal take on a song like "Into the Mystic." Everybody can agree that it's just an amazing song. Even if it was just once, if I had the opportunity to sing a classic, how could I ever pass up the opportunity to sing it? My only thing is that I hope I can do it justice. It's such an amazing tune.
GW: You did Red, you absolutely did.
Red: Thank you very much, I appreciate that.
GW: Thank You! Well with that, thank you for this 15 minutes of your life, and I will see you down the road at the next show.
Red: Sounds Good! Hopefully, we see you out there real soon.