Grateful Web's Michelle Miesse recently caught up with J Bratlie from Shreveport, LA based Dirtfoot.  Dirtfoot, who describes their sounds as: Gypsy Punk Country Grumble Boogie. J Bratlie shared some of Dirtfoot's wake up norms, an update on their recent Kickstarter campaign, life on the road and plans for their 7th appearance at this year's Wakarusa Festival.
GW: How are you doing J?
J: Great!
GW: So you guys have Wakarusa coming up in a couple of weeks, and you're going to be playing two shows, I believe, plus the Chompdown.
J: Correct.
GW: Okay. So do you guys get tired ever?
J: Well, this year's actually going to be kind of a rest for us. I think a year or two ago we did five or six different things. And it was, you know, that was a rough one. By the end of the fest we were all pretty beat. But we are actually looking forward to this one; two sets and of course the Chompdown. The Chomp's, of course, it's a show but it's really a shot in the arm. It's kind of a booster shot for us - getting to be around all the friends, you know, and just doing something good and enjoying the commune. It's a good time - it's not work at all. It's fun.
GW: Yeah, the Chompdown is awesome. You get to feed people who are probably starving delicious food. Do you guys ever get to cook or do you just play the whole time?
J: Well, occasionally we get to do some stuff on the tail end. But we're usually pretty lucky if we can get a plate at the end when we're done. Every once in a while somebody will go snag some eggs before they're all gone...bring some eggs and bacon to us as well. But it's, you know...getting up there and playing a set, it's always just such a great time. Anyhow, there's usually Bloody Marys in the morning too and those kind of things, so that's always fun.
GW: Bloody Marys in the morning are perfect. So when you guys are playing a festival like this, how does it affect your music vs. playing in a bar or venue or something like that?
J: Well, you know, we always try to do something a little different. We've actually kind of had an evolution here in the last year with...Matt won an electric guitar when we did the John Lennon Songwriting thing and so that's kind of dirtied up the sound. You know, we also have a new drummer. Our old drummer retired after a long time on the road. So we got in a new guy and he's a little more of a rock-influenced drummer. And it's really kind of given us a different sound. We played at Old Settler's Fest in Austin recently and some guy came up to us after the set and said that we reminded him of System of a Down meets Gogol Bordello. *laughs* I said, 'Cool. Yeah, I haven't heard that one before.' So, our sound is definitely morphing. We're kind of curious to see what everyone thinks about some of the new things that we'll be doing.
GW: Actually, I was at your show in Fayetteville when you played there last and one of the biggest things I noticed was that your sound was a bit different. I felt like it was kind of like you guys were going a different direction with the sound - still the fun, gypsy punk grumble boogie thing you guys are pretty much famous for, but I felt that lyrically there was a lot of meat to it and the music just seemed to be changed. So how did you guys get Derek in the band? How did you find him?
J: Well, Derek actually jumped on stage at Waka with us about two or three years ago. He's a Shreveport boy and he was at Waka, and Scotty or Daniel had jammed with him before. He was standing on the side of the stage like 'Hey. Let me come up!' So he jumped on stage and player percussion and that's kind of how we first met him. Whenever Layne decided to retire, immediately we started putting the word out, you know about people looking for drums and if I recall the story correctly, Derek was working at a sandwich shop and Matt went in to grab a sandwich. And that's kind of how it all got started as far as getting Derek in the group. As far as the sound, I mean, you know you're exactly right. As the band has evolved we've kind of lyrically evolved; the songs themselves are...I don't want to say we're intentionally trying to do more, but as we're growing as a group and as we're aging as a group, it is kind of evolving - it's changing. You see a lot of bands go through that. We still do the same filtering process. We start working on a song and if people don't like it, we don't play it. When I say people, I mean if the band members don't like it we don't play it. If we really dig it - it goes out there. And then from there it continues to morph on the road. We have some songs that have continually changed over the years and we have to go back and listen to the originals if we want to play them like we recorded them.
GW: So, I guess you guys are always...every show you probably learn something new. Do you guys pick up new instruments ever? Do any members of the band have any outside bands or things they participate in?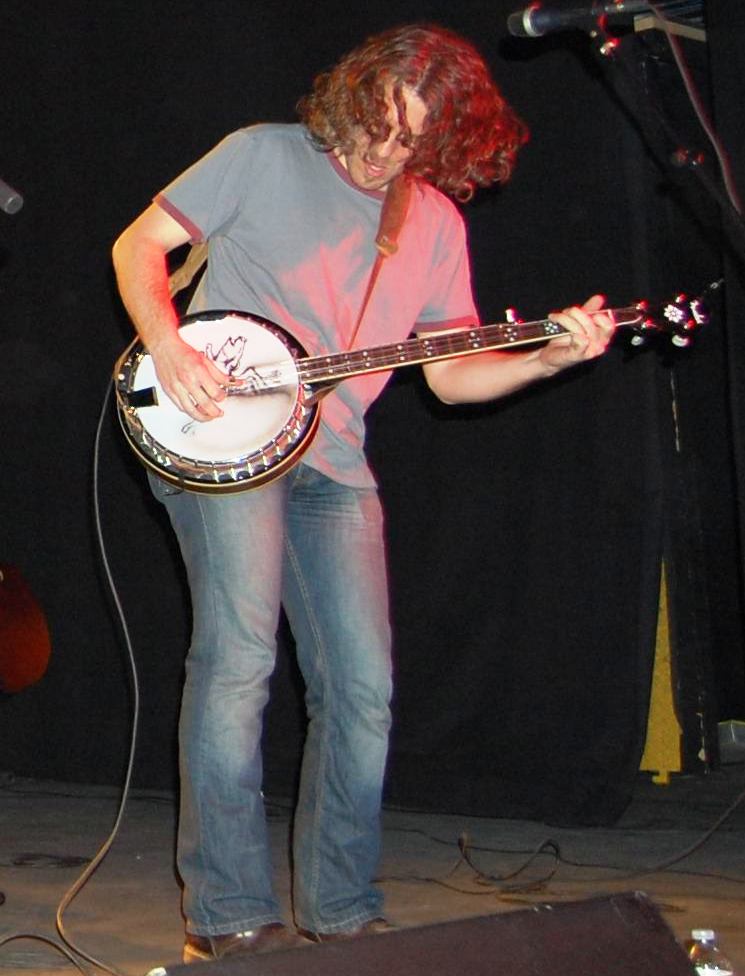 J: Absolutely. Most of us are multi-instrumentalists. On this new record I put some piano down on a couple of tracks. Everybody plays in other groups for sure. Our drummer plays with a side group. Scott, the sax player, he plays with everybody. I mean, he's constantly got his horn looking for a gig whenever we're not actually doing stuff. Our bass player, he has his own group. They've recorded a record. We all stay busy with lots of projects. Because of that it allows us to have different influences and kind of keep our eyes open. When Matt got the electric guitar- how's that going to change the sound? What's going to happen? Rather than worrying about it, we just kinda threw it in there and played with it, and we really dig it. If we didn't dig it he'd still be playing the acoustic. We kind of naturally evolve with it as it comes to us.
GW: What's your favorite instrument that you don't play?
J: I'd say probably...I, myself, pick up the guitar more than anything else. I started playing the guitar when I was a kid...so I wanted to impress the ladies and all that. You know, strum chords in church camp. Because you impress the ladies with a guitar at church camp.
GW: Yes. Church camp is a great place to impress ladies.
J: Yes, especially with an acoustic. 13 with an acoustic guitar - you can't beat it. I like to play the guitar a lot. You never know. We do have practices where we pick up other instruments, or try to do something different with what we have. So you never know what you might see...what we might do on stage. We have a couple tunes where I know that Daniel and Derek want to switch up. And Daniel plays drums and Derek plays percussion. We may end up being one of those shows where I jump on the bass and Nathan gets on the guitar.
GW: I really appreciate the ability of musicians to switch instruments almost seamlessly. You mentioned the John Lennon Songwriting Contest - can you explain that a little more?
J: The John Lennon Songwriting Contest is sponsored by the John Lennon group. They do a bunch of different songwriting contests throughout the year. They do some regional-type contests. And they had one called the NOLA Jazz Competition. It was basically to Louisiana or Louisiana-esque bands; so we decided 'hey, we're a Louisiana band...let's throw our name in the hat and see what happens.' And we put our song "Bathroom Sink" from the first record into the mix. Because to me it's got the most New Orleans kind of vibe to it. And we got a call saying 'Congratulations.' We didn't really know...we enter a lot of things and we get a lot of thank you, but...you get a lot of that kind of stuff. Those nice emails that are about 3 lines long. But we got a really nice email saying you have a Epiphone John Lennon Casino Guitar coming your way, and a ProTools 10 rig with an MBox and you get to come to New Orleans and if you can at all make it, we want to come record you on the John Lennon tour bus. And so we're like...Okay. We drove to New Orleans, met up with them in a parking lot in the middle of nowhere...jumped on the bus and we recorded "Bathroom Sink" - they mixed it, videoed it, they put the video up on YouTube and it was a fun experience. It was a great time - their crew was really cool. And, of course, the John Lennon bus travels everywhere. They do a lot of stuff with schools...music education kind of things. And they also have recorded tons of huge artists. It was an honor and definitely a privilege for us to be a part of that. And we got a cool video out of the deal, and we definitely got some great gear. Matt's guitar is just awesome. It's definitely a nice, nice electric guitar. It's really morphed the sound of the group, so it's been wonderful.
GW: That's a really nice chain of events that started off your new album, which we can go right into...the Kickstarter - that ended recently. You guys raised $20,290.
J: That is correct.
GW: So what are you guys going to do with that? Explain to Grateful Web readers what you intend to do with your $20,290.
J: Well, there's been talk of running off to Mexico. We're not sure. *laughs* The first thing is to pay the studio, because they graciously allowed us to go in and record without having any money. And basically saying, 'Okay, we're going to do a Kickstarter and hopefully it will be funded. And after it gets funded we can pay. And that will be beautiful.' It basically started with February of last year; Brady Blade, who owns the studio, he's the drummer for Dave Matthew and Friends, he's Emmylou Harris' drummer - he plays with everybody. He caught a show at Mardi Gras that we played and was just like 'Guys. I love the new sound - gotta get you guys in the studio. I'm free between this date and this date' - between Erykah Badu and a new project with Dave Matthews and Jacob Dylan and the Sexton Brothers. Brady's actually got a new band he's starting - a super group kind of thing.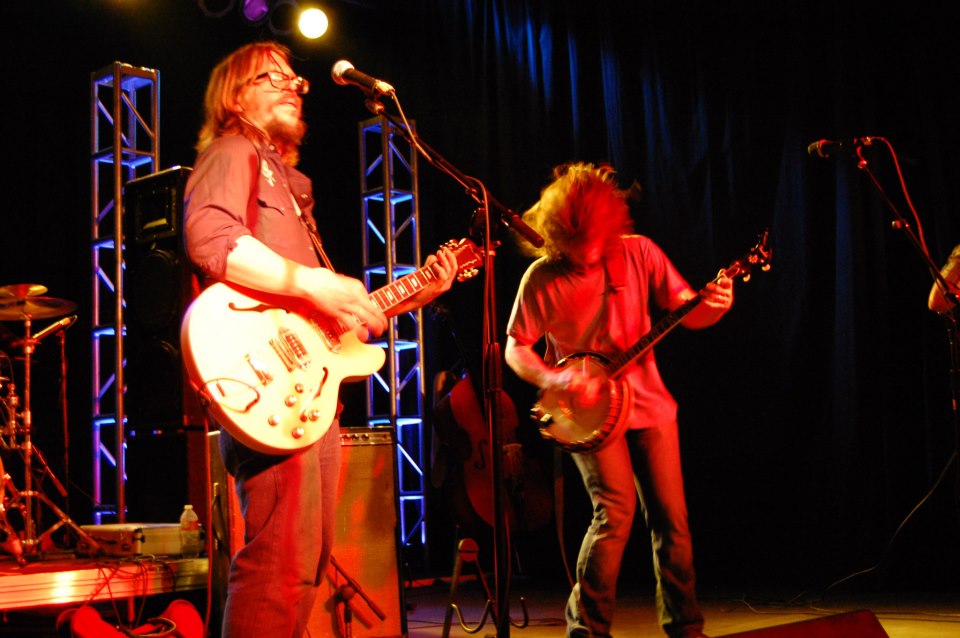 So, you know, we're like...absolutely! But...'we have no money. Your studio is a 5-million-dollar studio; it's nice and swanky and all those terms you want to put on it. We don't have the funds for this.' So he says 'Tell you what - let me be the producer; I'll work out a deal.' So basically, we got the studio for about 1/3 of what we should have paid for it. He allowed us to put up a Kickstarter and hopefully we would meet our goal. We reached out to Papa Molly (he's a local musician from Shreveport). He showed up and put some awesome guitar down on one of our tracks. And then Brady had worked with the Rebirth Brass Band before on a Kenny Wayne Shepard record. He reached out to them...we actually opened up for Rebirth a few years ago so they remembered us and said 'Hell yeah we'll come on up!' We got them set up on four songs. Again, it was one of those things that started out at one point and continued to grow as we always do. We always go in planning to do one thing and spend one thing, and we do something different and do a whole lot more. Anyhow, we set up the Kickstarter and said this is the minimum number we need to have to complete the project - just to get the studio paid off and get the pressing and all that kind of thing done. We hit our goal with about sixty hours left and we said what the hell...vinyl isn't too cheap to press, but if we can go ahead and get to 20 grand we're going to do a special, limited run of vinyl. And it just shot up. Everybody started upping their pledges and we had a bit last-minute push. We did a local, secret unannounced gig here locally and all kinds of things to help raise the funds. When it was all said and done we got over the mark and we were stoked. We're very happy that we can fund the album, pay the studio...because our record would have been held hostage. We're going to be able to get it done and get it out there. This summer/fall we're going to be doing a lot of touring to help support the record.
GW: So when can we expect the record and the vinyl to be out?
J: Well, we are planning on an early fall release. We will be announcing the specifics very soon. We just got out of the studio and listened to the final mixes. And we're now working on what we want to call this thing. We had a plan at first, sort of, and as the songs kind of came together we're like 'Man, this has a whole different vibe than we were thinking,' So then we did the Kickstarter...and now we're sitting here with a few ideas of what we want to call it. It's a dirty, sexy record - it's just one of these thing where we have to find a good name for this.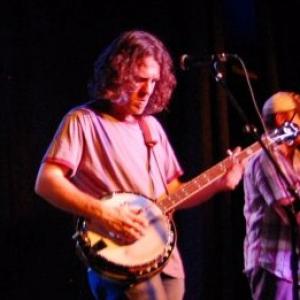 GW: So what other festivals are you playing at this summer?
J: We've got a bunch of tour dates that we're about to be posting up soon. There are a few festivals coming up in the fall that we can't announce yet.
GW: How many years have you guys played at Wakarusa?
J: This will be our 7th year.
GW: Wow. That's awesome. Have you noticed a change in the festival? What do you like about it?
J: Well, I do think at first the festival had a kind of grassy vibe...I do think it's broadened a little bit. They're trying to be a little bit more of everything kind of festival. Which to me is cool - I think part of that does come in to Harvest Fest which comes in the fall. Because there is that festival now, Waka is kind of morphing itself to stand away from Harvest a bit more. All that said, Waka is one of our favorite festival every year. The staff is always great - they're kind of like extended family to us now. The grounds themselves...Kansas was fun. You had to walk 3 days to get anywhere and being where it is now is just such a great setting. Everything's close - you can walk five minutes and you're anywhere. And, of course, this year...the lineup is awesome. We're stoked to see Gogol Bordello...we cannot wait. We're going to be right up front screaming like a bunch of idiots.
GW: If somebody had never heard of you, how would you describe your band to them.
J: Well, we've always liked to call ourselves gyspy punk country grumble boogie...we may have to work on that name now because we've heard a couple of heavy metal references. We may have to throw heavy metal in there somewhere.
We are a band that basically, if you're not movin' and shakin' at the end of the set we're not doing our job. The music's got vibe, feel, a lot of call and response - we depend on the crowd to take part and to be a part of the songs. We've always had the shaker cans that show up for the gigs. And they may make a new appearance at Waka this year. We've always made those cans and we've taken a break from it for a bit because...we've made so many damn cans. What's really cool about it is that we have people who show up to gigs with their own cans. That was kind of the hope - eventually you'd see them there anyway. We never wanted to sell them...we didn't want to make it any kind of merch thing...Oh, go buy a bean can. That's part of our thing. When the crowd is up, we're up. When the crowd is giving the energy to us it makes us that much higher. You feel like you're floating. And it makes it so easy to play. The show begins and the show ends and you just hope you didn't screw up in the middle somewhere. The crowd can make it almost like a religious experience. That high that only comes from feeling like there's something bigger than yourself.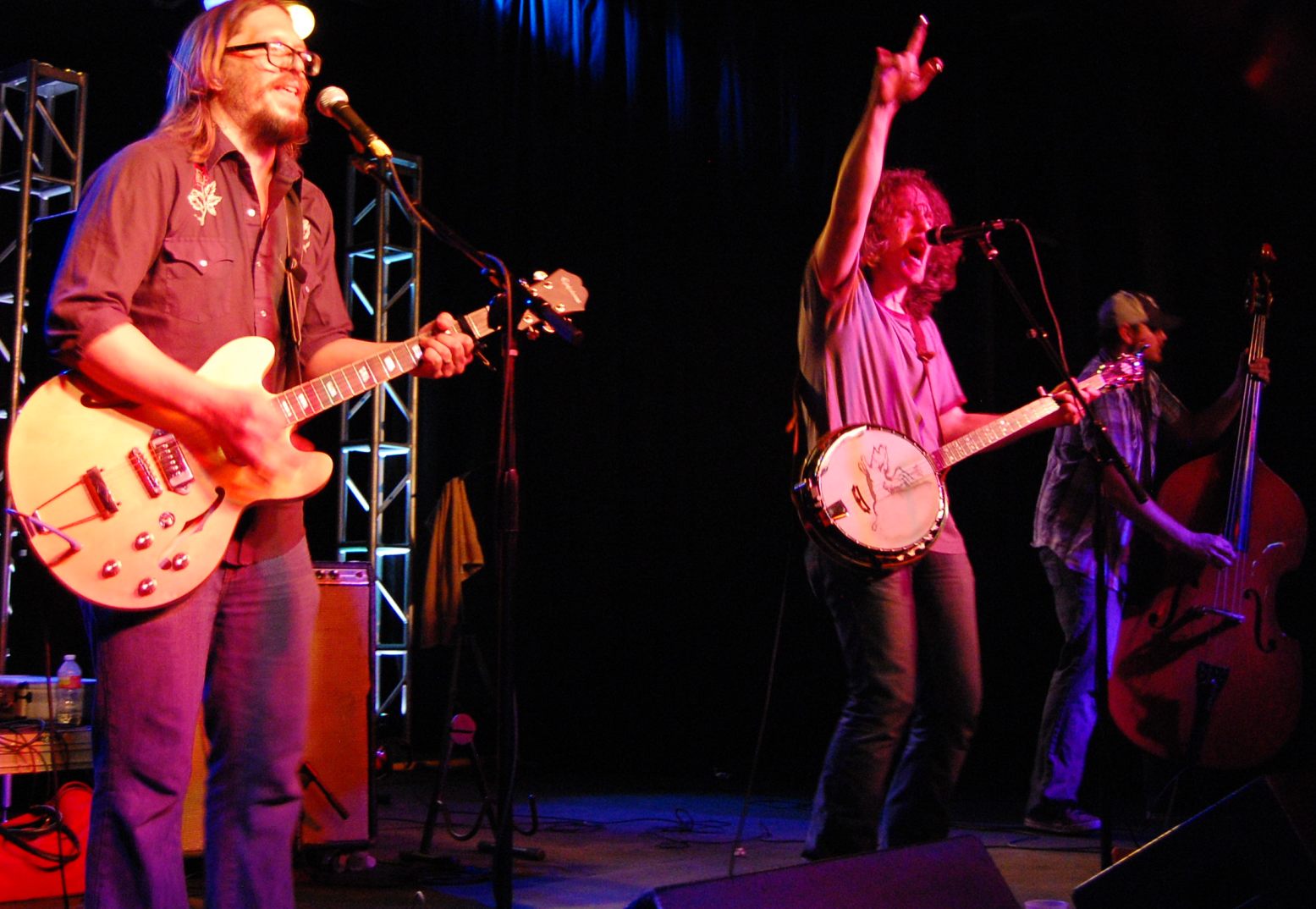 GW: The ability of music is to connect people and to give them religious experiences where they may not find them. It's so cool that you guys are able to recognize that. It think that, maybe a lot of audience members don't always understand how much you can really get out of a live show.
J: You know, we have always had that kind of primal quality. There was a fella who used to come to our shows...he was a whirling dervish. We had a song and he would literally just start to spin and spin and spin and spin as the song when on (it's one of our more gypsy songs called 'Break My Bones') and he would do it because it would bring on this euphoria and that 'holy' thing that only happens through the music and movement. That's kind of what it is for all of us; the way we move onstage, the way the crowd interacts with us, the way the crowd calls back to us in our songs...it all just helps to build when you're a part of something bigger than yourself. When you get that feeling that it's not just you - you're a tiny piece of a big thing. And that's when you get that feeling.
GW: Would you like to say anything to Grateful Web readers?
J: We want to thank everybody that, first off, helped us with our Kickstarter campaign. It's such an outpouring of love, so for anybody that donated or shared or tweeted or blogged...we are very grateful and we hope to see everybody at Waka. If you see us, come up and high five, shake our hand...whatever...we want to meet all the folks that helped us get where we are. We appreciate everybody's love and we cannot wait for you guys to hear the new music.
GW: Me neither! I am super excited about the new album. Thank you for all the work you guys do and for all the beauty you bring into our lives.