The Get Right Band is a dynamic indie rock power trio hailing from Asheville, NC. With over a decade of musical exploration, the band is dedicated to creating authentic, self-expressive music that pushes the boundaries of genre and speaks to the human experience. The band's sound melds elements of 60s/70s psychedelia, 90s alternative rock, and modern pop/rock into a unique style that is at once nostalgic and fresh.
The Get Right Band was formed in 2011 by Silas Durocher and Jesse Gentry, who have been playing music together since middle school. In 2013, they were joined by drummer Jian-Claude Mears, and the trio set out to create a sound that was uniquely their own. Durocher, a trained composer, brings his technical expertise and swagger to the guitar and microphone. Gentry's virtuosic bass playing is a force to be reckoned with, and Mears' powerful drumming provides a foundation that is at once precise and emotive.
Over the years, The Get Right Band has shared the stage with a variety of notable acts, including Dr. Dog, Everclear, Cracker, and UB40. They have been featured on NPR's World Cafe and WTF with Marc Maron, and have played at major venues and festivals across the country. The band's music has been praised for its infectiousness, intelligence, and weight.
With four studio albums and a live album under their belt, The Get Right Band is poised to release their newest LP on April 7th, 2023.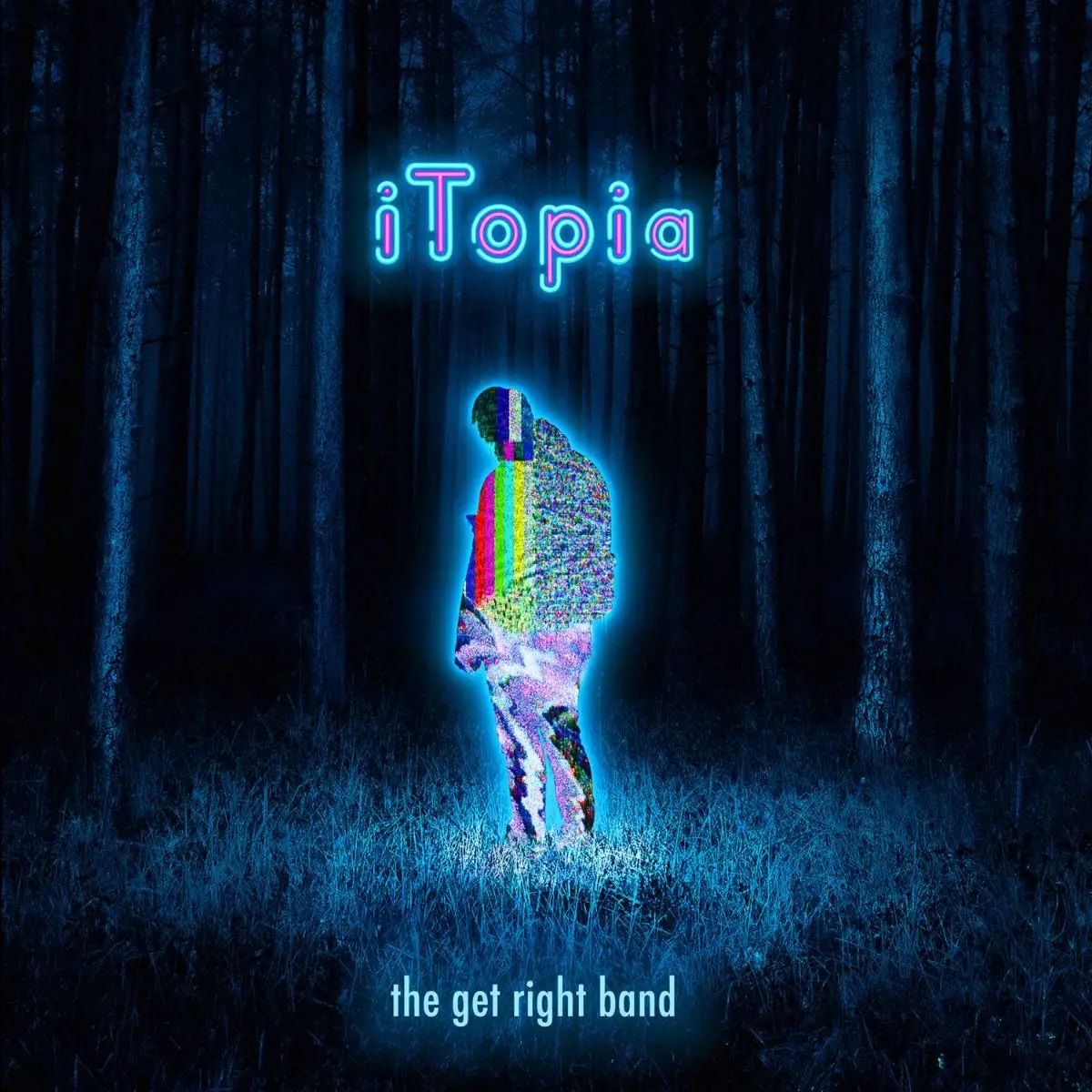 iTopia explores the impact of technology and social media on our lives, personalities, and relationships. The album is a concept piece that tackles globally relevant issues in a catchy, accessible way.
With iTopia, The Get Right Band has positioned themselves as one of the few modern bands writing music that speaks directly to the anxieties and challenges of our time.
The band's first single "Hell Yes Refresh," which was released on January 26th,  is a mesmerizing synth-filled track that delves into the collective human addiction to social media and the constant need to refresh. Lead singer and guitarist, Silas Durocher, intertwines the subjects of technology and love, emphasizing the song's message that these concepts are often interchangeable in today's world.
The band's accompanying visual, directed by Durocher and animated by Rodrigo Salazar, sets the tone for iTopia. The video, created in collaboration with artificial intelligence, is a vibrant portrayal of the concept of technology and its impact on human connection. The band chose to use AI art as a way to communicate the album's message of finding the balance between the "miracle and the mess of technology." Durocher explains, "We wanted the first music video from iTopia to really say a lot about the whole album, not just the single." With "Hell Yes Refresh" and its accompanying visual, The Get Right Band offers a captivating preview of what's to come.
On February 16th, the trio unveiled their latest single, "Generation Happy or Dead," along with its lyric video. This song from their upcoming album focuses on the desire to stay informed about the world while avoiding falling into apathy.
GENERATION HAPPY OR DEAD: SONG
GENERATION HAPPY OR DEAD: VIDEO
In addition to the singles "Generation Happy or Dead" and "Hell Yes Refresh," iTopia will feature 15 more tracks that touch on themes such as self-discovery, mental health, and the search for truth in the digital age. The album promises to be a dynamic and cohesive body of work that showcases The Get Right Band's unique blend of rock, funk, and psychedelia.
The upcoming tour will give fans a chance to hear the new material from iTopia alongside some of the band's classic songs. The tour is set to kick off on March 11th in Asheville, NC, and will make stops in cities such as Washington, DC, Philadelphia, PA, and Brooklyn, NY. More dates are expected to be announced soon.
Recently, Silas Durocher from The Get Right Band sat down for an interview with Candice Dollar from Grateful Web to discuss their upcoming album, iTopia. In this interview, Silas and Candice delve into the creative process behind iTopia, the band's upcoming tour, and their unique approach to blending genres to create a sound that is both fresh and nostalgic.
GW: Can you tell me about what it was like to produce the album?
SD: Yeah. So, it's all self-produced. Everything we've ever recorded has been self-produced. We have a lot of strong ideas about arrangement, effects, and things like that. We really like to be hands on. With this album, and the last one, we went into Echo Mountain, which is a really nice studio here in Asheville, and we recorded the drums. Then we recorded everything else at home in a— you know, half-assed home studio.
GW: And this is album number…?  
SD: iTopia is our sixth album.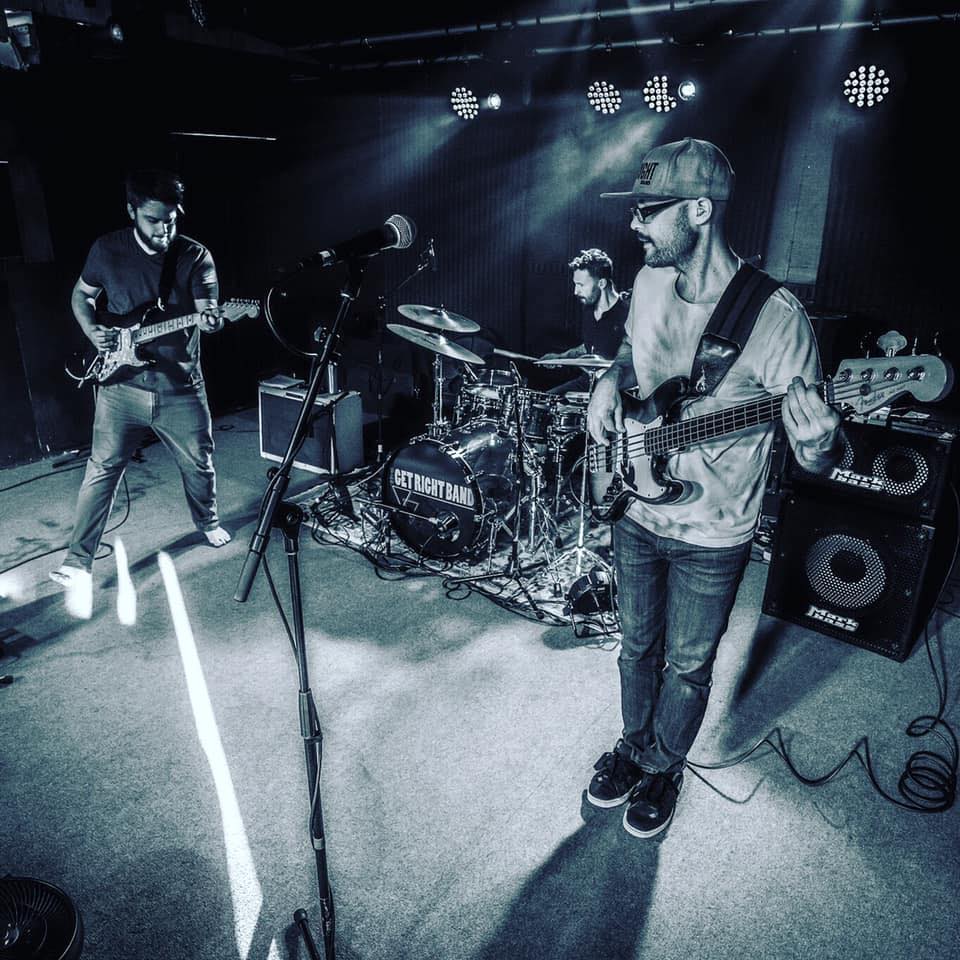 GW: So you mention a "half-assed" home studio. Can you talk more about the difference in recording at home vs. in a professional studio?
SD: The four albums we did before these last two were done more traditionally [in a studio] and we really felt like we were fighting against the clock. Just paying by the hour. We aren't really looking to capture our live sound in the studio. We're looking to use the studio as a totally different medium. To use effects and to experiment, and that experimentation takes a long time.  You gotta go down a rabbit hole sometimes, and chase an idea for six hours, and then at the end of that go "Oops! Nope, that wasn't cool," but you have to chase it in order to find out that it wasn't cool. Or, sometimes you're like, "Oh, shit! That was it!" We never would have had that time if we were stressing about paying by the hour. So for iTopia, we tracked almost the entire thing at my house, and at a couple of other people's houses. Then, we mixed it partially by ourselves, and partially with this guy named Matt Settle in Charleston, South Carolina. We had some good back and forth with him, and he really brought some cool energy to it. We really love this process. It takes a whole lot longer doing it the way we do it, outside of the studio, and doing a lot of the engineering, production and some of the mixing on our own, but we just feel like the end result is something we're a lot more excited about.
GW: So it sounds like you are really looking forward to this album release.  
SD. Yeah. I'm really looking forward to this record coming out because we started working on it when we are all locked down in quarantine. We released our previous record, which is called Itchy Soul, and pretty much immediately started working on this one. That was one of the nice things about this process. Even though quarantine was obviously rough in a lot of ways, it was also the first time in ten years that we were not on tour for an extended period of time, so we had a lot more time to write. Anyways, I guess that makes it about two years between when we started, and when the record will come out. So it just feels like we've been working on this for forever, and it's really exciting to have it out. I'm really proud of what we did, and definitely through the writing and recording process, we were very focused on what we think, what we want to make, what we are trying to express, and what we want to hear. But then it starts to shift towards this point in the process where, like now, it starts to get really exciting to share it with people, and you hope that people are going to hear it and go, "Oh, I feel that way," or "Oh, I also like things that sound like that," or "That hits my heart in the same way that you're singing about it hitting your heart." So this part of the process is exciting. It's a little scary, too, I guess, but mostly just really exciting.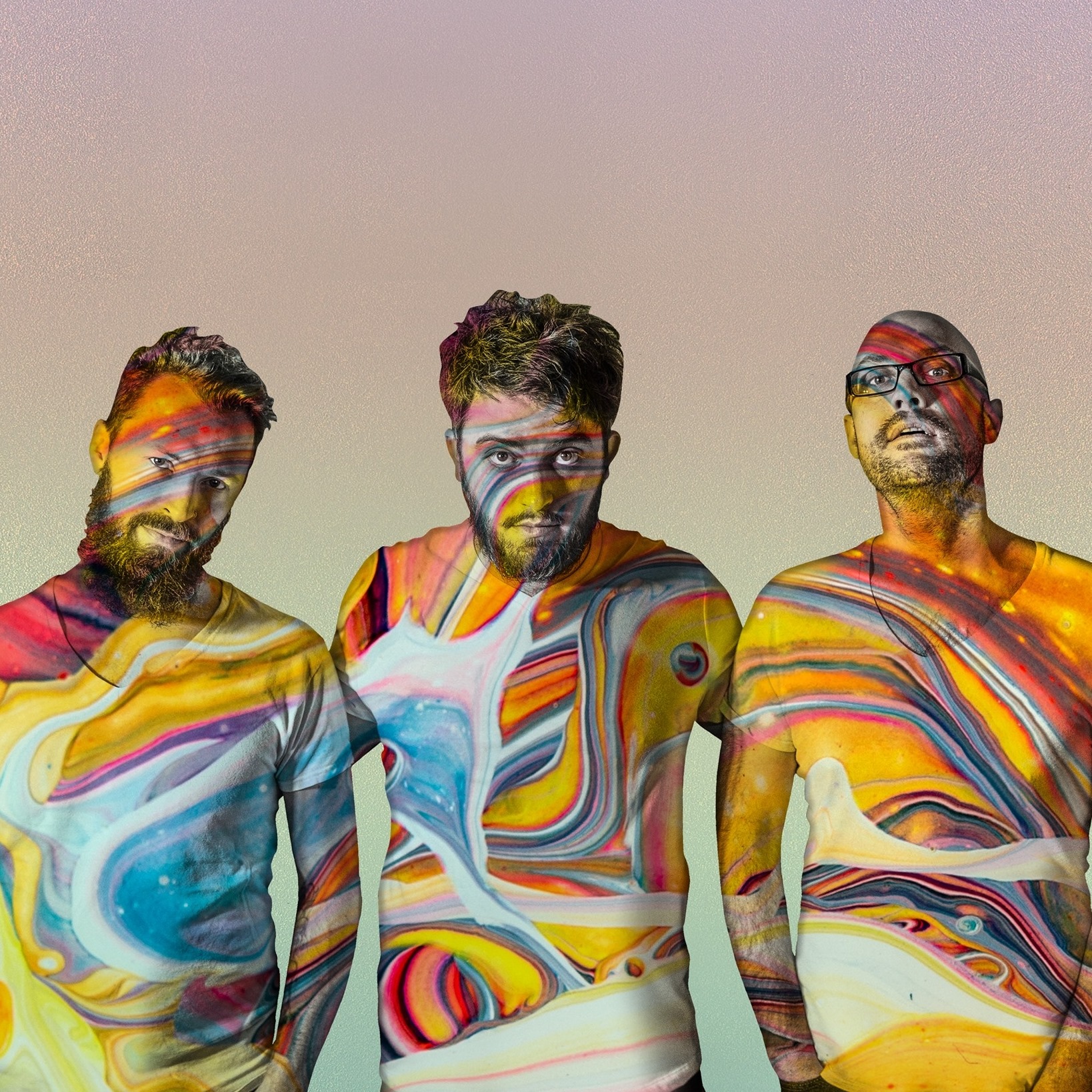 GW: What else are you looking forward to?
SD: We're gonna be touring a ton when the record comes out, so all spring and summer will be the album release tour, and I am looking forward to traveling to all kinds of places, and working hard to spread this thing around.
Overall, The Get Right Band's iTopia promises to be a thought-provoking and engaging album that explores the complexities of the modern world. With their unique blend of rock, funk, and psychedelia, the band is sure to continue to captivate audiences and earn new fans with this new release.
iTopia (LP) Tracklisting
1. Black Holes of Negativity Part 1
2. Generation Happy or Dead
3. Good Luck Kid
4. Hell Yes Refresh
5. iTopia
6. Praise the Algorithm
7. Moonlight Maze
8. Trust Me
9. Turn Myself Around
10. The Outrage Machine
11. Don't Feed the Trolls
12. Black Holes of Negativity Part 2 (The Monster is Me)
13. Climbing Out of the Hole
14. Highest Bidder
15. Miracle/Mess
16. Am I Just a Battery?
17. Black Holes of Negativity Part 3 (Saying No)