This month, Tulsa jazz fusion outfit Henna Roso released their debut record, Feed The Hungry (Horton Records), with an album release celebration where they not only performed new material, but  held a food drive in partnership with the Community Food Bank of Eastern Oklahoma--which pushed them to over 91,000 meals raised since they formed in 2016. Philanthropy and the desire to give back are two values at the core of Henna Roso's mission statement as a band and that sentiment couldn't have rung more true as we sat down with frontman and bassist Taylor Graham to talk about his influences, the recording process, and the band's altruism.
GW: What inspired you to dedicate funds from every performance and album sold to help fight hunger?
Taylor: I have always wanted to be able to combine music and giving back to the community.  Hunger felt like something tangible we could help fight with every show and due to the day-to-day nature of the problem, it allows us to continually fight an ever-present issue.
GW: Can you explain more about how the band is structured around supporting local food banks?
Taylor: Basically every show we play is a food drive and we try to partner with local food banks in whatever city we are playing in to ensure the fans are impacting their local communities.  We also dedicate 10% of profits to organizations that fight hunger and $1 for every item we sell. Being from Oklahoma, we have established very close with the two biggest food banks in the region (Regional Food Bank of Oklahoma and Community Food Bank of Eastern OK) and have partnered in numerous events to get people engaged in the fight against hunger.
GW: There are so many different styles of music that fuse together to make up Henna Roso's sound. Can you talk about the band's influences and how they contribute to the sound of the band on this record?
Taylor: The two main composers are Justin Dupuis and me.  Dupuis has a jazz degree from University of Central Oklahoma, and you can hear that a lot in his chord structure and melody.  He is into a lot of heavy jazz players (John Scofield, Julian Lage, Bill Frisell), but he came from a jam band background looking up to Trey Anastasio.  I think that's what separates him from a lot of the cats playing straight ahead jazz, his solos have incredible arcs and he wants to compose technically difficult music that people can still dance and vibe with.  I am a huge funk/soul guy, I love Stevie Wonder, D'angelo, Sly and the Family Stone, George Clinton, etc. I was also very into Snarky Puppy/Lettuce for a while and I think some of that definitely shines through in this record.  I think our sound is defined by where our two styles meet in the middle, somewhere in the middle of funk, jazz, and R&B, but to me is unique enough to not box us in.
GW: There are guest lead vocalists on this record. Can you talk a little bit about how you came to work with different singers and how songs like "OG" and "You Ain't Gotta Lie" came about? Were they songs already written as a band? or songs you worked on with each singer?
Taylor: Actually, both songs that have vocals were written by other members of the band.  "You Ain't Gotta Lie" was written by Greg Fallis, he recorded trombone on "Feed the Hungry".  "OG" was written by our drummer Nicholas Foster, he came in with everything ready to roll on that one.  Faye Moffett, who leads on "OG" was the wife of the keyboardist who played on the album, Bobby Moffett Jr.  She has an incredible voice and really did some awesome things vocally on this track. They were involved in Henna Roso's live show off and on for years but have since move forward to focus on their solo work.  We were so pumped to be able to get Anthony Farrell of the Greyhounds to lay down vocals on "You Ain't Gotta Lie". He did something so different and unique that the song felt different in a really nice way. Andy McCormick, who played sax on the record, lived in Austin for a while playing with T Bird and the Breaks.  He played with Farrell often and became close and was able to facilitate him being involved.  
GW: There's a line in your bio: "making music while being of service to the community are intertwined and inseparable because you can't have soul without the heart." - can you elaborate on this more and talk more about how these two things are intertwined? and do you find that this concept rings even more true and/or relevant in 2019 with the political climate being what it is?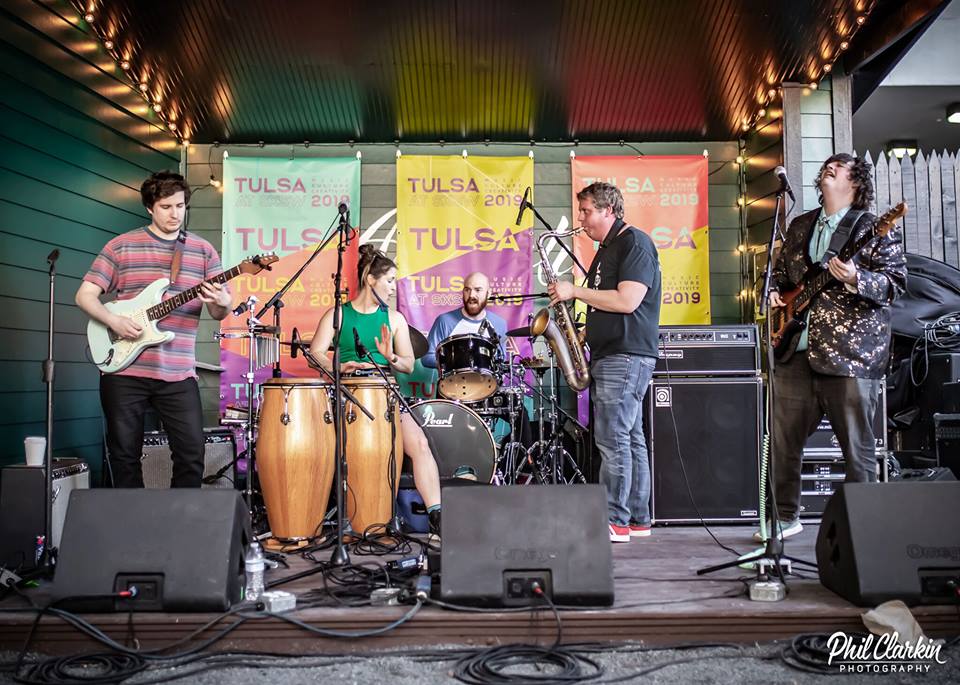 Taylor: I just think in nature, music is a very giving thing.  Musicians are sharing a little piece of who they are and hoping to connect with people and provide some meaning to this incredibly difficult thing we call life.  We also hope we can provide happiness to a world which is in desperate need of love and connection currently. When you hear some music that hits you at your core and the singer/band is giving it everything they have, that is Soul. To me that does not exist without the heart.  I definitely believe this concept to be incredibly relevant in today's political climate, because it needs more heart, soul and compassion across the board. Our policymakers need more heart/soul on issues like immigration, global warming, healthcare, poverty, and prisoning, just to a name a few.
GW: Since the band's inception in 2016, you've provided over 65,000 meals in Oklahoma and across the US. What's been the most satisfying aspect of being involved in your own and other communities in this way?
Taylor: The most satisfying part to me is the fact that number is only going to grow and get bigger as we continue to rise within our field.  At our album release party,, we were able to raise over 22,000 meals for the Community Food Bank of Eastern Oklahoma (Tulsa, OK), so that number is actually 87,000 meals now!  Often as a musician, you can feel as if nobody is listening and that no one is interested, but to me that number and the support we have received is that reassurance that we are doing something meaningful.  It has also been a treat to work with food banks all across the country. Those are our heroes; they fight hunger every day and sacrifice financial gain to bettering lives within their communities.
GW: What was the recording process like for the band? how long did it take to make "Feed The Hungry?"
Taylor: We tracked most of it in one weekend in August 2017 at Teegarden Studios in Tulsa, OK.  We needed a space where we could record the album live, as a whole band, and be able to isolate each individual instrument.  We knew these songs up and down before we got in and went in and hammered it out. We wanted to convey the energy of a live show with these compositions and I believe we were able to do that.  After that, we added strings, organ, percussion, and trombone on various sessions. The whole process took right over two years in totality. 
GW: Taylor, you're the band leader and also a bassist. There's a lot of stanky groove in your bass lines on this album. Which bassists have inspired and influenced your playing in Henna Roso?
Taylor: Awww thanks.  Some of my favorite bass players are: Pino Palladino, James Jamerson, Larry Graham, Michael League, Garrett Sayers, and Jesus Coomes.  I'm a huge funk/soul guy so a lot of the cats from the late 60's/early 70's have influenced me greatly. I'm also inspired by a lot of local guys in OK that slay: Jordan Hehl, Stephen Shultz, and Aaron Boehler.  
GW: A lot of great music is coming out of Tulsa right now, what are some of your favorite aspects of being part of this musical community?
Taylor: I've seen Tulsa evolve so much in the past 10 years of being involved in the music scene.  It's really incredible when I start thinking about it. My favorite part of the Tulsa music scene is how supportive it has become.  Every band/artist seems to be rooting for and supporting every aspect of the music scene. I also love how diverse it is becoming; when people think OK, they think about country/western, red dirt type of music.  We do have that, but we also have incredible R&B, Americana, hip-hop, afrobeat, and jazz acts. The best part is that this is just the beginning of Tulsa's rise on the national music scene, to me, Tulsa has 4-6 bands that are right on the verge of doing very big things all across the country.
GW: Lastly, what do you hope listeners take away from their experience with "Feed The Hungry?"
Taylor: My hope is that people can find a passion/project and use it in a way that helps support a cause that is near and dear to their hearts.  The world needs support and love more than ever and I hope that our music can inspire people to help out more when they can.
*****
Feed the Hungry is out now on Horton Records.