Human encyclopedia of all things literature and cinema, Spencer Charnas, has enjoyed a successful career thus far embracing the cult following that accompanies his Metalcore band Ice Nine Kills. The band from Salem consistently finds a way to put a dark spin on their deepest passions with their lyrically motivated music that often take more than one listen to fully digest.
The band turned heads in 2015 when they released their album "Every Trick in the Book," a concept album revolving around some of the works of literature that Charnas believed shaped his person journey, in a move that prompted the most commercial success the band had seen so far. In reflecting on this album, Charnas said "I think that we were trying to do something different. We're by no means the first band to do a concept album, but in this world, I don't think there are too many bands doing that." An album with songs based on novels from as wide of an interest breath as Robert Louis Stevenson's "The Strange Case of Dr. Jekyll and Mr. Hyde" to Thomas Hardy's "Tess Of The d'Urbervilles" the album's deeply personal nature was clear to listeners. "I'm a huge fan of literature" Charnas Recalls, "This is the stuff that I live and breathe, and your music should be an extension of who you are, I think that's when you write the best material."
Recently, Grateful Web met with Ice Nine Kills frontman Spencer Charnas at this year's Warped Tour to talk with him about his thoughts on concept albums, the other genres that influence him, and the lighter side of him that he believes most of his fans rarely see.
Grateful Web: You recently released your new single "The American Nightmare" would you mind talking a little bit about the process of creating this song and why you felt this was the single to release before Warped Tour?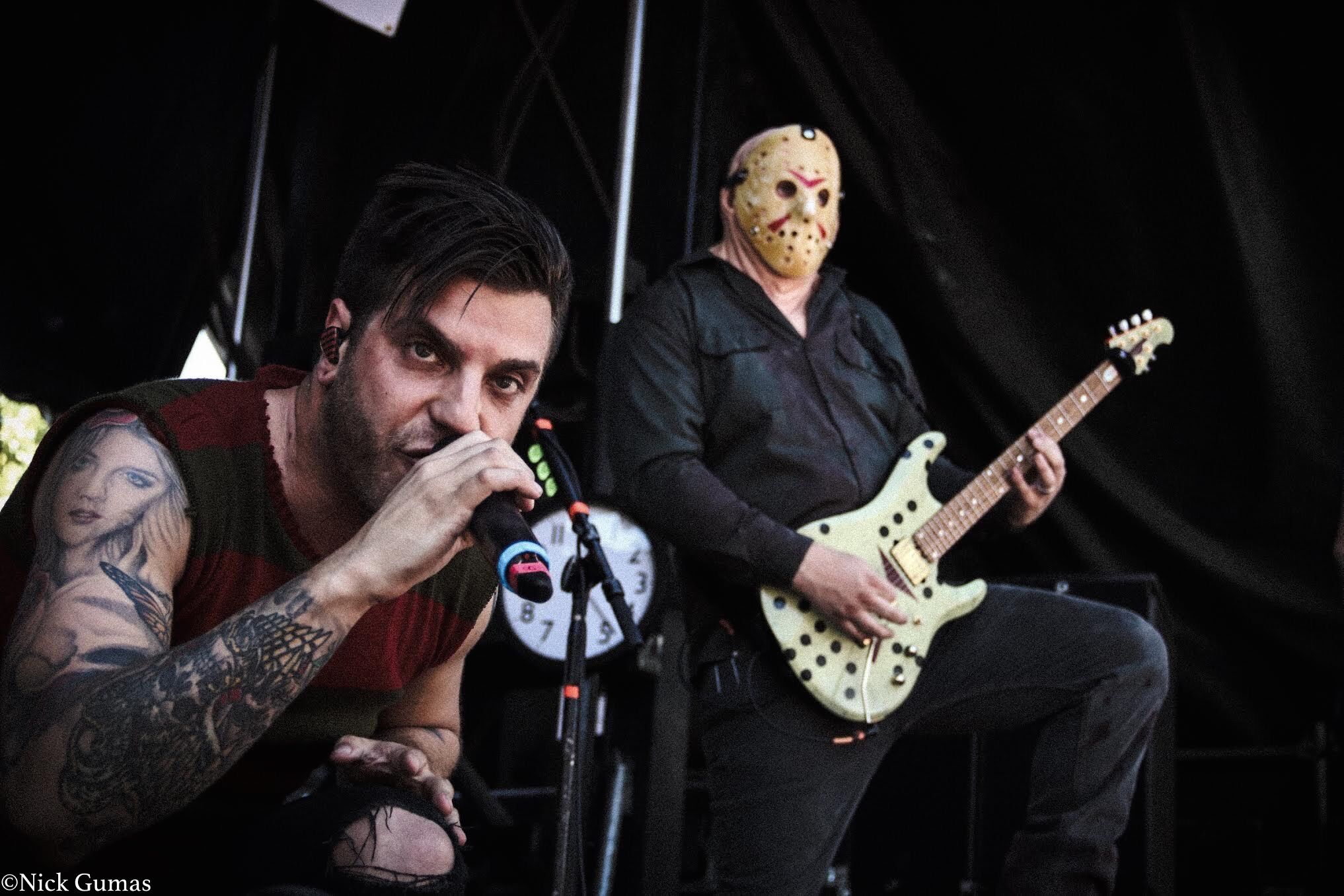 Spencer Charnas: That was one of the first songs that we worked on for the new record that we're releasing in October, and the concept of the new album is that every song is going to be based on a different horror film. When we were writing that one, the chorus just hit and we were like "This has got to be the track we drop right before Warped Tour." We crafted it in a way for it to be a real live banger, and it was so cool to really get involved in the lyrical content and really homage the film, so we watched the whole (Nightmare on Elm Street) franchise over and over again, I love Wes Craven, RIP, and we really got ensconced in the imagery and the mythology of Freddy Krueger, and how brilliant of a concept it was to have a slasher that kills you in your sleep, because no matter what you do; you can have a loaded gun, you can lock up all your doors, but you're going to fall asleep eventually so your death is imminent.
GW: With this being your second concept album, why do you feel particularly drawn to these?
SC: I think that we were trying to do something different. We're by no means the first band to do a concept album, but in this world,  I don't think there are too many bands doing that. I'm a huge fan of literature and horror, the last one (album) was literature and this one's horror. This is the stuff that I live and breathe, and your music should be an extension of who you are, I think that's when you write the best material. We've done records where we're talking about our own pain and our own sorrow, but I'm a pretty happy guy and with our music I don't think that much happy imagery really works with it and I love the stories behind these films. If I can make art on a different platform to pay respect to these films, that just feels like the next step for us.
GW: I have always been curious as to why you re-released your song "The Greatest Story Ever Told" on Safe Is Just a Shadow. What prompted you to release it again with a more produced sound?
SC: When we first released this song, we were at the height of the Myspace and True Volume era. We were unsigned at the time and we really saw for the first time, an organic growth of our band. People were really responding to that song. We would be touring around the country and we would always be hustling CD's. No matter if we were at a show or we had a day off at a mall. We would find people in rural Texas at some mall we would go to, we'd walk up to them say "We're Ice Nine Kills and we have this album" and they'd say "Yeah, I have 'The Greatest Story Ever Told' on my iPod." For whatever reason that song just struck a chord with people at that time. Then we got the opportunity to release the album "Safe Is Just a Shadow" a couple years later and we thought a lot of people loved it the first time… and we just thought it couldn't hurt to release it the second time.
GW: What are you reading right now?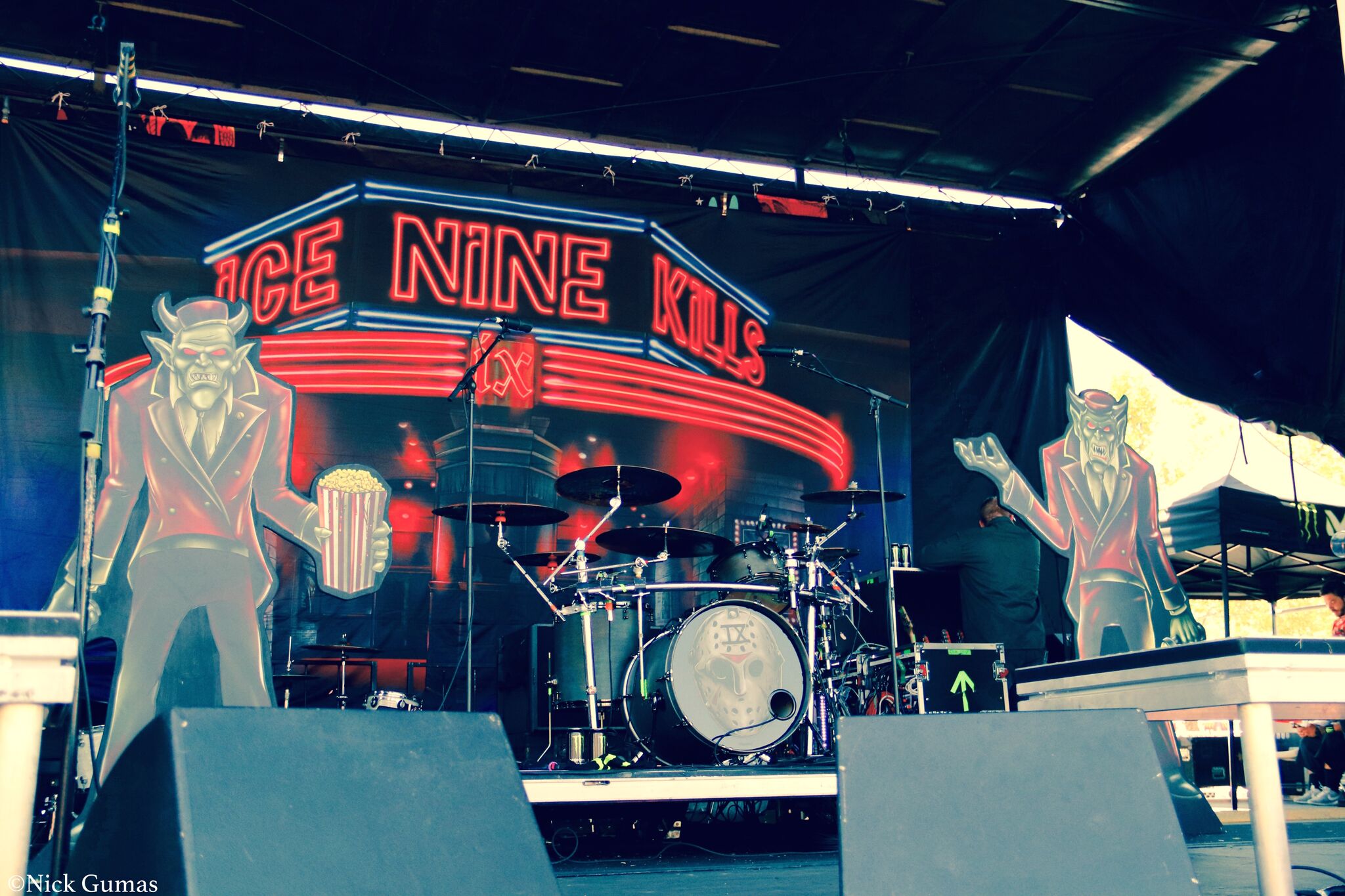 SC: Right now, I'm reading a Wes Craven biography that's really cool. It details his life and how he came up through teaching at a college in New York to being one of the greatest and most celebrated names in horror. Then I'm reading another book called "Men, Women, and Chainsaws" which is a book about the slasher genre and the misconception that it's a misogynistic genre. The slasher genre got so much crap in the 80's (for their portrayal of how women are killed) but if you watch most of these movies, the person who ends up defeating the bad guy at the end is always a woman, so it touches on that and the importance of realizing that art is art and we shouldn't be too PC about everything.
GW: I like how you have always made it a mission to incorporate, as you put it, "tattooable phrases" in your music. Particularly in your song "Alice" where you refer to drug addiction as a "Chemical warfare attack." How did you make that connection in particular?
SC: That one was one of my favorite lines, I think it's an underrated (song) and it was never a single, but every time we play it live when we're on a headlining tour people go wild for it. I think that everything we do we try to be clever, we try to use turns of phrases and metaphors. I remember that line just sort of came to me, I thought it would be cool to use the imagery of war in (the context of) drug addiction.
GW: How strong are your ties to Salem Massachusetts?
SC: I'm originally from Swampscott which is a town just outside of Salem and I ended up moving to Salem about six years ago. Now I live in West Hollywood, but my family still lives in the Salem area. I love that area obviously because I'm a horror fan and the sinister nature of the (history) really fuels the way I write. I also have a clothing line called "Kleaver" which is based out of Salem.
GW: The reason I ask that is because I've always wondered, in picking the literature to inspire your album "Every Trick in the Book" did "The Crucible" ever cross your mind with those ties to your hometown?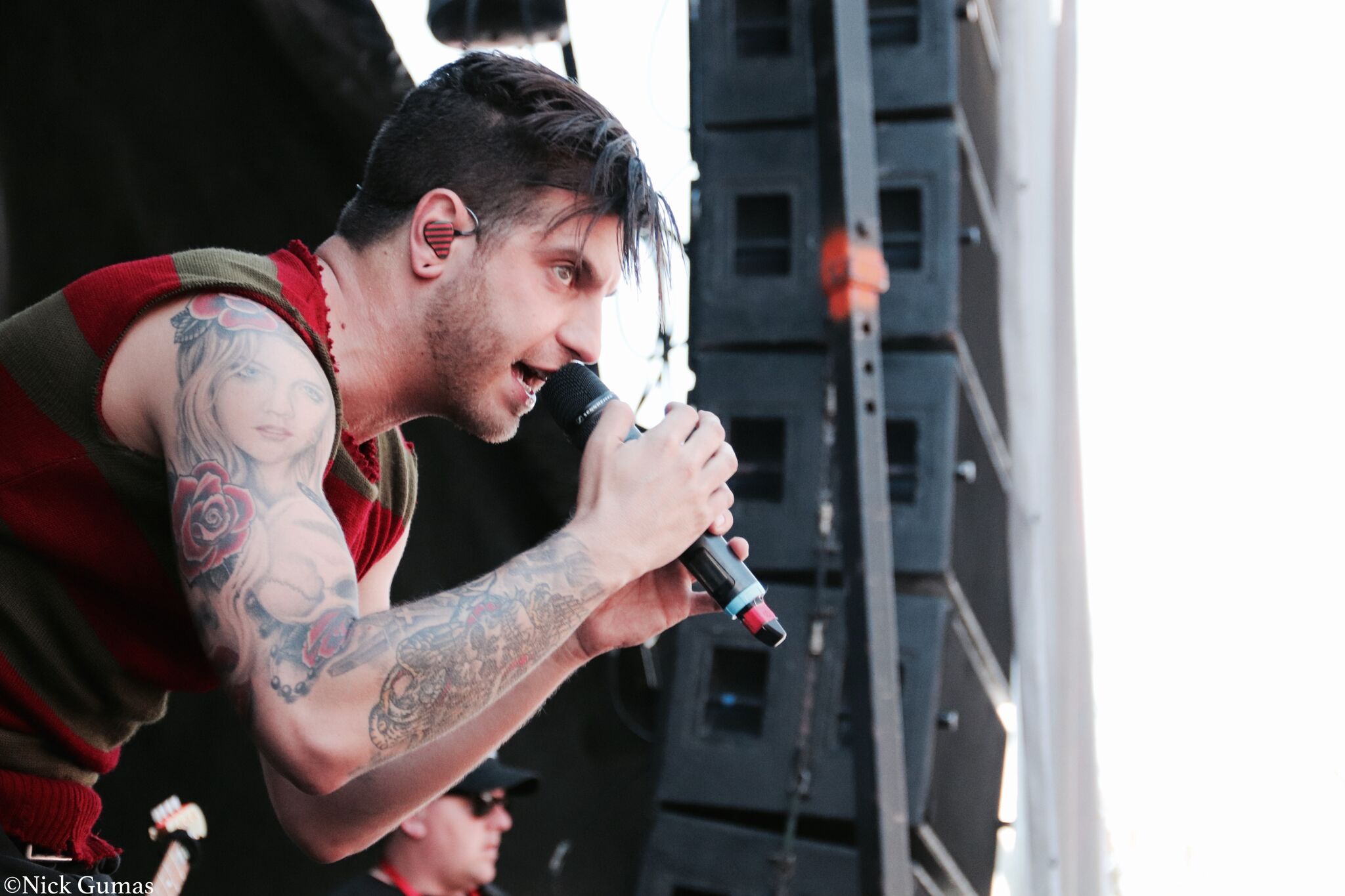 SC: You know, that was definitely Arthur Miller's great (novel) and we were going to (base a song on) The Crucible, but a band that we're very good friends with, Motionless in White, had already done a song called "Abigail" which is a song about the Salem witch trials and obviously using imagery from The Crucible. I think if they hadn't done it (we would have.)
GW: What has Warped Tour meant to you as a veteran of the tour?
SC: For me as a musician, it means everything. I grew up going to this tour ever since I was 12 or 13 years old. Going there and Idolizing bands like "Finch" and "Less Than Jake" or bands like "Fenix TX" and all these pop-punk bands, and now to be playing on a tour, on the last, quintessential Warped Tour is just an honor. Actually, speaking of, on our new album, we ended up getting guest spots from every single one of those (aforementioned) bands. Less than Jake plays horns on one song, Will from Fenix sings on one, and Randy from Finch plays guitar on (another).
GW: How have you seen Warped Tour change?
SC: I think that, for me, it pretty much feels the same. I think this year in particular being the last year, more people are coming out than in the past, but it always feels like a family-oriented thing. Kevin Lyman is just the nicest guy in the world, and he's like the dad of the tour. He's always been super supportive of our band when no one else would give us a chance. So, I don't think it's really changed, it just keeps getting better. This is the best one (yet) and I think we're going to go out on a really high note.
GW: How do you feel you've left your mark on Warped Tour?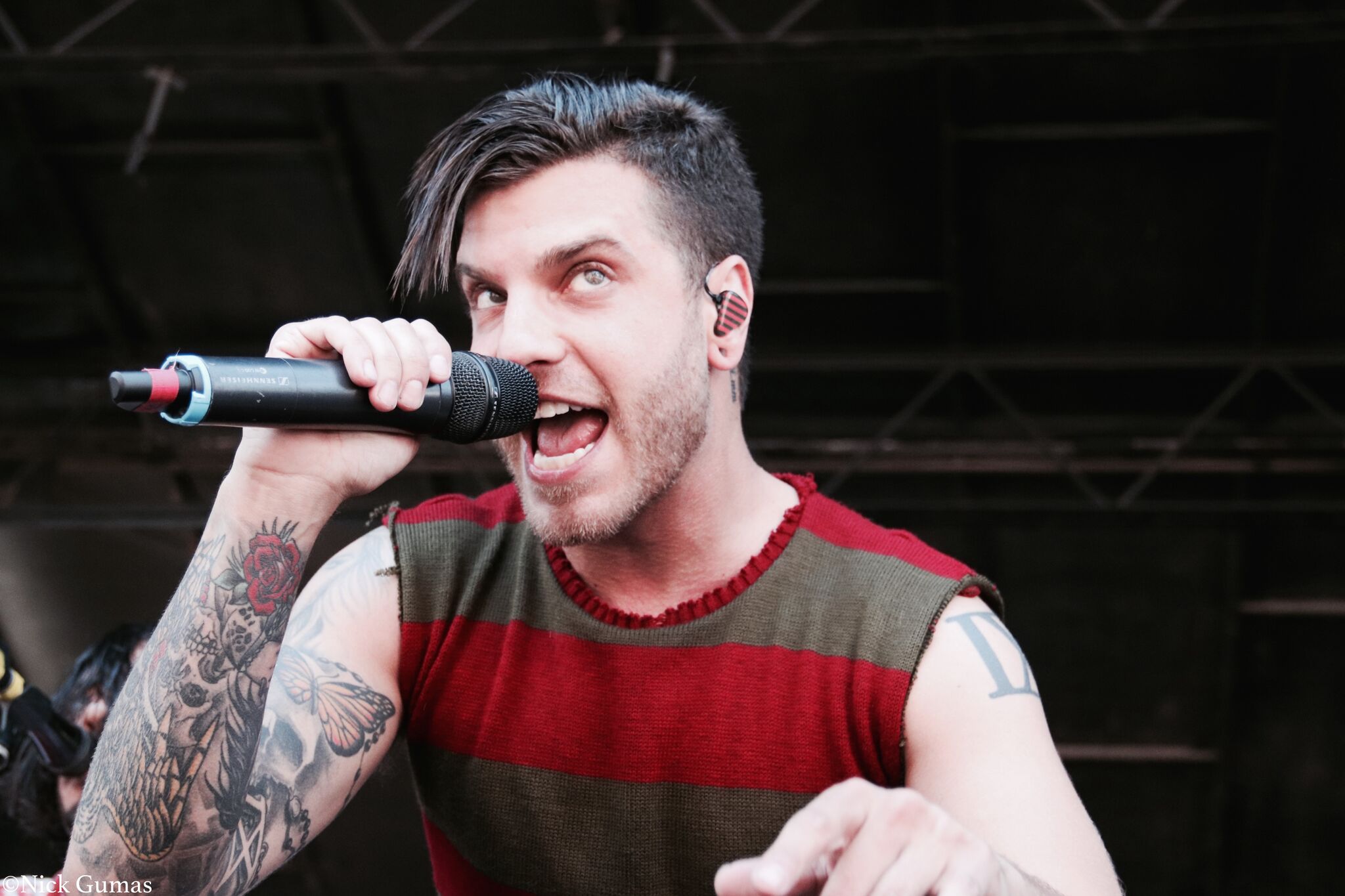 SC: I think that we strive to put on a great show and we always give 110% no matter what. We always give it our all and I hope our fans know that. I always try to get in the crowd and jump in there more so than most bands do, and for me that comes from watching John Feldmann from Goldfinger, he has always been one of my favorite frontmen… I think that intense showmanship is what we try to leave our mark with.
GW: Do you see Ice Nine Kills releasing another single through Pop Goes Punk?
SC: I think it's really fun to do those I think some bands do it too much, but I think that every once in a while, it's cool to throw in a cover there… But I think we will again in the future since our label does those albums.
GW: What's next for Ice Nine Kills?
SC: We just came out with "The American Nightmare" which you can get on any digital platform now, we'll be releasing another song in July that stars another icon of horror, then October 5th our new album "The Silver Scream" comes out and judging by this new song, I think our fans are going to love it.
GW: What's something not a lot of people on the tour know about you?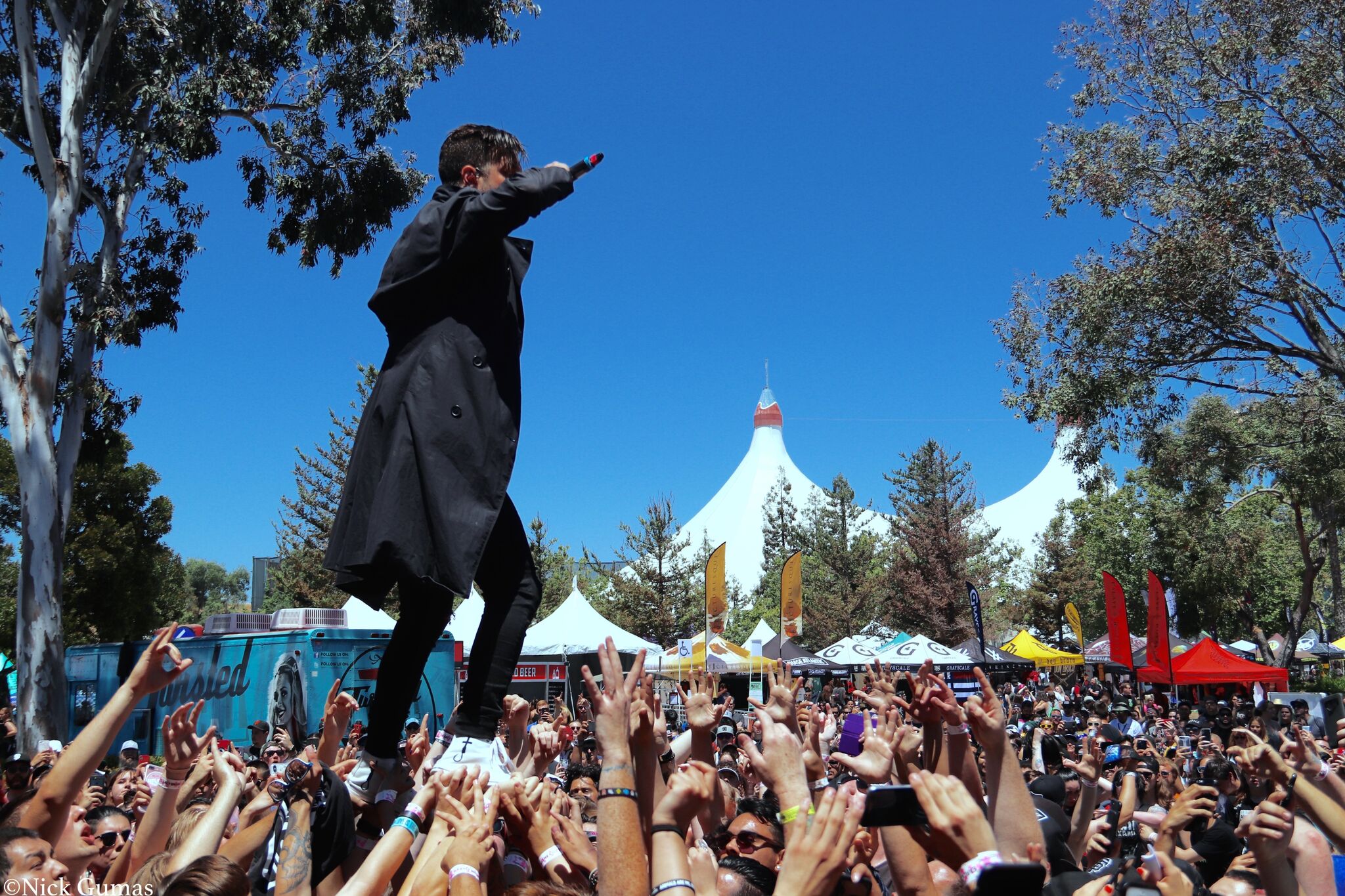 SC: I think a lot of people don't know that while I'm obviously a horror fan, I'm a really big fan of comedy. I love movies like the "Naked Gun" series or "Police Academy" and "Weekend at Bernies" or Wes Anderson movies like "Rushmore." I think people see us as this dark and scary band, but there's always tongue-in-cheek in what we do and even though Horror is at the forefront, there's always that satirical element to us and I'm not sure that everyone knows that.