On a slow morning in the early days of quarantine in summer 2020, I received a text from a friend with a link to a performance of "Laura, I'm Sorry About the Cobbler," by Kendall Street Company. My interest was piqued by the warm energy and the goofy nature of the band I was watching. I loved everything about their performance. It was funky and jazzy and folksy all at the same time! I was hooked and couldn't wait to hear all the new music they were producing.
From the Charlottesville music circuit to festival sets and multi-record albums, Kendall Street Company is making a name for themselves with their unique sound and versatility as a band. Hailing from the University of Virginia, Kendall Street Company is a group whose exploration of sound goes beyond their brand of "Jazz-grass infused psychedelic bliss." In recent months, Kendall Street Company has released a single, "Say Hey!", and a two-part album, The Year the Earth Stood Still: Ninurta//Inertia, a project fully improvised in-studio. On Sunday, November 7th, I had the opportunity to speak with Saxophone/Keyboard player, Jake Vanaman. Jake told me about his first connection with the band, their upcoming winter tour with The Dirty Grass Players, his personal influences, and how he and the rest of the band members have grown in their exploration as musicians and songwriters.
GW: Hey, Jake, how are you doing?
Jake Vanaman: Hey I'm good. I'm in the band van as we speak on our way to Nashville.
GW: Hell yeah! That's awesome! I'm so glad I could join you for the ride!
JV: Yeah, thanks for reaching out about an interview. I'm excited to talk to you!
GW: So, you have a tour coming up with that with Dirty Grass Players, and I was wondering if you wanted to talk a little bit about that and the connection that you guys made with them.
JV: Yeah, we've known the Dirty Grass Players for three or four years now. They're just really good friends of ours. I think they're monster players and I really enjoy seeing their sets at festivals when they come down to Charlottesville. We have been in and around the same circuit since they're from the Baltimore/Mid-Atlantic area. We were on the same booking agency for a while as well, so we got paired up to do some shows. We're very genre-fluid so connecting us with a jam-grass, or even a more traditional bluegrass band makes sense. I think provides a unique experience to the audience that you might not be able to find at another venue in town. We thought about putting a tour together because we had been playing a bunch of one-off shows together every now and then. They had been going really well and we have a good time playing and hanging with each other, so we put together this tour! And we've got this super jam element to it at every show. At the end of every night, there will be a 30-minute jam, where we'll try to get as many people as we can to fit on stage. I'm hoping that will be everybody but it is a lot of people. Haha
GW: Yeah, I guess it will also depend on the venue. I know Manhattan venues tend to be on the smaller side.
JV: Yeah, I've been to that venue, Cafe Wha? once. It was just a house band, kind of like a jazz-rock band playing, and it was a really cool experience. I'd recommend checking it out.
GW: Yeah and I think your sound, as you call it, Jazz-Grass, will fill the space in Café Wha? in a cool way. I like what you said about having a very fluid kind of playing. And in that very fluid space, I would like to know how you fit into the band. How you did you get started with Kendall Street? You joined the band in 2016, right?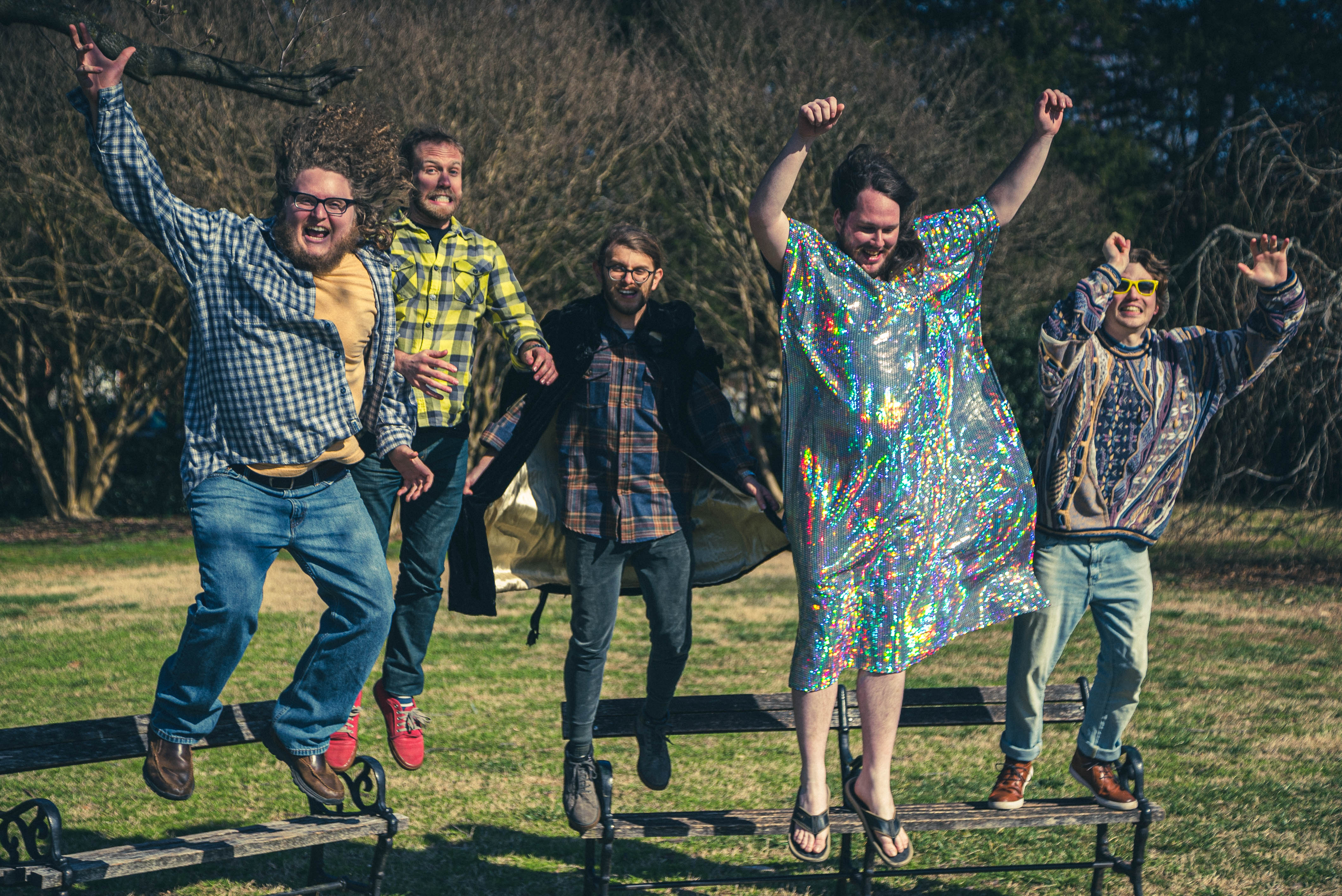 JV: Yeah, I joined in 2016. I'm the youngest member/newest member of the band and that's like five years ago now, so it's been a while. I started out just playing saxophone and as I got older, my interest is just kind of expanded musically so I got into synthesis and keyboard and more singing just trying to find ways to make music. Over the COVID-19 pandemic, I expanded my live performance to include keyboards. So that's now where I am now, saxophone, keyboard, and more vocals. I'm working on the vocals; I need some more time. Haha. But that's how I fit in. We're all multi-instrumentalists, I would say, in different fields. That's kind of the role that I fill. In the studio it could be any role. But that's what it is at the live show.
GW: And how did you connect with the rest of Kendall Street? How did you find them? Or did they find you?
JV: I grew up in the northern Virginia area and I was going to University of Virginia College. I had been digging around in northern Virginia. I had a couple of bands and projects up there but stopped because I moved away. I posted on Craigslist in Charlottesville and said that I was a sax player looking to jam with a few people. It was a pretty sparse post; it wasn't too much. Our front man, Louis's mom found the post! Coincidentally, they were losing their saxophone player because he was moving away from Charlottesville. Louis emailed me, and he seemed nice enough, and he didn't include any viruses it or malware in his email so I knew he could be trusted! So, they invited me to come down for a jam or a rehearsal or whatever. I don't really remember what happened, but we jammed. I know that! And then I drove back to northern VA which is like two hours away. Then I got the lucky text, that said, "you can come back!" Then I played my first real gig with them two or three weeks later and here I am in the band van going to Nashville!
GW: Wow, that's a wacky story! I'm curious to hear about your influences and what you know as a saxophone player, as well as the other band member's influences, and how that kind of melted together when you joined the band.
JV: You know, it definitely has changed a lot. It's always evolving [as I'm] experiencing new things. I would say that compared to then [when I first joined the band], we were a little bit more songwriter or folky back then. And now we are… there's not even a way to describe it. Just a lot of branching out in different directions all at once and at the same time. I guess if I'd put some genres out there…I had like never really written the song when I joined of the band and have written many now! I think that my genre tends to be like a little bit more funk and, dare I say, indie rock. Like BADBADNOTGOOD-style maybe. I think that has certainly changed. As more of us have begun to write songs, more of our influences are being seen in the live show and recordings. In 2016, we only really had two releases and one of them was very fresh and new. Now, we've got like eight or nine albums or something like that?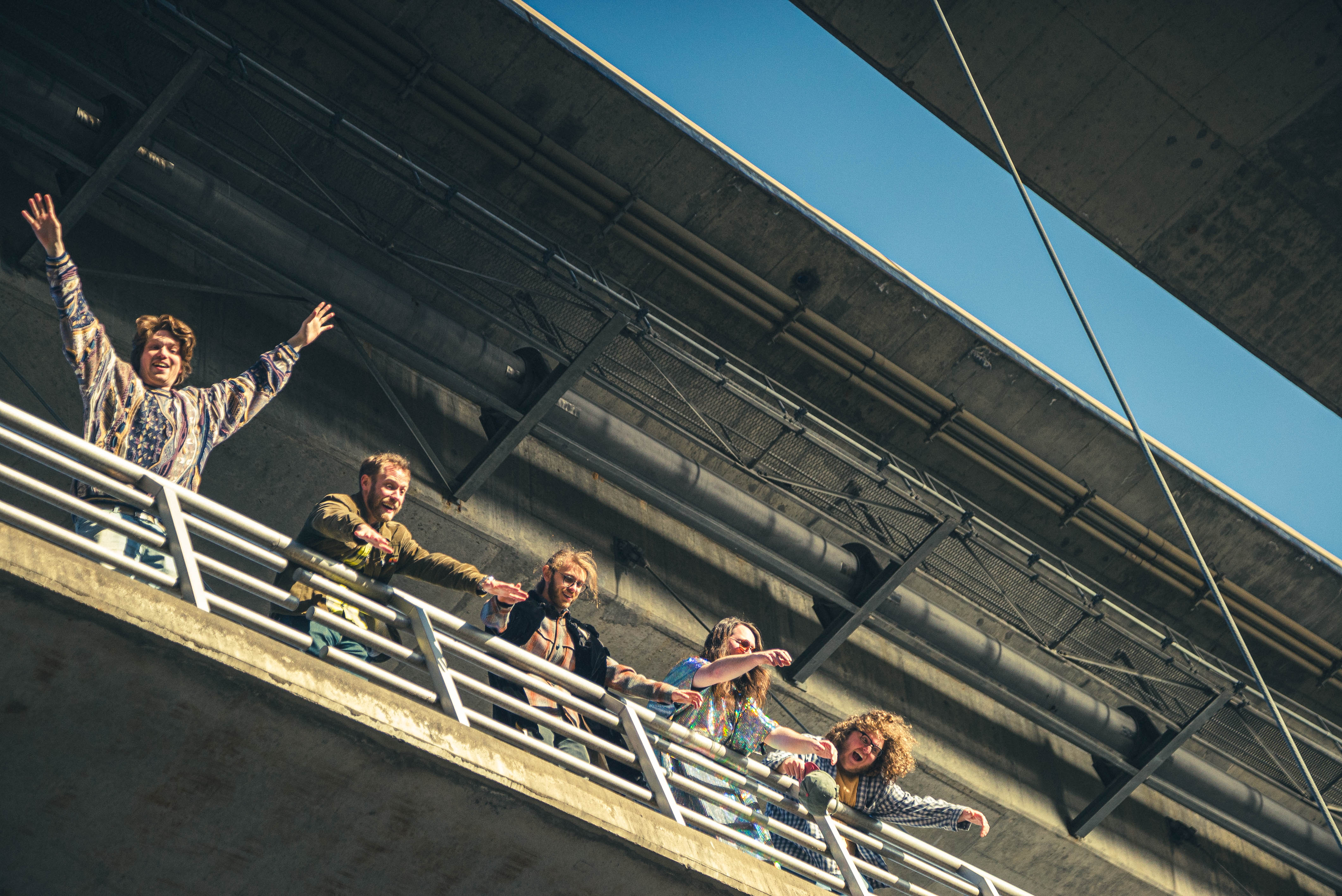 GW: Yeah, those albums kept me going through quarantine!
JV: Yeah, they were getting us through quarantine too! So, I think [the record releases] might be the most effective way for me to talk about it. That's because, I feel as we write more, and record more, and get more comfortable doing that whole system within the creative process, I think that the records tend to reflect the main writer's identity more than other band members. And you can kind of see that in our work …Well the newest pair of albums is an exception to that because that was totally free-improvised in the studio over the pandemic. There, as truly as possible, we were like, "Let's go in there and split it evenly and make some music and try to see what happens out of just being together." So that was like a rejection of, I suppose the idea that I mentioned before.
GW: That's The Year the Earth Stood Still albums?
JV: Yeah, that's Ninurta and Inertia and they have that pair action going on. Which was another unique idea for that record that we hadn't explored yet. We had done the 3-album release thing with Remote Vision back in 2018 and that was an extremely stressful but rewarding project. I think it was like we had bitten off a little bit more than we could chew. Haha. But it turned out cool, in the nick of time, you know? That was a little bit tangential to what your question was, but I think maybe The Nautical Aquatical album is a very good example of our genre fluidity. That represents our very humorous side which comes out a lot in our live show, but when we do recordings the humorous aspects of the music tend to fall by the wayside and perhaps, we focus on the serious nature of music a bit more. The Nautical Aquatical is almost like a small two-act play. It's just really funny! The idea of it is really represented by the album artwork as well. And when I think of that of that record I think of our guitar player, Ben, who had a large production and writing role in that.
GW: I was wondering if you could speak about the new albums and how they compare to your previous albums like The Nautical Aquatical and Remote Vision. It also definitely contrasts your 2020 album, The Stories We Write for Ourselves, which is one of the most beautiful things I had heard that year.
JV: Thank you so much! Yeah, [The Stories We Write for Ourselves] was definitely the most serious record we have made. I think it was a fun project to work on with that in mind and having everyone on that same page. We all know that The Nautical Aquatical was going to a be a ton of fun and there was a lot of comradery around it! And in terms of our sound, I feel like we get a ton of different genre influences. There's some Dave Matthews band…You got the classics like Phish…I think there's a lot of Grateful Dead influence. Some of the tracks will have some Widespread Panic stuff going on. People told me many times that our live show reminds them of widespread so for whatever that's worth…It really just depends on the setlist because we have so many songs.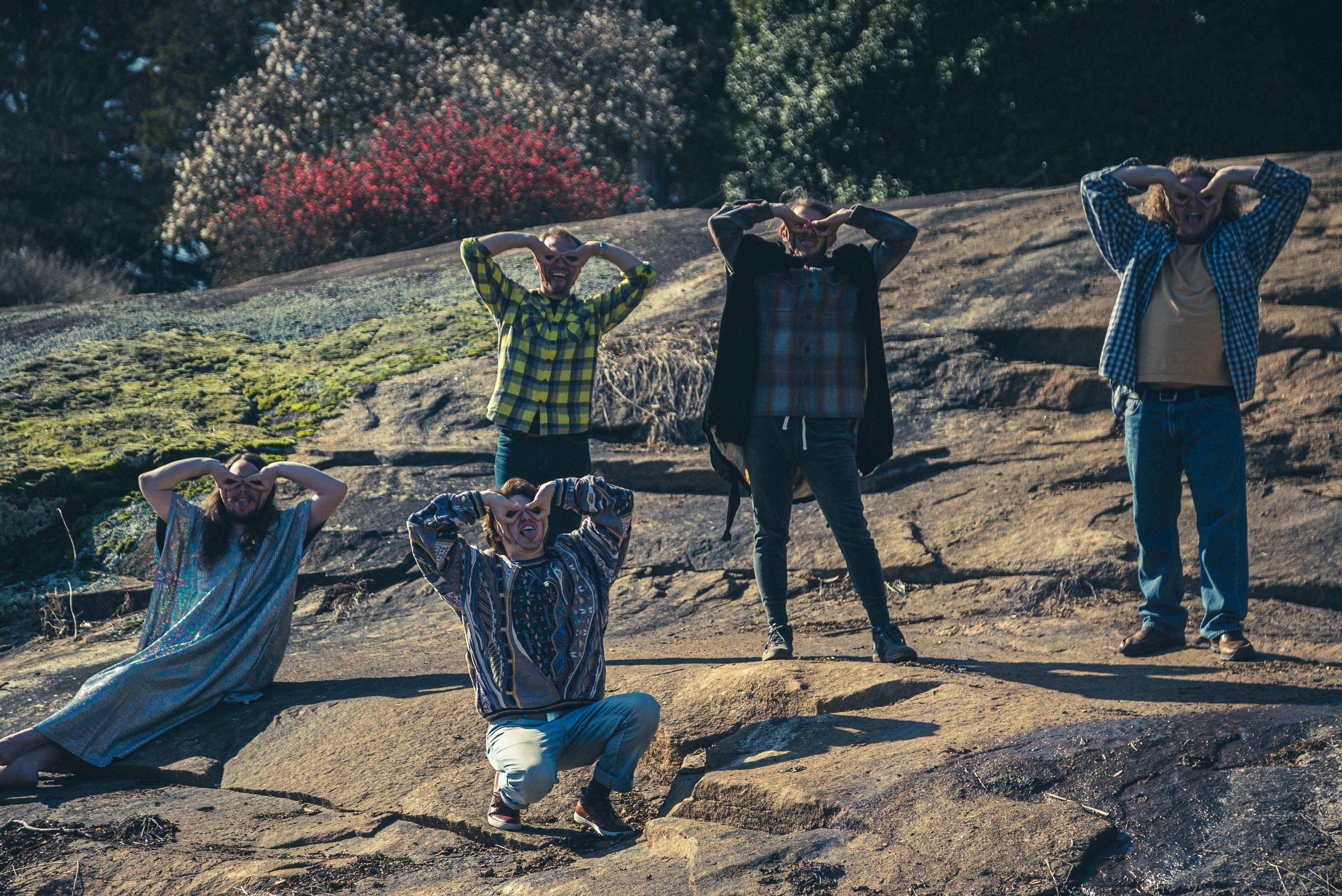 GW: What are you listening to right now?
JV: I'm listening to a lot of hip hop and rap like Changes by Tupac which has that sample from Bruce Hornsby in it. Some alt rock like Paramore which has been making a resurgence for me. Also, soul like Hot Chocolate and Dusty Springfield… just going through my recent listens here…Frank Ocean and some Sublime...
GW: You guys did that cover of Garden Grove by Sublime! That was awesome!
JV: Yeah, that's the one on my recent listens. That's a fun one! That was a recent addition to our repertoire it just kind of happened really naturally. I had never heard the song before which surprised the band, but I hadn't heard of a lot of songs before. Once I heard it for the first time, I couldn't stop listening to it! So that's what I've been kind of into lately as well as listening to our new album.
GW: Were you a jam band guy before you joined a jam band?
JV: I was not really, no. Most of my performance stuff up in northern Virginia was like, jazz trios and I would play at coffee houses and the occasional, occasional venue but it wasn't really my thing. I was also young and in high school, so it wasn't living off the tips or anything. I didn't really have any exposure to playing in, or even really listening to jam bands. I didn't know that Phish was a band until my senior year of high school. My friend was playing guitar with me in this jazz trio, and he was like, "I love Phish, they're so technical!", and that was all I knew of them because that's what he told me. So, then I go to UVA and I meet them. And I don't think they even described themselves as a jam band to me. That has kind of has come about since then. But I showed up, and I had heard of Lockn' too. In 2017 we played Lockn'. So that was my first festival, and I remember googling all the names on there. I heard of TAUK for the first time, I heard of Pigeons Playing Ping Pong for the first time. I heard the names of the members of the Grateful Dead.
JV: So, I think that provides an interesting exposure element for different genres for the band and for me as an individual. I was thrown into a world I had never even heard of. I knew music festivals existed. I didn't go to them ever in high school, so I try to come in with this mindset. I'm learning all these taboos and things, like how you don't play "Freebird". So, they're teaching me all these things, and I came in with this more jazz standard influence. They were playing with some standards at the time. And it helps just to flex the mind with new exposures to new sounds.
GW: That's really cool! When I saw you guys at the Brooklyn Bowl, I didn't realize that you were playing both sax and keys. That was really cool and I'm excited to keep an ear out for all those influences when you guys come back to New York City!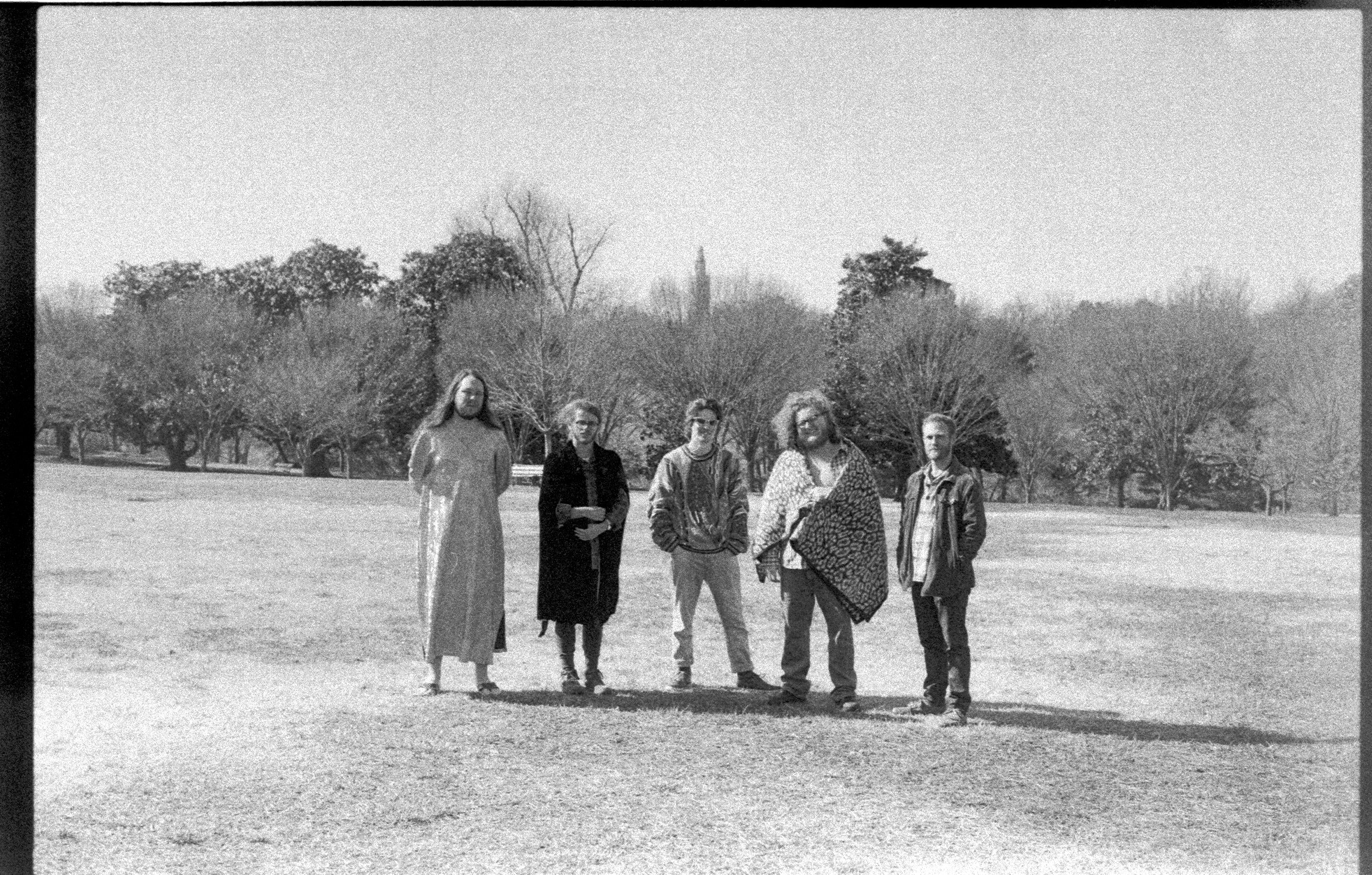 JV: It has been really fun and rewarding to learn keyboard. I think it's a great writing tool and a great composition tool. It's really hard to write music on saxophone. Writing melodies is hard because you don't really have an ability to create harmony. You can create implied harmony with the melody obviously, but with the keyboard, you can play two notes at once and I just I wanted to be able to do that. And we already have two guitar players so I wasn't going to play guitar. Haha. I have a fascination with the keyboard. I think it's beautiful, and I love looking at it. It's accessible, and it's digital so I'm not really restricted to anything at all. I'm still learning the nuances of the keyboard. Especially with the Norde that I'm playing with right now. It's got so many buttons and knobs so I'm still watching YouTube tutorials to figure it out.
GW: Right, it really adds a whole new depth to the music. It was interesting how you said that that it wasn't really pitched to you as a jam band and that you kind of just picked that up. I feel like that has do to with the way the jam scene has been evolving over the last few years. I was at a Pigeons Playing Ping Pong show a few weeks ago, and while answering questions for their viewers on Twitch, Greg Ormont mentioned how "we are currently in a Renaissance of jam bands." I felt that was a really beautiful thought. I've been to a few jam band festivals, and I am amazed by how many bands there are out there on circuit today. That being said, how have you guys have found your own space and how you guys are able to make your own space as a band on what is such a of a big scene?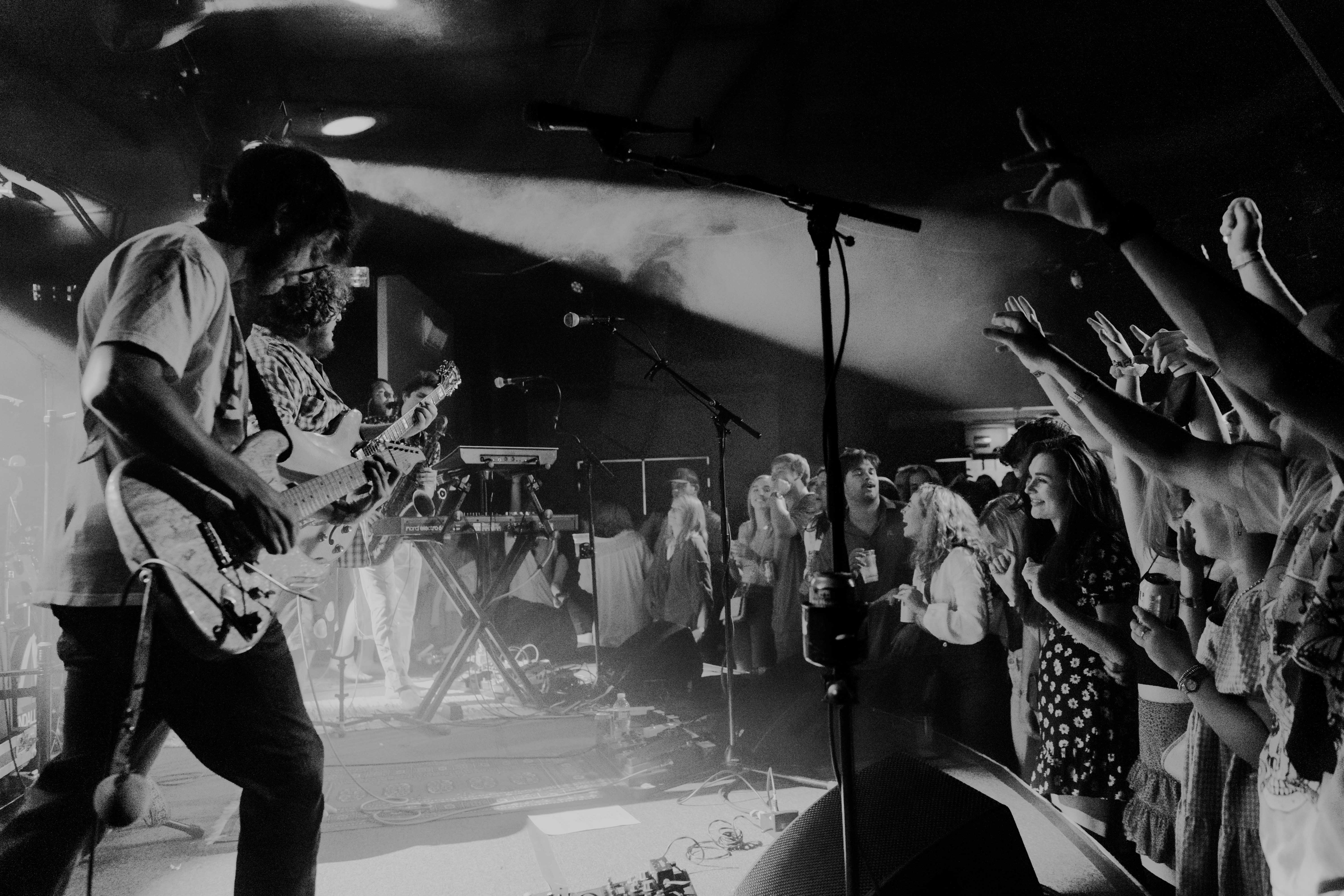 JV: I definitely agree and appreciate the "renaissance of jam bands" comment. I think that is an interesting way to put it. For us, I really do love the way that we write and compose music and I am very proud of it. I think that it is the defining aspect for our live shows, our recordings, and our general brand identity. I think that in our own rights, each of us are prolific writers and when we're able to come together it creates magic, moving art. It's really powerful and I don't feel that way about all bands. So, I think that our songwriting, our lyricism, our attention to detail in the song-writing craft, our ambition, and being able to recreate an experience for an audience. Whether it be in-person or recording. That was a little philosophical… On a less deep note, I think another defining aspect is our humor. We all have microphones on stage and we're chit-chatty. It's funny! We're talking to the audience, we are obviously performing to the audience, but really, we're performing for ourselves as well. It's supposed be to this joint experience. We're creating this moment together; us and the audience. I think that unless you have both aspects, you're not going to get full satisfaction, with the performance or the art itself. I think caring about that and thinking about things differently compared to the traditional music format. And as a nod to University Virginia, their music program is great for helping people think outside the box, which is a cliché statement, obviously, but it's true. I think that the way we think of art – and I am speaking for the other band members – I think that we think of music differently than a lot of musicians that I come across. And I'm sorry that I don't have a better word other than "different," but I think that's why we are a band. We latched onto each other and realized that we had, not alternative, but a curious nature about art and what you can do and create for yourself and others on-stage, and off-stage. I'm not throwing shade on anybody, it's just that some people think of art differently than others and I think that our way of thinking shows in our music. And I don't know if I can put a finger on it yet, but I also don't feel like I need to because we are still a young band that's evolving and learning a lot about ourselves musically and I trust that that will be a good and healthy process.
GW: Absolutely, and it looks like you guys are having the best time on stage! I can imagine how fun it would be traveling with you guys on the road. I think that New York City can be a very cold place sometime, but I think you guys did a wonderful job at bringing that warm Virginia vibe to Brooklyn!
JV: Yeah, thank you so much for that! We're definitely trying to create that environment. We try to be approachable, and seem like real human beings, because we are real human beings. Haha When we describe the name to people – we're Kendal Street Company. The company are the people that you're with and it's the company that you keep. We try to reflect that in the live show. Like I said, it's supposed to be this joint experience, you know? We're hear together having fun and it's a good experience. It could be fun, it could be funny, it could be a moment of sadness too. It depends on the set. And regarding the way we approach decision making and what not, we're very democratic in that regard. I find that a lot of bands have a decision maker or whatever; somebody who is in charge and it's kind of like, what they say goes. That's not the case with us and that allows and nurtures an environment of trust and support for each other's ideas. And I think that makes us different. You can kind of see that on-stage. Like I said, we all have a microphone. Nobody's being told they can't talk. So, there's a lot of trust for each other in that regard and that comes out in our song writing as well. When we're writing our own parts [of a song], there's this mixing pot for a lot of it. Like, which part is going to be where, or "I hear something here… I hear something there…let me try this," etc. And somebody is usually the primary writer of the song. Not always, but usually, and what they say is important to the song, but there is still this democratic process of approaching it because we're creating this product together.
GW: Absolutely, that's awesome! You mentioned earlier that you were heading to the studio today. You guys already have so much that you're throwing out there. Is there more music in the works?
JV: Yeah, we've got a full album recorded and we've got a full EP recorded and we'll be putting the finishing touches on them at this studio session, then I'm mixing the album. We're expecting to drop the full album in March. And then there's the EP, which is about going to California and what California is like. We've never been to California so we're trying to wait until we actually go to California to release that, and I don't know when that's going to happen. Haha We've got we've got a bunch of other songs written that are not necessarily connected with any project yet, but we're kind of waiting for one to appear. We have a big idea for a bluegrass record we've got like seven or eight songs or so. That would be probably out in 2022. We were supposed to be recording this month but there ended up being some scheduling difficulties. It's like a prog-rock, very Zappa type of record. It was written mostly by our lead guitar player; Ben and I would say one of his biggest influences is Zappa.
GW: Well, that's awesome! I'm excited to hear that!
JV: Yeah, so there's a lot going on. We've got a couple singles recorded, we might be popping out a cover or two here and there because those are always fun. And we just started a record label called, What is Yes Records. Until now, everything else has been released under "Kendall Street Company," but we wanted to make it a bigger thing than just us, so we decided to go ahead and get the name, "What Is Yes Records which will be our publishing company.
GW: Yeah, I recognize the name from the Facebook fan group!
JV: Might I ask…do you get the joke?
GW: I've been trying to figure it out, but I couldn't. What is the significance? Is it a song lyric?
JV: So, "What Is Yes", translates from Spanish is Que Es Si, so it sounds like "K.S.C." I don't think anybody has ever gotten it. And I think it's funny but it's also kind of like a rockin' phrase, you know? A lot of our songs are in Spanish. I guess that's another thing to mention. We write in other languages sometimes. Spanish probably the most frequently used other language so I think that's kind of cool.
GW: Yeah, I don't know if there's really any genre that we didn't talk about in this half hour conversation, which is pretty cool!
JV: Haha Yeah, we like to call ourselves eclectic.
GW: Yeah, I think that definitely shows is in your live music. It's kind of wacky that at the last Kendall Street show I went to, there was the jam-grass sound, and a Ska sound, there's Sublime, but there's also Grateful Dead, and there's Modest Mouse, and Klingande all in a set together! And I'm stoked to see you guys again in December.
JV: Yeah, and it's going to be fun and we're doing the livestream with Relix the day after too!
GW: Cool man! Is there anything else that you have coming up that you want to plug?
JV: I guess this tour with Dirty Grass and the livestream are the biggest news we've got right now. We did release Inertia, so I guess I'll just give that a plug again. It's our most recent album and it was fully improvised in the studio which I'd say is a core aspect of that record's identity. That's pretty much what's going on right now. And we'll have new music out as soon as we can!
GW: That's great! I think that there's a philosophy in jam scene that quantity is also quality, you know?
JV: Yeah, I mean that's what we say about it too. We're not afraid to release a lot because we are proud of what it is, you know? We're not settling or anything. We're proud and happy and then it gets released!
GW: I appreciate you taking the time to give me the lowdown on the band. I have been following Kendall Street for a year or so, and it's been nice to tap in and speak with you.
JV: Yeah, it's been a great conversation I had a lot of fun!