Even for some lucky veteran concertgoers who can wear the T-shirt "I May Be Old but At Least I Got to See All the Cool Bands" and really mean it, the historic, 1960s acid-blues-rock-fusion band Cream may have been one of the few rare birds many of them still couldn't catch in their original, late-'60s flight.
As luck would have it, two founding members of that short-lived but mythical band – Ginger Baker and Eric Clapton – both have had talented, younger musical family members carrying the torch for Cream's genre-defying music. Now, thanks to their band, The Music of Cream, a new generation of fans – as well as hardcore, early Cream adopters – are able to experience the undiluted, spontaneous magic of live Cream. And in spite of their name, there has been a surprising amount of "mission creep" since their last tour in 2019. The title of their latest tour – "Disraeli Gears & Clapton Classics" – may give you a clue or two.
In the case of Cream's storied Mr. Baker, it's the late drummer's son Kofi who's manning the iconic double-bass drum kit. And then, there's Clapton's nephew Will Johns – son of Andy Johns, the late, acclaimed recording engineer for the Rolling Stones, Jimi Hendrix and Led Zeppelin– who has taken on the daunting task of filling his uncle's six-string-guitar-god shoes. True, Cream left a mighty big musical footprint, but the two younger men's legacy project has taken many giant steps of its own and helped them to establish their own musical street cred in a short time.
First taking shape with different players as the Cream Experience around 2015, the band has evolved through several different stages, with the Music of Cream era starting in 2017. Most of these versions of the band – always with Kofi Baker in the catbird's (um, drummer's) seat – were power trios. And this format has enabled a lot of potent, open-ended, Cream-like improvisation.
But this latest incarnation of the band – now a four-piece, with bassist Kris Lohn and keyboardist/second guitarist Stephen Ball – not only revisits the classic album Disraeli Gears but also brings Cream's blues-drenched story forward in time. The revamped repertoire touts songs by Clapton's and Baker's next-in-line, 1969 project Blind Faith, plus a sampling of signature Clapton solo songs. So, unlike previous tours, which were aimed at a core audience of older fans, the project's 2022 tour could be very aptly nicknamed, "Cream: The Next Generation."
During a short breather before the next U.S. leg of Music of Cream's "Disraeli Gears" Tour fires up again in early June, GratefulWeb.com had the chance to chat by phone with Kofi Baker. In this fun, insightful conversation we learned more about his personal mission to bring the "Good News" of his father's groundbreaking band to modern audiences.
The band will kick off a breathless, 19-date run on June 1, in Edwardsville, Illinois, and then move eastward up the Ohio River to Louisville, Kentucky, on June 2, and to a Cincinnati-area show, in nearby Covington, Kentucky, on June 3. Among other stops on the whirlwind tour there will be shows in Ohio, Pennsylvania, North Carolina, Virginia, Maryland, New Jersey, New York (including a June 19 gig at Daryl's House Club in Pawling, New York), Massachusetts, Connecticut and New Hampshire. Complete June dates and venue information are listed under the "2022 DATES" link on the Music of Cream website, which you'll find in a short section at the end of the interview.
The following interview with Kofi Baker has been edited for length and flow.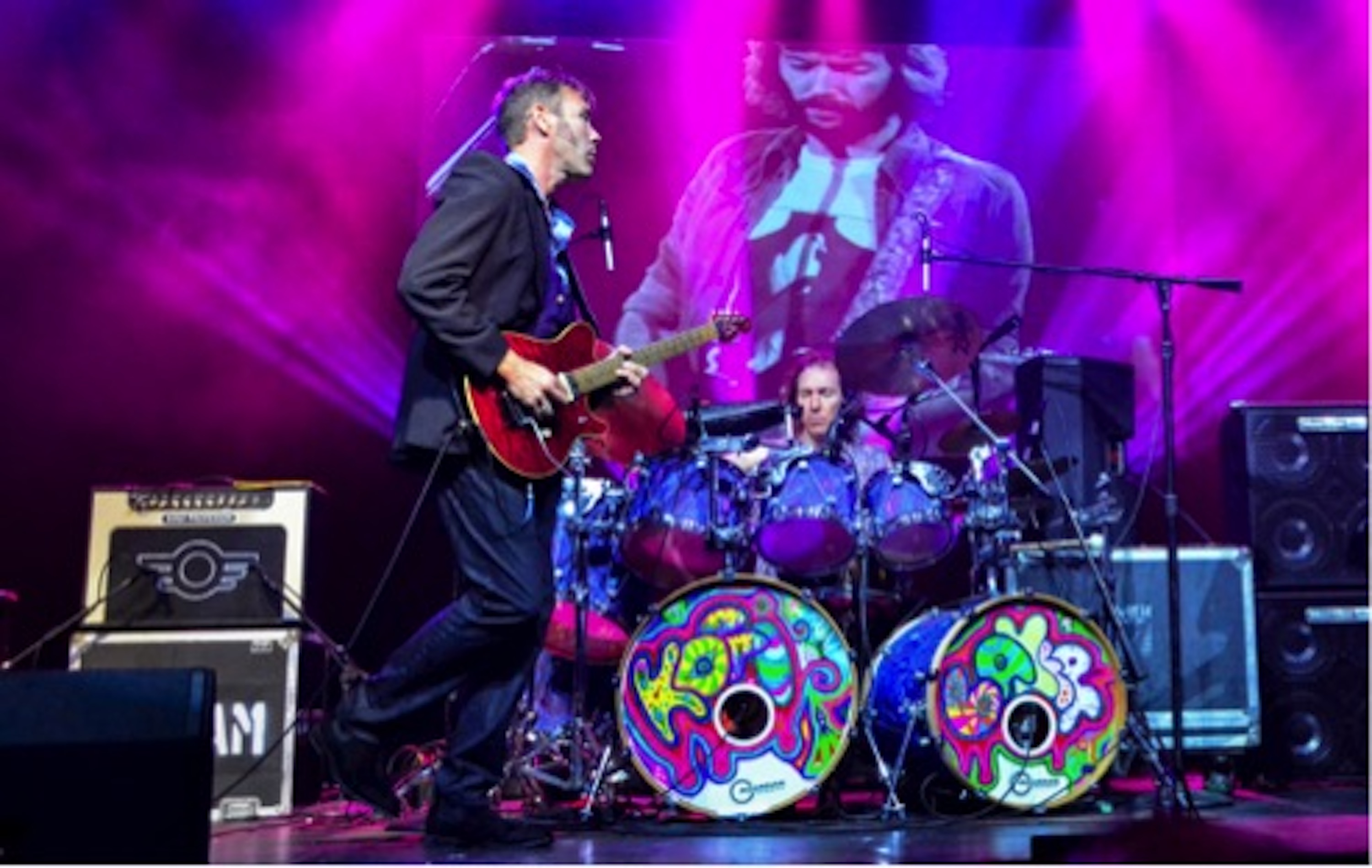 Grateful Web: Hi, Kofi—this is SAM from GratefulWeb.com. How are you today?
Kofi Baker: I'm OK!
GW: Just curious how familiar you are with our music news website, since it got its start covering psychedelic and jam bands such as The Grateful Dead, back in the later-1990s.
KB: Ah, yes, that name does sound like 'The Grateful Dead.' But, actually, no, not very familiar with a lot of things out there. I'm kinda in a hole. . . always working on my music. I only come out to do shows and to work out at the gym!
GW: Well, readers of GratefulWeb.com are strong believers in the power of 'jam', and I think Cream and your band fit in perfectly with our audience.
KB: Cream were the first jam band! Haha!
GW: One of the early pioneers, for sure. Heh! So what do you want folks to know about your band's current line-up and the Disraeli Gears Tour?
KB: Well, we were doing the entire Gears album for a while. That's not a very jammy album, and we started [going longer on some songs] and running out of time. So we cut a few songs from the album, so we could jam more on the others. We're a jam band!
GW: Could you talk about how the dynamics changed when moving from a trio to a four-piece band?
KB: We've done some jamming with the four-piece but not as much as with the trio, where there's a lot more freedom. But for the last four gigs this spring [before the current break], our bass player had to go home, and Steve [keyboards and guitars] picked up on bass. So we [fell back to] a trio and we jammed our asses off!
GW: Thank you. I was going to mention I've read that in the early days of Cream, audiences expected a lot of jamming. At the Fillmores [the Bill Graham-managed theatres in San Francisco and New York], people were used to the Dead, the Airplane and others having longer shows. And many in those audiences also had an "altered" sense of time, to say the least. So I understand that Cream came into those theatres as a singles and album-track band and were prodded into extending their time on stage, and so their "jam" reputation grew from that. But, I'm wondering, do you think modern audiences are still as hungry for the long jam, or do you feel as if you're in a different place with audiences now?
KB: It depends on the "jam." We don't jam like [some bands], floating over a few chords for a long time. We jam pretty hard-core, like Cream did. We're changing rhythms and [throwing in] new chords. We go all over the place!
GW: So, I imagine as the new guys have gotten settled in, everyone's a lot more comfortable, and you can take more risks, right? One guy goes in one direction, and then the others follow?
KB: Yeah. [Kris] the bass player and I both have jazz backgrounds. So it's just like my dad and Jack Bruce in Cream both coming in with solid jazz roots. [Steve], the keyboardist, is a jam-band guy, but [Kris] the bassist and I are 'jazzers'. Jazz guys have more 'ears'. They naturally listen more to what others are doing. And Will's a blues guy, so it's very similar to [Clapton's role in] Cream in that way too. We wanted to do Disraeli Gears in full, and needed to add a keyboardist because the album had a lot of overdubs and keyboard parts. And for the [Clapton and Blind Faith] extras in the second set, we also needed keyboards.
GW: So do you think younger audiences get what you're trying to do, or do you feel like you still need to 'bring them along'?
KB: I do think we can. Kris is a young guy, in his 30s, and he connects with his [age group]. I think younger people who come to our shows are tired of the pop-type gigs with so much visual stimulization but really boring music. With us, they're not just hearing the same thing all the time, because of the improvisation.
GW: So, with the new round of Gears dates, are you going back to the full album again in the first set, or keeping the set looser, with more jams or even dropping in some different Cream songs?
KB: We're extending some of the songs, like 'White Room' [from Wheels of Fire]. We've got a great big jam on the end of that. Steve knows a lot of the bluesier Cream songs and other covers. As a three-piece, we'd throw in more songs – we have so many that we've learned. We could just crank them out and have fun. We were even pulling out Hendrix songs that we never even played before. But this time around, now we have our regular bass player back, who knows? That's the great thing about this band. With four guys, you expect everyone to know their stuff, and they do. So anything can happen!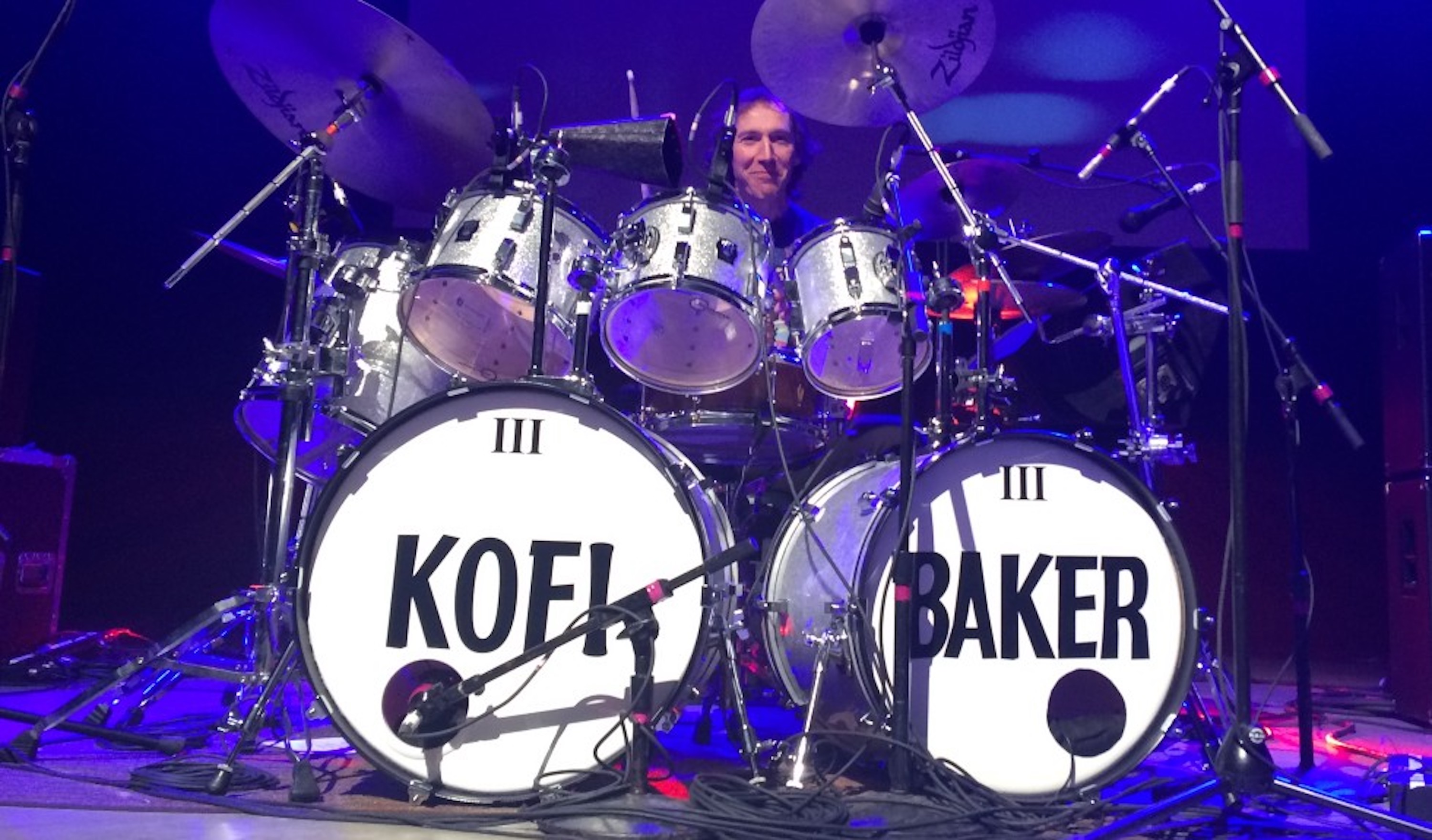 GW: It's interesting you mentioned Jimi, because I started thinking about how much other artists from Cream's time – for example, Jimi and Led Zeppelin – might creep into your interpretations. But also, I've read that you admire Frank Zappa quite a bit and have worked with [one-time Zappa guitarist] Mike Keneally. So I was wondering what you think of Zappa-themed projects, such as Project/Object, Zappa Plays Zappa, and the Zappa Band. There are some parallels – Dweezil [Zappa's guitarist son] has been doing his father's music, and you're doing your father's music, for example. So, could you see yourself being involved in a future Zappa group, or is Music of Cream still your main job?
KB: Well, I know Dweezil and I've been hoping that me and him could work together on some [FZ] stuff. In fact, I've done some Zappa in my original band, Kofi Baker's Psychedelic Trip – we cover Hendrix, Zeppelin, all sorts of stuff. Obviously, in Music of Cream we're going to stick to Cream, Blind Faith and Clapton. What I loved about Zappa's bands was they were all really 'top' musicians, who could play all that hard- to-play music.
GW: Not really jamming either, in the jam-band sense, right? My understanding is that Frank composed all of the music in advance, in a detailed, Classical music way, and everyone had to learn it. They were all technical musicians who could play the complex parts but still improvise in selected spots, right?
KB: Well, that's the thing. Some technical musicians can only follow a score or rehearse it, but they're not so good at jamming. But when you get technical musicians who can also jam – like Zappa's [players] – that's when you get great [chemistry]. That's what I like!
GW: So you reportedly have quite wide-ranging influences as a drummer that include, of course, your father Ginger, Terry Bozzio [from Zappa's classic mid-to-late- '70s period, plus Jeff Beck], and various jazz drummers and World music. Could you tell us more about specific drummers you admire and some of the lessons you've learned from them?
KB: Well, [veteran jazz-fusion and session drummer] Steve Gadd is a guy I love to watch, and I've played gigs with him. I've picked up lots of [techniques] from him, and I'm constantly learning from everybody I see. I'm always 'stealing' licks, always trying to improve myself. Music is so deep that you can keep on learning forever and ever.
GW: I've read that there are drummers, such as [the late Rush drummer] Neil Peart, who were never satisfied with their skills but actually pursued more technical instruction, such as altering their grip, changing their body posture, etc. Other than your father, have you ever worked with a personal drum coach or instructor, or are you just "all eyes and ears" with your fellow drummers?
KB: Well, apart from my dad teaching me, I'm still – to this day – absorbing all I can about music. I'm an avid reader, and I read charts a lot. When I read a chart and then play it, I pick up a lot from that. I've shifted my attention from guys like [Terry] Bozzio and Vinnie Colaiuta [jazz, session and one-time Zappa band member]. All those Zappa guys made a big impact on me. But now I'm going through a 'Gadd phase', really digging what he does.
GW: I've gathered that you're not a big fan of modern music, but what have you heard in today's music that does catch your ear?
KB: I actually like a lot of pop music, just not the boring stuff. My girlfriend gets on me because I like listening to Taylor Swift. And I like Madonna a lot. For me, it's about good songs. Songs with strong melodies and lyrics. Not into grunge very much, or metal. My dad's famous quote was that 'heavy metal is an abortion'! Haha! When I'm doing a long drive, I put the radio on, and hopefully I'll find something cool. I lean toward more instrumental, improvised music. And I still like things like The Dead, even though they're a different type of 'jam' from what Cream did. But there's not so much of that on the radio anymore. That's the problem!
GW: As I mentioned earlier, I've seen Cream described as a pop band that later adapted to performing longer versions in the live setting. . .
KB: My dad always said Cream was a jam band starting out and then they went commercial – on purpose. [It was] a conscious effort – by everyone – to make more money. And my dad and Jack had been jazz players, with Alexis Korner and the Graham Bond Organization. But then, when they chose to become a rock supergroup with Eric, they were suddenly playing big concerts with screaming people, they didn't have monitors like today, and the sound wasn't good on stage. Everything was loud, with Marshall amps stacked behind them, and my dad couldn't play like a jazz drummer anymore. He had to compete with all that volume. So he had to simplify his playing, make it easier to follow. That's where all those big drum fills in Cream's music come from. Same for me as a drummer. I like playing in smaller, jazz-type clubs, where I can listen more to the band, feel what we're doing, and do more interesting things. But in auditoriums, the sound changes. You have to pull back, and the drums have to be simpler.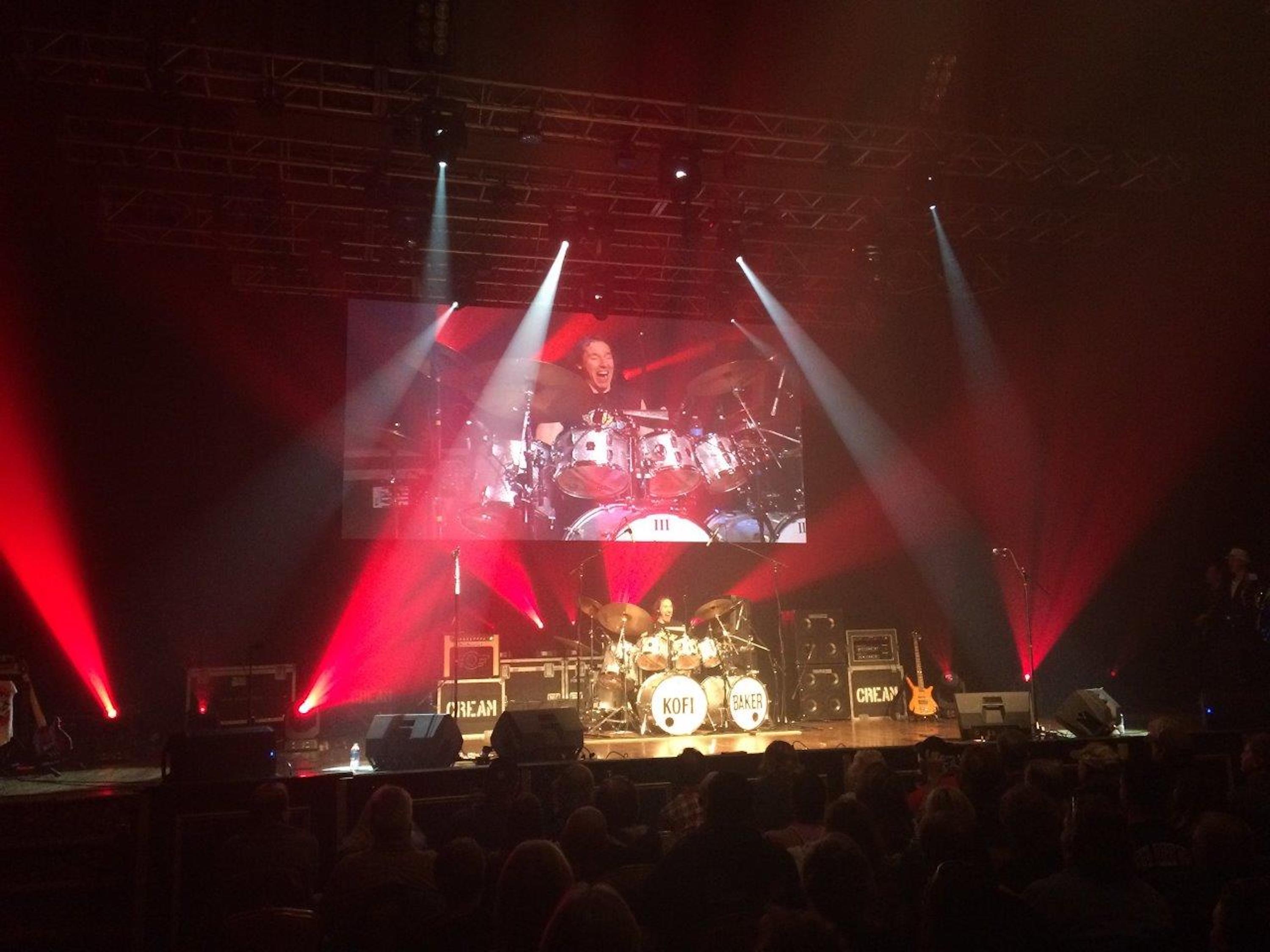 GW: Out on YouTube, there's a two-hour concert clip of your band from a Florida show in April [of this year], and in the second set you did several songs from the Blind Faith era, which, of course, was Eric's and your father's next project after Cream broke up. One of the surprises was the long, jazzy track that your father wrote, titled 'Do What You Like'. And that has that nice, Dave Brubeck jazz groove going on. Nice to hear a 5/4 time signature in the midst of all the songs with backbeat and other regular rhythms. You were also playing with a lighter touch, with more cymbal textures. And of course, you also blended that into your extended 'Toad' drum solo. Do you foresee adding other Ginger or even Jack solo songs down the road?
KB: Well, I don't know how long Music of Cream will keep going. My plan – if that stops – is to do a band that's all my dad's music. Not just Blind Faith and Cream but also [Ginger Baker's] Air Force [a Baker solo project from the early 1970s]. Air Force is really great stuff! But for right now, after this summer tour wraps up, Music of Cream will be doing a shorter thing in the fall, and we're planning another tour for Spring 2023. I'm also going to be doing some solo gigs over the summer, playing at a couple of festivals. That's my Psychedelic Trip band. As I said earlier, we do Hendrix, Zappa and Beatles – things like 'Come Together' and 'I Want You' – as well as Cream and Blind Faith. Everyone can learn more about my other gigs by visiting my personal website or Facebook page.
GW: Will you continue doing Gears next year or will you have a new theme by then?
KB: Probably will have a new theme. I do love a lot of those Disraeli Gears songs, and we'll try to keep some around just because they're so cool. Just like Cream, who had a huge repertoire, we have a pretty deep setlist now. But if we're jamming, we're not tied to the same set every night. We can pick 4-5 songs for a set, keep ourselves more open to different [possibilities]. That's the essence of 'original' music to me. We might be bookending the jam with a Cream song that people know, but, for ten minutes in the middle, we're 'writing' it as we play it.
It would be great if we recorded every show, to capture all those original moments, all the stuff that Cream didn't do in those songs. Unfortunately, we haven't always done that, and some of the jams have been so good, it would have been nice to have them. But they're gone! A lot of times for bands, when they're [in the studio] it's the same thing – the warm-up jam or the first take can be the best, and you always need to have the [recorder] going. Because it's just like live performance – it's different every time!
For more information about tour dates for both Music of Cream and Kofi Baker's Psychedelic Trip, as well as a book written by Kofi Baker, please visit the following websites and Facebook pages.
Music of Cream:
https://facebook.com/Musicofcream
Kofi Baker:
https://facebook.com/kofi.baker
Instructional Book by Kofi Baker:
More information about the drumming technique book The Forgotten Foot, by Kofi Baker and Jordan Hill, is available here: