Grateful Web's June Reedy caught up with Kyle Hollingsworth of The String Cheese Incident backstage at the inaugural Electric Forest Festival discussing Kyle's love of the brew, Lynx and becoming the speaker...
GW: Right you're doing the Brewru, Can you tell me about this?
KH: Yes we're doing…um… I've been traveling the country for the last two years connecting my passion for brewing with my passion for live music.  For me there are a lot of connections so what I've been doing is running around the country…
GW: you started, I saw you down at Ska (brewing co) and I saw you at Odell's (brewing)
KH: yep
GW: and now I saw that Boulder Beer is sponsoring your piece tomorrow afternoon
KH: you got it so what I did the last few years, the last few years I've been running around to different breweries and getting to meet n greet with the fans, with them and the brewers talking about crafting beer…
GW: I love Ska Brewing. The patio!
KH: me too.  So then I went to Boulder Beer and I said do you guys wanna make a beer beer, like not your small batch beer but something that will reach from Seattle to Florida you can buy in any store.  IT's my hoopla beer
GW: Hoopla?  It's it extra hoppy?
KH: Um No.  It's actually it's a beer for sale here (at Electric Forest) It's called a "Festival Pale Ale." I've invented a new category. I made it for Bonnaroo, it's kind of a lighter hoppy pale ale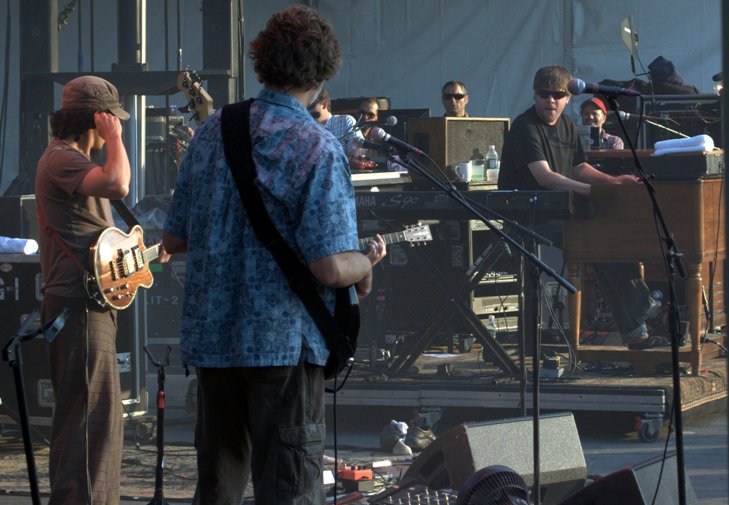 GW: for Bonnaroo, eh?
KH: well yeah, made it for Bonnaroo but it's a Festival Pale Ale meaning it's good at any festival.  And I made it up
GW: are you going to do Bonnaroo have you done Bonnaroo?
KH: we just did Bonnaroo last week. String cheese did.
GW: was it horribly horribly hot?
KH: it was horribly hot yeah
GW: I just think, who would go to Tennessee for summer solstice?
KH: of course
GW: it's so hot
KH: yes, it is it was also a lot of fun
GW: so, also, String Cheese, big time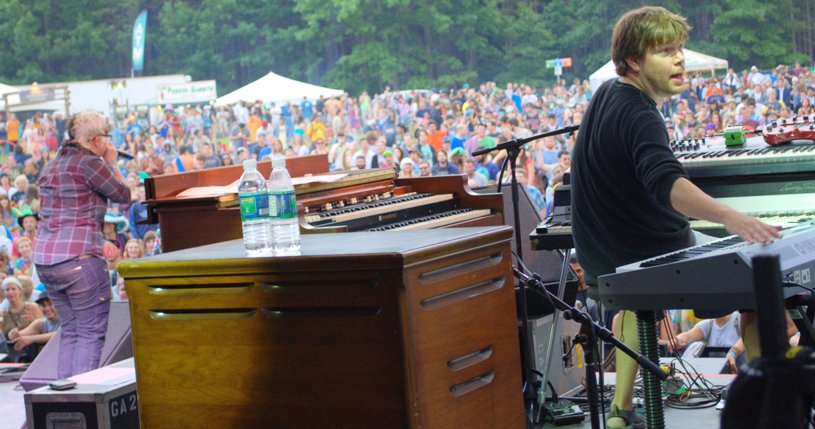 KH: yeah yeah lots of fun
GW: Here at the festival and I saw you with Lynx last night
KH: yeah I love Lynx, she's so cool
GW: She got her start from Jamie Janover…?
KH: yes, she's been out on tour with us before, String Cheese
GW: String Cheese or Kyle Hollingsworth Band?
KH: no, String Cheese, she's been part of the family for the last 5-6 years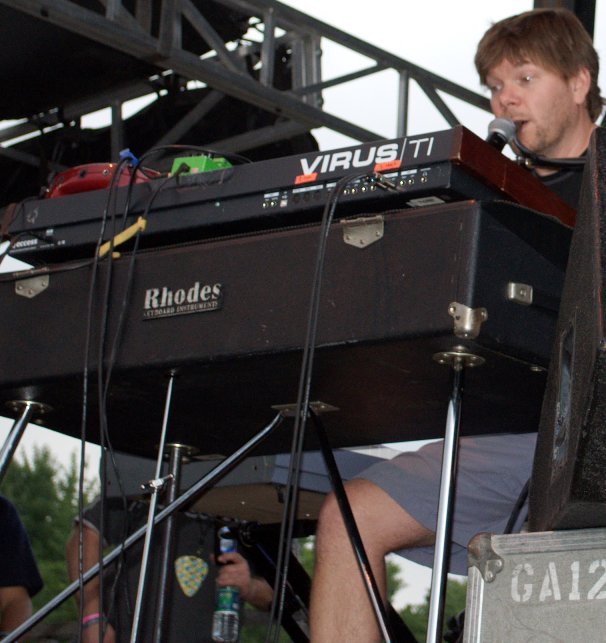 GW: Nice J So, String Cheese Tonight, Kyle Hollingsworth Band yesterday… You're beat boxing! Talk about your use of technology, where you're going with that…
KH: Interesting, I've never gotten that question before… um…my beat boxing was coming through a tube, a voice tube, that is similar to Frampton, now instead of being with a guitar, you attach it to a keyboard so your voice comes thru like wah wah wah
GW: I was wondering! Cuz he & I were arguing if the keyboard was going into your mic or…?
KH: No, It was my…I have a little tube coming up into my mic, just like Peter Frampton from the 70's – now instead of it coming from a guitar, it's coming from the keyboard, so the keyboard goes into your mouth, so when you play, you become the speaker…
GW: like a… melodic?
KH: kinda, more like you are the speaker, so when the sound goes out, into the tube, up the tube, and into your mouth, then you say hello how are you doing, do you feel..
GW: in key?
KH: In key.  So she would be beat boxing and I'd be like wah wah wah over her
GW: and that's like when she went into No Diggity
KH: yeah (big smile)
GW: cool well cool!  I appreciate it!  Kyle Hollingsworth and June Reedy for Grateful Web
Shut it off J