Toubab Krewe has been blending West African and American musical styles since early 2005 and has carved out a solid niche for themselves on jam-band and festival circuits. The Krewe is in Colorado this week for a six night run through the Rocky Mountains, fresh from Jam Cruise 10. We had the pleasure of speaking with percussionist Luke Quaranta on the bands day off about Jam Cruise, their planned trip to Africa to record their third studio album and their prospects for the coming summer festival season.
GW: Luke, how's it going today?
LQ: It's good, man. It's a good day to be in Denver, pretty beautiful out.
GW: When did you arrive in Denver?
LQ: A couple of us flew in the night before last and then a couple of our guys actually drove across from Ashville in the Sprinter. We didn't bring our bus out for this run. We usually don't take it up into the mountains for the ski-season run. So, we've been here for a couple of nights.
GW: You guys just got back from Jam Cruise recently. What were some of the highlights this year?
LQ: Shit, man, it was our third time doing it. It really is a totally unique and amazing experience—the whole way that music fans and artists are all on the boat together, all in the same boat—no pun intended, just hanging out and getting to socialize together—it's pretty unique in that sense. I always have a good time hanging out with all of the artists on the boat. This time was pretty special. We did a lot of playing in the Jam Room; we actually got to host the Jam Room the first night, then myself and a couple of other guys joined (Eric) Krasno on the night that he hosted it and we played a lot. We played the entire time—myself and another percussionist I was with—with Adam Deitch when he hosted it one night, and really just spent a lot of time in there, more time than I had spent in the past. That was really the highlight for me, getting to play with so many different people on the boat, and some cats that I hadn't been able to play with before, who I really admire. Our experience in Haiti was actually very special. We played what they called a "Conscience Beach Party" and I had mixed feelings because we were in Haiti, but actually we were just on Royal Caribbean property which is a very touristy cruise-port type of thing and with everything that's gone on in Haiti…it was actually a day before the first anniversary of the earthquake and just knowing the politics of Haiti and what they've gone through since the quake…I was having mixed feelings being in a resort-type setting like that and not getting a chance to actually go into Haiti and have more of a quote/unquote "genuine experience." I think it was really appropriate for the Krewe to be playing that beach party. We've spent considerable time and have significant relationships with people in places very much like Haiti, in terms of financially and politically, namely West Africa. We spent some good time in Jamaica, in Kingston, hanging with Earl "Chinna" Smith at his place. Zac Deputy played before us and then we played and a ton of people from the boat were hanging on the beach listening to the music. The cool thing was that we actually went—we heard drums when we were going to get some food—and we saw this drum and dance group from Haiti performing for the tourists at this little amphitheater and we started vibing with them. This guest percussionist—Weedie Braimah, who we had with us was pretty versed in the Haitian stuff and he started calling out some traditional rhythms and dances to them—some pretty deep voodoo stuff that they weren't doing in their performance—and they were totally shocked, like "how do you even know our stuff?" So they huddled up and changed the performance and did those things for us—Yen valu and the Akaye—these two other traditional rhythms and dances, and my friend Weedie got up and started playing with them and I got up and grabbed a drum and we took a bunch of video. It was pretty cool. Then we invited them to our set. They came to our set and we ended up doing our last song, "Konkoba" (it's a traditional West African rhythm and dance) with all six of their drummers and all ten of their dancers. It was pretty nuts. I didn't really know how deep it was until I started getting all this feedback from people; just the fact that we came together with these artists from Haiti and bridged this gap musically and artistically. It was a cool moment and it got amazing feedback. We had Sonny Emory on drums for a track which was cool, too. It was a cool experience in Haiti—that was definitely a highlight!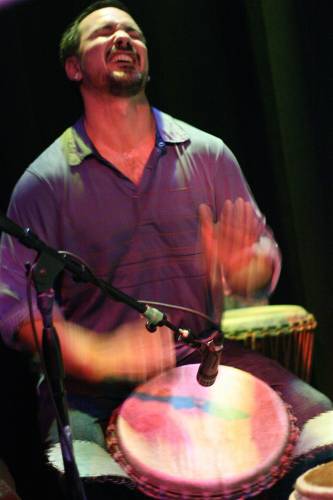 GW: Sounds like you found your way through that touristy section…
LQ: Yes.
GW: So now Toubab Krewe is in Colorado playing six dates. How does it feel to be in the mountains after sailing around Jamaica and Haiti for five days?
LQ: It feels good, it's always a trip, and I feel blessed. That's one of the most amazing parts of doing this for a living, to be able to be in such different places. It's amazing. I love it out here and it's really cool to be able to come from a place like that (the Caribbean) to here, and culturally, it's always eye-opening to move around so much. It's good to be back in Colorado. Love the ski-tour, every year it's a lot of fun.
GW: Any of you guys going to hit the slopes while you're here?
LQ: Yeah, I think so. We actually have a little bit of time. We'll definitely get out and hit the slopes. A couple of us ski and one guy snowboards.
GW: You have been to Africa several times. Do you have any plans to return there in the near future?
LQ: We do. We've been going for years, first to study music, and in 2007 we performed at the Festival in the Desert which was pretty special—getting to go there as a band and perform, rather that going as students. A few of us went this past year for a couple of weeks to try to re-connect with some people and make some plans for a recording project. That's what we have in mind for the next time we go—to actually do our next record there, and we plan to be there for four to six weeks and cut our next record as a real collaborative record with artists from there and teachers and friends and people we've developed musical relationships with over the years, and also folks from here, some of our co-collaborators here like Roosevelt Collier from the Lee Boys and Rayna Gellert, the fiddle player from Uncle Earl who lives in Ashville and is a good friend of ours. I mentioned Weedie Braimah, a percussionist and musician we've been playing with and a guy named Sam Dickey from Brooklyn who's a djeli ngoni player and guitarist. This year we've been moving toward this "Toubab Krewe Orchestra". We had the idea to bring that on the boat. It's a collective. It's the core of Toubab Krewe members and an expanded ensemble- eight-nine-ten piece, depending on who we're with at the time. It's been really cool to bring in the folks that we've played with over the years and do a bigger setup. We plan to do the record in Mali, in Bamako in fall—go there and cut the record with a lot of guests from here and there. It's been fun; we've been playing with all kinds of horn players. For Jam Cruise we had the idea that we would bring that kind of "Toubab Krewe Orchestra'-type of thing to the boat—so we actually brought Weedie and Sam and Roosevelt—so it was kind of an eight piece, and then we had Black Nature from Sierra Leone's Refugee All-Stars—he sang on a bunch of different tracks. We were supposed to have Itagui (Correa) the lead singer from Locos Por Juana join us but he couldn't make it at the last minute. So we brought that energy. The Haiti thing was great and we closed the pool deck on the last night. It was a pretty amazing set. Soulive sat in, Eric Krasno and Al Evans sat in, two of the guys from Railroad Earth: Tim Carbone and…who else, two of the Lettuce horn players and Larry Keel sat in; just a big, old throw-down. That set just went up on Cruise-tunes; we made that available for sale.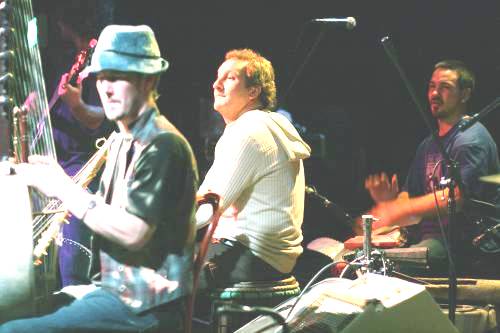 GW: What is the festivals looking like for you guys this summer?
LQ: Wakarusa—we're confirmed there and we're confirmed at FloydFest again and The Great Blue Heron Festival and we're doing some kind of jam on the 20th of April up in Pennsylvania. That's it for now. I'm hoping a bunch more stuff comes in. We usually tend to play a lot of festivals, that's definitely our favorite part of the year.