When it comes to heavenly deities, the preferred choice of instrument is the harp.  There is something so different and refreshing about the harp. In these days of pandemic and panic, a little taste of heaven may do you good. Perhaps because of the huge statue of a harp, it's not something we see often in the jam band scene until now. 
After falling in love with this psychedelic harp player that Bob Weir & Wolf Brothers had joined them on their NPR Tiny Desk Concert, we caught up with Mikaela Davis at her home in Rochester, NY.  If you're looking for some new grooves, read on! Mikaela has some great suggestions.
GW: Hi Mikaela, this is June from Grateful Web. We are based out of Boulder, CO and our readers are going crazy for your performance on the NPR Tiny Desk Concert with Bob Weir & the Wolf Brothers
MD: That is so nice, thank you.
GW: Absolutely! Well, hot off International Women's Day, I know you had sat in with Bob Weir at Lockn' this past year, right?
MD: Yep, that's right
GW: On stage with Susan Tedeschi?
MD: Yeah, Susan played some songs on the first half of the set and then I got to play some songs for the second half. I didn't actually get to play with Susan.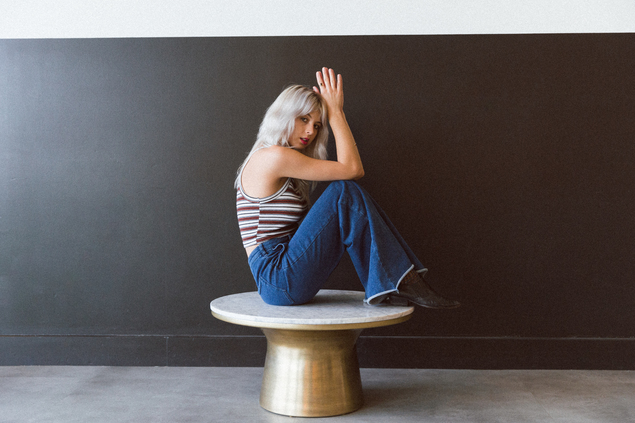 GW: Dang!
MD: I know! That would have been awesome. I did get to see them from the side stage which was also very special.
GW: Amazing! So as you are standing on the shoulders of giants like this, who are some women that you are inspired by? 
MD: Well Susan Tedeschi of course. She is an incredible, incredible guitar player and singer. Tedeschi Trucks Band is really great
GW: She is such a badass Mama
MD: Totally. Harpist-wise, I really really love Dorothy Ashby. She is an incredible jazz harpist.  She, basically, was the first harpist to ever play jazz and pioneered jazz harp for other men and women who play harp.  I've been dabbling in jazz a little bit. I'm classically trained, so I'm trained to learn a piece of music, read what's in front of you, and memorize it and that's all you do.  Coming into the world of being in a band, improvising, especially since I've been playing with Bob (Weir), where a lot of the show is improvisation which was pretty daunting to me. I'd already been improvising and writing songs with my band...going more that route where I knew I'd be on the spot a lot of the time. That catapulted me to start listening to other harpists and learning more about jazz which is really exciting.  Dorothy Ashby is great. Of course, Alice Coltrane is great, she is another one that I really adore. She was a pianist first and foremost and always wanted to play the harp. I'm pretty sure once she and John Coltrane got married that he bought her a harp.  She learned harp and made awesome records.  There is also a French singer-songwriter that I really love named Melody Prochet. Her project is called Melody's Echo Chamber. I really love her, her music is really more psychedelic. The last album she did, she worked with a Swedish band called Dungen. She worked with them on her last album, which is really wild. You should check it out if you like psychedelic music.
GW: Speaking of psychedelic music, I love your music. When you're playing your harp, are you plugging into pedals? There are times when it sounds like a steel drum or a ukelele, or a sitar - even though you're playing with another sitar too so I'm not sure how that works but… Tell me more about psychedelic harp playing!
MD: It's funny you mention steel drum, I have never really thought of that. When we were at Lockn' Festival, my guitar player Cian was standing side stage and Dwane Betts said, 'It sounds like a steel drum. How does she do that?' and I had never really thought of that before. It's funny that you mention that too. 
GW: Heck Yes!
MD: So, I plug it into guitar pedals and I have this pick up for the harp that attaches to the inside of the soundboard with these little adhesive pads. It's like a contact mic on the harp and then it plugs into a pre-amp that makes it sound good. It's called a Barcus Berry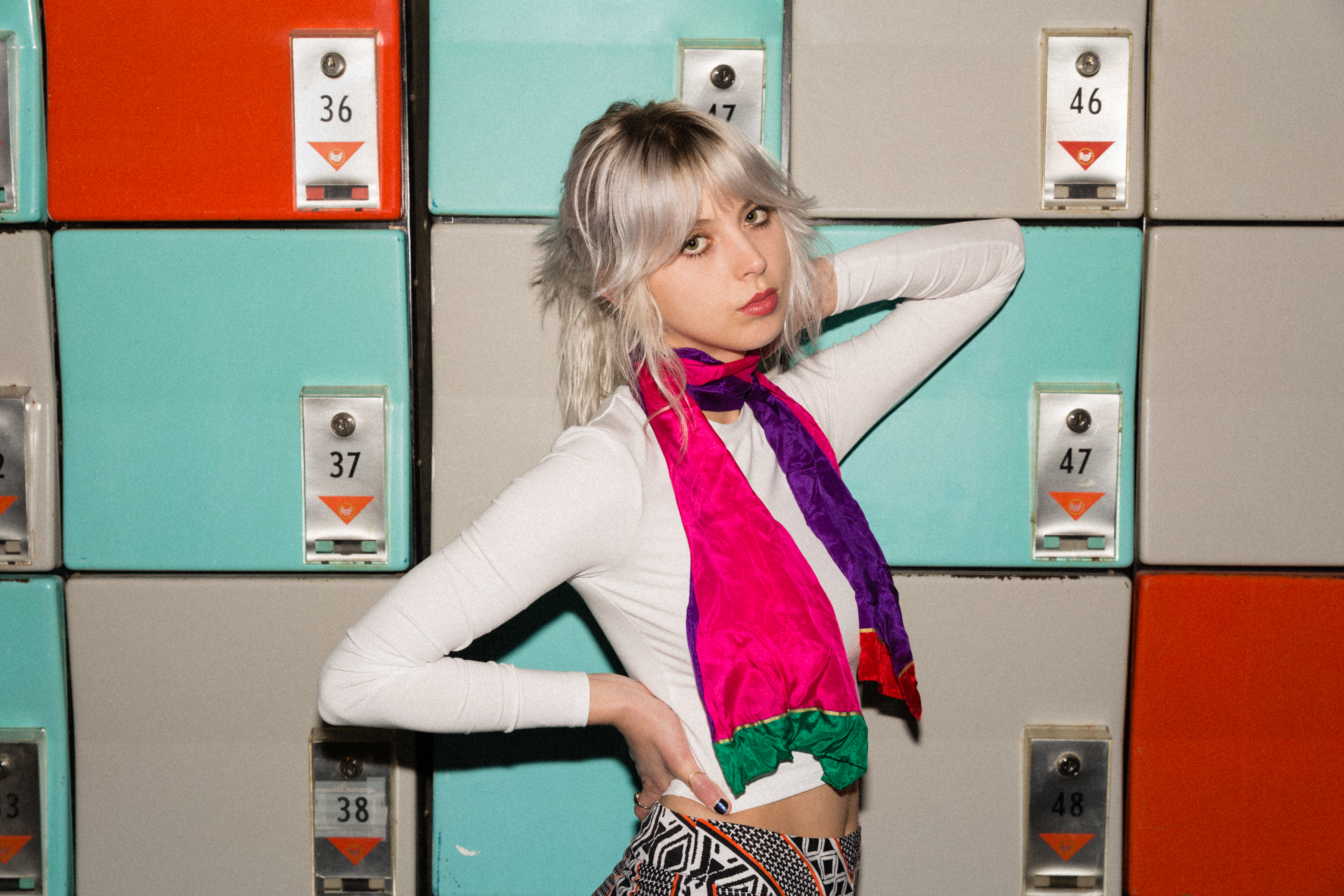 GW: Barcus Berry?
MD: I was using different pickup but they never really sounded good, with the harp I didn't really know what I was supposed to use because no one is really doing this on harp. You can't just look up 'best pick up for harp'...
GW: Amen
MD: So I was doing research, looking up about Joanna Newsom. Do you know her stuff? Have you heard of Joanna Newsom?
GW: Uhhhh…. No.  
MD: That's another to check out! She is a harpist and sings. She put out music in the '90s, 2000s
GW: Sometimes you don't hear the name but know the song… but yeah! Give it to me! Thank you!  
Side note: I heard her on the radio the other day. It's amazing what you hear when you listen for it. Thanks for the pro-tip Mikaela!
MD: You might, yeah. I looked up what she uses, Barcus Berry. Then I plug it through some guitar pedals like a carbon copy delay pedal and a memory man which is also a delay pedal. I use it for flat back delay, tight delays. Then with carbon copy, I make it sound more far out and let it ring more. What else do I use….? I'm not really a big gear head. I mean I don't really know much about gear. I know a lot about harp but there are not many people you can talk to about what kind of harp you have all day.
GW: right?! (chuckles)
MD: I've had my band let me know what they think the best pedals are
GW: Oh it's endless! I'm sure you could have years of fun with that! It'll be like Picasso, you can have your sustain delay super reverb phase or your wah-wah harp period…
MD: I feel like I can experiment so much more, I just haven't done it as much as I should probably. But yeah, then I put it through an amp and that's it! Once I figure out my set up, it's pretty easy. It's not too crazy of a job to get done.
GW: How many albums have you put out now?
MD: I have one album that's right now that I put out on Rounder Records.  DELIVERY
GW: Yaaas!
MD: But before that, I did have music. I actually took it off the internet though because I felt like it wasn't who I am anymore.  It was just early music. My first album I put out when I was 18, I think. So…. it was 10 years ago.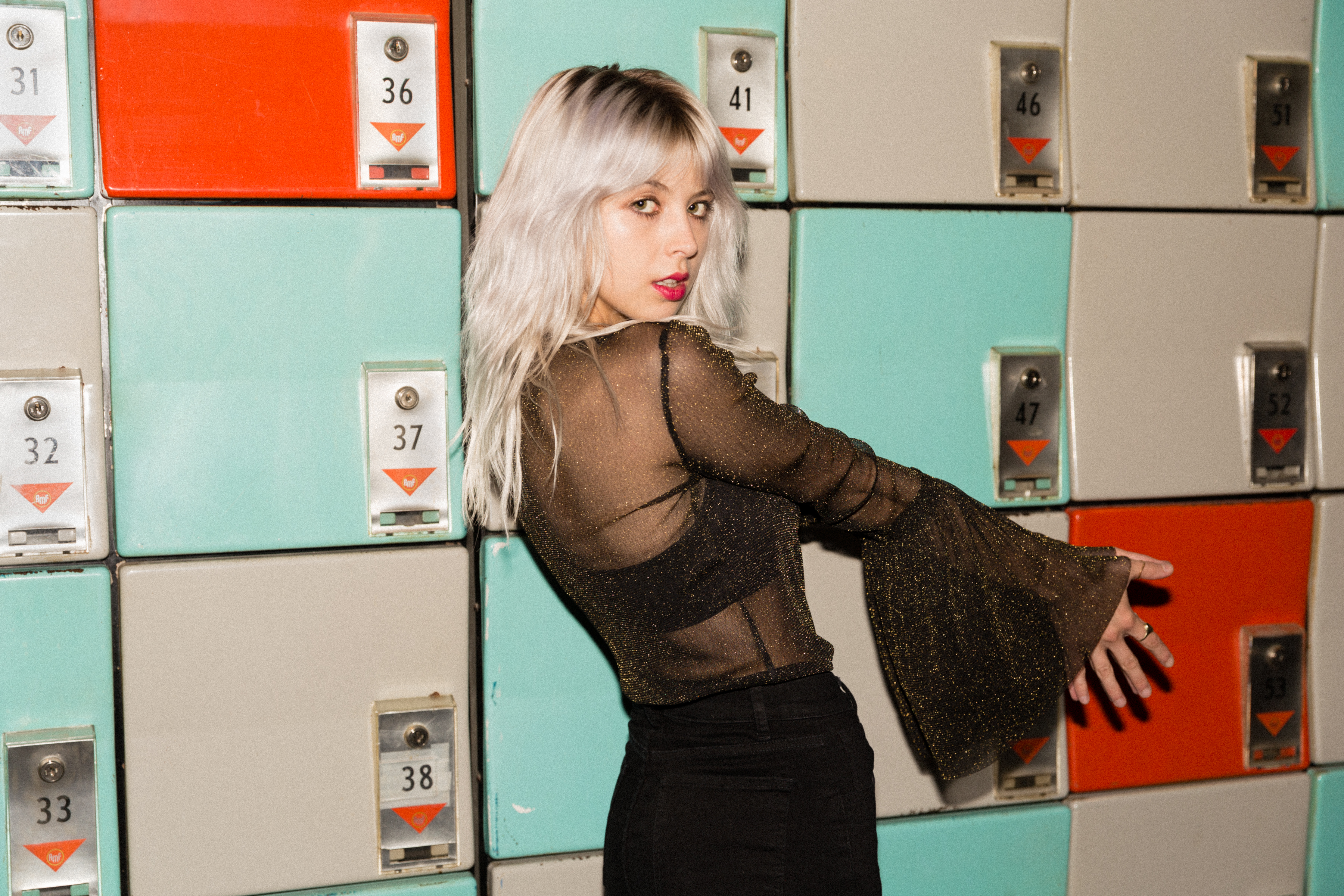 GW: (chuckles) Isn't it odd to watch yourself perform? Did you feel those nails on chalkboard feelings like you didn't want to see that anymore?
MD: Yeaaaaah. It definitely depends. I watched the Tiny Desk all the way through and it was really fun to see. Also, you can't stop judging yourself, ya know? I'll play something and hearing what I've played, I realize maybe that doesn't work like I thought it did! Or like, oh no! Why did I do that?!
Did you hear the part on that Tiny Desk Concert where you play and Bob Weir goes, "YEAH!" I think Mikaela did just fine...
GW: Well with that Tiny Desk Concert, you figure Bob Wier had to curate and really put some thought into his song choices. Those 4 songs, with you on Bird Song and Ripple were such a perfect selection with such great flow from the first two songs to you closing it out on the last two.  Speaking of which, ok, where do you take cues from in the kind of setlists that you perform when you're playing live? I've heard musicians say it's all a matter of tuning.  They chose which songs are in what key. How does that work for you?
MD: For just me personally playing harp or for my band when we perform?
GW: I guess both?
MD: Well specifically when I'm playing with Bob and Wolf Brothers, they play with… Usually, when you tune your instrument you tune it to 440. They tune to 432. So, it takes a day for my harp to settle into that tuning. It is different than any other show because a couple of days before I play with Bob, I usually tune the harp down to 432. All the notes are just a little more flat than they usually are, so when all the tension on the strings are changing so much, it's harder to stay in tune. I also will tune - you're not supposed to do this - but sometimes I will tune the harp to the keys I need the most because when you change the pedals, there are 7-foot pedals on a pedal harp and when you change one of the pedals, it actually will shorten the string a little bit and it will put more tension on the strings.  When that's plating a lot, the tuning can change too. I just haven't gotten my harp regulated in a really long time. (chuckles) It's like getting a guitar set up, changing the strings and having somebody fix it up for you so that when you're playing different chords the tuning will be right. It's really complicated on the harp, I can't do it myself. I always hire a harp technician to regulate the harp for me. So, specifically, for my harp, she will be out of tune a lot and I just have to keep tuning. Like for Tiny Desk, I was tuning and retuning until I couldn't anymore. So we just started playing (chuckles) Then, with the band, my drummer Alex usually writes the setlists. He'll take into account switching instruments, who has to tune the most. He'll try to put three songs in a row that are minimal switch-overs so that we can just play them straight through. Then there's a beat where our guitar player will have to tune his 12 string and I'll talk to the audience. 
GW: So then who is the one, I thought I saw footage of you guys playing with a sitar? Audiotree
MD: That is older footage, that is our guitar player Cian. He doesn't play sitar in the band anymore. He eventually asked if he could play 12 string instead.
GW: Awesome! That's still not an easy instrument to tune.
MD: Yeah, it was a lot of tuning on the guitar and it just made more sense to him to be playing guitar the whole time
GW: No shame in that! I heard you said, she - in reference to your harp. Does your harp have a name?
MD: Oh you did, that's funny. Yeah. I named her a really long time ago, her name is Luna. 
GW: Luna?
MD: Yeah, Luna. I named her in high school and now sometimes I think it's a little cheesy but… Can't change her name now!
GW: I hear ya, I name everything too.
MD: Do you have instruments that you have named?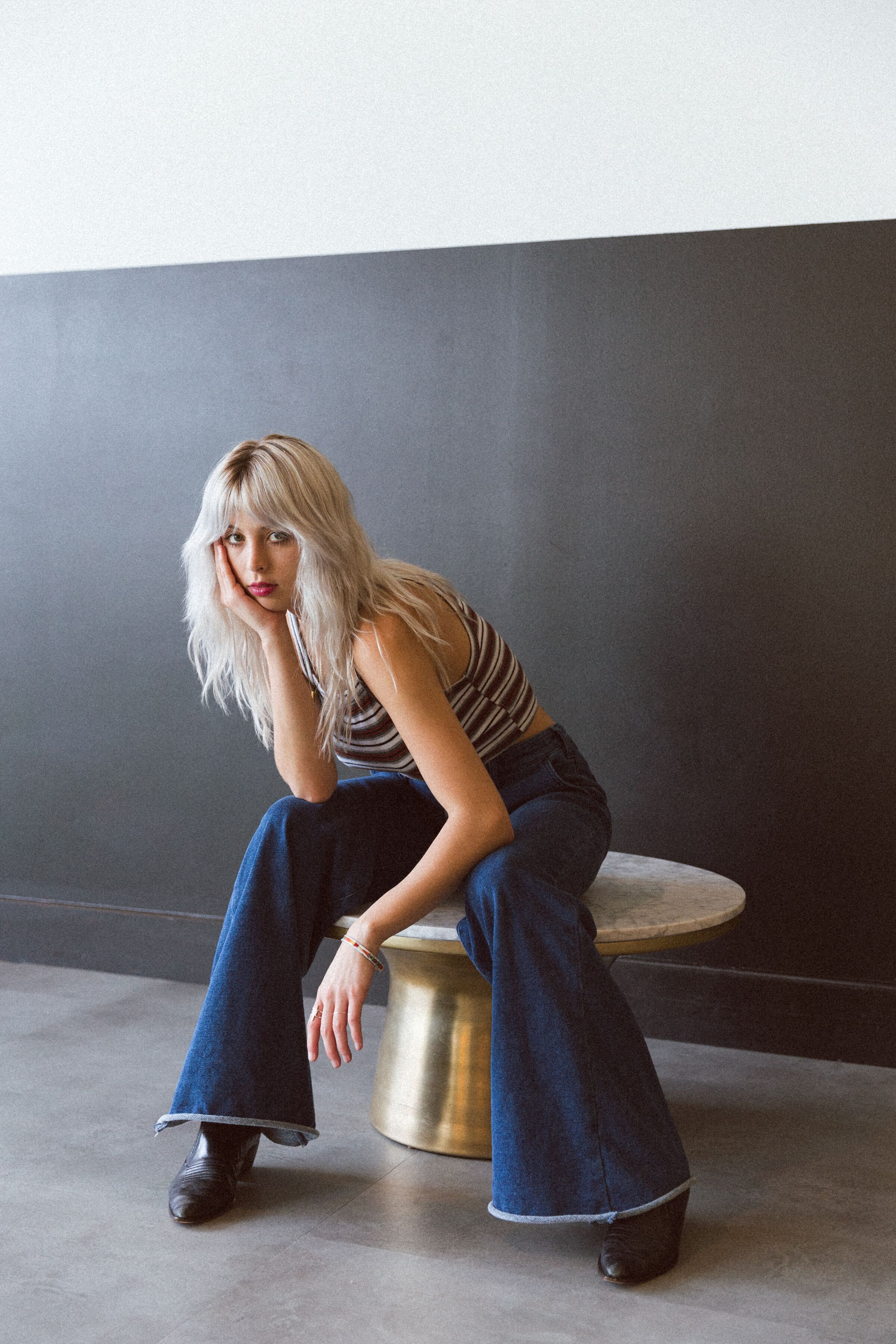 GW: Well not quite, but I named my car. My car's name is Towanda. She's relatively new to me and fancy. She's a nice big fancy car that reminded me of the scene in Fried Green Tomatoes where Kathy Bates slams the car in the parking lot and screams TOWANDA and then tells the girls, 'I'm older and I have more insurance.' (chuckles)  Just one more question for you… Can you tell me how it is that you came to fall in love with the Grateful Dead? So many people have different stories, whether it be for the love of the scene or the music or the lyrics… How did you first fall in love with the Grateful Dead?
MD: Well, I was in college. This must have been, I don't know, seven years ago or something and my guitar player Cian had recently joined the band. We were hanging out and he has always been a really big fan of the Grateful Dead. We were hanging out at a friend Jake's house. Jake, Cian, and I were talking about music and neither Jake nor I had listened to much of the Grateful Dead. So Cian had us go into Jake's room. He had these LED lights all around the rim of his ceiling and the wall.  Jake put them on changing colors and we turned off the other lights. He told us to just sit silently and then he played Dark Star.
GW: Yaaas! Good One!
MD: Yeah, we were all completely sober sitting there but I felt like, I don't even know.  After that, I thought wow. That's wild. I've never heard anything like that. I had all my mom's old records. She had pretty much every single Grateful Dead record so…
GW: Nice! I am still working to complete that collection!
MD: Yeah, I listened to all of her records and that is how I became a fan.
GW: So what are your tour plans next? What is happening now?
Clearly this was an interview done before 3/15/2020.  
MD: We're not doing too much touring right now because everyone in the band is writing for the album. So that's what we're working on but I'm doing a short tour in April. I'll be opening for this band Overcoat, two women. We're going to Minneapolis…
GW: Oh great! Grateful Web is based in Colorado but I'm actually out here in Chicago so… I saw that you played with Rubblebucket before too and I know they stick to mostly East Coast gigs.
MD: Yep! We loved touring with Rubblebucket. They are all such great people!
GW: There is a woman inspiration for me, Kalmia Traver. She's amazing.
MD: Yeah, have you listened to her solo project? Kalbells? check out her Tiny Desk Concert
GW: No I have not
MD: Check that out!
GW: Awesome thank you for that suggestion!
MD: Yeah, totally check that out, of course. So definitely, she is another female artist that inspires me. She is incredible and just the way the band has transformed over the last 10-15 years. I don't even know how long it's been but she & Alex have been Rubblebucket forever and their show… what is has become is SO interesting. It's kinda Talking Heads…
GW: They still have like 4 horns, right? Is she still on Baritone sax? 
MD: Sometimes, yeah. She'll play bari sax. Alex, the other main songwriter and member of Rubblebucket he plays trumpet. Then they also had another trumpet player named Sean when we all toured. 
GW: I don't know that I'm familiar with that member.  
MD: Yeah they shuffle through members, Sean was new for that tour that we did but Rubblebucket is always Kal and Alex. Alex also has solo music that is awesome, Alex Toth, his solo stuff is just Toth.
GW: Awesome! I gotta check that out for sure!
MD: So check out Toth, and check out Kalbells. I think Kal just released something recently with her solo project, too. It's all good stuff!
GW: No kidding. Well, I want to thank you so much. In that Tiny Desk Concert, when you played Ripple and Bob sang, "...And my tunes were played on a harp unstrung…" it just… melted me! I had to know who you were! I thank you so much for taking some time out with me today.
MD: Awww, of course! Thank you for your interest and for the interview!
At this time of COVID-19, there are no dates set for Mikaela's short tour.  We hope to report back with those dates as soon as they are released and the world goes back to healthy.