Prakash Slim Pokharel was born in a field during the rainy season in a small village, called Lamatar, in the Lalitpur district of Nepal. The village saw its first electric bulb in 1983 and its first motorized vehicle in 1995. He was raised by a loving, loyal family that had very limited means. His father passed away at the age of 29, leaving his mother with three children to raise, one elder brother, a sister, and Prakash.
Through trials and tribulations, Prakash Slim knows the blues. To hear his renditions of Robert Johnson or any of the classic blues traditional songs makes it fresh and raw all over again. Not the rebel yell but the low guttural grip of the blues, Prakash Slim connects Eastern vocals with Western resonator guitar skills. Grateful Web got a chance to speak with Prakash at his home in Nepal, just outside of Katmandu.
GW: How is Corona Virus affecting you in Nepal? 
PS: The number of affected people is increasing badly and deaths starting to go up. My place is still in lockdown and getting in trouble for daily needs too. All the venues, school, and colleges are closed so it's crazy here. 
GW: What got you into playing American Blues?
PS: Since I was a child, I've been interested in music. I played music by drumming against a water gallon. I would sing songs all day and I sang what I heard on the radio. Music drew me in. Back then, my most prized possession was a bicycle that my sister gifted me after she landed a job. I wanted to learn how to play the guitar but I didn't have the money to buy one. My mother raised three children with wages earned working for our neighbors after my father died when I was only two years old. I must confess that I bought my first guitar by selling my bicycle. I told my family that a friend was borrowing it.
For two years I searched for a mentor who could teach me music theory. I finally found a teacher; legendary musician C.B. Chhetri. Although he lived 10 kilometers away from my home, my passion for music was so enormous that I never missed a lesson. Whether it stormed or rained I always arrived ahead of time and I was ready to learn. After years of learning the guitar, my mentor asked me to join his band. I played in an instrumental rock band and gigged the restaurant circuit playing rock and instrumental music. It was fine playing in rock bands all those years; however, I had a thirst for deeper musical knowledge and experience. The aching hole in my soul healed when I first heard B.B. King.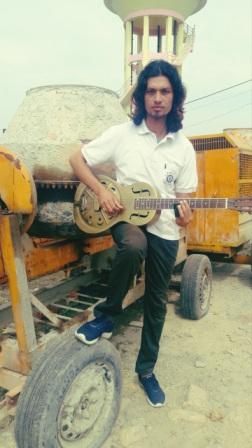 Overwhelmed by what I heard, I began researching blues music and its history. I took my existing repertoire and started experimenting by adding blues licks and grooves to them. I gradually learned expanded theory and how chords and progressions are formed both physically and numerically. From 2003 to 2015 I stayed busy playing lead and/or rhythm guitar and bass guitar. Also, I was a vocalist for various bands throughout Nepal. In 2017, I started the Blues Mentorship Training Program from the Mount Zion Memorial Fund aka MZMF. In 2019, after completing the blues research and mentorship training, I became an International Artist Performer and Educator of the Blues from MZMF. There's a vast difference in my playing versus the blues education I received. Blues comes from Black American societies. Blues isn't just a genre as I feel the blues understands the pain that dwells in our hearts. Without knowing the history, blues would be incomplete. My tragic childhood, economic depression, and passion for blues history make me a bluesman.
GW: What other sub-genres interest you? 
PS: Well, Country Blues is an early form of the Blues. As a bluesman, I love to play its sub-genres such as Delta, Piedmont, Chicago, and west coast blues.
GW: What landscape do you live in?
PS: I live in a village, just a few kilometers from the capital city of Nepal (Kathmandu Valley). It is still in the developing process. Nepal is landlocked country between India and China. Nepal is the land of Mount Everest and Lord Buddha.
GW: What inspires you?
PS: Musically, I grew up listening blues-rock recordings from Jimi Hendrix, Eric Clapton, B.B King, and so many others but lately when I heard Country Blues legends like Charley Patton, Robert Johnson, Bukka White, Son House, Blind Blake, Mississippi John Hurt, Fred McDowell and many others where I totally drawn in this style. So I think I have been inspired by country blues style, its history, incidents, and problems which we all face in all walks of our life.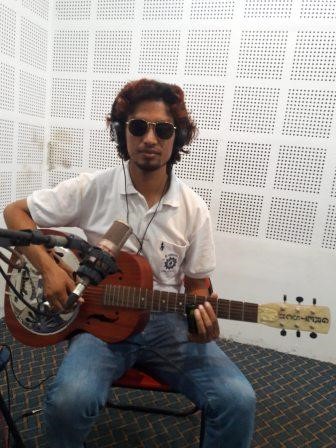 GW: Where does the Blues come from for you personally?
PS: Blues as the voice of an oppressed and exploited people. It came from Black American societies. No one can deny the history and can't forget the truth. So Blues is a sacred boon to the world by African Americans. Well, I am from the family with very limited means. I grew up with some of the same circumstances which African Americans had suffered. So I was born with the blues. Still, many of us are suffering from same problems such as discrimination, economic depression, and other social issues. And on the other side we have flooding, drawn, disasters and many others experiences of our life. So still we have the blues. Now, we can express our experiences through blues. So I think it comes from our experiences.
GW: How many guitars do you have?
PS: I have three guitars. One is normal Chinese guitar and other two are Resonator. My first resonator guitar (Gretsch) was gifted by my friend from Tennessee and second Republic resonator was gifted by my friend from Oklahoma. I am really grateful to my friends for this.
GW: What vocal practices do you employ?
PS: Actually, I am a little behind in this case. I don't do any specific vocal exercises. I usually just practice singing.
GW: What are 3 things that would change your life?
PS: Ah I think music, devotion and honesty would change my life.