"We're not going to make you cry; we're not going to make you sad. We're going to make you smile, we're going to make you laugh, we're going to make you laugh at us and yourself. We're going to make you say the "F"-word" Would be a lot to experience in a show, but this is exactly what Reel Big Fish veteran Johnny "Christmas" Christianson promises from the audiences who find themselves at their concerts. Since the 90's Reel Big Fish has been traveling the world with their uplifting message, dedicated to keeping their genre alive as best they can.
Ska band Reel Big Fish gained popularity more than two decades ago, and the bandmates have taken full advantage of the demand audiences around the world have for them ever since. Averaging around 250 live shows each and every year they are constantly touring, determined to never let their fans down. True showmen at heart, they strive to embody all that Ska stands for, and have successfully written their legacy as one of the most recognizable names in the genre.
We had a chance to sit down with Reel Big Fish's Trumpet player and elder of the Ska community Johnny Christmas on the last cross country Warped Tour to talk to him about his time on the tour, his relationship with Ska, and the musicians who inspire him.
Grateful Web: With songs like "Sell Out," "Don't start a band" and "Everything Sucks" I have always been curious about your almost morbid take on your own success. Could you explain that a little?
Johnny Christmas: It's a part of growing up in Southern California in the 70's, 80's and 90's. It was just something that came out of the Southern California Ska scene that Aaron (Barrett) saw. People like to have fun at Ska shows, and somehow that warped into his sense of humor, and he wrote those songs. As you see other bands, you see that they're jaded, or people that like to knock you down for having success, and Reel Big Fish was lucky enough to have a little bit of success and be a part of that wonderful Ska scene with bands like The Aquabats, No Doubt, and Sublime. It's just his slightly warped view of the world. He definitely sees that the ability to laugh at your situation and being able to laugh at the world is the most important thing that you can possibly do for your mental health, which is not to take yourself so seriously. We are all really sincere musicians that have a commitment to our craft, but we are silly funny guys, and we like to show that off so you can "lighten your load" as we like to say and laugh at yourself to have a good time.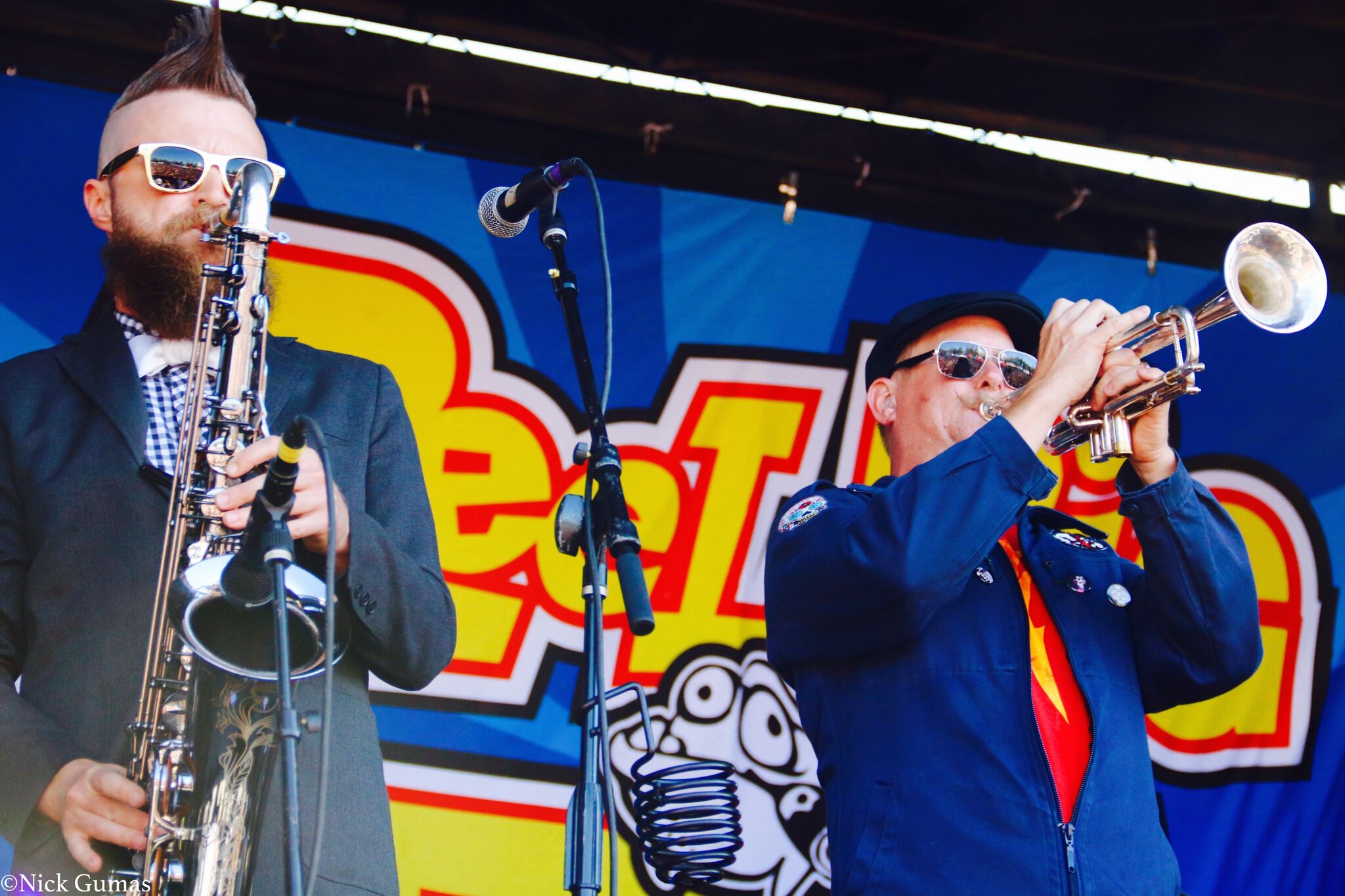 GW: Traditionally, you're a band that does upwards of 200 shows a year. How do you find the energy and motivation?
JC: It's crazy, this year is really unusual. We've had about four months off, and I'm really happy to be back out on the road and doing what I do best. While we may be goofballs on the stage, we are not goofballs off the stage. (Offstage) It's a lot of reading books and taking some quiet time for yourself. Three of us are in our 40's, one of us is in our 30's, and we have two guys that are in their 20's. We enjoy seeing the young guys drink until they throw up, not our young guys because our guys are professionals. We save it all up for the show, and we give each other our personal space, you can't be all up in each others' area and playing practical jokes on each other, we're not that kind of band. We save it all up for the stage and give you 100% when we're onstage.
GW: It's been a while since your last album dropped. Anything new in the works?
JC: There may or may not be a Reel Big Fish record. I cannot confirm or deny that we recorded the new Reel Big Fish record this winter. I'm not going to say that we recorded a new Reel Big Fish record and that it's in the can just waiting to be mixed and mastered. I'm not saying that. I'm not saying that this is going to be the best Reel Big Fish record that we've ever put out, because I can't talk about this record that may or may not exist, ok? I'm just letting you know that Reel Big Fish may or may not have a new record coming out this fall. But I can't talk about it.
GW: You came out with a very creative Holiday album a few years back. What inspired the tracks on the record, specifically "Carol of the Beers"?
JC: That was all Matt Appleton. Aaron knew how talented and wonderful Matt is, and what a great engineer he is, and he told Matt "I want you to do Carol of the Bells, but do it as Carol of the Beers." Aaron let Matt go away into the studio in his house, and Matt did it all by himself. It's really really awesome, he's so talented, and it always makes me smile to hear that (song).
GW: We've all heard your cover of A-ha's "Take On Me" but if you could pick any artist to cover any of your songs, which would they?
JC: I think the Rolling Stones should do a Reel Big Fish song. I want to see Mick Jagger make the entire stadium raise their middle fingers and do "Another F.U. Song."
GW: What are your thoughts on the present and future of Ska?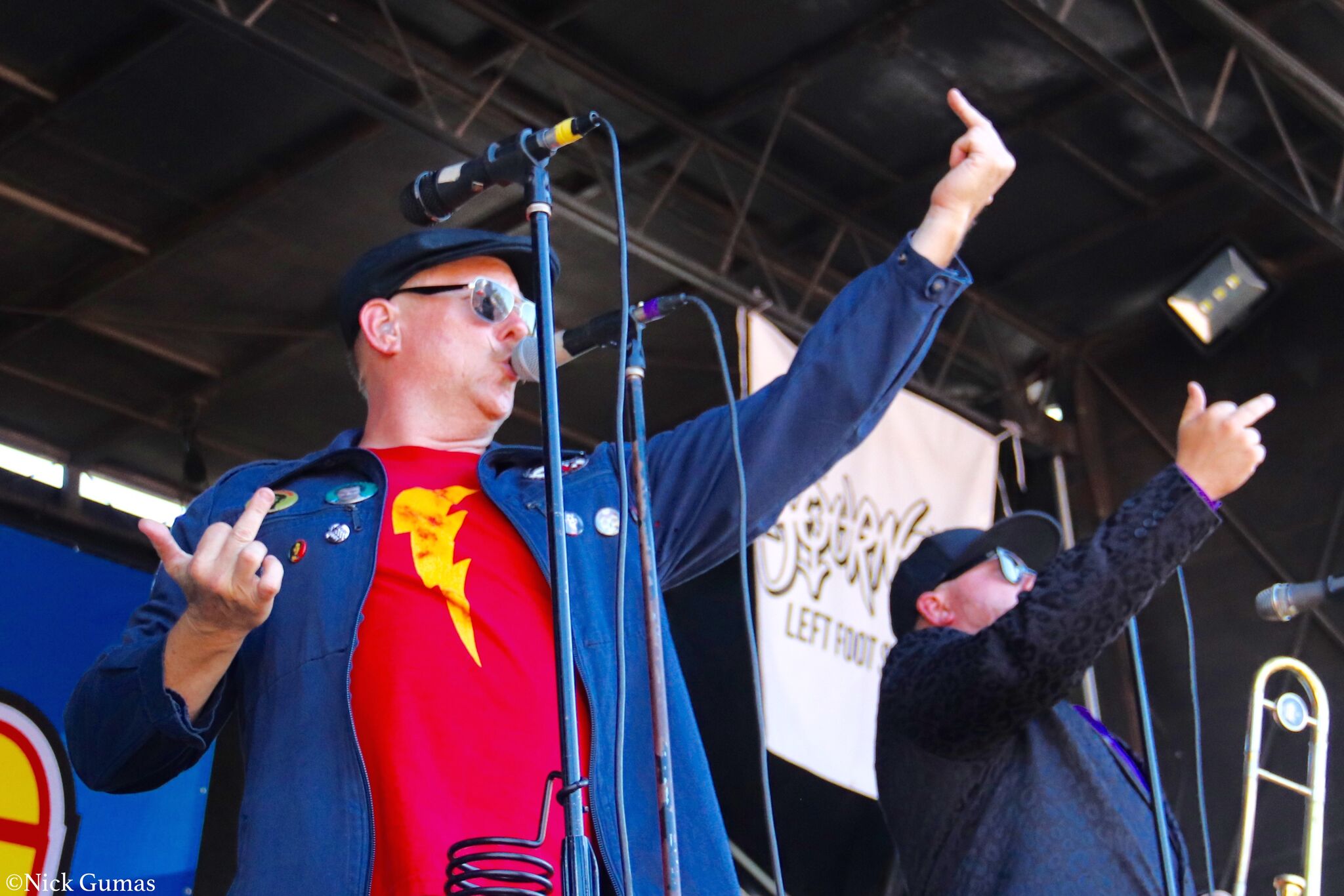 JC: Everybody keeps saying that there's going to be another wave, but it's going to take another band to have a radio hit, because that's what makes the magic and that's what makes the scene. We are happy to be a part of whatever scene there is. I think the great thing about Ska music is you come to the show to have a good time, that is our modus operandi. We're not going to make you cry; we're not going to make you sad. We're going to make you smile; we're going to make you laugh, we're going to make you laugh at us and yourself. We're going to make you say the "F"-word once or twice, maybe three times, and not take yourself so seriously because people that take themselves too seriously cause all the problems in the world.
GW: As Warped Tour veterans; obviously the festival was not started with Ska in mind, but you have made yourselves a staple here and one of the crowd favorites. Why do you believe your music resonates so well with this crowd, and how do you feel about the niche you've carved out for yourselves here?
JC: We did an autograph signing yesterday, and maybe ¾ of the people in that autograph signing had never seen us before. I think we're such an anomaly like bands like "The Aquabats" (Because) when I say "The Aquabats" I smile from ear to ear. They're not only great musicians, but they're great entertainers, and I think that's something that Aaron, our lead-singer-boss-man has always stressed. What we do is entertainment. It's entertainment, and we're putting on a show for everybody, and I think that's why we're here, because it's a show. You're going to laugh, you're not going to cry, well unless your girlfriend has left you for another girl, but we're going to make you smile and laugh at that. I think it's this "have fun" factor that we provide that keeps us coming back to Warped Tour.
GW: You've brought up your relationship with The Aquabats a few times. I have often been curious about their history. With your perspective as their friend and peer, how did you observe their direction pivot back in 1998 with the heavily publicized loss of their drummer Travis Barker.
JC: The Aquabats have been doing what they've been doing the whole time (with or without) Travis. I played with Travis at the Back to the Beach Festival with Goldfinger, and he did a great job. Wonderful Drummer and I'm glad that he's doing well with Blink-182, but the Aquabats are the Aquabats. You can't change those guys; they're hilarious. I watched the Super Rad video recently, and there's something about the Ska fans being the underdogs, not being the cool kids in the school, and feeling that you need to fight for your place in the world. Ska music is this beautiful, uplifting music that helps you do that. We as musicians are the heart in the heartless world. The first place that people turn to when they have something go wrong in their life; they turn to music. You're going to put on "You Can't Always Get What You Want" when your girlfriend breaks up with you, and you're going to put on "Everything Sucks" when you lose your job. We are lucky and privileged to be a part of everyone's life who shows up to a show or listens to our songs and back to the Aquabats' Super Rad, you're fighting, you're overcoming the obstacles of life by laughing and smiling instead of crying. You smile about it, and you say "Life's going to go on another day," and you go with it.
GW: How do you feel about Warped Tour coming to an end this year?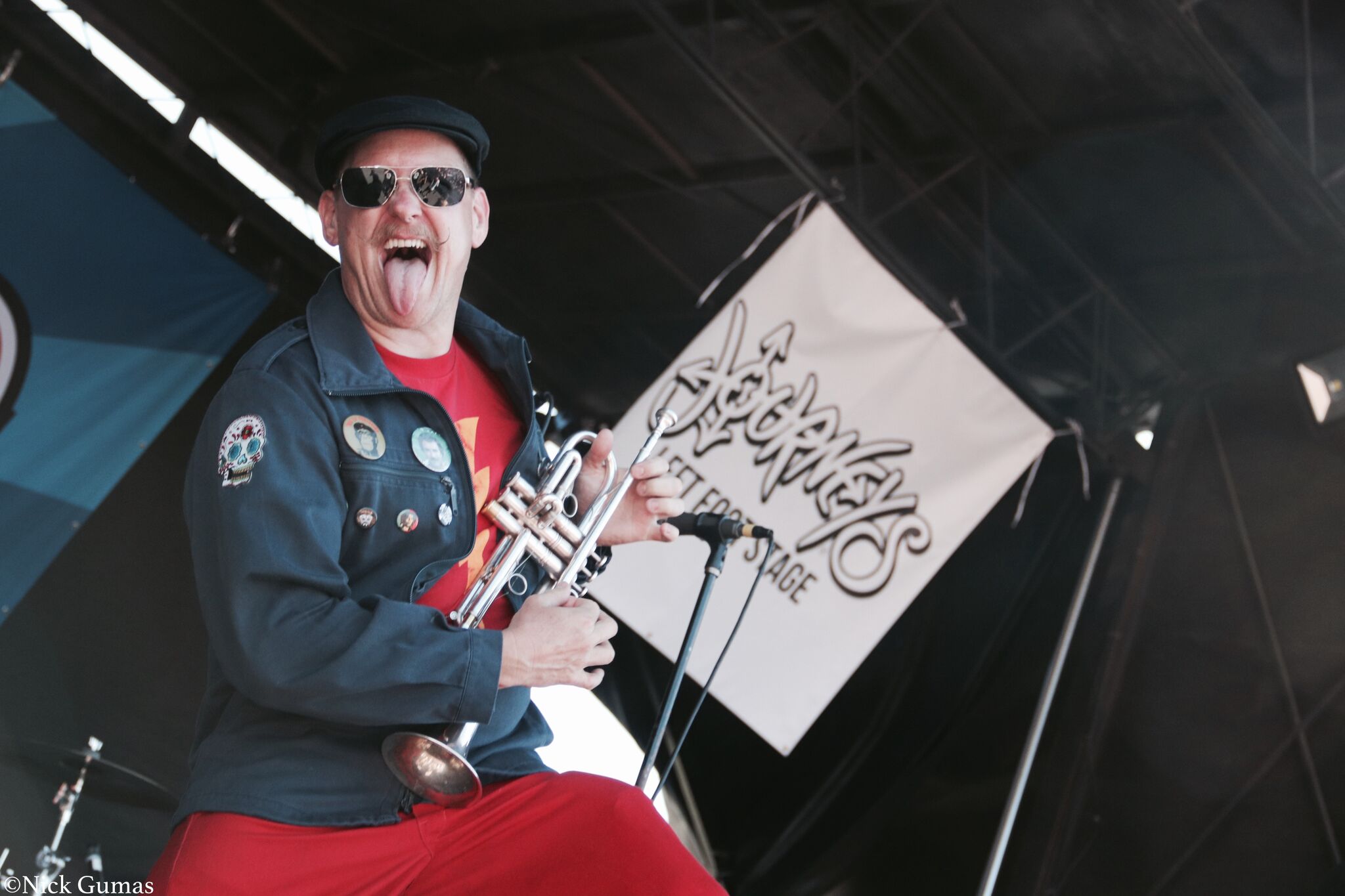 JC: It's sad. This is such a unique opportunity, not only for the bands on the tour, but for the fans who come to the shows. There is no traveling festival like this anywhere in the world. Not one that goes for six weeks, that goes all over the entire country. That's the great thing about Warped Tour is that we come to you. We're going to come to where you only have to drive a short while. You don't have to get on a plane to Ontario California, then drive an hour and a half to get to Coachella. We're going to come to you, and you're going to get sunburnt, you're going to get sweaty, and you're going to see some great bands, and you're going to have an experience of a lifetime. I'm sad that it's going away.
GW: How do you feel you've left your mark on the festival?
JC: I hope that we've made some people think about their lives in a different way and that we've made some people smile when they want to cry. That's all you can hope for as a musician, that you have a positive impact on the world. I hope that we've done that.
GW: What's something not a lot of people on the tour know about you?
JC: I talk about everything if you can't tell. I don't shy away from any subjects. But I love Motorcycles. Love them. All shapes and sizes. They're so beautiful it makes me want to cry. Also, I'm a dad. I have a five-year-old daughter, and she has a motorcycle that she doesn't want to ride yet, she's afraid, so I'm trying to coerce her into going out and riding with me. Someday it'll work.