A true pioneer takes great risks, stepping out of the social norm to create something revolutionary and different. They visualize a new way of doing things by bringing a fresh perspective that could potentially change the game forever. These types of people are becoming few and far between, and in a music industry that running dry of inspirational ideas, we need these revolutionaries now more than ever.
Enter Griz, the 23 year-old beatsmith prodigy child who is single-handedly changing today's electronic music scene with his signature "electro soul" sounds. Born Grant Kwiencinski, the Detroit native burst onto the festival circuit in 2011, playing a number of different events and touring the nation with well-known artists such as STS9 and Big Gigantic. He began developing his own style that separated himself from other up-and-coming dubstep producers at the time and in 2012, Griz shook the EDM scene with the release of his debut album Mad Liberation.
What makes Griz unique is his innate ability to create a beautiful blend of melodic melodies by incorporating old-school funk riffs, slide guitar, and jazzy piano with the new school era of heavy-hitting bass lines and space-aged synthesizers. Imagine taking the production style of Pretty Lights and mixing it with the soul of Stevie Wonder, then incorporate an abundance of stellar horns and throw it over a beat from the late-great DJ Premier. By taking samples from all sorts of different musical genres and orchestrating them in an electronic hip-hop format people can dance to, Griz has created a style of genre-blending that is a breathe of fresh air to the EDM scene.
Arguably his best work to date, Griz's 2013 sophomore release Rebel Era brings all the passion and emotion that his fans have come to expect, and then some. The sound is comparable to his previous work on Mad Liberation, however this time around feels like a more polished and well-orchestrated affair. The album's opening track, "Gettin' Live," was released on Griz's Sound Cloud as a preview to the album a few weeks ago and features solid guitar work by Detroit producer Muzzy. The real highlight of "Gettin' Live" however comes deep into the track at the 6:10 mark, as Griz drops a barrage of horns over a beat that would make Rocky himself proud. Next up is "Hard Times," which again features some crafty guitar, along with blissful saxophone by Griz himself. Samples of what seems to be an old ragtime singer accompany the track, preaching the lyrics, "I've seen the hard times, and the pressures been on me."
Rebel Era's third track, "Feel the Love," lives up to its title as a Cadillac-banging, feel good summer anthem that is sure to have you grinning from ear to ear. Coming full force with reggae-style organs and a simple, yet effective guitar hook that will be stuck in your head for days, "Feel the Love" stands out as one of the premier offerings on the album. Griz's signature saxophone sound is apparent throughout, however it doesn't overpower the rest of the instrumentation, which is key in crafting a well-rounded piece. With so many different instruments being layered throughout, it would almost be a shame to highlight just one single sound, and Griz did a magnificent job giving each instrument room to breathe and highlight their talent.
Keeping the hip-hop vibe alive and true, "DTW to DIA (the travels of Mr. B)" might be the most well-rounded and flavorful melody on Rebel Era. It encompasses the style Griz has been building and keeps the listener engaged in the rhythm throughout. The track begins with, you guessed it, more dance-heavy guitar that bodes well with the samples of Nas' "The World is Yours" and Wild Cherry's "Play That Funky Music" playing in the background. The track goes through a series of interesting transitions, including some masterful drops and well-placed wobbles. Culminating with the classic Nas line, "Understandable smooth shit murders move with," Griz brings the heavy-fueled bass line back for an encore before the tune ends.
Now, if the opening four tracks weren't enough, here's where Rebel Era starts to bring the supreme funk, and it comes with a little help from brother's Matt and Mark Hill, also known as The Floozies. The Kansas-born guitarist/producer duo made a noticeable splash onto the festival scene this past year, and their impact was apparently enough for Griz to take notice, feature the duo on his new album, and even sign them as the first artists to his new Liberated Music label. "Simple (ft. The Floozies)" has a laid-back disco groove that could make Barbra Walters get up and dance like James Brown, it's that catchy.
Other highlights of Rebel Era include the electro-house style "Crime in the City," which brings the bass full force into a well-executed dance track perfect for clubs, raves, or parties. "Too Young for Tragedy pt. II" is the sequel to a previous track off Griz's Mad Liberation and features the same slow-build intro that its predecessor did, using synthesizers to amplify the tension. This time around however, the build is culminated by a slowed down voice sample telling us we "gotta get up to get down," which is followed by a massive bass drop that will shake your soul to its core. Rebel Era concludes with a melodic track by everyone's two favorite saxophonists, Dominic Lalli of Big Gigantic and the man himself Grant "Griz" Kwiencinski. "How it Ends (ft. Dominic Lalli)" is a euphoric exploration of time and sound, which captivates the sound of both artists' saxophones beautifully. It's the perfect denouement to an album packed with climaxes.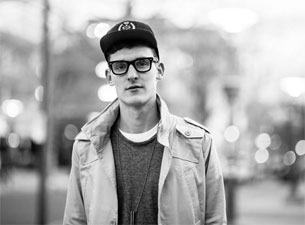 Folks, we are currently witnessing an artist ahead of his time. What Wu-Tang's Enter the 36 Chambers was to hip-hop, Griz's Rebel Era is to electronic music, and yes I went there. Griz's newly created sound is groundbreaking and should be honored for going against the grain of everything EDM has stood for the past few years. While most producers were trying to find a way to make their sound dirtier, faster, and frankly more generic, Griz created something completely new and unique. At the young age of 23, Grant "Griz" Kwiencinski is paving the way for a new era of producers, and becoming the revolutionary icon that this scene has so desperately needed. It's groundbreaking albums like Rebel Era that give hope to older heads, and inspire younger generations to step outside their comfort zone and bend the boundaries of music. So in the words of Griz himself I'll leave you with this quote, "EDM without Funk, Soul, Blues and Jazz just tastes like the whitest bread ever."