Avery Brewery in Boulder Colorado has a small tucked away tasting room down the back ally of a local business park. They have a large selection of fresh tasty beers on tap, and I was there enjoying one when four guys drove up in a Green Van from Ft Collins. As they unloaded their equipment, set up their mics, tuned their guitars, and oiled up the Tuba I had no idea what to expect. What I got was a great set of music from Ft. Collins own Handpicked Holler!.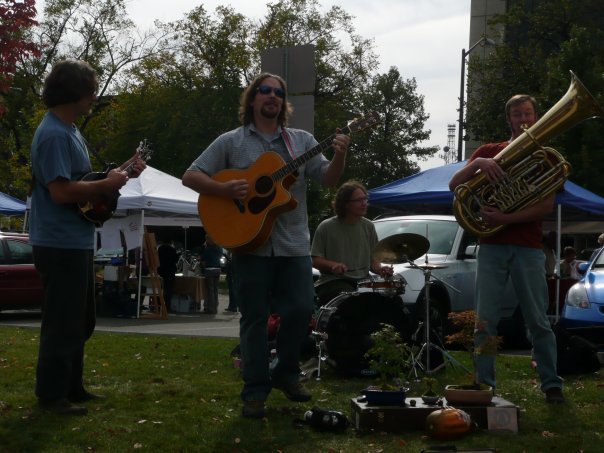 This four member band, with former members of Wildwood Holler!, has been playing together since August of 2008. They include Michael Kirkpatrick on mandolin, guitar, and vocals, Josh Beard on Tuba, Brian Adams on Guitar and vocals, and Josh Vogeler on drums and vocals. Playing in a brewery tasting room is nothing new to this group as they have been playing every first Wednesday of the month at Odell's Brewery in Ft. Collins. We are kind of the local house band on those Wednesday's, explained Adams, We play for a few hours and it's a great time. Some of our older crowd is made up of parents and sometimes they bring their kids down to dance at the shows. Tonight in Boulder it is a crowd of business men and college kids enjoying this bands music and fun stage presence.
Handpicked Holler has a lot of good things going for it; most obvious is the music. The vocals of Kirkpatrick, Adams, and Vogeler are soft yet strong in dynamics as each adds their own part to the songs harmonies. The other surprise is seeing Josh Beard as he plays his Tuba like a four stringed bass. The bass sound of the Tuba fits perfectly with the guitar/mandolin combination and was a huge hit during their version of the Allman Brothers "In Memory of Elizabeth Reed". This band is not so much Bluegrass as it is 'Folkadelic'; they play some songs in a bluegrass format and others in a folk rock way. They have been known to cover a wide variety of artists like The Beatles, Peter Tosh, Trampled By Turtles, and my favorite cover of the night of 'Maze' by the newly reformed Phish. But it is their originals that really pack a punch. Kirkpatrick used the poem "Eldorado" by Edgar Allan Poe to create a wonderful tune that was diverse in arrangement and lyrical form. The other tune that went over well for me was 'On the road to Gemini', a song written a few years ago when members were in route to play the Gemini Festival in Oregon. The band will be back there again this year as well as playing the New West Fest in Ft Collins this Summer.
This is a fun group to watch and listen to. They are currently in the studio recording their first CD and should be out in summer of 2009. If you would like to hear more I would suggest trying to see them perform live. They play tonight, 4/17/2009, in Greeley at the Rio Grande and also this Saturday at the Aggie Theater in Ft. Collins.