While post-pandemic etiquette is on a lot of folk's minds, John Hartford Memorial Festival goers are a little different. 2020 ticket holders were refunded if they wanted but so many gave up the cost of their tickets to donate to the organization that 2021 turned into a modest camp out complete with 12 bands for free. Miles of silence and long days of dreary COVID but the faithful keep coming back to Bean Blossom. Amongst the sunset beams of orange and magenta light filtered through the tree canopy, spiders crawling in your hair and swatting mosquitoes, they are the river rats, the backwoods Paul Bunyons, the rusty redneck wrench turners that started this global trend of Bluegrass and reel time music. JHMF has created so many relationships and musical journeys that they keep coming back to Bill Monroe Music Park in Bean Blossom, Indiana.
This year another name got added to the Memorial namesake, the original vision and founder, John Hotze. He took big risks to keep the feeling, flavor, and fun of Bluegrass music alive and kicking. He passed on 3/29/2021 but his legacy lives on. The mission and focus of The John Hartford Memorial Festival is to carry John Hartford's legacy and influence forward in perpetuity while celebrating his life, music, and ideals. Well, since 2011, John Hotze has carried out that mission with this festival to honor his late friend John Hartford. 2021 brought the whole family home again but next year will be the "proper" 10th-anniversary festival.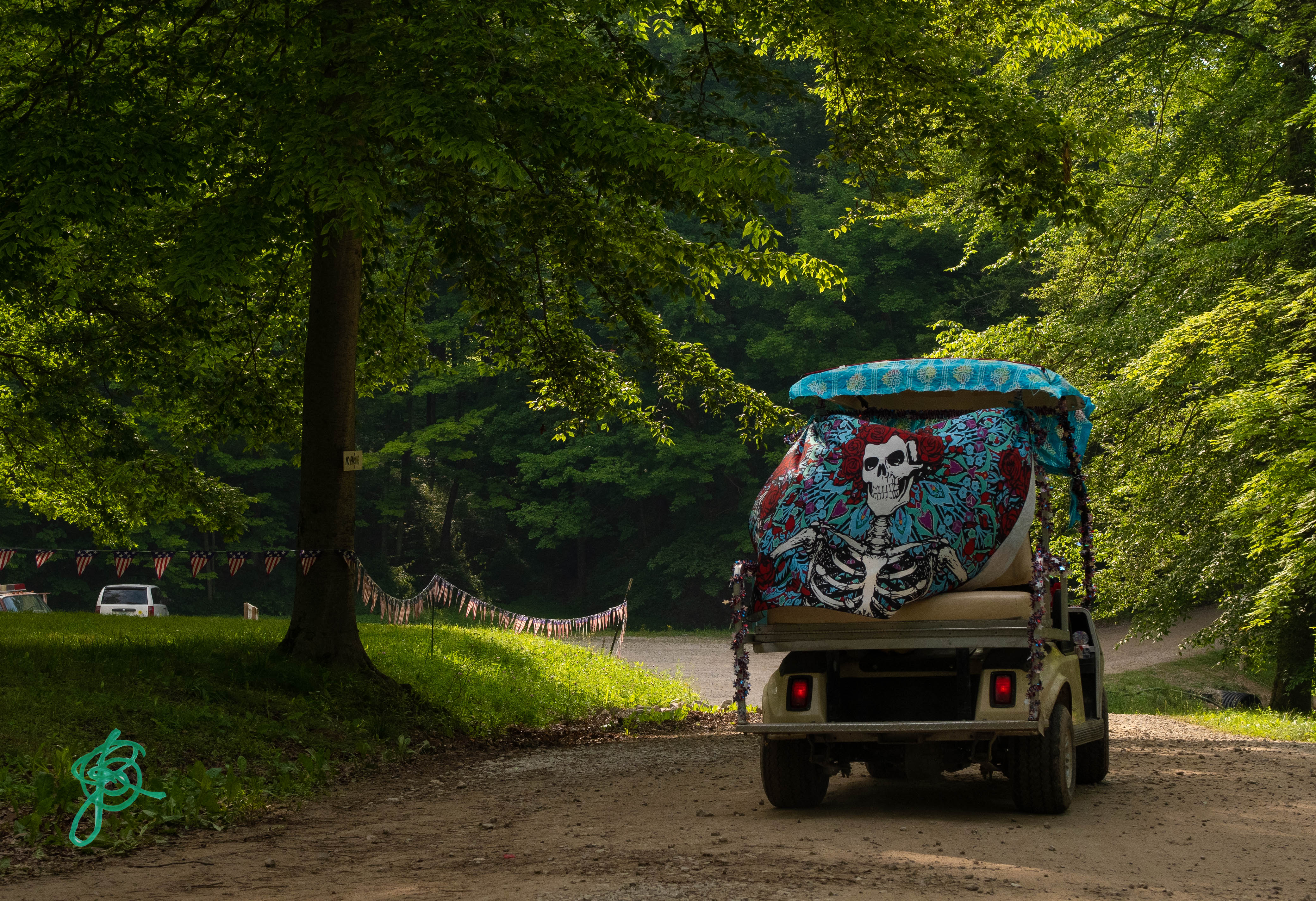 Thursday through Saturday included a very affordable fee for camping and free music! Flatland Harmony Experiment, Good Morning Bedlam, The New Old Cavalry, and Mama Said String Band played Thursday, June 3, 2021. Friday, June 4th included Barbaro, Chicago Farmer, Armchair Boogie, and the Tillers. Saturday at JHMF was a bold and quite satisfactory endeavor with The Hammer & The Hatchet, and Frank and Allie Lee animating the growing crowd. A lot of folks weren't sure if the party was happening but by Saturday night, they figured it out.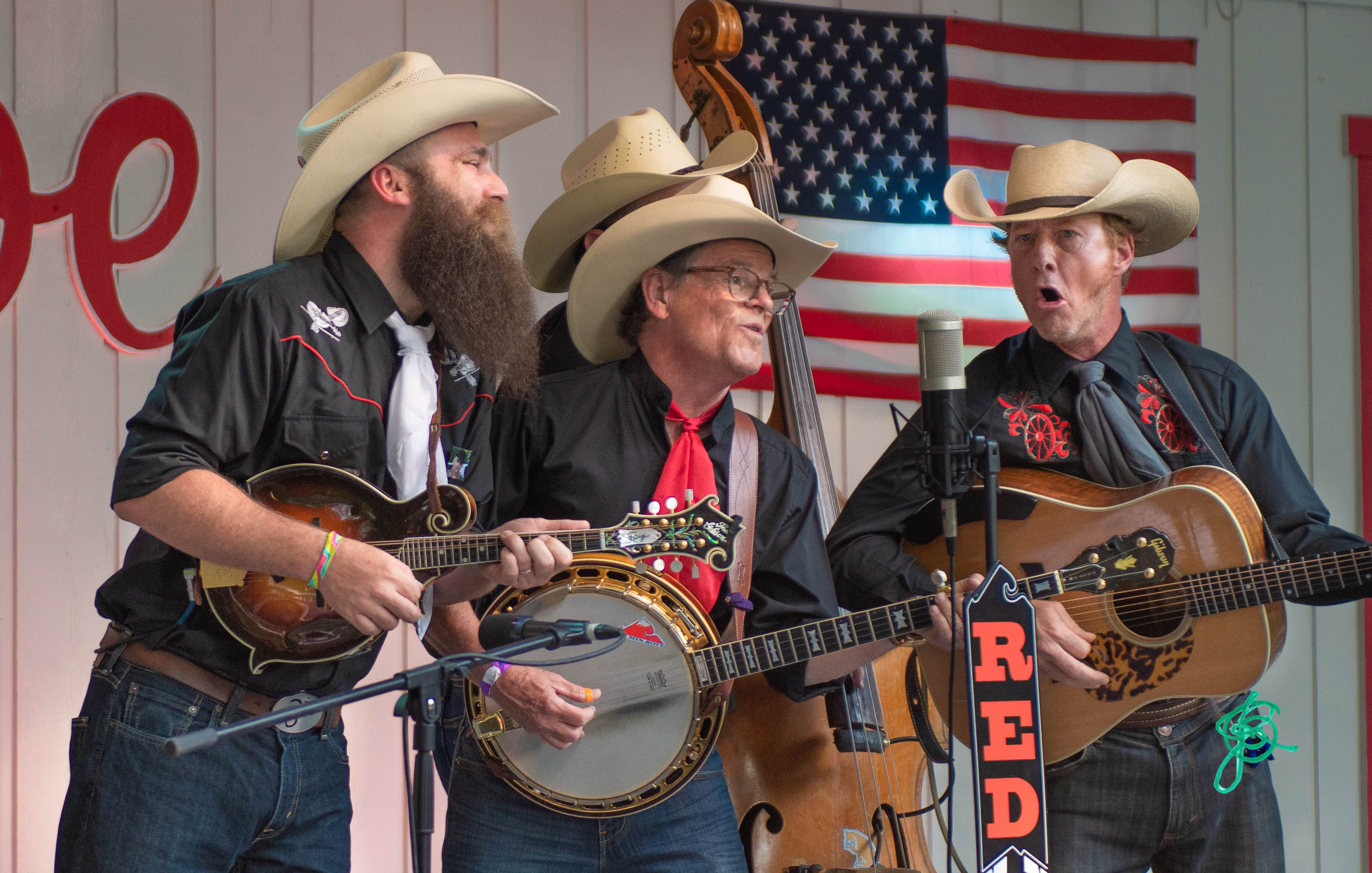 Red Mountain Boys were the winners of the 2014 JHMF Songwriting contest. Red Mountain Boy Jeff Daugherty wrote a song called Dear John, in honor of an unexpected death in his family that led to winning that contest that led to him even flying in from Europe a couple of times to be at JHMF. The road to Hartford from their home state of Colorado included playing gigs in Lawrence KS, a doubleheader event at a couple of different venues. They were pumped up and ready to rock for a Saturday night at Bean Blossom.
"This year's festival was a bit bittersweet with the recent passing of the wonderful man that started this festival, John Hotze. John was a special person to everyone that knew him, myself included. When John congratulated me on my song, way back in 2014, it ended with more than a few tears and one of the most memorable hugs I've ever been a part of! This year the Boys and I had reworked Dear John and dedicated it to the life and memory of John Hotze. Looking out at the crowd from Bill Monroe's mainstage with my brothers in arms and seeing members of this incredible Hartford Fest Family crying along is by far the best moment I have had as an entertainer," said Jeff Daughtry of the Red Mountain Boys.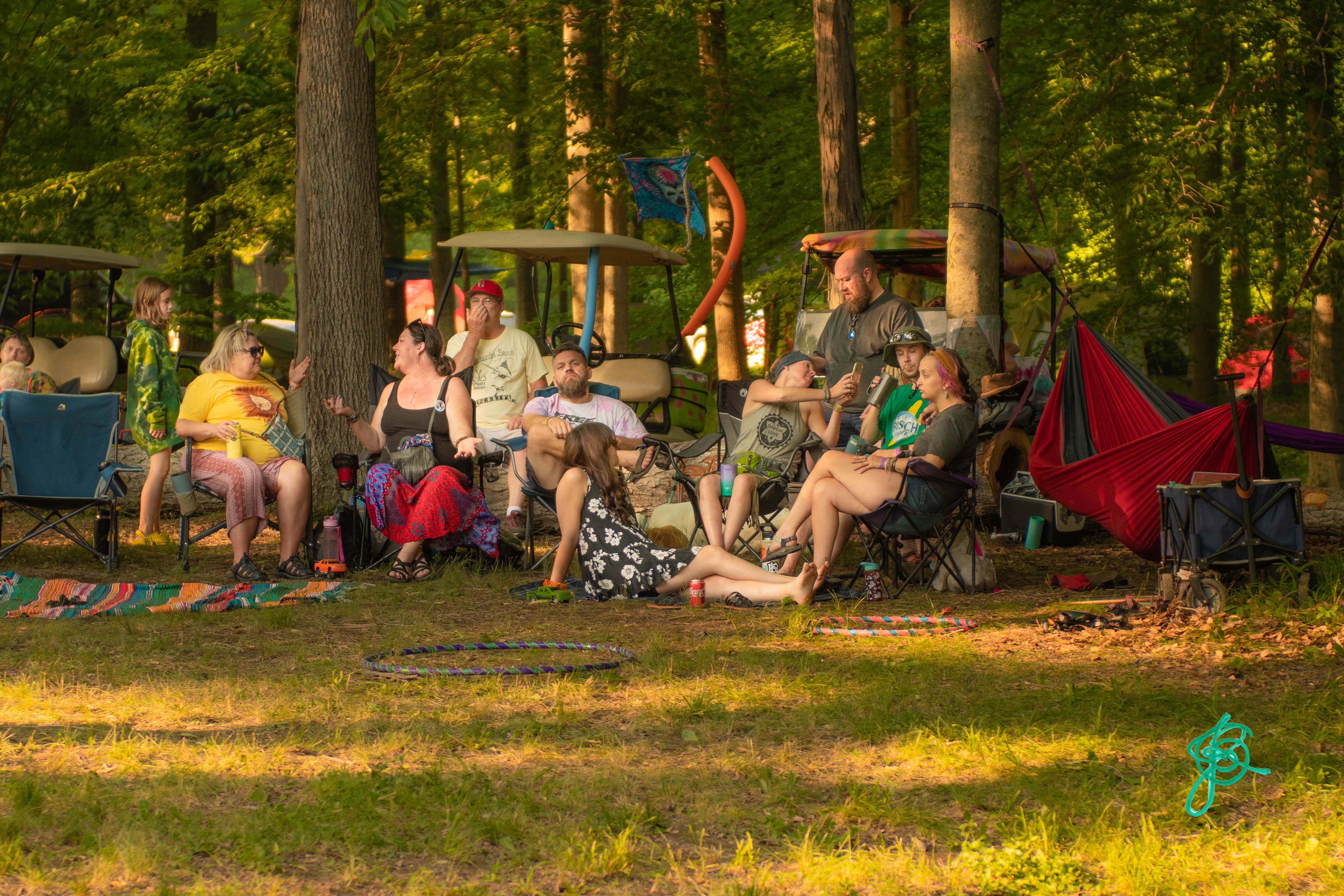 The Henhouse Prowlers sing that bluegrass style while flying miles all over the world. 17 years ago in the Chicago bluegrass scene, Henhouse Prowlers began doing their thing. American Music Abroad through the State Department has taken them to 27 different countries. They have yet to visit South America or Antarctica but most far-flung places have been touched by their brand of bluegrass. Their new album, The Departure, has recently been released and it is a gem! They played lots of tunes off the new album including the first 5 tracks, Rich Man's Dream, Favorite Country Song, Wishing Well, Time Poorly Spent, and the title track, the Departure.
"The album came together from songs that we had all written prior to deciding to record an album. We were all going through our own material and seeing what we all thought the Henhouse Prowlers would sound good playing. There were some that were better than others. I think we started with like 28 songs? Yeah. We whittled it down to a really good group of songs and The Departure, the song I wrote, I mean I wrote the lyrics to that back in high school, but we bluegrass-ified it and it really seemed to kind of round out the album, said Chris Dollar of the Henhouse Prowlers.
Rich Man's Dream from the new album the Departure begins the album and sums up their wild journey thus far. Heck, it describes any struggling artist on their mission to bring more poetry to a world filled with too many politics. 
"AC isn't working, windows need a clean, I need a break but for goodness sake, I'm living a rich man's dream. Life on the road ain't the luxury it seems but in the end, we'll still pretend we're living the rich man's dream. Doctors, lawyers, diplomats come up to us and say, if I could do it all again I'd live my life your way. Poor steal from the poor, Rich man gives to the rich man."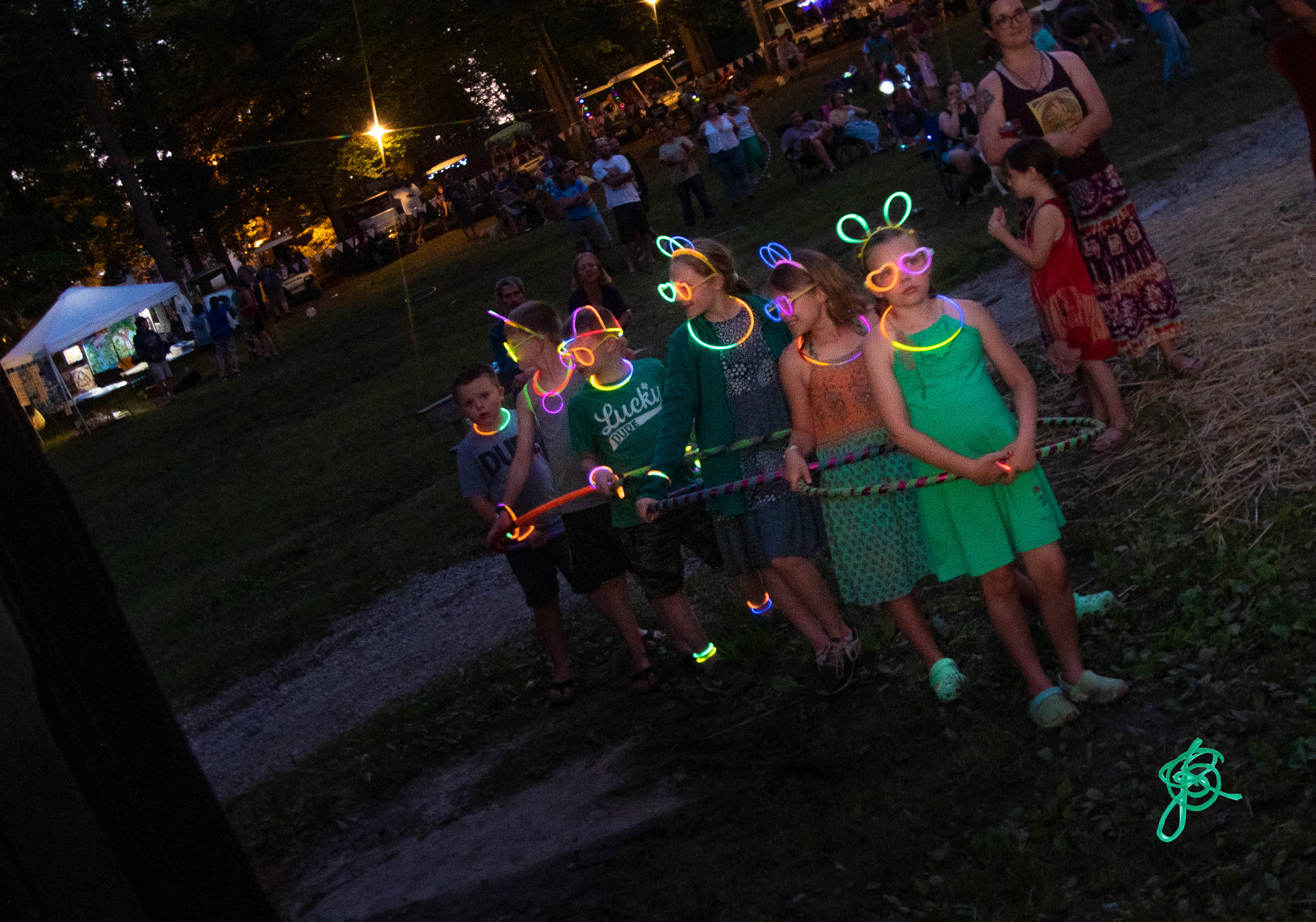 Here at Bill Monroe Music Park, the crowd was right there with the Henhouse Prowlers living the rich man's dream. Watching the Prowlers get to play these new songs out for the loyal family was quite the treat. They played a song that is quite popular in Nairobi Kenya, Sura Yako. It's a love song by the band Sauti Sol but of course, the Prowlers bluegrass-ified it. When they signed up for the Music Abroad program with the State Department, they quickly learned that going to far-flung parts of the globe and trying to connect with the people wouldn't work well if they weren't willing to go all in. They learned the songs that are popular to the region they are heading to and then give it their own Bluegrass spin.
Another song that needs mentioning off the Departure is Jane Addams. As an Illinois-centric band, Jane Addams is an icon of social work and a Chicago hero. 
"She's an Illinois icon, rightfully so. I brought the song in that had you know, one or two versions of it. I didn't really love the lyrics. There wasn't anything pulling the direction. I brought it to the group. I said I really like the melody and I like where the song is heading, but I'm not sold on the words and we all talked about it. There was one moment where Ben and I stepped out of the studio and there's a cemetery outside of this beautiful studio actually in Bloomington, Indiana, not too far from here. So we sat down and we started chatting about the song. We realized that the song was already written about Jane Adams. It just didn't have her name in it, you know, and and and so it just kind of fell together perfectly to be about her" said Jake Howard.
GW: So can you consider yourself to be a social worker?
Ben Wright: I mean, I was a social worker for ten years before this. And I think we all are because we're in a band together. And I've always said that my years as a social worker allowed me to do this work because we have to get along. That's more important than anything. And that means we have to give. We have to take. And that's the role of a social worker is to empathize and assist and do all the kinds of things that are super important inside the van, although no one wants to admit it, you know.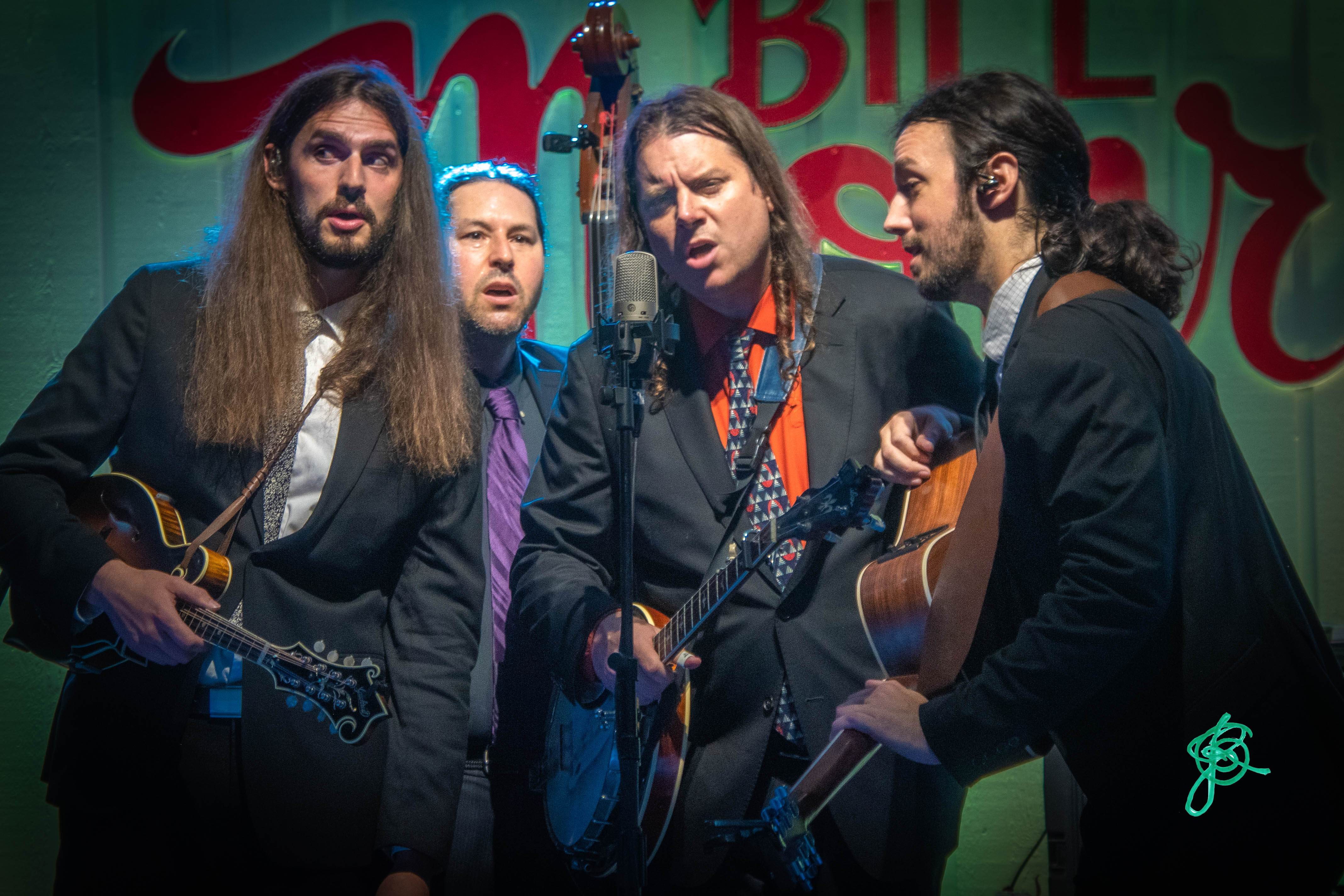 The highlight of the weekend was the Henhouse Prowlers' song, Gospel In Review. It was midway through their set but oh! What a pinnacle indeed! It's dramatic. It's a capella. The words are pure and strong. It's their take on a contemporary gospel tune that was originally titled, Works of Mercy but Jon Goldfine renamed it Gospel in Review and it works. It works oh so well. The boys sing out the chorus, "Feed the Hungry'' and in response, Chris Dollar on the baritone sings, "You may be hungry one day too." Not every person on this planet is as fortunate as you. This song is so universal and it strikes anyone that hears it despite what their musical preferences may be.
"We started playing it last spring when we were touring, through parts of the South and maybe some more conservative audiences but everyone likes it. I think it's a song that strikes a note, no pun intended, with everyone. Let's face it, the song is literally taken from the Works of Mercy.  That's what was the original title. John came up with the title Gospel and Review, which is a more fitting title, but it was originally to be called Works of Mercy, which is what Christ said. We should feed the hungry, clothe the naked. Actually, one of the other ones that's not mentioned in the song was to visit the imprisoned. Go see people who are in jail. All these things that Jesus said people should do. And they've always struck a chord with me," said Ben Wright
.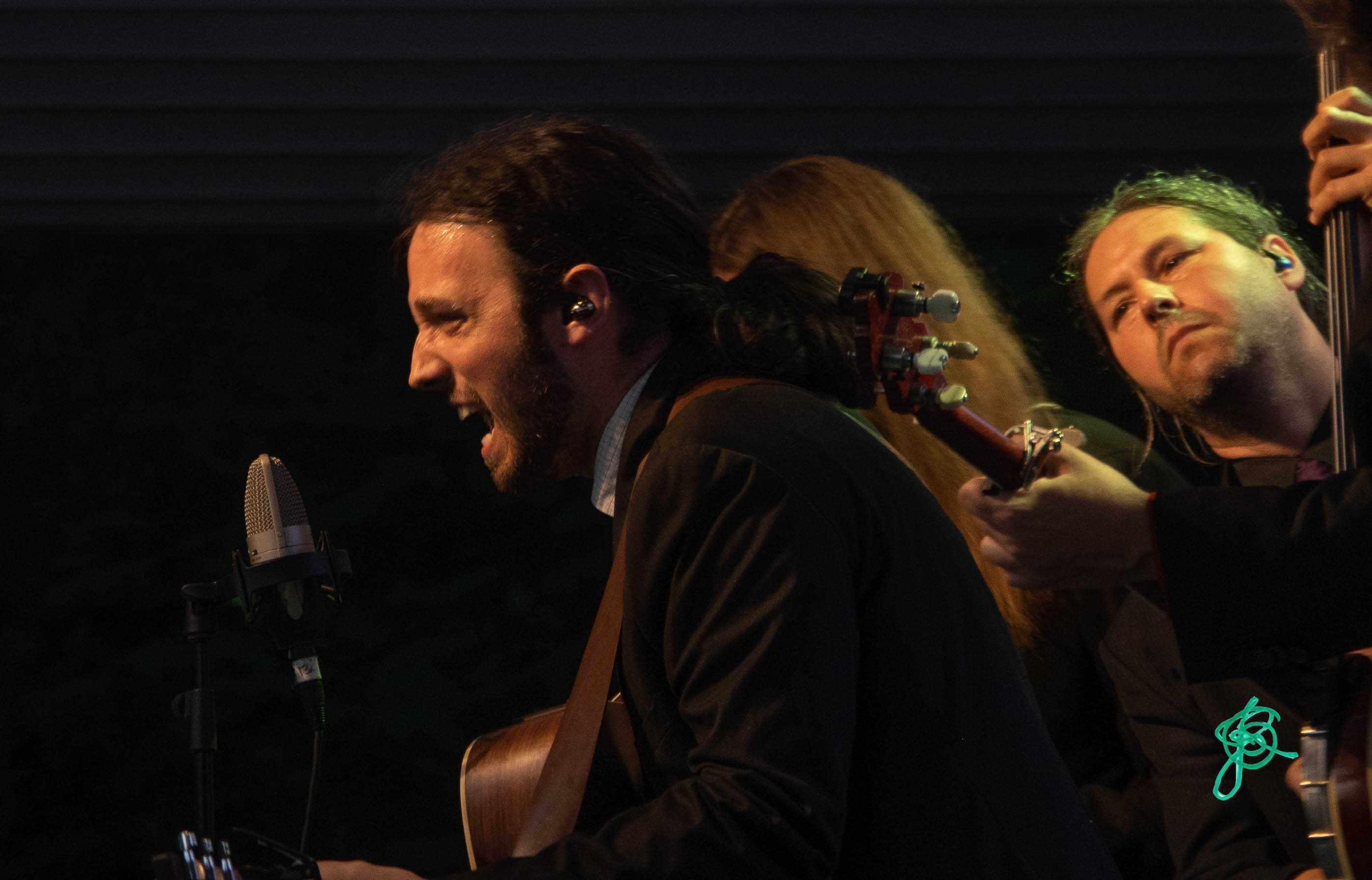 It strikes a chord with anyone that hears this 3 minutes feast for the live music-deprived soul. Everyone was so engaged from that point on, plugged into the stage and each other, that they almost forgot this was not an official festival. This was only an impromptu camp out with some bands and some folks that keep on coming home to Hartford.
Trios, quads, and quintets, just about the only qualifier for the kind of music you will hear at JHMF are that there are no official drum sets, just the beating of all of our hearts in unison. The Henhouse Prowlers ripped the cord and began again the great JHMF tradition of Saturday night in Bean Blossom. Be on the lookout for another new album to come from the Henhouse Prowlers soon. It will be a compilation unlike any other, collaborating their Bluegrass Ambassadors' work with music from around the globe. 
2021 makes 50 years since John Hartford released Steam Powered Aereo Plane and got this whole party started. Crazy to think where we will all be 50 years from now. Pretty sure there will still be folks gathering under the canopies of these trees at Bill Monroe's Music Park in Bean Blossom Indiana, coming home to the ever-faithful roots music we all love so dang much.