Yonder Mountain String Band's Harvest Music Festival is the best that Mulberry Mountain has to offer. While Wakarusa pulses to the vibrant beat of youth culture and features many of today's top acts across varying musical genres, Harvest offers an entirely different experience that has a way of twiddling itself into one's heart. More "yee-haw!" than "YOLO," Harvest brings together some of the most fun and talented artists across the bluegrass/folk/jam spectrum, with a healthy dose of indie rock. The atmosphere is a bit more subdued and family friendly than many festivals but not because people aren't out here to enjoy the mountain and the music to the absolute fullest. The Harvest crowd feels like family, folks respect one another like friends. Upon driving through the gates, everyone in our little group wore the contented smile of someone who has just kicked off their shoes after returning home from a long day.
This year, media camping was moved adjacent to artist camping, so as we set up our campsite, we were treated to the perfect tent-pitching soundtrack: the California Honeydrops were practicing for their Thursday afternoon set. The sound of soft brass dancing its way around tents and trailers combined with the sweet crooning of the band's singer and trumpeter, Lech Wierzynski, was a lovely introduction to what is already shaping up to be a glorious weekend. Having learned our lessons from previous stormy Harvest fests (and being a bit older and less willing to spend the weekend in Spartan camp conditions), we set up our campsite with the utmost care and concern for whatever weather conditions might possibly arise. Hopefully these precautions will prove totally unnecessary – there hasn't been a single cloud in the sky since we arrived!
I didn't end up making it down to Main Stage in time to see The Deadly Gentlemen, but we can hear everything perfectly from our campsite, and they sounded awesome. The first show I ended up seeing was ClusterPluck. Aside from the deviously fun band name, I wanted to see ClusterPluck because I found out that they played with Wookiefoot following the global March Against Monsanto in St. Louis. As I love Wookiefoot and despise Monsanto, I figured this band would be right up my music-lovin' alley. Spoiler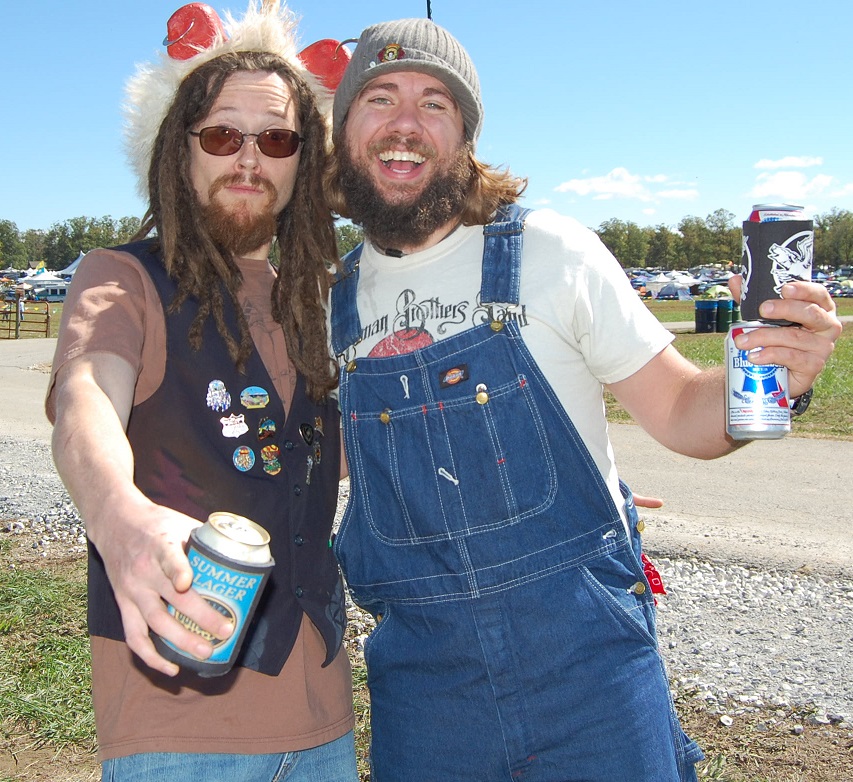 alert: I was totally right. The crowd was already grooving to their smooth-bluegrass-meets-funky-swing. The highlight of the show, for me, was a bluegrass pirate song, where they engaged the crowd in a sing-along round of "Yo-ho-ho and a bottle of rum!"
Next, I knew I had to make sure to catch Delhi 2 Dublin. I love that they combine traditional folk sounds from different cultures – mainly India and Ireland, as the band's name suggests – with modern electronic sounds. Their opening song was one of their newer hits, which featured a lot more of the electronic, dubby influence. The crowd was moving slowly but wasn't matching the energy the band was putting out. That changed when they launched into some of the more popular songs from their first, self-titled album, which featured more of their traditional sounds and a highlighted the band's fiddler, Sara Fitzpatrick. Overall, the crowd appreciated the less electronic-driven songs more than their newer, drum and bass influenced sounds, and demonstrated this by cheering and dancing.
Greensky Bluegrass was every bit as fun as I expected. They opened up with "Jaywalking" and had the whole crowd feeling like they were on the run along with the band. Greensky was one of my most-looked-forward-to bands of the festival, so I was really excited to be up dancing near the stage with other dedicated fans. At one point, the blue spotlights spinning behind the mandolin-pickin' Paul Hoffman's head framed the entire band in a glow of badassery. A young couple jumped over the VIP fence at one point and started stomping around in the hay with us as they proceeded to thoroughly entertain the crowd, playing a blend of more traditionally twiddly' bluegrass songs and some of their folksy fun hits.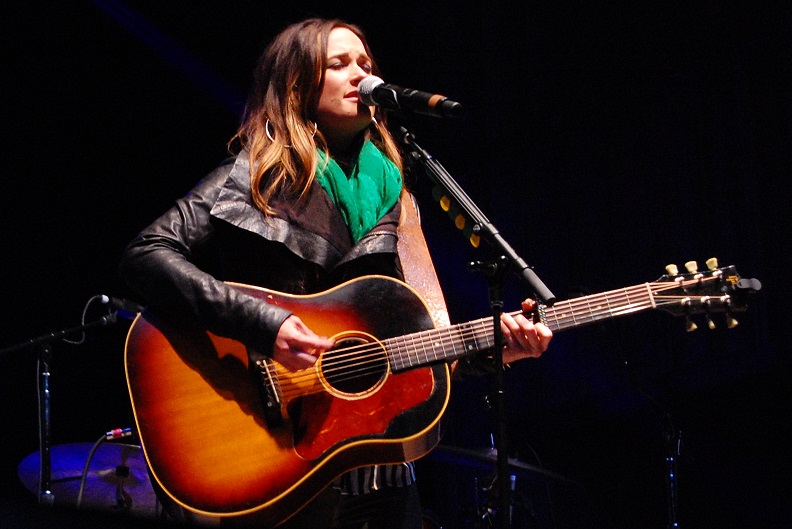 Next up at Main Stage was Kacey Musgraves. She is unabashedly country and an unexpected breath of fresh air in a scene that has been going stale with the slew of cookie-cutter Taylor Swift-esque pop-country gals and pretty boys in cowboy hats who churn out repetitive "hits" about showing ladies "how country feels." Her sound has a more traditional country twang while her lyrics are often socially conscious and inclusive. Around midway into her set, she covered Bob Marley's "Three Little Birds," and she ended the set with my two favorite songs of hers, "Follow Your Arrow" and "My House." "Follow Your Arrow" talks about the problem with living in a world that judges by dichotomy and how important it is to be yourself, and as a woman engaged to a lovely lady, I especially appreciated the shout out to queer folk and other people who also think "the straight and narrow is a little too straight."
I popped back over to the Harvest Tent to catch the end of Hot Buttered Rum, playing with fiddler Allie Kral (who recently parted ways with Cornmeal). Even though it was cold and everyone was bundled up while they danced under the tent, the band had everyone hollering with a song about summer fun. While Hot Buttered Rum is always a good time, the highlight for me was watching Allie shred her fiddle like she was playing for her soul. Mind-blowingly awesome lady fiddlers seem to be a theme of this Harvest fest: first we saw Sara Fitzpatrick tear it up with Delhi 2 Dublin, then Allie Kral, and today, fiddle fans can also see Elephant Revival's Bridget Law throwing down at 2:30 at the Harvest Tent.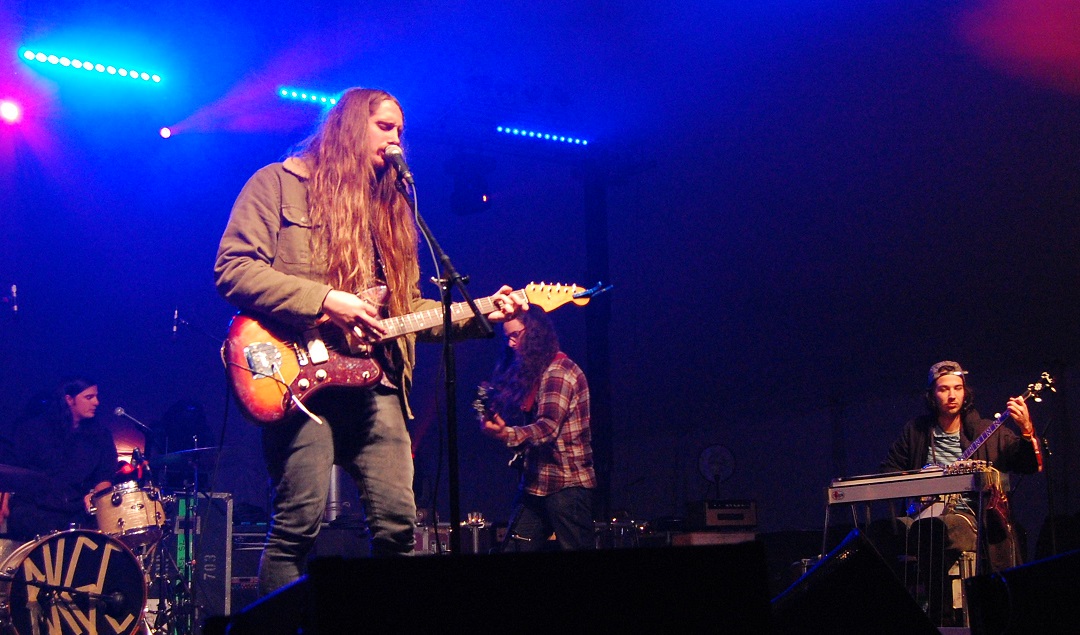 The next band I saw was indie folk-rock band Roadkill Ghost Choir. While I had listened to a few of their songs on Spotify before coming to Harvest, I had no idea what a great concert experience I was about to be presented with. They played the Harvest Tent at nine, and the crowd was fairly sparse, since it seemed that JJ Grey and Mofro pulled the biggest crowd at that time slot. While I'm sure they were treated to a great show, too (I could hear them from my tent when I went back to grab a jacket – they were jamming out and the crowd was eating it up!), I feel like too many folks missed out on what I think was my favorite show of Thursday. Roadkill Ghost Choir rocked every face in the Harvest Tent with their driving indie rock songs intertwined with soft, beautiful interludes. They were lyrically very interesting, and I hope to get to listen to their music more closely in the future. The lead singer and guitarist, Andrew Shepard, seemed to be really throwing himself into the music, and it was incredible to watch. I saw lots of members of other bands still backstage coming out and around to watch the longer the show went on, and as the crowds leaving other shows began to trickle by, many of them stopped in and seemed to be a bit bummed out that they missed most of this incredible performance.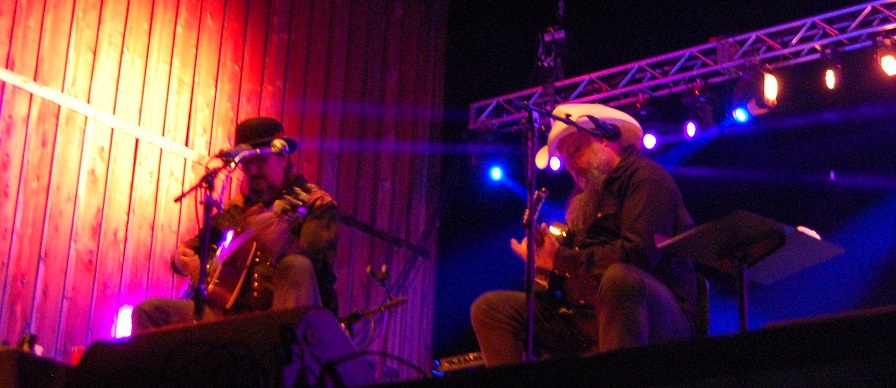 While I meant to stay up all night and catch some of Yonder's set and a bit of Dirtfoot, Les Claypool's Due de Twang was the end of the night for me. But what a fantastic way to end the night! Les Claypool (most famous for Primus) is arguably one of the best bass players on the planet, and between the groovy sounds of his bass and bandmate Brian Kehoe's guitar, the entire crowd was cheering and dancing and stomping around despite the biting cold of the night air. Les Claypool also turns out to be a really funny guy, cracking jokes about his music, the type of people who love his music, and the relation of psychedelic jokes to both. There were people spinning LED hula hoops and fire circles, and there were giant light-up puppets dancing through the crowd. Les made a joke about how he's glad he doesn't do as many drugs anymore or he might be a little bit weirded out by the fact that there was a giant electric octopus and a six-foot dancing piece of bacon in front of him; Kehoe– who Claypool told us he had known since high school – joked back that when you're Les Claypool you don't need psychedelic drugs anymore. After a few good laughs, the proceeded to play a cover of The Bee Gees', "Stayin' Alive," and just went on jamming us into groovy oblivion from there.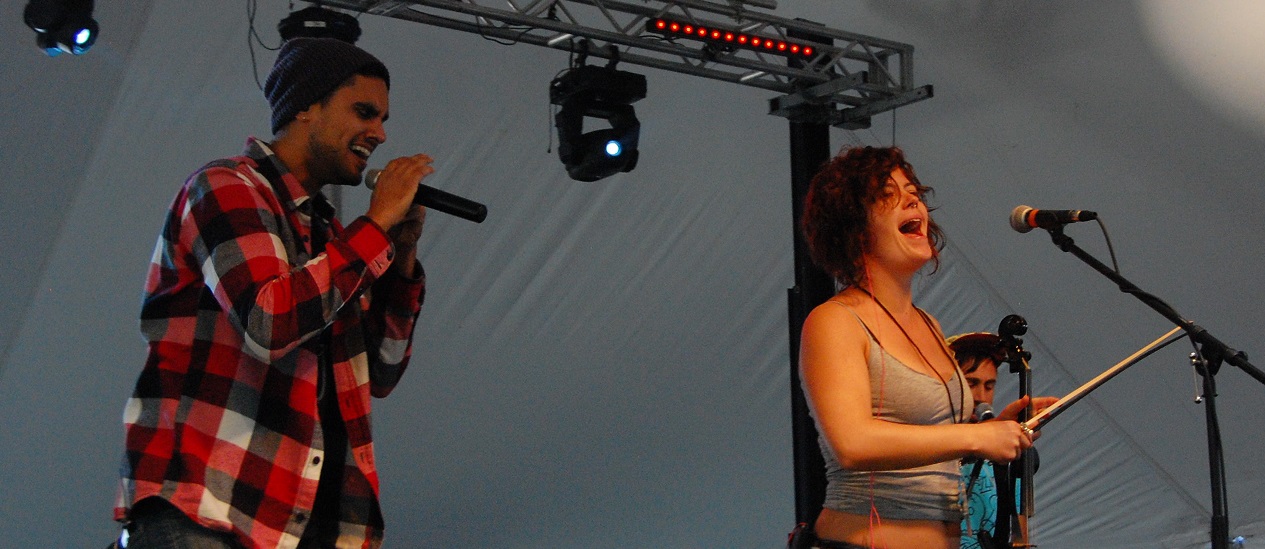 After that show, I was completely bushed along with everyone else in our little group, so as much as I wanted to keep partying all night long, we all gave in and returned to camp. The night was cold, but this morning is beautiful! Today I am most looking forward to Elephant Revival, Tedeschi Trucks Band, and of course, Yonder Mountain String Band at Main Stage!