The Honeycutters, an Asheville, NC-based original country roots band, is set to release their third studio album, Me Oh My, on April 21, 2015 with Organic Records®. Led by songwriter Amanda Anne Platt, The Honeycutters include Tal Taylor on mandolin, Rick Cooper on bass, Josh Milligan on drums, and Matt Smith rounds out the band on pedal steel, electric guitar, and dobro to create a sound that carries just as well across the bar room as in a church or a theater. Fueled by the powerful songwriting and vocals of founder Amanda Platt, Me Oh My moves her into the spotlight as producer, band leader, and principal creative force behind the band. With songs that are honest and relatable, part chagrin and part hope, Platt's voice carries a timeless appeal. Pre-sales for the album start Tuesday, February 17th on iTunes and includes two immediate tracks to download.
"The new album is the one I'm most proud of to date." Platt says, "I took much more of a driver's seat in it's making, and the process has forced me to do a lot of growing up... I feel like I've really found my voice. I'm very excited about the line up of the band, and the songwriting includes some of my very favorites." Platt self produced the album along with the help of engineer and assistant producer Jon Ashley. They laid down the all original 14-track album in Echo Mountain Recording Studio and Mixtown Studio in Asheville, NC and it was mixed and mastered just down the road at Crossroads Studios in Arden, NC.
Me Oh My is threaded with themes of love, loss, acceptance and regrowth. It kicks off with an engaging southern swingin' song, "Jukebox," that is about taking life one day at a time and not taking yourself too seriously saying "it's only a song, so for heaven's sake won't you sing along?" The title cut is an inspirational anthem about the state of the modern woman, stating, "Some girls marry and some girls wait." Me Oh My brings more of what fans love about The Honeycutters, honestly written songs sung in Platt's authentic voice. The up-tempo, beer-raising, danceable "Ain't It The Truth" is one that will fuel audiences at live shows while melancholy ballads like "Texas '81" balance the album both in meter and mood. The upbeat "I'll Be Lovin' You" as a whole speaks to holding someone up until they are strong enough to stand on their own. Me Oh My delves deeper into the darker realms of love with "Little Bird" which gained Platt notoriety as it was chosen as a finalist at MerleFest's prestigious Chris Austin Songwriting Contest (2011).
Special guests on the album include Phil Cook on piano and organ, Aaron Wood on Telecaster, Peter James on Telecaster, Will Straughan on harmony vocals and resonator guitar, Mica Hanks electric guitar, Evan Bradford on trumpet, and Amanda's father Mark Platt on harmonica.
Music City Roots' Craig Havighurst calls The Honeycutters "... just superb, with a sweet toned and melodious aura… Today's Smoky Mountain area modern folk thing does have a certain vibe, and these guys are among its finest purveyors." Folk Music About.com's Kim Ruehl wrote, "Their music embodies a very catchy, accessible, optimistic sort of spirit so frequently lacking in folk circles (where brooding, hyper-analytical music reigns supreme). What's more, like Carolina Story, they're a great band replete with tasty harmonies."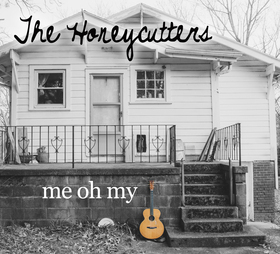 They'll celebrate Me Oh My with an album release tour which is soon to be announced as well as a hometown album release party at Isis Music Hall in Asheville on April 17th. They are also set to perform at MerleFest in Wilkesboro, NC the weekend of the release date.
In both her simple composition and honest delivery it's easy to hear the influence of country legends such as Hank Williams, Patsy Cline, or Loretta Lynn, and with this Miss Platt credits growing up listening to her Father's extensive record collection every Saturday morning. Despite her love for classic country, Platt cites Bruce Springsteen and Tom Petty as major influences and her songwriting carries a wit and an edge that plants her firmly in her generation.
The Honeycutters formed in 2007 in Asheville, NC, the town they still call home, and had quick success with their first release Irene (2009). Me Oh My is the highly anticipated follow up to the 2012's When Bitter Met Sweet. Each album has helped to grow grow their audience and expand their tours to include notable appearances at MerleFest, Suwannee Springfest, Strawberry Music Festival, Vancouver Island Music Fest, Vancouver Folk Music Festival, Folk Alliance, Shakori Hills GrassRoots Festival, Falcon Ridge Folk Fest and the Nelsonville Music Festival. They have also performed alongside esteemed musicians Guy Clark, Tony Rice, The Seldom Scene, Billy Joe Shaver, Ray Wylie Hubbard, Amy Ray, Donna the Buffalo, Jill Andrews, and The Steep Canyon Rangers.
The Honeycutters on Tour
2/12 Thu - Willie's Locally Known - Lexington, KY
2/18 Wed - Music City Roots - Nashville, TN
2/19 Thu - Old Rock House - St. Louis, MO
3/13 Fri- Mudville Music Room - Jacksonville, FL
3/14 Sat - Music Under the Moss - Panama City, FL
4/2 Thu - Robert Ferst Center For The Arts - Atlanta, GA
4/3 Fri - Mars Theatre - Springfield, GA
4/17 Fri - Isis Music Hall - Asheville, NC
4/18 Sat - Shakori Hills GrassRoots Festival - Silk Hope, NC
4/24 Fri - MerleFest - Wilkesboro, NC
More dates TBA