One of the interesting twists to this year's 10,000 Lakes Festival is the inclusion of two new bands with some screeching metal influences. One is Dub Trio out of Brooklyn, bringing hip-hop and hard core with a peaceful message, and the other is The Hue, out of Chicago.
The Hue has been together about a year and a half, combining the talents of Marcus Rezak (guitar), Jared Rabin (guitar), Geoff Shell (bass), and Brian Gilmanov (drums). Three of the four members of the band are graduates of the Berklee College of Music in Boston.
But some of the band members were working together before that. "We even knew each other before college," said Marcus Rezak, "but we came very close, especially our drummer, Brian Gilmanov, and myself. We had a few projects going on before this. Some of the new songs are actually from that old project."
Most of the new material hasn't been officially recorded yet. The Hue has, however, captured some of their live shows and distributed them. "We handed out about a thousand of those at Summer Camp this year," said Rezak. "They're circulating. It's a pretty good display of our live performance."
On their previous record, Unscene, the band jams out with a killer drum solo. "We like to let everyone have their time to shine. We don't really want to make it an individual kind of a shining moment," Rezak said. "We want to make it a group feeling. Don Johnson and I co-wrote that son with Brian the drummer. I like to give him drum solos whenever possible."
The band has produced a lot of different guitar styles, including rock and roll shredding and some hardcore. That is quite unique for the jam medium. That's showcased in "Midnight Sunrise," which begins heavy and morphs into something else, then back again. "It starts out kind of dark and heavy, then we go into a major tonality, which gives it a kind of a happier kind of a sound or uplifting kind of a sound," Rezak explained. "Then we bring it back down into the darkness, and just keep putting people through different kind of emotions. We can make a roller coaster ride on that one."
Rezak also gave some insight into their musical choices. Rezak himself plays with Jan Wasen, whose band got a slot at Bonnaroo this year, and with 56 Hope Road. "We all have different roots in our musical upbringing. Jared and I grew up a lot with the  jamband world, growing up with the Grateful Dead and Phish and other bands like that. The other two guys in the band grew up more with progressive or heavy metal with their musical listening. As we got into college, we all got into the jazz world and learned the ins and outs of improvisation and composition and using harmonies to our advantage. We feel like the jamband scene right now is lingering between easy going stuff and the more aggressive stuff like Umphrey's McGee and other bands like that."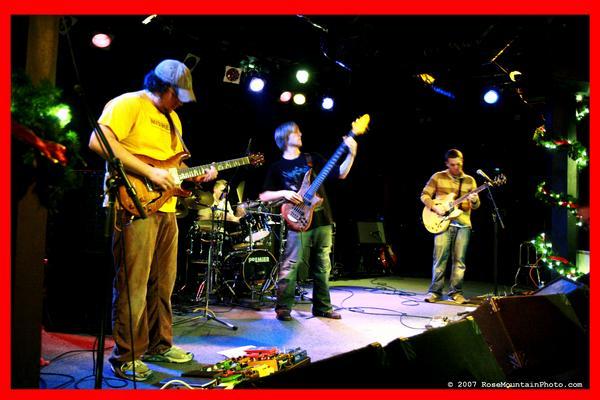 That has been true the last couple of years at the 10,000 Lakes Festival. One year featured Benevento and Russo, RAQ, Umphrey's McGee, and even Medeski Martin & Wood. They all were doing ambiant electronica. This year, it seems metal and hip-hop are making more inroads. "It's all moving forward," Rezak speculated. "Even with the electronic scene going on, everything is sort of growing off of its roots. People are taking those roots and developing them into what's happening right now in the scene. It's keeping the fans on their toes. Now people don't know what they're going to get these days. It could be anything. Our thing is to keep people really interested in every moment as much as possible, taking them through this ride and keeping them on as long as we can...We just want to do something different from everybody that deviates from the normal jamband stuff and sends some people to do some different kinds of stuff. We do improvise a lot and still jam out a lot, but we use our compositional skills a lot, too. Maybe people won't even know that parts are written necessarily. It sounds like an improvised thing....We're just trying to do a little different kind of stuff."
Check out what's happening with The Hue at the 10,000 Lakes Festival, Thursday, July 24, at the Barn Stage at 11:30 pm.