Canada's legendary songwriter, Ian Tyson, may be 78, but he's not slowing down. He still runs his working ranch in the foothills of the Rockies south of Calgary; he still performs some 40 shows each year; and now he's releasing an album of sparkling new songs titled Raven Singer (his first album in four years), coming out internationally on May 29. It's his 14th for Stony Plain, the Edmonton-based international roots music label.
The new album comes on the heels of the announcement that his 1996 "best-of" compilation, All the Good 'Uns, has earned a gold record in Canada, indicating sales of more than 50,000 copies.
Tyson, always remembered for classic songs such as "Four Strong Winds," "Navajo Rug," "Someday Soon" and "Summer Wages," recorded Raven Singer over a three-year period, as he wrote the new songs.
Tyson's songs always have the ring of truth, and his travels have provided the background for two of the 10 remarkable songs — "Under African Skies" and "Back to Baja." The first is partly travelogue and partly a story of "running from the memories" of a broken relationship. The latter has a distinctly southern Californian feel and is a song that Jimmy Buffett would feel at home singing.
Other songs that maintain his reputation as one of Canada's most distinctive writers include "Blueberry Susan," which offers a tribute to the first guitarist he ever heard, and some of the players — Red Shea, Monte Dunn and David Rea —whom he worked with and who have passed away since Tyson's last album. "Charles Goodnight's Grave" and "Saddle Bronc Girl" are warmly-observed songs of the real West, not the romanticized version shared by weekend cowboys and Nashville "new country" singers. One of the most moving songs on the CD is a new version of "The Circle is Through," which he originally recorded almost 20 years ago with Nashville singer Suzy Bogguss.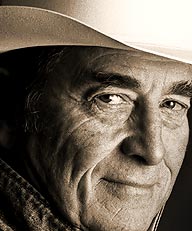 Tyson himself says the record is a collection of songs built around the road back from the much-publicized loss of his voice in 2006. "I think I've learned how to make my 'new voice' work," he says, and the new album seems to bear out his assertion. Tyson's voice is less "grainy" that it was on his last album, Yellowhead to Yellowstone, but it carries an emotional punch that suits the new songs he has written.
The new album's Dali-esque cover is by Calgary teacher Paul Rasporich; it depicts a raven's skull. The title of the CD followed a sweat lodge ceremony at the Nakoda First Nation, near Banff Alberta, when Tyson's name — Ka-ree-a-hiatha (Raven that Sings) — was chosen.
NOTE: Ian Tyson will join singer and songwriter Corb Lund on stage for five shows — July 9, 10, 11, 14 & 15 —at Calgary's Epcor Centre for the Performing Arts. The concerts will celebrate 100 Years of Calgary Cowboys, and part of the annual Calgary Stampede celebrations. The two artists are close friends who have performed on each others' albums.