The Parish is completely empty when I arrive. Austinites haven't adjusted to the near-freezing temperatures yet, so it's not surprising that rosy-cheeked audience members only start trickling in during the opening act. After I buy a whiskey on the rocks, the only respectable drink order for this winter weather, I take a look around. I've never seen this venue, really, because the last time I was here was for Thom Yorke and people were stacked three high. The aesthetics are beautiful, ornate wall decorations and scuffed hardwood floors, so intimate we could be in someone's living room.
The whiskey warms me up as Paper Bird, the openers, take the stage.
Sisters Esme and Genevieve Patterson (vocals), brother sister combo Sarah and Mark Anderson (vocal/trombone and percussion), Macon Terry (upright bass), Caleb Summeril (banjo) and Paul DeHaven (guitar). Sarah announces that they've driven straight from Denver, leaving last night at 6pm and arriving in downtown Austin within the hour of their stage time. These guys are really embracing life on the road. I've heard their name before, floating in the air at ACL or eavesdropping on a conversation in a crowded bar, but I have no idea what to expect. Turns out, Paper Bird and Infamous Stringdusters are the best combination since PB&J. They've got enough bluegrass to be relevant, but something about the three girls' synchronized dance steps screams The Supremes. Later, researching the band, I found out they have been classified as a 'Baroque Pop' band. Sure, that'll work. The three vocalists are only as talented as the music men behind them, who have been trading off every other song to take turn on the stand-up bass and guitar. It wasn't enough that they just master the one instrument, I guess. I'm awestruck as I listen to these three dainty girls effortlessly switch from innocently harmonizing one moment, to holding the microphone three feet away because they're gutterally bellowing. It's soulful. It's transcendent. They're the sirens from Greek mythology, they have captivated every pair of eyes in the room. I tear mine away from them long enough to survey the crowd, and it seems everyone is sharing my thought: "Man, I'm glad I got here early."
Then, they exit as unceremoniously as they arrived. There's just enough time to shuffle towards the bar to refresh the drinks and warm the hands before it's showtime.

The two Andys, Chris, Jeremy and Travis file onto stage without any to-do. Andy Hall, who's responsible for the majestic sounds of the Dobro, takes lead vocals on You can't stop the Changes, off their 2010 album Things That Fly. As the show unfolds I realize it would be impossible to label any of them "lead vocals," as they share the spotlight almost equally. (Except for Chris, who sticks to finger-picking the Banjo like he made a deal with the devil.) They also don't stick to showcasing their most recent album, Silver Sky. The audience and I are just settling in to this set like easing into a warm bath, letting out a collective "Ahhh" of appreciation when the third song, an instrumental powerhouse, hits us like a baseball bat to the face. Lucky for you, I have the upper body strength to hold my phone still enough for seven minutes so you could enjoy it too.
Yeah. How do you keep having a show after… that. Nevertheless, they did. Andy #2, the newest member of the group and also known to the world as Andy Falco, announces while he's tuning his guitar for the next song, that she was made right here in Austin, Texas. The crowd explodes into cheers. We Austinites, native to the home of Stevie Ray Vaughan, do not take guitar compliments lightly.
Halfway through the first set, they slow down to play a song from their album Fork in the Road and mercifully grant us a chance to catch our breath. I'm actually panting. For the second set, they launch into I Am a Stranger, off Garrett's first solo album. For the live version, it features an ethereal guitar solo that Falco is able to manipulate such that it sounds more like Spanish guitar than folky accompaniment. The rest of the set quickens its pace and pulls us out of reverie, comforting us all with the warmth of familiar, traditional, back-to-our-roots bluegrass.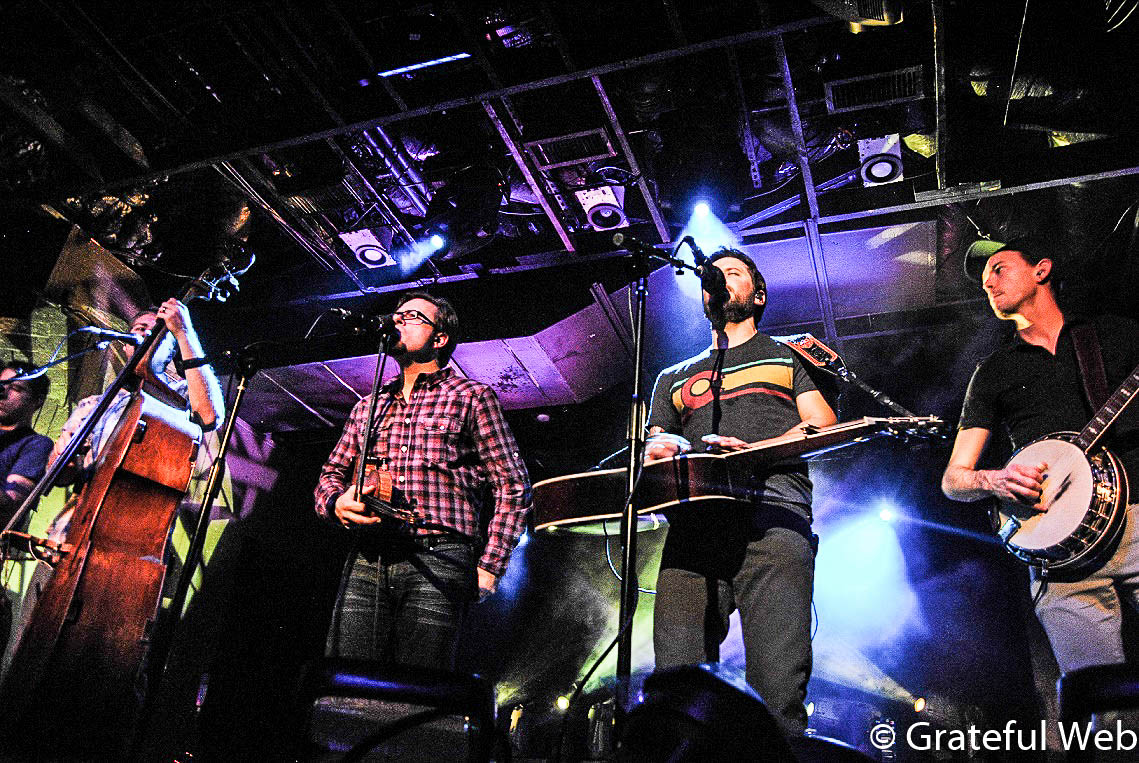 The rest of the set is so delicious my brain is saturated with good music and I'm having trouble processing the talent in the room. I take a step back to survey the mood of the crowd: it's jubilant. An over-zealous fan, (you might remember his bouncing head and pumping fists from the first video) starts a conversation with me about the band. Soon after learning that I intend to write an article about these guys for the Grateful Web, he offers me a soundbyte about their effect in his life. He tells me he's 37 and he had it all: big job, wife, kids, the dream, and that this past year he'd been hit hard. He didn't elaborate except to tearily nod towards the stage, "If they weren't in my life" he says, "I wouldn't have made it."
That's just the side effect of incredible music. It makes you feel incredible, too. And there's something about this group that radiates genuine passion for their craft. As Chris Pandolfi put it, "Instead of burying ourselves in the work and hoping that one day we'll take time off ... we're doing these things as we go," he explained. "Like a lot of things, when you're doing what you love to do, you're doing your best work, and when you're doing your best work, that's when success comes."
I'll leave you with one last video of this infamous band, I hope you love it. Like I do.