JD McPherson will release The Warm Covers EP, Vol 2 digitally this Friday, May 27th via New West Records. The 5-song set features McPherson's interpretations of songs originally performed by Iggy Pop, Pixies, Irma Thomas, Art Neville, and Oklahoma R&B and Country Legend Big Al Downing. McPherson has digitally released one cover a month throughout 2022 with all songs engineered & mixed by Alex Hall (The Cactus Blossoms, Pokey LaFarge) at Reliable Recorders in Chicago, IL. The EP is the sequel to his 2014 collection of covers which featured his interpretations of songs performed by Nick Lowe, Alabama, "Billy Boy" Arnold, and more. A physical edition of The Warm Covers including additional bonus tracks is planned for release in 2023.
 
Of the songs featured on The Warm Covers EP, Vol. 2, McPherson says, "These recordings represent not only a cross-section of my musical upbringing, but also a leap into sunshine following a dark couple of years. These tunes are old friends - and to record them with these new collaborators brought me back to life in a lot of ways. Some of these song choices might not make sense together on paper, but to me it's practically the story of my life in three-minute bursts of unchecked enthusiasm."
 
McPherson & his band will also support Robert Plant & Alison Krauss on their anticipated tour in support of last year's acclaimed Raise The Roof. In addition to performing a support set with his own band for each date, McPherson will also be featured as guitarist in Plant & Krauss' touring band as well. The 23-date tour launches next Wednesday, June 1st in Canandaigua, NY and will feature performances at Forest Hills Stadium in Forest Hills, Queens, Red Rocks Amphitheater in Morrison, CO, the Moody Amphitheater in Austin, TX and more. Please see all dates below.
 
McPherson says, "It's really impossible to express not only my excitement, but also my gratitude for being welcomed into this band for the upcoming tour.  For more than ten years, I've been a huge fan of the Plant/Krauss project (not to mention the individual artists within) and all of the musicians involved. I once bought an autographed Raising Sand poster on eBay, for Pete's sake. The opportunity to play in this band with my musical heroes isn't something I could have ever dreamed of.  Being asked to open the US shows is the bourbon-soaked cherry on the icing."
 
JD McPherson's The Warm Covers EP, Vol. 2 will be available digitally this Friday, May 27th and can be pre-saved HERE.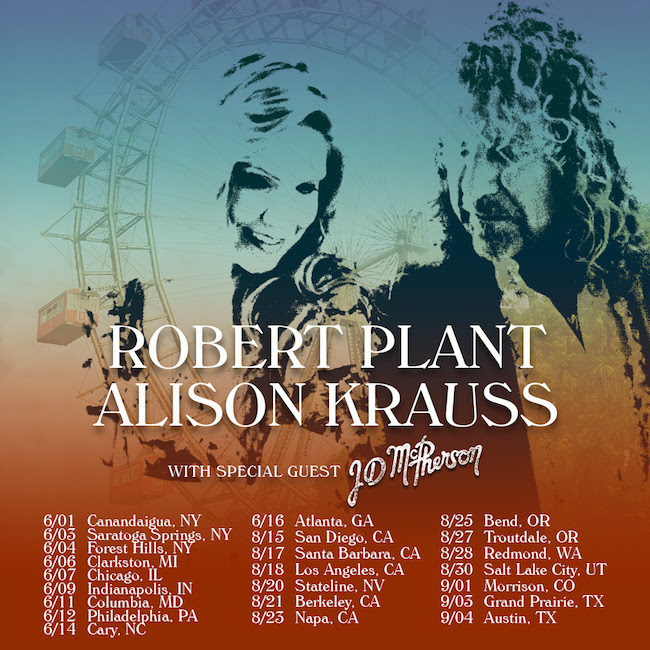 JD McPherson On Tour With Robert Plant & Alison Krauss:
June 1st -  Canandaigua, NY - CMAC
June 3rd -  Saratoga Springs, NY - SPAC
June 4th - Forest Hills, NY - Forest Hills Stadium
June 6th - Clarkston, MI - Pine Knob Music Theatre
June 7th - Chicago, IL - Jay Pritzker Pavilion 
June 9th - Indianapolis, IN - TCU Amp at White River State Park
June 11th - Columbia, MD - MPP
June 12th - Philadelphia, PA - TD Pavilion @ The Mann
June 14th - Cary, NC - Koka Booth Amphitheatre
June 16th - Atlanta, GA - Cadence Bank Amp @ Chastain Park
August 15th - San Diego, CA - The Rady Shell @ Jacobs Park
August 17th - Santa Barbara, CA - Santa Barbara Bowl
August 18th - Los Angeles, CA - Greek Theatre
August 20th - Stateline, NV - Lake Tahoe Outdoor Arena
August 21st - Berkeley, CA - Greek Theatre
August 23rd - Napa, CA - Oxbow RiverStage
August 25th - Bend, OR - Hayden Homes Amp
August 27th - Troutdale, OR - Edgefield 
August 28th - Redmond, WA - Marymoor Park
August 30th - Salt Lake City, UT - Sandy Amp
September 1st - Morrison, CO - Red Rocks 
September 3rd - Grand Prairie, TX - Texas Trust CU Theatre Grand Prairie
September 4th - Austin, TX - Moody Amphitheatre