Guitar icons Jeff Beck and Buddy Guy have drastically differing backgrounds and history, yet the two fared perfectly in a double bill for an extensive U.S. Summer tour that just made its way through the West Coast. Beck is hailed as one of the finest guitar innovators in history, as member of the Yardbirds (amongst Eric Clapton and Jimmy Page,) followed by an illustrious solo career with backing musicians including Rod Stewart, Ron Wood, Nicky Hopkins, and many others. He is a notably successful chart-topping artist who modestly features other singers and "front" members, trusting equally the innovative and catchy. Blues guitar legend Buddy Guy just turned 80. It's hard to tell when you witness his live show, which is nothing short of high caliber and energetic. He's collaborated with the best of them, in both the jazz and rock world. His teaming up with Beck was certainly exciting, but not entirely unexpected considering his track record with other British rock era guitarists like Clapton, Page, and Keith Richards. Then of course there's his history with mythological blues figures like Muddy Waters and Junior Wells.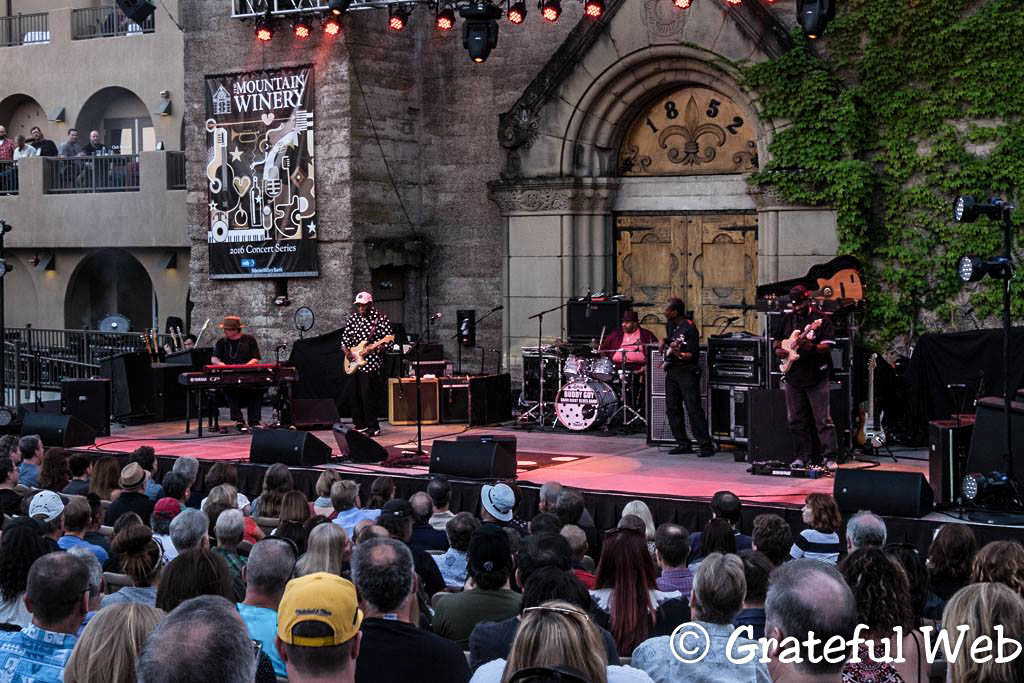 The duo just finished making their way up the West Coast that included a few distinctive stops in California. While the San Francisco gig got a lot of press due to a surprise one-song sit-in from Carlos Santana, the gig the night beforehand at Saratoga's Mountain Winery was one for the books. Nestled in the Santa Cruz range in the South Bay Area, a windy road separates the scenic multi-faceted vineyard, restaurant(s), and amphitheater from the town of Saratoga below.  Truth be told, Mountain Winery was a mixed experience. Pricey parking was not included with admission. Starting at 20$ unless you want to opt out of the after show traffic jam and pay 30$ to park in "VIP" closer to the exit. The venue staff was inconsistently helpful with assistance navigating or even explaining the options. After a security metal detector wanding (why?) you enter through beautiful mountainside vineyards where you can pay for 13$ cocktails or 4$ bottled water. A lot of this was made up for by the beautiful cozy amphitheater surrounded by the unbeatable views. We didn't make it in time to try their many different dining options.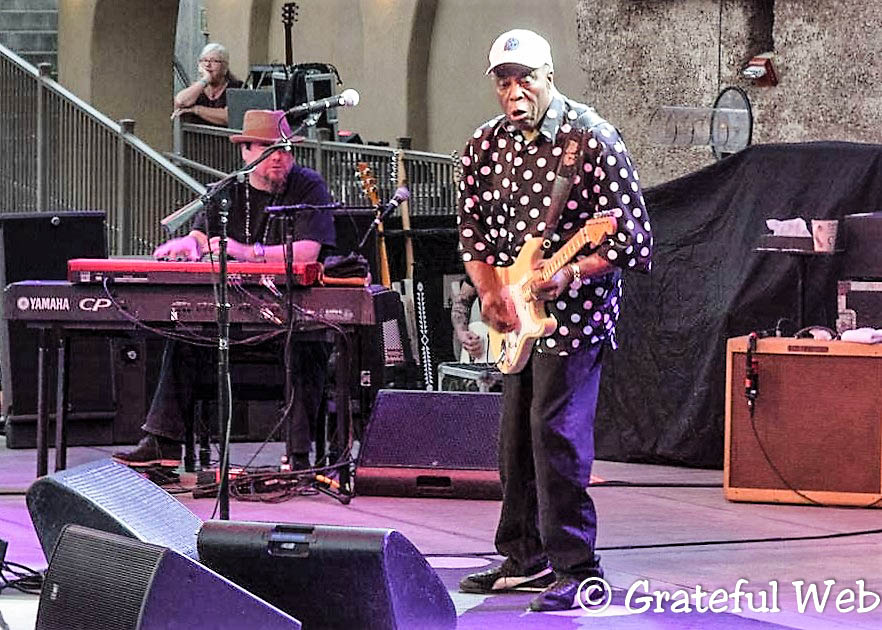 When Guy stepped onstage after a boisterous introduction from his band, the aging bluesman showed he still had the goods with a ripping guitar solo. Guy is known for his raunchy banter with the audience, which was coherently humorous. He tells the story of the blues from firsthand experiences. Dynamite performances of "Five Long Years," "Who's Making Love" and "She's Nineteen Years Old," highlighted Guy's opening set. As the sun went down, Guy reminisced about his early days playing the blues and animatedly worked the crowd into a raving rendering of Willie Dixon's "Hoochie Coochie Man," was the nucleus of the set. An exciting medley that included a cover of Marvin Gaye's "Ain't That Peculiar" and B.B. King's "Sweet Sixteen," left the crowd begging for more. A fitting "Meet Me In Chicago" closed Guy's all-too-short opening set.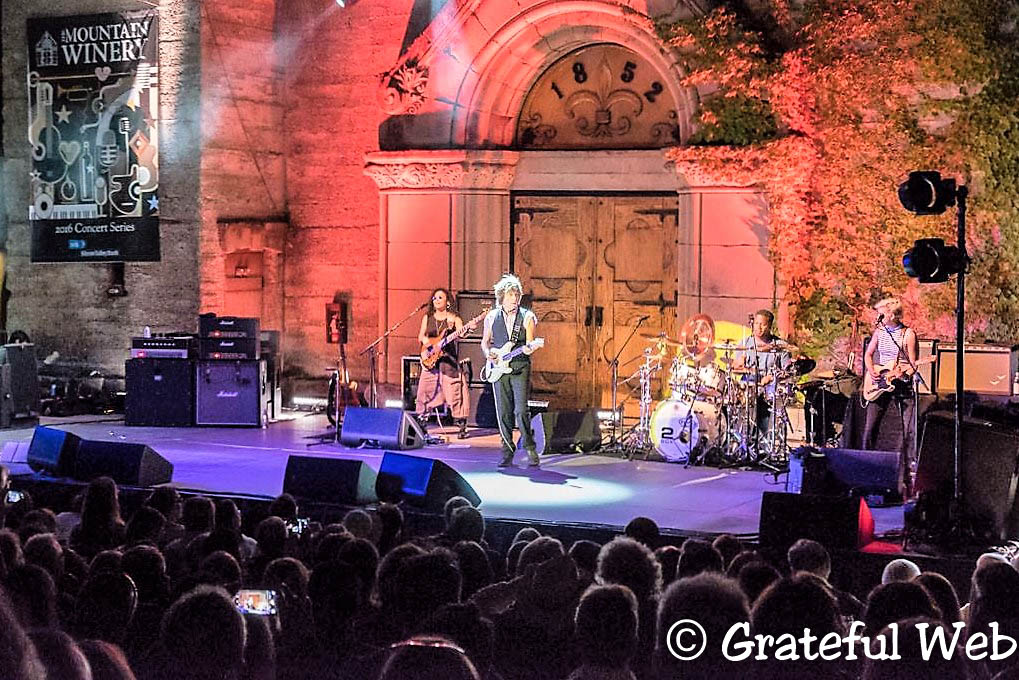 After a brief intermission, Jeff Beck and his band of badass ladies (sans drummer Jonathan Joseph) took stage for a set that highlighted his beloved classic rock compositions and cuts from his well received new album Loud Hailer. The album, which thematically seems to take a stance against war and militarization, was underscored by the passion of vocalist Rosie Bones. She began on a megaphone from the audience, which took all by surprise, the whole time Beck ripping guitar in the background. While the new songs, "The Revolution Will Be Televised," and "Scared for the Children" might not have received as uproarious applause as the classics, they still fared well as testament to Beck's continuing creative drive. His use of pedals and whammy bar augmented his precise and commanding lead guitar on classics like "Freeway Jam", "Cause We've Ended As Lovers," and "Beck's Borelo." Jeff Beck Band fan favorite, bassist Rhonda Smith commanded the changes in many of the jams including a passionate cover of Bonnie Dobson's "Morning Dew." Dew is a common favorite of Beck's and the Grateful Dead as covered on classic albums from both artists. Wet Willie frontman Jimmy Hall was a well-received guest vocalist on "Dew" and a cover of Sam Cooke's "A Change is Gonna Come." The finale sequence of "Rollin' and Tumbling," and Stevie Wonder's "Superstition" would have been enough for all to leave plenty satisfied. Beck's encore topped the finale with a monumentally dynamic instrumental cover of The Beatles' "A Day In The Life." The encore left the crowd begging for more. After hours of entertainment from both artists, Beck ended his vibrant set.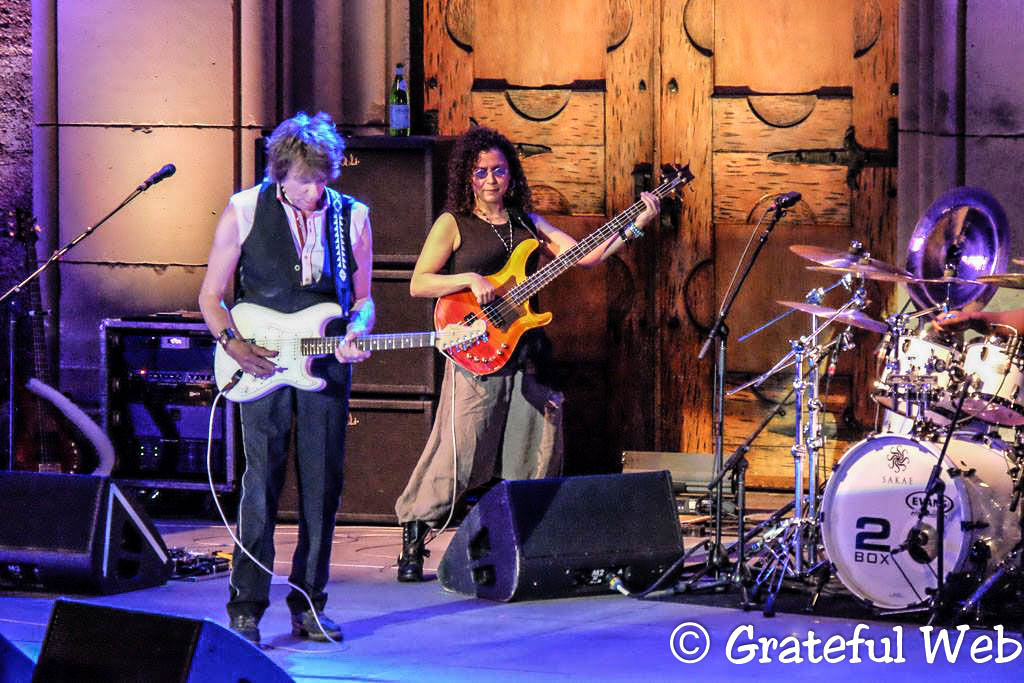 Mountain Winery, Saratoga turned out to be a fun place to see a show. Aside from concessions and parking prices, the experience was mostly enjoyable. The amphitheater is entirely seated and security/ushers do a good job of keeping people seated (aging baby-boomer friendly.) The performances from both Guy and Beck are proof of their continued vitality and excellence. It doesn't seem like either artist is slowing down, alone or together.  Check out Beck's Loud Hailer and catch Guy on tour with Johnny Lang right now and continually afterward on his own solo tour.