A while ago, John Butler cut his hair.  After sporting a set a dread locks for much of his adult life, the guitar master decided to chop them all off.
The story he told the Fox Theater last night goes like this – he decided to go for the front first, so that he would have to finish the job even if he lost his nerve.  Right as he was giving himself a new set of bangs, trimming off the dreads that would normally fall in front of his face, his wife walks in and asks him just what the hell he thinks he's doing sitting here in the bathroom, in his undies, cutting all his hair off.  He looked at her with his new bangs and says, "I'm Rick James, bitch!"
Anyone who knows Rick James and his famous / ridiculous hair-do will understand.
John Butler likes to get up close and personal with his fans, and moments like these make this guitar god seem as genuine and approachable as anyone else.  Coming through Boulder, CO with the newly-reformed John Butler Trio, Butler's sold-out Fox Theater performance on Tuesday night was a blistering mix of slide-and-pick guitar and living-room familiarity.  After flying solo for a couple of years, John Butler is back, with two new friends, and a new studio album out in April – appropriately titled April Uprising.
Unlike many of the better-know modern guitar gods, from John Mayer to Derek Trucks to John Frusciante, who make their living wailing on the electric guitar, John Butler gets his other-worldly sounds mainly from a pair of modified 12 string acoustic guitars and a Dobro-style lap slide guitar, producing a sound that is at times folksy, at others psychedelic, and always rockin' and passionate – think Ben Harper meets the Avett Brothers meets Hot Tuna.
Although the new Trio's sound does not deviate in any serious way from the classic John Butler sound, which he has been pioneering in the Land Down-Under for over a decade, the new group is somehow sharper, more focused, and more polished than many of Butler's previous attempts.  Whereas only a few years ago Butler was suffering from not-knowing-when-to-end-the-song syndrome (half the songs off the album Three are in the 6+ minutes range, with several up over 10 minutes), now he's making tracks that are just as good and just as lively and fitting them into 4 to 5 minutes.
The 4-to-5-minute song is key for a studio album, but when you're in concert, that's is where the extended versions fit in.  That's how it was on Tuesday night as the John Butler Trio cranked our amped-up versions of their new material, going balls-to-the-wall in a way that really only works in front of a live audience.  And the crowd was singing along the whole time.
In addition to the new songs, including the first single One Way Road, the band busted out old favorites like Used to Get High, Betterman, Zebra, Better Than, Treat Yo' Mama, and the ever-evolving instrumental Ocean.  They kept the energy high and upbeat all night, pausing from time to time to banter with the crowd, paying respects to everyone from the Native Americans who used to inhabit this land, to the environment and environmentalists, to the fans in the audience, and of course, Rick James.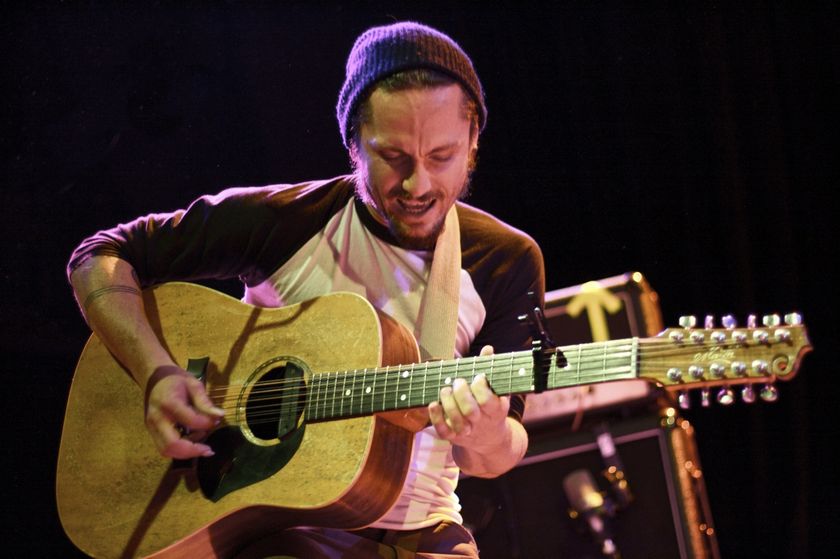 John Butler wasn't the only one throwing out wild solos – bother drummer Nicky Bomba and bassist Bryon Luiters took the spotlight in this regard for their fair share of improvisation.  Luiters broke out an extended funky jam just before the encore, and Bomba finished off the show with a surprisingly melodic rhythmic display, and a silly-noise call-and-answer session with the crowd.  Before leaving the stage for good, both Luiters and Butler jumped on a set of floor toms next to Bomba and the Trio banged around in a climactic tribal drum circle before jumping back into their traditional roles to close the show.  It made for an exciting finale.
The John Butler Trio will be back in Colorado on June 4th, hitting Red Rocks with supporting acts Medeski Martin and Wood, and State Radio.  Until then, the new album, with singles available now on iTunes, and the album itself available on April 6th, will have to hold you over if you weren't lucky enough to score tickets to Tuesday night's sold-out show.