Truly one of America's most influential and astute folk artists of all time, John Prine's prolific songbook is filled with hundreds of clever country-folk tunes both humorous and poignant. He performed about two dozen of those songs on May 23 to the visible delight of the sold-out crowd inside Folsom, California's, Harris Center for the Arts.
No one has a way with lyrics like Prine, whose musical tales are told with witticisms and phrasings so vibrant that they leave the listener with a full visualization of the characters within each song. All sounding fresh and comforting, many of the songs, written in the early 1970s, touched on topics long gone, like President Eisenhower and the Korean War. But the lessons of his songs remain quite current, including love, hard work, and the evils of hard drugs, Prine's voice, which has turned gravellier in the past 20-some years following a couple of bouts of cancer, matched the genuineness of his lyrics more than ever.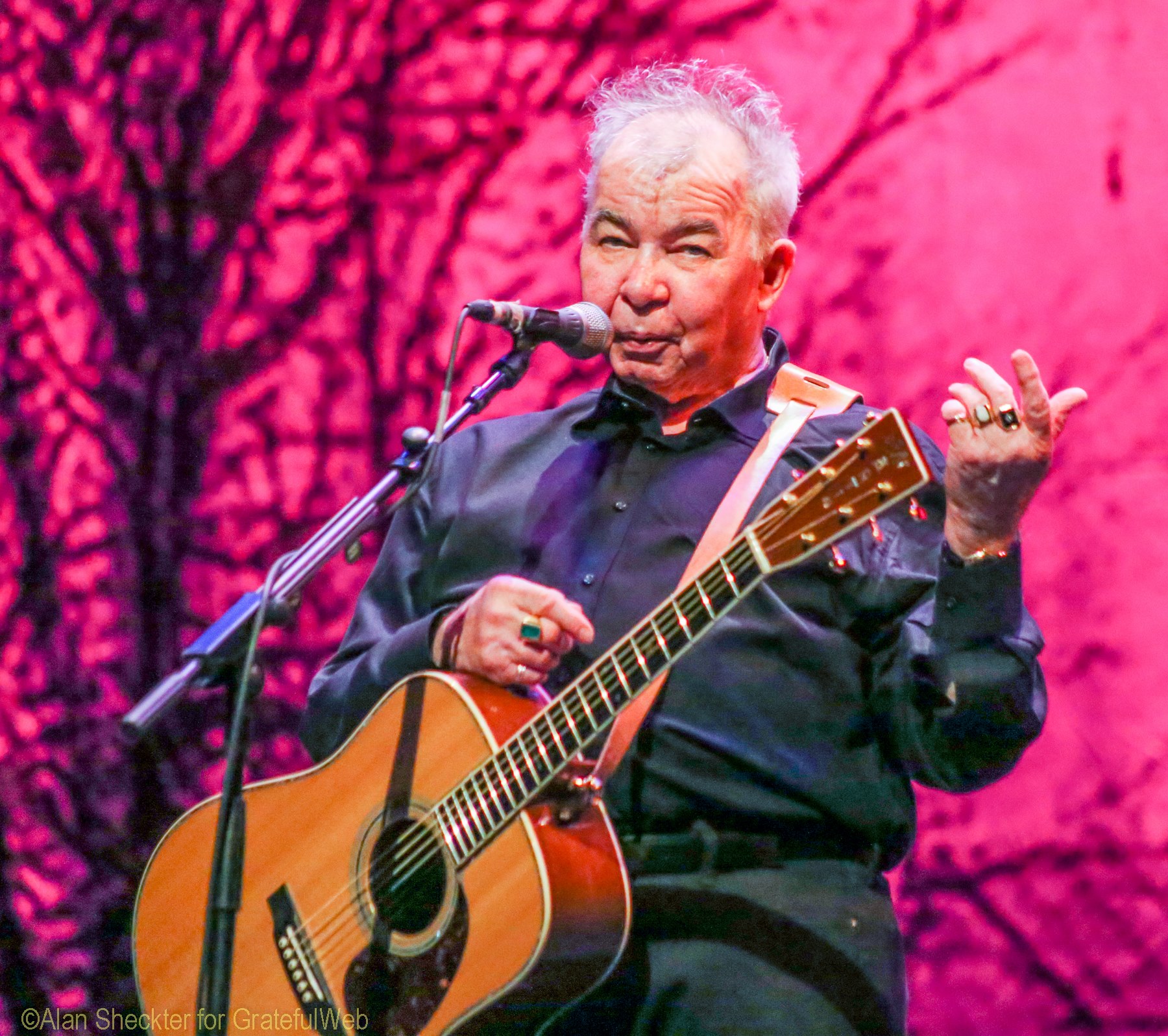 Prine strummed and sang plenty of old favorites. Leaning generously on selections from his self-titled first album from 1971, Prine and company performed "Six O'Clock News" (the opener), "Angel from Montgomery" (dedicated to Bonnie Raitt), "All the Best," "Sam Stone," and the encore, "Paradise."

Except for a five-song solo set in the middle of the show, Prine was flanked by a band of consummate professionals in sport jackets, who added flawless accompaniments and class to the act. The supporting cast included Jason Wilber (acoustic and electric guitars), Fats Kaplin (pedal steel guitar, mandolin, fiddle, and guitars), and Kenneth Blevins on drums (often using just brushes). Prince complimented the other player, Dave Jacque, who plucked and slapped electric and upright bass, saying," For my money, he's the finest bass player in the word."
Prine's stop in Folsom came in the midst of a nationwide tour supporting his astute and relevant new project, "The Tree of Forgiveness," from which he performed all but one selection. It is hard to remember a concert by such a heritage artist in which brand new songs were greeted almost equally as well as the old favorites. But Prine's new truisms and sarcasms about life are as strong as ever, whether the topic be eternal love – he dedicated the emotional, "Boundless Love," to his wife, or offering sympathy for Pluto for losing its official planetary status in "The Lonesome Friends of Science."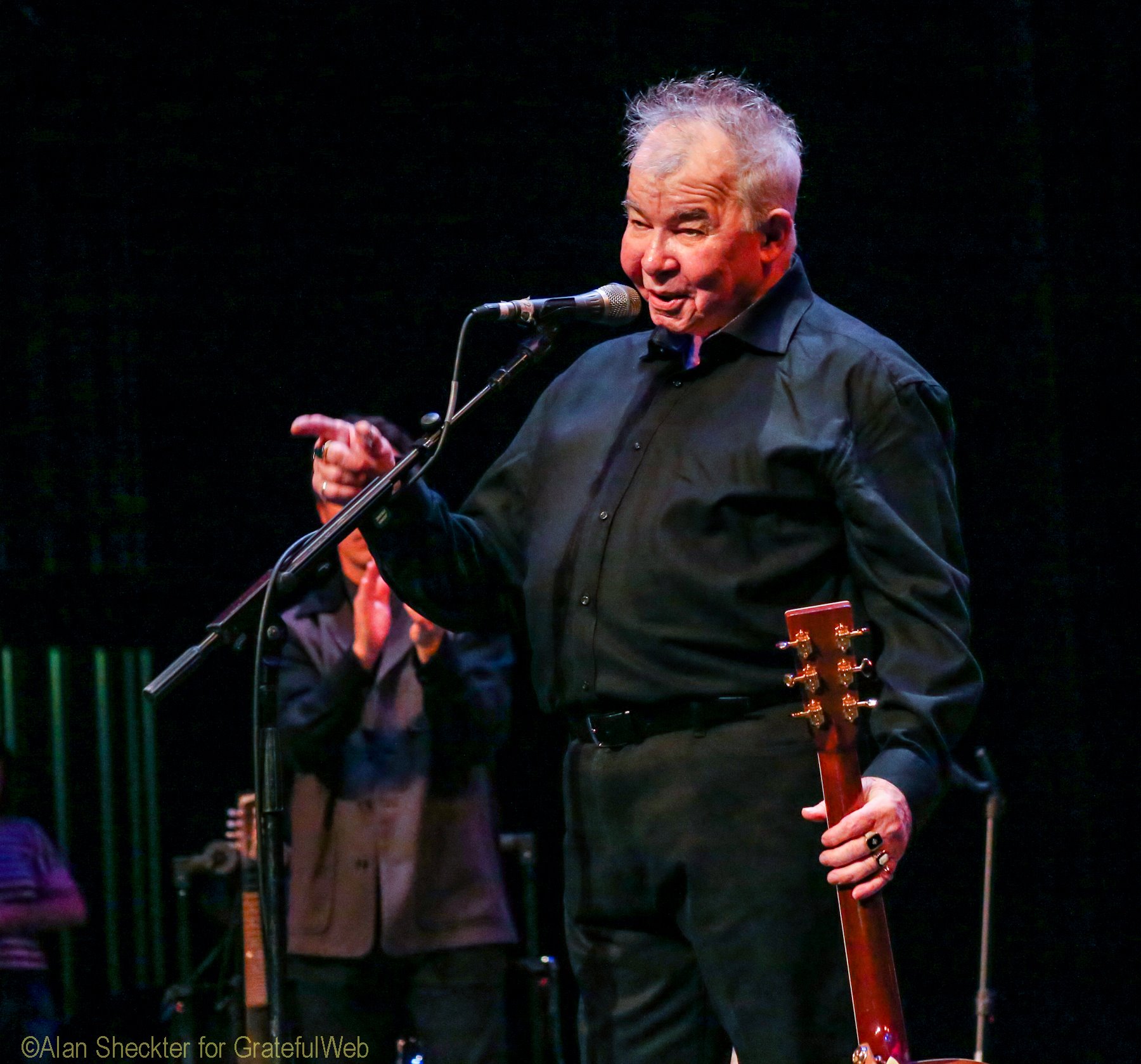 Indeed, Prine's lyrics remain at the center of his popularity and enduring legend, and the 71-year-old delivered them with all the reverence and passion that each song was due. Though he didn't mention the current U.S. President, the Vietnam War-era "Flag Decal" contained plenty of biting lyrics that touched on the climate surrounding many of the President's followers:
"But your flag decal won't get you into heaven anymore / They're already overcrowded from your dirty little war / Now Jesus don't like killin', no matter what the reason's for / And your flag decal won't get you into Heaven anymore."
Then there were the whimsical tunes, which included lyrics like,
"Grandpa Was a Carpenter / He built houses, stores and banks / Chain-smoked Camel cigarettes / And hammered nails in planks."
And perhaps most poignant of all, was "Hello in There," Prine's old dirge about loneliness:
"You know old trees just grow stronger / And old rivers grow wilder every day / Old people just grow lonesome / Waiting for someone to say 'Hello in there. Hello."
Prine's set closer, "When I Get to Heaven," from the new album, gave an optimistic view of the afterlife:
"When I get to heaven / I'm gonna shake God's hand / Thank him for more blessings than one man can stand / Then I'm gonna get a guitar and start a rock-n-roll band /Check into a swell hotel; ain't the afterlife grand?"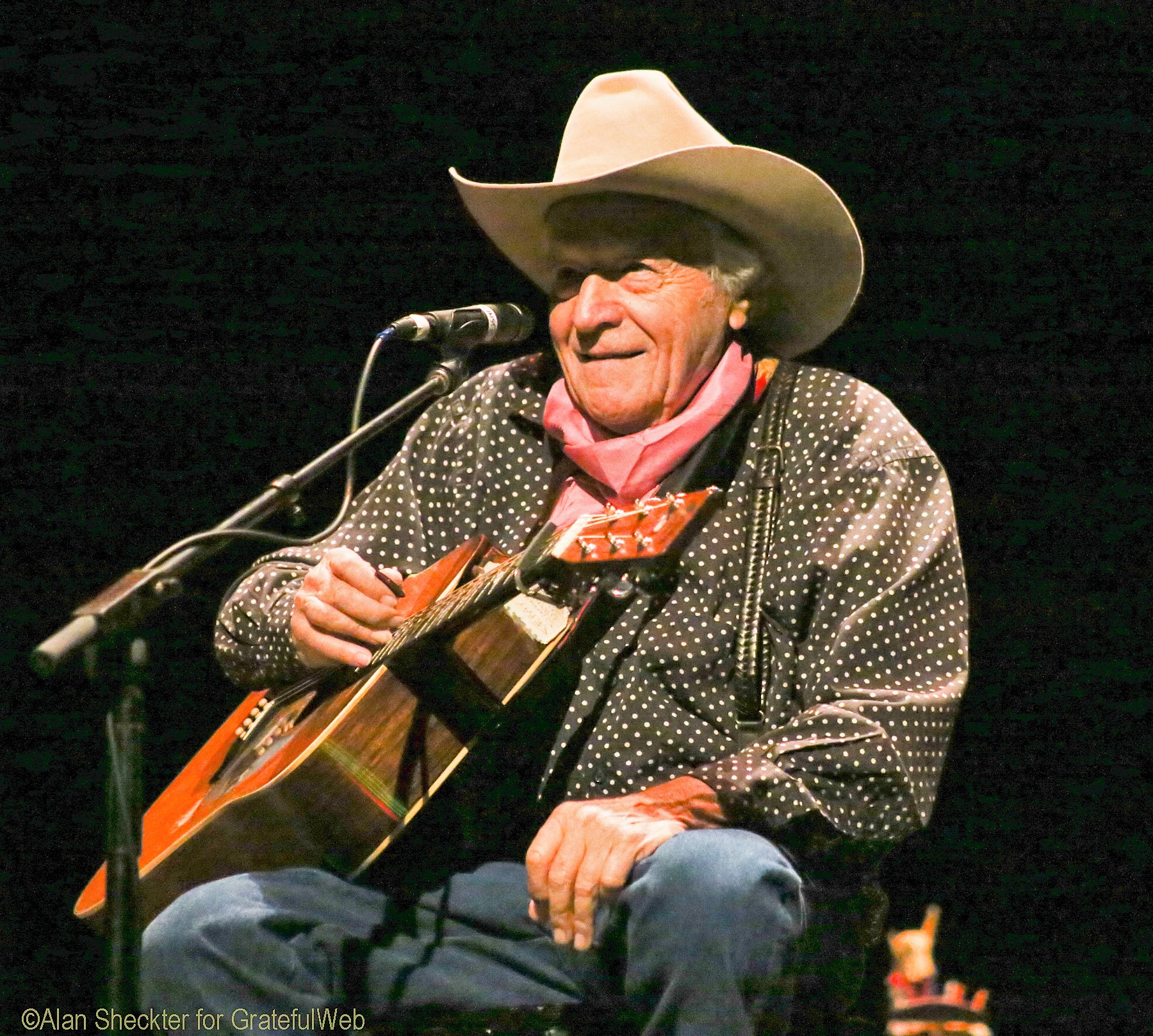 The audience was treated to a gratifying opening set by balladeer Ramblin' Jack Elliott," who at 86 has a legendary career that goes back further than Prine's. To illustrate that fact, consider that Elliott befriended Dust Bowl-balladeer Woody Guthrie back in 1950. And Johnny Cash, a performer of some renown, introduced Elliott, who was about to sing Cash's "If I Were a Carpenter" on Cash's TV variety show in 1969, saying, "nobody I know — and I mean nobody — has covered more ground and made more friends and sung more songs than the fellow you're about to meet right now.  He's got a song and a friend for every mile behind him.  Say hello to my good buddy, Ramblin' Jack Elliott."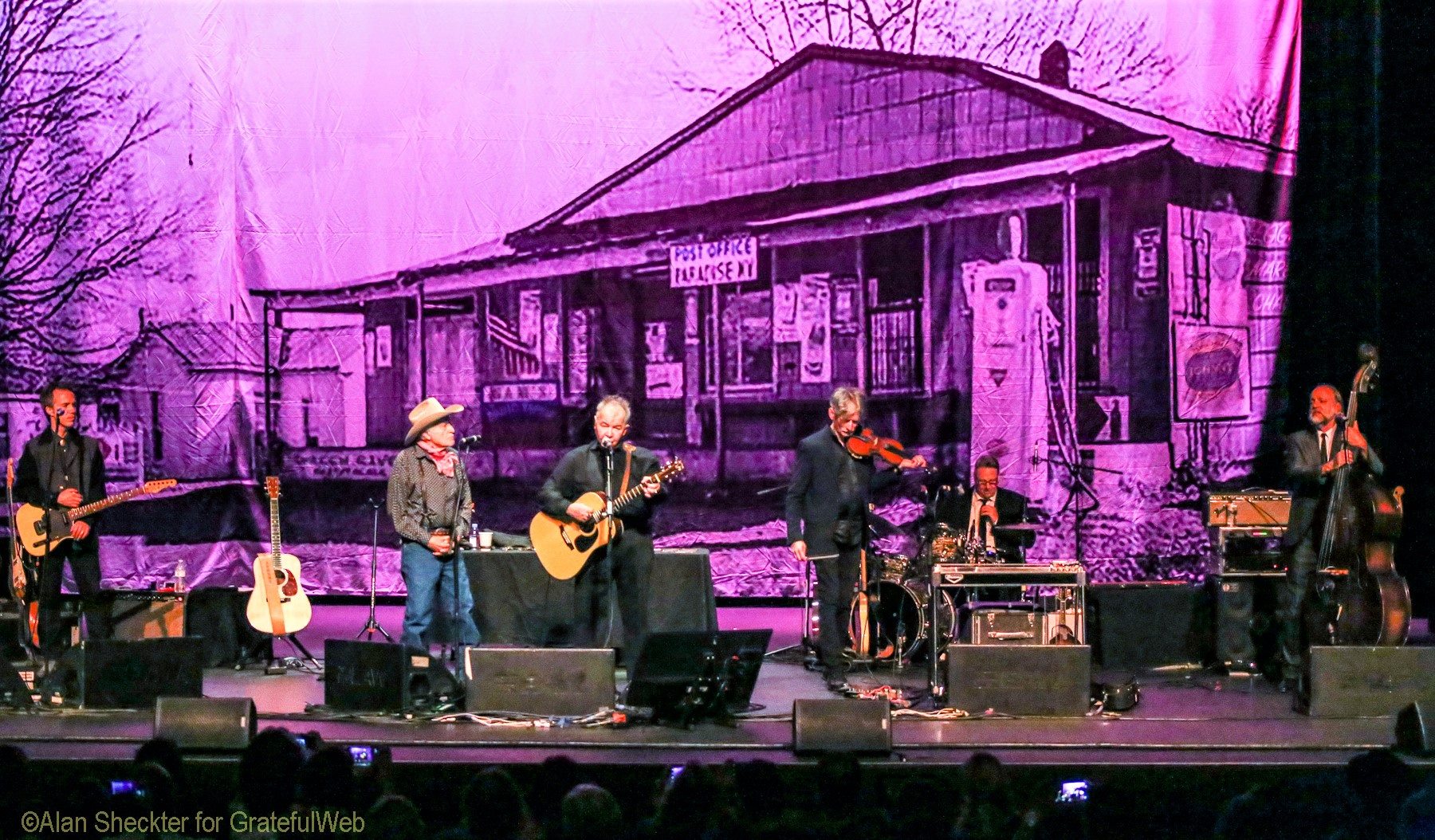 In between engaging stores, such as one about traveling in Europe with banjo player Derroll Adams in the 1950s, Elliott offered Jesse Fuller's "San Francisco Bay Blues," Guthrie's "The Ballad of Pretty Boy Floyd," Butch Hawes' "Arthritis Blues," Bessie Smith's "Mean Old Bed Bug Blues," and Bob Dylan's "I'll Be Your Baby Tonight."
Elliott was particularly charming while performing his closing number, Kris Kristofferson's "Me & Bobby McGee." Experiencing some hoarseness, and after singing the line, "I pulled my harpoon out of my dirty red bandana," Elliott paused and said, "I'm gonna pull out some water." He took a few draughts, took his time, and restarted and triumphantly finished the classic to a roar of applause. Elliott also joined Prine and the band on Prine's old "Paradise, even giving Prine a kiss on the cheek before the song was through.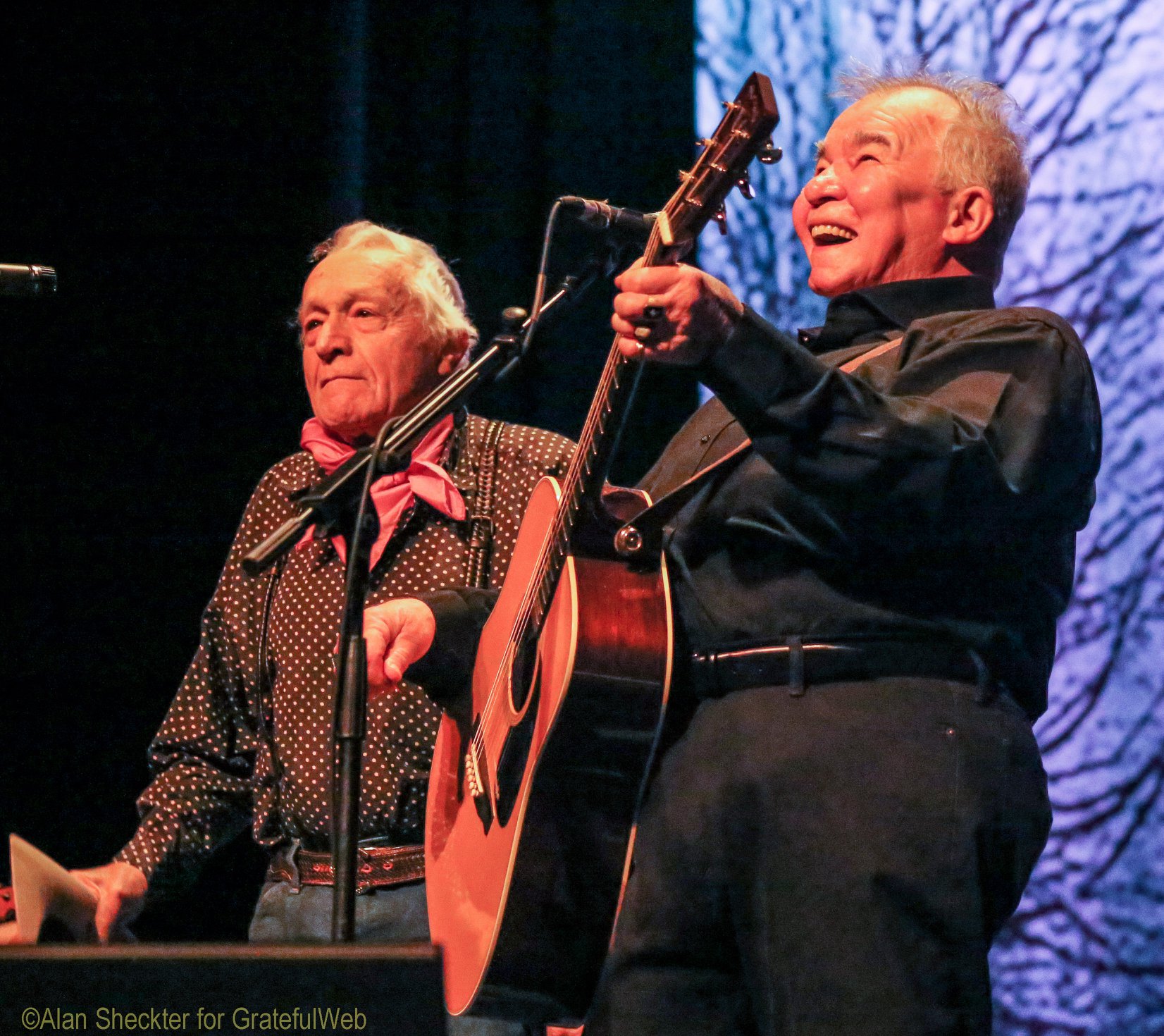 John Prine set list: Six O'Clock News, Knockin' on Your Screen Door, Bruised Orange, Your Flag Decal Won't Get You Into Heaven Anymore, Caravan of Fools, Egg & Daughter Nite - Lincoln Nebraska 1967 (Crazy Bone), Grandpa Was a Carpenter, Hello in There, Boundless Love, Summer's End, I Have Met My Love Today, Ain't Hurtin' Nobody, Angel from Montgomery, All the Best *, Illegal Smile *, Lonesome Friends of Science *, No Ordinary Blue *, Sam Stone *, Crooked Piece of Time, God Only Knows, Lake Marie, When I Get to Heaven; encore: Paradise (* = solo performance)