I had never attended a live eTown radio show before, and didn't know whether to expect a "Prairie Home Companion" type experience or a full-blown concert. What I found was the best of both worlds; insightful interviews intermixed with live music and an enthusiastic crowed.
Keller Williams and the Keels opened the night shortly after seven with the very appropriate Kris Kristofferson original, "Don't Cuss the Fiddle". A foreshadowing of the many cover songs Keller and the Keels would be performing off their 2010 album, Thief, the bluegrass trio sang out "we're in this gig together, so let's settle down and steal each other's song's."
After their musical entrance Keller and the Keels had a long, cheerful interview with radio host, musician, and eTown co-founder, Nick Forster. Mr. Forster informed the audience and at-home listeners of the band's accomplishments and current projects before charismatically chatting with the ensemble about how they met and their current lives on the road.
The band played an energetic rendition of Patterson Hood's "Uncle Disney" before handing the show back over to radio co-hosts Helen Forster. Mrs. Forster then introduced the second act of the evening, Louisiana's Marc Broussard, who would be backed up by his own drummer, Chad Gilmore, as well as the e-Town house band, the eTones.
Broussard's first song of the night, an original composition entitled "Lucky", had an popular adult alternative sound to it, which Broussard later explained was an attempt to expand his fan base. Though his melodic ballads were sung personally and sincerely, they were reminiscent of John Mayer and, dare I say, even James Blunt, in their attempt to please the masses with meek, non-offensive ear candy.  Broussard's smooth and soulful voice rang out all the same, and the audience really went crazy when he broke back down to his roots in the rhythmic, gospel flavored, and totally funky "Take Me Home".  Ridding on that old-time soul sound, eTones' Ron Jolly followed up with a saloon style rag on piano.
Drummer Chad Gilmore was quite notable in his constant transitions of meters and styles. Throughout the set Broussard, Gilmore, and the band would weave in and out of reggae groves, classic rock rhythms, funk, and the bluegrass boom-chuck with versatility, although they did throw off the isles of dancing fans from time to time with unpredictable beat and meter changes.
The eTones, who have played with everyone from Bob Schneider to Jorma Kaukonen, were well adjusted to their guest's styles and songs.  Helen Forster's voice ranged from soulful and moving during Broussard's set to soft, sweet, and even twangy during Keller's act.   Her husband jumped from playing guitar to mandolin to banjo and always managed to get the crown swaying and tapping during his solos.
After some more chatting Keller and the Keels return to the stage and put on uncharacteristically deep "old western" style voices for a cover of the Grateful Dead's "Loser".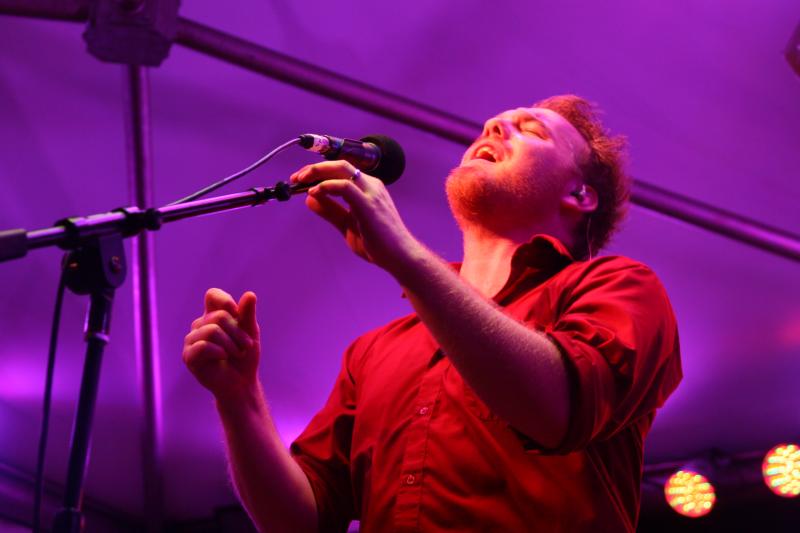 After the haunting cover, the group pulled a 180 in its mood with the totally inappropriate, totally hilarious Keller Williams original  "Portapotty". Keller fans skipped around in the isles singing along with the band "I fell in love in the portapotty line, in the parking lot of some show, She was dancing round clutchin' herself, She was waitin' for her turn to go".
Marc Broussard, Chad Gilmore, and the eTones returned to the stage to join Keller and the Keels in a finale of the Rolling Stone's "Wild Horses".  The show ended shortly after nine and was a refreshing contrast to the always fun, but completely draining 2 am concert finales that usually take place at the Boulder Theater. My first eTown radio show proved to be a very intimate experience, wonderful for anyone who wants to hear some great tunes and insightful commentary.