In jam rock, the line between imitation and evolution can be woefully blurry.  Often, the farther the bands and the scene get from the Grateful Dead seed, the harder the listener has to work in order to derive an original experience from the music.
Driving drums, noodling bass, swirling guitars and thin vocals rushing through stoner lyrics - we've all been there.  And by and large, we like it there.  Comfort candy for the ears.
But back at the source, something old is new again.  Welcome to the Swamp.
Fronted by zenith-era Grateful Dead chanteuse Donna Jean Godchaux McKay, Kettle Joe's Psychedelic Swamp Revue has taken only exactly what it needs from jam music to create an inviting and compelling new brew of sound and scene - it's taken the ethos, the spirit, the organic approach of re-invention.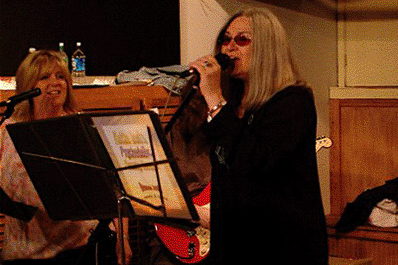 At first glance, this project's lineup may seem like old parts thrown together, but don't be lulled to sleep by your own smoky haze.  Dead influenced grassroots legends The Zen Tricksters - anchored by guitarist/vocalists Jeff Mattson and Tom Circosta, bassist/vocalist Klyph Black and drummer Dave Diamond -  have taken their long fused dynamic and teamed it with the keyboard genius of jam scene keyboard icon Mookie Siegel. This core backs the elegant and elegaic vocals of Donna Jean and Wendy Lanter.  The result is indeed a jam band, but one with the right idea - to serve the sound, to explore and soar in the present; bridging the past to the future in the process.
Yes, the requisite jam expectations are met; Mattson's leads spiral and swirl with the best of them, Circosta's inverted rhythm licks are strange, seemingly impossible and ear-bending.  Black thumps, rolls and climbs underneath and the drums swing when swayed and thunder when dared.
But what's different here is the return to the most important aspects of jam music; the band is obviously dedicated to seeking out interesting material and making it their own.  And from that simple decision, true originality is born.
It seems as if Donna Jean is leading the way.  She has a Garcia-esque presence, quiet and kind, curious yet in control - she is completely fused to her talent, with no gap between thought and expression. The band's wonderfully eclectic song selection invites an energy that is spry and refreshing, but not to be taken lightly.  The result is the ever-elusive winning jam band formula; veteran players playing cool nuggets and blowing
them through the roof.
The band has created, well... a psychedelic kettle-brew of originals and pointed cover choices that allow them to tranverse from folk to funk and back again, hitting those special Grateful Dead moments along the way.
Like The Band did for Dylan, The Trickster foundation breathes unprecedented life into Donna Jean's tunes.  They may not look like much on paper, but ditties like France and From The Heart Of Me now have a warmth and beauty never before captured live.  The band does to Garcia's Mission In The Rain what Garcia did with so many songs in his repetoire, they simply love it and make it count, giving it new and original feeling.  As a unit, Kettle Joe's embodies this spirit - the essence of interpretation, and of preservation. They are an interactive  museum of old and new, unburdended by overwhelming celebrity, yet wholly eager and unafraid to fill big shoes.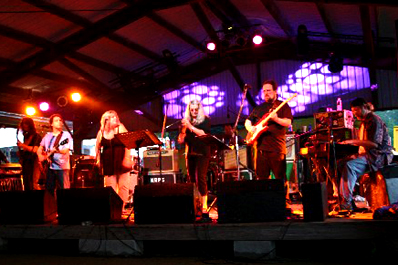 And when the stakes are raised for die-hard Heads, the band soars to the occasion.  Epics like Weather Report Suite and Terrapin Station get killer workouts, but never is the listener recalling or aching for a different time or place, a different sound or a different moment.  Everything the listener could ever hope for or expect from these efforts is there in spades - the mandala is woven, the door opened, the listener need only close his eyes and step through.
Jam music, in it's best and highest functions, serves to evolve and transcend - to breathe and live.  If that's a benchmark everyone in the scene can agree upon, then Kettle Joe's has instantly and effortlessly carved for themselves a thriving little niche in the firm rocks of jam history, well protected from the drowning, rolling seas of jam band inertia.