When we reflect on the magic of the live music experience, what comes to mind, or to the ear as it were, are the images of those grandiose and infamous stages, like Red Rocks or Madison Square Garden, filled with a sea of people, in awe of face-melting shred fests and transcendental sonic exercises. For Colorado, these dynamics have become the expectation, and for good reason. Artists who travel here, repeatedly express their deep love and discernment for this admitted nexus of the live music universe and, time and time again, pull off performances that leave ticket holders with suspended reality and filled to the brim with unforgettable memories that are often noted as legendary by both those who attended as well as those who dial up the relisten.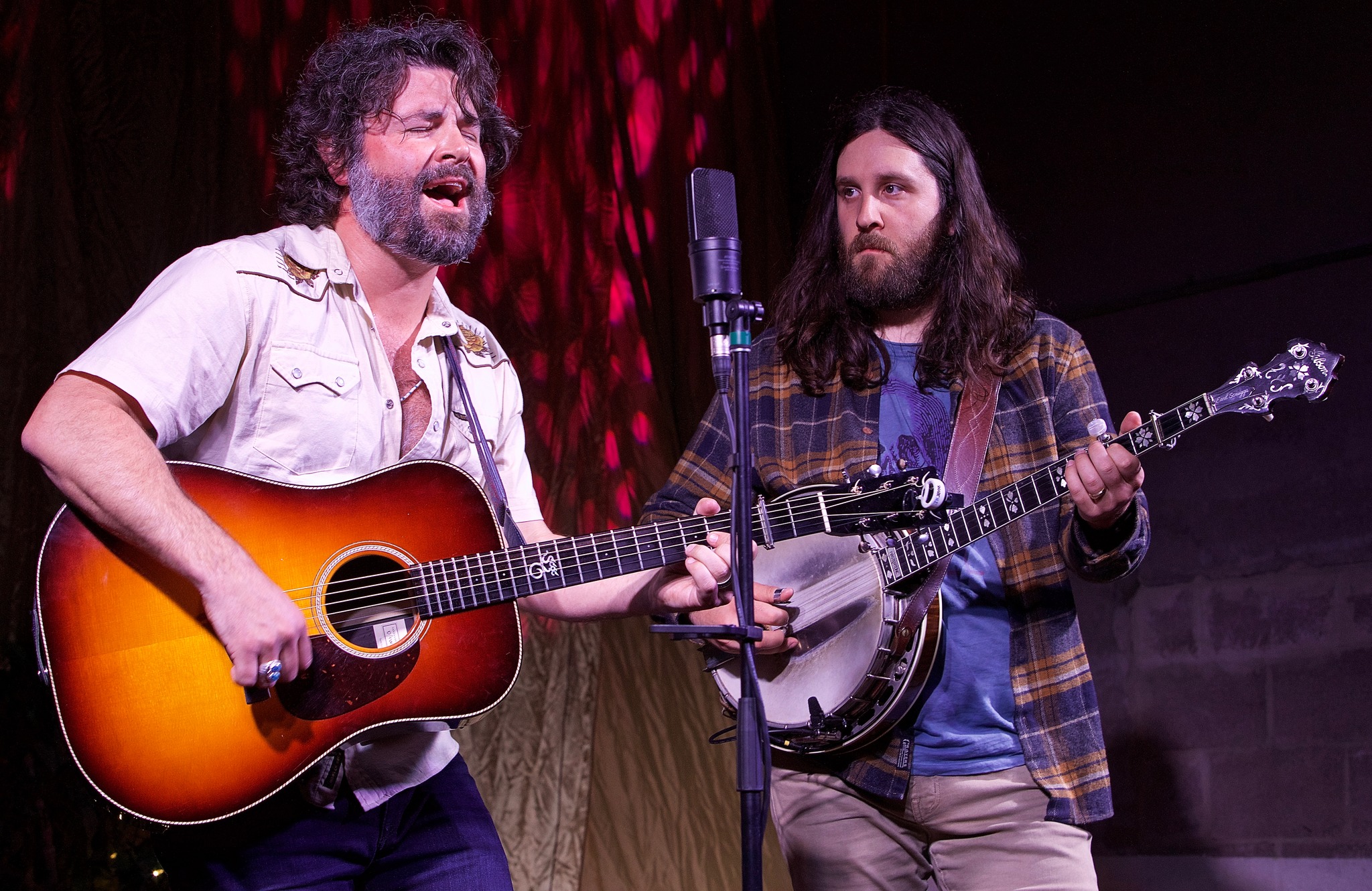 But, as we all know, that magic and marvel can come in many forms. It doesn't always have to be composed of events where fans find themselves amidst vertigo-inducing songs or pondering what ballistic onslaught is next that will leave nothing but sweat-soaked bodies in its wake. Rather, spiritual lift-off can just as easily be achieved in a small-scale setting, sitting and listening to people being people, not rock stars, as they tell their tales of craft, woe, and wonder. In a landscape of endless tours and wild anticipation, it is these rare moments, artists in pared-down environments, that often produce just as much of the goosebump effect through the raw presentation and a connection that levels everyone in the room to the most base human aspect, revealing and connecting us through truths told through musical simplicity. Most would admit, given the opportunity to see a musical icon in such a way, would be a dream come true, and as it doesn't happen very often, Colorado, as one might expect, is just the place to catch this lightning in a bottle.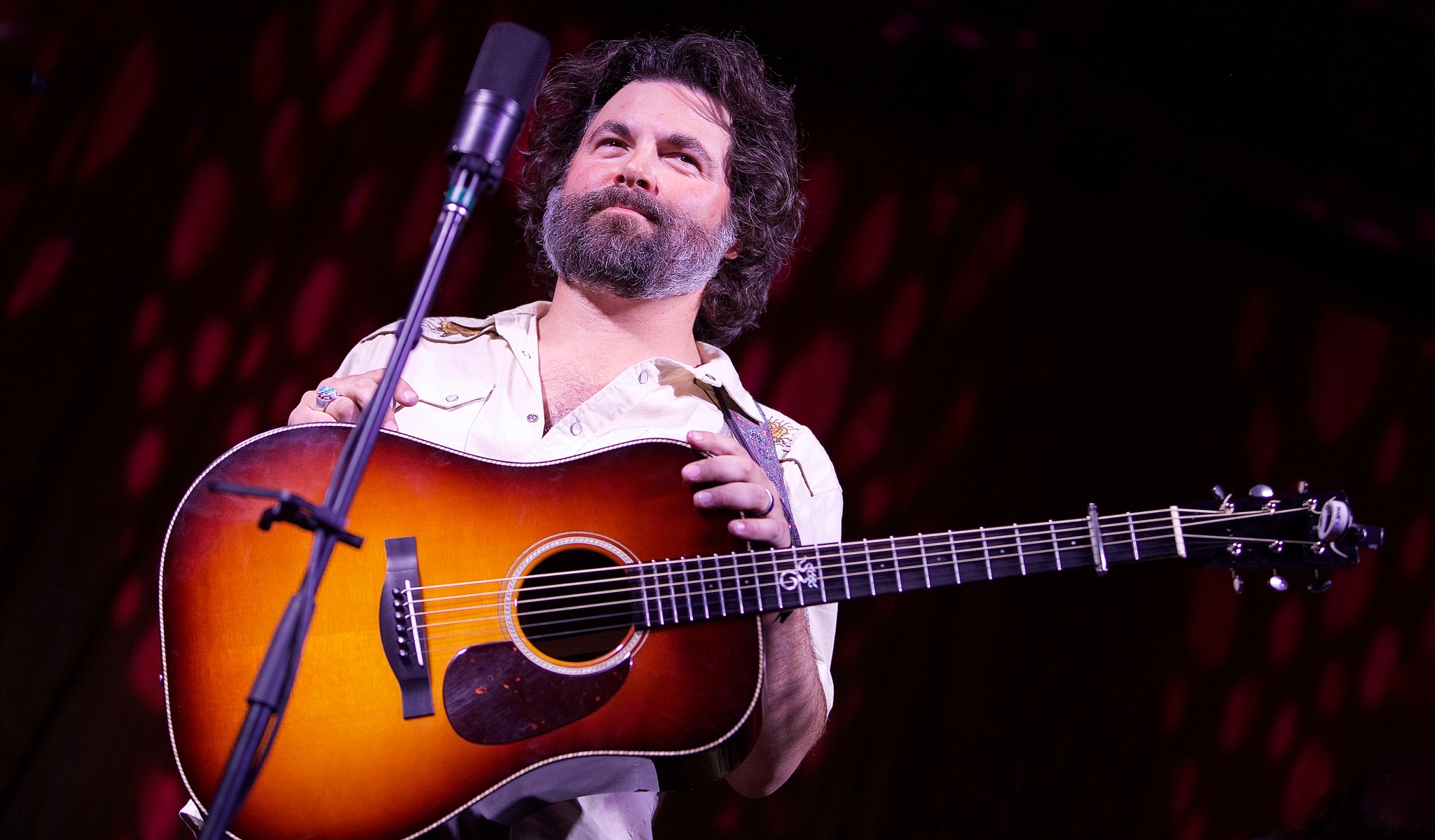 For a lucky few, 150 to be exact, one such instance occurred May 27th on the grounds of the illustrious Wibby Brewing compound nestled just off of Main Street in Longmont, Colorado. While touting a large outdoor stage and enough asphalt to host an event in the thousands, the setting of choice for this incredible performance was the Wibby listening room. Rectangular in construction and with an outward appearance of a concrete bunker, this unassuming corner of the Wibby institution of libations and liberty was ground zero for the second take on Lyrics and Lagers. Powered by the energizing and unstoppable force that is Robin Wibby, while being directed and steered by Drunken Hearts frontman Andrew McConathy, L&L successfully brought a myriad of talent once again to the front range and gave the sold-out crowd an incredible evening of acoustic players, stories, first-time collaborations, and a closing superjam that put all the talent on its tiny stage, ending the night with a bang….well, a flash of the magical if you will.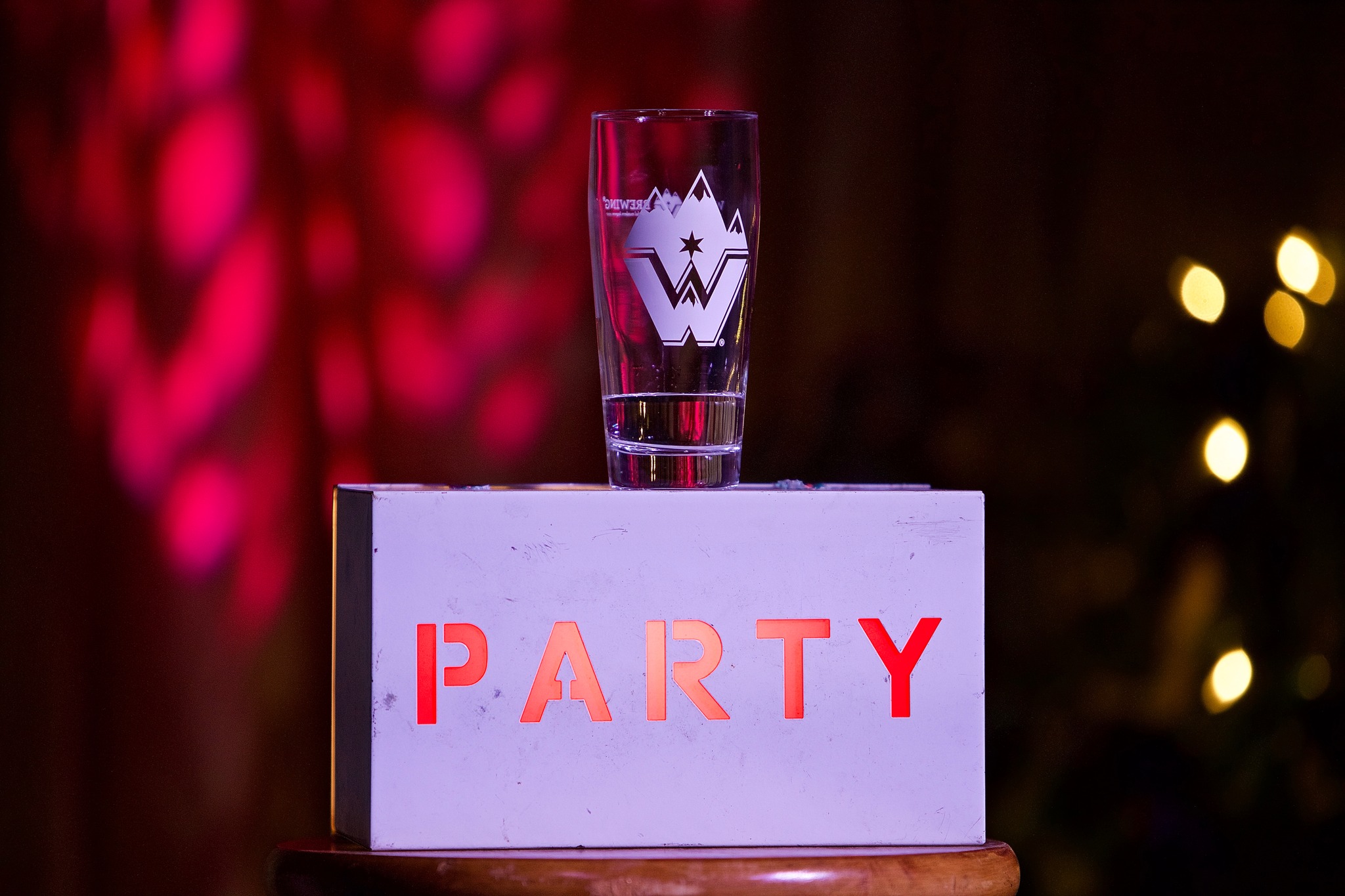 With a start time of six o'clock, the Doobie Brothers' "Listen to the Music" faded as the lights came up on an empty stage, its lone occupant, a stool with a gray box atop the seat with a single red-lit word: "PARTY". Boarding the stage from a back door adorned with a billowing golden curtain, Andrew McConathy approached the singular microphone and got the evening underway. After thanking the crowd for spending their time with Lyrics and Lagers 2.0, Andrew pointed out the purpose of the "PARTY" box: "If this light is on, we are taping the show so…. shut the f*&k up. If the lights are on, just be sure to be very respectful of the artist. This is a listening room so we are here to listen, not talk. Thank you so much for being here. Without further ado, I want to introduce, from Montana, Madeline Hawthorne."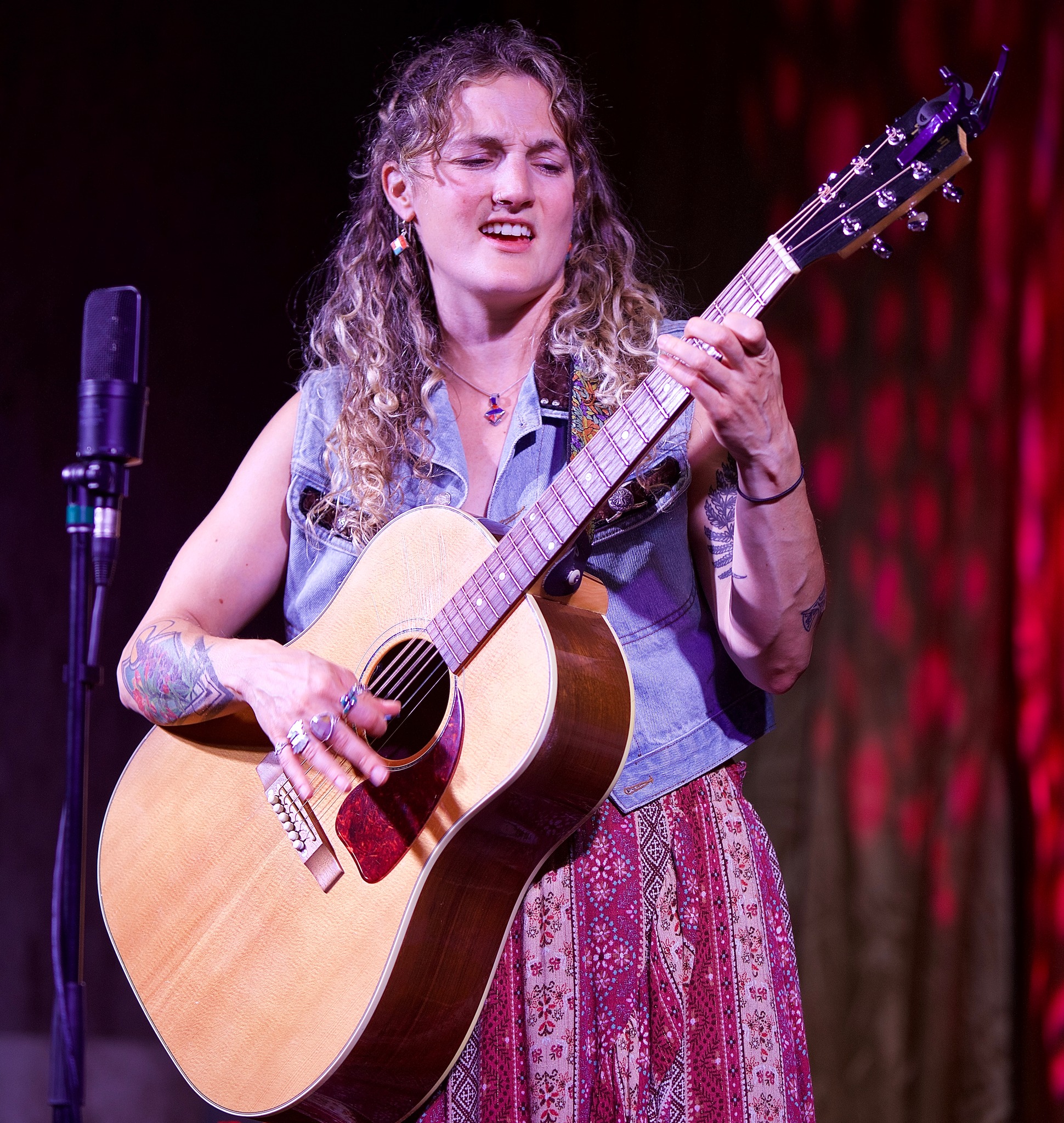 Armed with a guitar as big as her smile, Madeline got right to it with "Strange Familiar", a piece described as being about "the battle scars of being on the road and missing home". She continued, detailing her perilous near miss to the evening's performance, delayed by a sinkhole on one route and met with a flood on another, arriving with only fifteen minutes before walking on. Out of the gate, her bright eyes and infectious snarl balanced her tightrope walk between rock and roll and folk, engaging the listeners with swagger and an undiminished rainbow of positivity. Her playing confident and vocal range-wide, her delivery breathed with both conviction and fragility, drawing everyone in even further.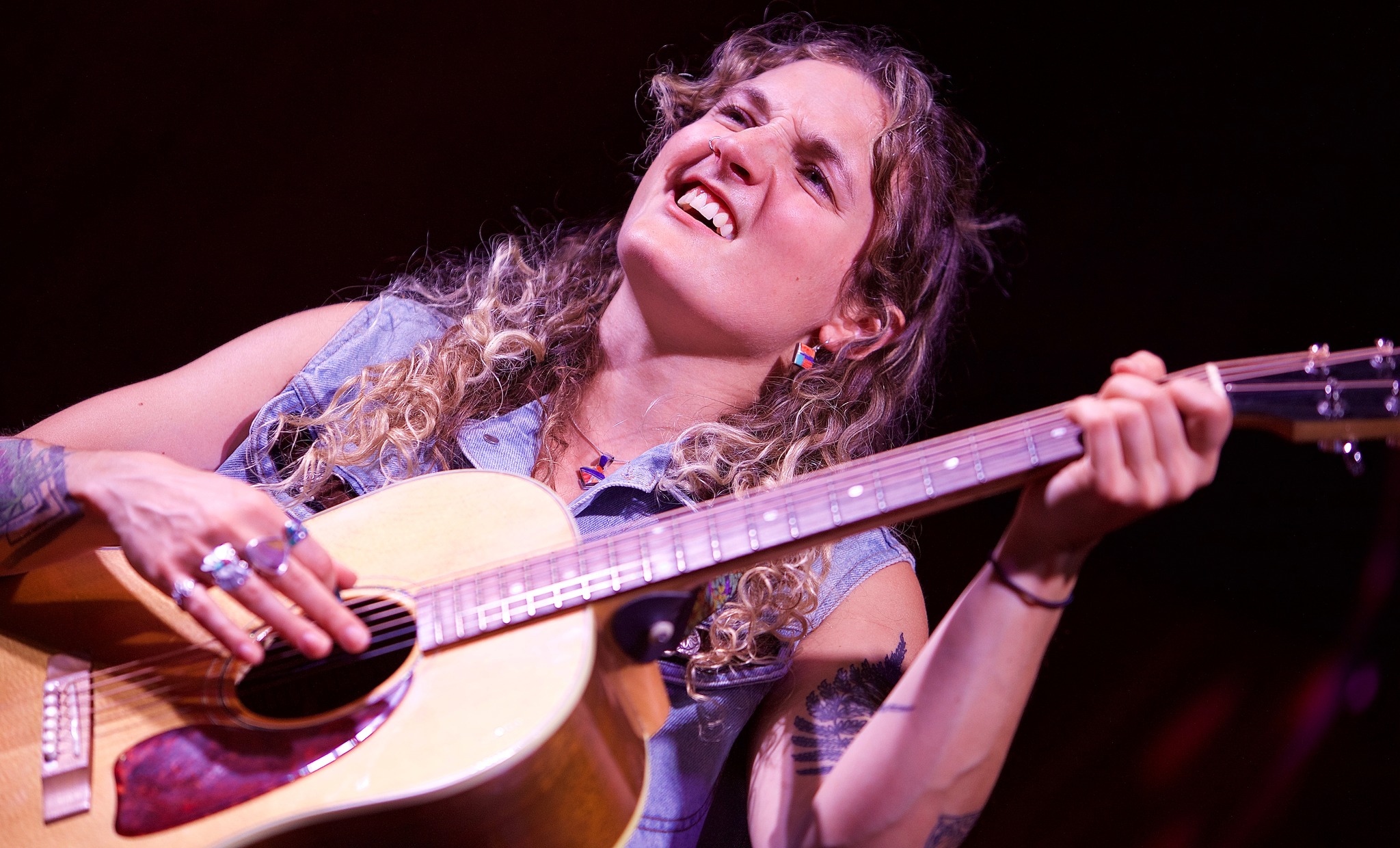 Taking a moment to recollect on a previous performance at Wibby's outdoor space sheltered from an ongoing rainstorm, Madeline gave a shout-out to how special the proprietors are and how well they take care of artists and patrons alike. Moving into her next tune, proclaimed as being about drinking too much, "Pendulum" swung with the blues, hitting its stride strong and true from the start while her voicing fluctuated from sultry to gritty in all the right ways.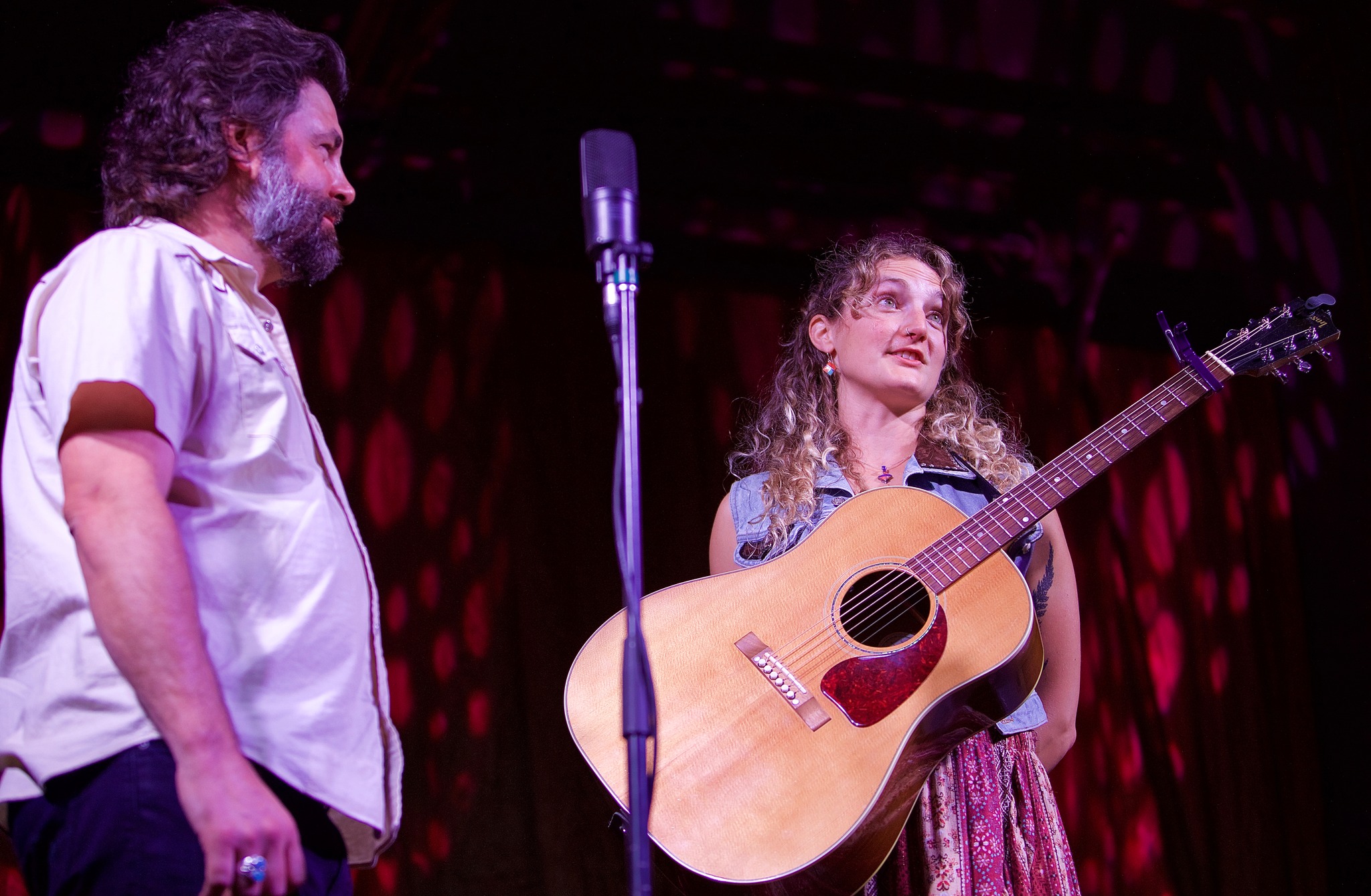 Following Madeline's second choice, Andrew returned to the stage for a bit of impromptu interview, engaging the singer/songwriter on her inspiration and creative process, including details on her upcoming album as well as her latest success in the form of an invitation to perform at the 23rd Annual AmericanaFest in Nashville alongside her band of prominent players.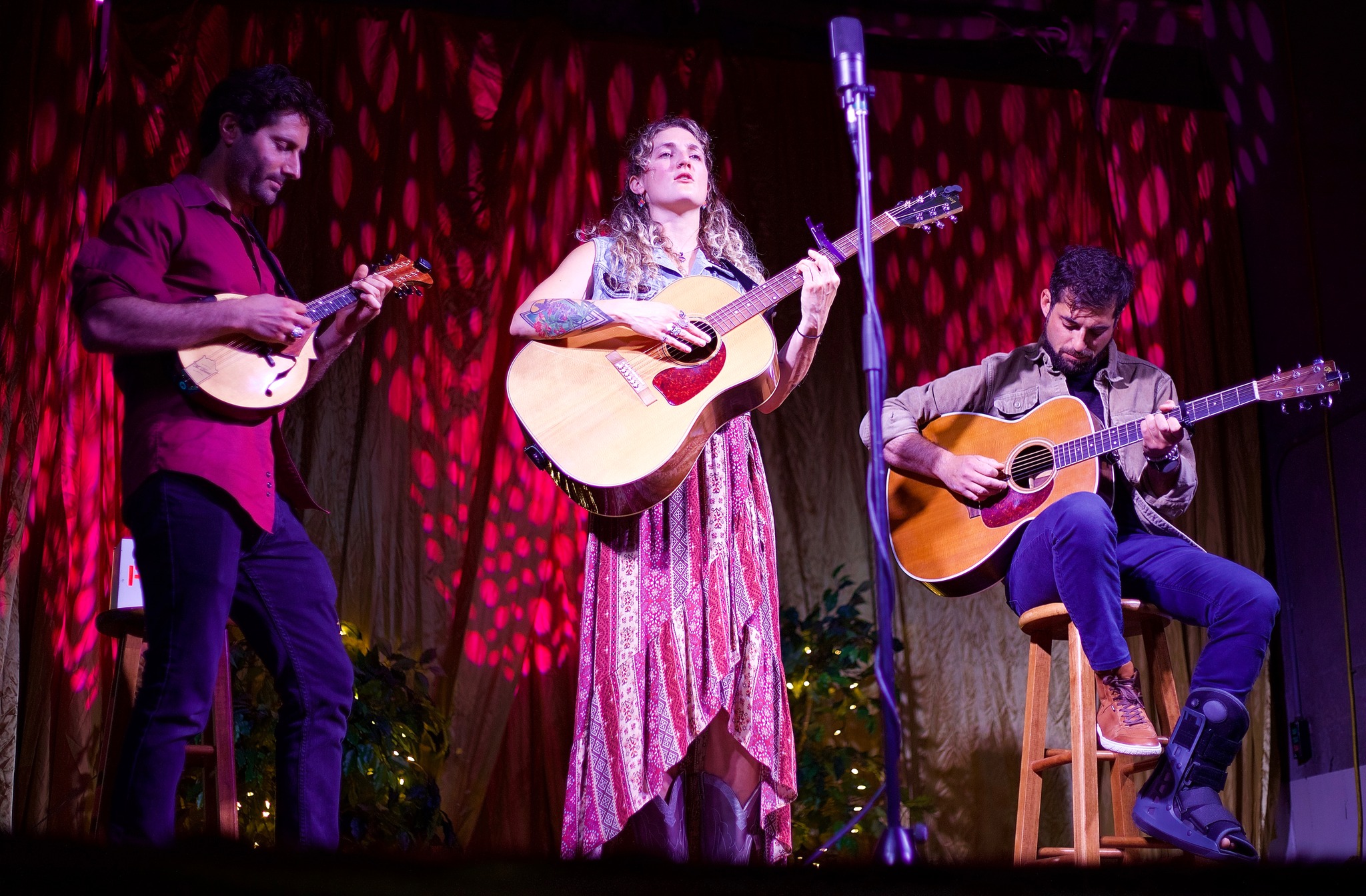 For her next selection "Riverbank", Madeline welcomed two talents in local guitarist Max Kabat, bearing crutches alongside an orthopedic boot, and multi-instrumentalist from Elephant Revival, Dango Rose on mandolin. Inspired by memories of floating the Smith River in Montana, this meandering piece flowed along lazily and comfortingly. The banks of the tune held up well with the gentlemanly accompaniment, especially in light of the trio rehearsing as a unit only minutes prior to this presentation.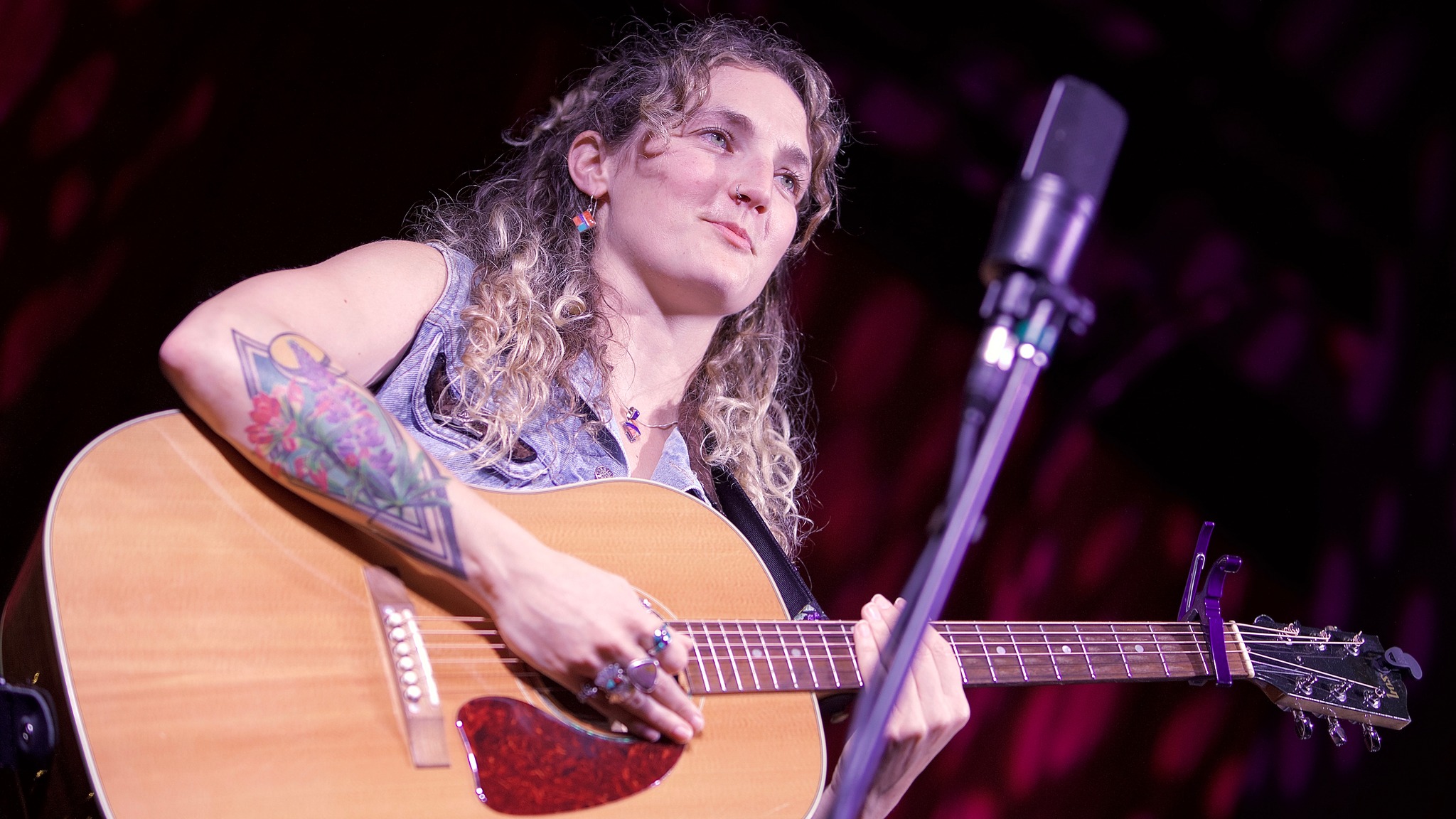 Pausing to thank the Colorado music scene as a whole for supporting new artists like herself, Madeline introduced "Cold Shoulder" as a number off of her latest album. This one illustrated the performer's attitude about self-acceptance and daring the world to take her as she is, flawed and without excuse, further illustrating that unapologetic inner light that is Ms. Hawthorne's proclamation.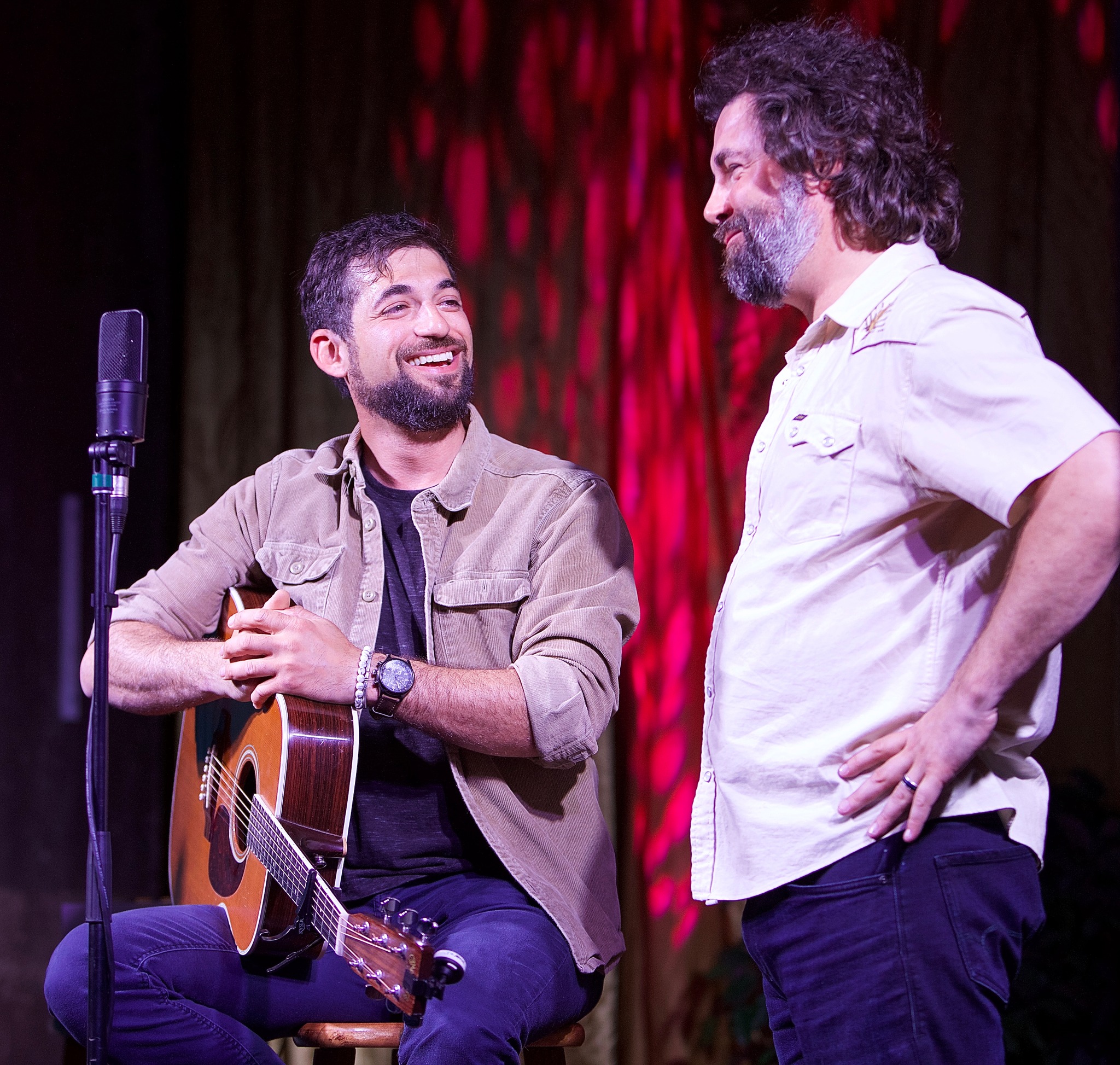 Under warm appreciation, the evening took a short pause to give everyone a chance at a beer refill before the program continued with the aforementioned impaired guitarist Max Kabat. Touted by McConathy as one of his favorite acoustic guitar players of Boulder County, Max began by thanking the crowd for their attendance and McConathy for putting on the event and his invitation to participate, both receiving recognition from the room that continued to fill. Beginning with "a fresh one and a departure from my normal style of bluegrass", "Lonesome For You" was a slow ballad of lost love. With a voice akin to Cat Stevens-meets-country, this one eased the crowd into Max's world and showed his obvious talent at phrasing and verse. Keeping it fresh with yet another newly penned piece, Max welcomed bandmate Melissa McGinley-Stube on violin to deliver "The Hole Song". Serving the acoustic world under the newly formed Hossback name, these two veteran players took a moment to humor the crowd. Melissa recalled, "The first time that Max was like "Alright, let's play 'The Hole song'. I was like okay, but what song? He was like 'The Hole Song'. I was like yea, we're going to play the entire song, but which song is it?'". With the crowd laughing, the duo jumped right into, yes you guessed it, "The Hole Song". With Max taking on the vocals, Melissa delivered fully on the fiddle and accompanying harmonies. The overall body had that high lonesome sound while the bridge added an interesting change.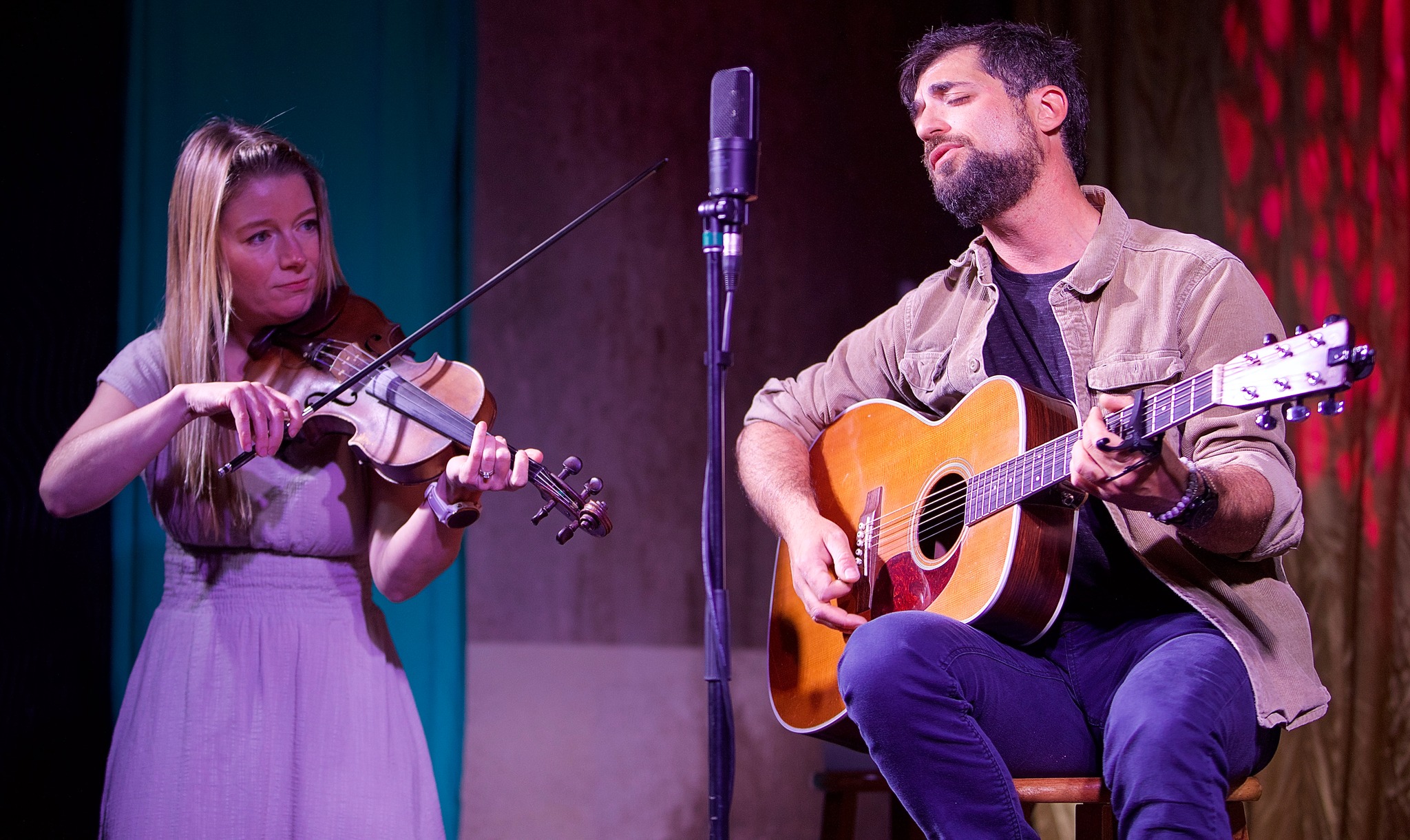 With McConathy returning to get a deeper look and to congratulate the duo on their recent union, the mc queried on the near future plans of the Hossback formation, Max responding with a detailed roll call of enlisted players outside of the two present who had joined the fold and spoke about the difficulty of getting everyone together because of demand and conflicting event schedules. These barriers are acknowledged, and the fact that Max is turning out new, quality pieces for Hossback gives great promise that the Front Range will be seeing more of this group very soon.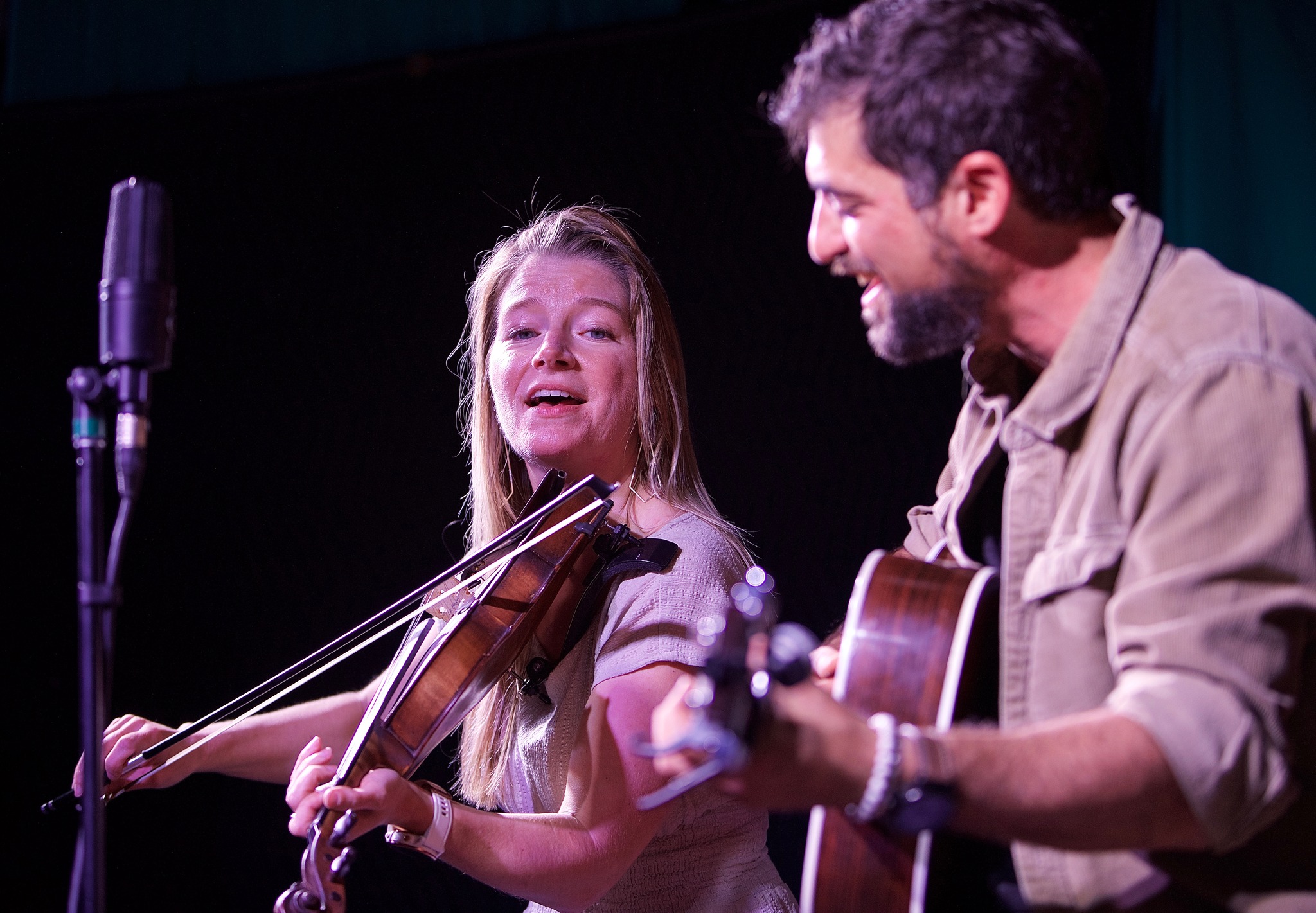 Left once again to their own devices, the upbeat and traditionally rooted "Formaldehyde" was the next choice and showed off both Max's flatpicking skills as well as Melissa's assertive drive, the two mixing it up in this short and sweet giddy up. Finally addressing the obvious pedal impairment, Max revealed that his handicap was due to "nothing cool" and was no more than a fall induced by his loveable dog on his way to mow the lawn. When he had finished his simple explanation, he admittedly knew and had been told by others, that he needed to come up with a better story. Melissa chimed in on the tale, asking what the footwear of choice had been on the darkened day of tall grass and love gone wrong, Max's response was, "Crocs", to which Melissa retorted with a grin, "Like he said, nothing cool", eliciting laughter from the audience.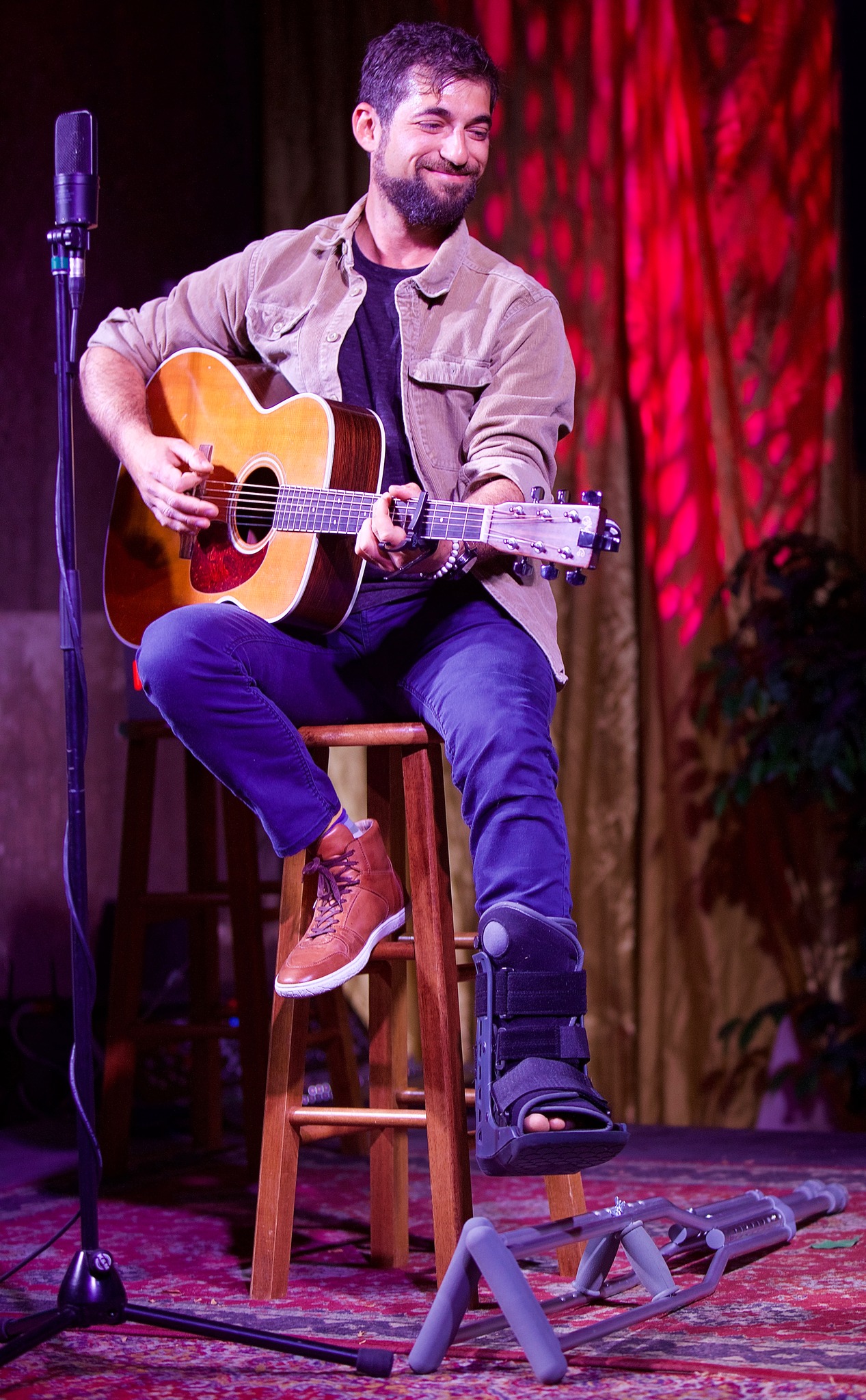 Preceding the final selection "On The Road", Max discussed this one as being a recent revival from his past and gave a little history, "Long, long, long ago, I played in a rock band and we toured all over the United States in a diesel van converted to run on vegetable oil and this is a song from back then". With wistful instrumentation and linguistic flashes of travel, this final selection closed out the set on a high note, showing once again the quality of this songwriter.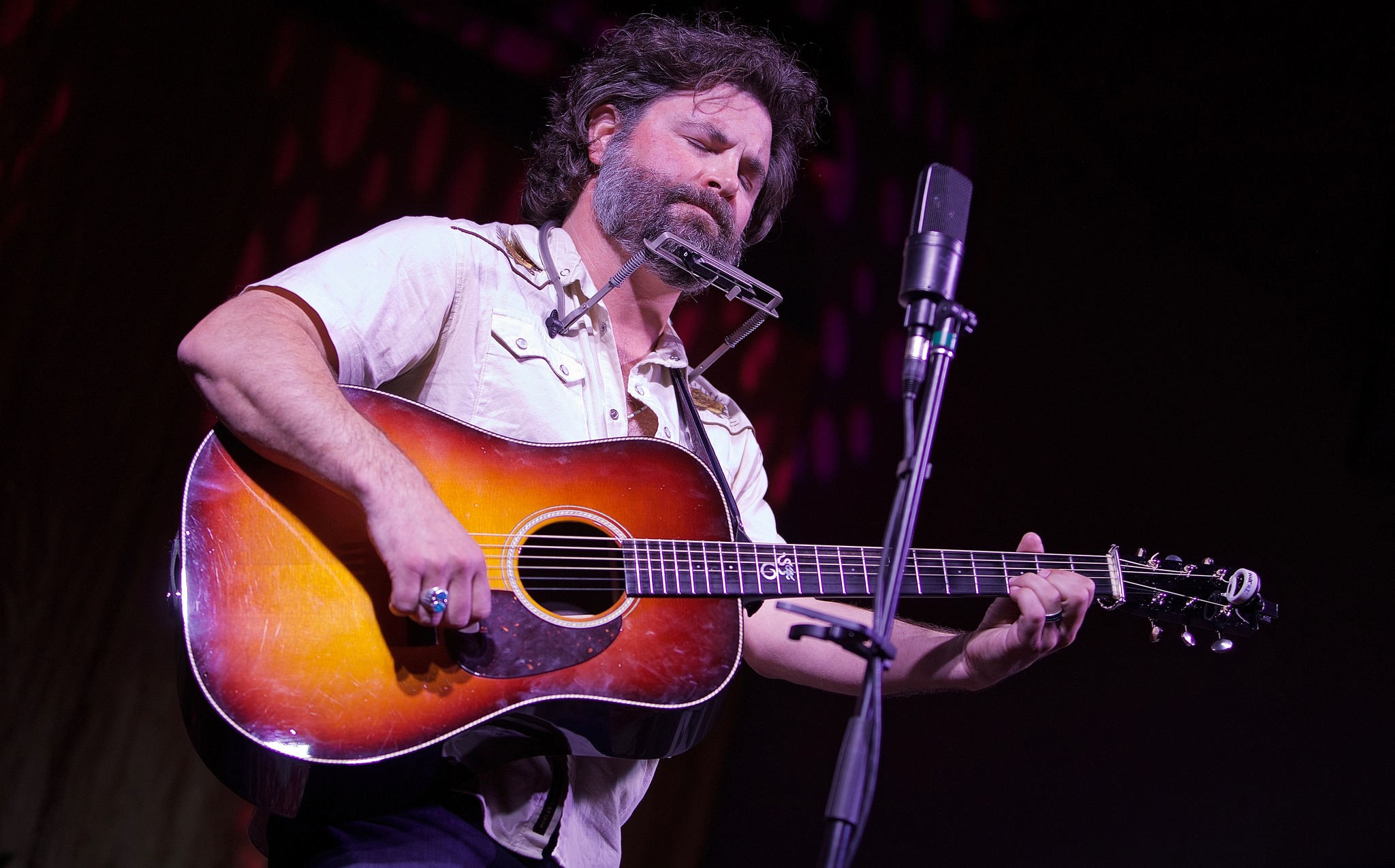 For act three of the showcase, Master of Ceremonies Andrew McConathy was up next. Following the standard five-minute break, Andrew took time to once again recognize Wibby Brewing proprietors Robin and Ryan "for giving me this platform to bring you guys this kind of entertainment here in Longmont. We have such a great lineup. Really fortunate to have such incredible musicians here locally." Matt also paused to spotlight Andrew, the man behind the sound who made the listening room resonate clean and clear throughout the night.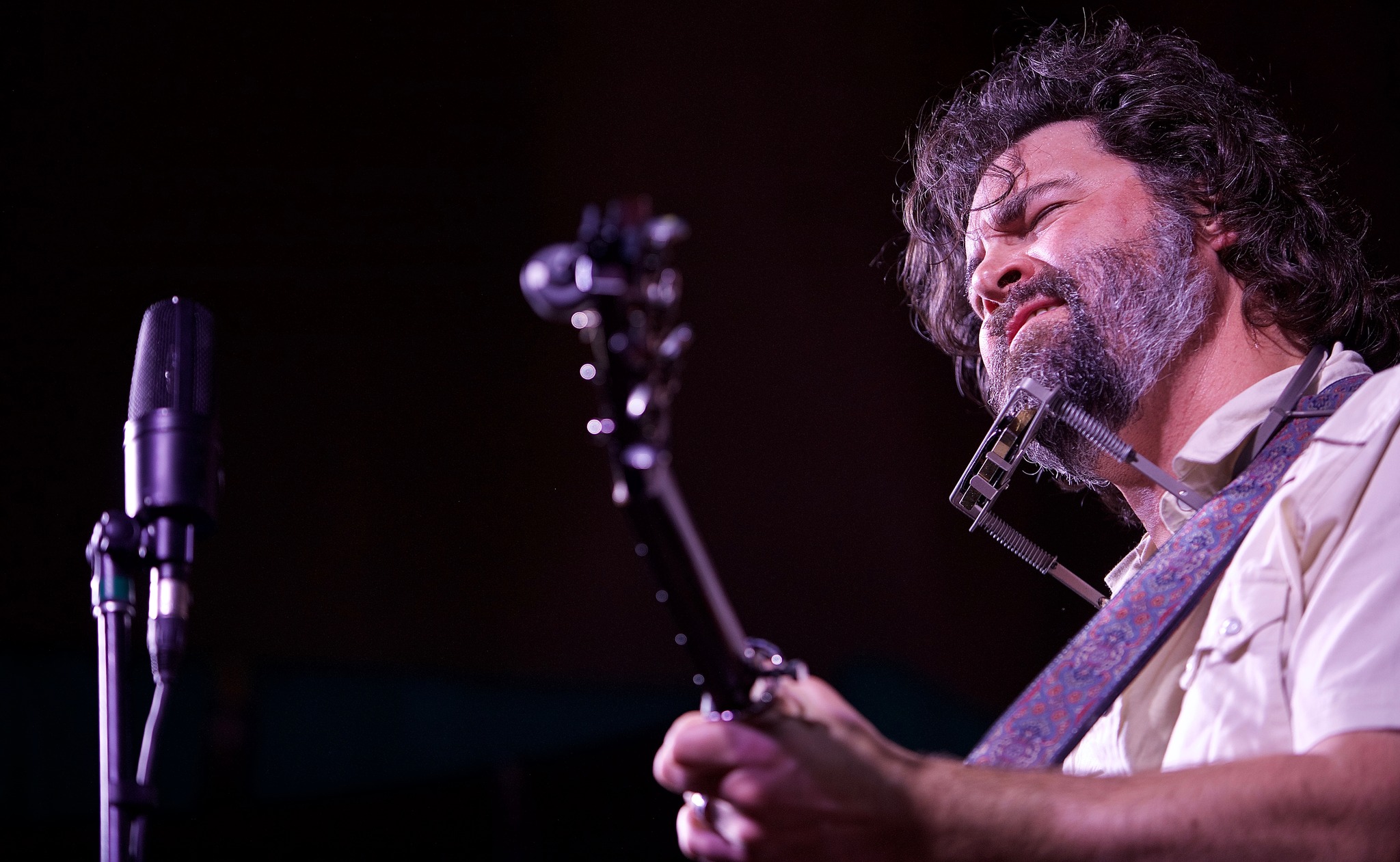 Andrew moved onto business and introduced his set as being pulled from the new Drunken Hearts' album Reckless Ways of Living. With a release date of June 2nd and touting an incredible addition of guest performers, including Lindsay Lou, Vince and Silas Herman, Kyle Tuttle, and Jason Carter, this aspect had those familiar with his work even more excited to hear these pieces of new music.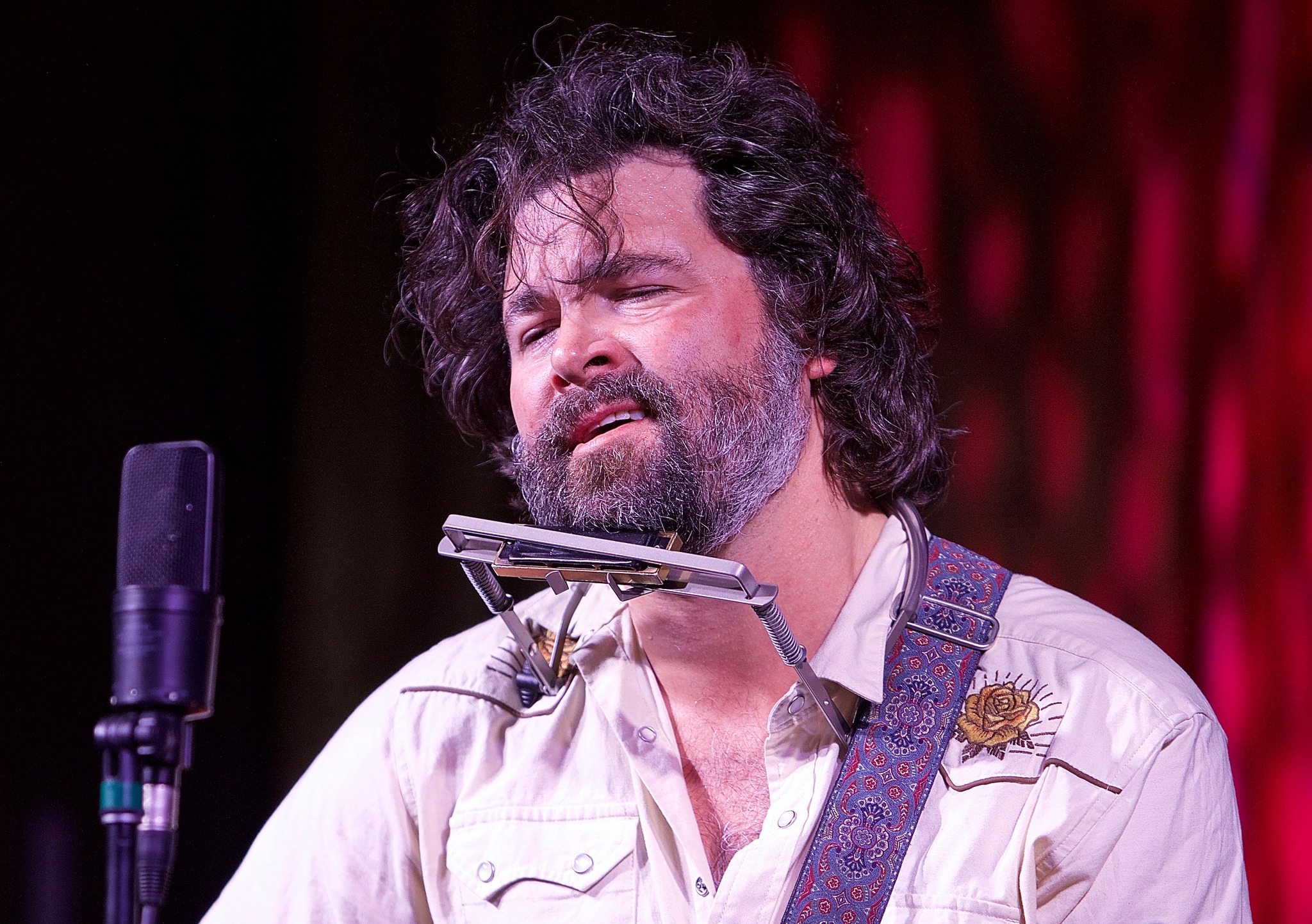 Working the harmonica in perfect time to the guitar, "Fall From Grace" took slot one and grabbed everyone from the start. Andrew belted this one out, often with eyes closed, deep in the lyrics, describing the meteoric passion of youth that eventually transitioned into a connection lost to time.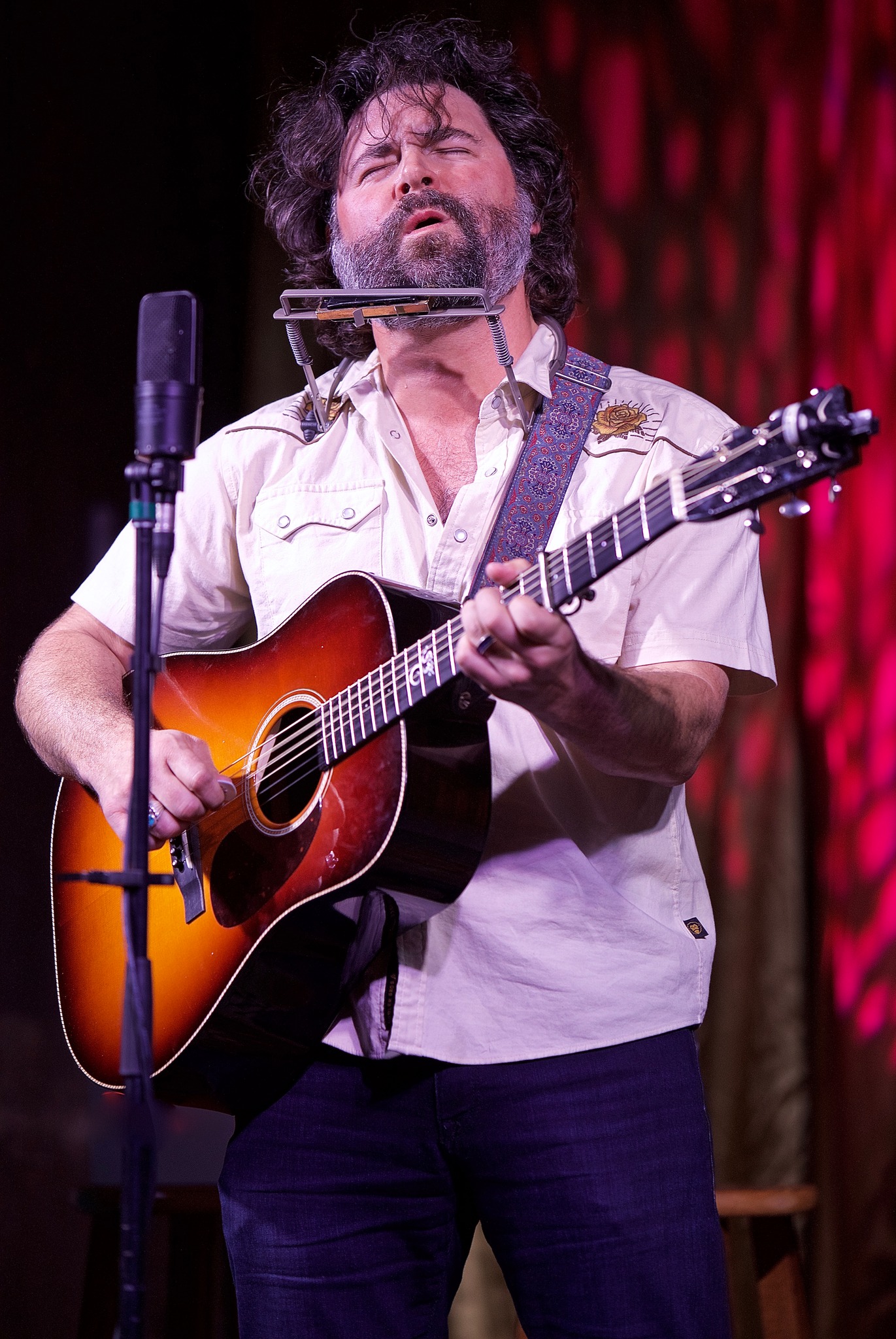 Under resounding applause, the author went on to describe the process of creating the new album with songwriter Dave Pahanish out of Nashville over a matter of two months, "Falling Stars" being the first piece the duo penned and formed, laying the foundation for the latest recording. Filled with heartbreak, revitalization, and perspective, this transitory tale was moving and left the audience calling out for more. Admitting that these choices had never been played live before, "Eventually" continued Andrew's run of high-caliber constructs. This one started tranquil and serene but hit a quick tempo at the midpoint and excited the room with a rousing but short finish.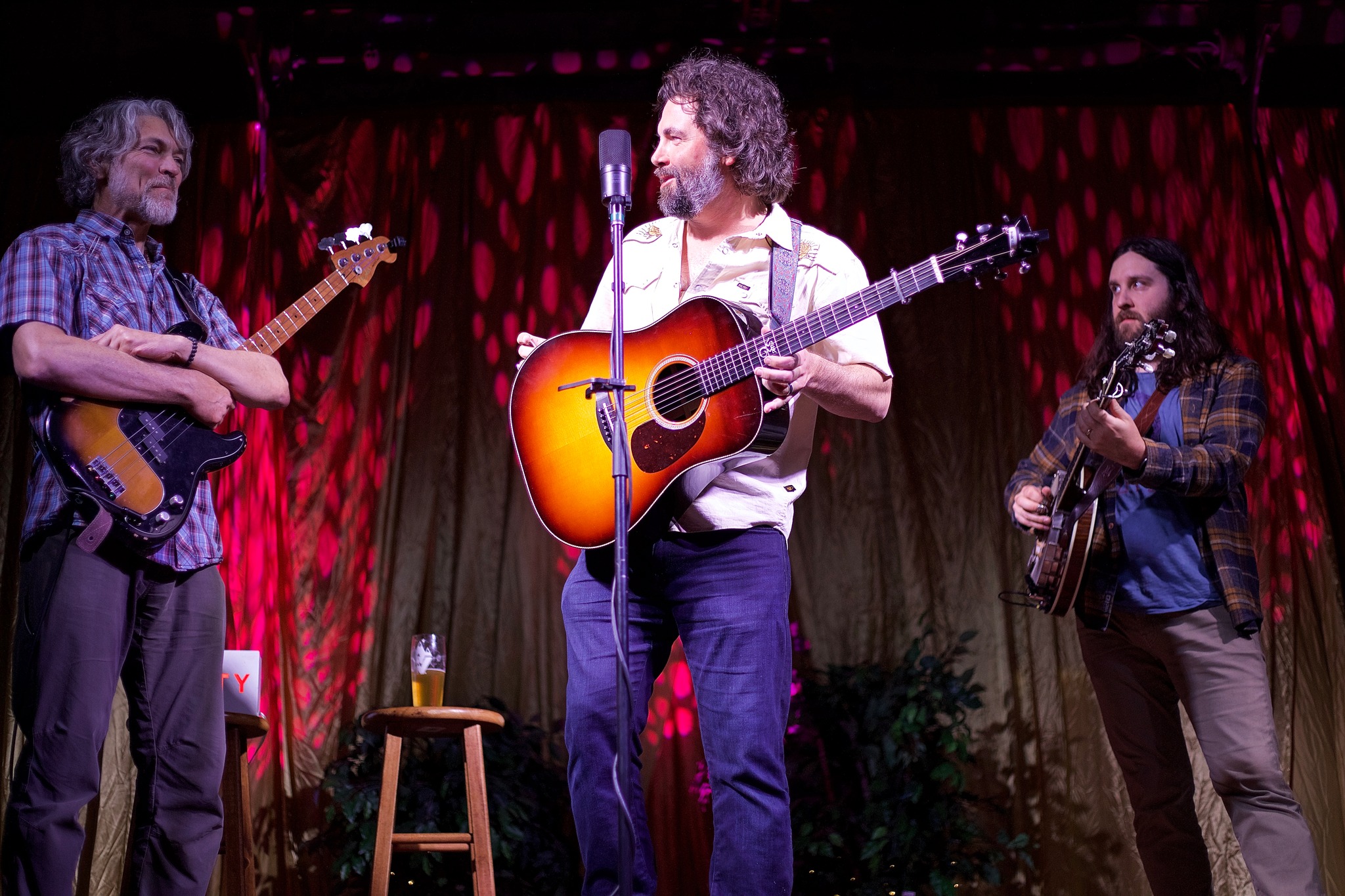 Welcoming "some friends" to the stage, Keith Moseley and Billy Failing walked on under an audibly embracing room. As "Eventually" had been introduced as the last track on the new record, in perfect juxtaposition, the next piece, "Never Say Goodbye", co-written with Keith, was noted by the writers as the opener of the album.
With everyone thus far having had the opportunity to participate in the interview process, there was no reason why the evening's leader shouldn't do the same. Keith promptly stepped to the mic:
Keith: Interview time?
Andrew: Oh yeah, someone has to interview me.
Keith: So how did you first get into music, Andrew?
Andrew: Oh wow, now that is a loaded question and Keith knows the answer to that question. Well, let's see. It's a long story, but it goes all the way back to a seventeen-year-old lad just kinda looking for inspiration in the world. Got expelled from high school, different story, we're not going to get into that. I went on a backpacking trip called the National Outdoor Leadership School, NOLS, I had been expelled from high school and I was doing some soul searching and some…..bastard gave me a cassette of a String Cheese Incident, on cassette, and I would say the rest is history. Some 200 shows later….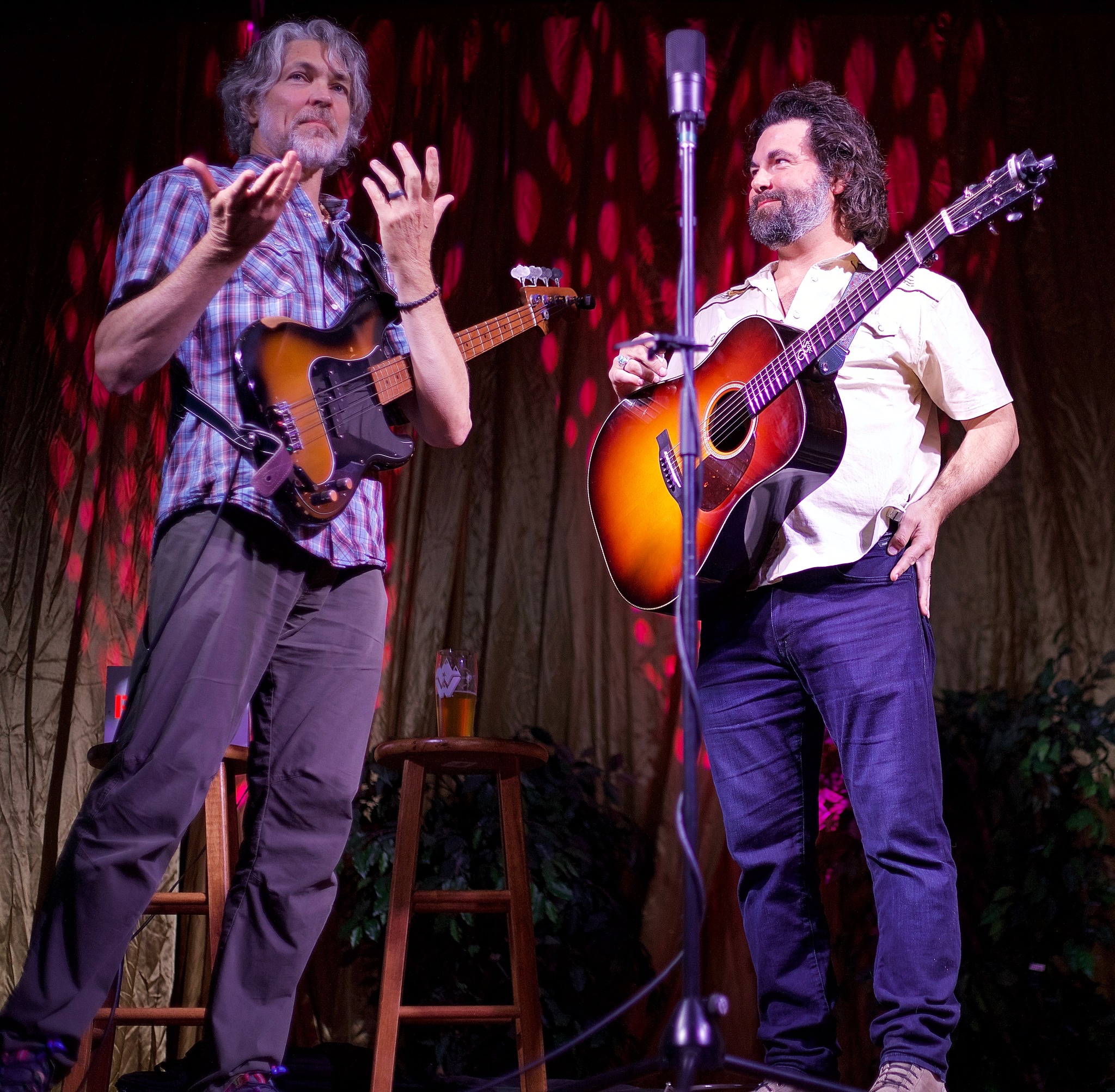 Keith: That's awesome. Real quick, this is such a funny story. I met Andrew's mom by chance on an airplane….
Andrew: I wish he was joking but he's not.
Keith: Many years ago, I can't remember when you said you were nineteen maybe. String Cheese was doing a show somewhere…
Andrew: Langerado.
Keith: (smiling) He knows. I was on this flight and I sat down and this woman sat down next to me and somehow, we started talking about horses. Maybe she was looking at something, I can't remember. I said, 'oh yeah, my wife has horses', and she said 'oh yeah I have horses too' and we chatted and chatted. What do you do? I say, 'I am in a band and I'm going out to play this festival.' Oh yeah, my son loves music, what band are you in? Oh, String Cheese Incident. And she was like 'ohhhh my god" well my son…
Andrew: No, she was like F*#k you. She didn't say that, but that's what she was thinking.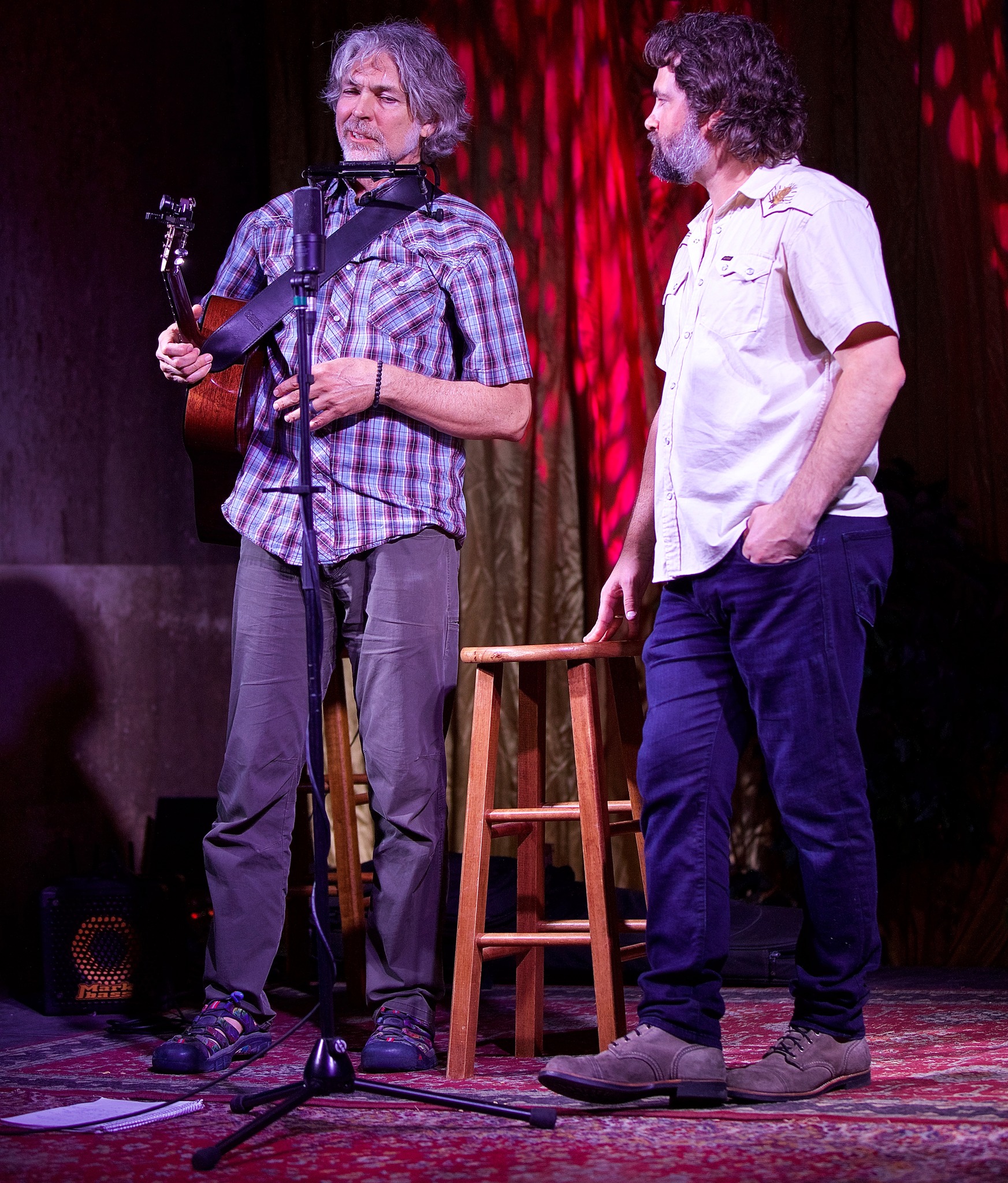 Keith: So anyway, here we are together, making music all these years later.
Andrew: It is such an honor to have written this song with Keith. Love you, man.
Keith: It's a great song. You did a great job.
Andrew: My mom loves this one!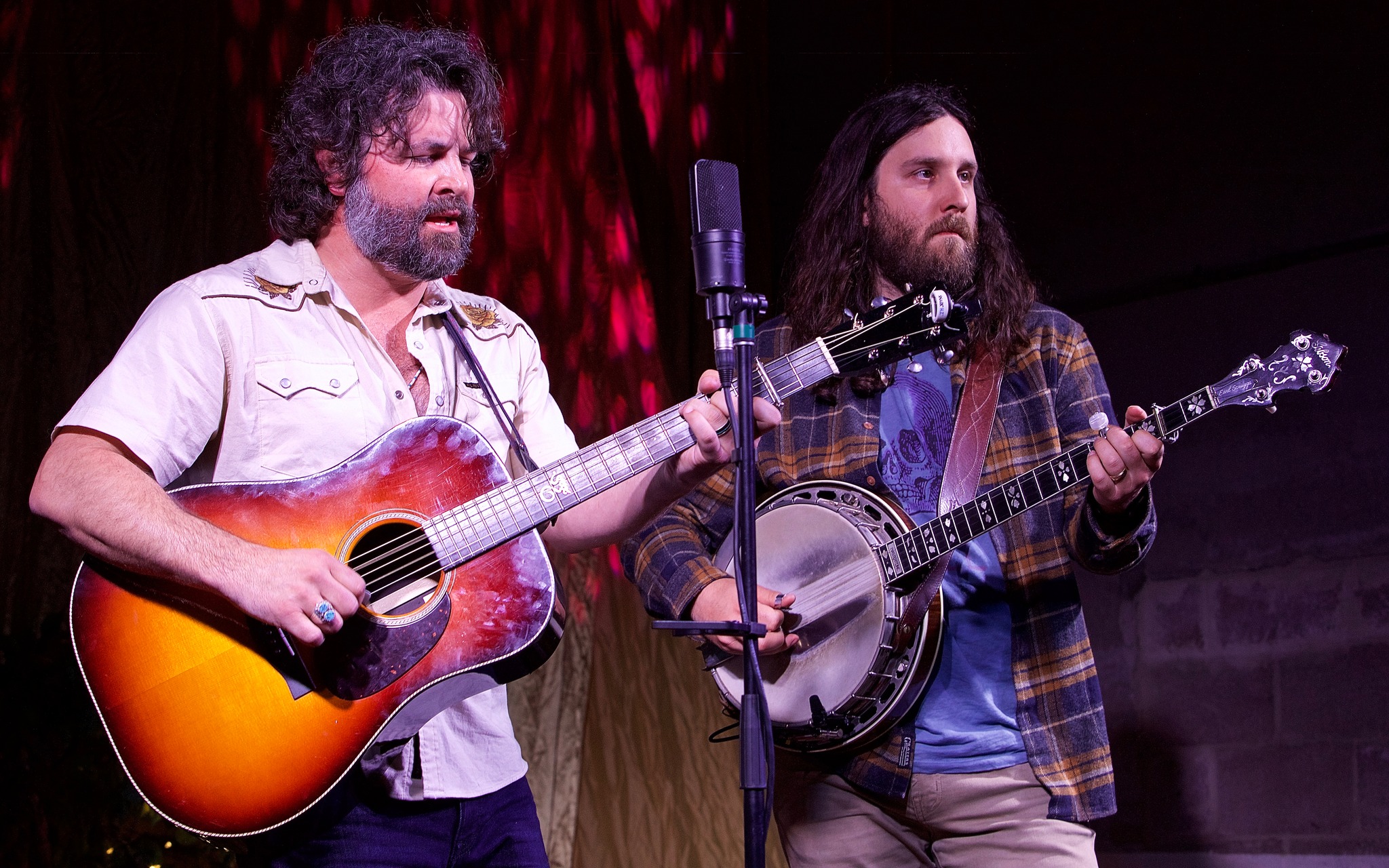 With a room full of laughter and a stage full of smiles the trio got rolling into "Never Say Goodbye". Bubbling over with warm feelings and romantic positivity, the rendition's affectionate bass line and bright banjo fills brought together Andrew's gruff vocal direction and raw guitar that had the crowd feeling the piece so much more than just hearing it, adding a few tears to the applause at its conclusion.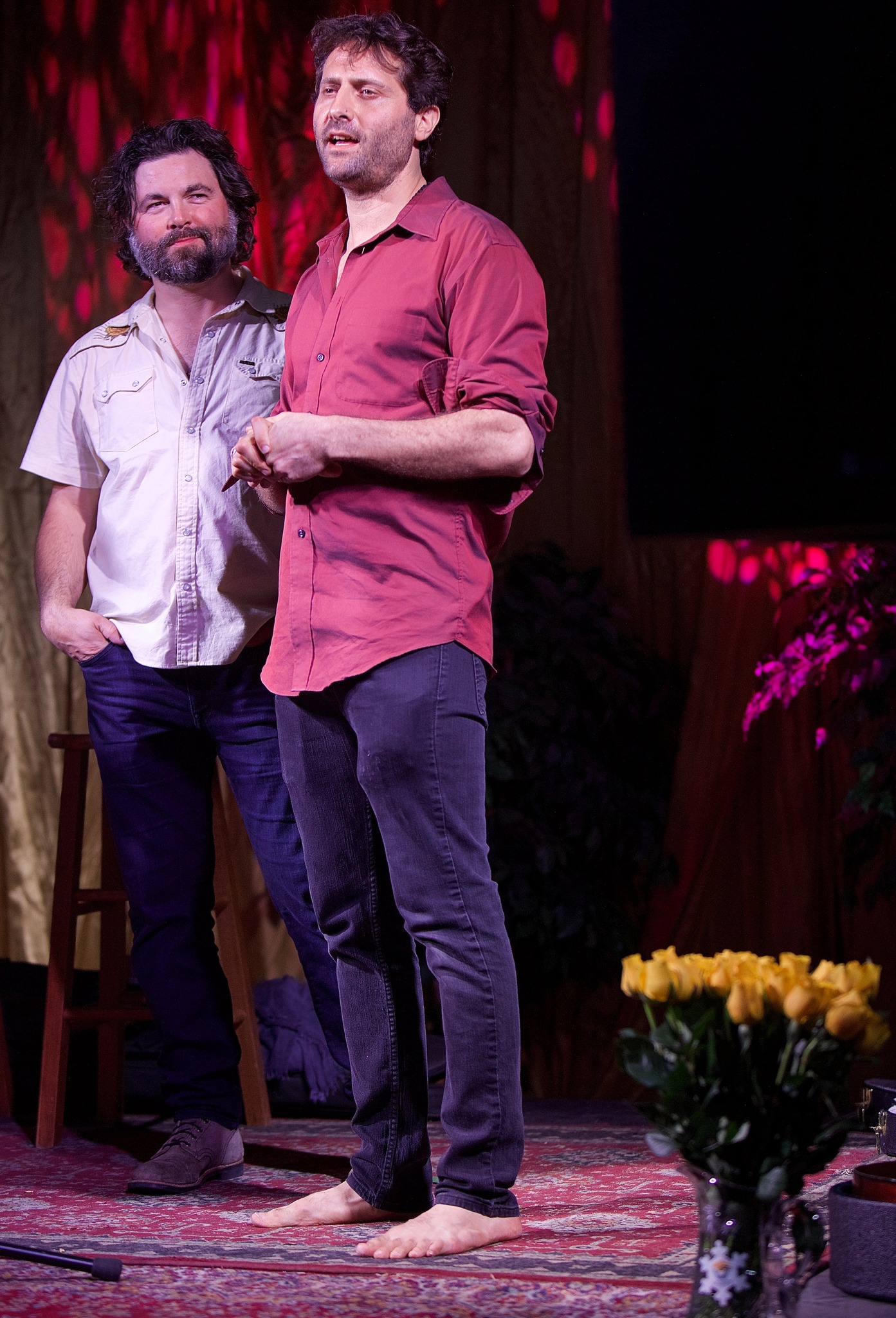 Everyone viscerally moved, the room took five to converse and replenish while the "PARTY" light was off before settling in for Dango Rose and Friends. At the return, Andrew prefaced the next frame as "a very special set by two very old friends of mine." Expanding on this opening remark, Andrew added to the narrative, illuminating the crowd to the fact that Dango had actually contributed to his first studio album and that this primary production had, in part, been put together at Evan Reeves' place, the same stringed gentleman standing across from Dango on this very night.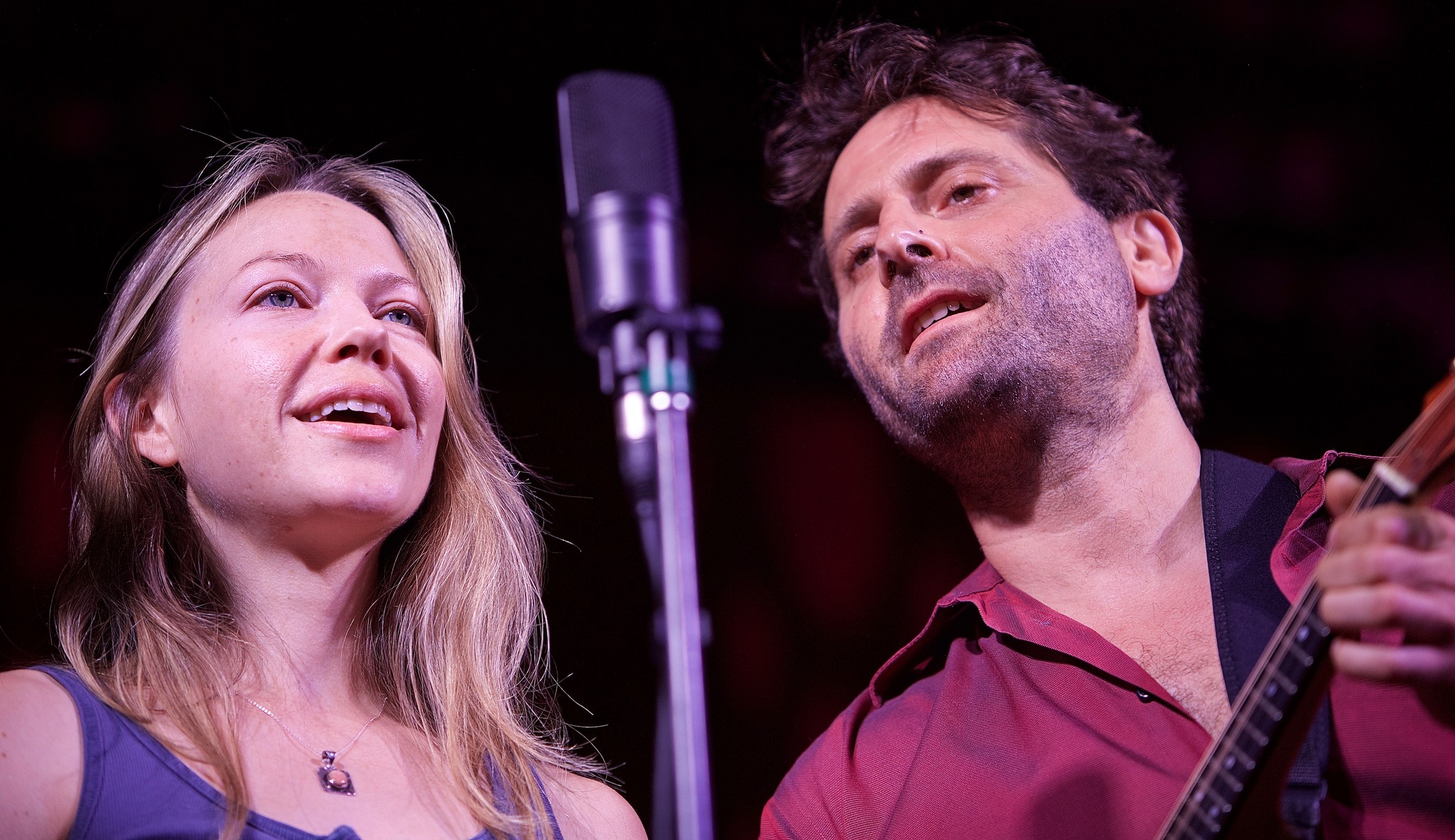 Before getting to it, Dango took a moment to introduce the final third of the trio in "the lovely Stephanie McMillan". "Running Scared" opened the set without introduction, the trio sharing a story of life's opportunity squandered in the shadow of fret and indecision. Evan and Dango chopping out the rhythm while the mando man handled double duty, bridging the instrumentation and vocal component being shared with the soft caress of Stephanie's angelic whisper. The emotion of this piece swelled and retreated and finally ended into dangling statement and silence.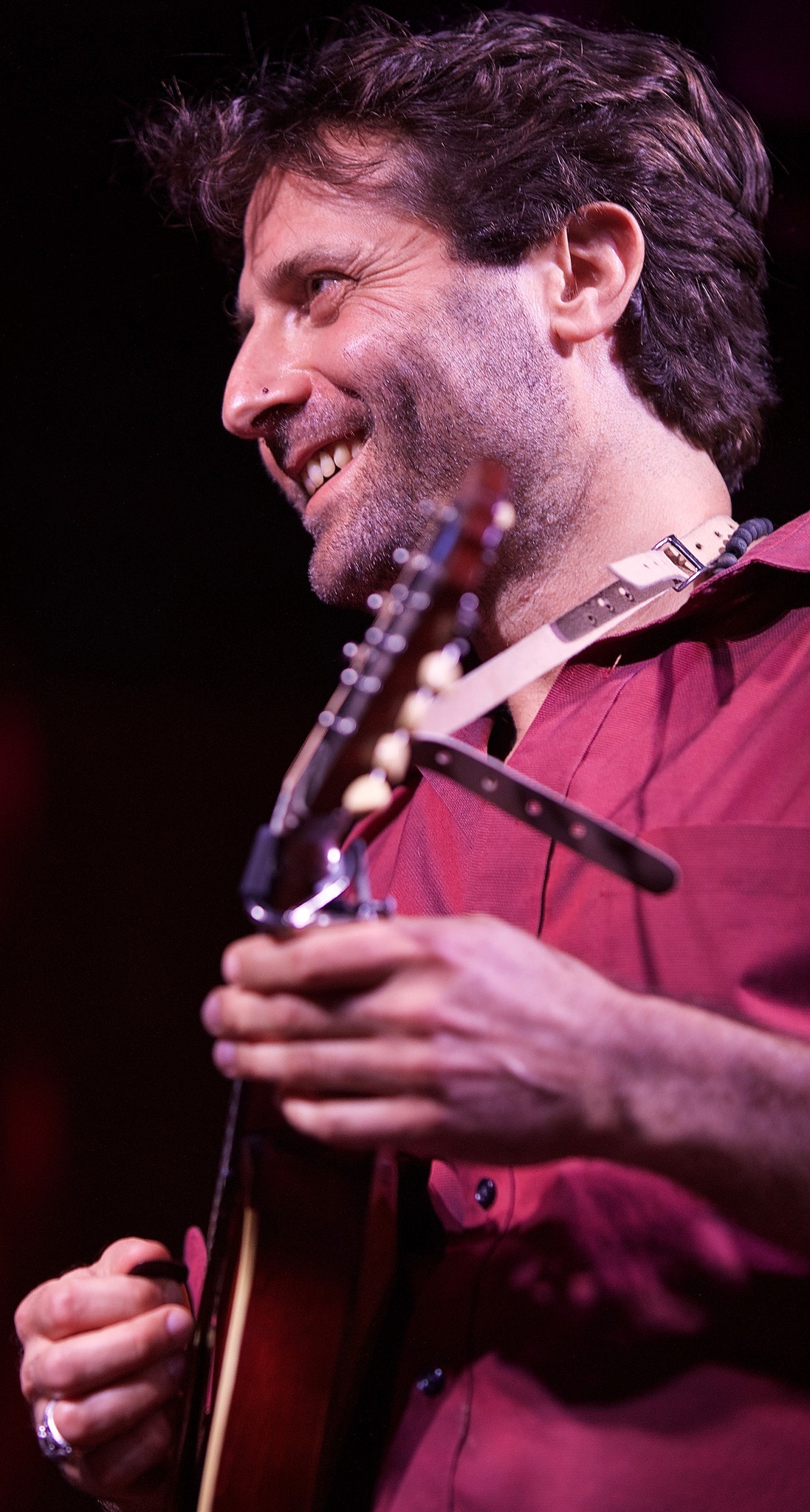 Addressing the crowd with his perspective on the next determination and its context within the interpretation of language, Dango opened up: "Songwriting can be such a mystery and I love that this is the Lagers and Lyrics series because this next song is probably about three or four different things with a lot of different metaphors that come together to make sense…. in my head….and MAYBE that works. It's called 'Shadow of the Horse'". With a Celtic body filled with conflicted imagery of love and war and sung with a ghostly character, this one had the crowd listening intently, striving for their own interpretation of the writer's preemptive definer laid over the lyrics in search of both their own as well as the author's meanings.
As the room's appreciation faded into a patient pause, Andrew made use of the space between to get in some questions: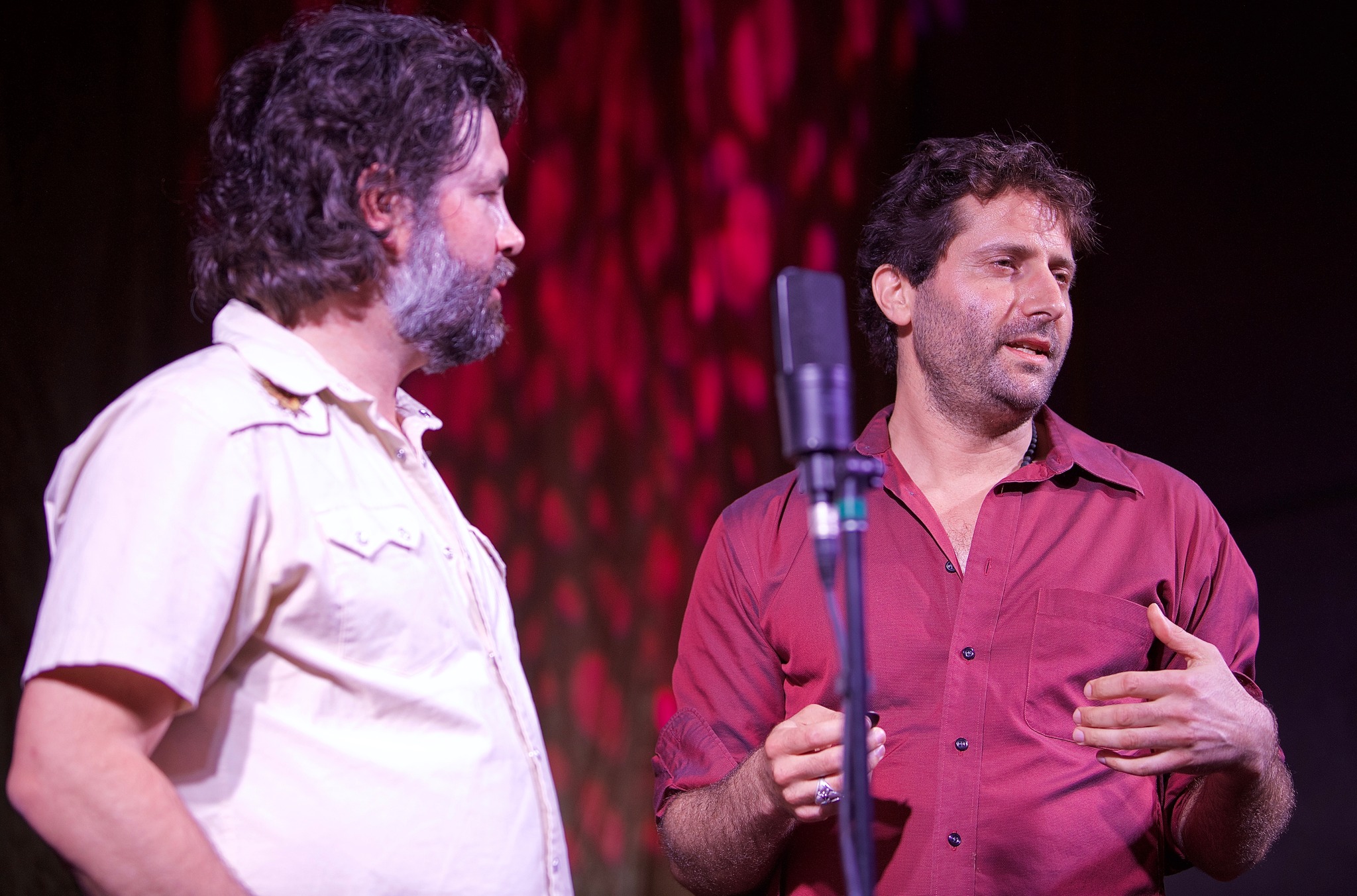 Andrew: So Dango, are these new songs? Tell us about these songs.
Dango: They're the kind of songs that have been in the mix of being new just 'cause they haven't been played much so they were started maybe five years ago but then nuanced over time. So between 2018 and 2023, I would say a lot of these songs tonight in this collection have come to fruition, and uh…I suppose I take the Leonard Cohen's approach to songwriting where it might take a decade, it might take a week.
Andrew: On that note, what is your songwriting process? Do you wake up on a Sunday and….what do you do? How does it work for you?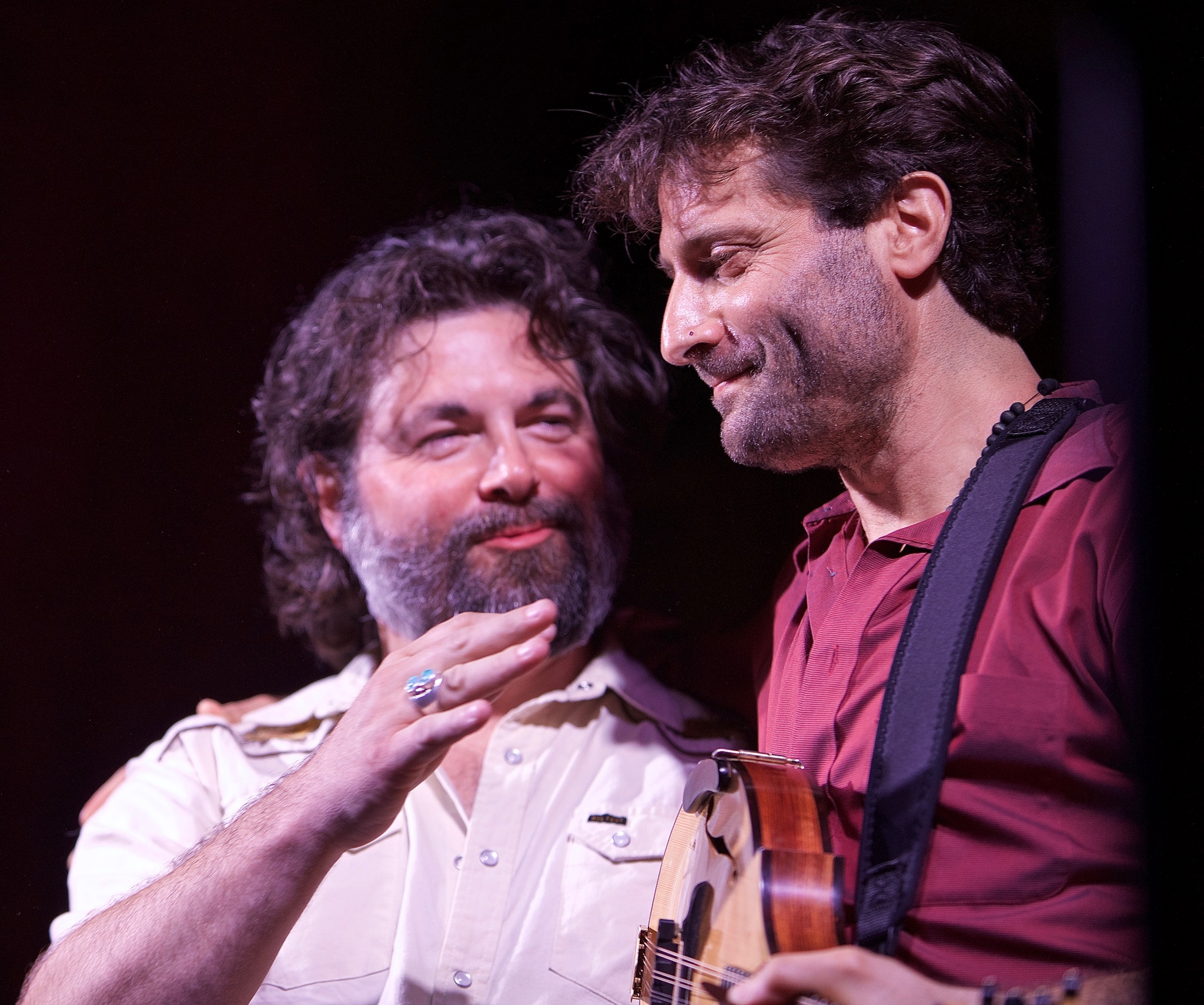 Dango: It changes. That's for sure. It's not constant, but the only constant is showing up and approaching it as if it's a craft, like a woodworker will show up at the table to work on a project each day. The times in my life where I have been writing consistently are the times in my life where I have blocked out the time to show up at the table and work on the craft.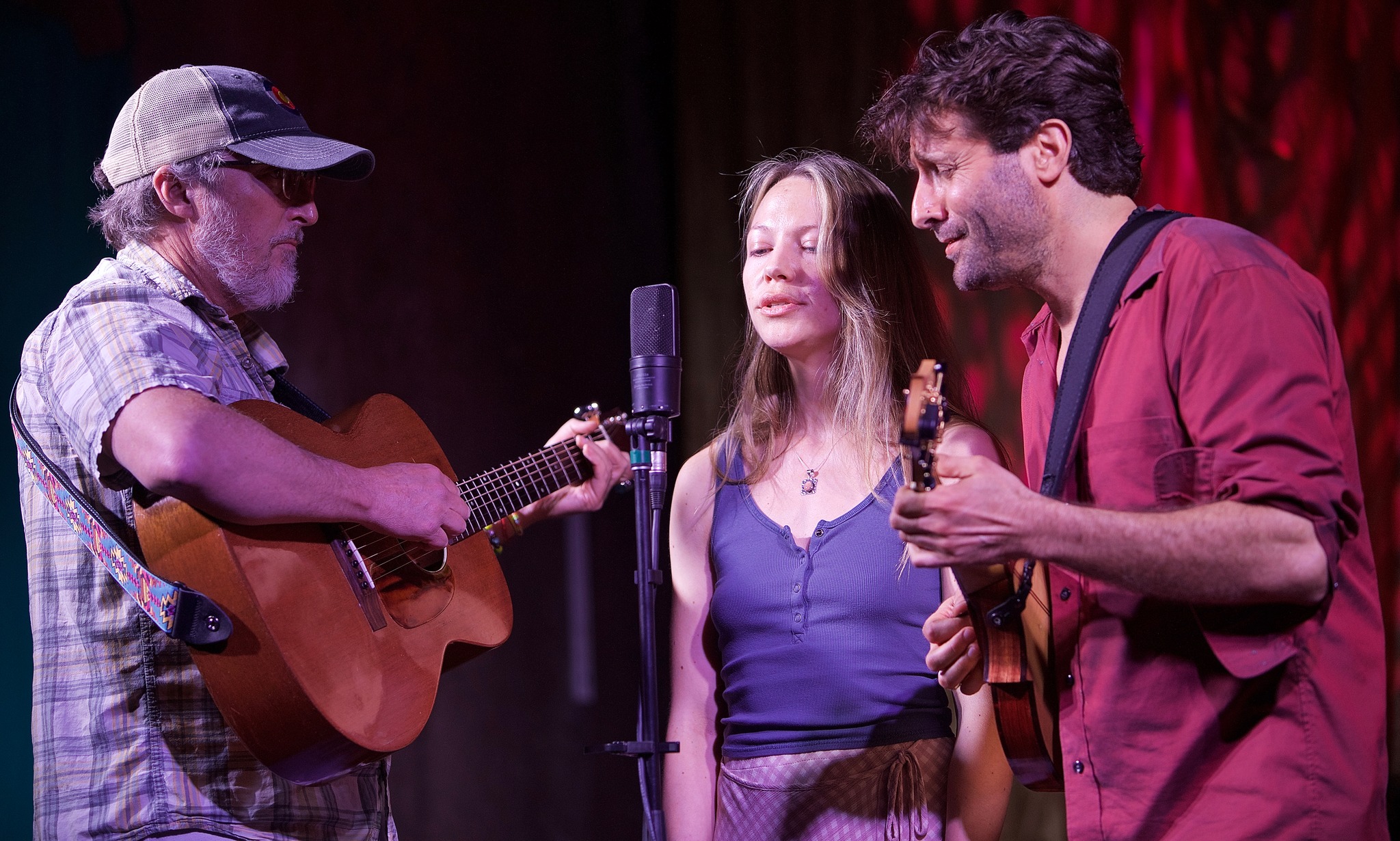 After outwardly recognizing to the room how much of an honor it was to be a part of this showcase, Dango led the trio through the soul-soothing "The Pendulum Swings". Pulsating and reverberating from start to finish, this one wrapped the room in a comforting blanket of melody meter.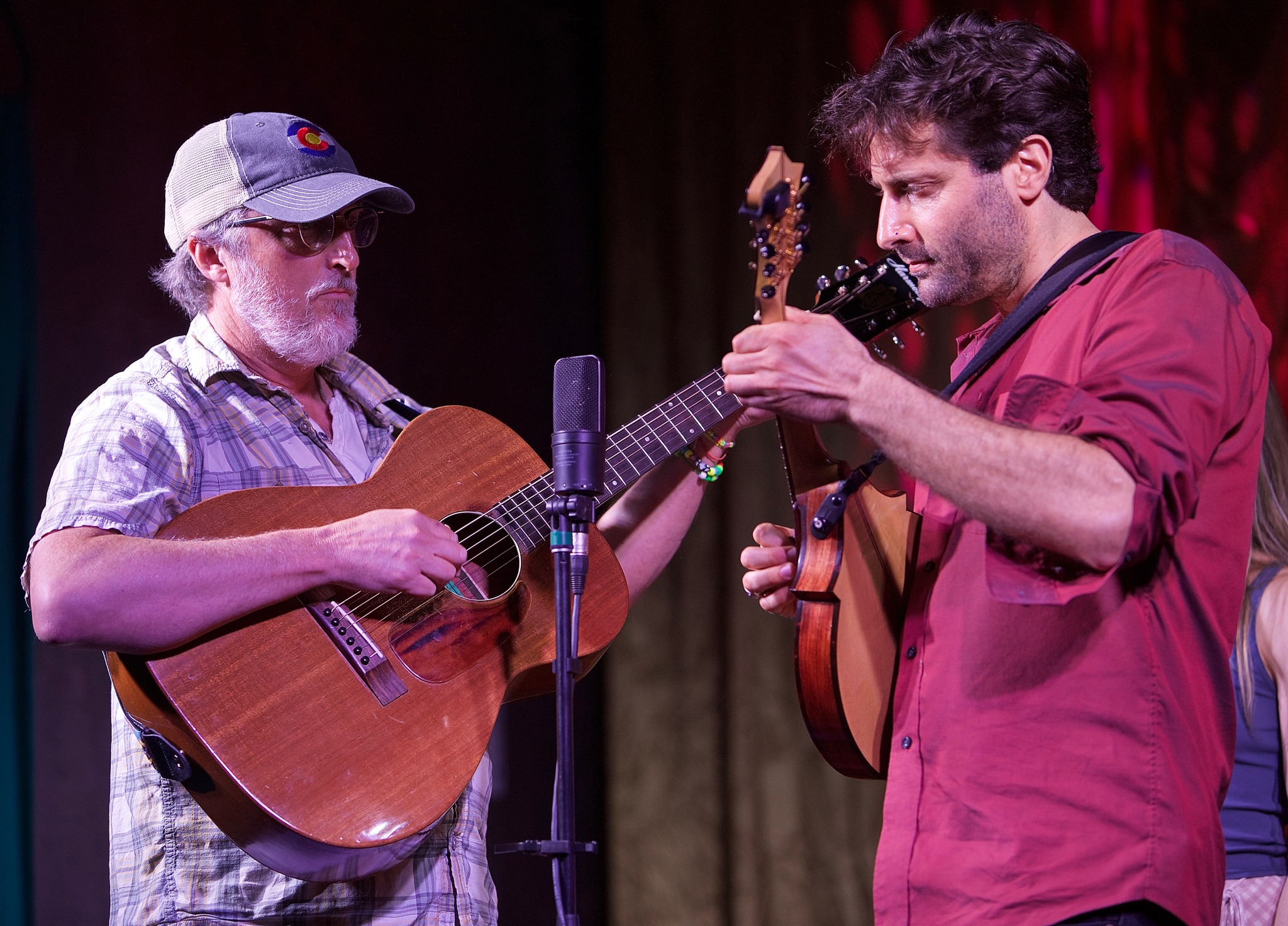 Looking out for his brother-in-arms, Dango took a moment to identify Evan as "a bonafide Boston Celtics fan" and called on the audience to give an update on the Celtics' playoff game. A fan in the front row chimed in "59-55 Celtics", bringing a smile to Evan's face, inciting Dango to run a scale of jubilant notes in celebration.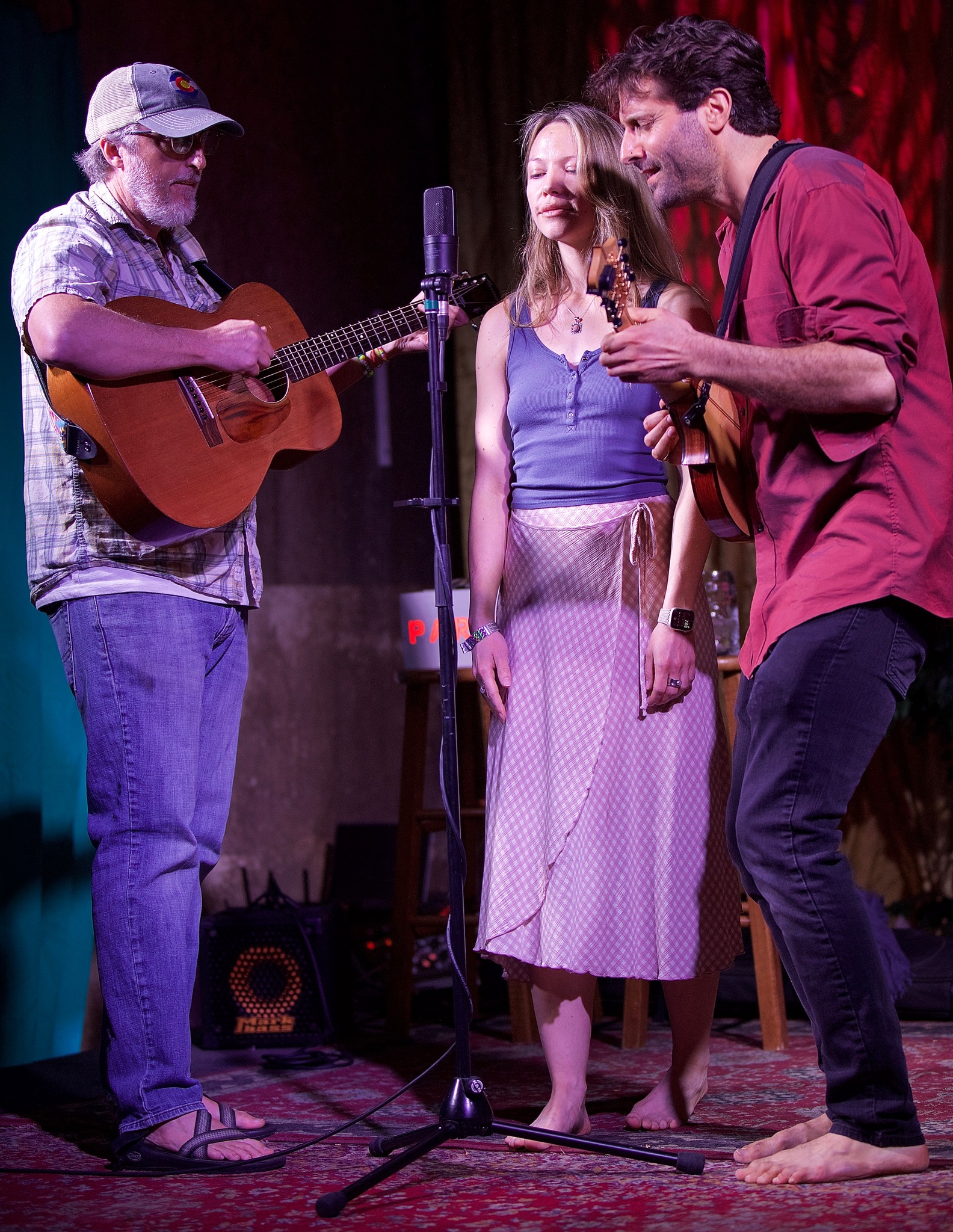 As any tale of loss at the hand of others has the potential to darken the soul and further spawn anger and suffering, Dango preceded his next inspiration with a personal tale of his own meeting with this life situation. His choice, rather than cast down those who had violated him deeply without knowing it, was to seek compassion and empathy, opting to create rather than react, and from it something beautiful grew: "Bleeding Heart". This punchy closer was the perfect ending to a thought-provoking and soul-stirring set and made this listener intent on seeking more Rose(s) along my personal path to understanding. Throughout the set, the supportive voice of Stephanie McMillan was a beautiful balance to Dango's and the steadfast delivery of Evan Reeves closed the circle of creative trinity the audience was blessed with.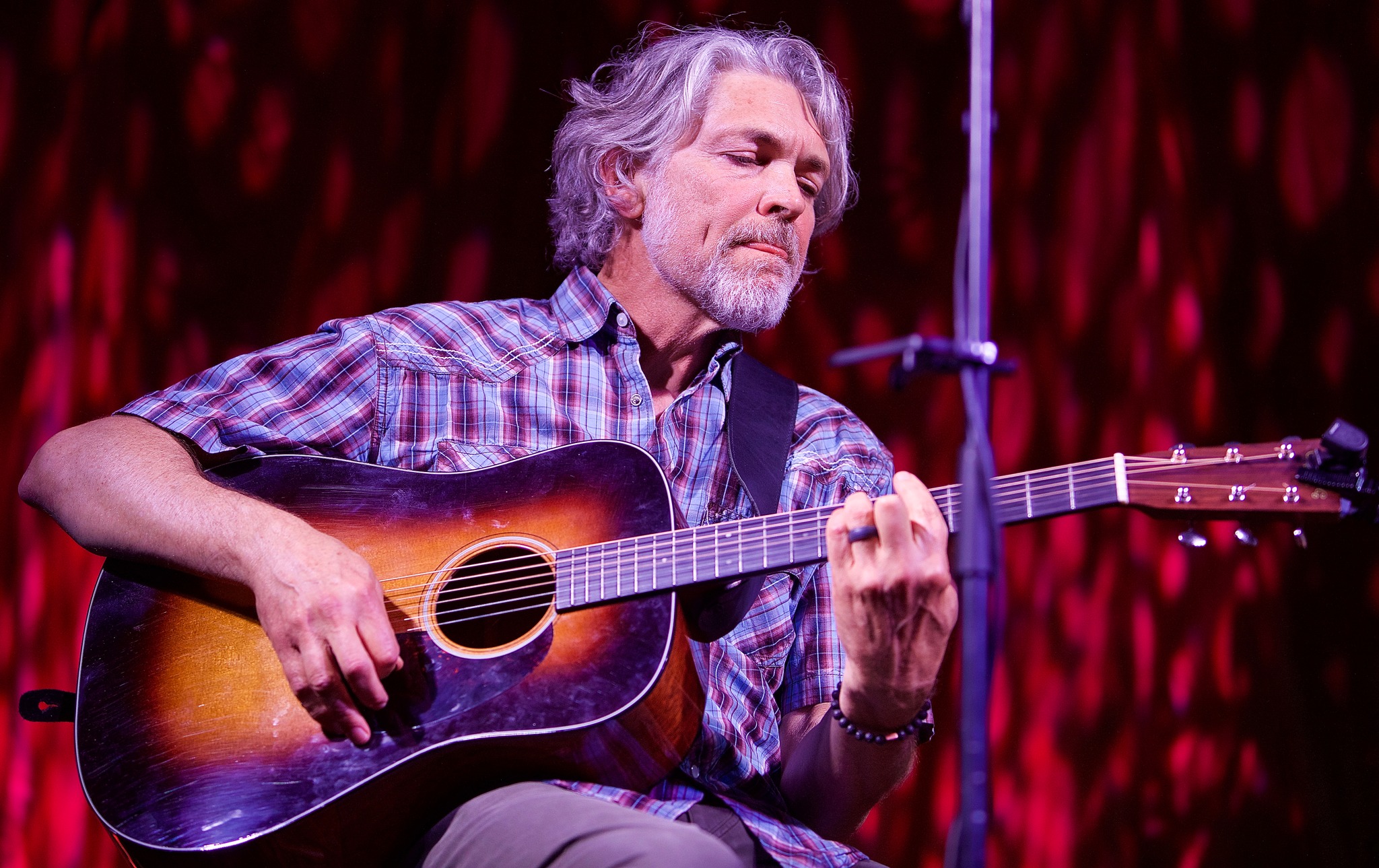 As many know, Keith Moseley is the bassist for the successful Colorado-born The String Cheese Incident and since the band's start, that is the role he has filled. But prior to his low-end placement on their infinite tour of positive vibes and psychedelia, Keith's first love was the guitar and in fact, when he initially entertained the idea of joining the band, his desire lay in playing guitar. The band and the fates, in light of there already being two guitarists at the front, had another plan and since those early days some thirty years ago, his foundational role has been locked in within the group. Knowing this dynamic of his career, I asked Keith before his set when was the last time he had performed before a public audience on guitar, to which he stated after a long pause, "Maybe never or at least so long ago, I can't remember when". This answer made him laugh with confidence, Keith consistently carries that "happy to see what happens" attitude with him wherever he goes.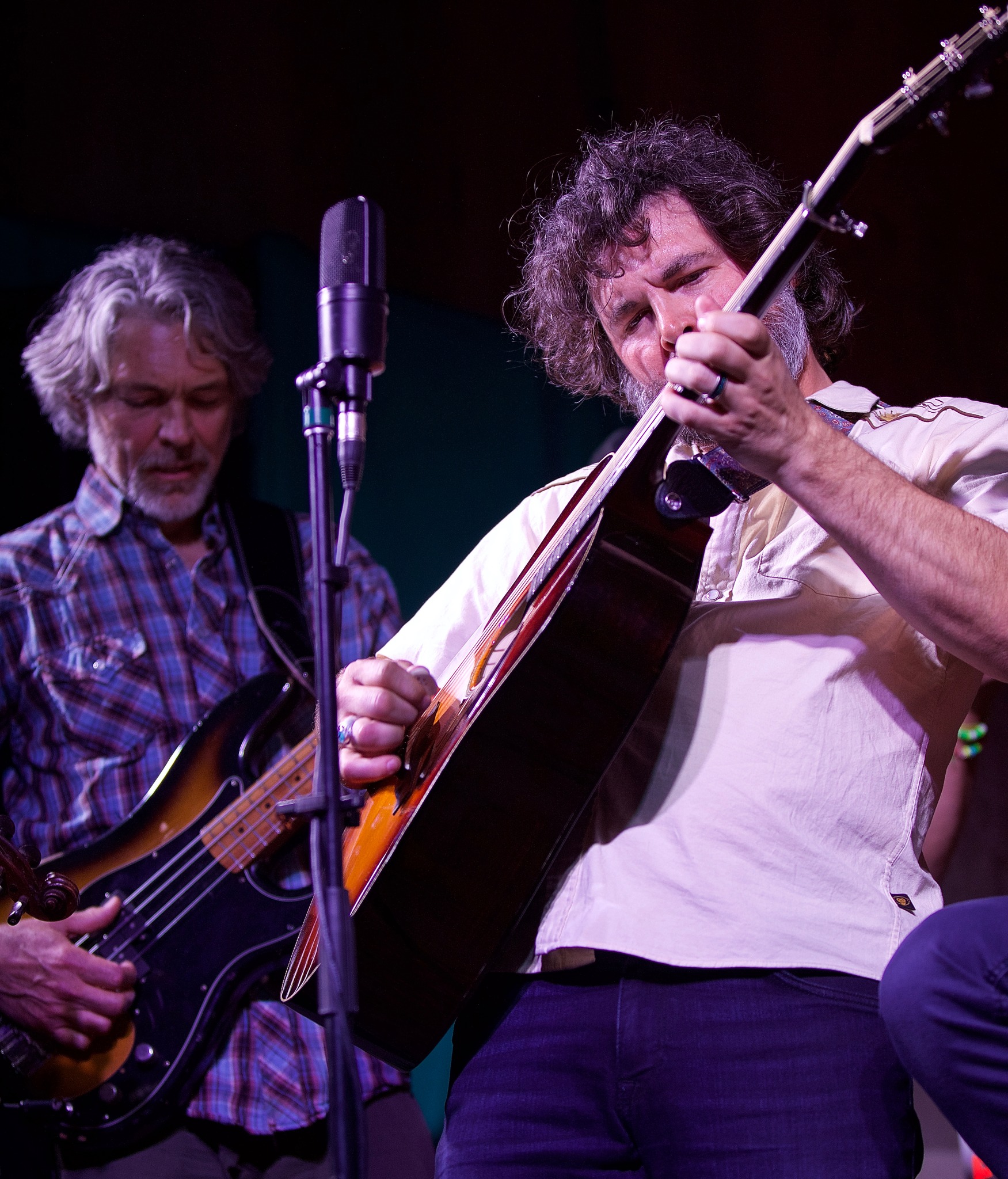 By the time Keith and Andrew took up their positions for the next installment, the room had completely filled out, partly because of the talent and partly because of the spring storm having settled over Longmont. Andrew, full of grins and emotion, gave an appropriate introduction to one of the most anticipated people of the night: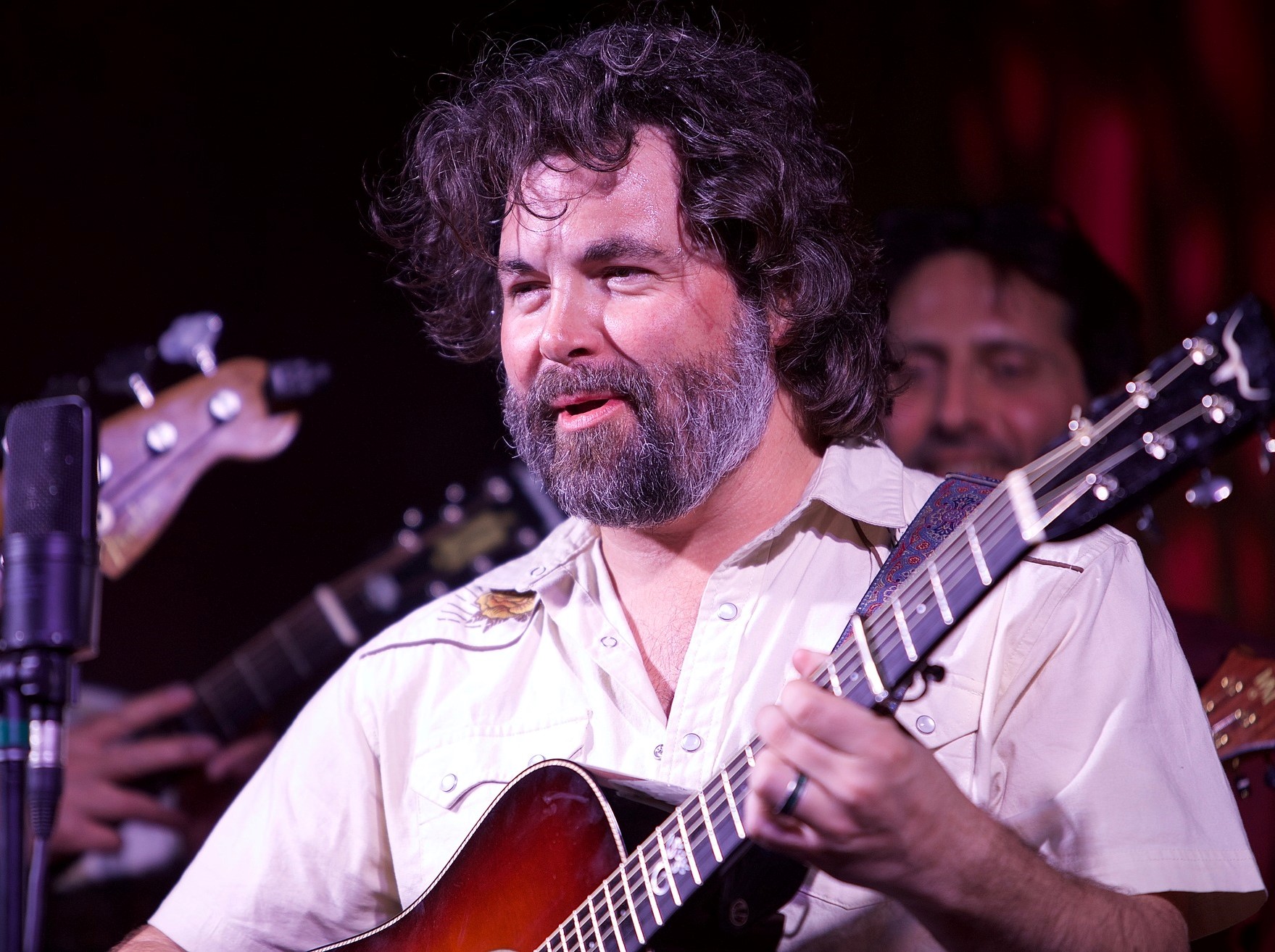 "I have to say that this is quite an honor. It is rare to be able to introduce someone that has played such a big impact in my life. I can honestly say that this gentleman standing to my right is not only a friend but a hero of mine. Without him, I would not be standing here talking to you all right now. That is a fact. My dear friend, Keith Moseley, founding member of The String Cheese Incident.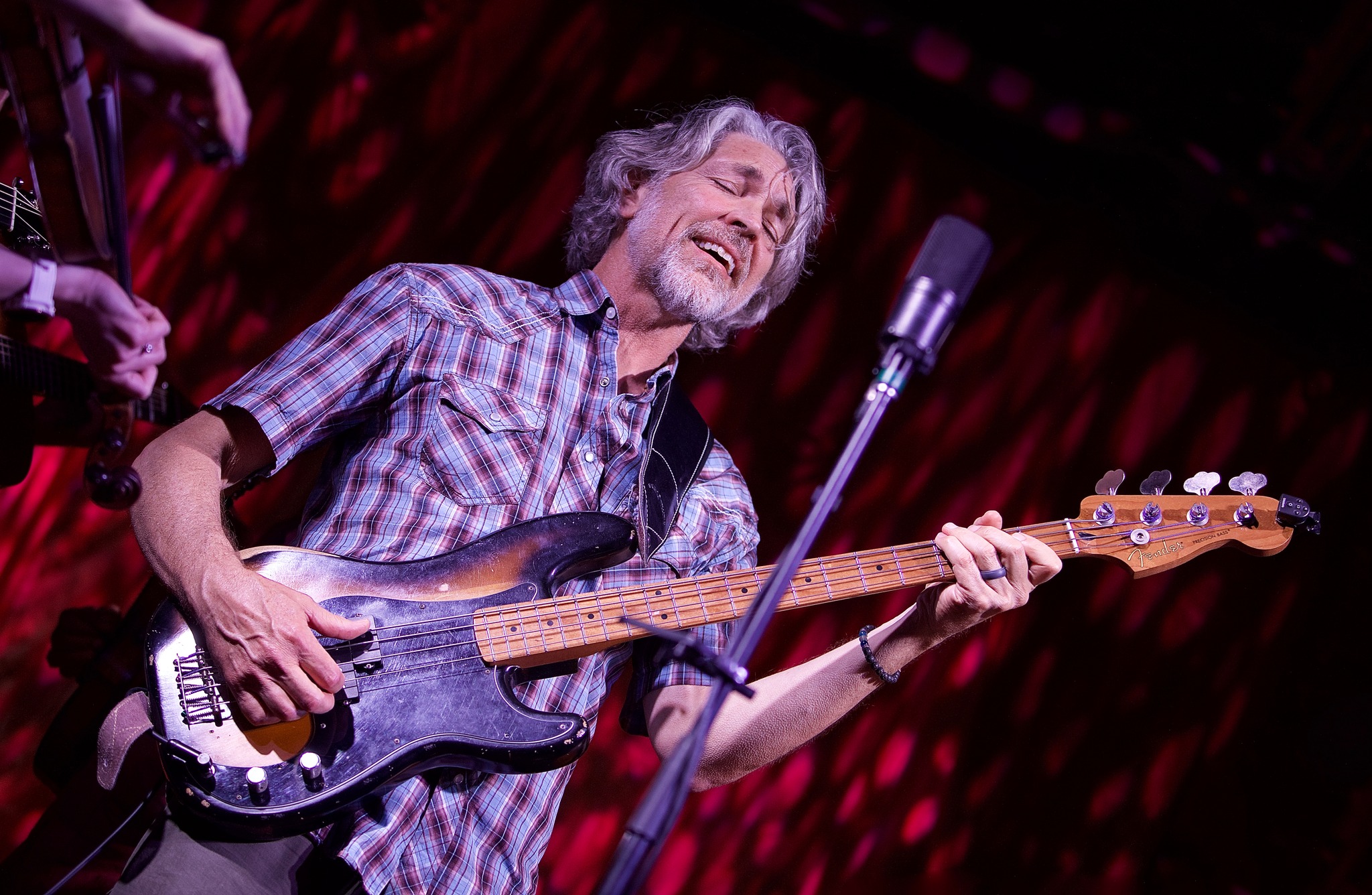 Humbled and outwardly moved by the introduction, Keith thanked Andrew with a smile and an embrace. Keith continued, a bit nervous and giddy, "Andrew texted me and asked me if I wanted to do a songwriter thing and play some acoustic guitar and sing songs and I was like 'yeah, I think so….I never ever do that, but that sounds kind of cool'. Happy to be here and play the best I can through some of these tunes. Most of these songs I wrote on guitar, but again I never play them on guitar, I play them on bass with the band so this is a little new for me. If I mess up I might just stop and start over because it doesn't matter. I was going to start with the song called "Get Tight", inspired by my lovely wife Kristen. The first verse was written about a trip we took to Hawaii years ago with Uncle Kenny and their family and the next verse was about doing some camping here in Colorado and stuff like that. Check it out and see if you hear anything that resonates with you." Pausing one more moment to get situated, Keith looked out from his stool at all the faces looking back, seeking some assurance, and stated, "Am I doing this right? Is this how this is supposed to go?", the audience responds by bursting at the seams with joy and a thrill for the uncertain captain, pushing Keith to set sail into his set with a wide smile. Moving through the first couple of stanzas, Keith hit the midsection and jokingly invites everyone "to imagine a ripping Kang solo here if you will", inspiring laughter. A few more measures and Keith is ready to return to the lyric portion and, as if some sort of cosmic joke was being played or the result of a self-fulfilling prophecy, he botches the return, and as promised earlier, he just stopped with a laugh and an eye roll as everyone emphatically cheered him on. With hearts smiling and momentary goosebumps spreading throughout the room, the main man kept it rolling, executing the ending without error. Laughing and tuning, Keith continued and comically made note of having nowhere to hide, "Yeah….. just me up here."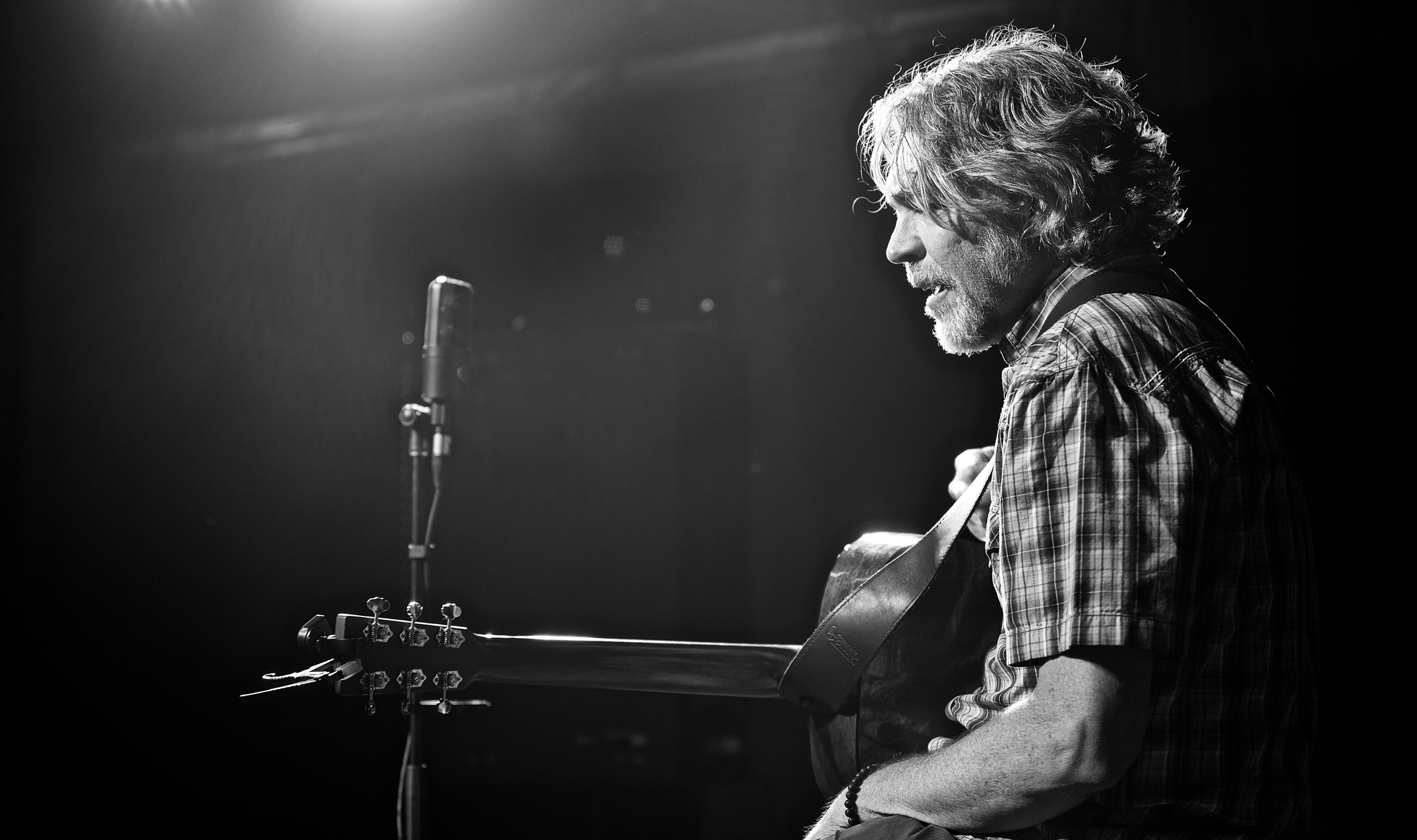 Hitting on the emotional note, Keith got into the next one as "one we hardly ever play anymore. This one was written for a friend, Sara Gewald. Some of you might remember this one. It's called 'Struggling Angel'". Not only is this one a rarity when it comes to the SCI setlists, but a tune like this is the kind that pulls at the heartstrings of the band's community and reflects that their roots run deep into the fanbase. Penned in 2012, this one was born out of the loss of a longtime friend and fan of the band who passed due to mental illness. Many members of the audience knew what tune Keith spoke of even before he named it, many friends in the chairs exhibiting a discernibly increased vigilance during this touching ballad of struggle and emancipation. Employing the harmonica on this, Keith was noticeably moved at its conclusion, the audience sharing in the reverence.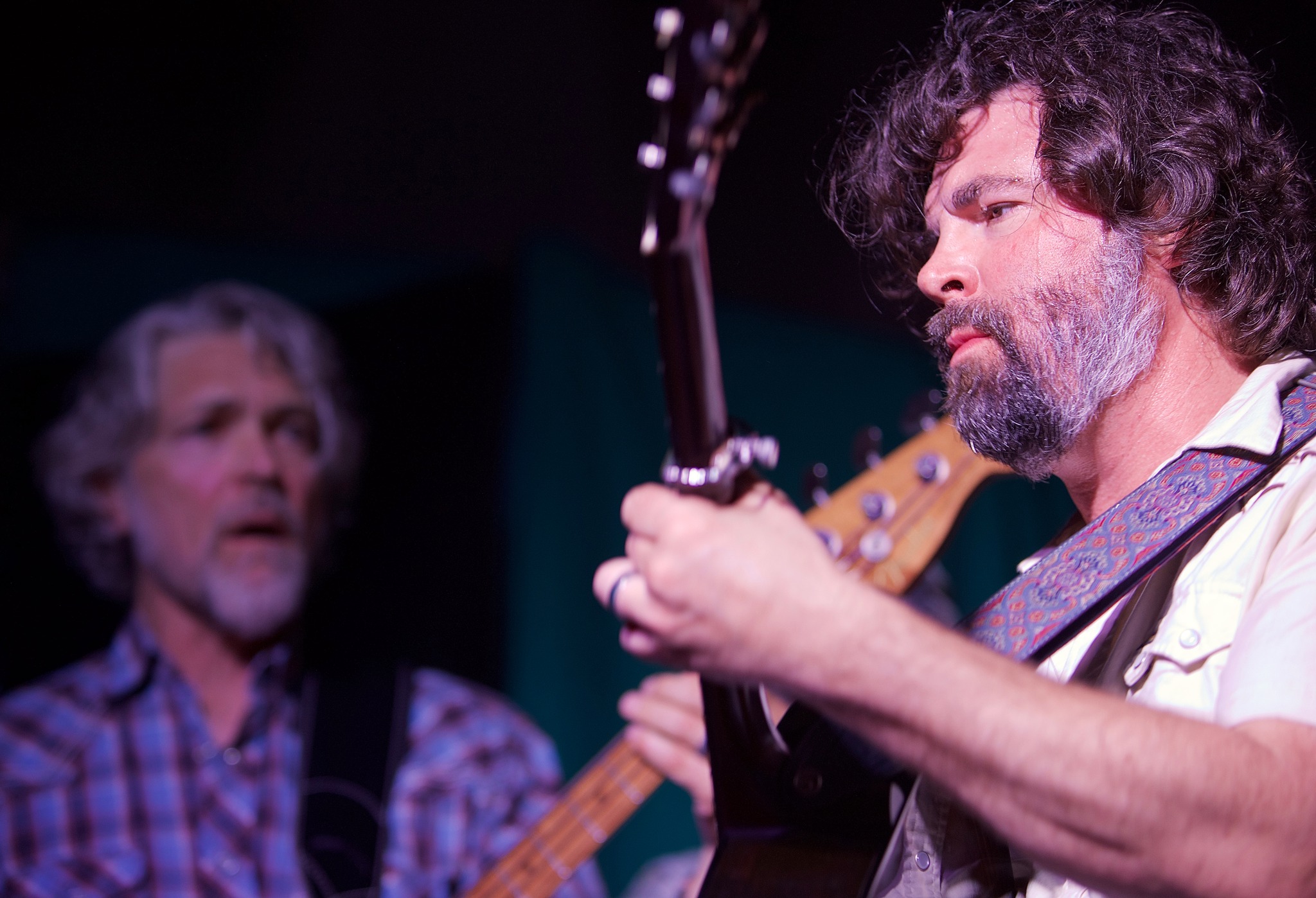 In the wake of emotion, Andrew rejoined Keith and thanked him for playing that song, and asked everyone to give a shout-out to Sara's family. Observing the moment, Andrew chimed in, "I remember hearing that song the first time it came out and It was tough then and it's tough now. Keith continued, "Yeah, it doesn't get played a lot. Anytime someone you know passes away unexpectedly, it's a big deal. Kristen helped me with some of the lyrics on that. I remember sitting around the house working on it and she was feeling it as I was feeling it and offered some words up for those ones so thanks for that honey, wherever you are", Andrew seizing the moment to point out to Keith his steadfast partner sitting in the back of the shadowed hall.
Keeping it moving, Andrew turned the interview towards Keith's creative process, "Obviously death was an impetus for inspiration in this particular regard. Are there other subjects that you find you can write about or you can't write about? Did you write a song about Ticketmaster?"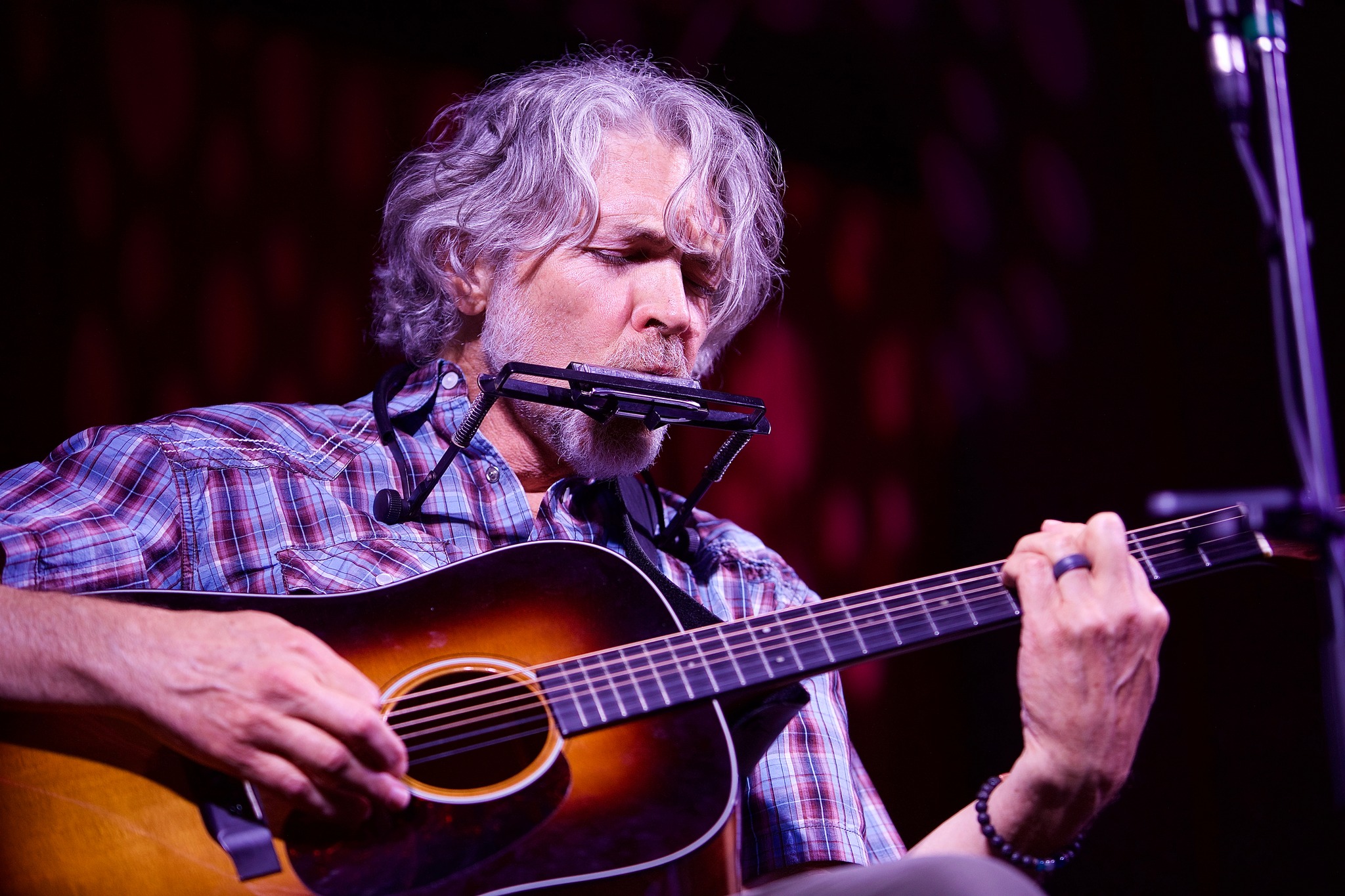 With a snicker, Keith lightened and dove in, "That's a good question. You know, I am all about chasing the hook and then sometimes trying to be clever with the lyrics and write a lot about personal experience. In the new album that's coming out, I did a shift of gears and kind of a little more third-person songwriting like what is it like to be a character, like an author. I'm a Stephen King fan and he doesn't write from personal experience, he creates characters and stories, and I thought 'what if I try to do that?' Some of the new songs are a little more based like that rather than personal experience. It's a crap shoot. Writing songs is still a big mystery really."
Touching back on "Get Tight", Andrew shared his own tale with the title, describing a game that he and the rest of the Drunken Hearts band created while stranded in the Fort Lauderdale Airport, waiting for a bus to pick them up, where the players challenged each other to throw a quarter up against a wall, and if it leaned up without falling over, the participant won. The title they created for their late-night competition was in fact 'Get Tight'. With the tangent expressed, Andrew fully recognized his own divergence as trivial yet comical as a useless fact and hugged his brother before handing it back over to the man in charge.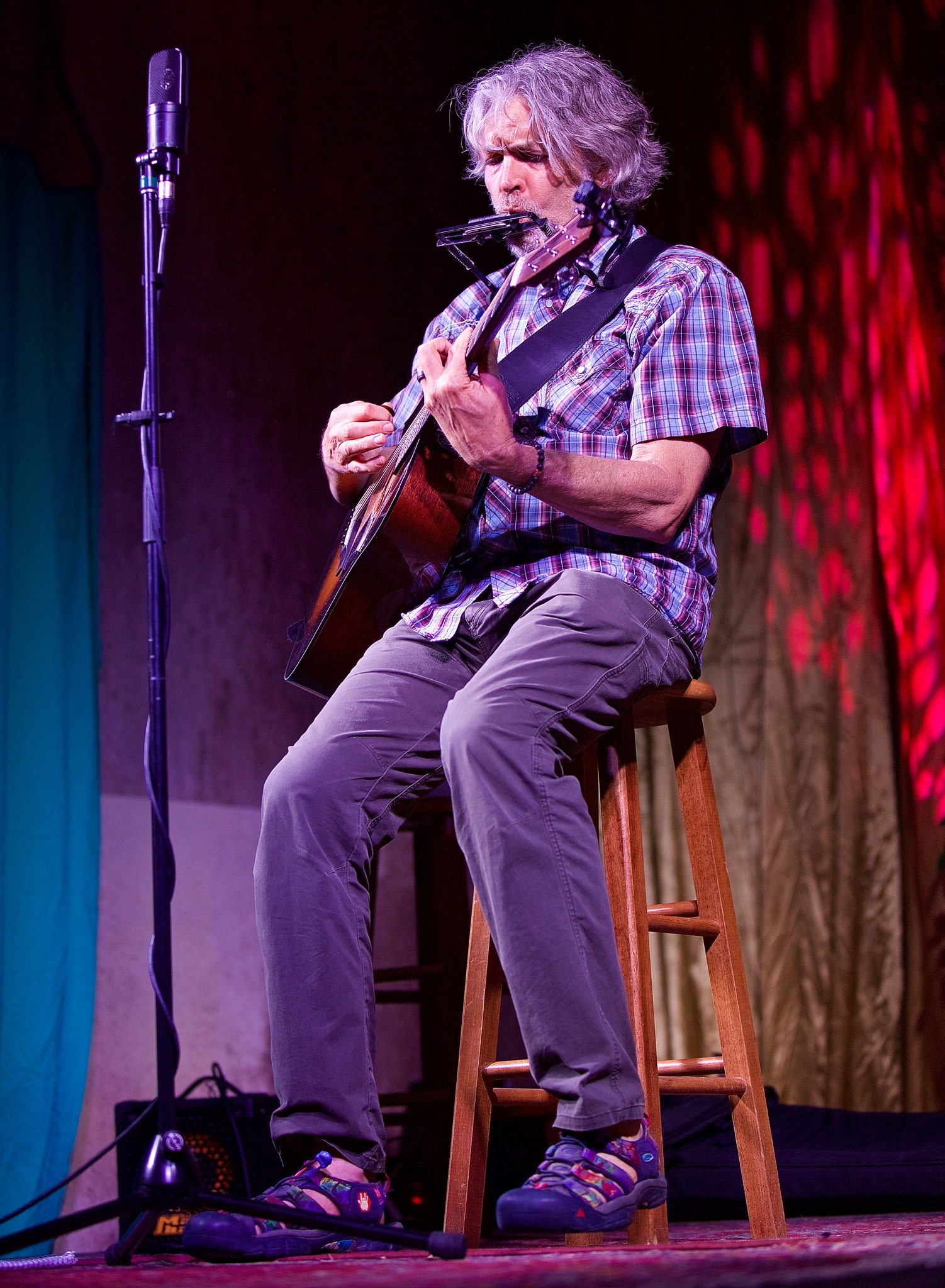 Illuminating the fact that "this is yet another song I never play on guitar", Keith moved into his original "Sirens". Pushing the vibrato through the mouth harp and striking the ominous chords through the first passage, the recognized piece had many heads nodding, bouncing, and grimacing, but when the love-filled chorus hit, many of those twisted faces beamed brightly and mouthed, not sang, the words right along with the delivery. In the end, Keith made every change graciously and made good on his six-string abilities.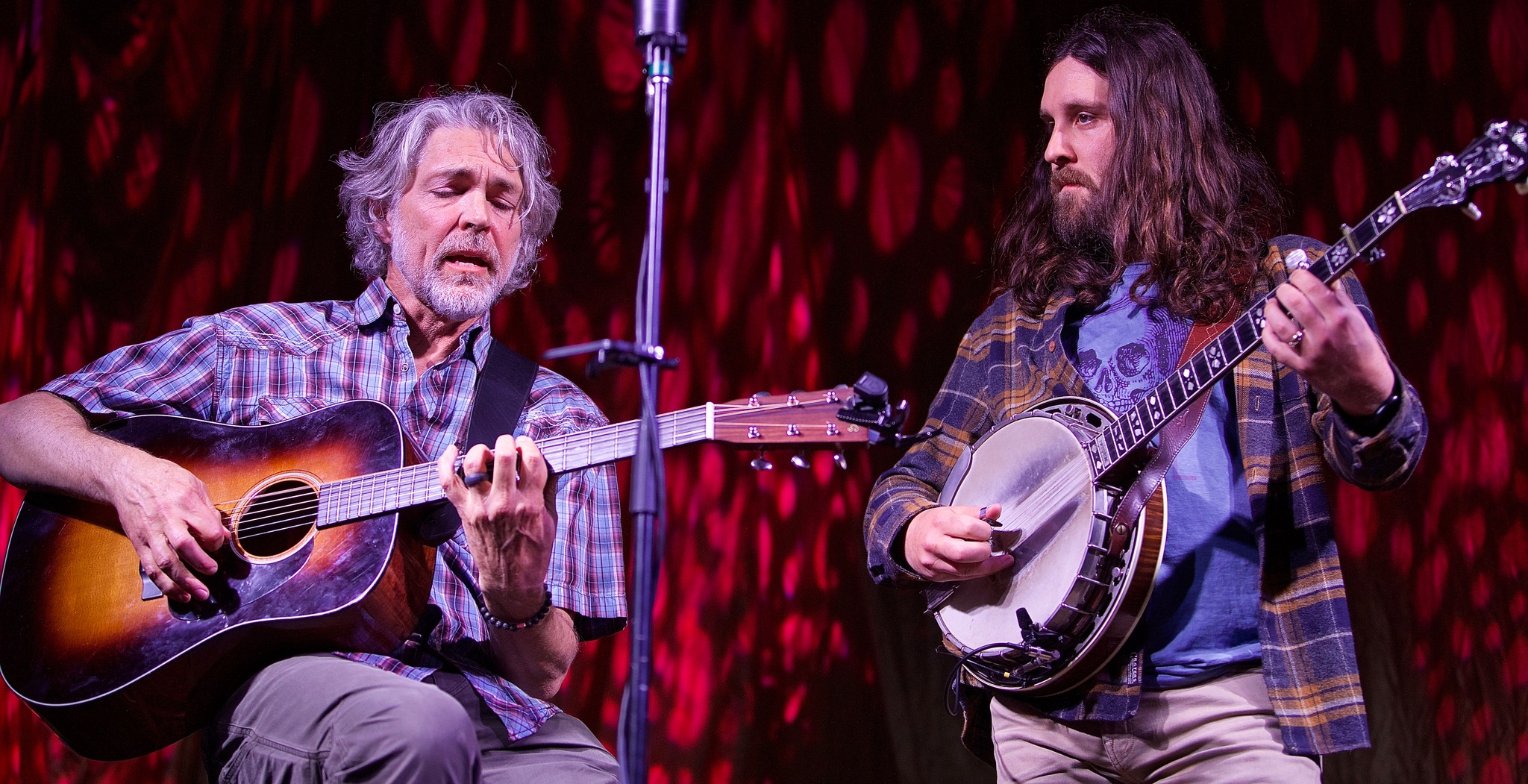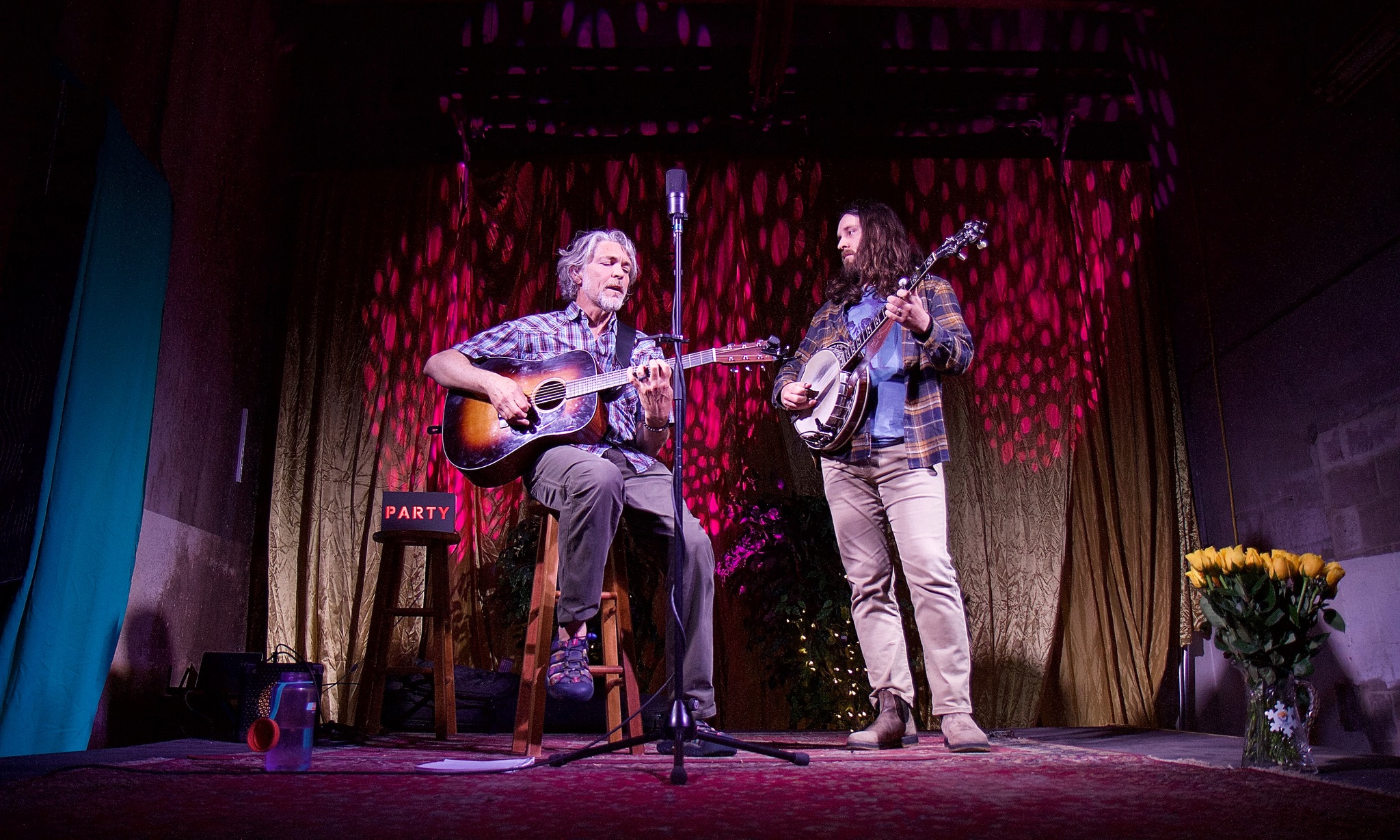 Taking a moment to invite Billy Failing out, the room erupted at the promise of the duo. Keith prefaced the next pick he chose to do with Billy by saying, "He's so pro, I played it one time and he played along and I said 'do you want to do it again' and he said 'only if you do'." Following a wave of laughter, Keith went on, "This is a song we have been playing some called 'Lend Me a Hand'. It's actually going to be the title track of the new String Cheese album." With a country feel and a great Moseley hook, Billy, as expected, owned this one, plowing through it like he had been playing it as a part of his own repertoire. With a rousing roar for the two Longmont locals, Billy and Keith took a moment to appreciate the appreciation bestowed on them from the occupied front-of-house positions, a good number of people standing and giving thanks.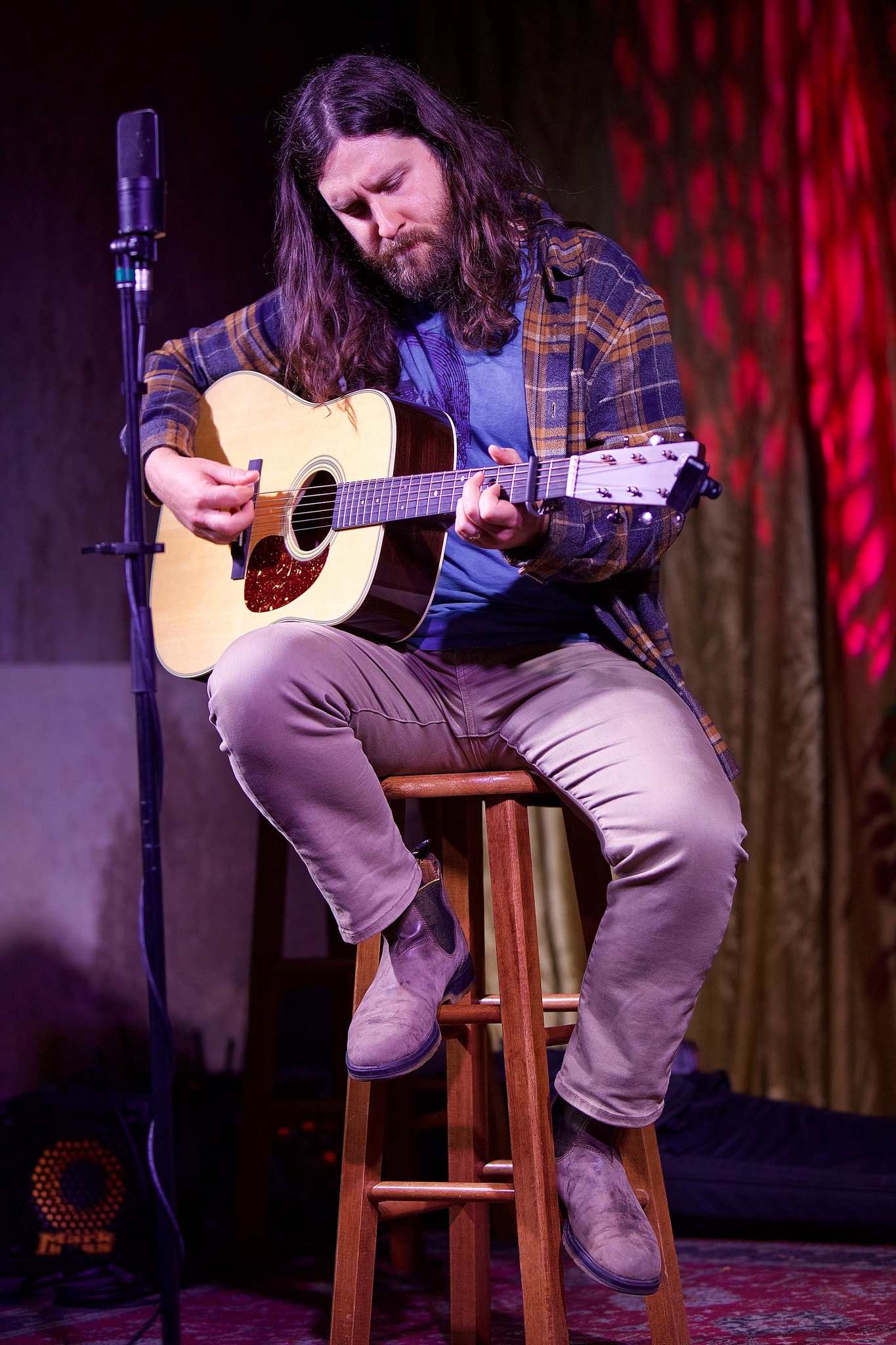 Closing in on the finish, Billy Failing filled the last slot and when it was his turn at the stool and the backlight of the 'PARTY' box, he boarded the stage with a guitar, not a banjo, in hand. Taking a moment to observe the 'PARTY' light, Andrew reminded everyone that "the no chomping policy was in effect and was so whenever the box was lit". With an over-exaggerated stern eye and a subsequent hush falling over the crowd, Andrew introduced Billy, and off he went.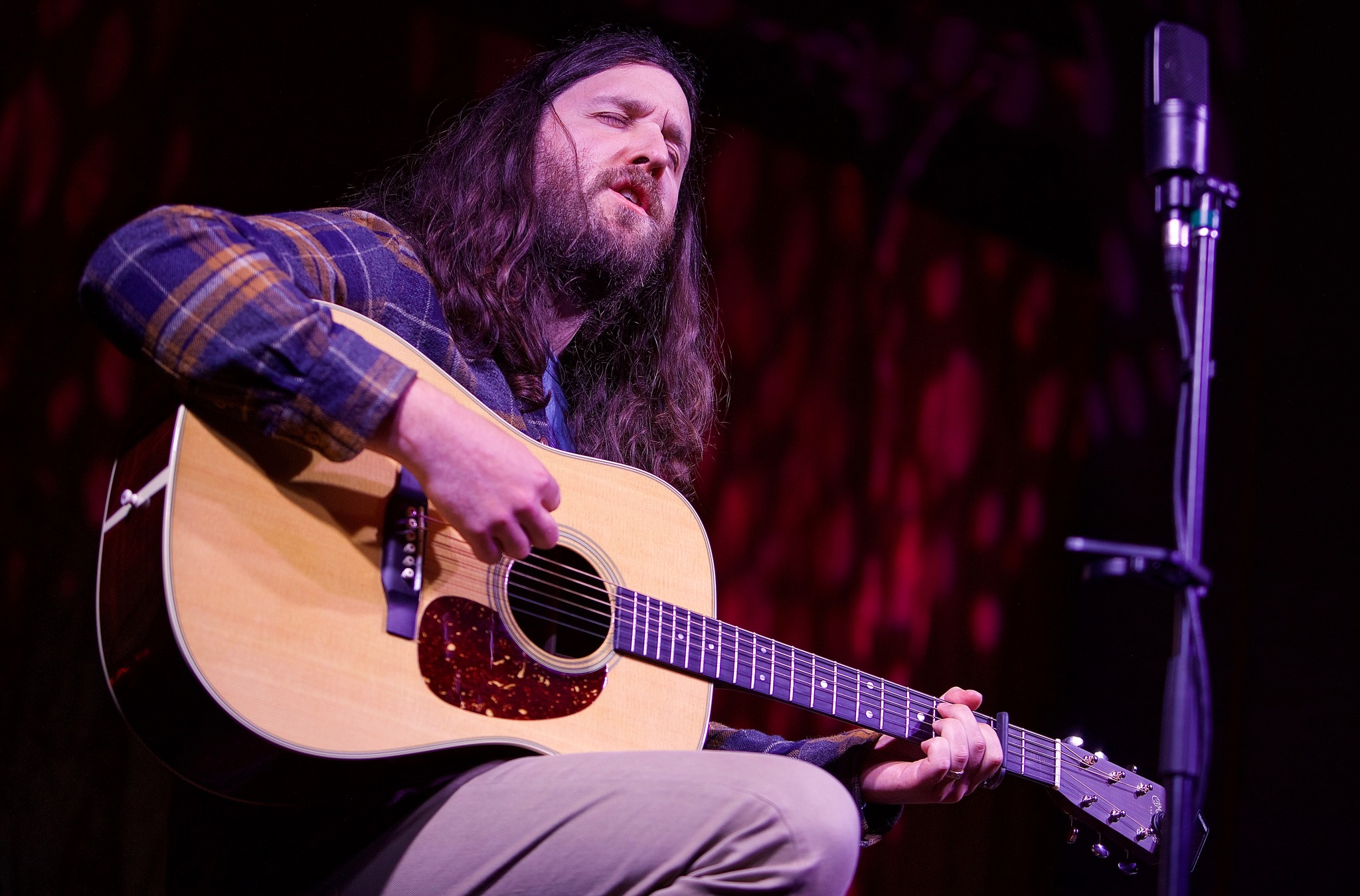 Opening with his original "Watch It Fly", Billy showed his talent is true for all things stringed. Peering behind the curtain, Billy opened up, "It's been a minute since I've played some of these songs in this configuration, just stripped down like this. Very exciting. You guys are a wonderful audience and listeners." Another original in "All Alone" got second position and once again showed the effortless versatility of his playing, alternating between strumming at its chords and just as easily moving into fingerpicking and back again, making it all look and sound so easy. At its close, clapping, whistling, and wooing were in full swing as Andrew took a moment to reveal more about the man behind the fretboard:
Andrew: Man that sounds good. So Billy, did you start playing guitar first or the banjo?
Billy: Well I started playing guitar when I was about thirteen. That was kinda the first instrument I..
Andrew: And bluegrass just kind of pulled you into the banjo or how did that happen?
Billy: I kinda started playing electric guitar first. So I was into the classic rock thing. And then, I think when I was about 18, I picked up the banjo and my dad had an old build-a-banjo kit laying around the house. I still have it, still at my parents' house.
Andrew: Are these songs that were on your solo record that came out?
Billy: So Time flies, but I think it was back in 2017, I put out an album called Calling My Trouble By Name, and yeah, both of those tunes were on that record.
Andrew: And you said that you recorded that in Nashville…
Billy: I did. I recorded it at a spot called Soundwave and had some great pickers on it….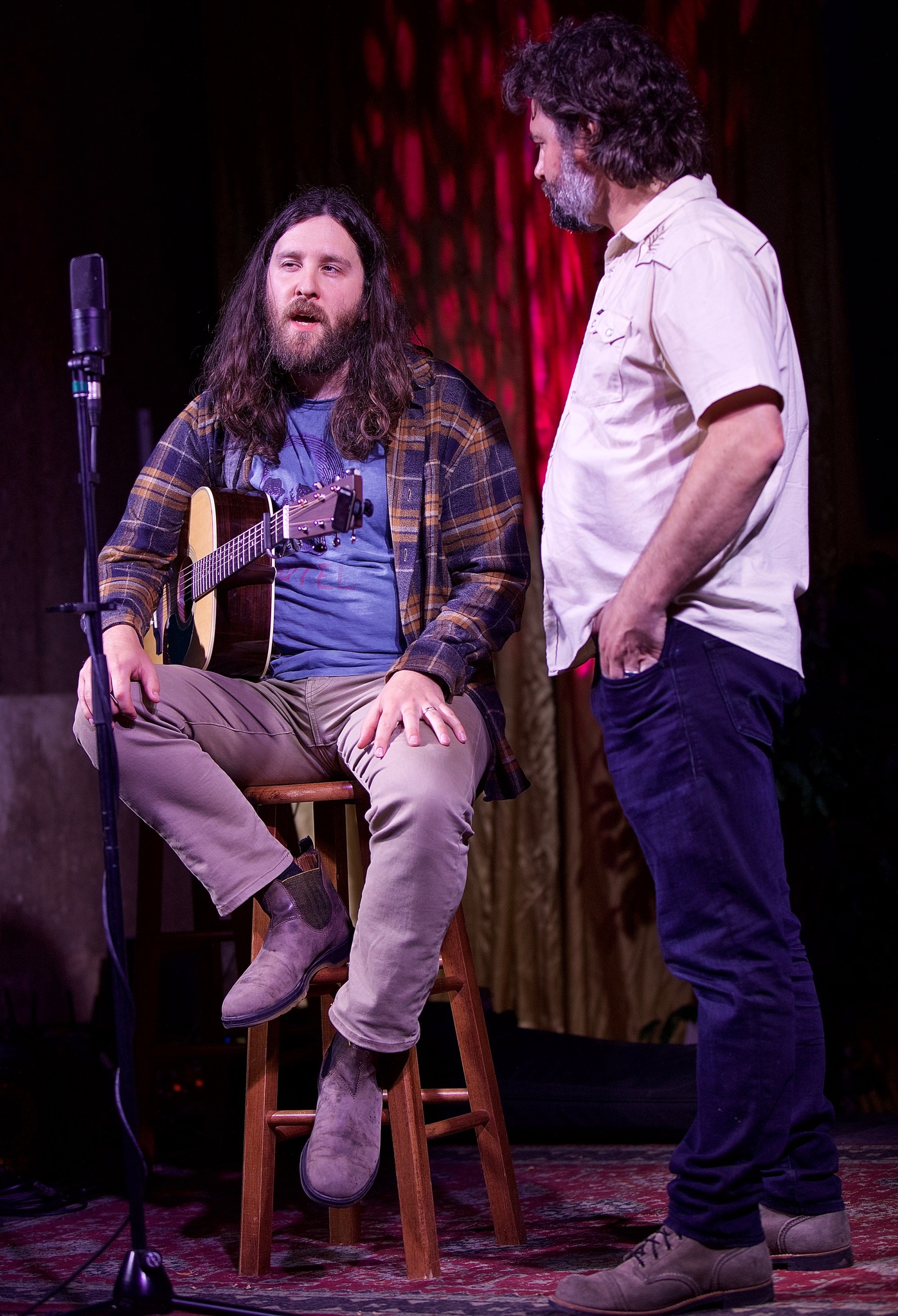 Andrew: Who'd you have?
Billy: John Mailander, Billy Strings, Sterling Abernathy, Ashley Cuttle…
Andrew: Never heard of those guys. So what's next for Billy Strings? You guys running for president?
Billy: No plans this cycle I guess.
Andrew: Well, you know who we'd vote for. Billy Failing everyone!
With Andrew once again slipping off stage left, the audience's gratitude finally settled and with the room transitioning back into silence, Billy tuned up and introduced the next song "My Reflection". The lyrics depicted the use of drinking to escape loneliness, the narrator lost in solitude, tormented by his present and found reflecting on his past.
Outlining the history of one of Billy Strings' most commonly played tunes, Billy told the following origin tale:
This is one I started writing in the fall of 2020. It was right when the Calwood Fire was happening and I lived up in the Boulder hills and you could see it on the next ridge over, you could see the fire coming down towards where I was living. It kinda got me thinking about a lot of things. I started writing this song and I took it to my bandmates Royal, Jarrod, and Billy Strings and we kinda finished it off together. This one's called "Fire Line". Let's see how it goes here.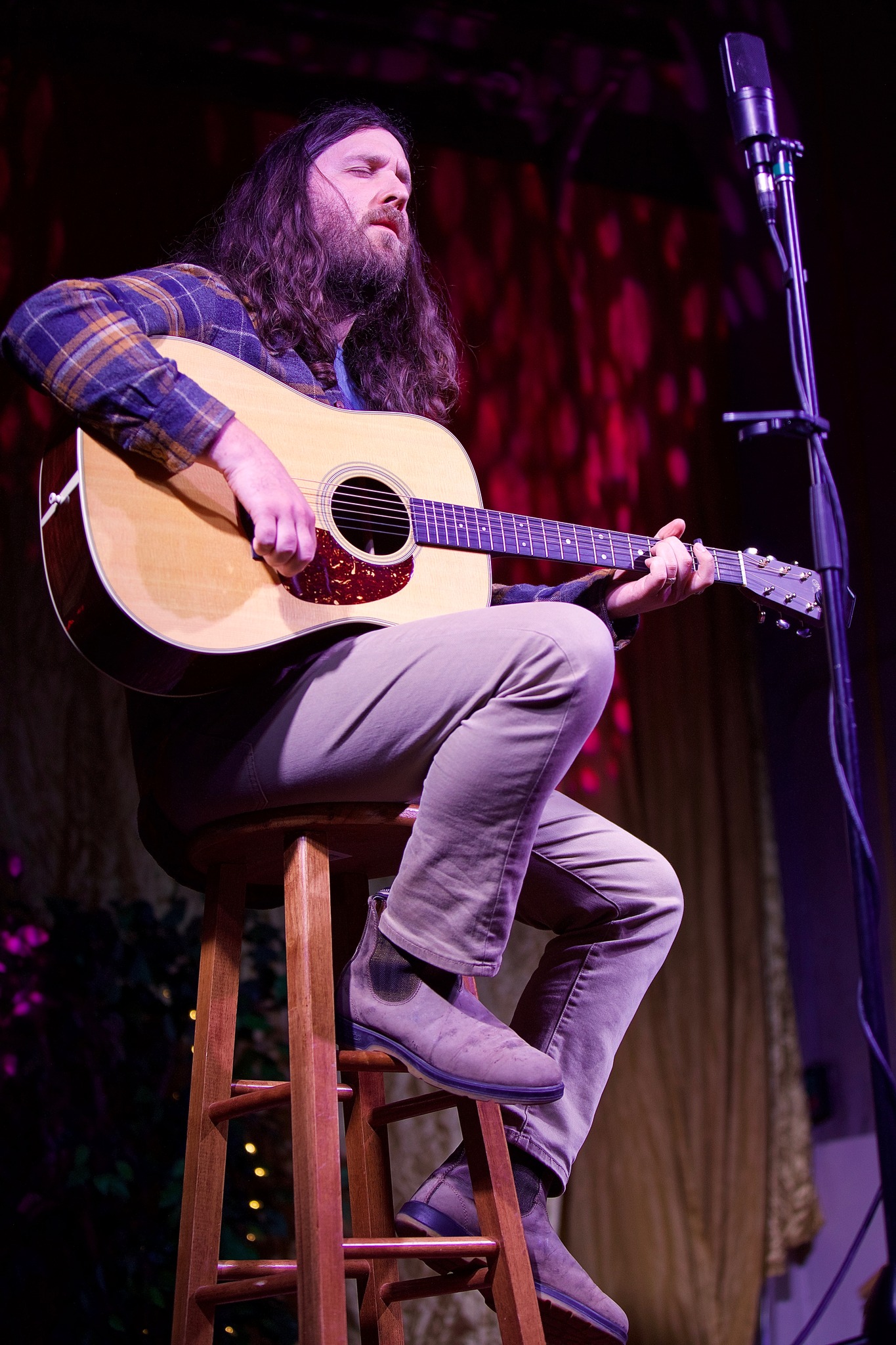 With raucous applause and scratching the itch of the Strings fans in the room, Billy pulled off a solid solo rendition. Equipped with strong vocals and that driving head, Billy closed out his set on a high note and left everyone salivating for the final set of the evening.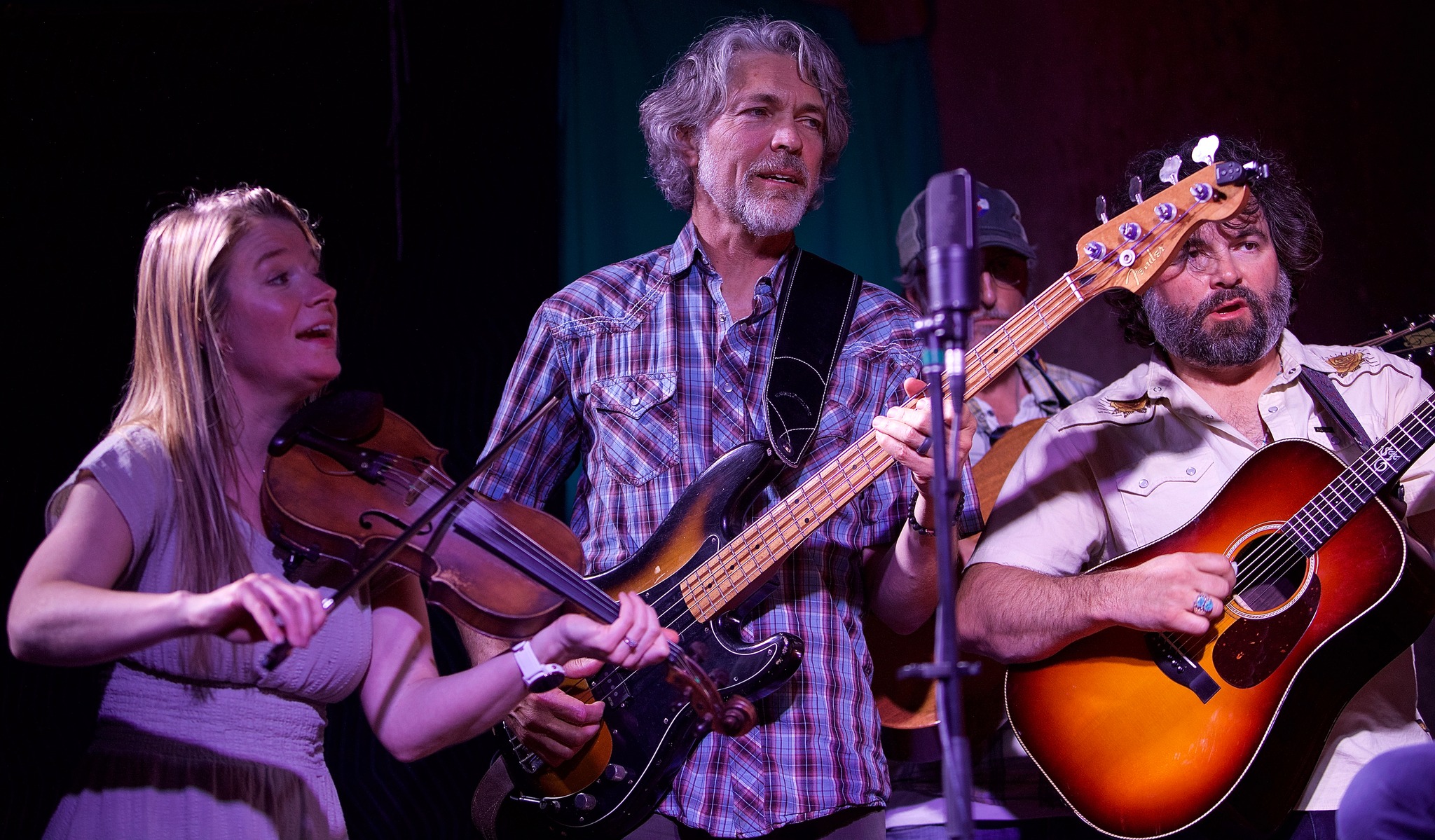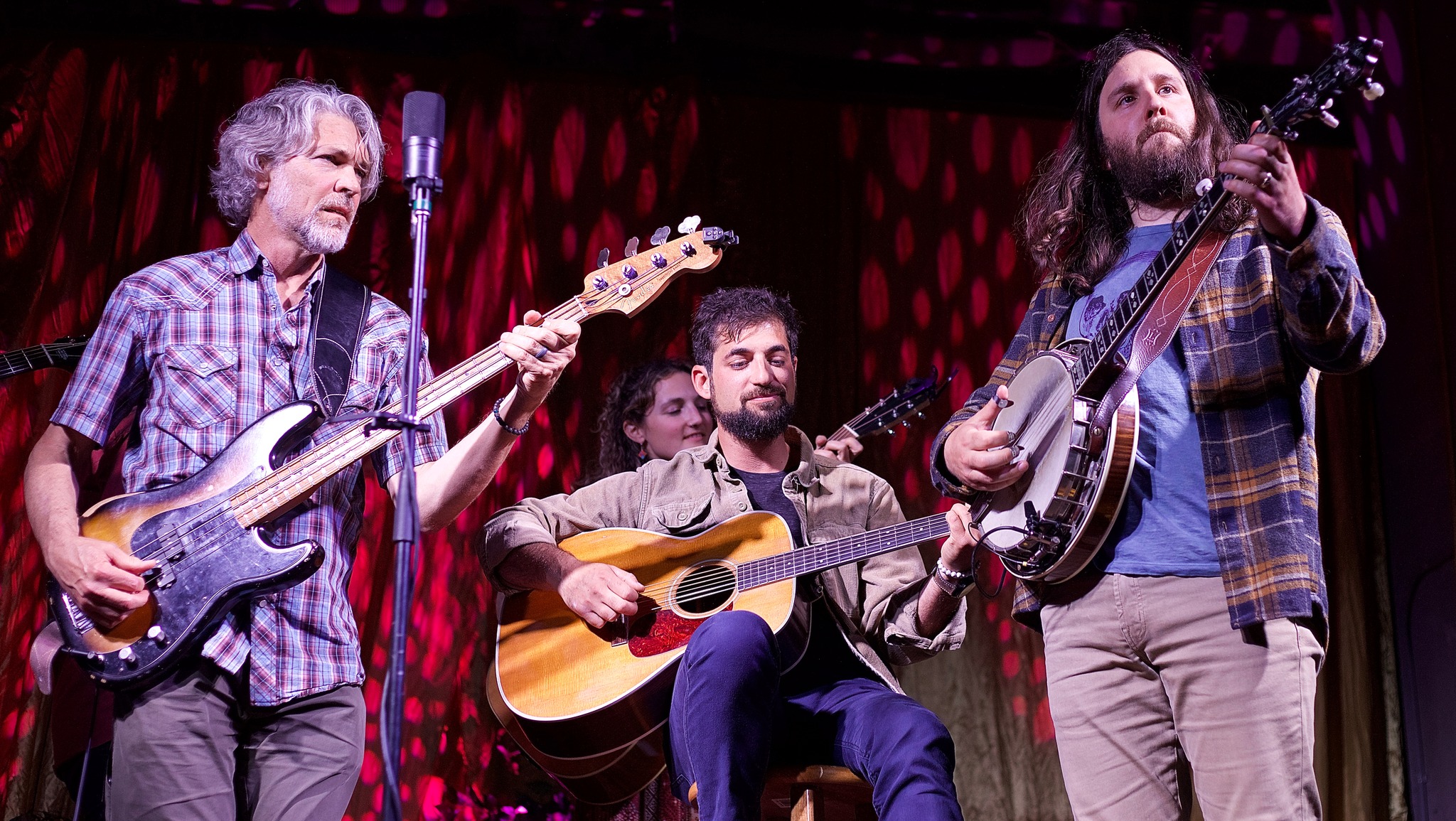 With one final break for beer in the rearview, Andrew returned to the stage with all the preceding players and took a moment to thank Ryan and Robin Wibby one last time for helping to curate such a special evening through their incredible kindness and distinct delectable offerings. With the crowd settled in and ready to hold on tight, the stage that seemed crowded with four people on it and now supported ten, the final set launched into an energetic rendition of "Wildfire". With no more need for interviews and banter, Keith moved the group into an extended take on Peter Rowan's classic "Walls of Time" and the acoustic machine unleashed bluegrass heaven on earth, resulting in just as many smiles on the stage as the crowd had been wearing all night long. Jimmy Martin's "Freeborn Man" liberated many from their seats and had the back of the hall up and dancing. This one went on and on in all the right ways, as everyone got a chance to spill their best high-octane concoction all over that stage, leaving the supporting actors laughing, raising eyebrows, and making eyes at each other like they were on the best group amusement ride in the park. Taking it up a notch and seemingly trying to outrun the pace of the preceding tune, the traditional "Two Dollar Bill" carried the pack further and higher, and while under a deluge of rain and lighting outside the building rang in the apocalypse, when all creation could take no more inside the room and it seemed like it might never end until everyone was swept to heaven in rapture, all of sudden the room lost power with the exception of one lone white light, and as expected during the unexpected, the players never blinked, questioned, or paused in the moment, but rather kept charging and reaching for the end and when it finally came, everyone on both sides of that stage knew that what they had witnessed and been a part of was the epitome of magic.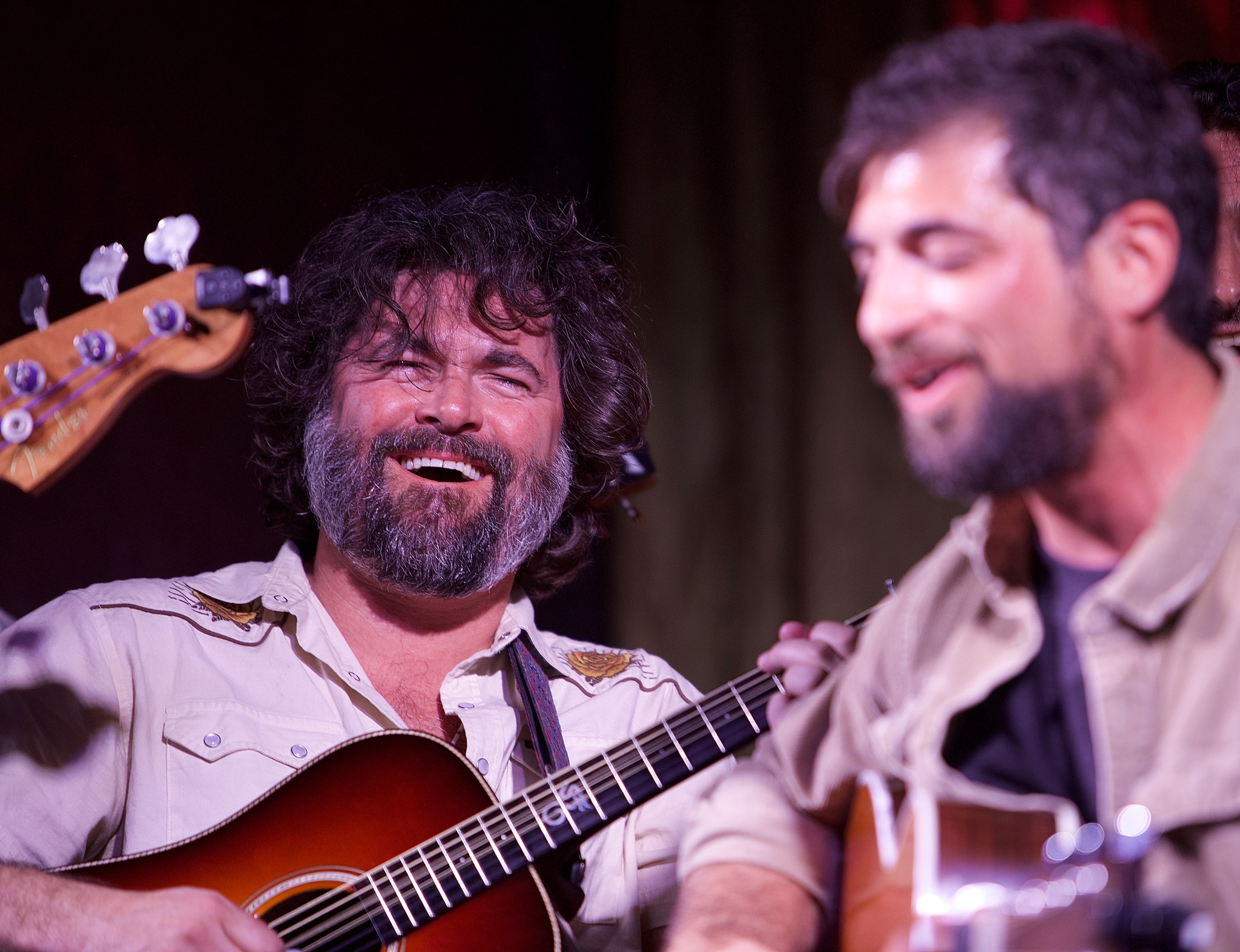 With a final goodnight from Andrew, we all stood there in the wake of recharge, resonating in cerebral and emotional stimulation, taking in the moment. Scanning the room, this state was not the exception but rather the status quo, no one having escaped the undeniable moments of ecstasy and electricity (or lack thereof in the final minutes of the closing set). As many huddled at the retracted garage door saying goodbyes and peering out into the watery sheets, guesstimating the best time to run for their cars and eventually giving in to the realization that it really didn't matter, squealing like gleeful schoolchildren as they entered the storm, it was clear even in the end of all we had come for, once again, we had experienced a good life worth living and had been rewarded on a multitude of levels just for showing up.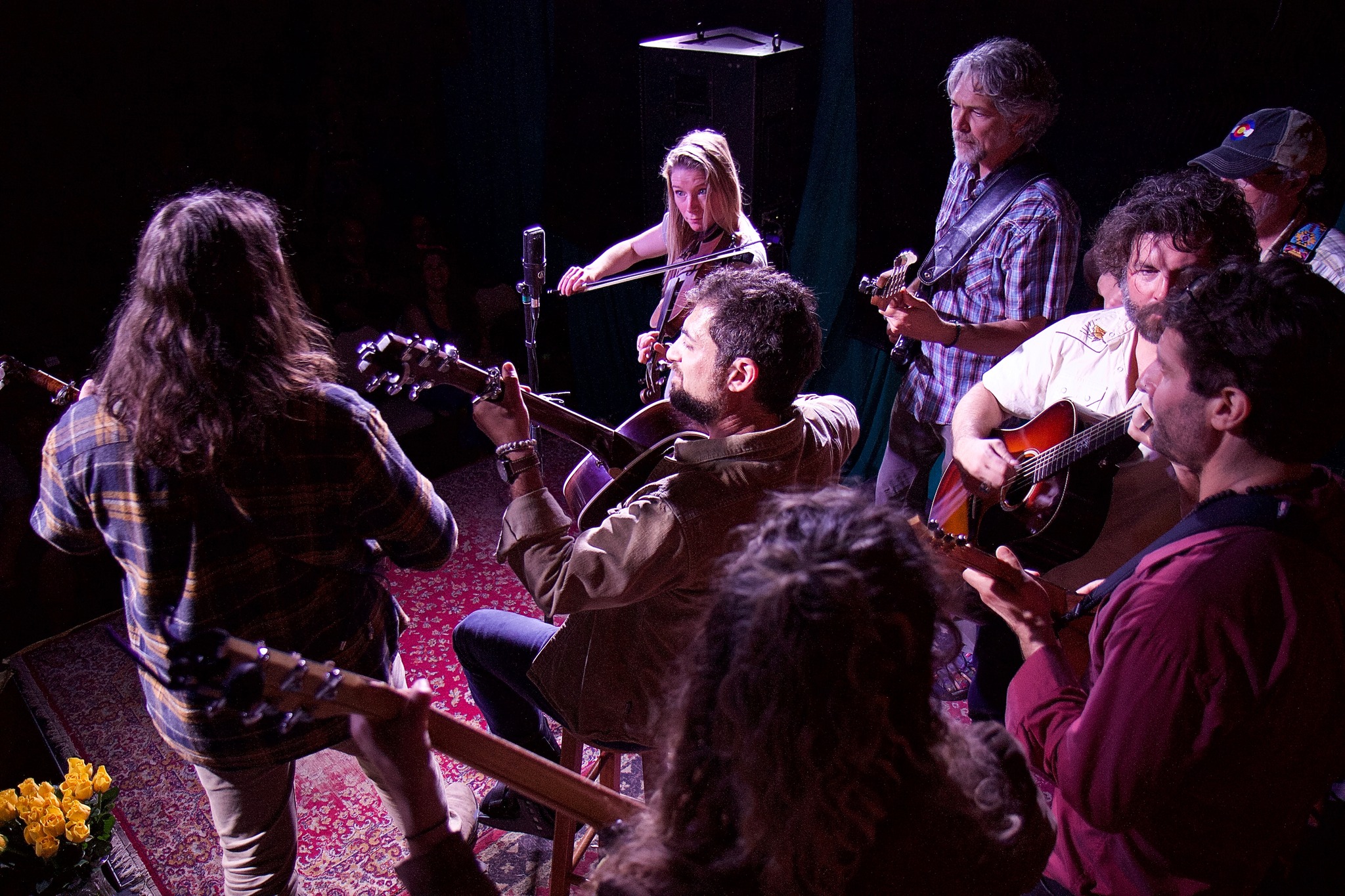 From an editorial perspective, the use of the individuals' last names mentioned would have been grammatically correct and proper in documenting this experience, but taking in this evening as a whole, with its intimacy between audience and performers, the camaraderie of the songwriters, and the laid back and welcoming environment of the Wibby grounds, it seemed only fitting that in writing this piece, the absence of pomp and circumstance at the moment should equally be reflected in the review produced and the separation of star and gazer should be broken just as it had been on a stormy night in Longmont, Colorado