This entire trip ranks up there with one of the biggest adventures I've had to date. No doubt Coventry still takes number one simply because the conditions there were so deplorable and put me in bed for a week after to the point where my mom took care of me, waking me only to make sure I ate and drank something and took some more antibiotics.  Langerado takes the prestigious place of number two simply by sheer volume of things that went wrong. Let's begin at the beginning and when we get to the end…we'll stop.
I'd missed going to Langerado last year because my best friend in the entire world suffers from seasonal affective disorder and experienced a mini-breakdown which led me to plan an uber-spontaneous trip to Miami for the two of us, thus no Langerado. It's most definitely not her thing…to the extent that she finds me nuts for actually enjoying going to things such as this. Anyway, I digress. But you should get used to it, this thing is gonna' be chock-full of digression.  This year Emmy and Jimmy, my current festival partners in crime, though mostly in Las Vegas, were going so I asked Mike if I could redeem my Vegas write-up by covering Langerado. Granted permission, I was ready to go. We had planned on flying down together, splitting a rental and a hotel and still having money left over for whatever struck our fancy. Then Cosmo hurt his leg.  Now E&J and I spurn the idea of children of our own unless they exist in the form of the four-legged variety.  They have Conan and Cosmo and I have Ecko. We love them horribly. Simple as that. We spend money we don't have if they need something, so when Cosi-bear had an issue, the fun money got spent on that. I chose to go it alone and drive down which was the only option when it came to money. Even though gas prices are disgustingly high, it would still be cheaper to drive than fly, hotel, rent.
Fast forward. Car died. Got a new car. Hurt my back; couldn't drive. Went to a new chiro. Got it fixed. Able to drive. Got a new tent. Needed it. Couldn't afford it. Got it anyway. One of the cool ones that hooks to the back of the SUV and has a screen room. Awesome it is. Waited too long. Shipped it to Heather's house in Atlanta, my half-way point. Packed my bags and the old tent just in case. Took off. Scary weather when I left. Seven degrees, ice on the road, semis turned over in ditches and an RV turned to splinters. Made it to Heather's. Tent was there. Super happy to see her and the tent both. Left for the second day. Finally found a Starbuck's. Double shot, no breakfast, totally tweaked out on espresso.
Play. Outside of Tampa, the car in front of me runs over this section of busted semi tire and spits it out of the back of their car. There was no possible way to avoid it. I heard a huge thud and figured I'd run over it, but I never saw it come out of the back of the car in my rearview.  I just assumed it stuck underneath so I pulled off at the next exit, walked around to the back and peered underneath. Nothing. Walked around front with more than a bit of trepidation. I found it, doubled over and lodged into one of the only two slots which make up the grill of my car.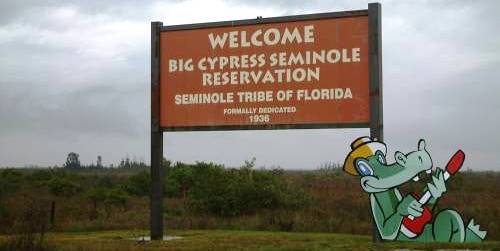 This wrinkled old man in overalls worn out in too many places pulls up in a truck that's seen better days too, gets out and walks over to where I'm contemplating the fate of my trip. "Looks like ya' got yourself a gator stuck in there." He declares with a muddy southern drawl. "Yes, sir," I reply. "Would you care to help me pull it out?" He was too old to hear the hissing noise that I heard, but he helped me pull it out of the grill all the while telling me just how expensive fixing that was going to be. Once we pulled it out, I could see where the hissing was coming from and why. My radiator spit just the smallest amount of fluid at me. I decided to take my chances and keep going. I grabbed the "gator" and threw it in the back in case the insurance company needed to see it. I spent the next hour and a half on the phone with the insurance company and several auto shops trying to find someone to fix it down in Fort Lauderdale, which is closest to Big Cypress where Langerado was being held.
Fabulously enough, there existed a silver lining. Since the tire was in the air at the time of impact instead of my running into it, comprehensive covered it, and I didn't have to pay a deductible.  I'd be taking it to Nasca's in Fort Lauderdale the next morning. My only goal was finally getting to the festival and getting started. Joe Nasca told me the skies had opened up down there, so I could look forward to getting drenched. That didn't start until I was about 30 miles away from my destination, and he wasn't kidding. I couldn't see more than a few feet in front of my windshield, and the water pooled on the road making driving more than a bit scary.  It let up enough to let me out of the car and under the media check-in tent before it started up again. Forget the tent, the wind blew the rain sideways and right under and soaked the lot of us. I then had a 14-mile, three hour wait ahead of me before actually getting into the venue, but thankfully I had good music and good friends to chat with on the phone to keep me occupied.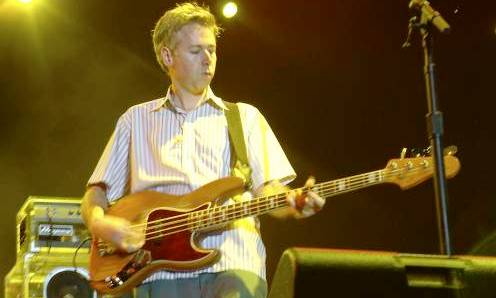 Finally I got in, VIP camp no less which was a nice little surprise (thanks to Madison House Publicity for their hospitality).  I picked a spot near the venue entrance and got busy setting up this new, wicked tent I got…one of the one's that attach to the back of the SUV so you can use that as an extra sleeping area or whatever, but I already mentioned that.  Anyway, I almost had it completed when these three most obviously drunk guys pulled up in a golf cart and informed me that if I wasn't with Red Bull then could I please move my tent over so they could pull the massive RV/bus out the next morning because they had somewhere important to be and would need to leave very early. They even offered to come back in 5 to help me do it since I'd already staked down.
Well, I didn't really see that actually coming to fruition, so I moved the thing myself. Right after I had it all set up again and was working on the last part of staking down the attached screen room, my right foot started to tingle and burn in spots. Apparently there are a lot of fire ants here. A LOT! They're everywhere. No way around it…though I wish the Langerado site would have mentioned that. They did recommend that we not wear open-toed shoes but neglected to say why. So after I brushed all of those off…oh and btw. I was wearing close-toed shoes…and called my mom to look up fire ants and see just what was going to happen to me, I once again took un-staked so I could move the tent.  I took the flashlight over and thoroughly checked out the new spot for anything that might bite and burn. Nada. I'm golden. Got set up again. Met my new neighbors who were nice enough to help out since I was anxious to get down to the venue and wanted to stop by medical really quickly to get some cream to put on my little misfortune. I made sure to warn them to look over their selected spot first so they didn't have the same issue as I had. Turns out Joel and Matt grew up in my hometown of Peoria. What are the odds?! They were totally awesome and sweet and I'm super glad to have been fortunate enough to camp next to them and if the Red Bull lushes hadn't felt so self-important and then the fire ants attacked, who knows if I'd been lucky enough to have met them.  All done. Time to go play.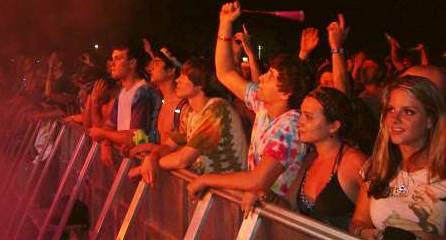 You all know that one of my favorite things about going to a festival is getting the opportunity to be exposed to a ton of new bands and music I've not heard before. One of the first things I do when I get there has to be to start talking to my neighbors about who they plan on seeing and getting the dish on who's not to be missed. I've become a fan of who knows how many bands this way….simply off the recommendation of new friends. Best way in my opinion, so I highly recommend doing it
Thursday
I'd missed quite a bit of the evening already. The weather really held things up and we were in line for quite awhile. Bummed as I was to have missed That 1 Guy and Les Claypool, I headed out on the advice of one of the guys @ the checkpoints to see ANR. ANR didn't have to come far for this one. They originated in Miami a few years ago and appear to be a local favorite despite a full-blown breakup and make-up. It's hard for me to describe their sound, definitely a little bit retro pop and punk. Several of their songs remind me of a combination of Pet Shop Boys and The Killers. Go figure but go see them.
I'd just left my friend Heather's in Atlanta, hometown to the New Deal, that morning and so I knew that they were playing. Heather doesn't really know Sound Tribe, but I kind of knew what to expect when she told me they were ambient and techno.  Plus it seems as if those bands always seem to land the later-night slots at these festivals. Perfect time for it really.  They went on @ 10:30 @ the Chickee Hut Stage which seemed almost impossible to find. I met Jenna and Bobby from Miami on our way from ANR to tND when Bobby asked to look at my schedule and if I had any clue where tND was playing. We figured it out together by process of elimination and headed through the marshy mess to where the obligatory light show for a techno show was taking place. They were getting more excited with every step so I asked them to tell me a little bit about what we were going to see.  I asked if they were anything like Sound Tribe and Jenna replied that they were "very techno, very Sound Tribe."  When I asked her to elaborate Bobby just gave me a huge smile and said "They're great. Just watch and look what happens."
It was good and definitely a good show to hit before P Groove, which was starting at midnight, but I had to jet shortly thereafter to head to Dark Star Orchestra. This venue was so spread out that more planning than normal for me had to take place.
Walking up, one could tell this was show of the night. DSO came out to huge cheers after being introduced as "not only the best at what they do but they're the only ones that do what they do."  I like a lot of variety in my shows with a few surprises thrown in. I'm going to get crucified for this I'm sure but I've never been that excited about DSO. I've seen them a couple of times before and it's not that I don't enjoy it, I do. I especially love Lisa Mackey. She's so fun. There's just nothing like the real Dead, no matter how good you are. Maybe since I never got the chance to see the Grateful Dead live I don't really know huh? Regardless, everyone else looked like they were having a great time.
I have to admit I didn't stay long here. I needed to go to bed. I took some pictures and hung out for a little bit. Talked to some kids who were totally stoked to have been able to come. Said my goodnights and headed back to camp. I could hear the Swamp Stage really well from my place so I went back, had a cocktail and drifted off to what sounded like a pretty cool P Groove show….that and some girl that kept yelling "Hell yeah! Fuck yeah!"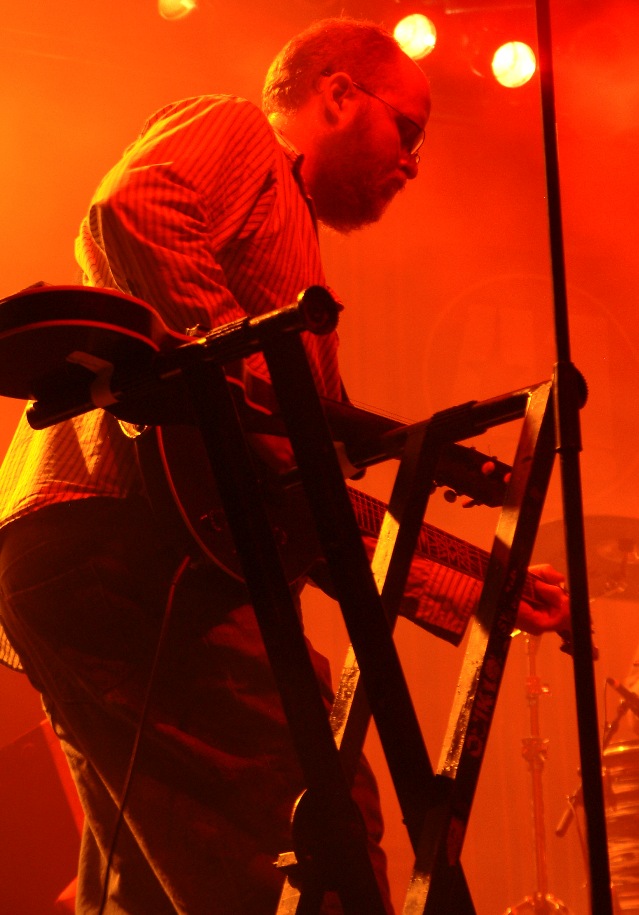 If you were there…you know whom I'm talking about. I think this chick has become the official mascot of the Langerado music festival. I thought I was the only one. I heard her several times that weekend and wondered what was up, but look on any Langerado blog or on their Myspace and there's a TON of people that ran into her. It's actually very hilarious. She's totally famous and probably doesn't even know it!
Friday
I spent the majority of the day in Fort Lauderdale. I needed to have my radiator replaced before even attempting to get back home safely and Nasca's took the weekends off. So while I hated missing too many good shows that day, I really didn't have much of a choice. Instead, I decided to make the best of it and spent the day lying on the beach. Seriously, things could have been worse. The weather was absolutely beautiful so you'll hear no complaints from me. I figured as long as I made it back before dark and the night shows with a fixed vehicle, I'd be a happy girl.
I have to admit to have missed 311, which I kicked myself for missing but knew there was no way around. You can't drive 23 hours with a busted, leaking radiator. Turns out I did miss an absolutely phenomenal show. Waiting to talk to Billy, the guy doing the alligator wrestling that weekend, I struck up a conversation with LeeAnn from Sarasota and Dave from Cincinnati, though he's originally from Buffalo.  I asked them what they had loved so far and without missing a beat Dave said that his highlight probably hadn't happened yet. There were too many things to still look forward to but that the 311 show "was the first really hot think that was going on. The energy was so high! I loved the mix of reggae and metal."
He also gushed a bit about Mickey Hart, which I had to agree was a really good time too.
I went through a huge Mickey Hart phase a few years ago. I have absolutely no clue which of my friends introduced me to him, but I was slightly enthralled. I go through phases with a lot of music but tend to hang onto most really. Anyway, I was excited to get to see them. I still like my discs better than live but that happens sometimes. Maybe it's just because then I get to pick and choose which of his stuff I'm in the mood for?  I sincerely wish I could have stayed longer but I still had a huge trek to get over to Built to Spill in time.
The crowd at BtS consisted of some pretty serious fans. One girl in the front right behind the photo pit seemed totally enthralled from the moment they walked on the stage. If I had known I would have talked to her before the show, but at this point I didn't want to interrupt her obviously blissful experience to get her view on this show.  Not only was the crowd incredibly enthusiastic, they were very willing to be helpful. At one point near the beginning, I think it was Greg…wasn't really paying a ton of attention when he spoke…said he was having issues with the mic stand and asked one of the crew to come out, when various members of the crowd yelled out that they'd hold it for him if needed.
I'd seen BtS at the Austin City Limits festival in 2005 for the first time and thought they were incredible. My friend Kelly from CoMo happens to also be a little bit in love with them so she turned me on the their best stuff. We'd seen them with her in CoMo since then too.  I'd heard rumors that they would be a recent addition to the Wakarusa schedule this summer but so far I'm not seeing them in the lineup or in the date list on BtS site.
Unfortunately this was another show I had to skip out on early though I certainly wasn't the only one. They only were going to be playing for an hour and the just as their set was to end, the Beastie Boys, which promised to be the show of the weekend, started. No way could I miss even a tiny second of that. Plus we all had to meet ahead of time to make sure out photo waivers were completed and signed in order for us to be escorted over into the pit in time.  What I saw of it, I loved. BtS always makes me a happy girl. They're never all crazy, so it's not always a high-intensity show, but it's always very good and I've not been disappointed yet.
So I'm going to start out with the fact that they closed with Sabotage. Seriously, I know that's not always the favorite, even though it is a huge hit, since there are so many wicked choices, but imagine my elation that that's what they finished up with?
Anyway, back to the beginning. We all get escorted through the backstage area to the photo pit. I say this was the most anticipated show simply because the crowd showed palpable excitement as in electric air. The fact that I was super stoked might have clouded my perception but I'm not willing to concede that by any means. I really don't care that there were a few sound issues during the show…ok so more than a few, but the festival in general had sound issues on every stage.  General message board discussion blames the festival setting though I've heard several shows have had sound issues lately. I don't care. It was working for enough of the evening to make it tolerable. I would really prefer to see them in a smaller venue but the infectious happiness of such a huge crowd can't be beat.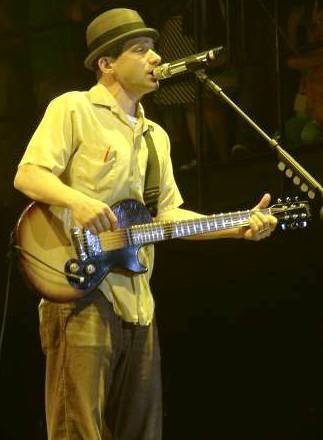 Talking to people on Saturday, it seemed like the only thing people remembered was how much fun they had. Somehow I managed to strike up a conversation with Jonathon and Mary Welch Fox…actually I stopped to take their picture and ended up having a whole conversation about how good the Beastie Boys show had been. Miss Fox had this fantasy of the Disco Biscuits opening for the Beastie Boys. She continued to say that contrary to what people might think that it wasn't such an odd idea at all, and that if you really get a chance to listen to the Beastie Boys do some of their purely instrumental stuff they sound very much like the Biscuits.
Apparently she had been to a show…I wanna say in New York… where they had gone strictly without lyrics. Honestly I've never heard of that…not of them doing a whole show that way. I mean Futterman's Rule absolutely makes it as one of my favorite songs, but I looked it up and I've been stuck in the rut of listening to the more old-school stuff I listened to in high school. They did several instrumental-only shows last year after they released The Mix-up, strictly instrumental. I sampled a bit of it and actually ordered it today. So don't say that I don't practice what I preach. J Thanks for the tip Miss Mary Welch Fox!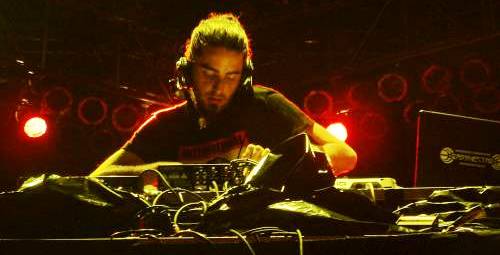 Before he came out, his intro announced that we were under a severe thunderstorm and tornado warning. I had thought we were done with all that from the day before but I guess not. Serious sound problems prevented this one from starting on time but once Lorin told them just to give up, shut something down that wasn't working and go a bit more natural, things proceeded smoothly.  Bassnectar was on fire that night. In fact, I even heard a girl say that as I was walking back to camp to secure everything.  The last few songs Lorin took down his hair, which is amazingly long, and probably ended up really tangled considering how much it whipped around in the wind.
I talked to Beth and Tiffany from Vermont the next morning as we were walking down to the venue. That's another great thing about festivals like this. A simple compliment on a really cute dress leads to conversation. They couldn't stop talking about last night's show and how he'd played their favorite songs. Turns out these two are a lot like me. We know what we love but are horrible at song titles. When I asked them what songs were their favorites, they just looked at each other and laughed. One thing for sure they both agreed that they would both be at the Bassnectar show at Rothbury this Fourth of July weekend. Actually it seems that's the absolute place to be this summer. A ton of my friends have already bought their tickets and can't stop talking about it. So, Beth and Tif, hopefully we'll see each other there. It was great talking to you for a few!
I've seen Sound Tribe numerous times, so it always feels like I have nothing new to say about them at all. I love their shows. Pure and simple. They could play the same dozen songs over and over, and I wouldn't care a bit. What made this one special had to be that all of us thought we were going to be caught in some crazy tornado-filled dance fest.  I'd gone back to camp earlier in the evening once all of us found out that the weather was going to be picking up again. The bigger nerds of us, me included I'm afraid, grabbed our various smart phones and logged into the weather to see just what the radar said. After Bassnectar, I ran back to secure everything as best as I possibly could and get some rain gear to cover my real gear. I'm fine with getting wet but a wet camera and notebook and such sucks.
I stayed. I danced. I went back to camp around 3 just because I wanted to beat the storm back. I figured it had held off long enough and would come down any minute. I wasn't far off. I fell asleep to the boys, which was lovely…then I woke up. The wind blew so hard my tent looked like it was getting ready to lay over on its side. The rain started pouring soon after. Craziness, but par for the course on this trip. Amazingly it held off long enough for Sound Tribe to finish and most of the fans to get back home or at least be meandering that way. I heard lots of screams mixed with laughter as I stood inside my tent holding onto the pole from the inside in order to make myself feel a little more secure. I wasn't going anywhere, but I was more than a bit nervous about my new baby. About a half an hour later the wind died down enough and I crawled back into bed.