The Lil Smokies formed under the big sky of Missoula, Montana in 2009 and have created an original assortment of music that can quench the most diverse musical pallets. At first glance the band looks like a traditional bluegrass band with all of the usual stringed suspects including banjo, dobro, fiddle, standup bass and acoustic guitars. They say you can't judge a book by the cover and The Lil Smokies are the perfect example of why you can't define a band by their instruments. Yes, the sounds that come from these instruments have the traditional tonal qualities you would expect, but what they also have is five diverse musical minds with the high energy of a rock band playing them.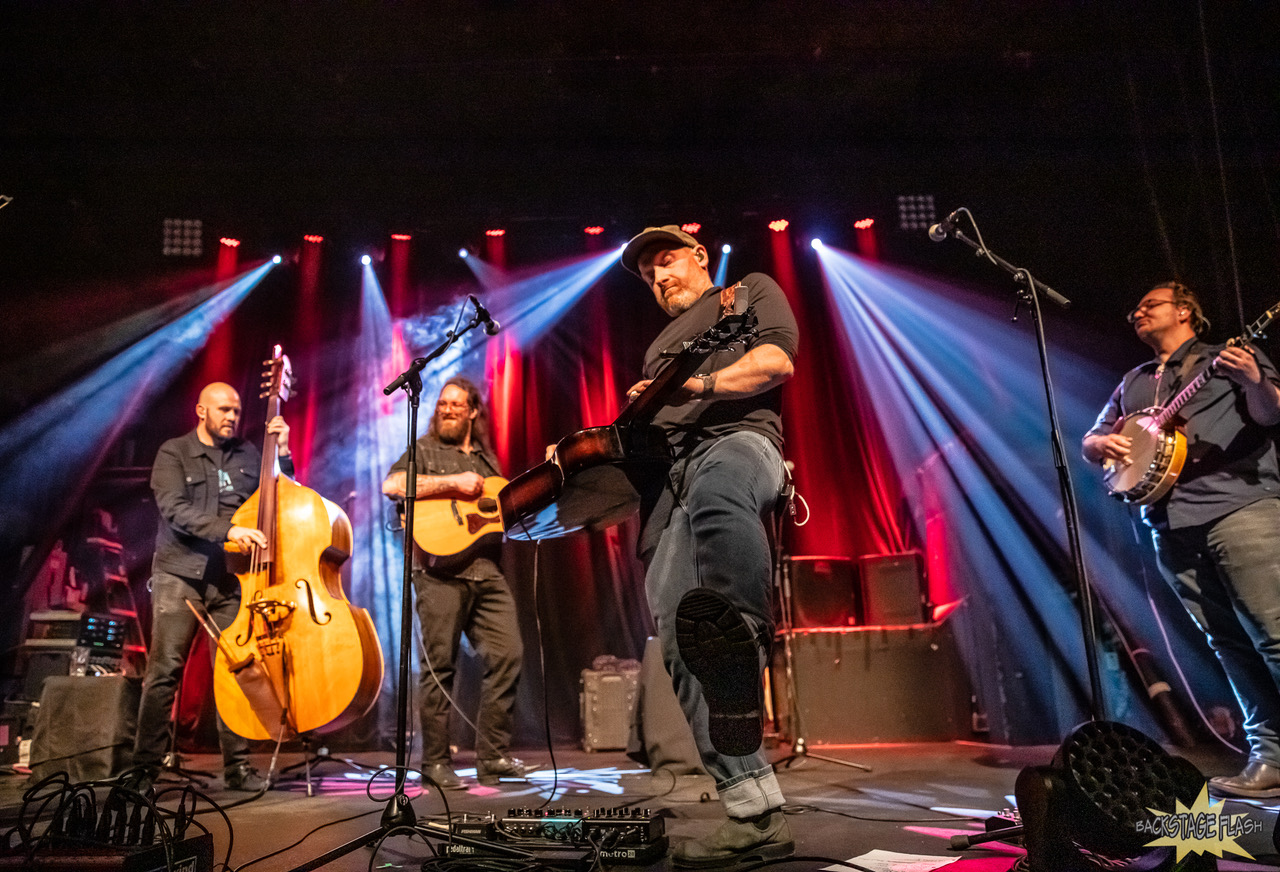 The Lil Smokies have harnessed Americana, bluegrass, folk, rock and pop with a traditional-meets-contemporary delivery and boy has it struck a chord with their fans. The band has a unique and distinct sound that is constantly evolving, maturing and exploring all facets of each member's talents and imagination. They present strong progressive arrangements coupled with superb musicianship, relatable lyrics and great stage presence. Last but not least their ambitious attitudes and drive to create something a bit different enables them to grow as a band and expand their fan base.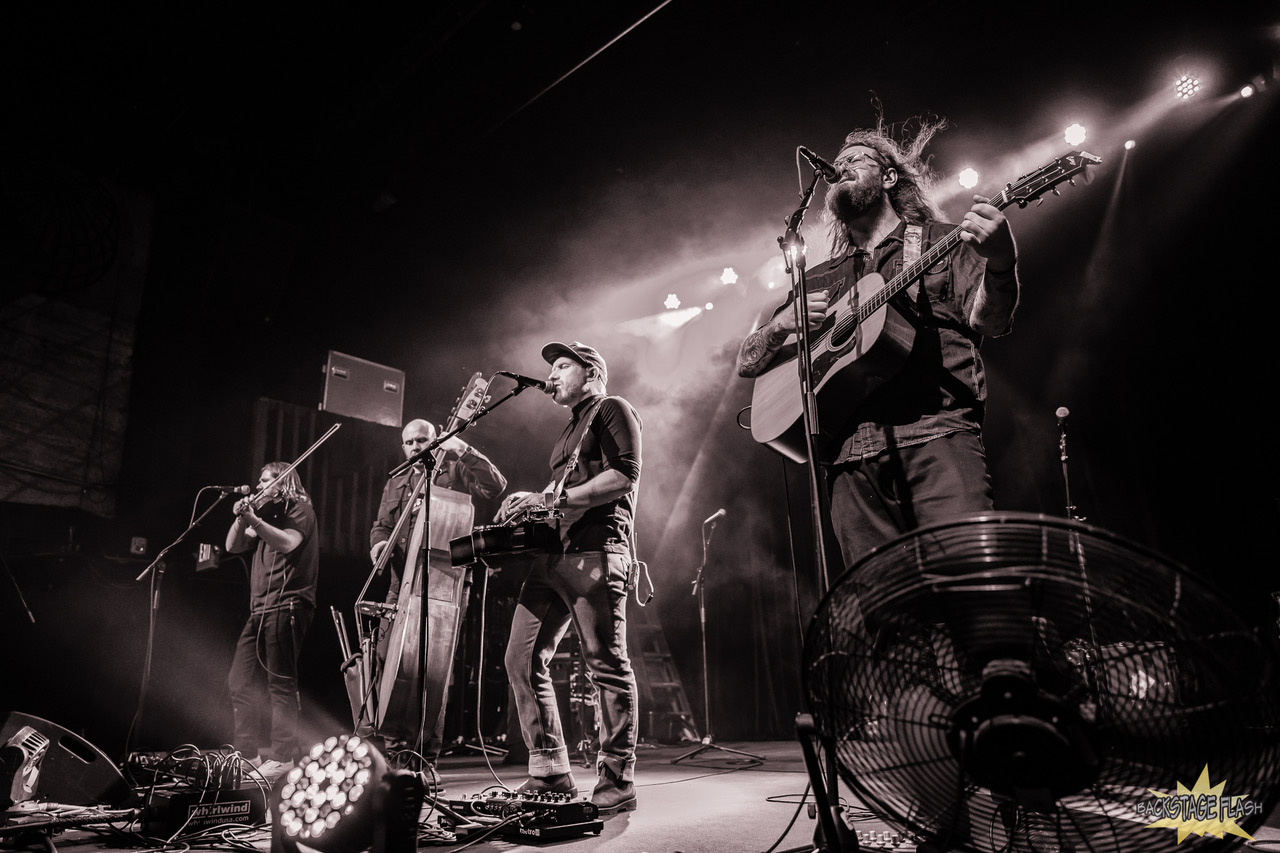 The Lil Smokies success is all their own, they have presented music in a stripped-down style and have capitalized on the honesty, simplicity and overall good vibes they present and attract. This band has wildly open doors as far as their future is concerned. They are writing their own musical map with every live show, every recording and every captivating jam they create. The audience is all in and with all of these redeeming qualities the band's feet are firmly on the pedal and the tank is full.
Grateful Web had a chance to catch up with vocalist and dobro player Andy Dunnigan of The Lil Smokies and here's what he had to say.
GW: Hi Andy, thanks for spending some time with us. I have a list of questions but I thought I would like to start this interview with a more soulful approach. The Lil Smokies are loved by many generations of music fans, what do you love about being in this band?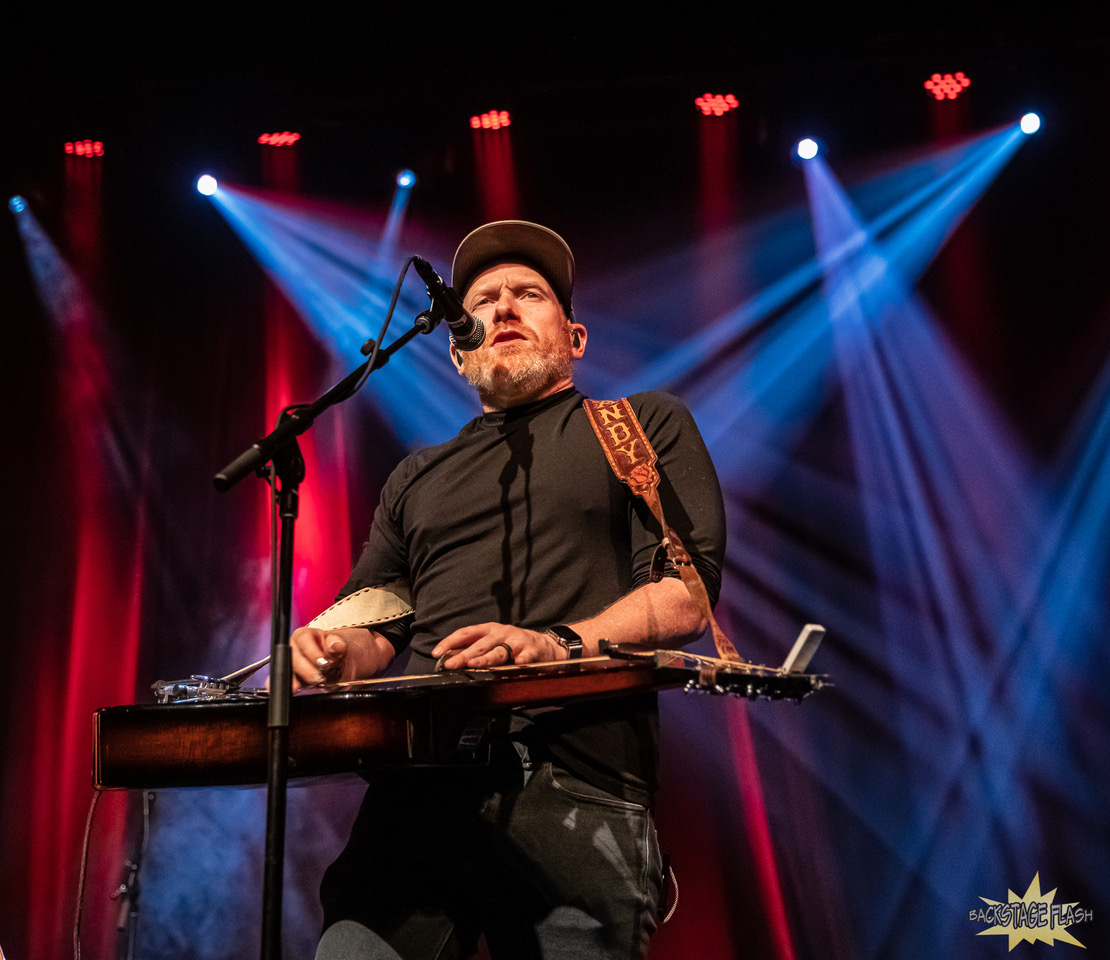 Andy: Wow, there's a long Costco length grocery list of reasons why I love being in this band. The cornerstones would be my genuine love for playing music and my love and gratitude for the people who continually come out and sing along year after year. Reciprocity makes the kindle ignite. It's mind-boggling to me that I get to do this for a living. Every year I keep thinking somebody is gonna pull the rug out. The other part of why I love being in this band is my admiration and love for my musical brothers in this band, and my family. We've been through so much over the years it's hard to even imagine a life without these beautiful dudes. I love the adventure too; I love being in this band because I love the great unknown. Waking up every day on the road with only a vague idea of what is going to occur is a beautiful thing.
GW: The Lil Smokies are from Montana, how has the backdrop of the Big Sky state influenced the sound of the band.
Andy: I think there's a thoughtfulness and a pensiveness you can hear in our music that is definitely distilled through time spent underneath the vast big sky and from residing by the mountains, rivers and streams of Montana. It's a gigantic part of my life, hiking, backpacking, mountaineering.  All my best thinking and reflecting is done in Glacier National Park. It undeniably informs my songwriting.
GW: Does everyone in the band contribute to writing the songs and if so, is it a collaborative effort, singular or both?
Andy: The songwriting is done via myself, The Rev (Matthew Rieger), and Jake Simpson. It's both a singular and collaborative effort. The three of us do a lot of writing on our own time and then bring our half-baked tunes to the group during rehearsal and we sit down and spend hours arranging them.
GW: The Lil Smokies are influenced by many styles of music that translates into a very exciting diverse live show. When you are writing a song do you think of a specific genre to present the song in or does it take on a life of its own?
Andy: There's definitely a sound that we're slowly inching towards in regard to our own music. We like to play a plethora of different styles during our live shows but in the studio, we try to think and write from our own vernacular. We've never tried to specifically capture a specific genre. We're very unified and confident in our ability to continue honing in our own sound. We adhere and cater to each song, that's the most important part of the craft for us.
GW: Is the band currently working on new music to be released in the near future?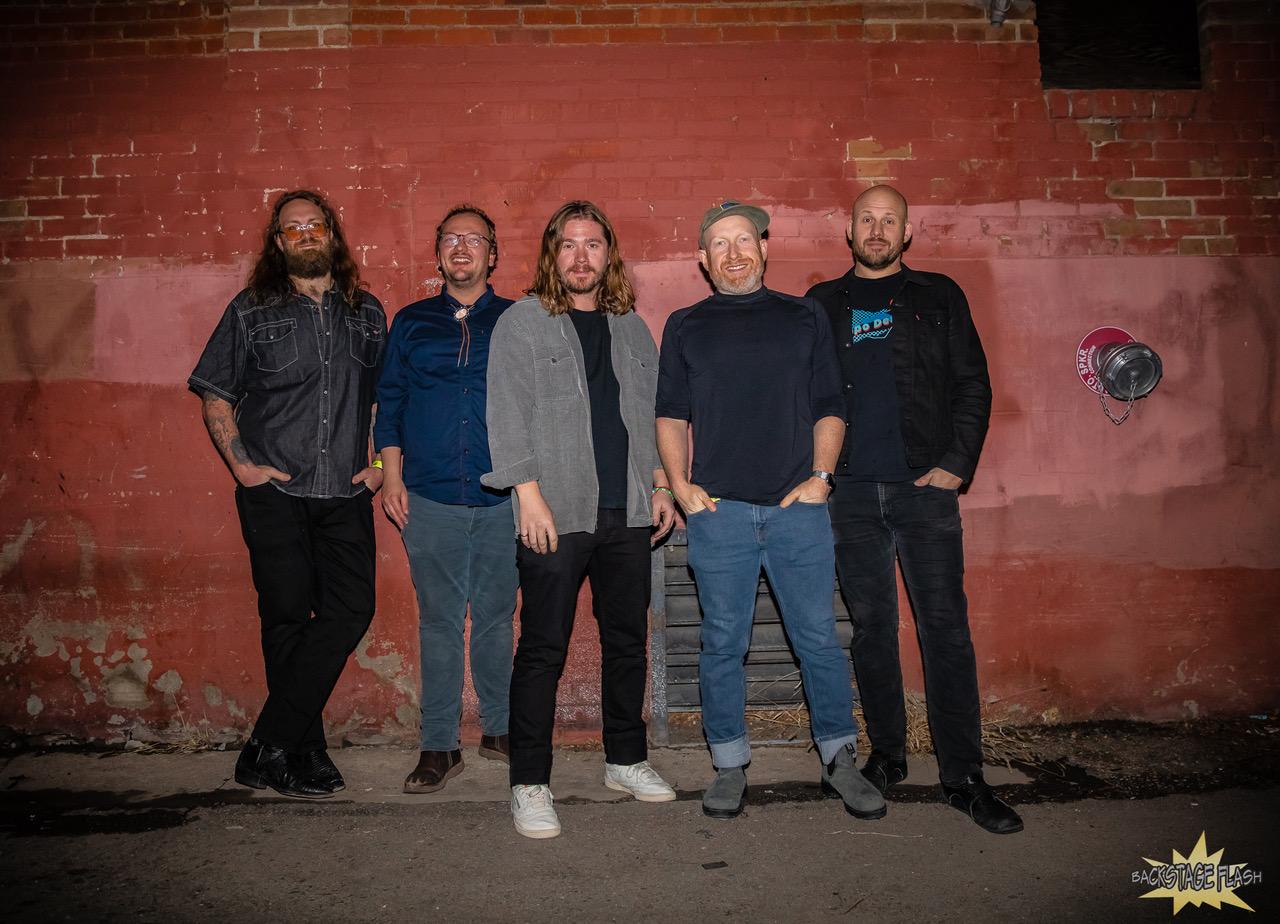 Andy: Yes! We're heading into the studio in a few weeks. We're working with Robert Ellis to produce a new full-length album. We're VERY excited about it all.
GW: We all went through a tough time in 2020 and 2021, how did the band stay motivated and inspired during such a difficult time?
Andy: For myself personally I found solace and growth in divorcing myself from the music and the industry life for almost a year. I needed to, I was beyond burnt out and feeling a lot of resentment towards the road and music when Covid first hit. The summer of 2020 I made a point to camp, swim, hike and hangout with old neglected friends and family. Slowly but surely, I began to feel inspired again and an enormous sense of gratitude for my career was born again. Growing as a person and living life outside of the airport was also the lifeline my songwriting had been truly needing.
GW: You have spent a lot of time in Colorado and have acquired a loyal fan base, what is your favorite venue you have played in the Rocky Mountain state?
Andy: Telluride and Red Rocks are pretty hard to beat. Colorado is rich in awe inspiring outdoor amphitheaters, good lord!
GW: During a typical set of music, do you play all original music or are there any favorite cover tunes from some of your favorite artists sprinkled in?
Andy: We like to sprinkle 2 or 3 covers in a set of music, the rest are originals. I'm a big fan of a well-represented and arranged cover song though.
GW: Finally, are there any special gigs, collaborations, live recordings or just overall cool stuff to let the fans know about?
Andy: We're recording in April and come May we'll be hitting the road playing everywhere you can think of for the rest of the year, including Iceland with Greensky Bluegrass. Come out and see us and please say hello if you ever see me!
GW: Thank you for being so generous with your time, we appreciate it, and wish The Lil Smokies all the best.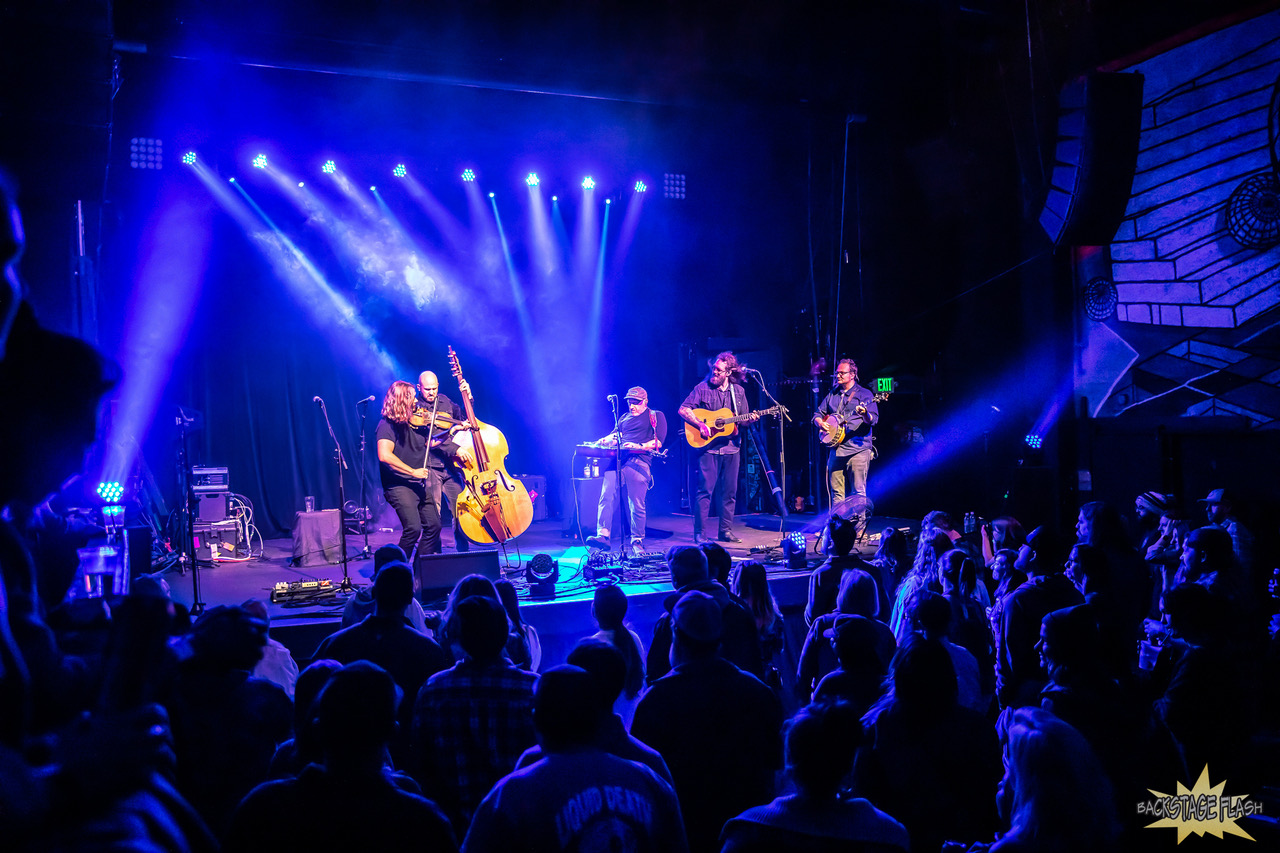 From the ocean to the mountains The Lil Smokies are crisscrossing the planet spreading joy and tasty jams everywhere they go. Fresh off of Jam Cruise and now spending a week in Colorado leading up to WinterWonderGrass in Steamboat, Colorado on March 4th and 5th. They are no strangers to the front range of Colorado and Fort Collins was so happy to have them back at the Aggie Theatre last night. The Lil Smokies' set included music from different times in the band's career and they opened with the song "Fortunes" to set the mood for what was to come.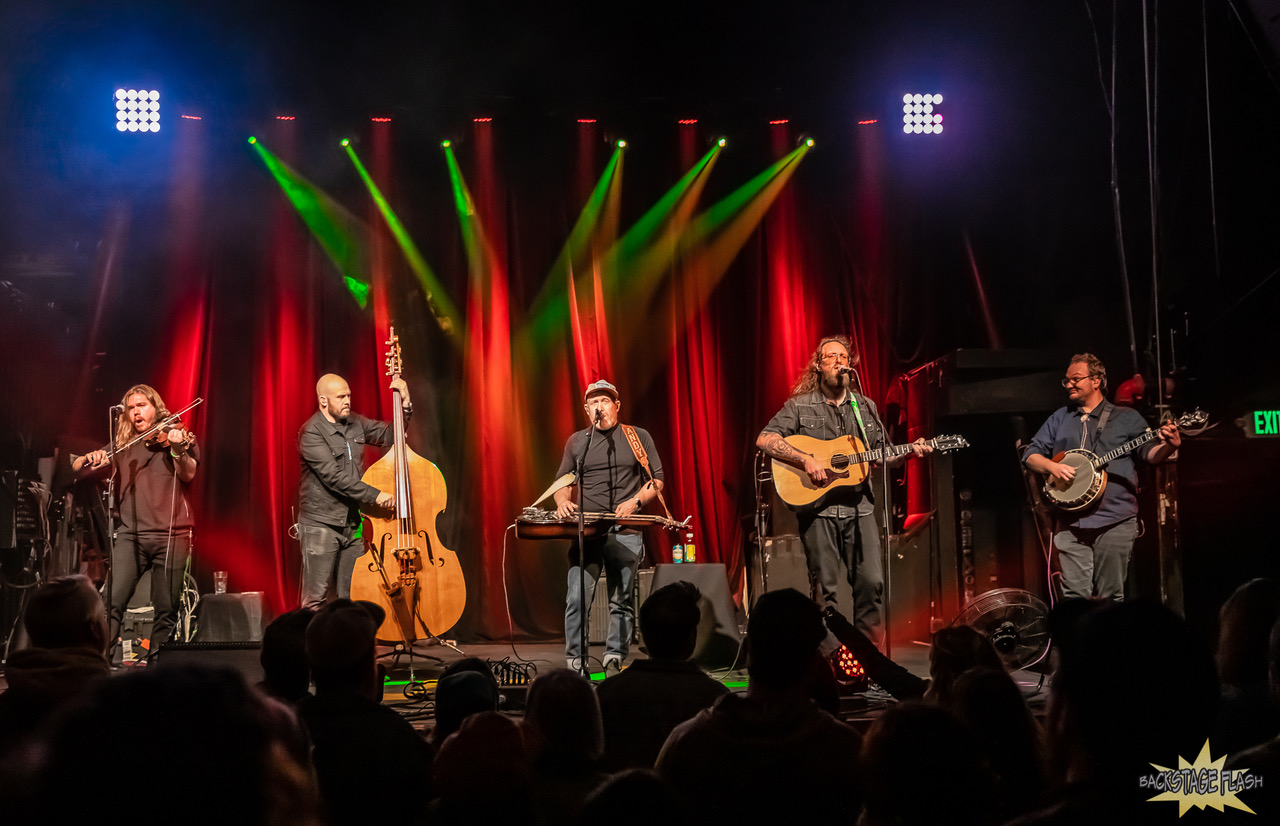 The band is Andy Dunnigan on vocals and dobro, Jake Simpson on vocals and fiddle, Matt "The Rev" Rieger on vocals and guitar, Jean-Luc Davis on stand-up bass and Sam Zickefoose on banjo. The song selection was full of cool contemporary arrangements that are exploratory, danceable and foot stomping fun. There were plenty of creative tempo changes and with three different singers the audience was treated to all kinds of different moods and vocal tones. The band's stage presence was infectious and the audience gave that energy right back and when this happens it's just like a colorful fast spinning ball of energy the keeps spinning with adventurous unknowns.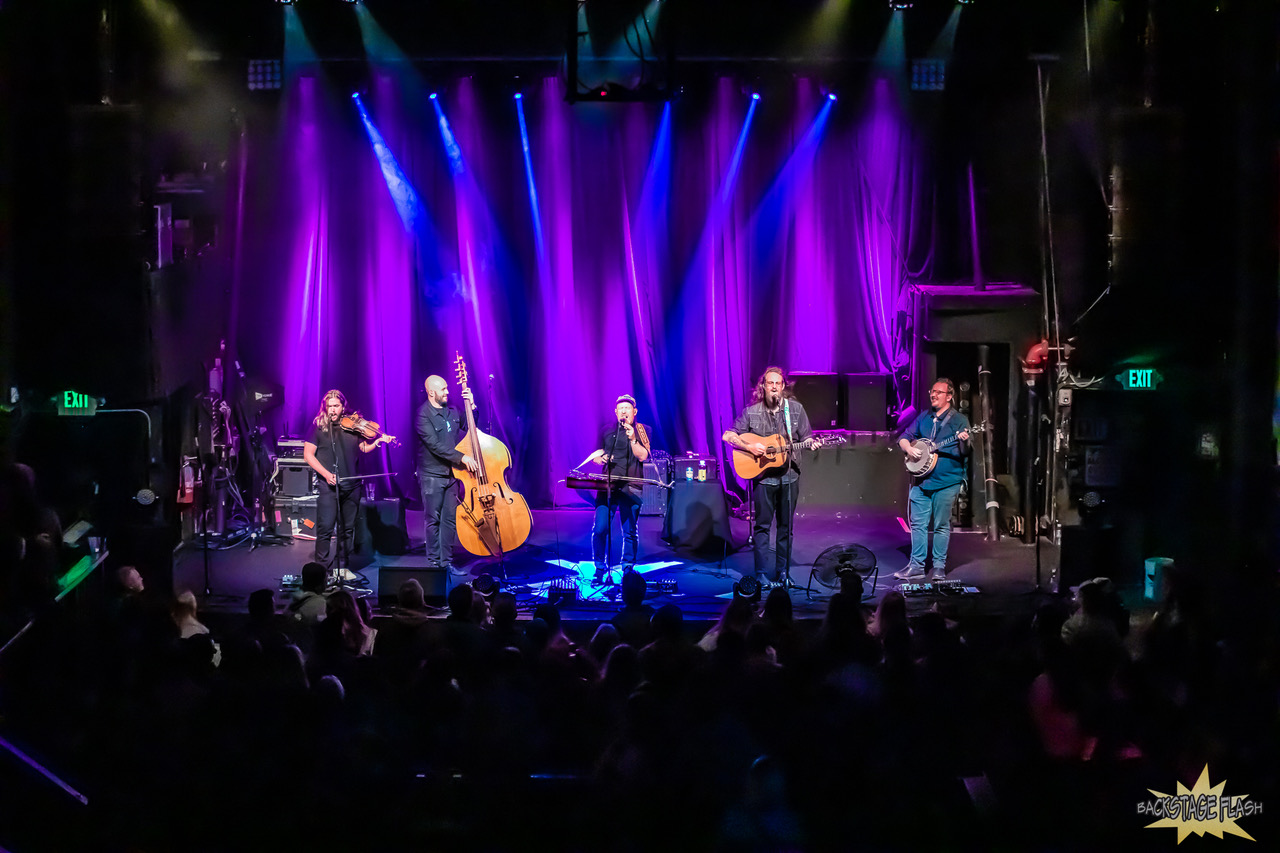 The set was packed with fan favorites including "Carry Me", "Feathers", "Worlds On Fire", "Sharpest Edges" and many more. Each song was presented with tight cohesiveness as well as strong individual presence by each member of the band. Dunnigan's dobro solos are downright powerful displays of musicianship and he is not shy about getting as close to the edge of the stage as possible to get his musical point across. All of the band members are great soloists and all took their collective turns showing their skills and years of hard work. This band's work ethic and masterful knowledge of all things stringed were on full display in Fort Collins last night. The moods, melodies and magical compositions were out in full force and the crowd loved every minute of the show.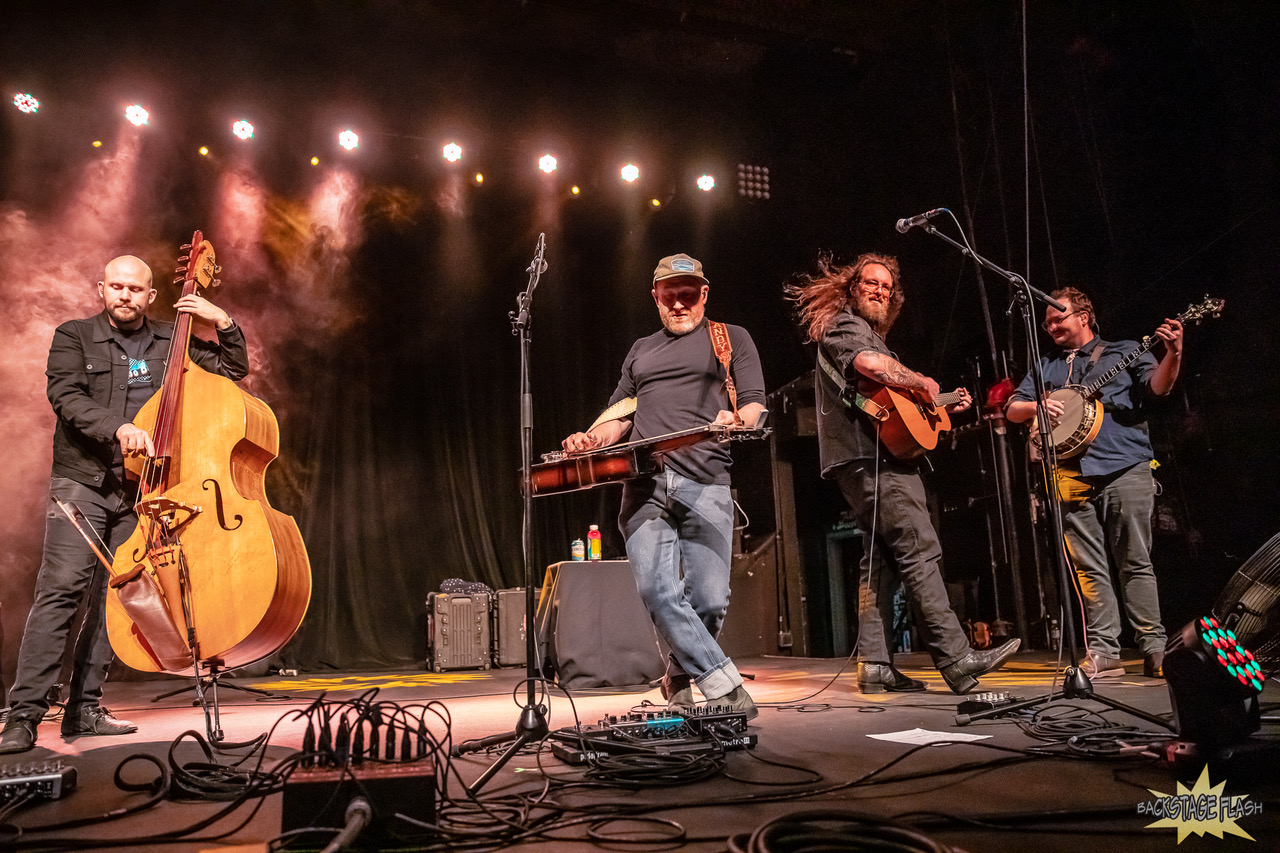 The uniqueness of each song The Lil Smokies performed was like a storybook of the band's encounters in life and each song is lyrically crafted to tell that story. The music the words sit on is just as expressive and rewarding as the words. What a great night of face melting musicianship! I had left the venue before the extremely talented guest vocalist Emma Rose joined the band for their song "Shadow", but I did snap a shot of Emma and the band in the green room running through the song before the show.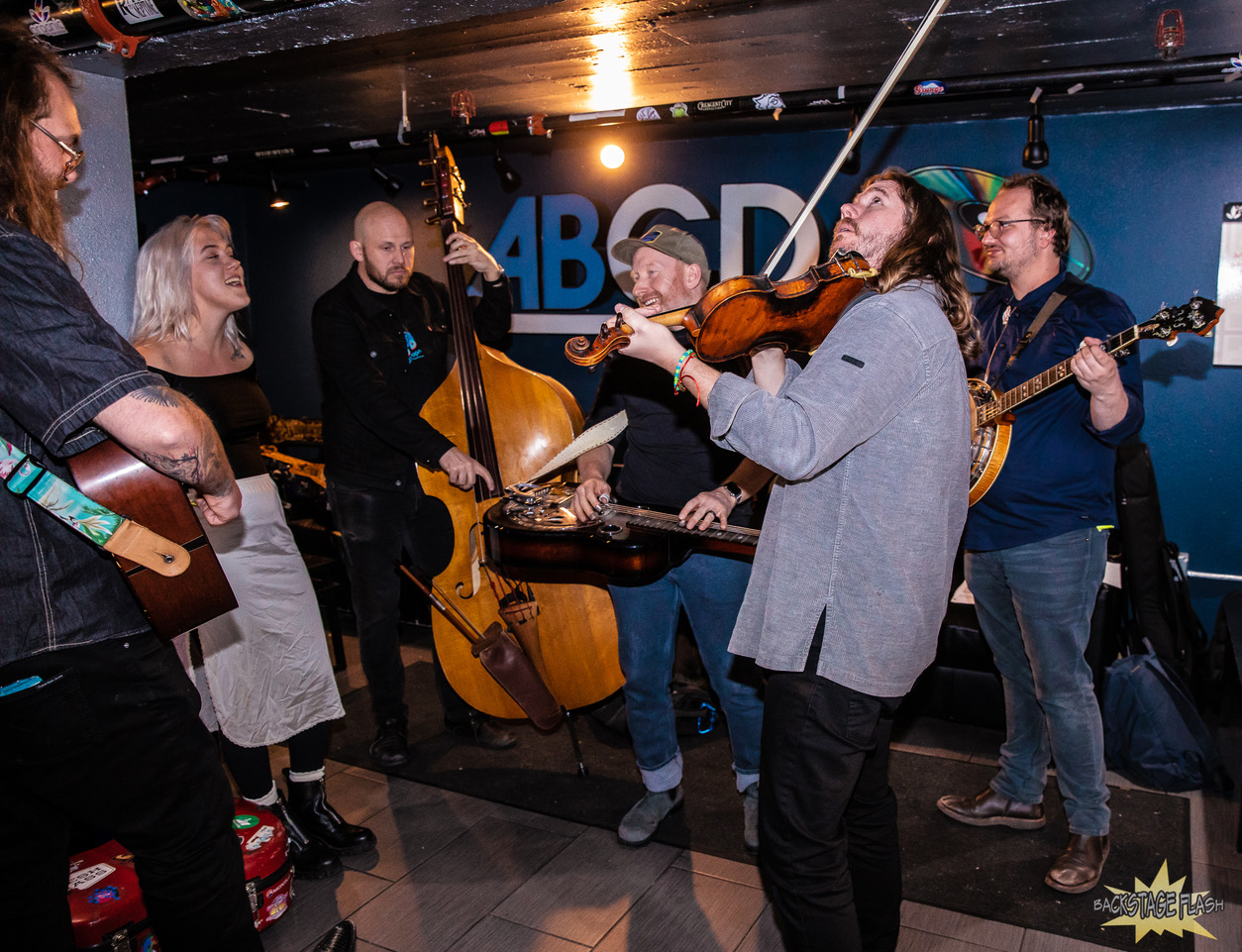 Thanks to The Little Smokies for visiting Fort Collins and playing your music for us. Thanks to the staff of the Aggie for always providing a safe fun space to rock!