Last Saturday night was a regular jamfest down at the Boulder Theater, and something like a showcase of local mountain bluegrass scene.  The evening's festivities featured the likes of Great American Taxi, the Emmitt Nershi Band, Oakhurst, the Jefferson Hamer, K.C. Groves and Greg Schochet Trio (or SHG, as Vince Herman likes to call them), and a slew of other small-time acts.  Packed with musicians and music fans alike, the theater was alive with feel-goodery.  And why not, it's a special occasion after all!  The real agenda was the 6th annual Mark Vann Foundation holiday benefit show.  It was time to live it up for a good cause.
Mark Vann was the banjo player for Leftover Salmon (you may have heard of them), Vince Herman and Drew Emmitt's other band before Great American Taxi or Emmitt Nershi Band respectively.  Mark Vann died after his battle with cancer in 2002, at the all-too-young age of 39, and now the Mark Vann Foundation continues his legacy, following the mantra "helping dreams go big."  The Foundation raises money on behalf of non-profit organizations devoted to "bringing light, love and laughter into the lives of those in need through nature, music and the arts."  For a soul who is said to have loved and lived life to the fullest, this is about the best legacy you could hope for.
The jams started early in the evening and kept up all night.  One act would play, and then a smaller act would keep the crowd moving while the stage was reset in the background, and hardly anybody skipped a beat along the way.  Festivities culminated in a six-man all-banjo salute and followed by the reemergence of pretty much all musicians present for an epic end jam. Pretty much everyone on stage throughout the night knew or worked with Vann in one context or another, and everyone was in high spirits as they reveled in the fond memories of their departed comrade.  After all, a celebration of life is the best way to remember someone special, even in death.
After checking out the swag up for auction, including a bunch of photos of Leftover Salmon, a signed guitar, and a righteous guitar tapestry, and after hearing the raffle ticket speech for the third time, I sauntered back towards the stage to watch Jefferson Hamer's new project.  Last time I saw Jefferson Hamer he was playing lead guitar for Great American Taxi, but on Saturday night, Hamer played only as the 'H' in the SHG Trio.  His new gig is far less rowdy than Taxi, and a little bit bluesy in their interpretations of the folk genre, crooning out three-part harmonies alongside crunchy electric guitar.
The Boulder Theater was beginning to smell strongly of beer and smoke when Oakhurst came out.  By far the loudest, and highest energy group of the night, Oakhurst kicked everyone up several notches on the enthusiasm scale with their fast-paced frantic rock 'n' grass.  Adam Smith, the band's mandolin player, pounded on his instrument harder than most rock guitarists do, while singer AP Hill belted out vocals, jumping up and down, and shaking his long hair around.  The must have all been exhausted by the end of the set, having gone all out balls to the wall for the duration.
By this point, everyone was in a dancing mood.  From my perspective, bluegrass is far more fun to play than to watch, but I love these shows anyway, mostly because the people in attendance end up being so nice.  Since everyone is dancing, everyone also respects your space, and doesn't try to push you out of the way to get a spot from which they can ogle the band.  Not like anyone would want to ogle Vince Herman anyway.  For all his skill, he's not much to look at.  However, at a show like this, you also run the risk of some smelly hippie chick coming over to rub her nasty dreads all over you and your wife.  Gross.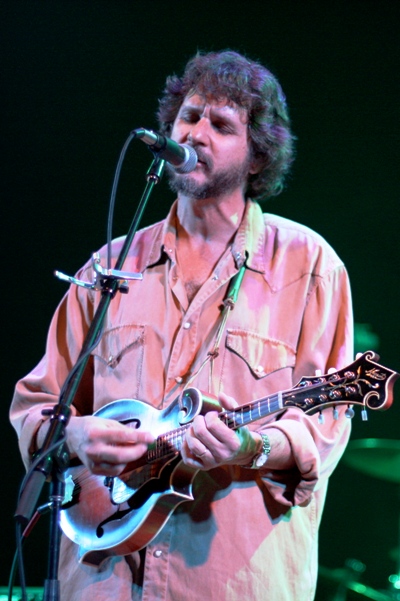 Vince and the gang drove the Taxi out on stage next, cruising through an upbeat, fun-loving set of new-school Americana.  That's like old roots growing in new soil, in case you were wondering.  It's good time music, nothing fancy, nothing deep, nothing moody, glower, glum, or depressing.  Vince Herman's son Silas came out and strummed a few songs with the band as well.  He's only a kid, complete with his pants hanging half way off his ass, but man, that kid can already play!  Tim Carbone, the violinist for Railroad Earth, also joined with Taxi for the evening, bringing another unique element to the band's free-spirited dynamic.
The Emmitt Nershi Band shifted gears a little, getting a little softer, a little mellower, a little more back to basics with their bluegrass.  This fruitful partnership between Drew Emmitt and Bill Nershi came about partially as the result of the disbanding of Leftover Salmon and the String Cheese Incident, when both musicians left their native bands to pursue other interests.  Who knows whether this partnership was what each had in mind, but luckily enough for the jamgrass fans around the world, this is where they are now, and they don't seem to be going separate ways anytime soon.
After the Emmitt Nershi band's groovy trip was over, the banjos came out.  Six guys with banjos, accompanied by a standup bass, picked and strummed madly in honor of Mark Vann's most treasure instrument, each sticking a few solos in along the way.  Then everyone else came back out and things got ridiculous.  In an epic all out jam, the guys and gals tore up the stage, playing about three songs over the course of the next hour.  Everyone made their mark, taking turns throwing juicy riffs and solos in the mix, each of which defined the particular style of the individual player, highlighting it within the context of the greater wall of sound.  Electric guitars, acoustic guitars, mandolins, a bluesy harmonica, banjos (obviously), fiddles, piano, drums, bass, horns, washboards, it was a cornucopia of sounds and styles, and a feast for the ears to be sure, ridiculous in its abundance of bodies and instruments.  And what a note to go out on!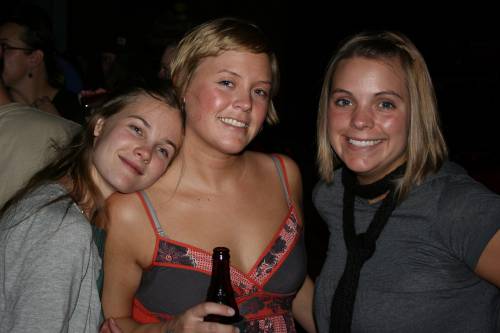 The Mark Vann Foundation is lucky to have the backing of such a fun-loving and generous community of people, and the annual holiday benefit concert gets bigger and better every year.  If you missed out this year, mark your calendar for this time next year, and save up a few bucks for a worthy cause.
To see more pictures from the show, including yours maybe, please visit the Gallery.