Los Lobos was awarded "Best Americana Album" for their 2021 studio album Native Sons at last night's 64th Annual Grammy Awards. It is their fourth Grammy Award win. The 13-song Native Sons was produced by Los Lobos in East Los Angeles and found the band mapping their musical DNA as a kaleidoscopic selection of tribute songs from their homeland, ultimately creating a crucial snapshot of L.A.'s musical heritage. Met with wide critical acclaim, David Fricke said in his 4 Star MOJO review, "Pin Ups en Espanol: East LA's greatest dance band hosts a 'covers' party," while Uncut Magazine awarded the album 8 out of 10 stars. Mother Jones said "They are a national treasure," while the actor, comedian, and podcast host Marc Maron exclaimed "Los Lobos makes almost all other bands look like novelty acts."
Los Lobos' Steve Berlin accepted the award on behalf of the band, saying "The concept of this record was gratitude. It was a thank you to the city that we started in and the artists and records that inspired us to try to make a living out of this. I think it's an important concept. I just want to thank everybody that had anything to do with our career. Next year will be 50 years. It's amazing to think about. These things never get old, so thank you very much."
For all the trailblazing musical acts who've emerged from Los Angeles, very few embody the city's wildly eclectic spirit more wholeheartedly than Los Lobos. Over the last five decades, the East L.A.-bred band has made an indelible mark on music history by exploring an enormous diversity of genres—rock-and-roll and R&B, surf music and soul, mariachi and música norteña, punk rock and country—and building a boldly unpredictable sound all their own.
The National Endowment for the Arts also named Los Lobos a part of its newest class of National Heritage fellows. The honor recognizes individuals and groups who represent the richness and breadth of America's folk and traditional arts and supports their continuing contributions to our nation's traditional arts heritage.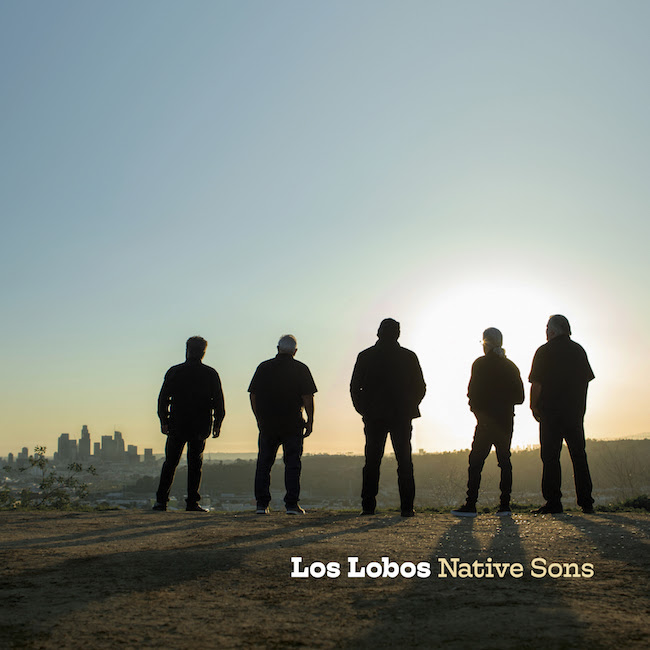 As with all of their catalog, Native Sons reveals Los Lobos' ability to merge genres and styles with both sophistication and playful spontaneity, an element that's perfectly reflected in the album's unbridled joy. "I played it for a friend and his first response was that it's a party record—which sounds right to me," says Los Lobos' David Hidalgo. Beyond that undeniably feel-good quality, Native Sons essentially serves as a love letter to Los Angeles and the endless possibilities to be found when all boundaries are shattered. "I couldn't say there's a common thread for all these artists, but in a way that's exactly what makes L.A. great," says Berlin. "You've got R&B and punk rock and rock-and-roll and folk, and somehow it exists together in this one weird city that we all call home."
Los Lobos will launch another leg of their extensive Native Sons tour this Friday in Santa Maria, CA. The tour features two nights at Red Rocks Amphitheater on July 29th and 30th, as well a hometown show at The Greek Theater in Los Angeles on August 19th as a part of the "Wheels of Soul Tour" alongside the Tedeschi Trucks Band. Please see all dates below.
Quickly finding their footing in L.A.'s punk/college-rock scene, Los Lobos began sharing bills with bands like Public Image Ltd. and the Circle Jerks. After making their major-label debut with 1984's critically lauded How Will the Wolf Survive?, they went on to achieve such triumphs as contributing a smash-hit cover of Ritchie Valens's signature song "La Bamba" to the 1987 biopic of the same name, winning four Grammy Awards, collaborating with the likes of Elvis Costello and Ry Cooder, and earning massive worldwide critical acclaim.
Los Lobos' Native Sons is available NOW via NEW WEST RECORDS.
Los Lobos Still Are: David Hidalgo (vocals, guitars) - Louie Pérez, Jr. (vocals, guitars) - Cesar Rosas (vocals, guitars, bass, Hammond B3 organ) - Conrad Lozano (vocals, bass) - Steve Berlin (saxes, midisax, keyboards)
Los Lobos On Tour:
 
04.08.2022 - Presqu'ile Winery - Santa Maria, CA
04.09.2022 - Rio Theater - Santa Cruz, CA
04.10.2022 - Sweetwater Music Hall - Mill Valley, CA
04.20.2022 - South Orange PAC - South Orange, NJ
04.23.2022 - The Fountain Stage at Regents Square Western New Mexico University - Silver City, NM
04.28.2022 - The Burl - Lexington, KY
04.29.2022 - The Basement - Nashville, TN
05.06.2022 - Boulder Station - Las Vegas, NV
05.07.2022 - Riverside Municipal Auditorium - Riverside, CA
06.02.2022 - Egyptian Theatre - Park City, UT
06.03.2022 - Egyptian Theatre - Park City, UT
06.04.2022  - Egyptian Theatre - Park City, UT
06.05.2022  - Egyptian Theatre - Park City, UT
6.24.2022  - Daily's Place Amphitheater - Jacksonville, FL *
6.25.2022  - Mobile Civic Center - Mobile, AL *
6.26.2022 - Tuscaloosa Amphitheater - Tuscaloosa, AL *
6.28.2022  - The Amphitheater at White River State Park - Indianapolis, IN *
6.29.2022  - Fox Theatre - Detroit, MI *
7.01.2022  - Constellation Brands / Marvin Sands Performing Arts Center    Canandaigua, NY *
7.02.2022 - Bank of New Hampshire Pavilion - Gilford, NH *
7.03.2022 - Saratoga Performing Arts Center - Saratoga Springs, NY *
7.06.2022 - Westville Music Bowl - New Haven, CT *
7.08.2022 - The Mann Center of Performing Arts - Philadelphia, PA *
7.09.2022 - Midway Lawn - Burlington, VT *
7.10.2022 - Great South Bay Music Festival - Patchogue, NY *
7.12.2022  - Artpark - Lewiston, NY *
7.15.2022  - Fox Theatre - Atlanta, GA *
7.16.2022  - Fox Theatre - Atlanta, GA *
7.19.2022 - Wolf Trap - Vienna, VA *
7.20.2022  - Virginia Credit Union LIVE! - Richmond, VA *
7.21.2022 - Coastal Credit Union Music Park - Raleigh, NC *
7.23.2022 - PNC Music Pavillion - Charlotte, NC *
7.24.2022 - Rose Music Center at The Heights - Huber Heights, OH *
7.26.2022 - RiverEdge Park - Aurora, IL *
7.27.2022  - Fabulous Fox Theatre - St Louis, MO *
7.29.2022 - Red Rocks Amphitheatre - Morrison, CO *
7.30.2022 - Red Rocks Amphitheatre - Morrison, CO *
08.18.2022  - Cal Coast Credit Union Open Air Theatre - San Diego, CA *
08.19.2022 - Greek Theatre - Los Angeles, CA *
08.20.2022 - UC Berkeley - Berkeley, CA *
08.23.2022 - Memorial Auditorium - Sacramento, CA *
08.24.2022  - Cuthbert Amphitheater - Eugene, OR *
08.26.2022 - White River Amphitheatre - Auburn, WA *
08.27.2022 - Hayden Homes Amphitheater - Bend, OR *
08.28.2022 - Grand Sierra Resort & Casino - Reno, NV *
08.31.2022 - Outlaw Field at the Idaho Botanical Garden - Boise, ID *
09.01.2022 - KettleHouse Amphitheater - Bonner, MT *
09.03.2022 - Bluestem Center for the Arts Amphitheatre - Moorhead, MN *
09.15.2022-09.18.2022 - Super Legends Cruise - North Long Beach, CA
11.03.2022-11.08.2022 - Outlaw Country West Festival - Los Angeles, CA
 
* Wheels of Soul Tour with Tedeschi Trucks Band