No moments are ever guaranteed in life. No band has felt that harder than Lotus recently, having lost their longtime percussionist Chuck Morris, along with his son Charley, in a tragic kayaking accident on March 16, 2023. The remaining members of Lotus, along with many friends, gathered at the Capitol Theatre in Port Chester, NY on May 6, 2023 to honor the lives of Chuck and Charley. This already scheduled show was converted into a Morris Family Benefit show, as all of the proceeds went to the Morris Family. Musicians from bands like Dopapod, Pigeons Playing Ping Pong and Twiddle joined the musical party to honor this acclaimed percussionist. Space Bacon provided their support.
Space Bacon is a Brooklyn, NY based jamtronica quartet. This evening's lineup incorporated bassist Kevin LeGall, keyboardist Chris Gironda, drummer Sam Crespo, and new guitarist Fred Rylands. They brought non-stop, high speed edm songs for their short but sweet set. The crowd was warmed up to say the very least.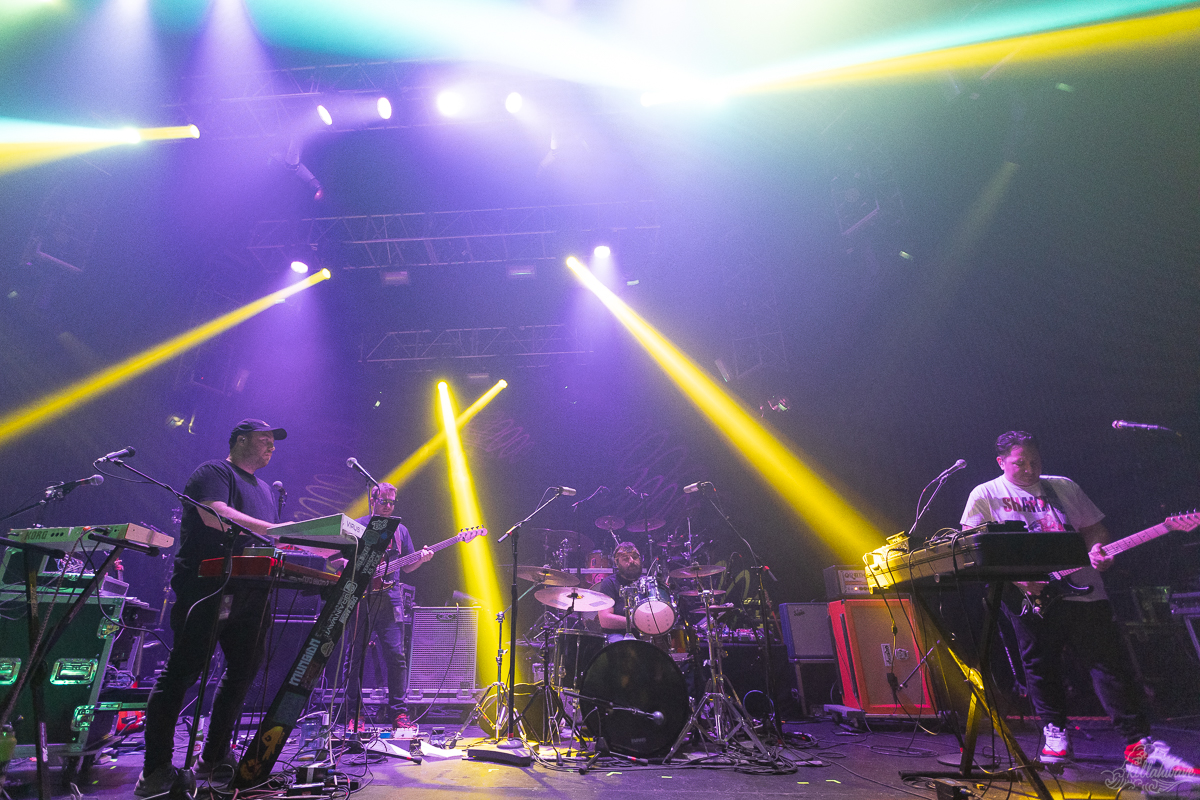 Lotus began their show with the familiar "Hammerstrike," from their 2008 release of the same name, and included plenty of tasty synth. Guitarist Tim Palmieri layered in steel guitar effects. The band moved into a slower, but dark jam that eventually returned to "Hammerstrike" with a blues inspired jam. Original Lotus drummer Steve Clemens, along with Dopapod keyboardist Eli Winderman and Twiddle drummer Adrian Tramontano were welcomed on stage for another vintage Lotus original, "Sift." This feel good tune contained elements of EDM, funk and reggae. The percussion was on point by Tramontano and Clemens, with drummer Mike Greenfield holding down a solid beat within the sweet groove that was building.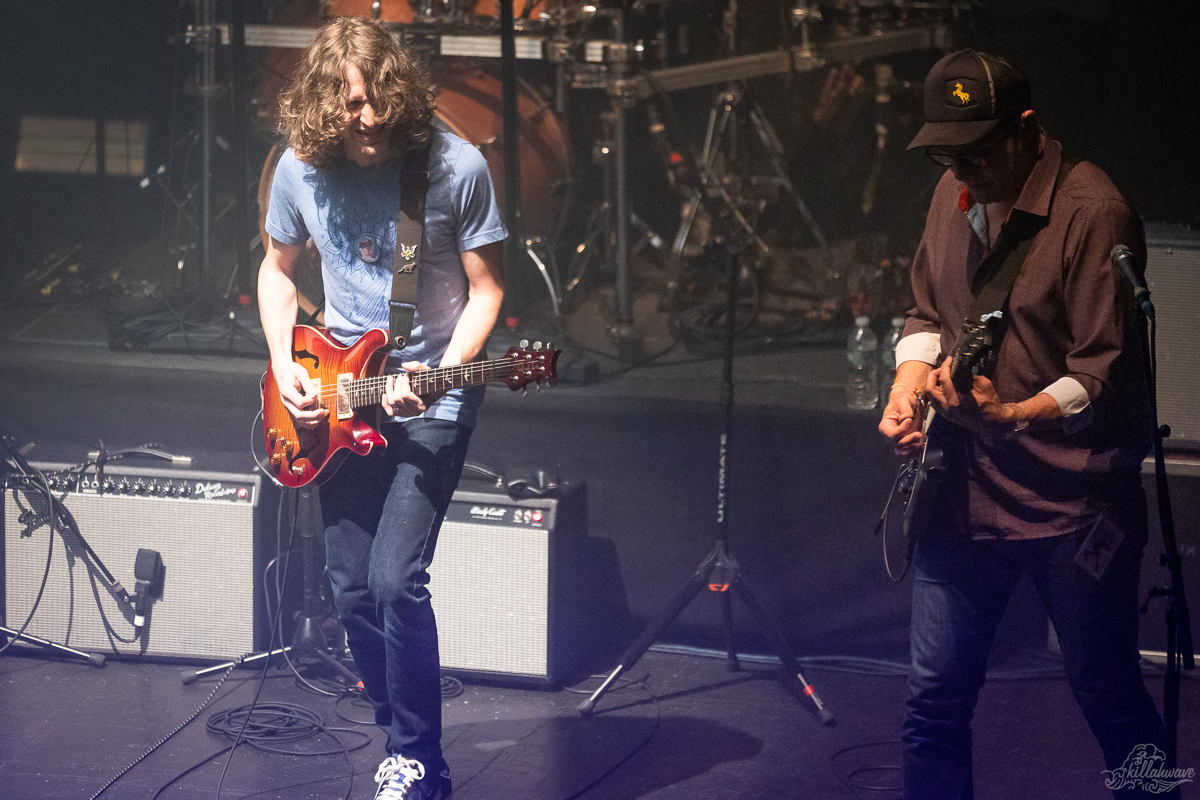 "Neon Tubes Pt. 1" was up next. Clemens stayed on for this upbeat, synth heavy tune that saw multi-instrumentalist Luke Miller shine. The mood got dark and robotic during a smooth transition into "Modular Jam." A guitar and synth battled then heated up and the music jettisoned into a raging "Neon Tubes Pt 2." "Catacombs," from their album Free Swim, followed, and included more from Tramontano as well as Jeremy Schon from Pigeons Playing Ping Pong. These musicians got locked into a thick jungle beat with multi-instrumentalist Jesse Miller leading the charge on bass. Schon added in his funky guitar flavor to this epic collaboration.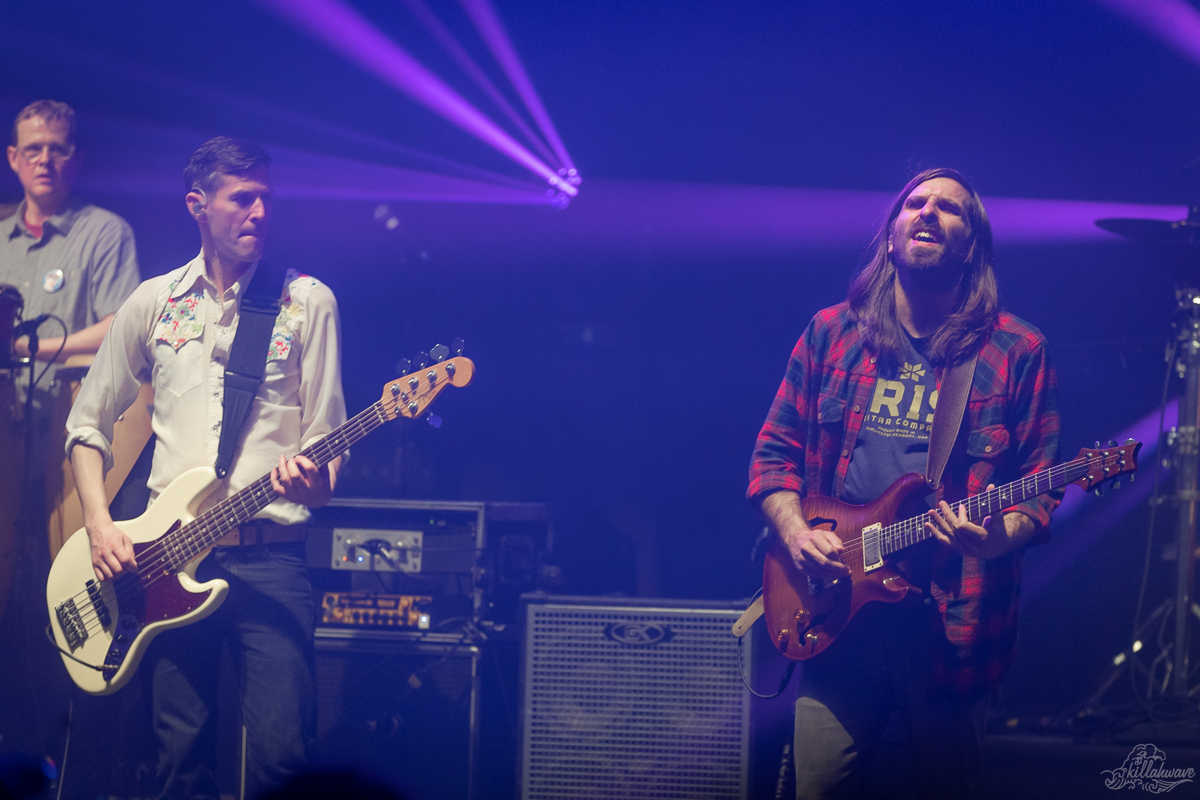 Rob Compa, the guitarist from Dopapod, and Jamie Doyle, from Blend Mode, swapped places with Schon and Tramontano for "Time Dilates." A high energy, tension and release guitar jam ensued during this penultimate tune. Compa remained and Tramontano assumed the helm with Chuck's gear as the set closed out on a deliciously funky note with "128."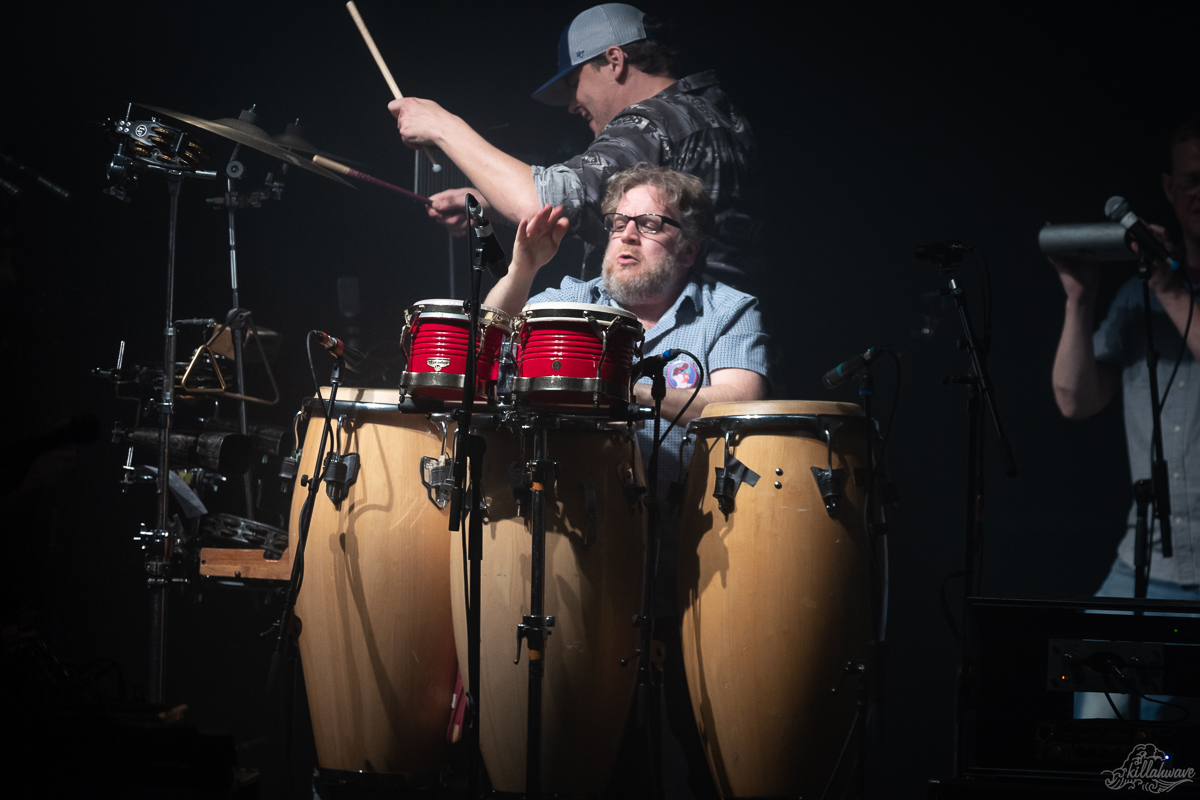 "Pluck" kicked off the second set with more deep house vibes, along with Winderman and Tramontano. The music flowed into a heavy percussive sequence, and Tramontano really shined. Windermin owned the organ while Luke Miller and Palmieri shredded on guitar during this stellar set opening tune. This eventually flowed into the bright, quintessential Lotus tune, "Spiritualize." A synth heavy trance followed, and ended on a beautiful note.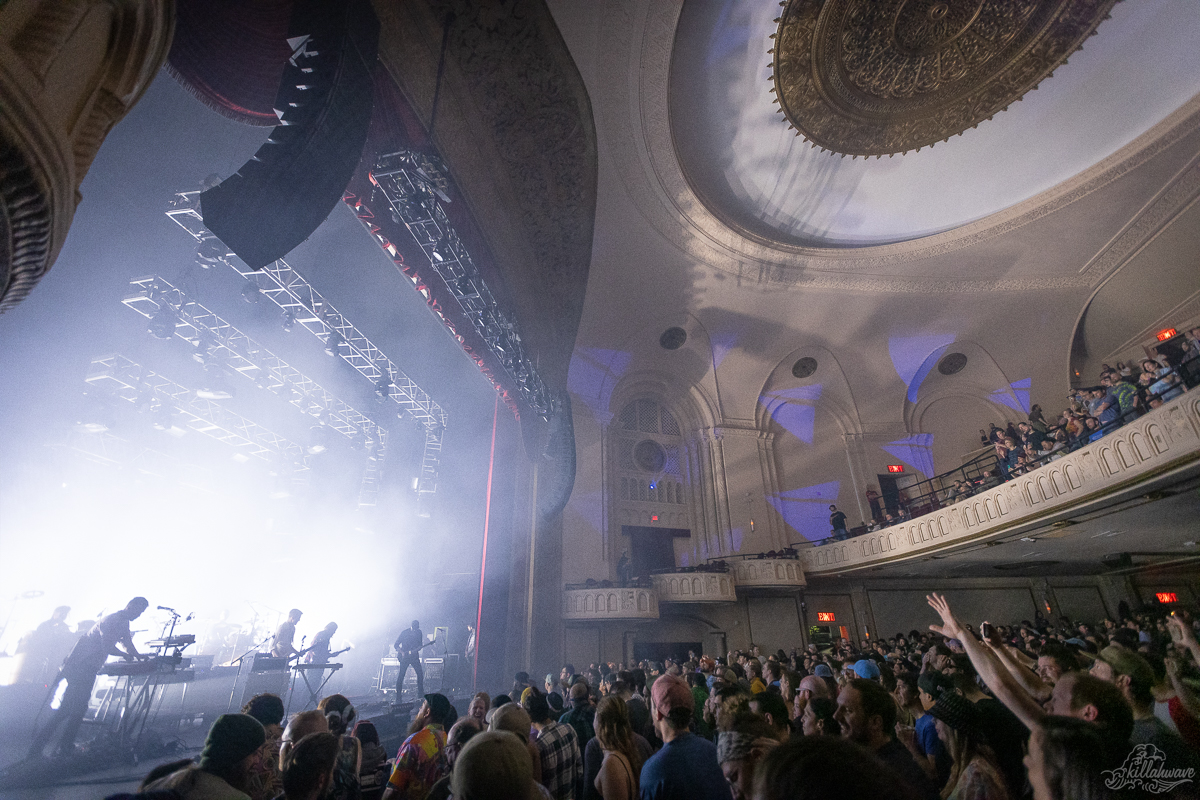 Clemens returned for another vintage tune, "Did Fatt." Jesse Miller and Greenfield drove the fast paced, drum and bass inspired jam. The tempo picked up as the band transitioned into "Mink & Shoes" by PsycheMagik, last played on December 30, 2022. Palmieri unfurled a sweet jam before the band collectively dialed into the synth, and had everyone in the Capitol Theater dancing.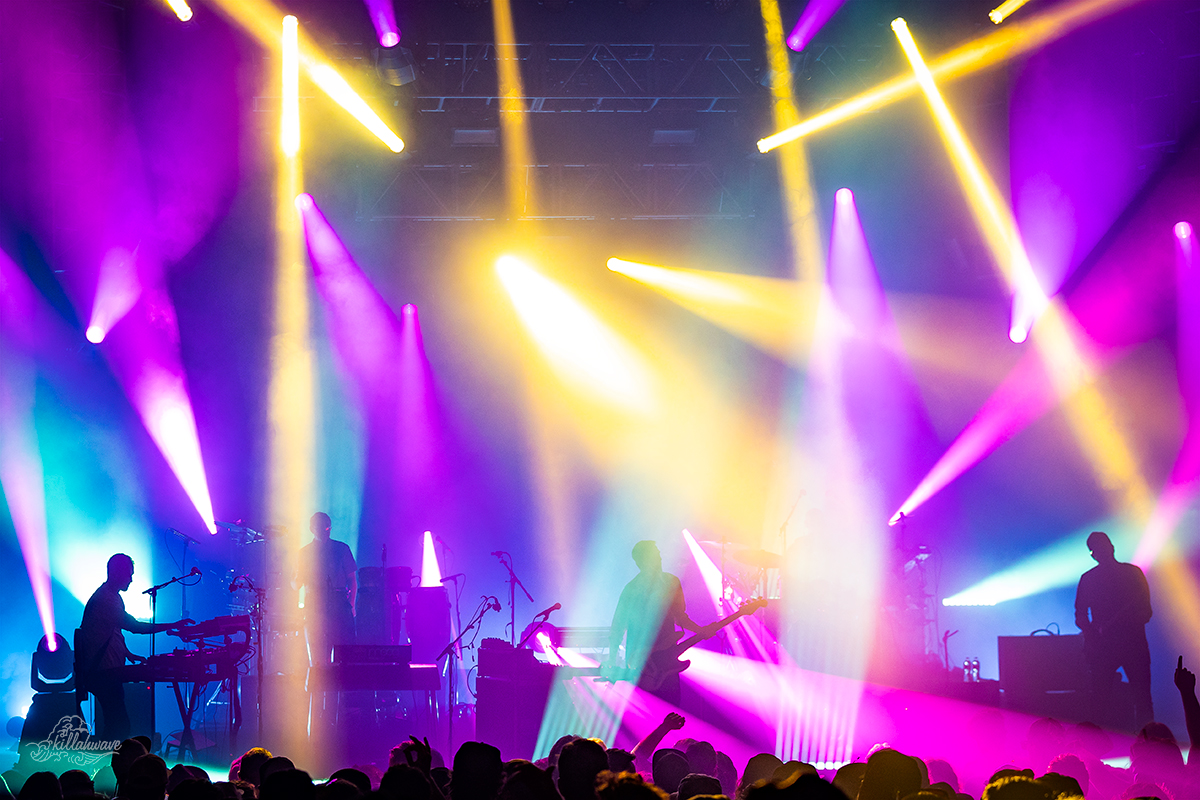 The music shifted into "Livingston Storm," and Schon appeared on stage once again for this melodic tune from their 2004 release Nomad. The uplifting, euphonious beats created a more chill jam, which was much needed by this point. Greenfield, along with Doyle, Tramontano and Clemens on percussion, delivered a mesmerizing drum solo that was certainly a great way to honor Chuck. "Bellweather" closed out this almost non-stop set with vigor. The band returned to play "Sunrain" with Compa, Tramontano and Clemens.  This encompassed more luscious back forth between Compa and Palmeri and blew what was left of the roof off.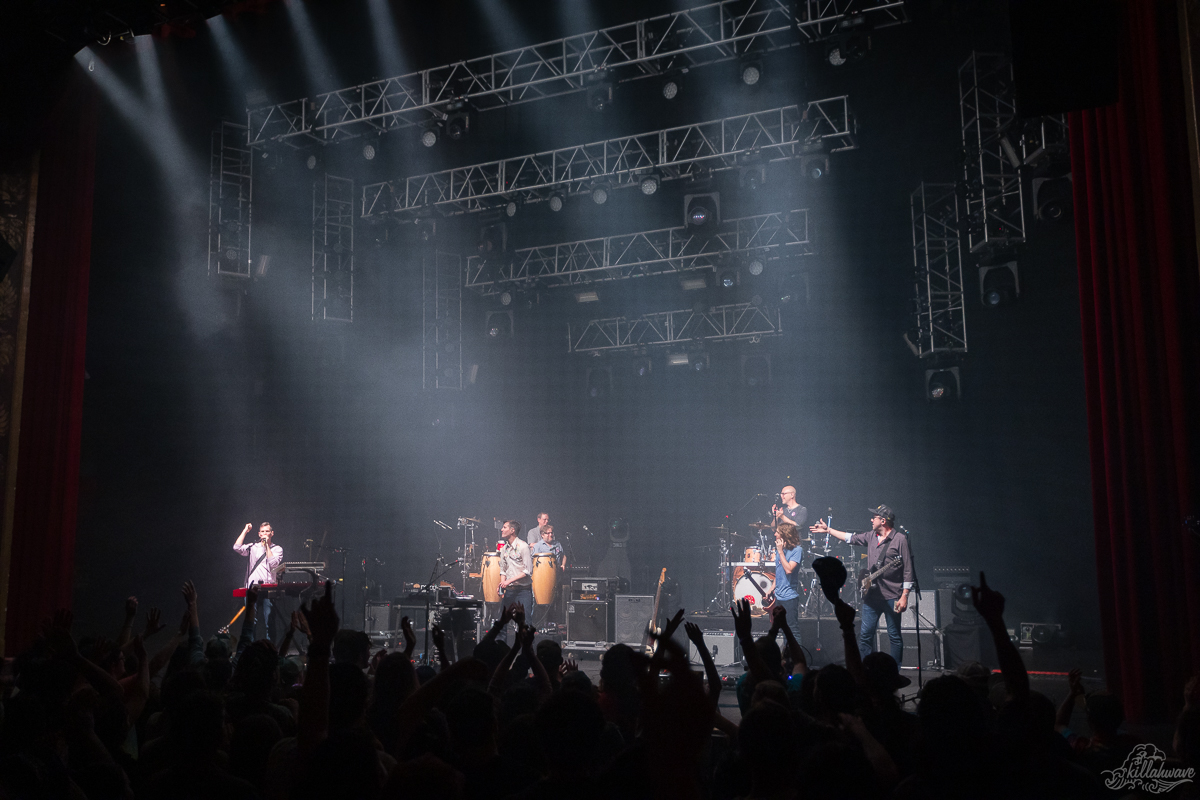 Lotus put on an outstanding show at the Capitol Theatre last weekend, as they always do, and meaningfully honored their former percussionist, Chuck Morris. They are a class act though and through, and it's unfortunate that events like this are what highlight these great traits. We send our best to this band as they heal, and look forward to when they regroup.
Their tour schedule is limited at the moment, but they are currently scheduled to play at Summer Camp and High Sierra Music Fest, amongst other festivals. Hop on over to their tour page for more details.
Check out more photos of Lotus and Space Bacon from the show!
Space Bacon
Set: Eucharist > Escape Room*, Computervision >< Ice Planet > Eucharist
Notes: * new song, first time played
Lotus
Set One: Hammerstrike, Sift (Eli Winderman, Steve Clemens, Adrian Tramontano), Neon Tubes Pt. 1 (Steve) > modular jam > Neon Tubes Pt. 2, Catacombs (Adrian, Jeremy Schon), Time Dilates (Rob Compa, Jamie Doyle), 128 (Compa, Adrian)
Set Two: Pluck (Eli, Adrian) > Spiritualize (Eli, Adrian), Did Fatt (Steve) > Mink & Shoes > Livingston Storm (Schon), Drums (Adrian, Jamie, Steve), Bellwether (Schon, Steve, Adrian)
Encore: Sunrain (Compa, Steve, Adrian)