Every Monday for this current month of March, jam funk quartet Magic Beans are set to perform what they've dubbed Magic Mondays: a roughly two-hour virtual performance from their home practice space in Colorado, live streamed on their Facebook page. The band has performed two Magic Mondays thus far, which have been free to stream as they will be the rest of March as well.
Magic Beans' performance this past Monday showed the band in incredibly tight form and delivered more than one highly creative, highly improvisational jam upon original material. The band hit a high level of energy quickly opening the livestream with a straight-to-business version of "Mr. Scientist." Though the livestream faltered slightly with some unfortunate camera lag, the band's sound and lighting expert and creative tech wizard on hand, Austin Koontz, righted the digital ship in no time.
Koontz, while being responsible for the show's atmospheric light setup and clear sound, is also the artist behind a limited number of specially illustrated setlists peened each Monday night. Beans' band members have been signing these setlists and mailing them to select viewers tuning in, chosen at random.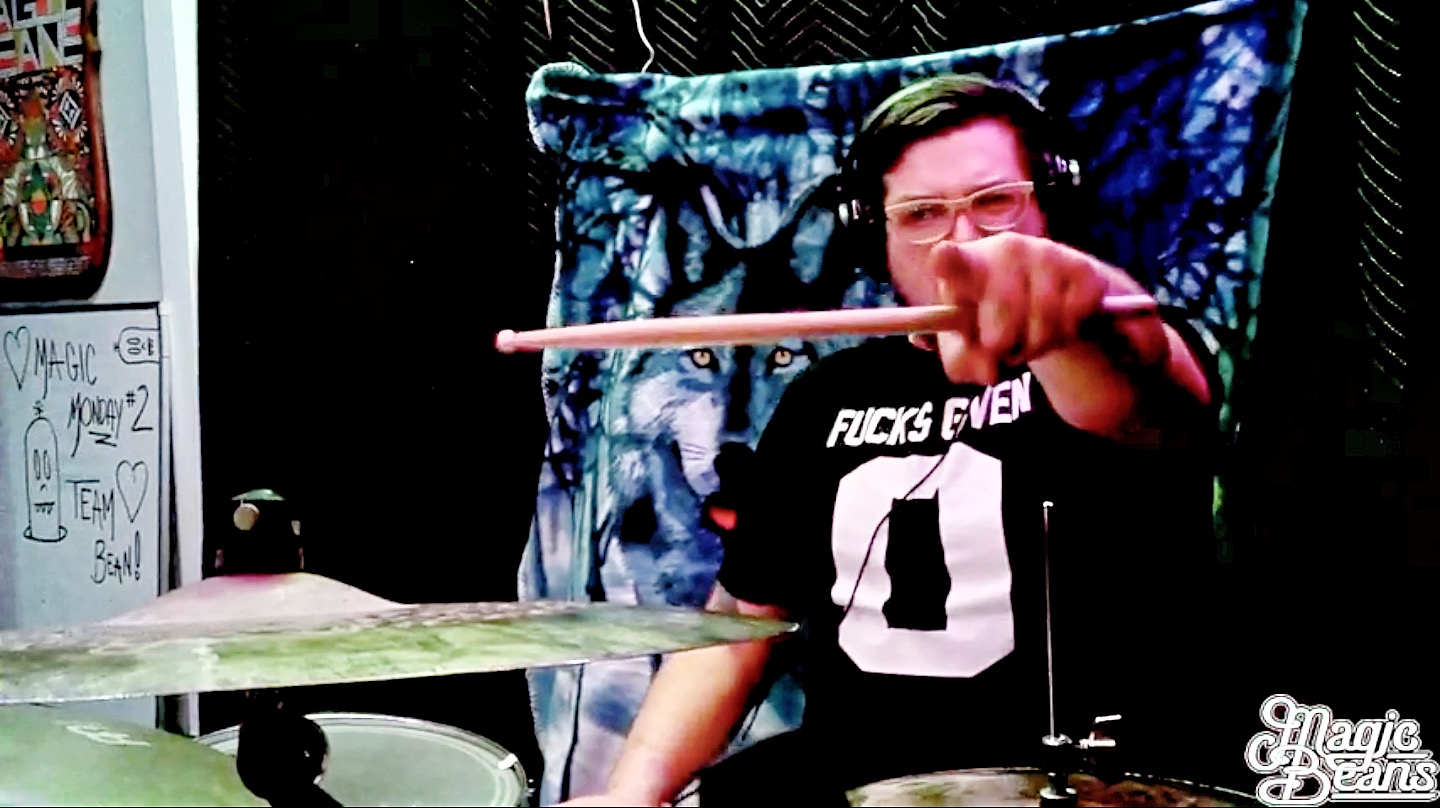 Once things were back and running in no time, Magic Beans continued charging their way through a dynamic last hour and a half of music, much of it exploring the darker variety of funktronica. A clear highlight of the evening was the cool combo "Whatcha Wanna Do" segueing into their acrobat-inspired tune "Zumbai." After delivering on its main, upbeat composition section, "Zumbai" coursed seemingly effortlessly through several varying sections of tempo shifts and chord changes, making for a repeatedly invigorating section of music.
Deep into these freeform styled experiments, band member Chris Duffy stood out in certain moments with a wickedly cool bass tone. Paired with drummer Cody Wales, the two are a powerhouse duo which gives Magic Beans cause to be one of the most interesting jamtronica acts right now.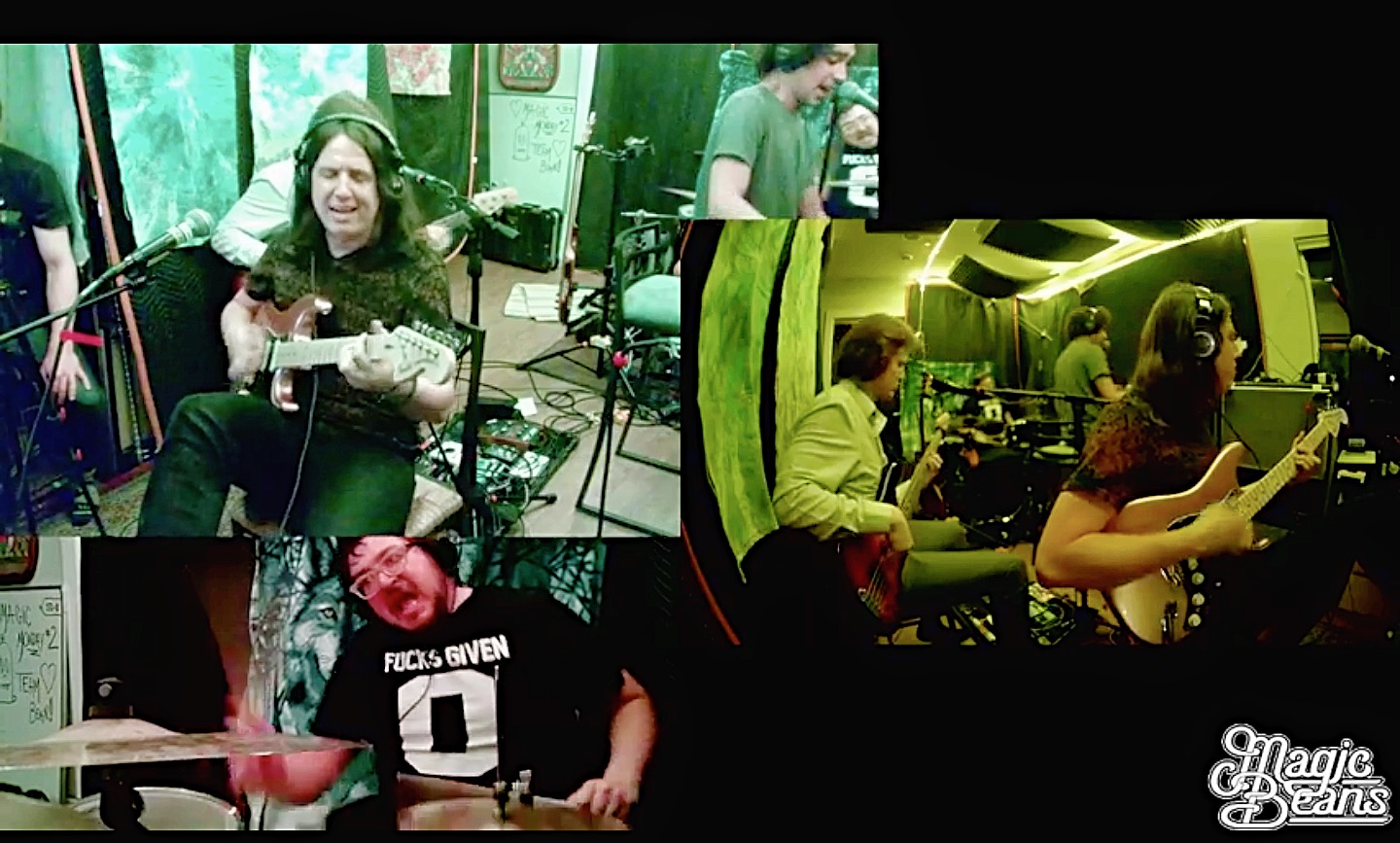 Contrasting these extended exercises of improvisation are the smooth, and utterly feel good, songs in the Beans repertoire, like the tune "Frontier" which came near the end of this recent Monday night livestream. Like many other Magic Beans numbers, "Frontier" showcases some secret weapons of soul, such as guitarist Scott Hatchey's suave lead vocals and keyboardist Casey Russell's tireless, melodically leading chops.
Hearing Magic Beans perform at the level of creativity and intensity they have these past two Monday nights certainly has diehard fans of the band even more excited for the news the band disclosed this week: they will be releasing a brand-new record, and a fourteen-track, doubled-sided album that will be released on vinyl, at that.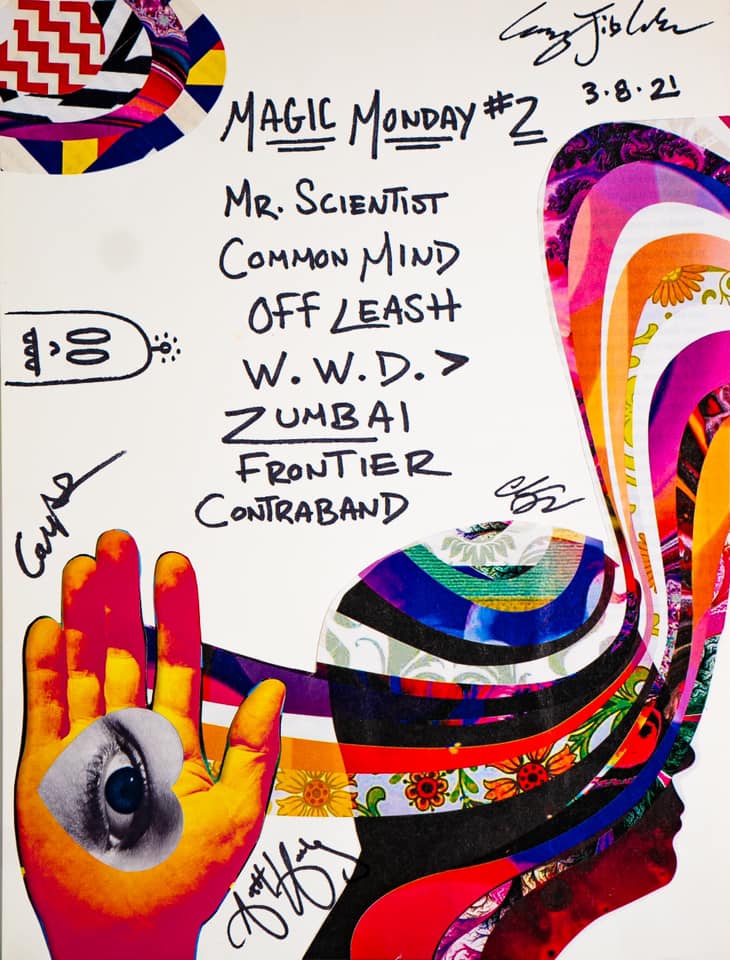 Specific details about the forthcoming record are yet to be shared, but the band has announced that they will be releasing a brand new single this Friday, called "Sweet Thang," streamable on all music platforms. Stay tuned for further information on that, and make sure to get your hang time with the Beans on the next Magic Monday.