Boulder loves the jazzy funk, no doubt about it, and at the top of the fan club is Boulder's college student population.  So what better place for a jamfest featuring Medeski, Martin & Wood and the Wood Brothers than in the heart of young hipsterville, right?
Well I could think of several better places, but what are you going to do?
The Balch Fieldhouse on the CU Boulder campus isn't really your typical concert venue.  It's more of a gymnasium, with a rubber track, concrete walls and disgusting bathrooms.  Can anyone say ringworm?  There is also the omnipresent concern that any event held within 500 yards of any athletics facility on campus will turn into some sort of high school reminiscent pep rally.  Fortunately, it didn't come to that, and things certainly could have been worse – I could have contracted ringworm (its been a few days, so I think I'm in the clear).  Program Council, the CU student group responsible for organizing the event, can't be held entirely responsible for the setting.  Being a student-run affair, they don't really have the clout necessary to consistently bring in the big acts, and suitable rock concert venues on campus are limited.  Se la vie, I can live with shitty acoustics every once in a while.
On Saturday night, we here in Boulder did what we usually do, and made the best out of the situation.  By the end of the Wood Brothers' opening set, you could hardly notice the tectonic reverb created by the vast concrete cavern that is the field house.  And rest assured, drugs had nothing to do with it.  This is college after all.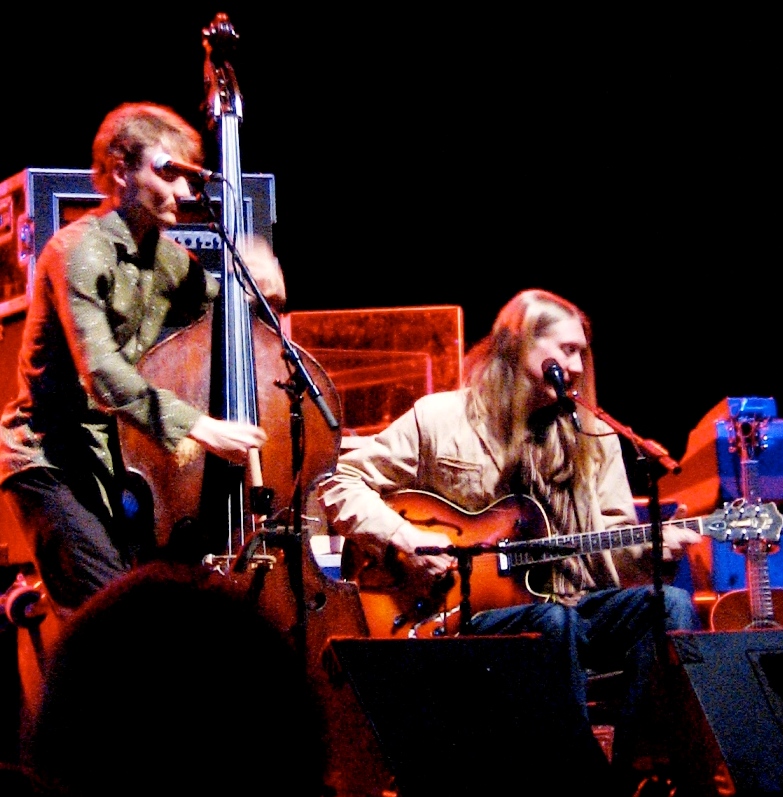 Oliver and Chris Wood (aka the Wood Brothers) brought out the old-school rhythm and delta-blues to get the crowd going, and also made light of the venue they found themselves playing in.  The setting was not unfamiliar to them, however, having grown up in Boulder, CO before moving to opposite ends of the east coast, and Oliver joked about how he used to shoot hoops in the field house, right before sneaking out to frat parties on the hill.  The brothers have since reunited (obviously) and just put out a new album, produced by John Medeski, called Loaded.  If the performance was any indication, the album should be good.  Go buy it!  Or if you plan on stealing the album, at least go see a show as penance for your crimes.
Oliver's blues-riddled voice, guitar and slide meshed perfectly with Chris's jazz influenced bass, and though they perform only as duo, there was no shortage of sound emanating from the stage.  Chris's playing reminded everyone that bass is as much a rhythmic tool as it is a tonal one, as he literally pounded out beats on the well-worn wooden body of his acoustic stand-up, pitching in with vocal harmonies that enhanced the soulful wails of his elder brother.  As I watched the performance, I began to notice how, for each of these musicians, playing music is a full body experience, and the guitar and bass on stage where no less a part of each brothers' body then the hands they used to pluck the strings.  I'd make a "sex with instruments" joke at this point, but that would be inappropriate.
Their set was over too soon, and then came the moment of real truth…  Do I stay or do I go now?
As I said, Boulder loves the Jazzy Funk, loves it more than a cold beer on a warm Christmas morning.  As such, bands that specialize in Jazzy Funk are a dime a dozen around town.  Had I been up for the bar scene, I'm sure I could have listened to any number of bands whose sound is similar to Medeski, Martin, & Wood.  I also would have been allowed to drink heavily, and wouldn't have nearly had my camera taken away by Adolf the Event Staffer.  So why, when the genre is so readily available, do people fork it out to go see MMW?  Maybe its that their transitions are a little smoother, their percussion a little more varied, their keyboards and organs a little more plentiful, and their names a little more recognizable and acronymable (Medeski, Martin, & Wood just sounds so much better than Pooner, Bigsy, & Hogshead).  Whatever it was, I decided to stay.  I'm not afraid of a little Funky Jam - I pull stuff out of the back of my fridge all the time that smells worse.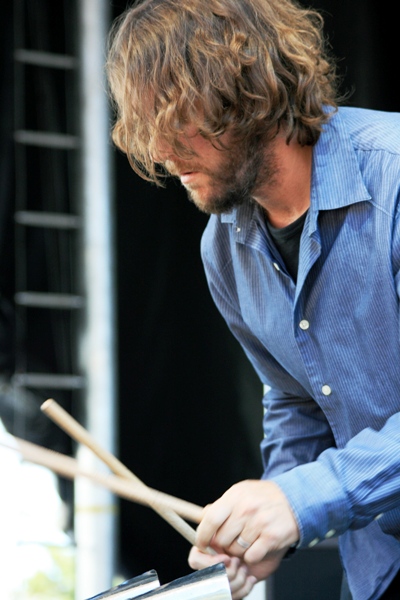 Chris Wood pulled triple duty that night, playing two sets with MMW following his performance as a Wood Brother.  A truly versatile bassist, Chris showed off his electric bass alter ego in Jamband format while John Medeski screwed up his face to near comic levels trying to play all 32 keyboards on stage simultaneously (that's called exaggeration for effect) and Billy Martin banged out freaky beats on the drums and an assortment of other random noise-making devices.  It was undoubtedly foot-tapping and groovy, and there were indeed times when MMW flirted with that elusive sonic peak that makes you just close you eyes, shake your hips and FEEL the music, but the "Hell Yeah!" moment never came.  Maybe it was the pot, maybe it was the poor acoustics, maybe it was Adolf the Event Staffer, or maybe it was simply the lack of musical climax coupled with euphoric release, but there were just as many glazed eyes in the front row as there were people dancing off to the side.
Was it a good time? Yes, no regrets here.  Was I blown away?  Not really.  However, I did find myself thinking long and hard about the Wood Brothers as I made my way back home.  I think I'll stop by the record store tomorrow…
More photos from this show can be found in the Gallery.  More info, including tour dates, can be found at www.thewoodbrothers.com and www.mmw.net.  More Funky Jam can be found in the back of the fridge behind the sour cream.
Coming up next: Day 2 of Sam's Magical Mystery Weekend, featuring Steve Kimock and a slew of others.  Please stay tuned!