The first thing I see as I enter the top of Red Rocks is the full moon just barely sitting on the Colorado horizon. It's got that dusky, orange glow and an uncanny resemblance of, well, dare I say, a Georgia peach. It sat center-stage and shined like a beacon getting brighter and brighter the higher it went. It was my last concert at Red Rocks for the summer and this Georgia boy wouldn't have it any other way - taking it back where it all began with The Allman Brother's Band.
Just in case some of you aren't aware, The Allman Brothers have changed band members more than they've changed strings since the band's conception. The current line-up consists of original members, Gregg Allman, Butch Trucks and Jaimoe, and also Warren Haynes, Derek Trucks, Oteil Burbridge and Marc Quinones. They appeared to have the chemistry of a family when they took the stage Sunday night and surprisingly launched into Dickey Betts's Jessica. This helped Warren and Derek get nice and warmed up and by the time the fourth solo came around you could tell the night was just getting started. If playing slide guitar could save the world, Warren Haynes and Derek Trucks would be wearing matching superhero leotards.
The Blind Willie McTell tune, Statesboro Blues, was next and immediately showed that Gregg's still got some good wind left in his pipes. Ain't Wastin' Time No More was a personal treat and quite well placed as Gregg sang, "last Sunday morning the sunshine felt like rain." That led to the Gov't Mule song, Rocking Horse, at which point things got interesting. If you were able to pull your eyes off of Warren playing his guts out, you might have noticed Gregg start looking over his shoulder at the stagehands. After much plug twisting and button pushing, they pull Gregg's Leslie amp off stage. While Warren and Derek are volleying solos, Gregg is helping to lift the next amp on the riser. That one doesn't work either. Or…they fixed the other one. In any case, they now remove that amp and replace it with the old one only to find out that something is still wrong. Gregg, taking it all pretty well, turns to the piano after Rocking Horse and begins One Way Out as the crowd anxiously sings along to the chorus. At some point in the middle of the song they discover that Gregg's Hammond organ is the root of the problem and not the Leslie amp at all. Enter Hammond number two.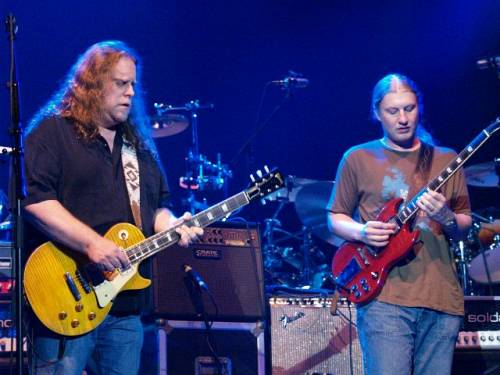 After much work (I didn't envy this guy's work tonight), everything was back in place and Gregg, joyous to have his organ back, played the beginning notes of No One To Run With. Egypt, a fairly new instrumental was everything you would expect from an Allman Brothers instrumental. It was complex, melodic, epic and the synchronicity between Warren and Derek was astounding. Warren soulfully sang his heart out in the slower paced Dreams To Remember only equaled by Gregg's aged voice in the following Wasted Words. The well-known Midnight Rider was to be expected but happily accepted by the dancing crowd now singing along.
One of the highlights of the evening was an exceptionally well-played Dreams that was yet another testimony to Gregg's voice and showcased Derek and Warren's ability to nail changes effortlessly while Oteil modestly thumped along. Van Morrison's Into The Mystic was a great cover that Warren is known for doing and the Allman's did it great justice Sunday night. With the night coming to a close we new they had probably one or two more songs left in them. Well, they had a 20+ minute Mountain Jam left in them. Warren played the slide so hard, loud and fast I thought he was going to pop something. And Derek, not to be outdone, peaked a beautiful ripping solo into the depths of nothingness as he played while tuning down and down and down until he was literally pulling is low E-string behind the fret of his guitar. This oozed into Drums with Butch Trucks, Jaimoe and Marc Quinones on all things percussive and eventually Oteil snuck back on the bass. Eventually, the whole band reemerges and finishes Mountain Jam in peak-summiting fashion. And as if that wasn't excessive enough, they encored with an exhausting Whipping Post that left the crowd and myself completely satisfied.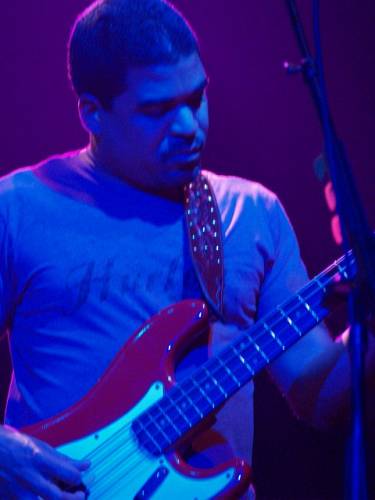 Now, I've seen the Allman Brothers quite a few times in my day and in that time I've seen a lot of band members come and go. As strongly as I feel about Duane Allman and Dickey Betts being irreplaceable, this is as close as it's going to get. The music seems fresh and vibrant despite being 30 years old. I can only hope that The Allman Brothers continue to make music for those of us that still feel their music in our souls. On Sunday night, I "went up on the mountain, to see what I could see," and came down with a clear vision of rejuvenation. I believe I'm well stocked for my winter hibernation from Red Rocks – which way to the Fillmore?
--
Setlist:
I: Jessica, Statesboro Blues, Ain't Wastin Time No More, Rocking Horse, One Way Out, No One To Run With, Egypt, Dreams To Remember, Wasted Words, Midnight Rider, Dreams, Into The Mystic, Mountain Jam
E: Whipping Post