It was a great Taos morning, the skies the color of blue you'll see nowhere else. Festivalgoers were up and eager for the day's events.
I missed the first two bands on the roster: Greg B and the Gunsels and Sean Healen. I was especially bummed to miss Sean. I understand that the Santa Fe Brewing Company honored him recently with a permanent addition to their fine line of brews, called "Healen's Big Hat Nut Brown Ale." He's famous, not only for his music but for his hats.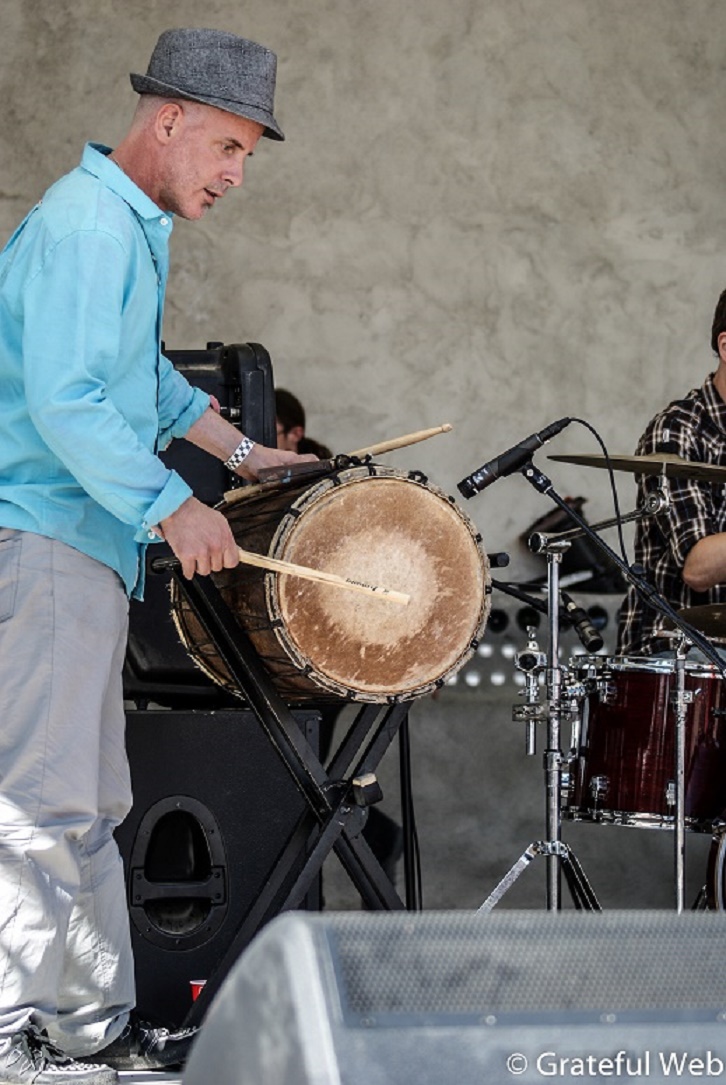 I did catch The Ragbirds' long set that was just as enthusiastic and complex as yesterday's performance. What I love about this band is their ability to engage an audience, even one that might not be familiar with them or world music in general. They reprised a couple of the songs from yesterday (the West African beat where "I'll Fly Away" was overlaid and a couple of others).  The Ragbirds did a fun version of the conga tune, "Shake, Shake, Senora." One of my favorites was a tune that featured each individual performer in the band. All super-talented, but I was impressed with a tasty jazz bass solo, not flashy but solid and spot on.
Next up at the patio stage was The Fritz Davis Band. Let me say I was impressed with this singer/songwriter, wishing that he'd had an extended set instead of the hour allotted to him. Backed up by bassist Wayne Evanson and the steel guitar stylings of Scott Harris, Fritz Davis offered strong songs of heartfelt stories about people and places and living.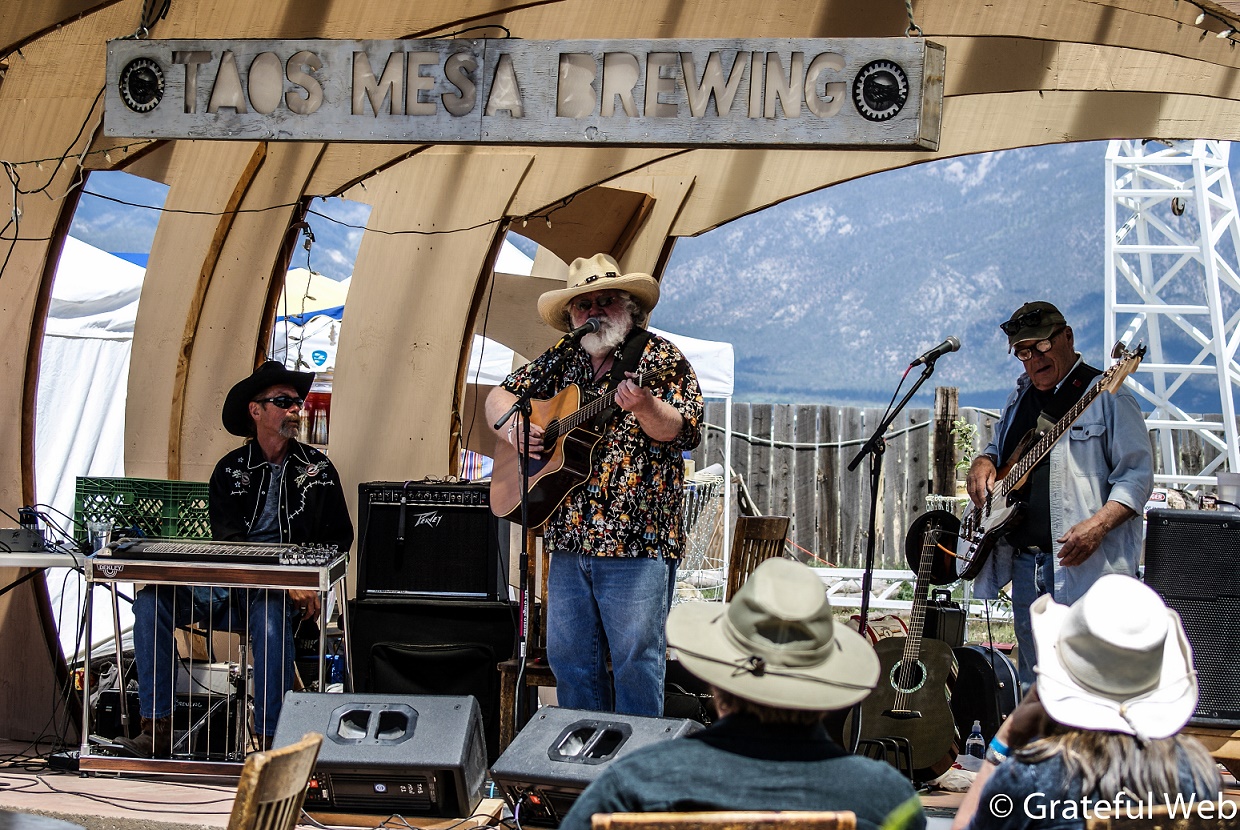 Fritz is a keen observer with a vivid imagination. He pays attention to life around him and that living creeps into his songs. His "Green Gypsy Eyes" was prefaced by a great story about living down the street from the King of the Gypsies, told with some irreverence and truth.
"It's a Good Day to Die," summed up what I love about New Mexico. Having jumped feet-first into communities in the Midwest and been a figure in the Nashville television and music scene, Fritz Davis settled in Red River NM over twenty-five years ago. Once more he plunged into community events, getting involved in local schools, the Red River Historical Society, fundraisers, and lots and lots of live performances. Always it's his stories in song that captivate and inspire audiences.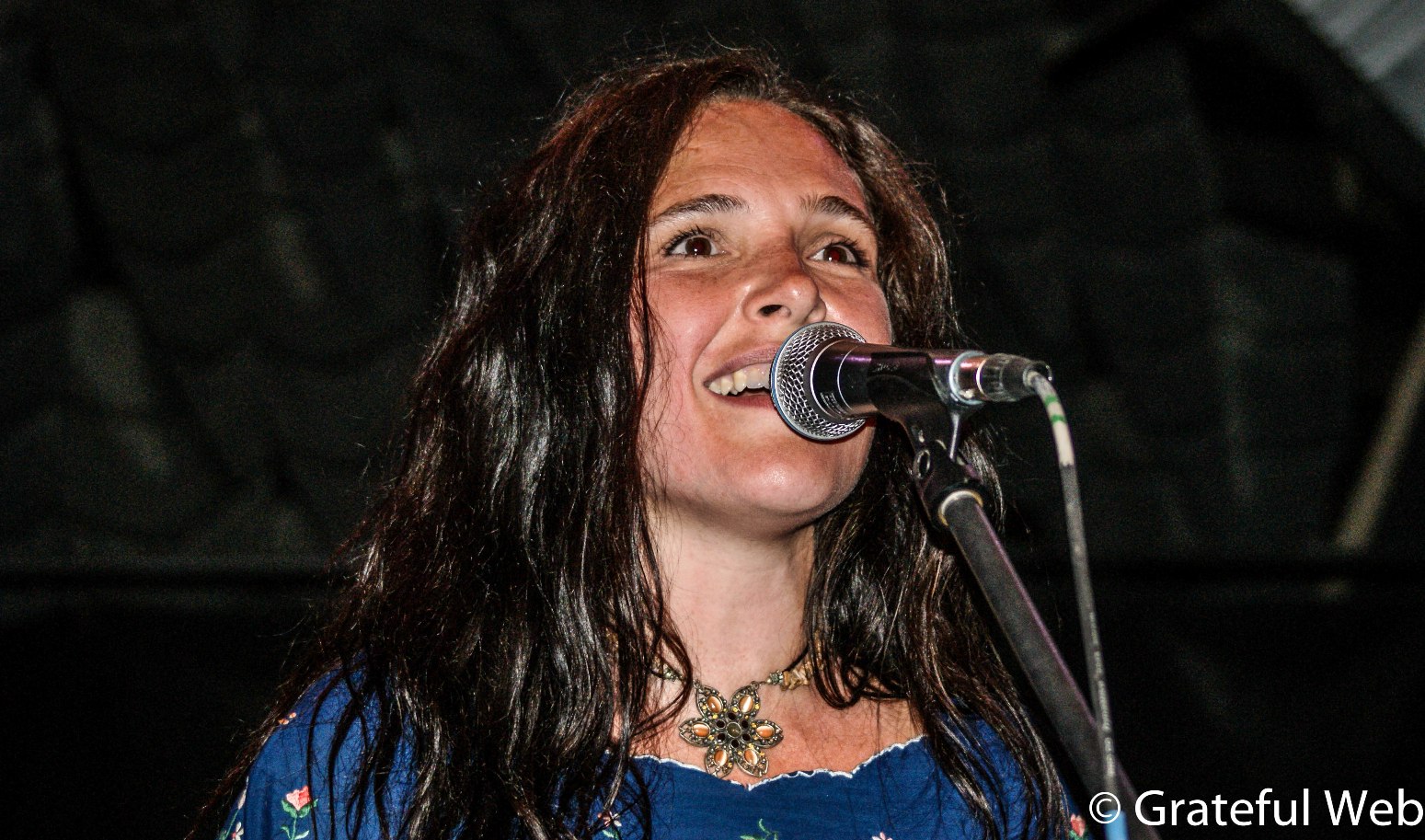 During this short set, he was joined by vocalist Jennifer Peterson, who sat in on The Rifters last night. In the two songs she did, she demonstrated her versatility with country and Americana styles. The woman has pipes.
On the main stage next was Santa Fe musician Joe West and the Santa Fe Review. Joe's band is a collective I'm told. In other words, when he has a gig, he taps what musicians he needs and who's available. Today's group was a talented bunch.  Though Joe leads most songs, usually his own originals, he stepped back to let two band members step up to the vocal mic. His bass player, Margaret Burke, offered a Warren Zevon song that was a sweet little waltz that dancers took advantage of on the outdoor dance floor. But it was Melodica player, Loretta Tino, who treated audiences to her powerful voice. She did "White Rabbit," then a tune Marlena Deitrich made famous, and finally another cover that demonstrated her ability to belt a song. Nicely done.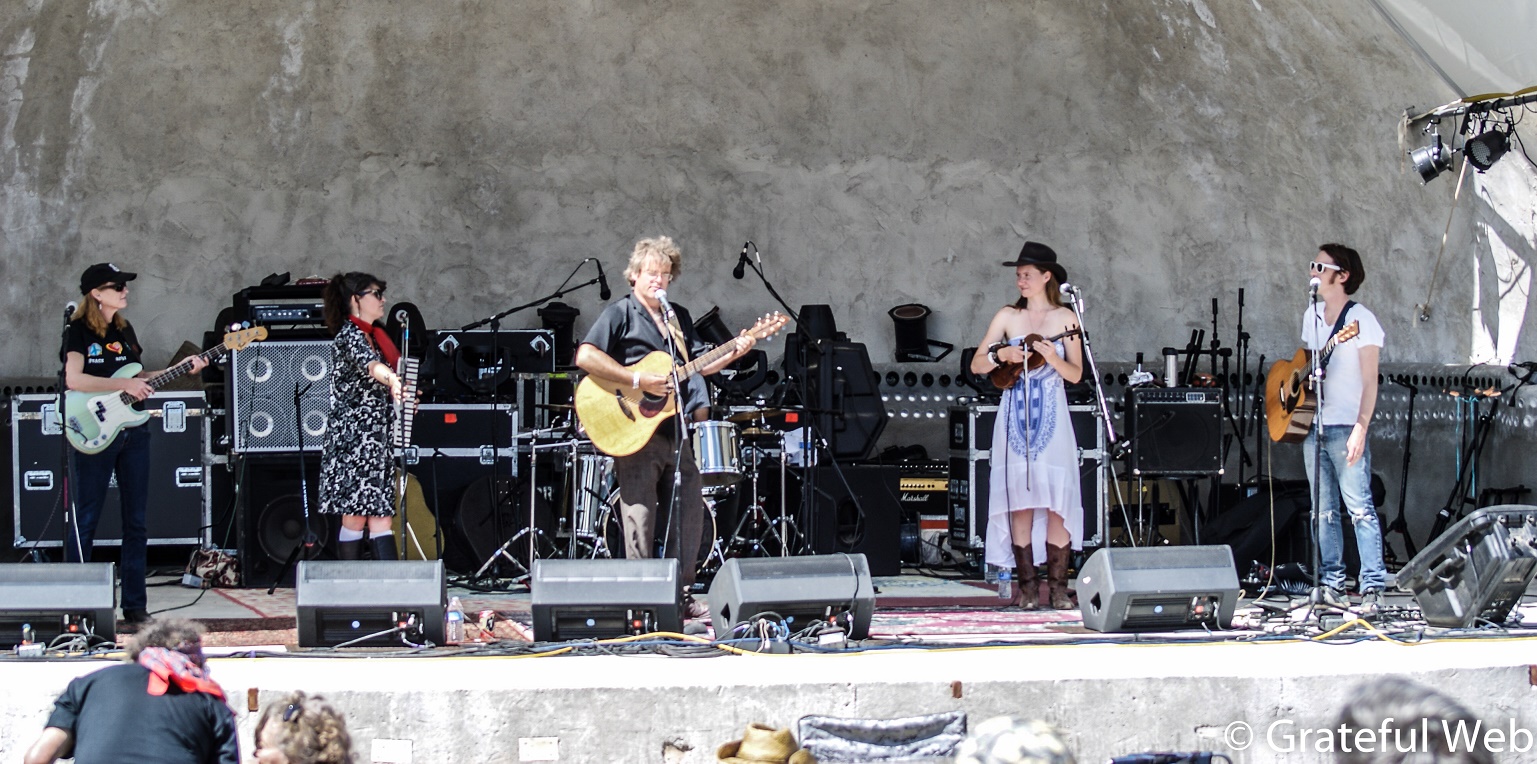 Joe West's long set was a eclectic ménage of rock, countryeque, and bluesy tunes. He juxtaposed two New Mexico songs. One, he called "corny" because it was written for the Santa Fe Fiesta Melodrama, was actually a great tribute to New Mexico. The other was a satire about Santa Fe; while true, it was biting and funny as heck.
The "corny" song made me remember my old friend Pam Belford who came out of the folk era. Back in the early 70s, in the vein of Steve Goodman, she decided to write a satire of a country song. Just before she went on stage at a Folklife Celebration, I told her to NOT tell the audience it was a satire (it was a damn good country song), just sing the song. She came off stage, stunned that the audience loved her song. She moved to Nashville, did the Bluebird Café song circles, started writing with other talented folks, and had two of her songs recorded by George Strait. So perhaps Joe West might not want to preface is NM tribute song as "corny." It's a damn good song.
While the main stage got set up for Band of Heathens, the patio stage hosted the first Music on the Mesa House Band. Don Richmond fronted this four-piece band that included the female fiddle player from Joe West's Santa Fe Review. Each member offered songs of their own and the rest of the band backed them. They were joined by country singer Kelly Mickwee, who did some backup and sang a song of her own. The whole set was stocked with original songs, many sweet and tender, great musicianship, and tight harmonies.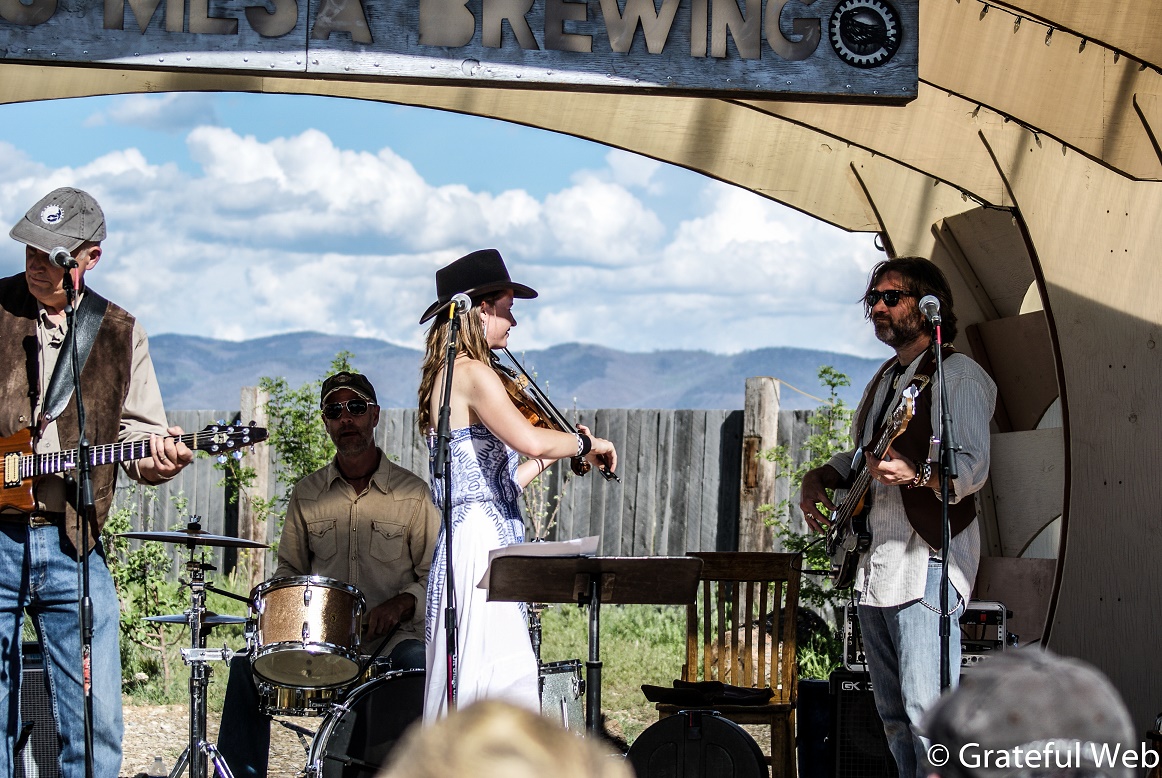 Next up was the band I had been waiting for all day: The Band of Heathens. From Austin TX, these guys deliver--always. And the audience was hyped for them.  I was glad to see a much bigger turn out on this Saturday evening. These guys deserved to have bodies rocking to their sound. I try to catch The Band of Heathens whenever I can; it's easier since I moved to New Mexico (Texas is right next door.)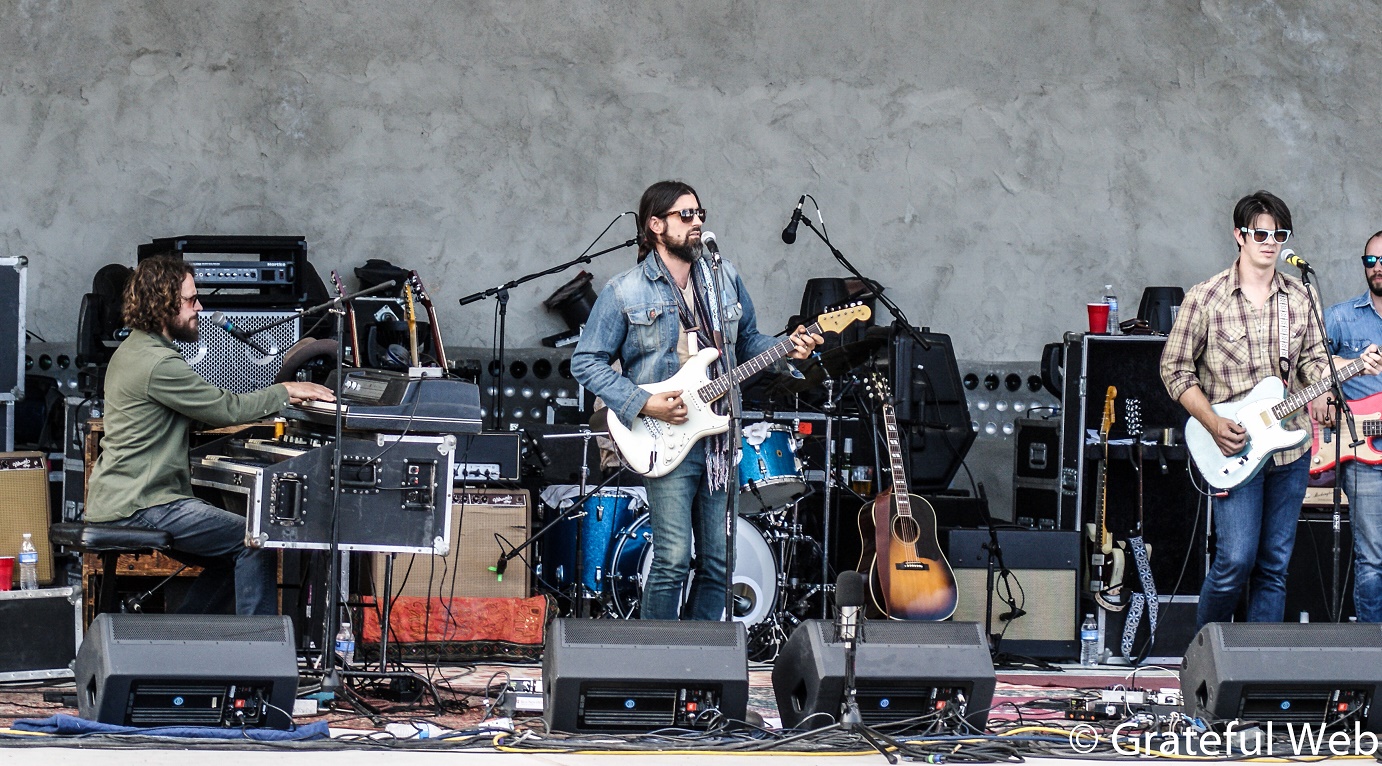 Showing extreme instrumental and vocal skills, The Band of Heathens keeps getting better and better.  I've always been impressed with the quality of their songs. Many are deep and introspective set to a southern rock beat. "Hurricane," a song about an old man's view of New Orleans, grabbed me. It's an exquisitely written song, whose lyrics are crisp and flow off the tongue: "I was born in the rain on the Pontchartrain."
Some songs, like "Miss Ohio," are fun and seem light but hold a depth I wonder if audiences catch. In any case, festivalgoers sang along and will remember those lyrics for a long time.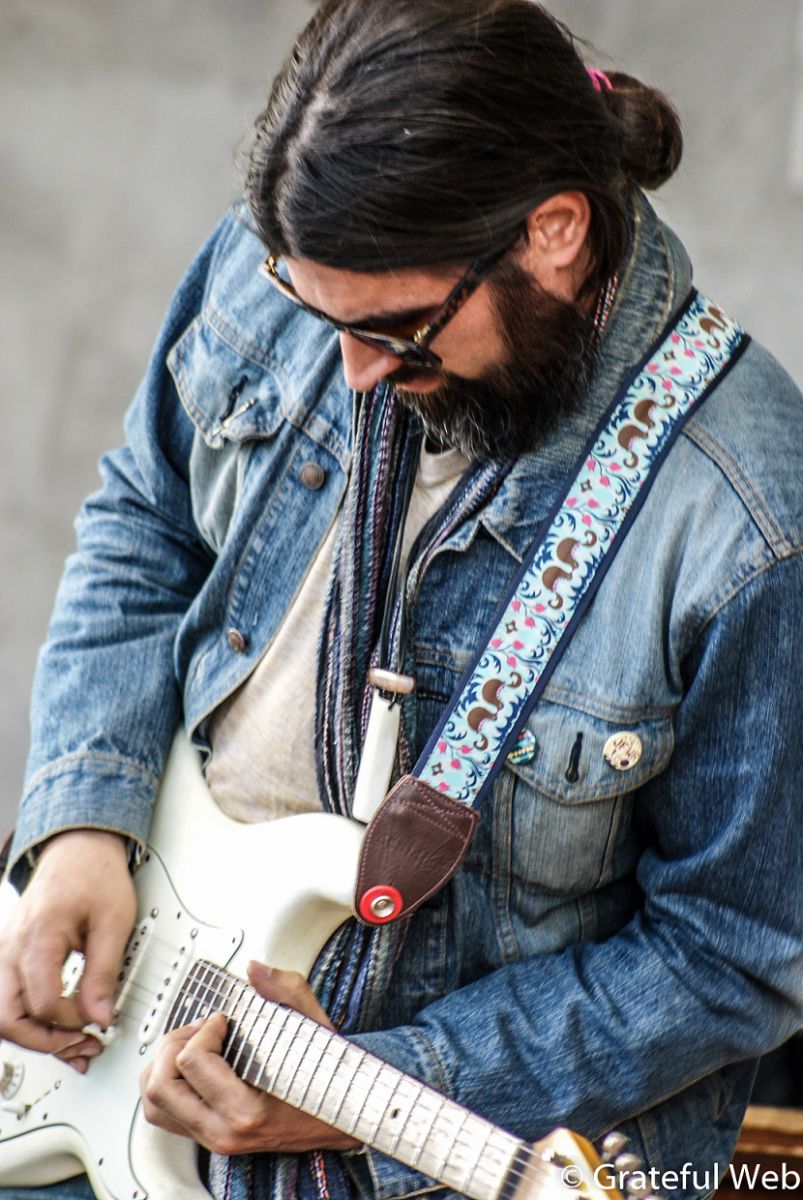 Early into their set, power blew out on the stage—not just a mic or an amp. Everything. Ultimate professionals, the two lead singers and Kelley Mickwee who had just stepped up to the mics with them to share a couple of songs, picked up acoustic guitars and stepped to the lip of the stage and did a song. Only those closest could really hear but it was a gallant effort to keep the show rolling.
Quickly the sound techs got everything back up and the rest of the show cooked like any The Band of Heathens show does.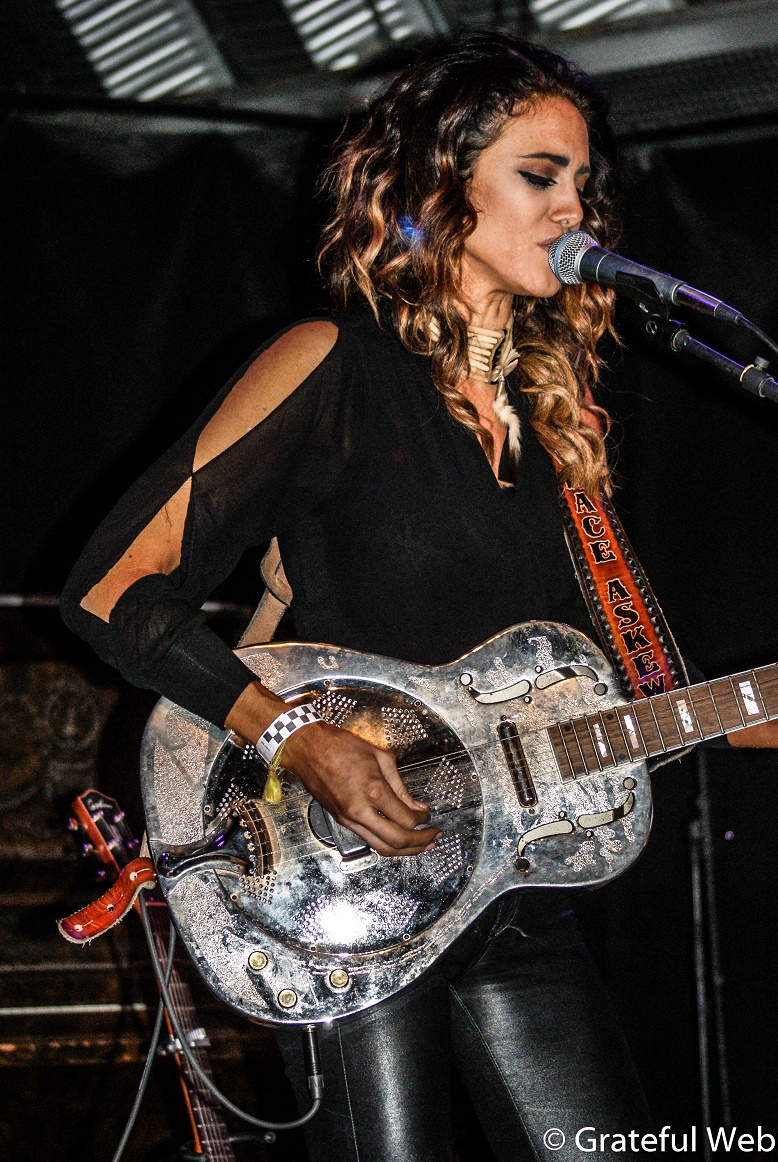 Drawing the audience to the inside stage, Grace Askew and Santa Fe guitarist Bill Palmer got people out onto the dance floor there. I had been impressed with her two paragraph bio that was an amazing bit of writing and I thought I'd see a renegade on stage, setting fire to people's minds with her songs. What I did see was an accomplished guitarist and vocalist who knew how to use both instruments. She and Palmer were hands down the sexiest act I'd seen at this festival. And that has it's own appeal. Grace Askew's sound and appearance attract, and that's the first step on the ladder to country or rock stardom in many cases. Her sultry and feisty voice kept her audience and her songs got them out dancing.
The evening's events continued with the Oklahoma band, Turnpike Troubadours. These guys burned up the stage! Festivalgoers crowded the edge of the stage, jockeying for a place to hang with this band. I hadn't seen this all festival. I was impressed that their was this big of a crowd who stayed just for Turnpike Troubadours, considering Asleep at the Wheel was playing in the region. But Turnpike Troubadours delivered-- tune after tune, keeping energy up and the vibe rocking with their signature mix of country and southern rock.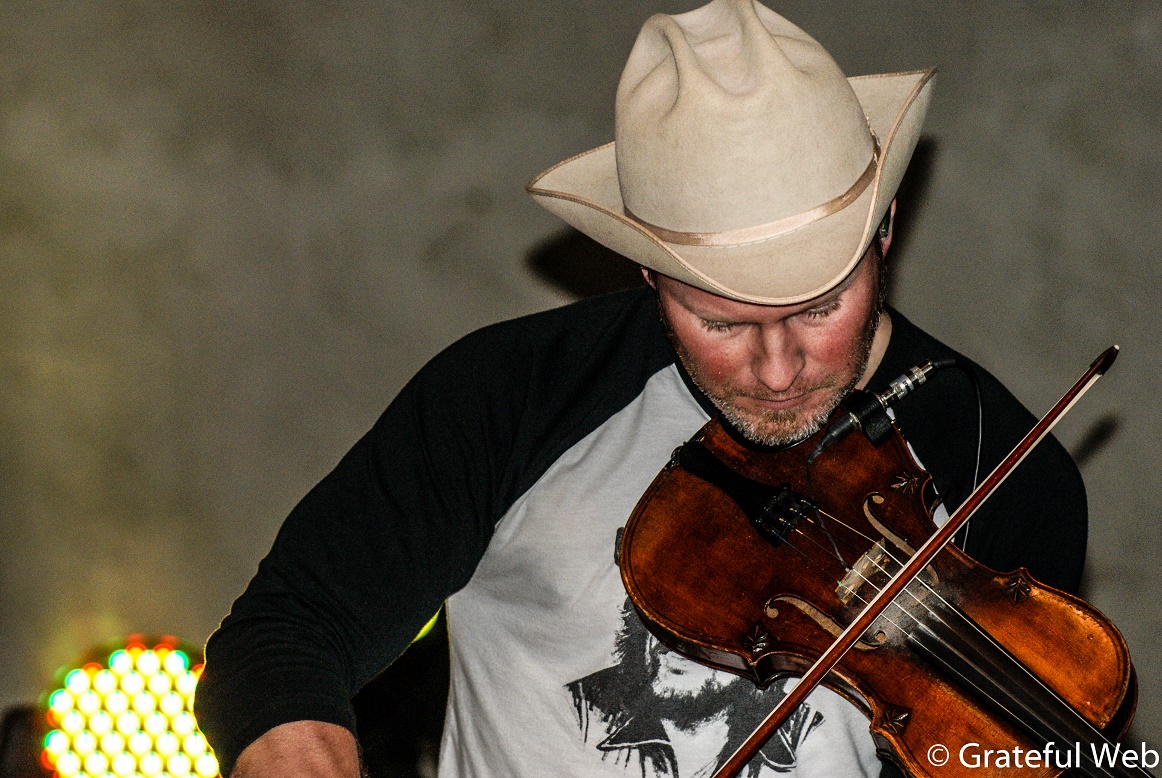 I've got a special fondness for Red Dirt bands. They speak to me in ways that contemporary country can't and only vintage southern rock bands ever could. Turnpike Troubadours present the best of both in their signature sound. They gave more than the festivalgoers wanted for sure! What an amazing set!
And if the audience thought that was enough, Tyler and the Tribe took them well into the wee hours, ending a really great day of music and festival fun.