Day Two of Music on the Mesa began bright and clear, though rain was predicted for the last two days of the festival. It is to be expended since it is early June, the beginning of the monsoons in New Mexico.
Stepping up to the mic on the main stage, opening this day's events, was Kelley Mickwee, a returnee from last year. Kelly, formerly of the Trishas, has been pursuing a solo career. She did a naked set, with just her voice and her guitar, playing original tunes and only two covers; one was John Fulbright's "Lammas." I appreciated her music so much more this year, especially her "You Used to Live Here." That may have to do with my place along my journey.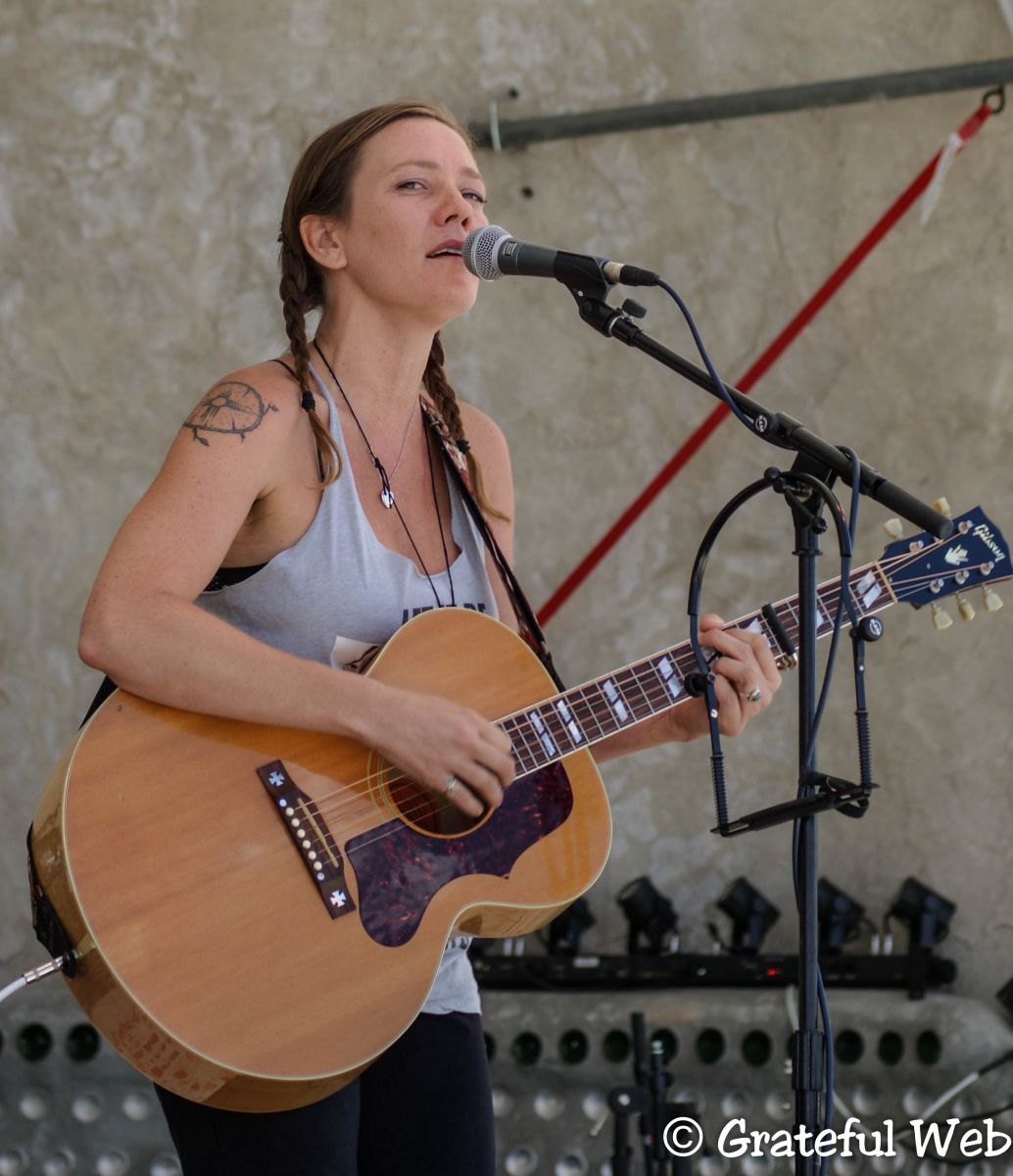 On the patio stage, Aaron Lee Tasjan gathered a crowd, doing Texas roadhouse music. Even a Lucinda Williams/Blaze Foley cover had that flavor. It was great stuff for a small four-piece band. I wished I'd heard more from them than just an hour.
All of the patio stage acts were limited to one hour both Saturday and Sunday. The main stage and inside acts got a full hour and a half. There was also a great wooden dance floor inside that festivalgoers took advantage of for two-stepping and waltzing.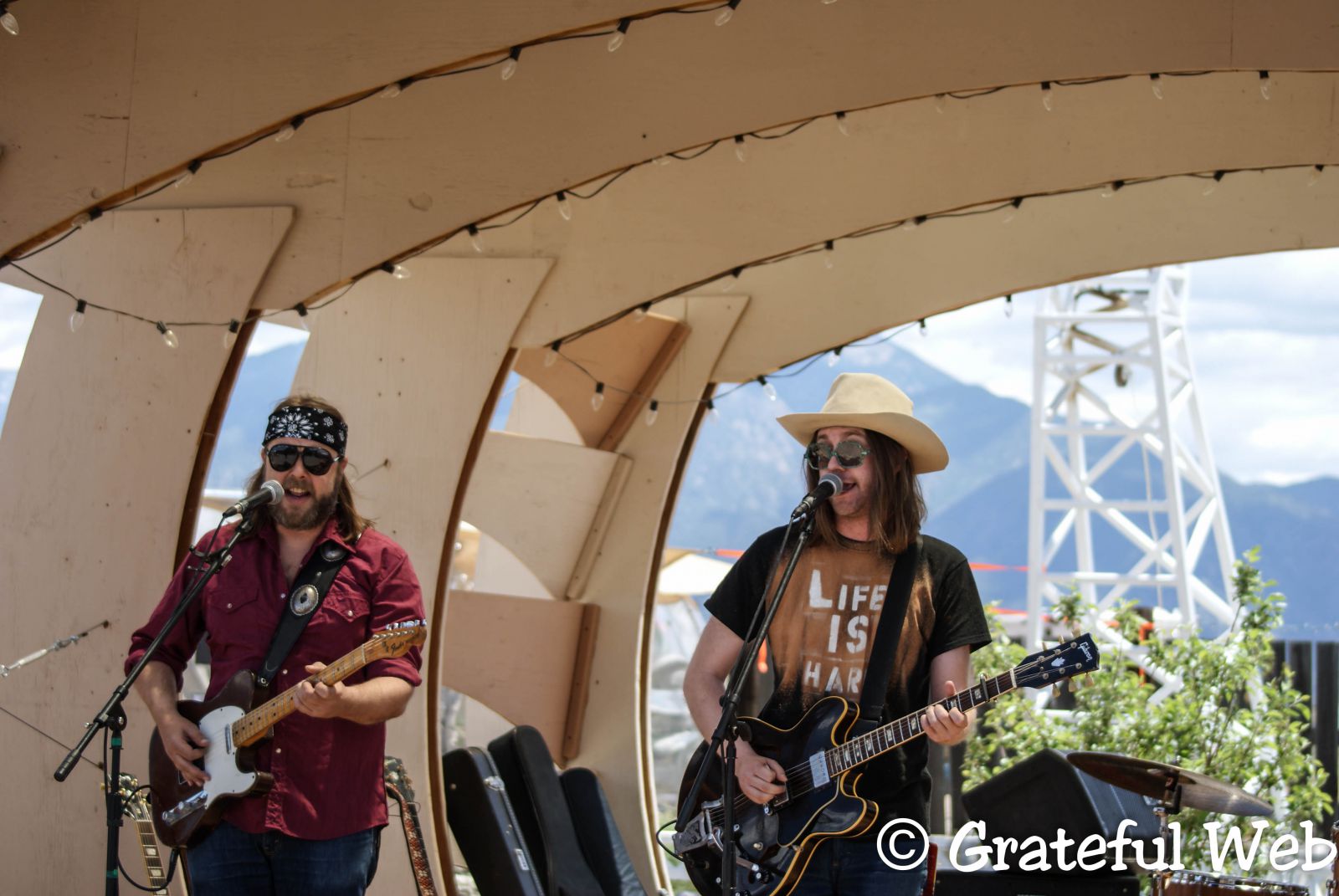 Taking the main stage next was The Honeycutters. I'd never heard this act before, and I was stoked by the bits I'd heard online. Normally, a five to seven-piece band, these folks traveled light from Ashville NC, bringing only three people: upright bass, electric guitar, and acoustic guitar. Even scaled down, they put on a hot show, combining  solid instrumentation with strong harmonies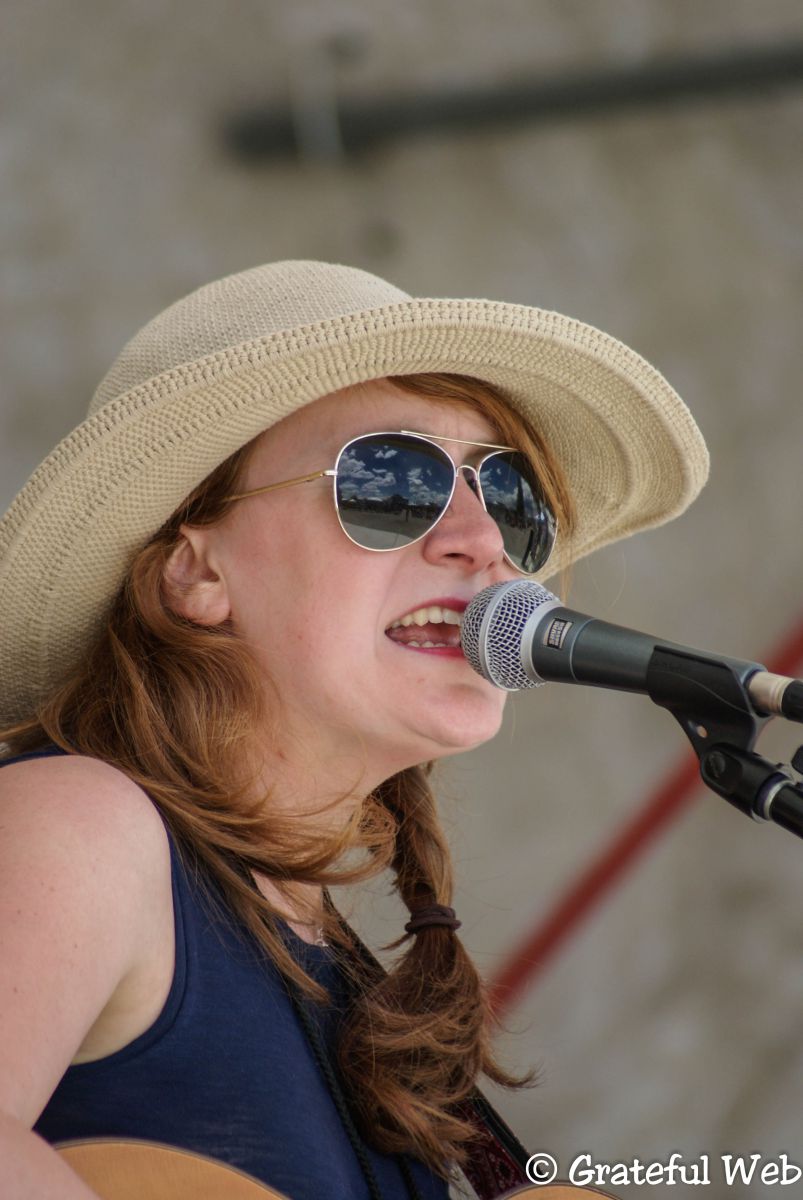 Front-person, Amanda Anne Platt (originally from NY) drove the band, through her tight and well-crafted songs, as well as her vocal delivery. She was supported by bassist Rick Cooper, who had just been tapped to do vocal harmonies this tour.  I was surprised to find that out backstage after the set because the vocal blend is so harmonically in synch you'd expect it from family members (which these two aren't).
I think their trimmed down instrumentation provided a more intimate set and allowed them to let the lyrics shine. Their musical styles range from sweet country to some soft roadhouse rock to strong singer-songwriter Americana. Their single cover, Leonard Cohen's "Hallelujah," was a request by Mariana Coleman, who is a KCNE DJ for Convergence and Fire on the Mesa on KCNE (their Dead show). The Honeycutters nailed it and made it their own.
Like Robyn Ludwick (who I'll write about from the last day of the festival), Amanda Ann Black is a risk taker as a songwriter. Her hit, "Me, Oh, My," is a song about losing a baby and posits a fine argument on not marrying. It hits—if you listen carefully—but the song itself is surprisingly upbeat.
Another song that really impacted me was called, "Mr. Cody."  Though Amanda prefaced the song by saying it was a song about an arranged marriage, what the song reveals is that the marriage is in the head of an abuser.  It's a dark song about a disturbing relationship and is written from the woman's perspective.  The lyrics, "A mean-hearted gambler is no friend of mine," hides more than it shares in those few words.
I almost want The Honeycutters to play a join gig with J.J. Grey just so Amanda can sing "Mr. Cody" and then turn J.J. Grey lose on the audience about men treating their women right, as I've seen him do on many occasions.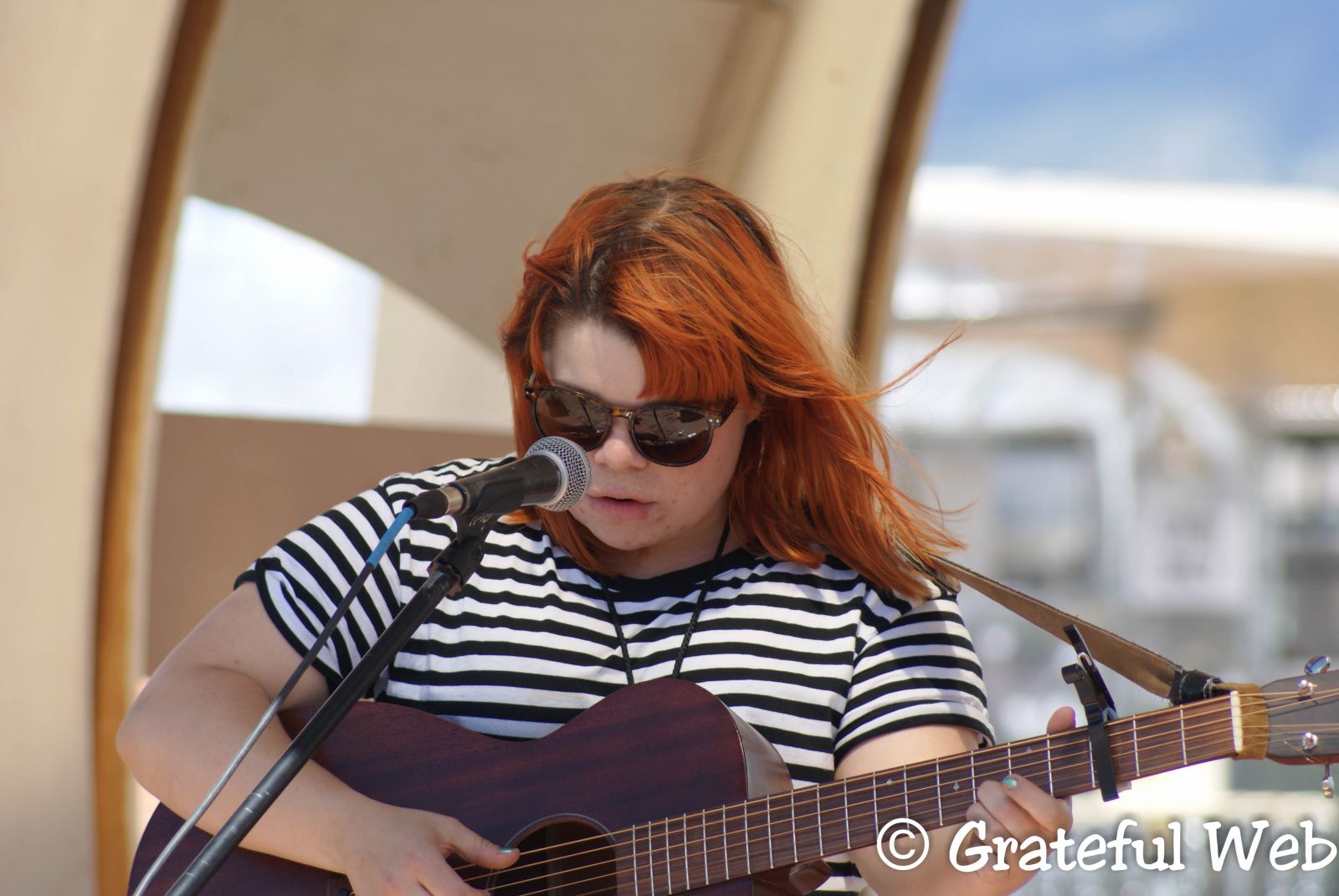 Turning to the patio stage, Oklahoma singer-songwriter, Samantha Crain brought her original songs, supported by her guitars and voice.  She's an outstanding writer. Her song, "Just One More Night," echoed the heartbreak of lives at the end of the oil boom. Samantha has a strong alto voice and her songs reflect that strength.
I talked with my festival-mates who are from Oklahoma and who'd seen Samantha Crain many times in large and small venues. They told me she normally has a full band backing her up, though her voice and guitar don't need it. They were happy to see her touring outside. For me, I was surprised to learn that she'd just released her fifth album in six years. She looks so young; she'd have had to be still in diapers. But she really is older than she looks. She certainly is a rising talent.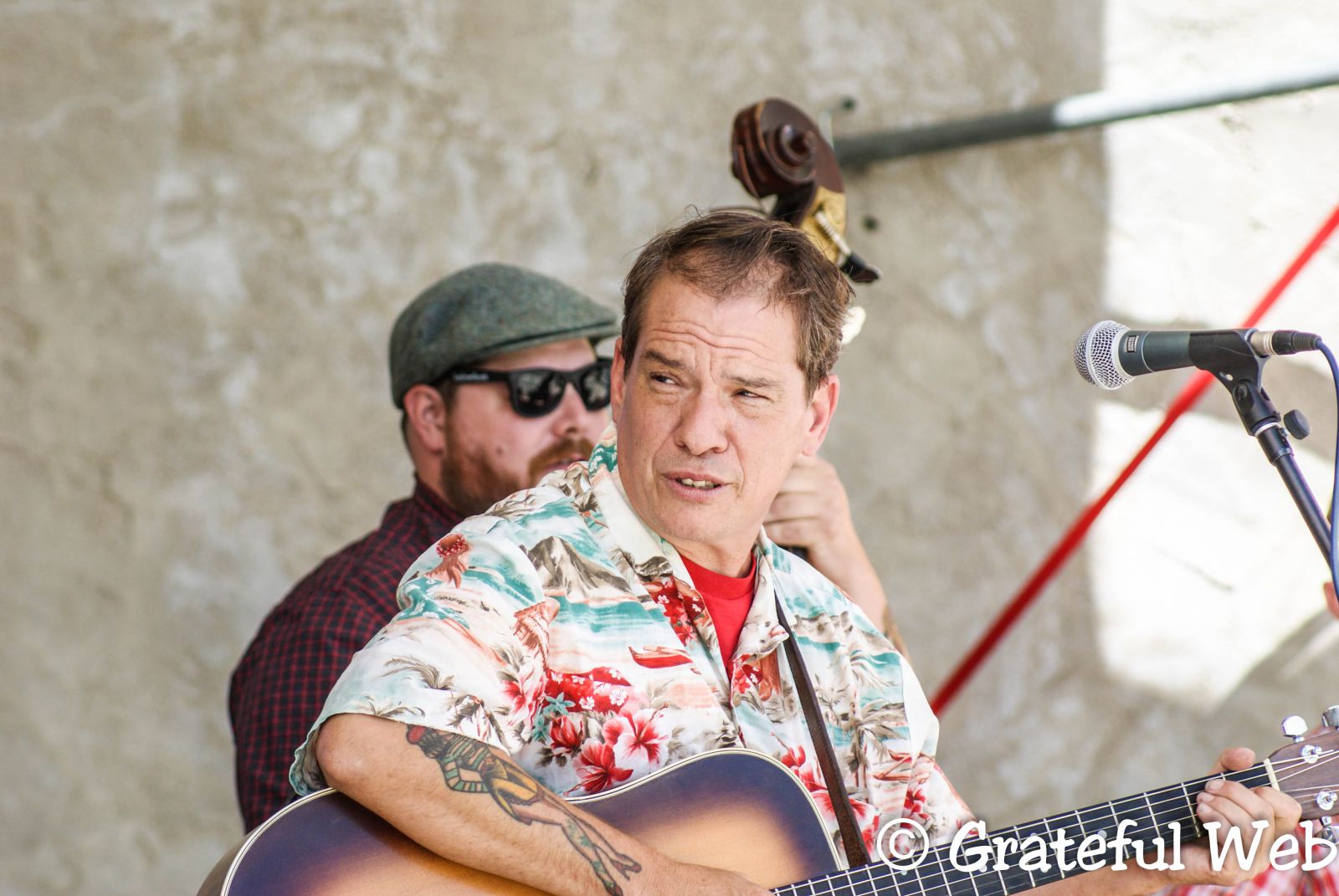 On the main stage, Wayne "The Train" Hancock brought his old-time country songs and a full band. I'd read that hearing Wayne was like hearing Hank Williams, Sr. live. That's a fact! His honkytonk sound is very Hank-like and so are his yodels. And this isn't an affectation. This is just who Wayne Hancock is.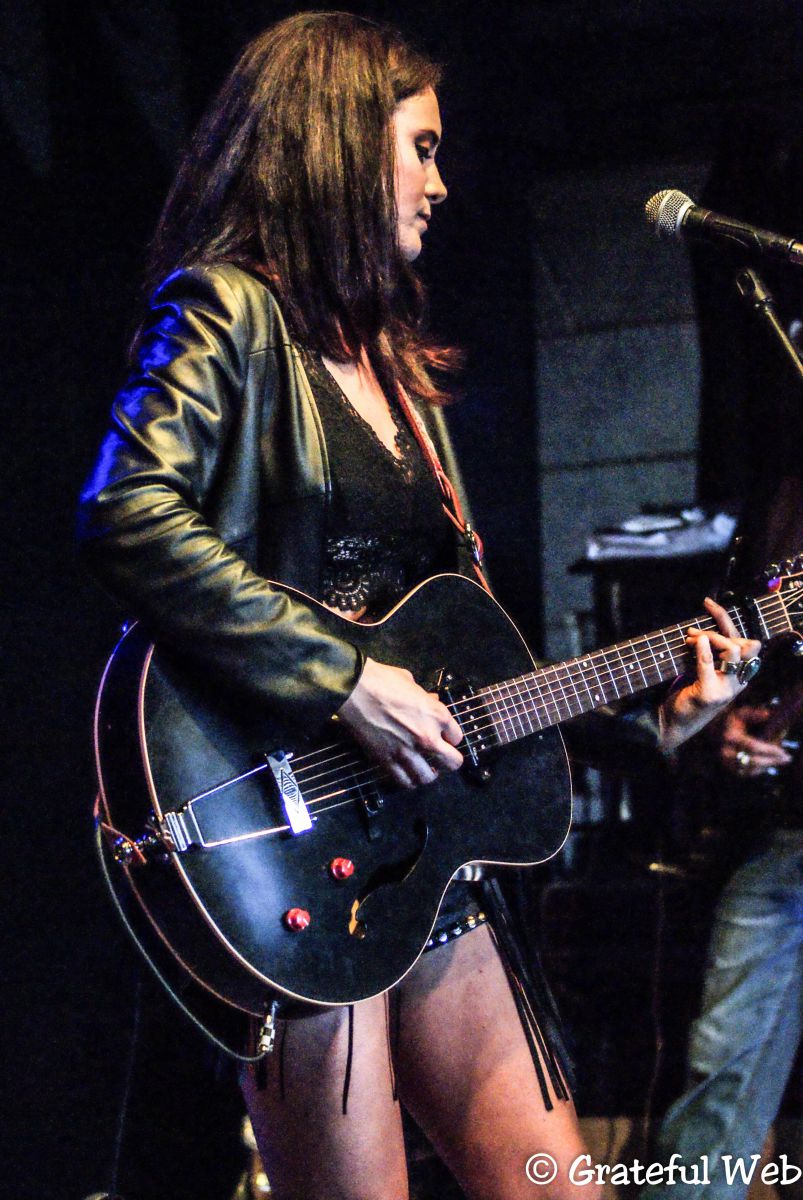 Watching him play rhythm guitar is a hoot. He swings down in a huge arc, keeping that jukebox rhythm going.  He also showcases his standup bass player during solos, and allows him to really slap that bass. Some more traditional frontmen, especially in bluegrass bands, really like to corral their bassists, making sure none of that slapping slips in.  Wayne even walked to the side of the stage to let his band play a hot fast tune.
This band did a mix of originals and covers. The highlight, for me, was his rendition of Hank's "I'm So Lonesome I Could Cry."
New Mexico's high winds picked up during Wayne Hancock's set so festival promoter Stephen Plyler moved Nashville singer Grace Askew inside instead of on the patio. She had a big band and it was a good decision because wind on a very open stage plays havoc with guitar tuning and keyboards. Grace Askew charmed her audience as she always does as they danced and listened to songs from her new album and a few from her others. She's a polished performer, and audiences love her.
On the main stage, Band of Heathens teased us all with cuts from their new album, which won't be out for a while. It's always a pleasure to hear these guys. I've been following their music for more than a decade. Their sound keeps maturing and mellowing, showing their songwriting growth. On this day, these guys packed as much music as they could in an hour and a half, with very little banter between songs.
I've always been impressed by their songs, which tell stories about people and lives we've never heard about before. Hearing "Hurricane" live again just underlined that sentiment. I've always been moved by this song about one old man's view of what New Orleans locals just call The Storm. It's still a powerful song. And one that was a bit bittersweet since these guys had to pack up immediately after their set and head back to Austin TX where they were going to help a band-mate rebuild after the flooding there.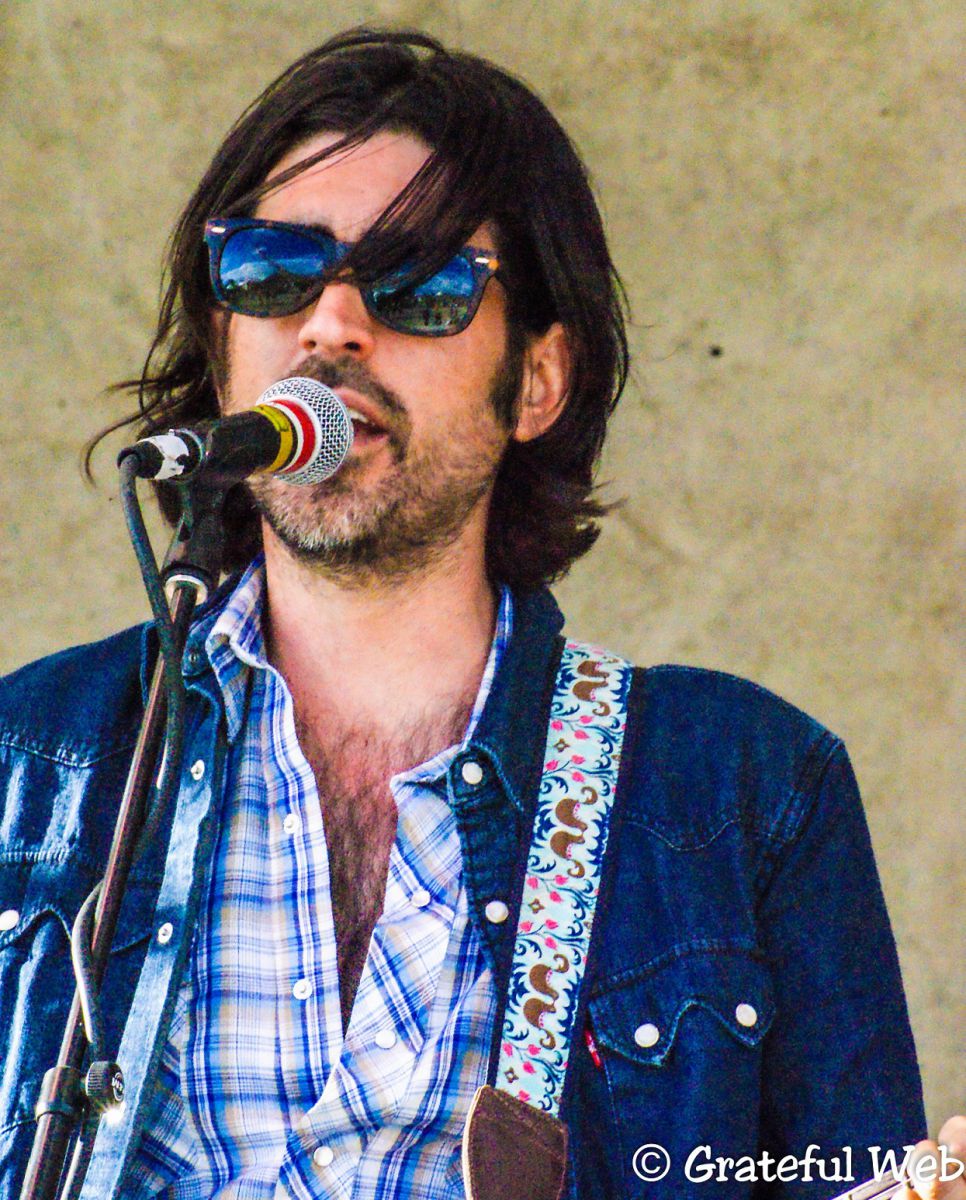 One other song that was complex and very interesting was "Jackknife." It started out with a sort of Peter Gunn/mystery theme then moved into signature Band of Heathens with a hint of Beatles sprinkled in. There were great harmonies on this one.
There was another tune that had a gospel sound. That one highlighted something that I've only seen Band of Heathens do. They drop into dual singing, two guys or three or, and then they break into harmony parts. It's always effective. They also do great choruses a cappella as they did in "Hurricane."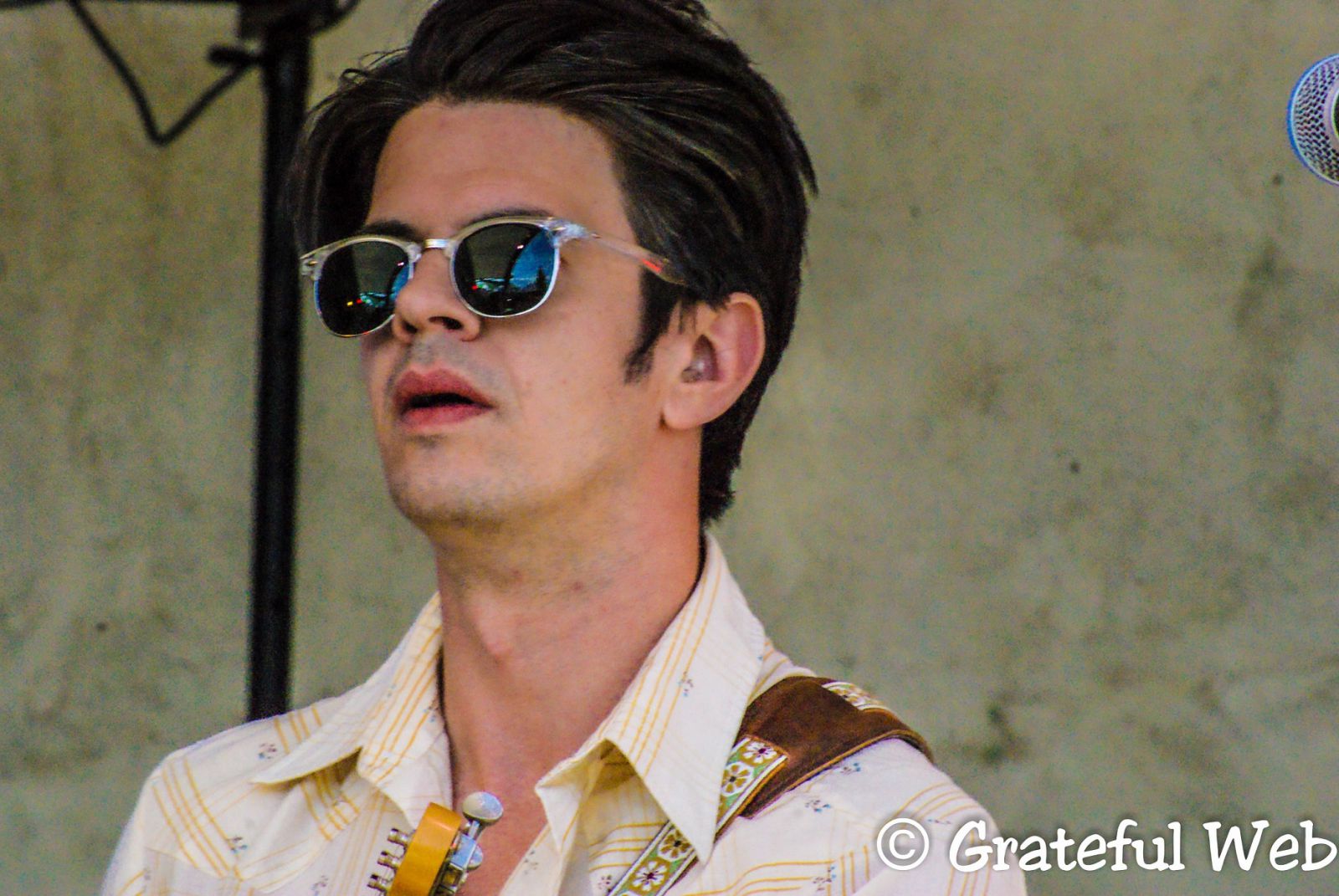 I'll be seeing these guys again in August at Rhythms on the Rio in South Fork, CO. It will be a wonderful encore for me.
Inside, The Howlin' Brothers tore it up. They did a lot of mountain hollers like "Black Eyed Susan" and some originals. By this time festivalgoers were ready for a good stomp and The Howlin' Brothers did their utmost to keep dancers on the floor---and the floor was always packed.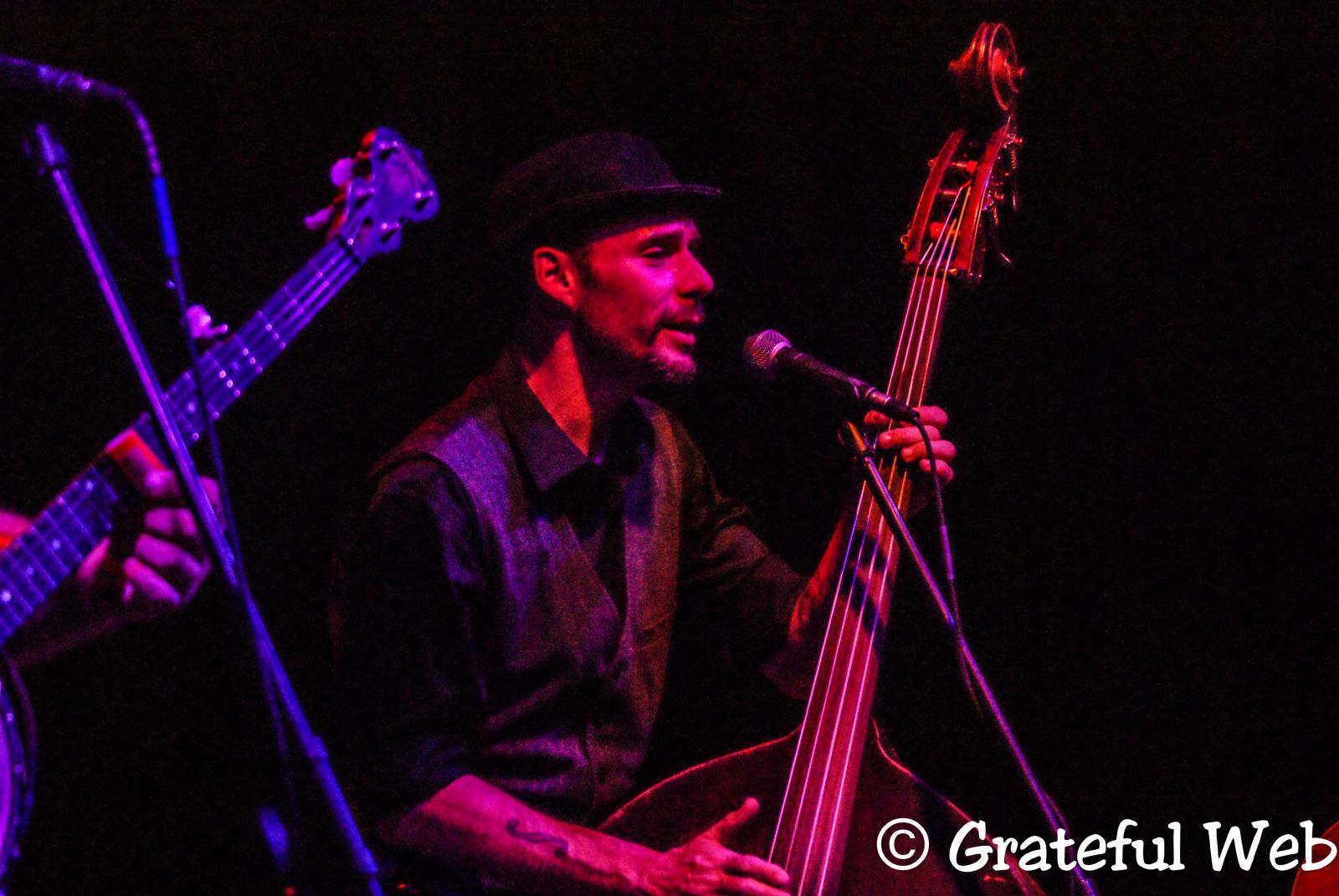 The final act on the main stage was The Old 97s. This hot band is burning up highways as they tour all across the country. They brought rockabilly, Texas roadhouse, and Southern rock to the high mesa of New Mexico. Their driving sound drew festivalgoers to the lip of the stage. A few dancers were able to find some space along the edges for a turn or two, but not many because the crowd was just so thick.
I only heard one country type tune, "Mama Tried," in their entire set and that was well near the end. Music on the Mesa festivalgoers were lucky to see these guys in a great outdoor venue.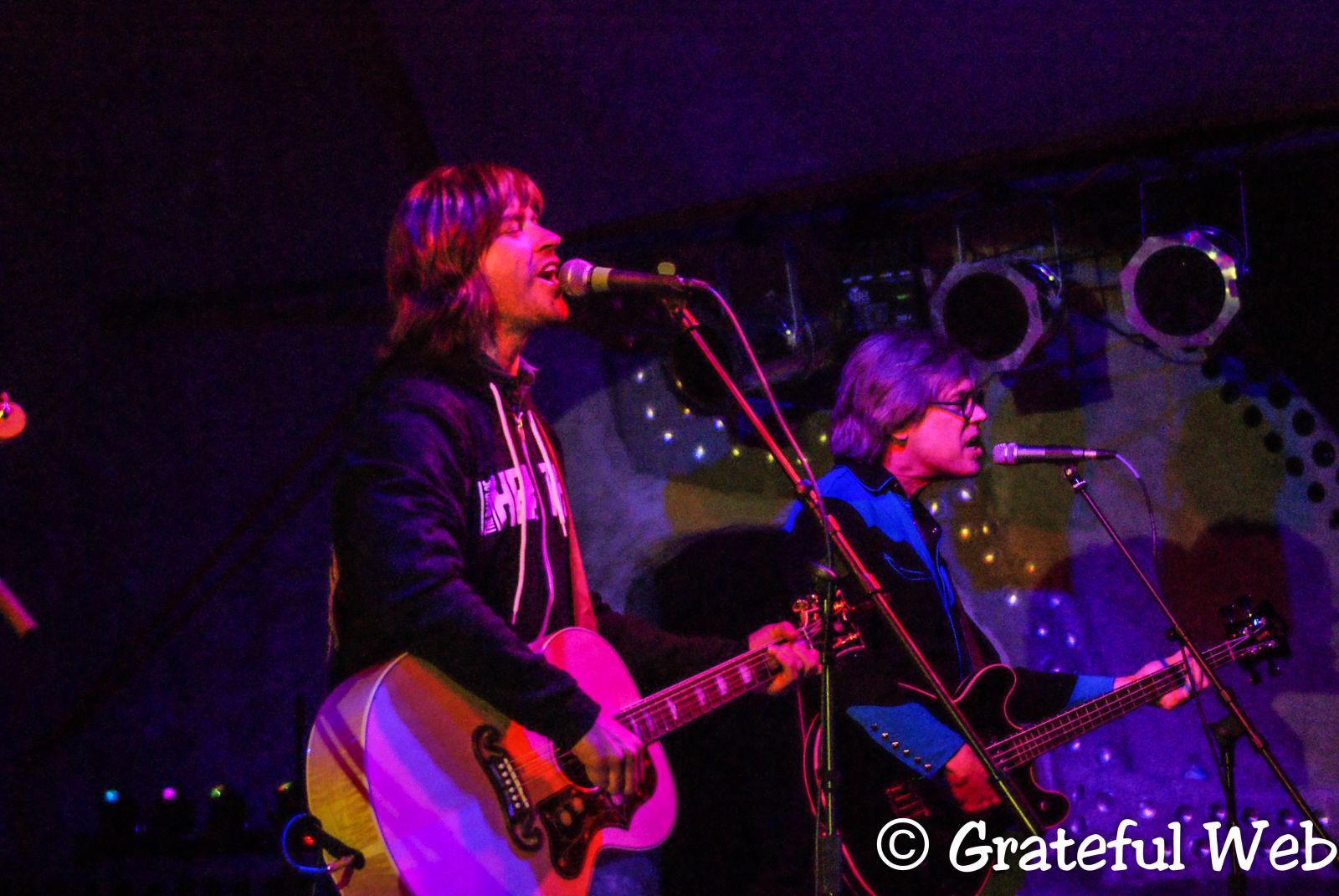 Closing out the evening inside was the local Taos jamband, Last to Know.  The other DJ, Howie, who spins Dead tunes on Fire on the Mesa radio show with Mariana Colman plays keys with this band. And so does Dan Irions, one of the owners of the Taos Mesa Brewery that hosts this annual festival. Dan plays mandolin and a very small electric guitar.
A seven-piece monster band, these guys and one woman have been playing together in one configuration or another for 15 years. Howie has been with them for ten. Sometimes they played under the name Jams of Enchantment. What they offered festivalgoers on the second night of Music on the Mesa was a musical cool-down after party with long jams and a variety of musical styles.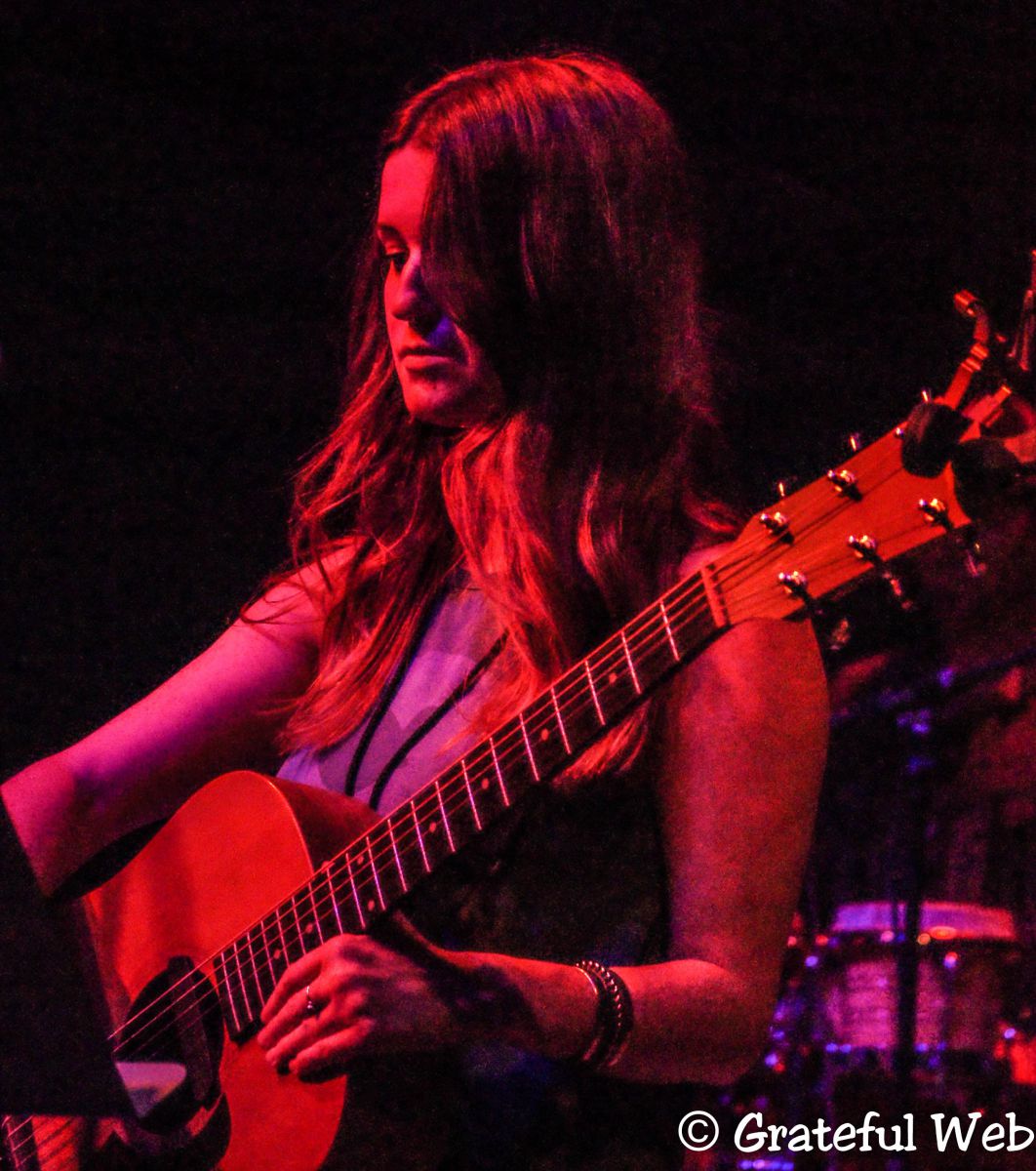 I waved farewell to them as I made my way back into Taos to my hotel so I could process all of this great music. Tomorrow's lineup was going to be mind-blowing.