Music on the Mesa Festival launched its third year on a hot day in El Prado NM, just north of Taos, at the Taos Mesa Brewery. Under clouds that gifted rain later in the day at a very opportune time, music lovers came early, swelling crowds to capacity every single night of the fest.
On this opening Friday, June 2, festivalgoers were treated to NM singer/songwriter Ry Taylor on the large earthen amphitheater and the California-based Sweetwater String Band on the patio stage.
Unfortunately, I missed those two acts because I was still en route to the fest due to a serious car issue. Luckily, the good folks from the brewery sent a friendly soul to fetch me so I could send Grateful Web readers my impressions. After I had been tucked away in one of the vintage Aristocrat trailers in the new Hotel Luna Mystica, I trekked over to the festival grounds just across the road. I noticed in my very brief walk that a huge campground had been groomed behind the festival grounds to accommodate music fans. It was well used with lots of RVs and tents tucked around the high mesa flats.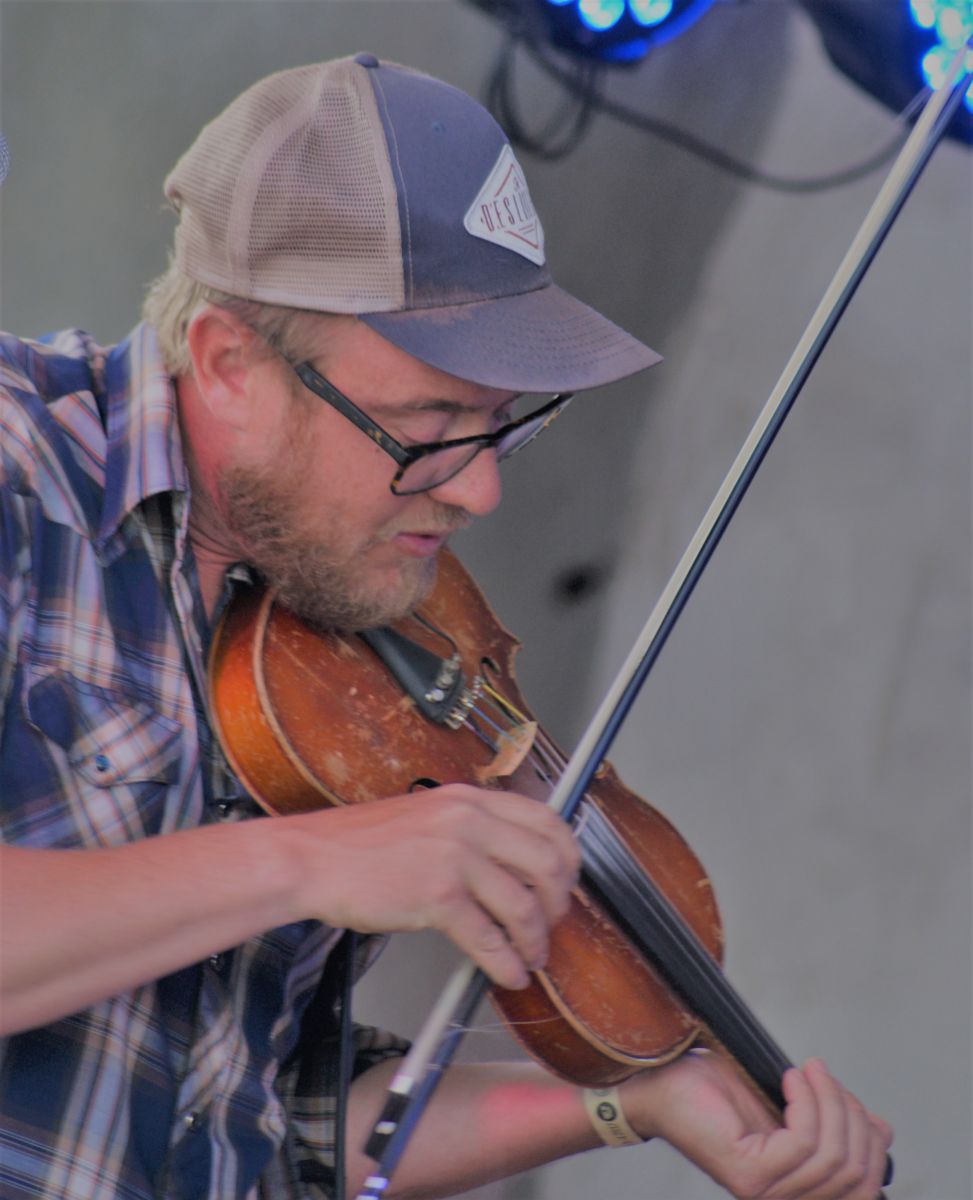 I caught the tail end of The Haunted Windchimes on the amphitheater stage. I was impressed with their vocal harmonies and instrumentality. I had expected more of a straight traditional sound coming from them, drawing from Appalachian mountain tunes. What I heard was a very fresh take on the whole Americana sound that produced originals that were upbeat and very current. This became a theme I saw throughout this festival as musicians were not only willing to show off their chops but say something about the world.
The next act was one I first saw last year at Rhythms on the Rio in South Fork, CO. Gipsy Moon impressed me then, but their appearance at Music on the Mesa showed me a more cohesive band that just has gotten tighter and a heck of a lot more creative. There were some very obvious standouts in this band. Mackenzie Page (guitar, tenor banjo, vocals) captured the audience with her vocals, which varied from song to song as if she became a different person as she delivered various types of tunes. At times, she produced a Billy Holiday quality in her vocals; at other occasions she enthralled with her unique timbre. She carried all of the vocals for the group, with some assistance here and there by Matt Cantor (bass).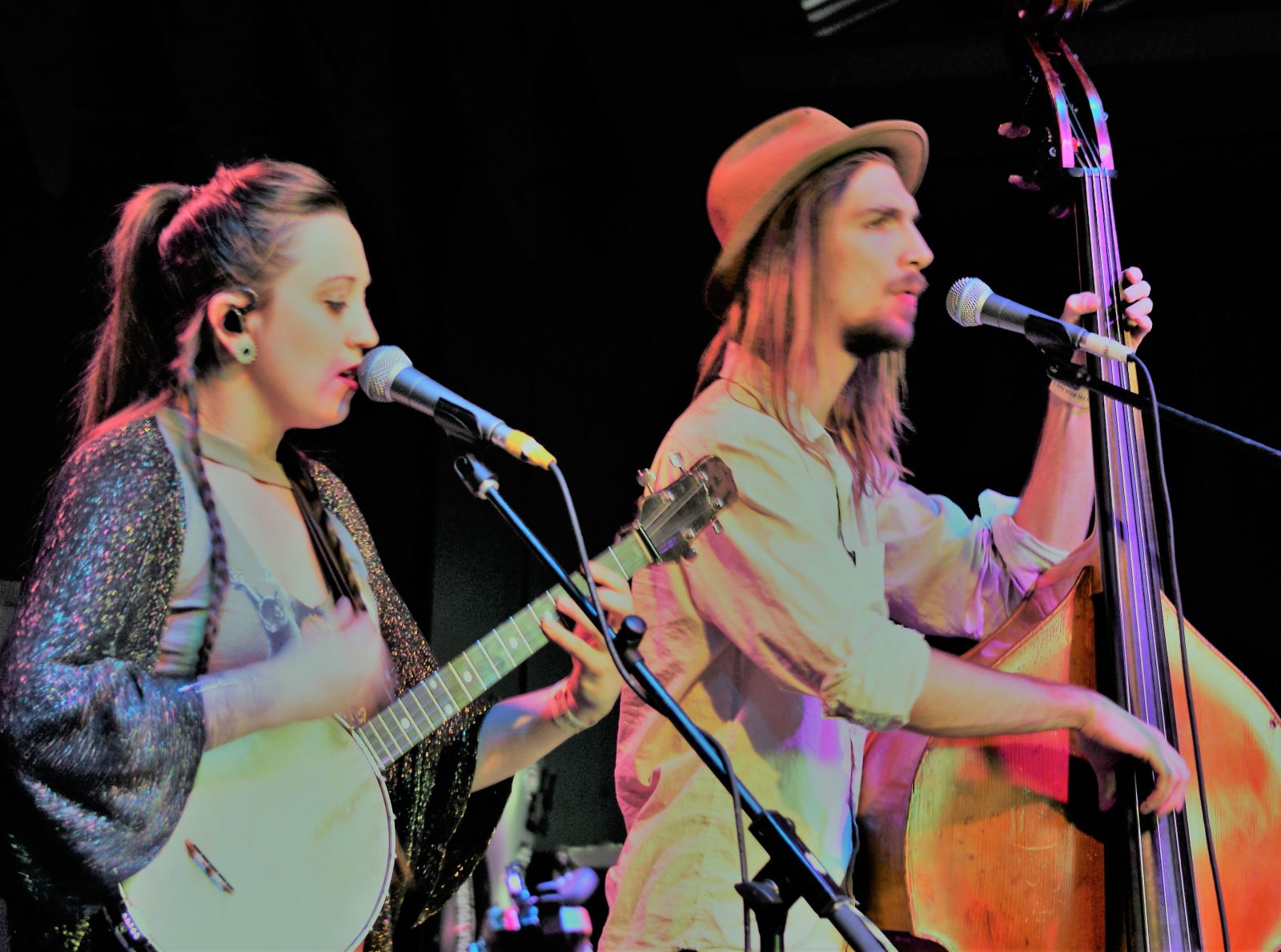 That brings me to Andrew Connley (amped cello), who immediately caught the audience's eye. Instead of sitting with that big instrument, he strapped it around his neck like a guitar and bowed and plucked as the songs dictated, often prancing around his corner of the indoor stage.
Then there were Omar Al'Tbal (percussion) and Silas Herman (mandolin), who were exceptional. Having a soft spot for drummers, sometimes the most overlooked members of bands, Omar charmed me at Rhythms on the Rio by his array of hand drums (doumbek, djembe, congas, and the huge tribal djun djun). Sitting with one or another of these drums between his legs and grounding his bare feet on the stage, Omar sometimes tapped a djembe with one hand and the big djun djun with another, fingers flying. On some songs, the big djun djun added an Irish bodhran feel. Omar never overpowered any tune by showboating; he just added depth and color.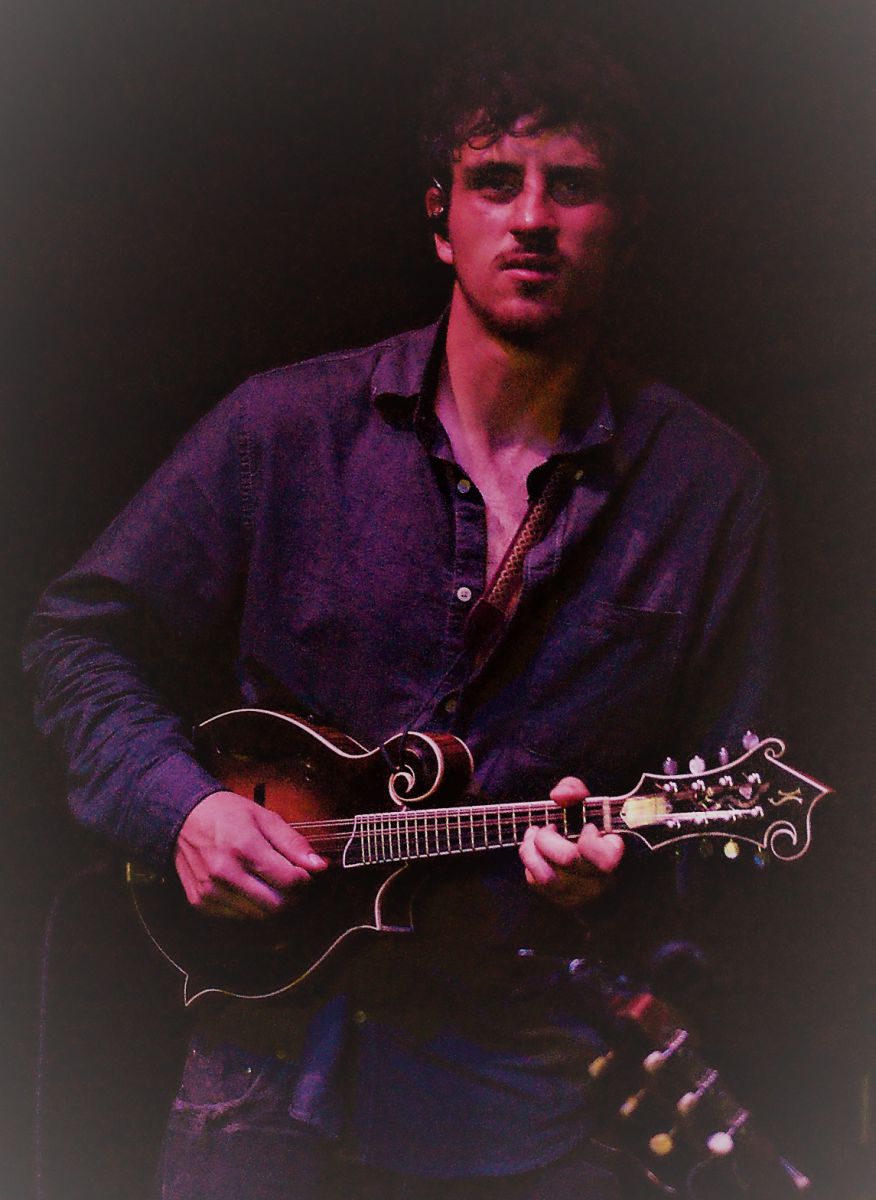 Likewise, Silas Herman's mandolin showed audiences that his instrument could be so much more than what Bill Monroe revealed to the world, making it so well known. Going deep into ethnic roots, Silas used his mandolin, not only to add color but also to be a lead instrument, carrying the melody and feel of particular songs. Sometimes it was the cry of a gypsy violin. Sometimes it just added a rhythmic beat. Sometimes it had the voice of a keyboard. And sometimes it slid into pure, intricate fingerstyling, except with a pick. Silas Herman was spot on for every single song.
And the song selection for Gipsy Moon's set was so varied! There was Duke Ellington's "Caravan" that was an all too brief sojourn at a desert oasis. Their version of Bob Dylan's "Masters of War" was fresh and new for a different era but one that is still facing these same issues. They pulled off a strange arrangement of "My Darlin' Clementine" that made listeners sit up.
Another political tune dealt with election day. The song began with the cello playing a mournful rendition of the national anthem, and then they broke into a 20's era nightclub tune. The words, however, were satirical and spot on with lines like "get your ticket to the show" and "one more day at the circus." It wasn't the first time politics and protest were heard at this year's Music on the Mesa.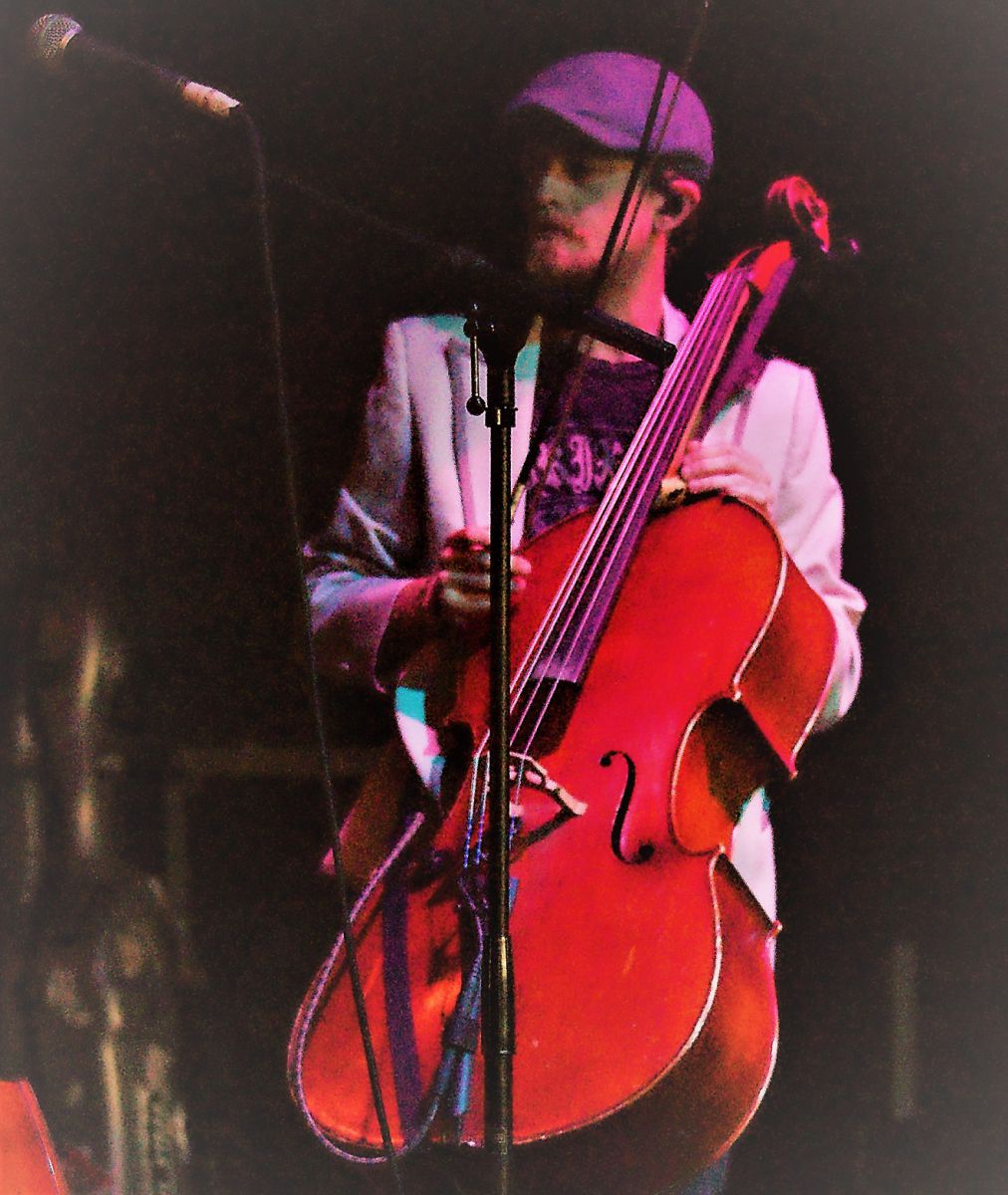 Then there was the ethnic material from Gipsy Moon's new album, "Songs of Olde." They played Irish tunes with a twist and a plaintive, but beautiful, Turkish song that Silas' family used to sing about coming home. They did slow tangos and other tangos that speeded up into mazurkas and Django Reinhardt type tunes that reflected the Paris coffeehouse scene in the 20s. They did a Greek or Russian tune (apparently there is still argument about where the song originated) that has a familiar melody across many cultures, but the lyrics were different. This one was sung in English.
Another tune, "Saint Jane," was a tune Gipsy Moon tinkered with. Its melody originated from "Saint Anne's Reel," whose origins are also debated; they added lyrics honoring the healing herb, marijuana.
An unexpected highlight came when Biko Casini from Rising Appalachia joined the band, taking up Omar's djembe, and laying down a funky drum jam between him and Omar that the rest of the band joined in on. It was fun and spontaneous. And set a tone for other collaborations that became the standard for Music on the Mesa 2017.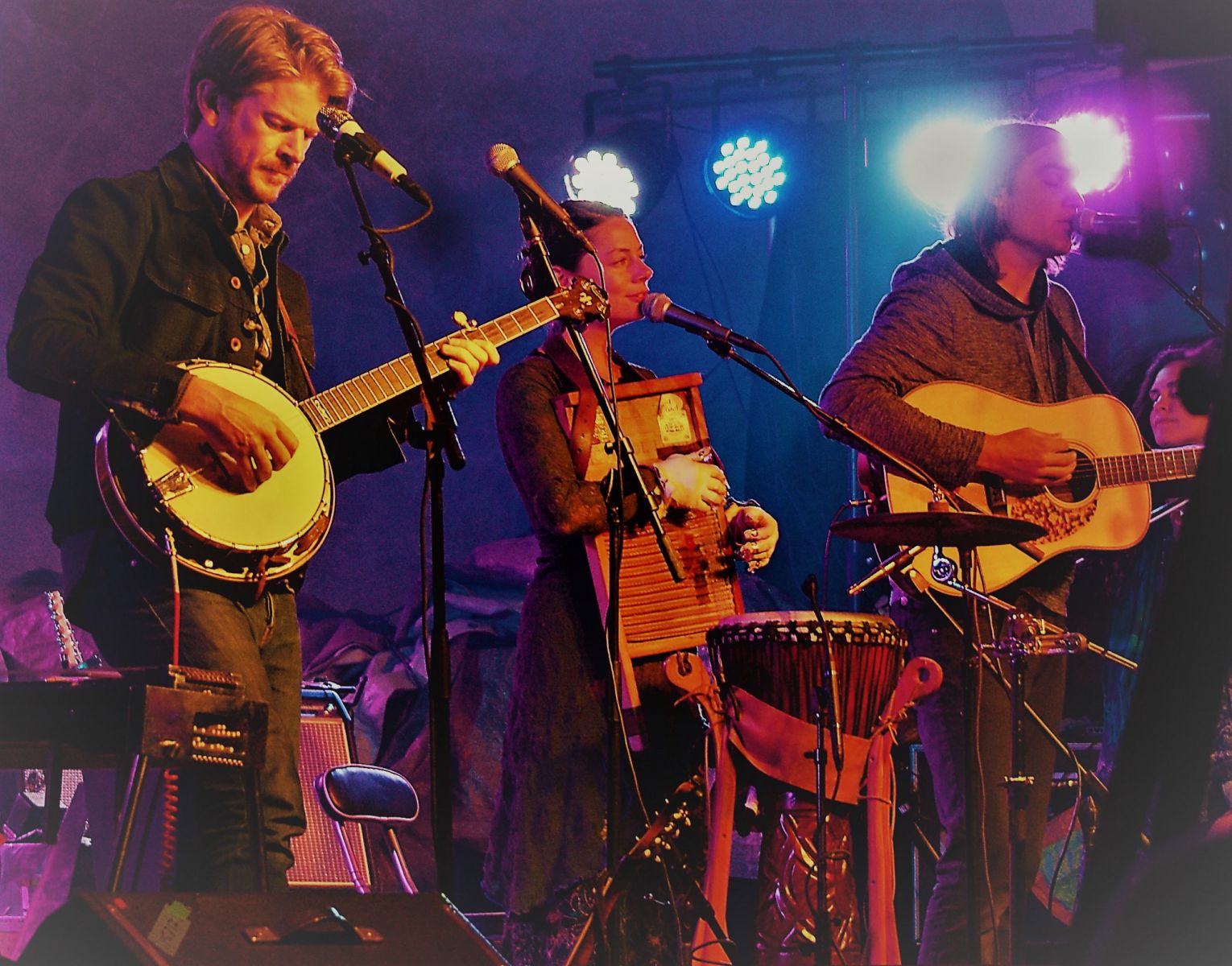 On the amphitheater stage, Elephant Revival returned for their second appearance at Music on the Mesa. They always, always, always bring a good show! This year they offered old favorites and new ones, ranging from traditional fiddle tunes from Scotland to originals about ambition, love, the moon, and life. Omar from Gipsy Moon joined the band for a few tunes, adding his signature flavor to a band that already had outstanding percussion.
One particularly thoughtful new song was about world peace. This put me in a philosophical mood after hearing some of Gipsy Moon's original work. We live in hard times today, especially those who listen to this kind of music and follow the festival circuit. As I listened to Elephant Revival, who always wrote timely lyrics, I heard a new voice. It made me wonder if these hard times we are in will be the fertile soil where a renaissance of real art happens and great protest songs emerge. I wondered if I would hear more over this weekend.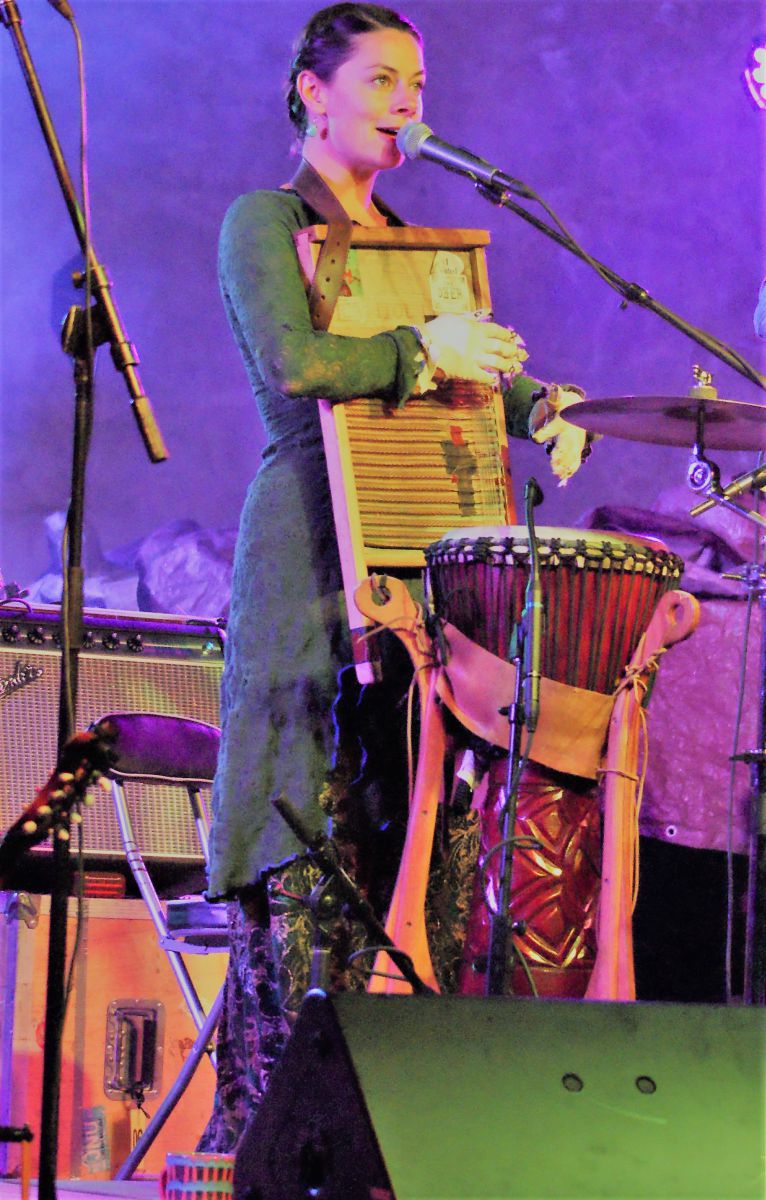 The late night set that followed was a rare treat. Drew Emmitt came together on the indoor stage with fellow members of Leftover Salmon and the Infamous Stringdusters. Alwyn Robinson (drums) and Greg Garrison (bass) from Leftover Salmon joined Drew (electric mandolin, electric guitars) and Jeremy Garrett (fiddle) from the Infamous Stringdusters. It started out with a bang with red dirt country as they lit into a Willie and Waylon tune that they salmonized before they launched into Bill Monroe's "Uncle Pen." Then song after song continued. "Darlin' Cory" turned out not to be your grandpa's era version. It was dynamite!
This mostly bluegrassy set was enhanced by what Drew Emmitt called the Sons of Salmon. Eli Enden, a phenomenal young flatpicker came on stage, with Silas Herman, the mandolin player from Gipsy Moon. They slammed into ole time tunes and other bluegrass oldies.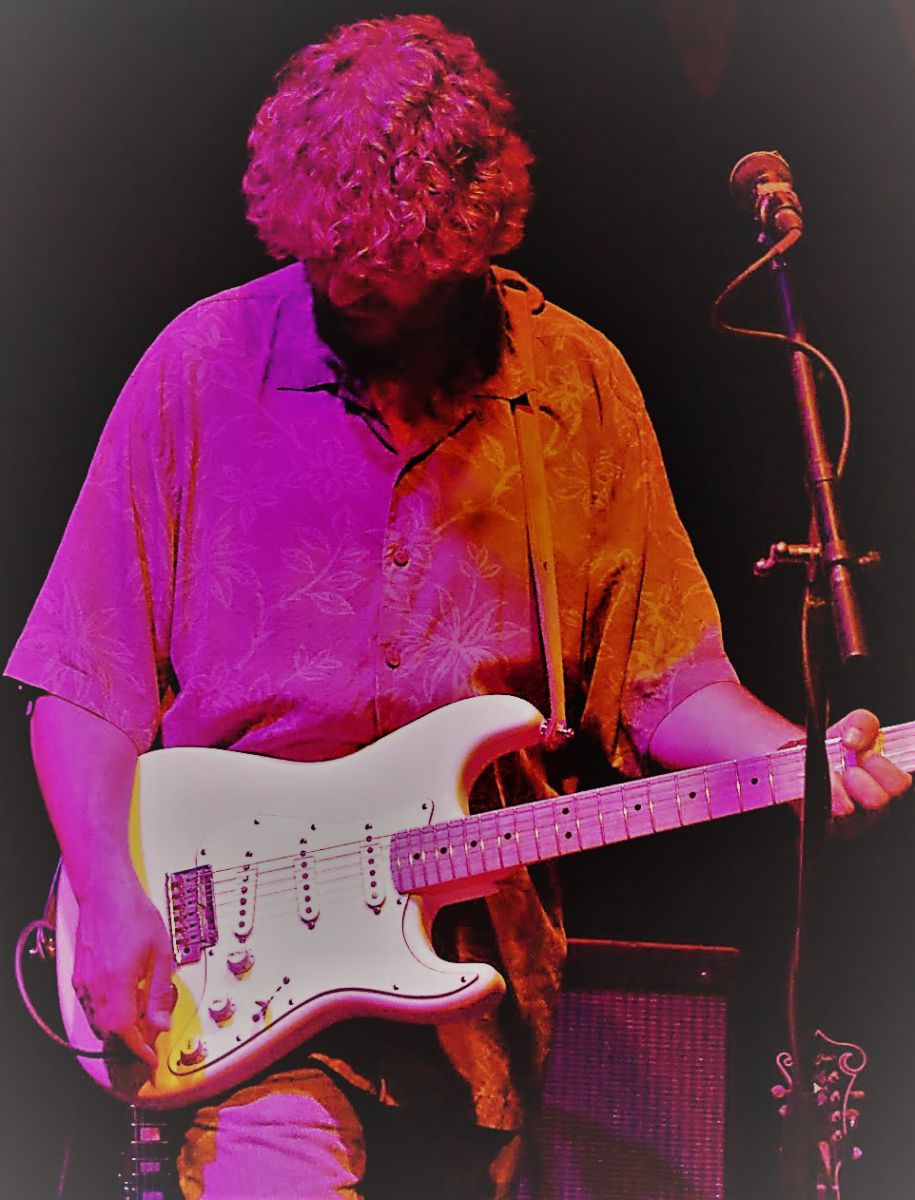 But the one song that stole my heart was Cream's "Crossroads" that just cooked with Alwyn Robinson and Greg Garrison just driving that train. Drew's electric guitar would have made Eric Clapton smile. They just slammed it!
So the first night of Music on the Mesa 2017 closed on a terrific high note. The next two days had some mighty big musical shoes to fill.