The last day of Music on the Mesa 2017 was bright and sunny as I walked over to the Patio Stage to hear local Norteno singer/songwriter Chris Arellano. I'm embarrassed to say, though I follow Nuevo Mexico ranchera music, I hadn't heard Chris' work before. He and his brother Rodney, along with local pedal steel player Scott Harris, treated us with more music than his one-hour set because Western Centuries broke down and couldn't make their time slot. Even thought Western Centuries had their vehicle towed to the festival grounds, it wasn't due to arrive until later in the day when there was just no wiggle room to slip them in anywhere. That was a disappointment, but Chis Arellano certainly wasn't.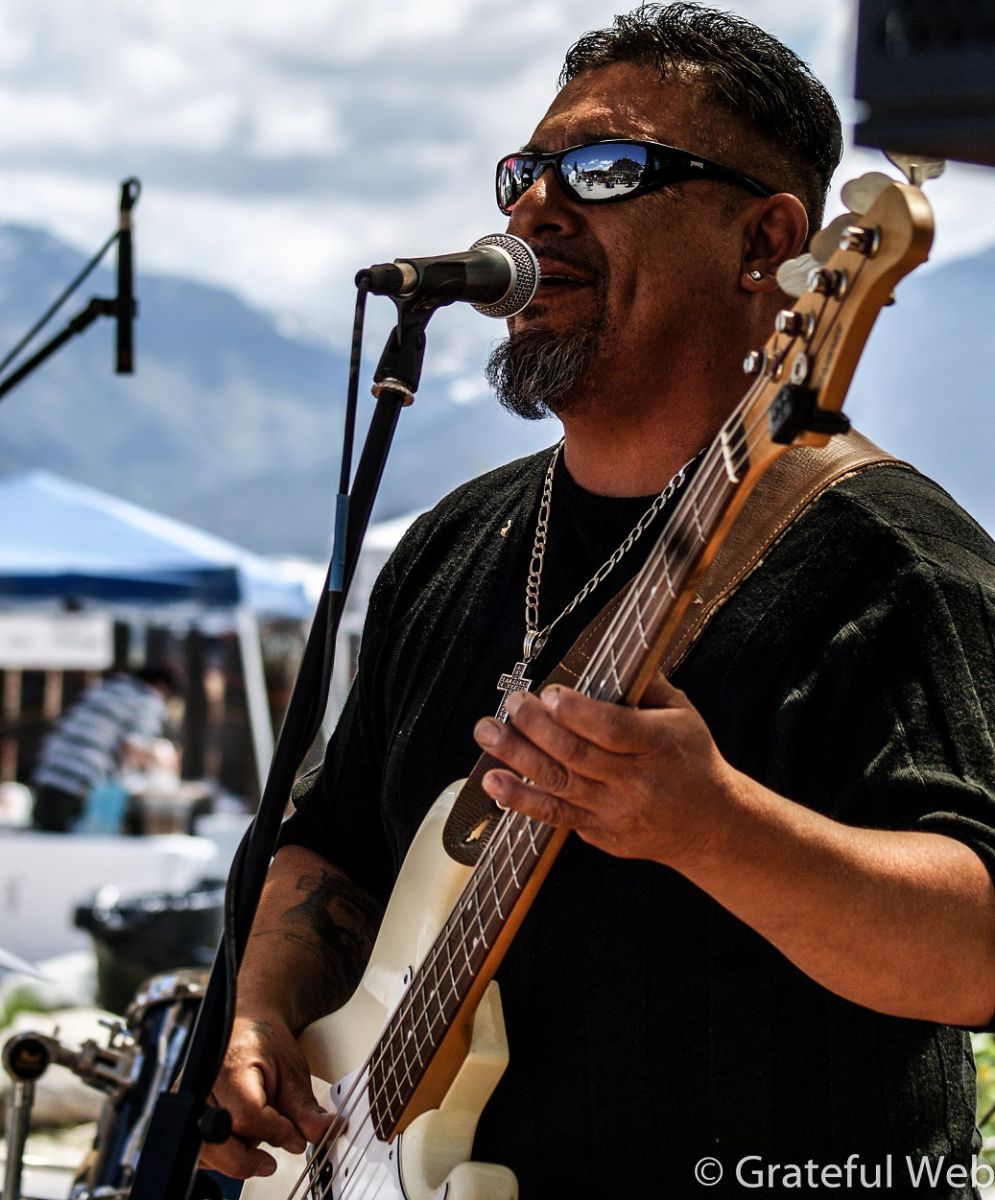 Many of the songs are about love, love lost, yearning for home, and life in New Mexico.  On a couple of songs, Rodney sang a counterpoint in Spanish to Chris' English lyrics. It was a lovely touch. I was most struck by a couple of lines from a song that sort of sums up the Norteno families I've come to know and become a part of here since I moved to New Mexico. The song was about a man returning home after working all over the map. The line says, "The path I've been wandering I haven't been wandering just for me." It's always about home and family.
Even after spending time in Nashville, Chris Arellano has returned to embrace his roots, offering a few traditional Mexican tunes he and his family sang. He also threw in a few Ranchera dance tunes, a couple of country songs, and a great song is immortalizing our beloved chile here, "Hot Damn Chile." Of particular note was his tender song, "Carousel," written about a daughter who was growing up. He tossed in "La Bamba," and because it was Sunday did, "Will the Circle Be Unbroken," the only gospel tune I heard during the entire festival. I knew someone would bring out a hymn. I was just surprised it was Chris and his band. Nice touch.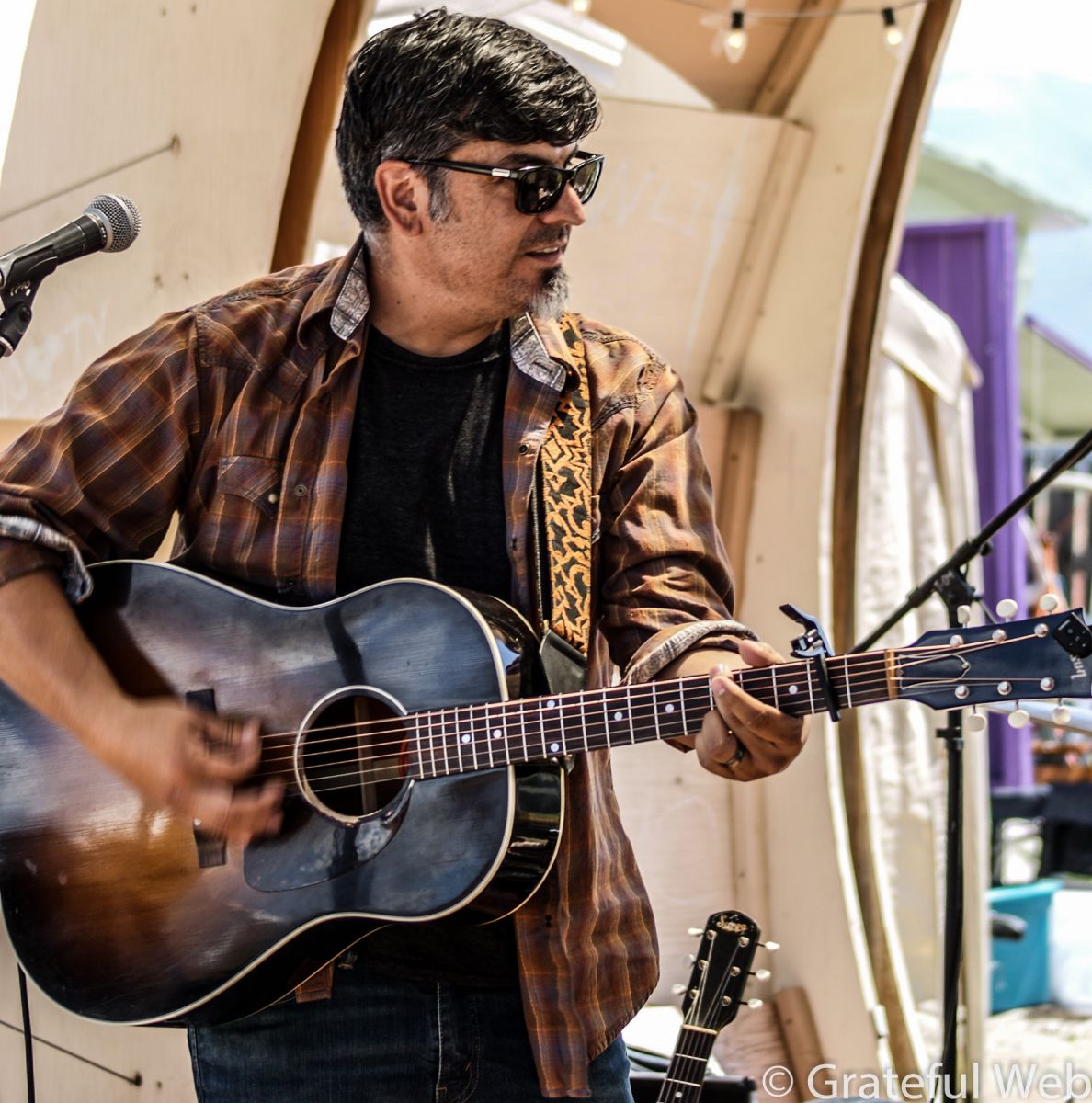 My introduction to Chris Arellano made me want to dig up some of his CDs. He's got a new one coming out soon. And since he's local, I'll find more places he's playing.
Next up was an extended set by Alice Wallace also on the Patio Stage. She did a good mix of old time country, including some mighty fine yodeling, Americana, and some talking blues. Her originals are full of stories of people she's met in her travels. Her latest album, Memories Music, and Pride reflects that. Her setlist was mostly cut from this CD. I liked her content and her delivery. She has a versatile vocal instrument that changes with the material she is delivering. Tasty.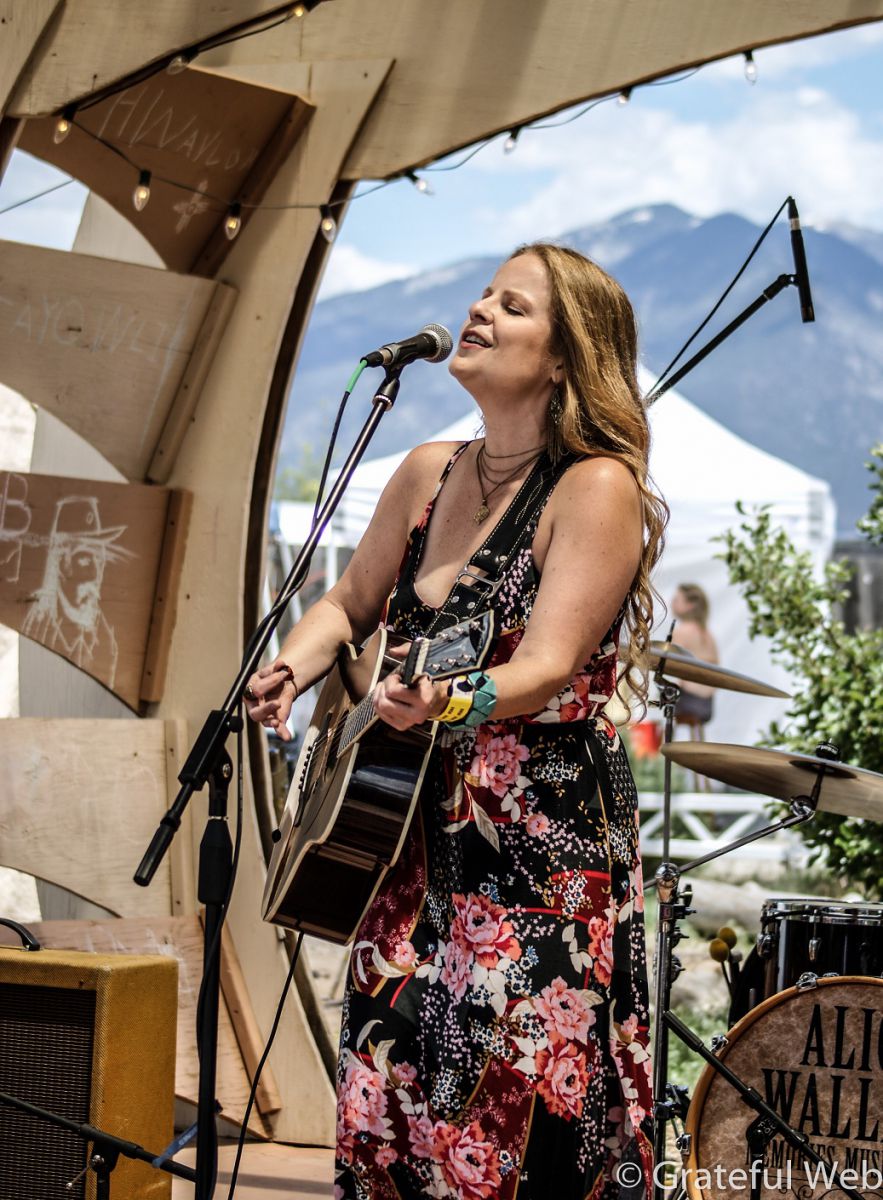 On the big Amphitheater Stage, Wayne "The Train" Hancock returned to an attentive audience. I love watching Wayne perform live. He has a windup stroke on his guitar that keeps that juke joint rhythm going in his songs. And his voice! Lord have mercy! It's like hearing Hank Williams, the Senior, live and on stage.
This is about as close to Heaven I got this weekend, hearing the honkytonk songs of my childhood (My mama was a big Hank Williams fan) as I sat with my feet resting on my camera case in the shade in a real chair, hydrating in the heat, looking at the mountains behind the stage as white fluffy clouds rolled across the deep blue sky, a most welcome site in New Mexico.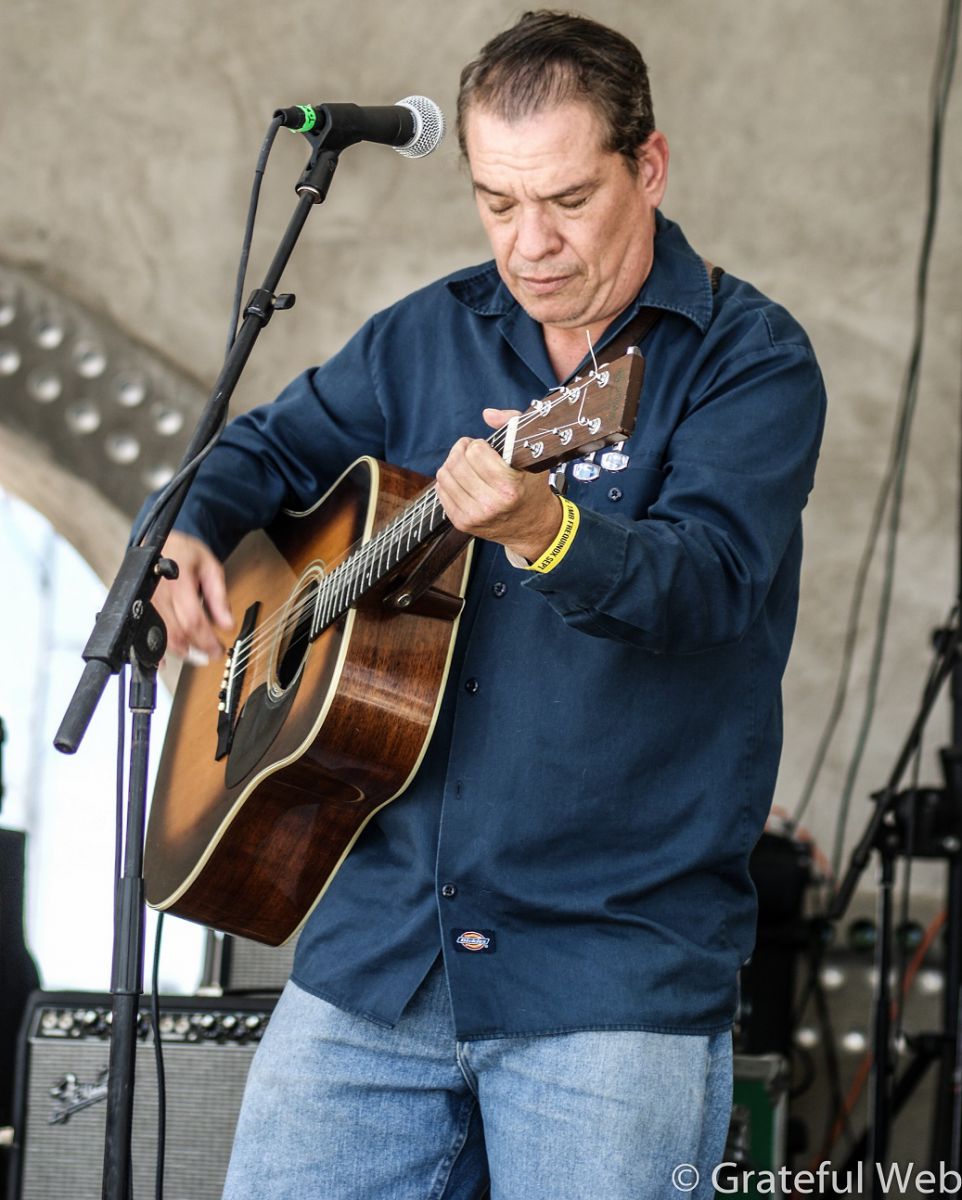 Wayne and his band delivered song after song with honesty and skill. I heard songs like "Poor Boy Blues," complete with a definite Hank yodel, and Hank's "Mind Your Own Business." He tossed in "Blue Suede Shoes," and "It Don't Hurt Anymore." The bass player does a lot of slap bass, something some old-time performers don't like, but Wayne gives him room to add flash and style to the songs.
But it is his steel guitar player who is drop-dead amazing. Rose Sinclair. Remember that name. She'd been playing all over Texas, hoping one day to have a chance to play with Wayne and she got it and had never looked back. Her styling is spot on, better than a lot of veteran steel men I've heard, and she demonstrates a sensitivity to her instrument, producing phrasing that I haven't heard from other steel players. She did a steel solo of a tune I'd heard many times growing up but just could never place it.  I wanted to say it was a Santo and Johnny song, but can't be sure.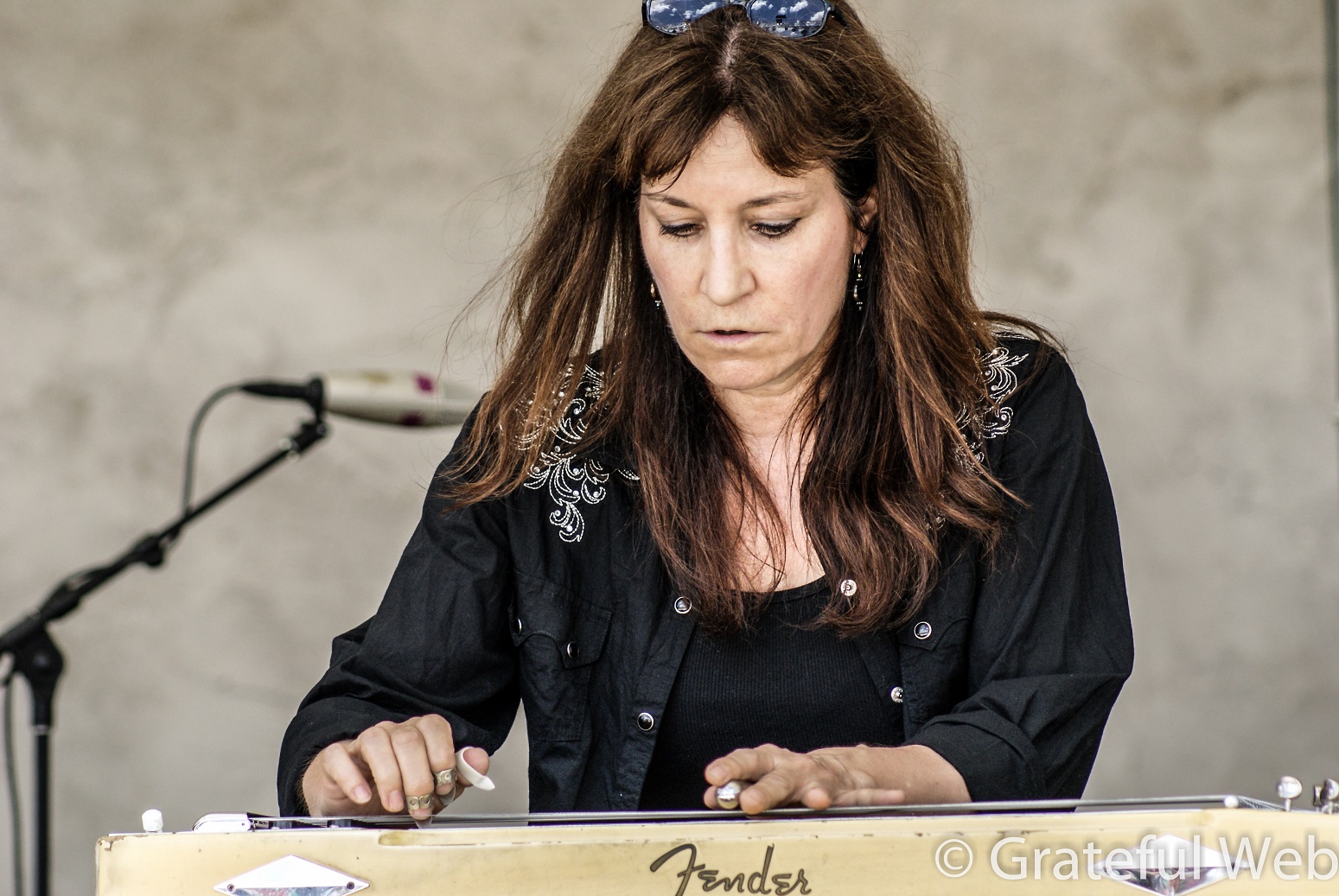 I just hope Wayne Hancock keeps showing up at MOM or other venues in New Mexico. I will go out of my way to see him again live.
Next, up the Americana duo, The Harmaleighs shared their originals on the Patio Stage. I saw these women last year and enjoyed their songwriting talents. Haley Grant (lead vocals, guitar) and Kaylee Jasperson (bass, harmonies) brought some new material this time. The audience hung on to every word.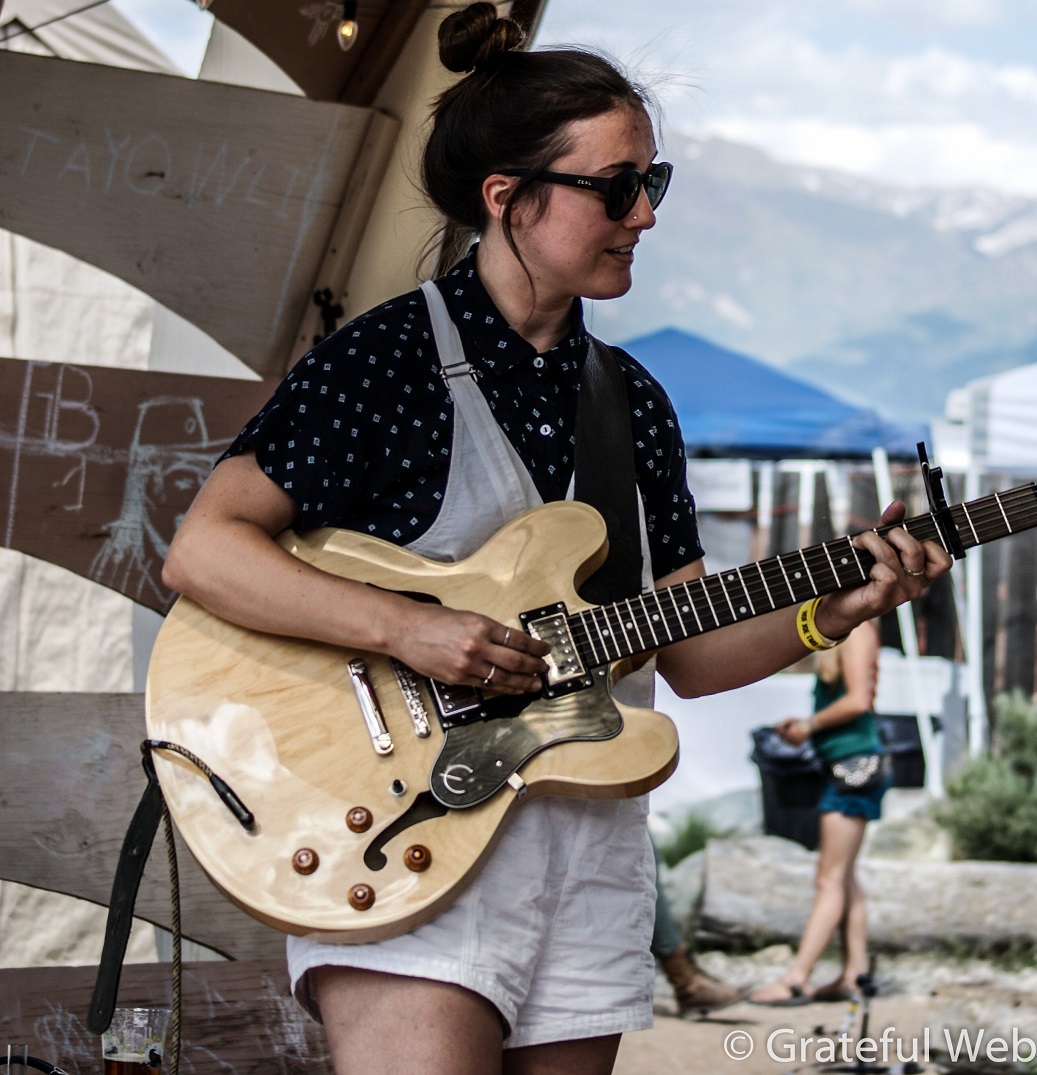 That brings me to the California Honeydrops who played on the Indoor Stage next. This six-piece band is huge: sax, trombone, guitar/trumpet, drums, bass, and Hammond B organ/keys---with a little instrument swapping here and there. They started out grabbing the audience with a Professor Longhair-type stride piano and horns tune, "Goodbye to Whiskey," churning up a gumbo of New Orleans goodness. I know, these guys are from Cali, but, man, do they ever cook! They know hot to work up an audience and get them singing on the choruses! These guys create a real party feels while they provide a message about acceptance and that very definite New Orleans welcome and love that no one wanted to end.
Even after the next act had begun on the Amphitheater Stage, The California Honeydrops unplugged their instruments, grabbed some hand drums and acoustic instruments, and came down off the stage into the audience. Surrounded by a crowd that allowed them some room in their musical circle, they continued to party, without disturbing the main stage. Only after the other act had gone through a song or two, did these guys closed down shop. It was a fantastic set!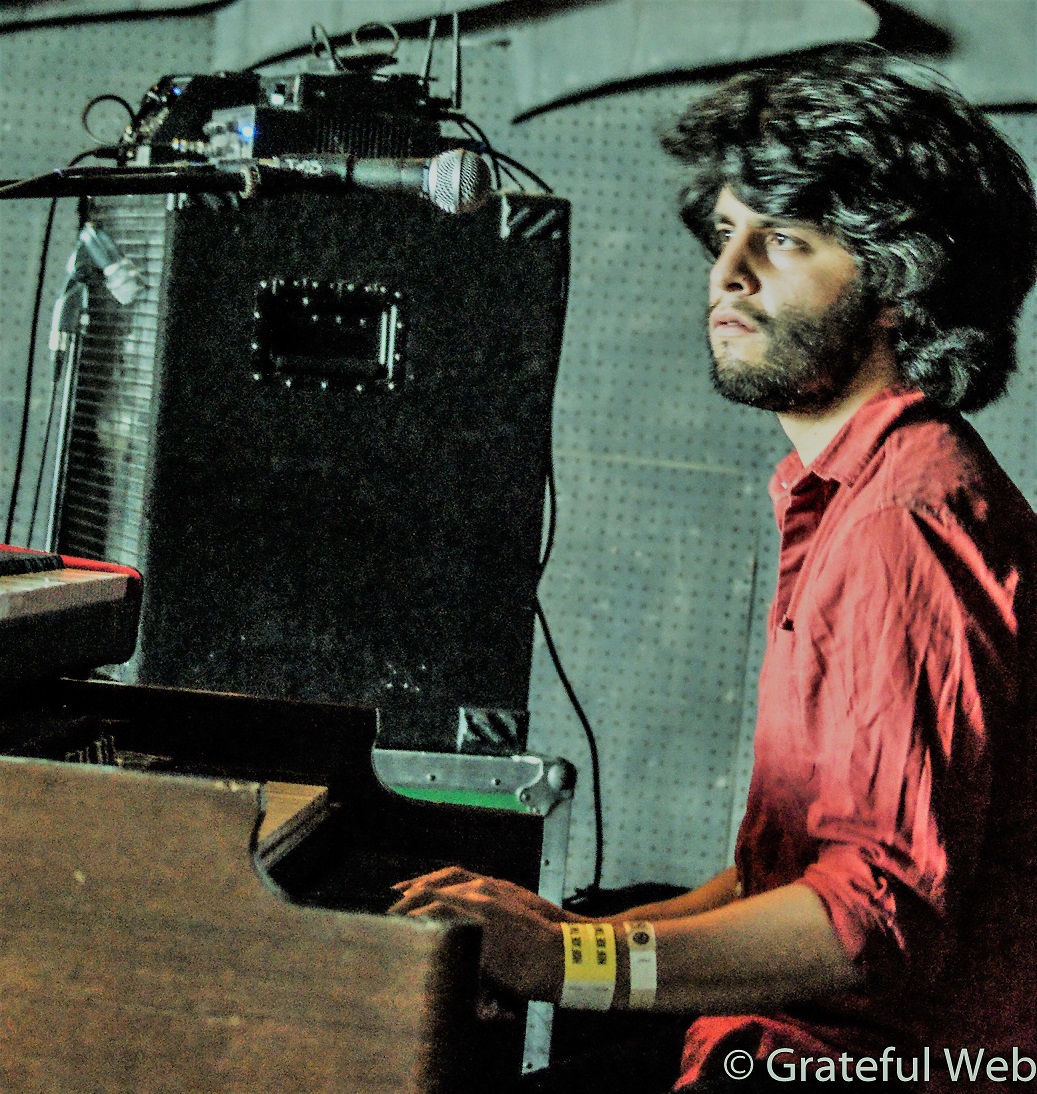 Though The California Honeydrops kept a few people from the next act, Railroad Earth still had a huge crowd at the Amphitheater Stage. I was told that this night was the largest attendance Music on the Mesa ever had and I could see it before my eyes. It's been about ten years since I saw Railroad Earth. I covered them when they first started out and was richly impressed by them. Multi-instrumentalist Andy Goessling, unfortunately, was taking some time off, so I missed greeting him when I went backstage after the show.  A new flute player replaced him for this tour, and the guy also plays the banjo.
Todd Sheaffer (Lead vocals, acoustic guitar) is still writing phenomenal songs. He's backed up by some of the most skilled musicians I've every seen: Tim Carbone (violins, electric guitar, vocals), John Skehan (mandolin, bouzouki, piano, vocals), Carey Harmon (drums, hand percussion, vocals), Andrew Altman (basses), and the new flute/banjo player. Always a mix of genres, even within a single song, these guys add color and texture to lyrics that encourage and uplift and tell you the dark and dirty truth. Railroad Earth offered new material I haven't heard, but I'm two albums behind. I need to sit with their latest one and parse it line by line. I know I'm missing something hearing this material cold.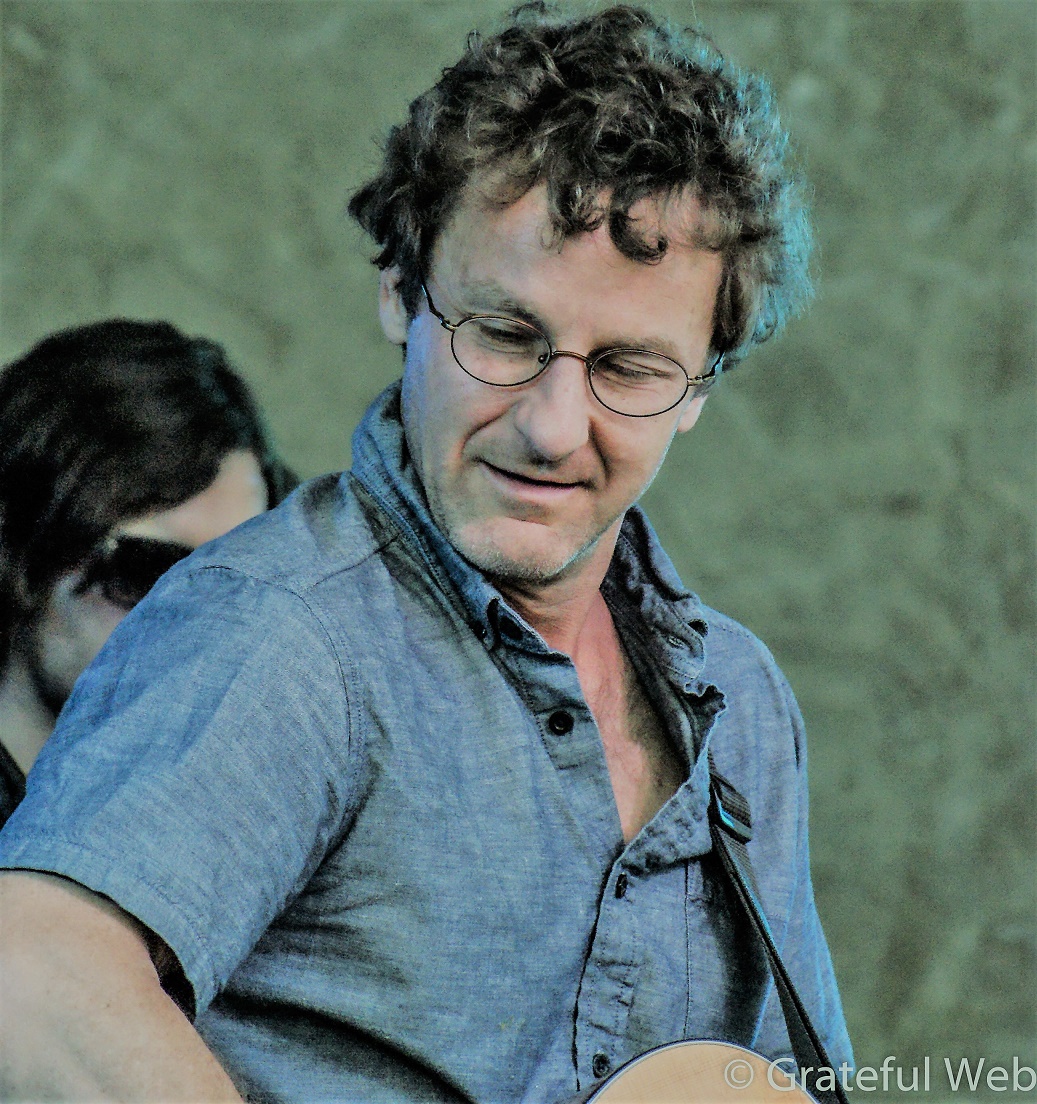 They did do their classic, "Seven Story Mountain." It was fuller than I've heard before and a new arrangement. I was encouraged to hear that because a lot of bands make their name on a signature song or two and consistently play it the same way over and over. This time, though, it was robust. And I love that line: "I got to find the voice to fill my throat again." Yes, that spoke to me loudly on this evening.
Toward the end of their set, a few members of the Cheese Dusters joined them on stage for "Elko," that song that could be about cowboys or touring musicians. Bill Nershi (acoustic guitar) from The String Cheese Incident, Chris Pandolfi (banjo) and Andy Hall (dobro) from The Infamous Stringdusters joined them on this tune and a couple of others. It was clear that all of the musicians were having fun playing off each other. Good stuff.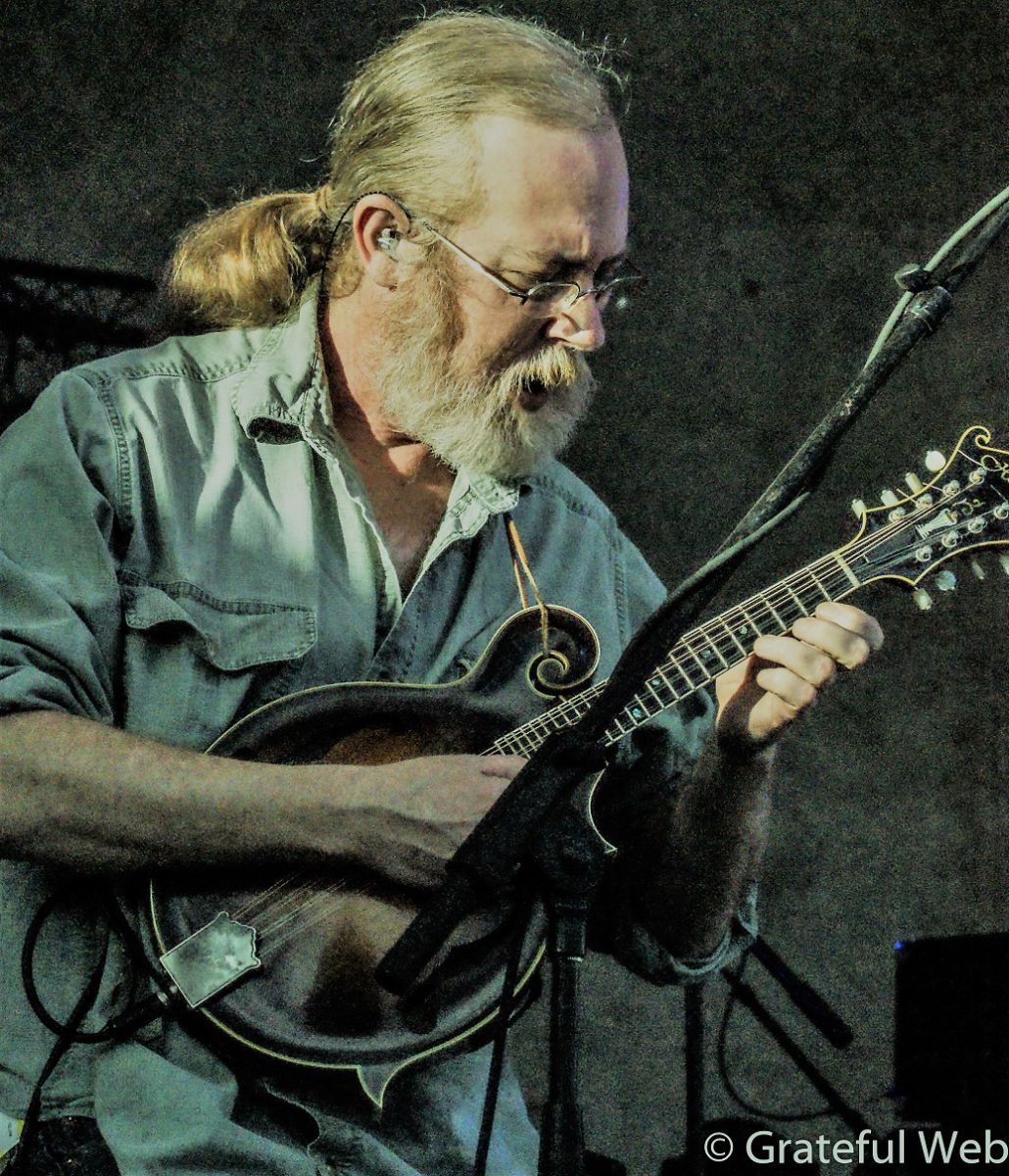 Railroad Earth always presents creativity at the very soul of their work, whether it's a studio album or a live performance. It was great hearing these guys live again after all these years, and we had a nice reunion backstage. Thank you very much.
The amalgam band Cheese Dusters took over the Amphitheater Stage. They were indeed a mix of fan favorites. These musical mashups are rather like Fantasy Football Teams for music fans. Tonight the Cheese Dusters were Bill Nershi (acoustic and electric guitar) and Michael Travis (drums and percussion) from The String Cheese Incident, Andy Hall (dobro) and Chris Pandolfi (banjo) from The Infamous Stringdusters, and John Cowan (bass) from New Grass Revival and The Doobie Brothers.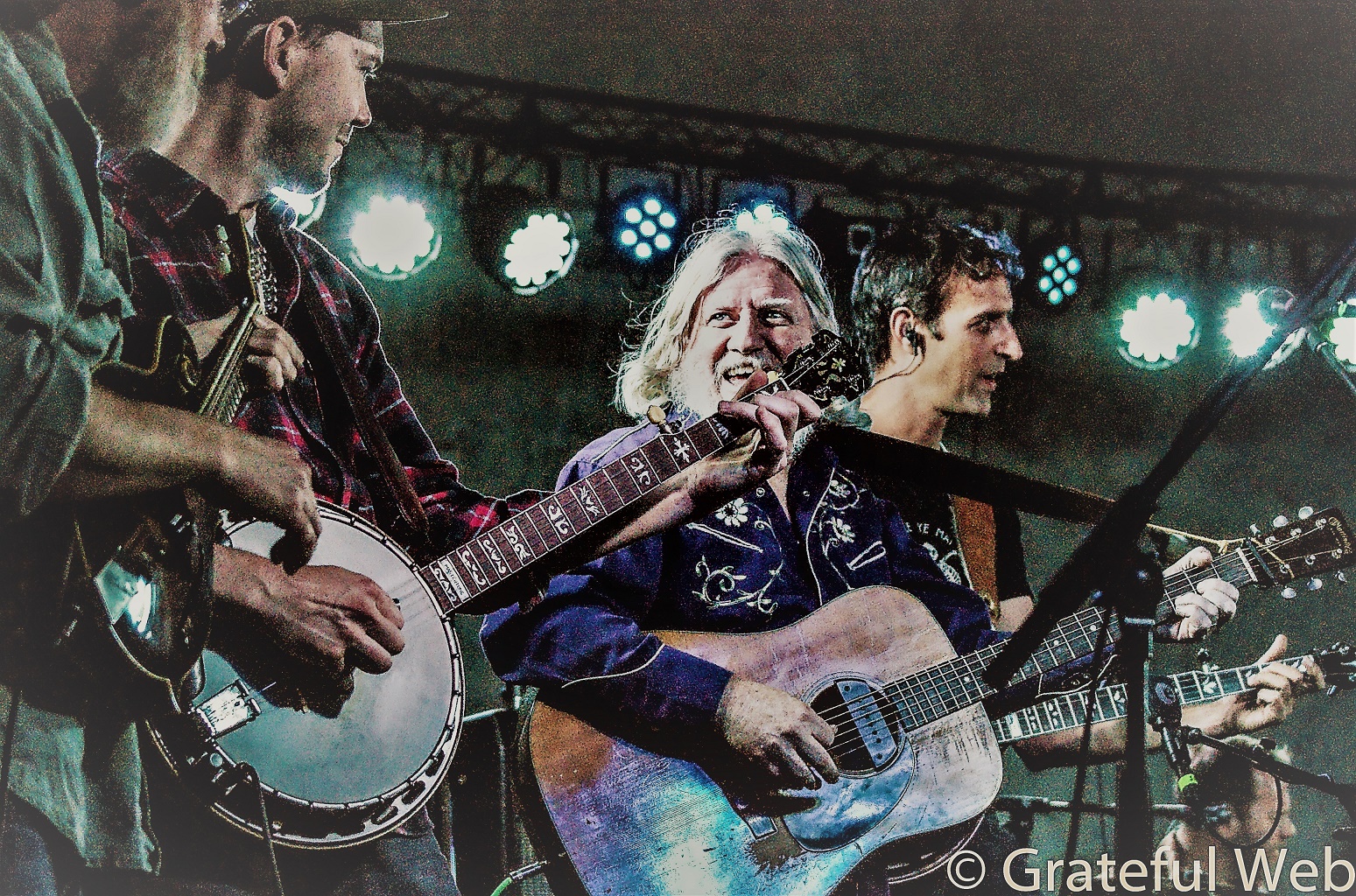 These guys played everything from traditional bluegrass tunes to Beatles to originals to whatever they thought they could pull off together. And the crowd was with them every note of the way. They played longer than their time slot, well over a half hour over. It was such goodness I just stopped trying to take notes and just grooved with it all.
Trying then to ease the crowd down after all this musical mayhem, Liver Down the River from Durango did a late night set on the Indoor Stage. Though they can do some high-energy stuff, too, they also offered some of their more thoughtful tunes that keep festivalgoers humming as they made their way to their tents.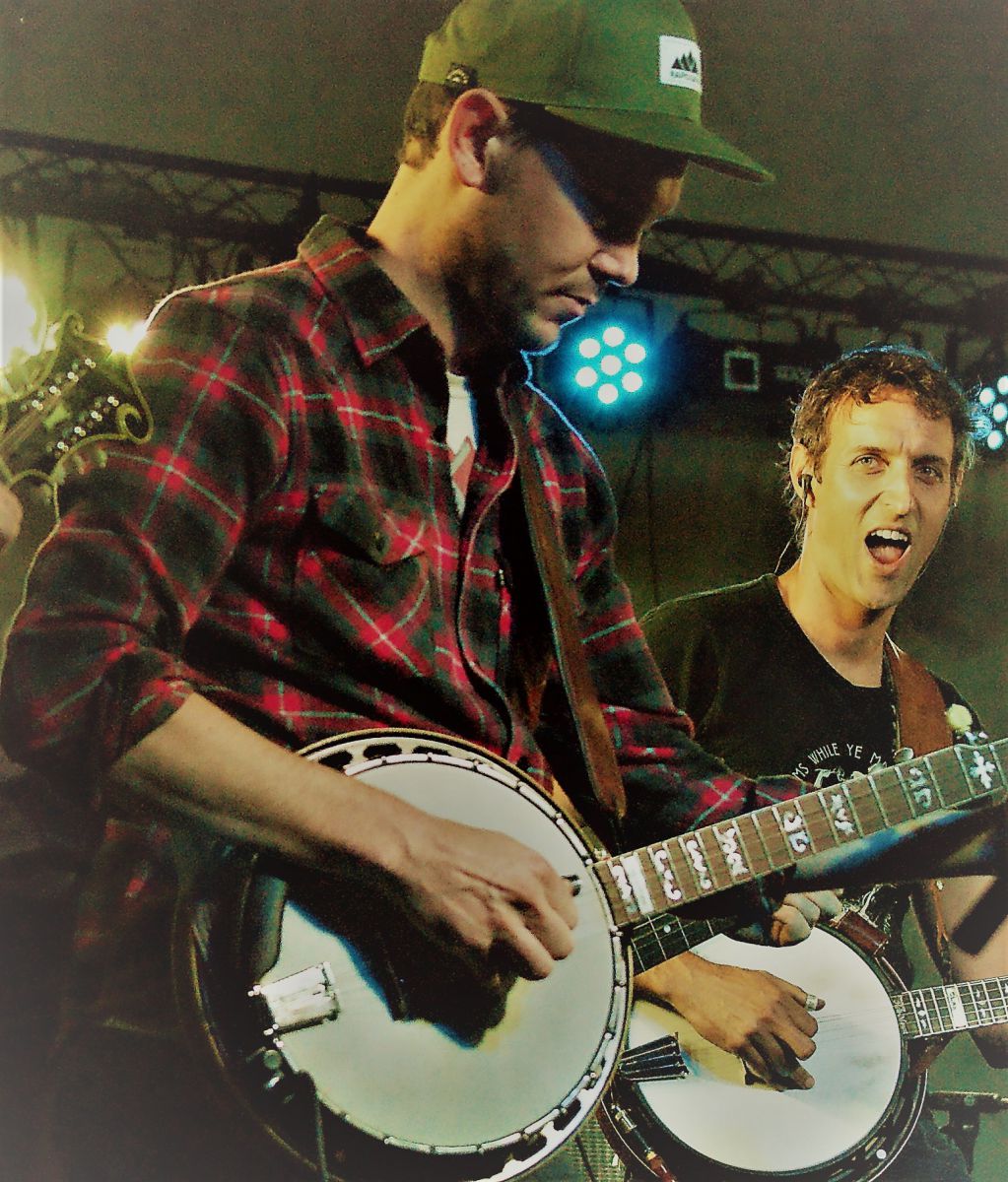 All in all, Music on the Mesa 2107 was spectacular, a festival I'll remember for a good long time. Thanks, Stephen Plyler and Taos Mesa Brewing Company for another top-notch music event.