The second day of Music on the Mesa 2017 started early. Though there was a huge crowd on the first night of the fest, music lovers were taking their time moseying down to the festival grounds in search of that day's entertainment. I moseyed down myself from the vintage Aristocrat trailer I stayed in the night before. It was nicknamed Dennis and had an Easy Rider/Dennis Hopper theme in its decorations. It was super convenient to be able to just walk across a dirt road to where everything was happening.
First up at the Amphitheater was The Battlefield, a four-piece band from LA. They did an hour and a half set of covers and originals. What I found interesting about them is the band had a unique sound from the bits I heard from their website. It's very Americana with large doses of blues, a New Orleans stride piano style (sans the piano), and 70s rock, with some original and covers protest songs thrown in. I was impressed by their three-part harmonies, and the instrumentation was spot on to accompany their repertoire (guitars—electric and acoustic, drums, mandolin, banjo, and a harmonium). Lead singing was swapped by Matt Ducey and James Addison (guitars, mandolin, banjo) and Jenny Weaver (mandolin, harmonium), the writing team for The Battlefield originals.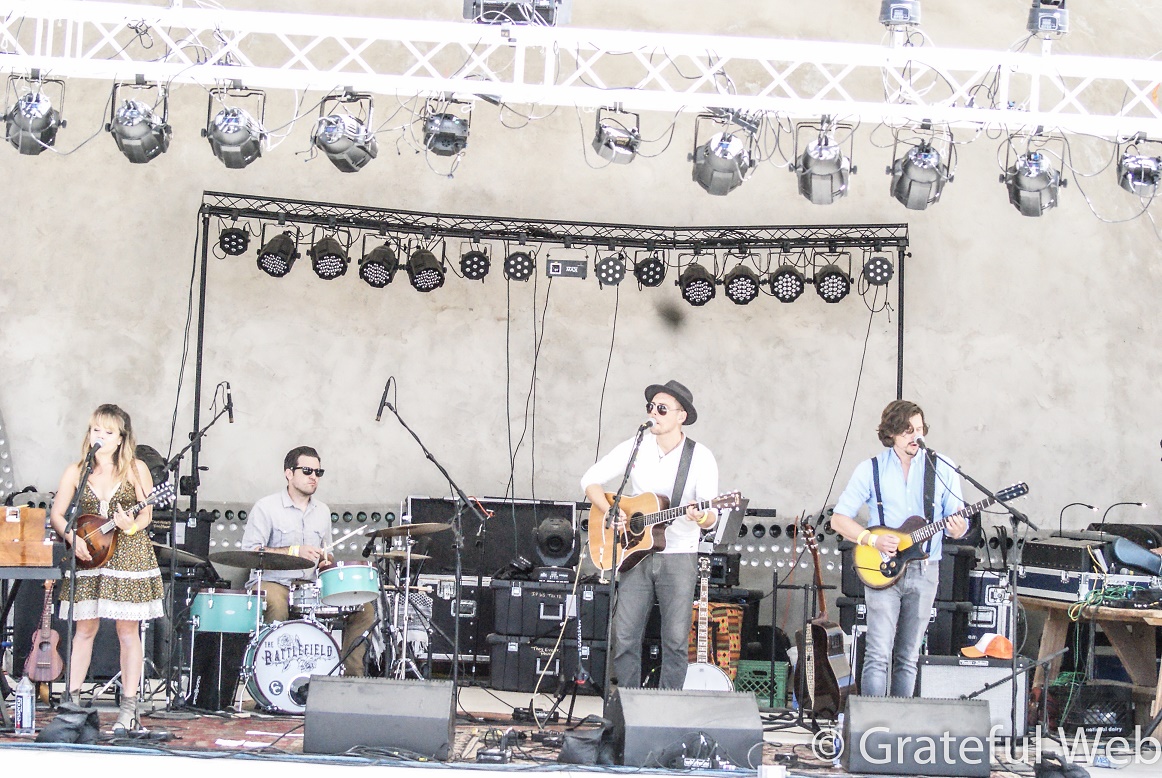 Those originals were openly commentary on today's world. "Rise" was about oppressed people. "Into the Smoky Haze" was a song that protested the light pollution of the major cities like LA that started with the acapella intro of the Eagles, "Seven Bridges Road": "The stars in the southern skies…" Then it broke into their lyrics that said, "The stars at night are fading bright." It was something that no MOM festivalgoer would see in the clear night skies north of Taos NM. They did a powerful version of Neil Young's "Ohio," and offered a song of hope called "All I Wanted," about the new growth after a severe forest fire. They also threw in what might be called an anti-love song, called "Walk on By," that dealt with exes.
Much of their set was from their new album called The Tipping Point. Jenny Weaver described that album and what their vision is for the band is. She said that they do songs of "love, love lost, praise, and protest." That just about covers their set. Very nice.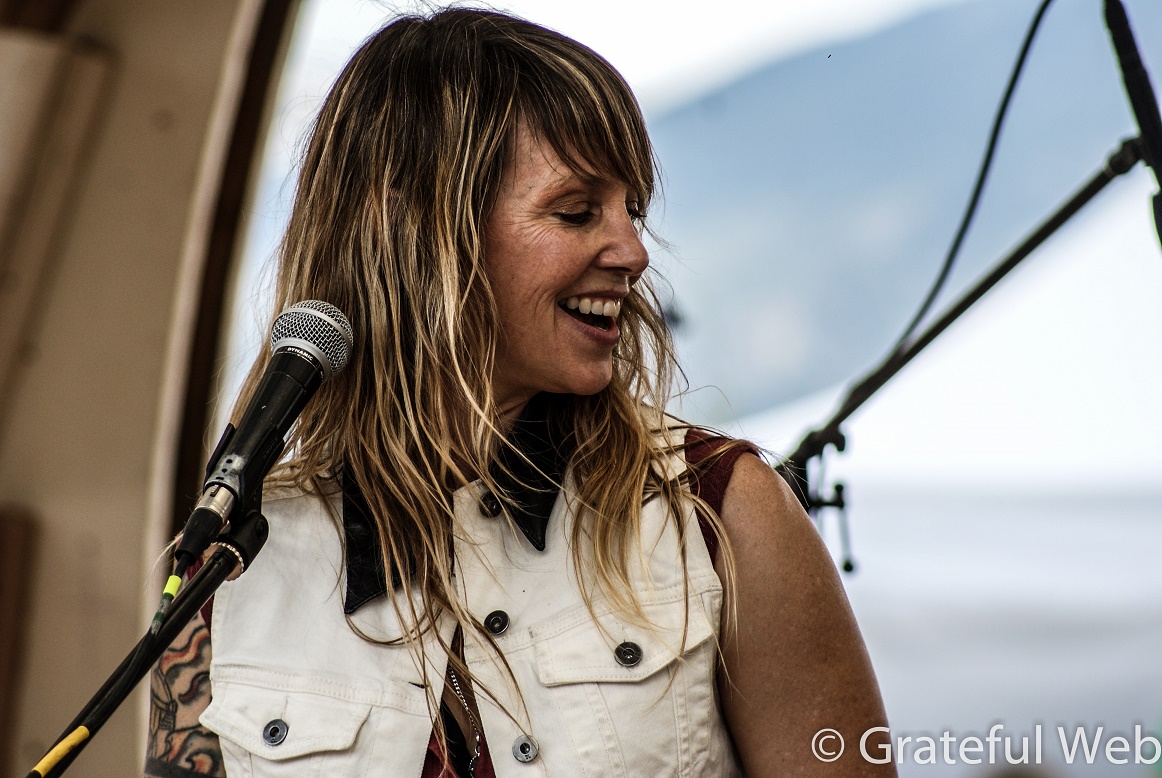 Patrice Pike was up next on the Patio Stage with Wayne Sutton, in an incarnation of her band called just Pike and Sutton. Both formerly from Sister Seven, a hot Austin band, they showed off their twenty years plus in the business. Sutton just shreds. There is no other word for how he handles a guitar. It's never over-the-top but robust and vibrant. Pike, herself, is no slouch on an electric guitar, though she also manages a djembe with distinction. Vocally, though, she shines. Her vocal instrument is versatile, and she's able to slide into wailing blues and pound out rock and deliver a tender love song. But having a voice is one thing, knowing how to use it is another. Her phrasing on every song was the exception as if she put herself into the shoes of each of the people those songs were about.
Pike and Sutton were backed up by a new member, Brad Evilsizer, on drums. Evilsizer also added vocal backup on a song or two; though Wayne Sutton handled backup mostly. All in all, it was too short a set for me. I'll want to follow Pike and Sutton as they continue to make new music.
On the Amphitheater Stage, Coral Creek kicked it out of the park. I saw these guys two years in a row at Rhythms on the Rio in South Fork, CO, but with a more limited band lineup. Whatever their configuration, they always deliver a delightful set. For this gig, the full band was there (guitar, bass, drums, keys, and sax).
I thoroughly enjoyed Bill McKay's (Leftover Salmon and Derek Trucks Band) stride piano on a few tunes. On "Jambalaya," it fits nicely. On Percy Mayfield's "Crying About My Baby," it added a depth that wasn't present on Mayfield's original recordings.
They threw in a sprinkling of Dead tunes: "Bird Song" and "Ramble On Rose." And they did Neil Young's "Comes A Time." Plus, they sold their originals, including McKay's "Ballad of Kathryn Lee" about a pirate queen and Chris Thompson's "God Is Great" that he wrote with his young daughter Cassidy.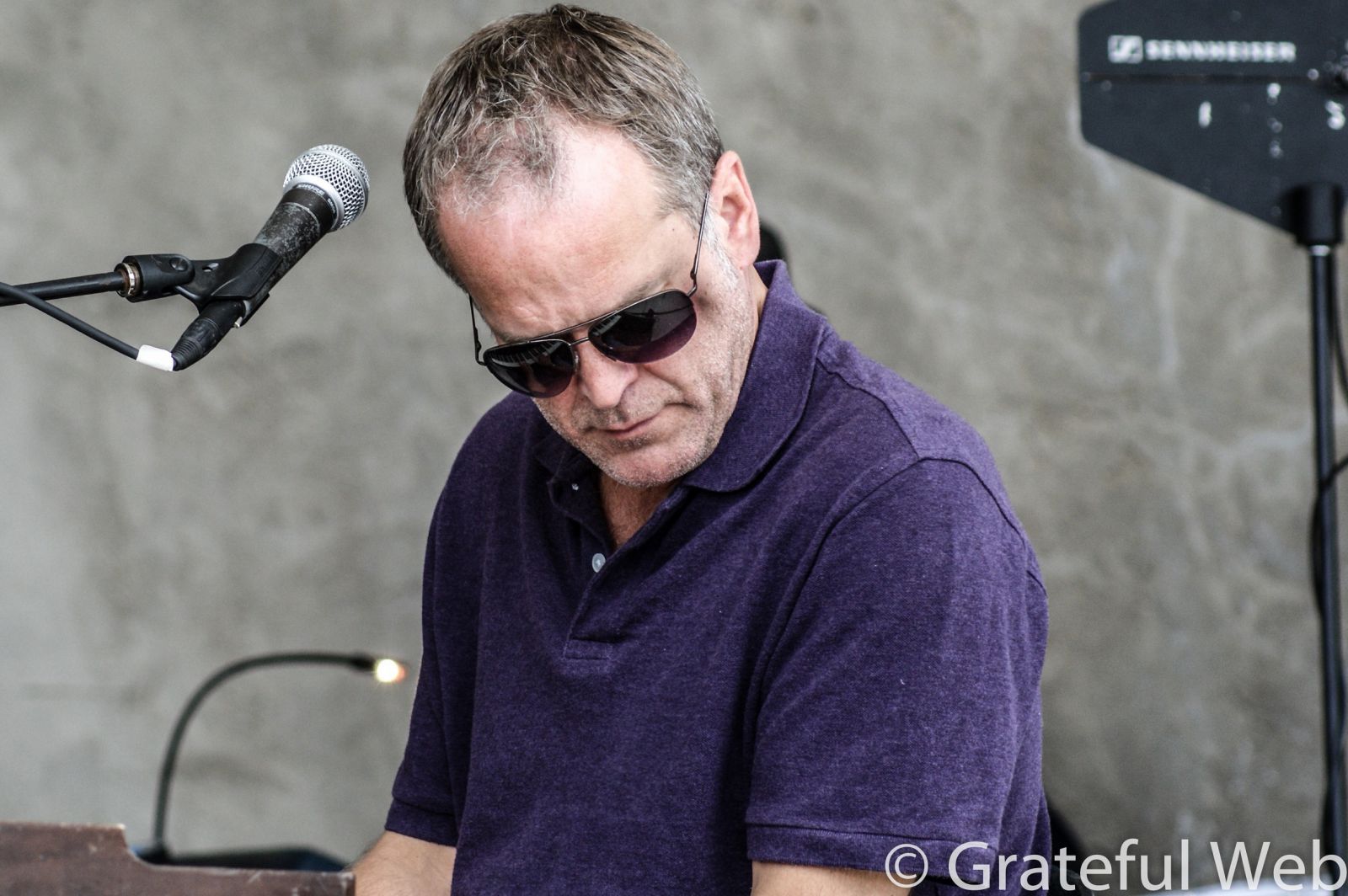 The whole set was high energy, bringing dancers down to the sand in front of the Amphitheater. Nathan People's sax added color throughout the set, especially paired with McKay's honkytonk piano that had a field shout gospel feel. Rob Garland (bass) and Jack Watson (drums) kept everything on track, adding their flourishes here and there. All in all, a tasty little set by Coral Creek.
Before the next Amphitheater act, Kelly Mickwee (formerly of The Trishas) returned for her third year at Music on the Mesa. On the Patio stage, she delivered a thoughtful group of songs. Another guitarist backed her.
I think, with due respect to this day's headliner, The Greyhounds from TX were my absolute favorites. Though their publicity labels themselves as "Hall and Oates meet ZZ Top," I think this does them a great disservice. This trio delivers rockabilly with some heavy soul, funk, and blues, with a touch of R&B. When I first heard their music online, I expected to see a group of seasoned black musicians, delivering music they cut their teeth on. A boy was I wrong!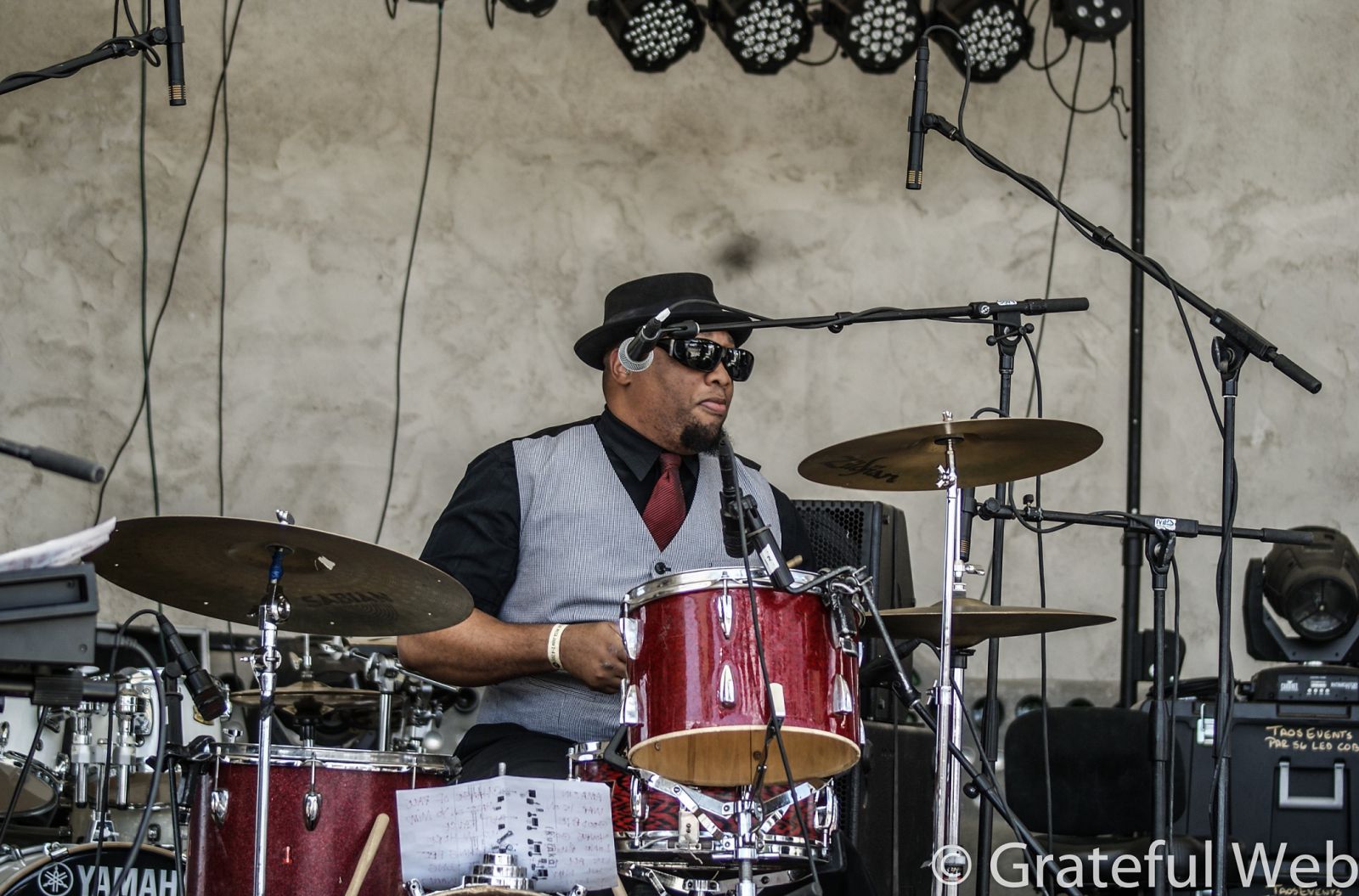 I was backstage when they loaded in. Frankly, I thought it was just three roadies packing in, dressed in gray coveralls with their names embroidered above their breast pockets—two white guys hauling in amps and plugging in cords and a strong black guy setting up the drumkit. I slipped out front to shoot them from the lip of the stage when a few minutes later they came out all dressed up and started in on their set. My jaw dropped.
Out of the keyboard player's mouth came a voice. And such a voice! It was the sound I heard online on an original that had the flavor of Brownie McGhee and Sonny Terry's "Big Wind Comin'" and that duo's version of Curtis Mayfield's "People Get Ready." It was swampy, bluesy, rough and raw, and sometimes sensuous, dropping into Barry White richness.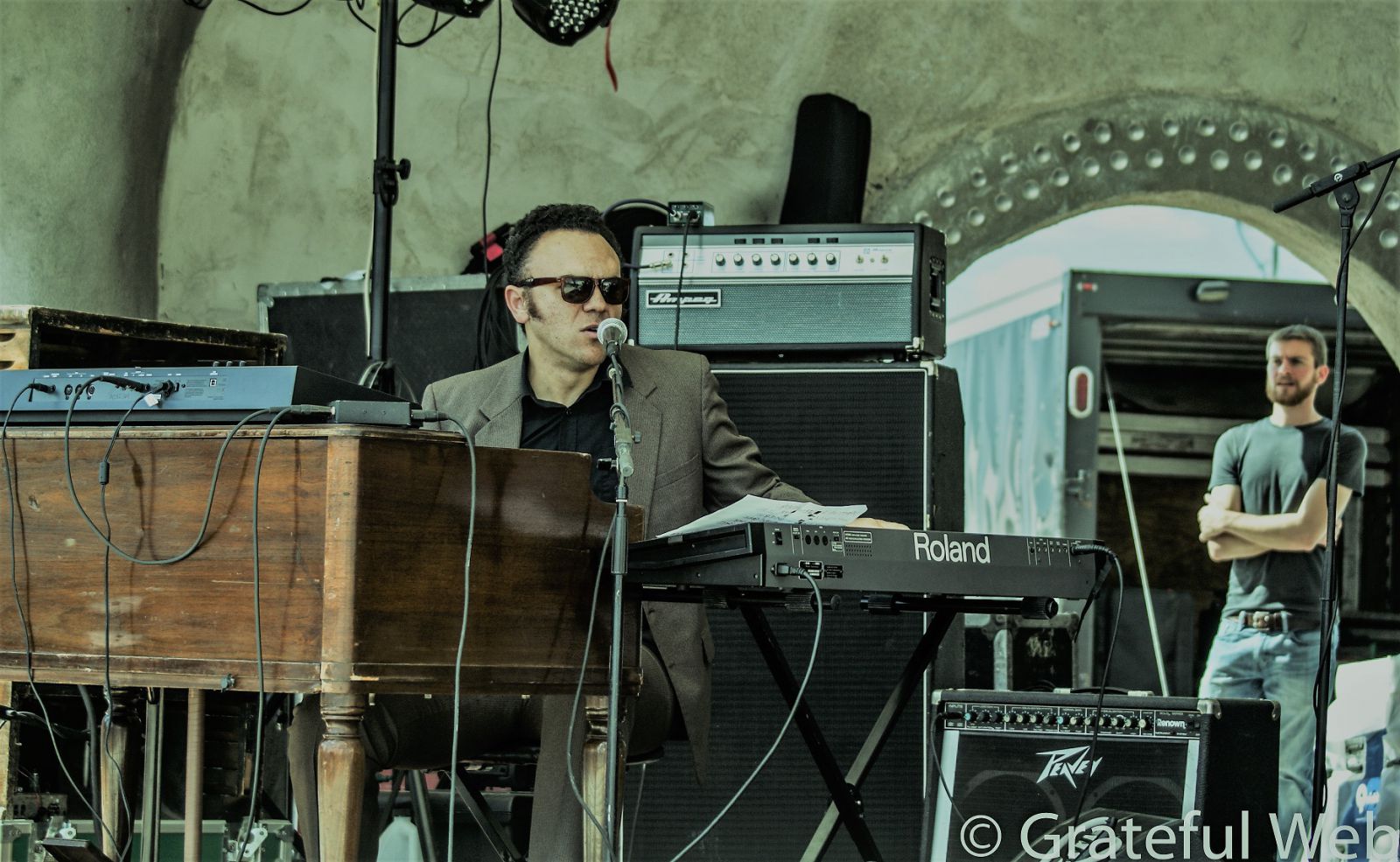 Anthony Farrell is the owner of that voice. He and his writing partner, guitarist Andrew Trube, have been carrying this sound to towns all over the country for almost two decades. They both even toured as part of JJ Grey and Mofro for a time. With their new drummer, they have got something. Though I write tons of notes about a band I like, I just sat and grinned through the entire set The Greyhounds did. It was a pleasant hour and a half filled with tunes that spoke of love and lost love and even had a tune or two that was spot on for the times we live in.
Though they were introduced by their tour manager who was dressed as a spaceman and who climbed atop the earthen amphitheater to dance like an astronaut in space, this band doesn't really need any gimmicks, but fun nonetheless. This band bought honest lyrics, heartfelt vocals, and tight instrumentation. Amazing!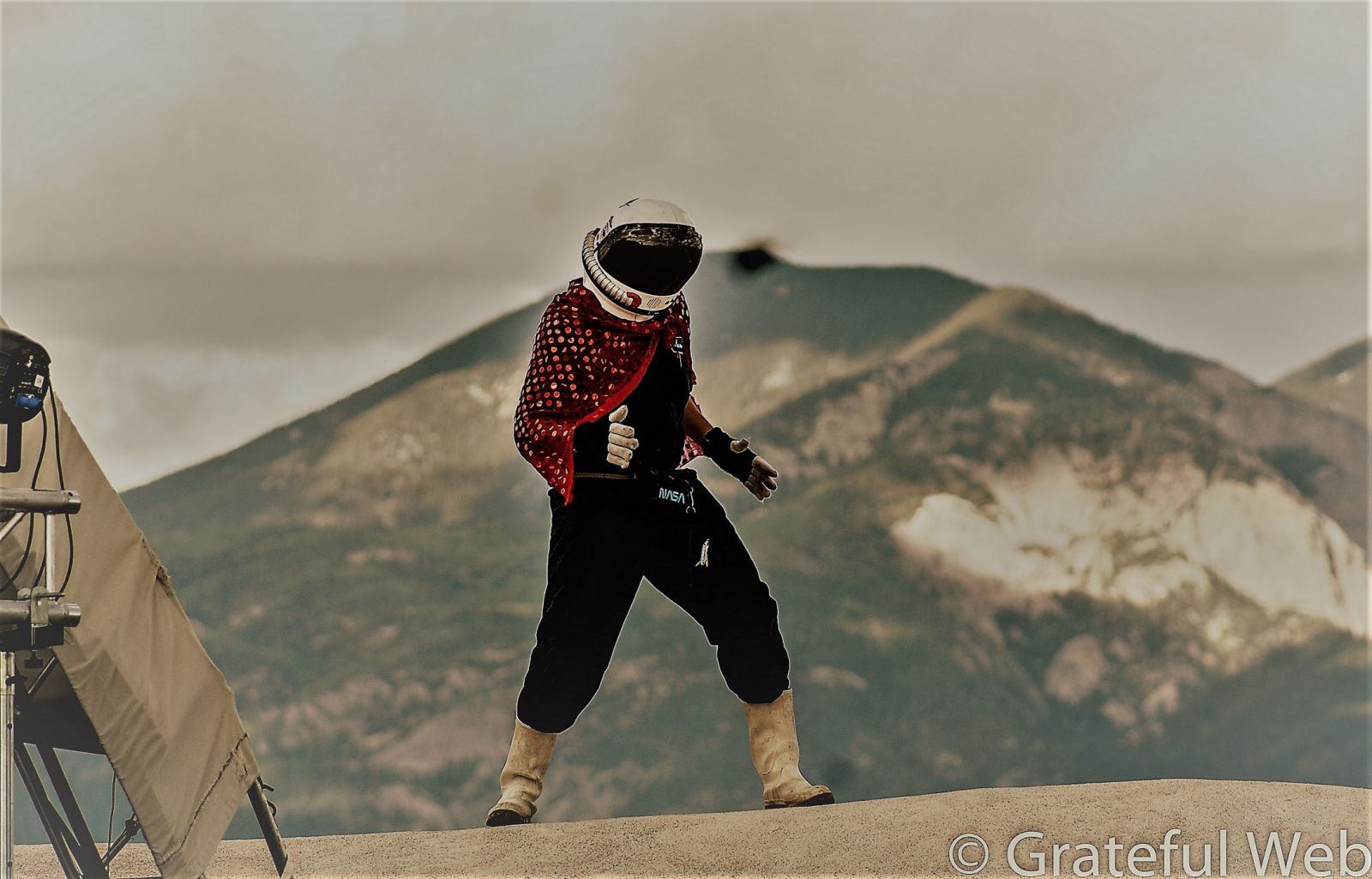 Memphis talent Grace Askew also returned for her third time at MOM. She played a rocking set on the Indoor Stage. She always packs in the crowds.
Rising Appalachia manned the Amphitheater Stage next. Propelled by the delicious vocal blend of sisters Leah and Chloe, who also play fiddle and banjo, and percussionist Biko Casini and bassist/guitarist David Brown, this band presents a positive political message—peace and care of the environment—and they aren't subtle about it. Though they professed to want only to perform love songs and not protest songs, their message was always up front.
They teach from the stage through statement and song and lots of instrumental surprises. For example, Brown switched from bowed bass to stand up slapping. Casini moved smoothly from djembe to an unusual percussion instrument that looked like an overturned bowl that he pounded with his fists. And the fiddle player picked up a uke at one point. Once they invited Arouna Diarra, who is from Burkina Faso in Africa, to come on stage and join them, playing an engeni, a plucked string instrument, and other instruments from his country. Arounda Diarra, the band said, was in the US to raise awareness of his country and talk about the richness of his country's musical heritage and instruments.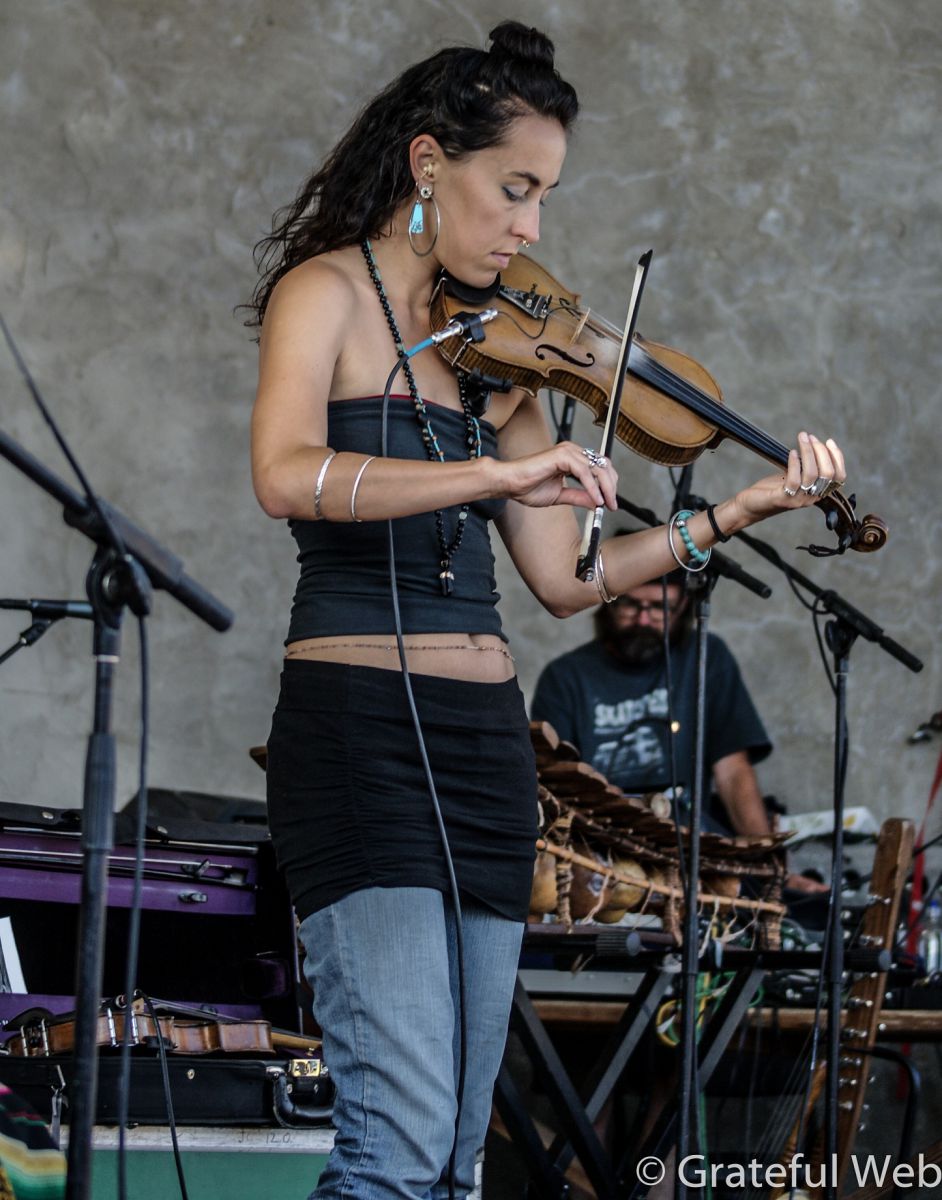 Rising Appalachia's set was varied and exciting, drawing a large crowd for their early evening gig.
Inside, The Giving Tree Band pumped out tunes for their return appearance at Music on the Mesa. Last year, I got a bit of their act but not the full sense of it. I liked what I heard, but my listening was colored by the bio I read of the group. I assumed it would be a very political band, much like Rising Appalachia, or a New Age ambient band. What I heard last year was just fun music. When I talked to the band and listened this year, I heard substance but not politics.
Everyone sings in this five-piece band, and vocal leads and harmonies are interchangeable. Instrumentation is spot on and varied. Their material ranges from songs with lyrics like "I Need Love to Keep Me Happy," that has a driving rhythm reminiscent of "Proud Mary," to songs that drop into boot-kicking hoedowns or pure rock and roll. They have a big sound.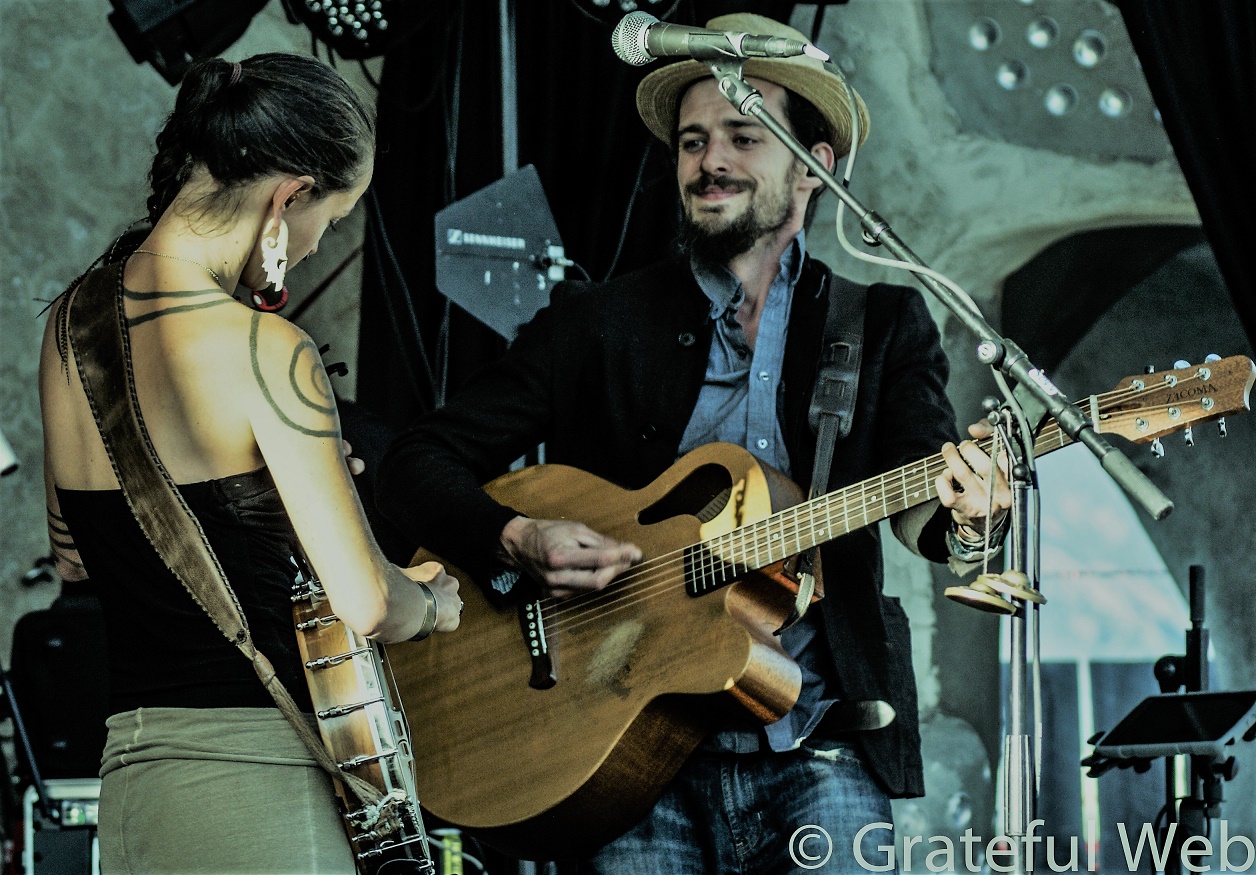 One of the guitarists, who also plays mandolin, shreds…often. The two other guitarists, (one of which also switches to banjo on some songs), share lead singing for most of the songs. Their vocal blends when they back each other up is tight and the harmonies sweet and often moving. Some of their material does drift into New Agey ambient space music, but it doesn't come from a synth. The mandolin/guitar player tweaked something on his effects foot pedal that spun the band along that route. They also did some solid Americana original songs as well.
"Frequency of Love," a song from their new album, was an odd one, compared to the rest of their set. It was a good solid song, but it took me a minute to get into it since it was so different from what had come before in their set. I need to sit with their new album to explore their work more, so a CD review will be coming in a couple of months.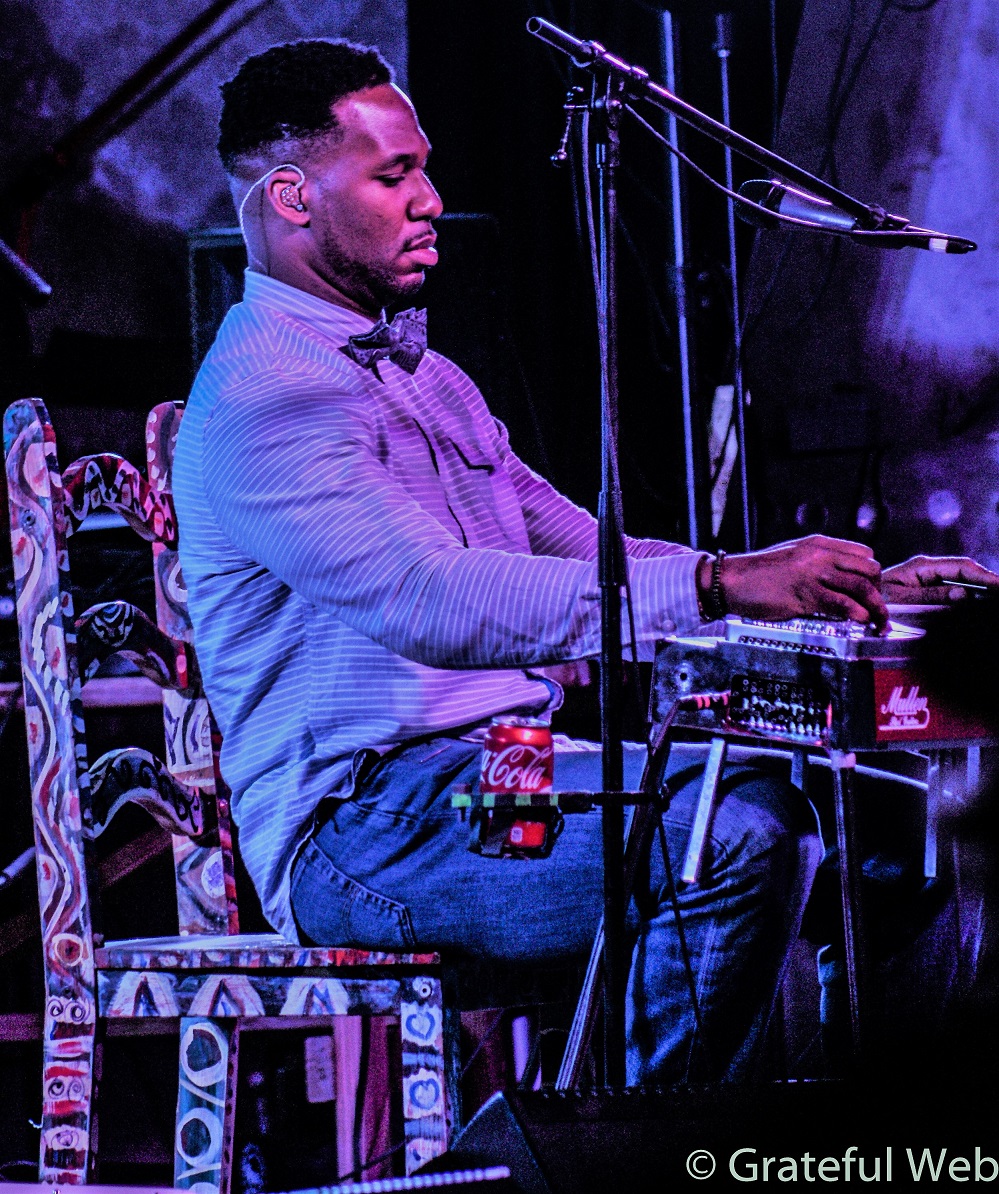 The headliner for the second day of the festival was Robert Randolph and the Family Band on the Amphitheater Stage. As expected with any Robert Randolph show, he started with church (or with the gospel sound) and ended with dynamite soul and rock and roll jams. His signature "I Thank You" has a foot in both gospel and soul and it was fitting he started his set with where his roots were. However, as I listened to this first tune, I realized he changed the lyrics from the original more romantic version he'd recorded, slipping in thanks for being saved and some references to the Almighty. It was sort of a blessing for his set. With minimal talk between songs, Robert Randolph and the Family Band delivered tune after tune for a dancing audience. The area in front of the stage was so packed I could hardly get through to get photos. But festivalgoers were courteous yet attentive, a signature of Robert Randolph fans. Song after song filled the night air and it was all over way too soon.
Local Taos' jammers Last to Know kept the party going on the Indoor Stage. Taos Mesa Brewery owner, Ryan Irions, added his mandolin chops to a great set. Part way through the set, Robert Randolph's Family Band stepped up on stage and added to the great gumbo Last to Know was cooking.
As I made my way back to the little vintage trailer onsite and with Last to Know's jams ringing in my head, I smiled as the second day of Music on the Mesa 2017 closed.