When we Yanks think about England, what comes to mind? High tea? Mary Poppins? The Queen Mum? The Stamp Tax? What about gumbo? How about fur-lined bucket hats and matching full length mink coats and platform shoes with the goldfish in the bottom? No? Allow me to spot you three letters and that should be a hint at where I'm headed: "U-N-K."
If used in a word which intends description of one of the many English contributions to modern music, these three letters are more often than not preceded by the letter "P." No offense to Johnny Rotten, but the "P" is hereby being replaced by an "F," thanks to the Leeds quartet, The New Mastersounds.
While these talented lads have, for the most part, been playing together for nearly a decade, the music scene this side of the Pond has only recently become privy to their sound as their pool of venues has extended beyond occasional opening act and festival performances in Florida, Colorado and California. Stops in Austin, Chicago, New Orleans and New York among others, have nearly doubled the frequency of their appearances in the US over the last 2 years, and while much of their recent success can certainly be attributed to management and aggressive marketing, let's go ahead and attach a significant value to good old word-of-mouth.
A snowy Denver welcomed the four gentlemen from Northern England back after a two-month absence to play at Five Points' historic Cervantes Masterpiece Ballroom this past Friday, and as usual, seconds into the performance anchored feet and quiescent heads were set in motion by nearly four hours of exquisite and deliciously nasty jams.
Beginning around 11:30 PM, Eddie Roberts (guitar), Pete Shand (bass), Joe Tatton (Keys) and Simon Allen (drums), got right down to business, treating the listeners to their ranging repertoire of jazz and funk-infused grooves and disco-laced beats. Breakneck tunes such as "Pure" (which carries a sort of "Viva Las Vegas" vibe) and "Nervous," were accompanied by jazzy numbers, such as "Coming Up Roses" and a cover of Neal Creque's "Windjammer."
Listening closely to Joe Tatton (a very welcome recent addition to the band) and his Hammond B3, one could detect gospel influences in songs such as "The Vandenburg Suite" and "This Ain't Work", as well as Ernest Ranglin-style reggae teases hidden within "Six Underground."
Four hours allowed the band the opportunity to expose the audience members to many of their originals, including the uber-funky "Better Off Dead" and the smooth and soulful "So Many Pies," while also providing them with a forum in which to display their interpretations of covers, such as The Meters' "9 'til 5" and "Live Wire." The ring for last call at 2:00 AM did not deter the majority of the constituents from bouncing along with the beats, further encouraging the band to press on well into the early morning hours, much to the delight of the crowd.
Although the New Mastersounds have been a regular festival invitee for the last couple of years, including sets at Langerado, High Sierra, and Jam Cruise among others, one should think twice before relegating them to the genre of "Jam Band," a label which more appropriately applies to a majority of the acts appearing on the festival scene these days. While there are certainly standouts in the category, one thing seems to elude many of the bands that does not the New Mastersounds, and that is the conviction it takes to just shut up and play.
With the New Mastersounds, vocals are a no-no; a fact not overlooked by the band members themselves, who are unashamed in their admission that, for the most part, singing is not their strong suit. Each of the members of the band is superbly skilled with his respective weapon of choice, and the instruments are the ones that do the singing.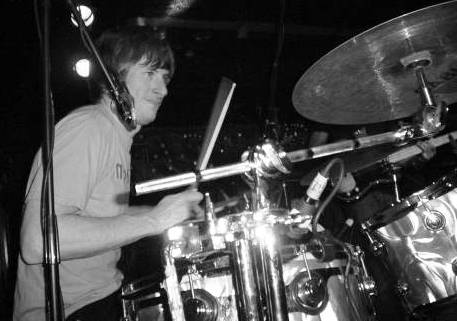 Roberts' form is jazzy, complex and very, very fast, and his style is complemented by Tatton's sassy and grinding keyboards. Allen and Shand are the glue that maintain the organization and stability, even though they display the freedom and autonomy necessary to produce the unique yet catchy tunes that don't, but could, easily spin off into the sort of free-form, chaotic oblivion seen in the extended songs of many of their so-called peers. It is no wonder that DJ's worldwide are repeatedly requesting the band's tracks for use on their mixes in clubs and Euro-style lounges.
Until the boys begin adding more dates to their visits to the States, many will have to "settle" for the band's increasing library of recordings, which, might I add, are each a treat in their own right. However, as in many cases, there is no comparison to seeing this band play in raw, real-life form, and I, along with the other attendees at Friday's absolute gem, look more and more forward to the release of tour dates indicating that they will be coming back to Colorado, for it is evident that they bring to it their "A" game.