The last couple of years New Monsoon have remained relatively quiet in the jam circuit. They haven't released a studio album since 2007, and they have been touring only sporadically, performing at a number of festivals and mostly West coast shows. The group has also gone through numerous lineup changes, losing three drummers and a handful of bassists, before finally settling in with the current five members. But the funny thing is....they have never sounded better, evident through this show release Live at the Hopmonk Tavern.
The percussion-driven 7-piece group they began as ten years ago has been whittled down to a solid five-man rock band. The transition did not go smoothly at first, but the new decade is seeing a collective performing as boldly as ever before. Live at the Hopmonk Tavern, recorded this February during a night in California at one of their favorite venues, paints a perfect picture of how this band has overcome their obstacles to become what they are today: a remarkable band blending American blues, classic rock, funk, and Middle-Eastern rhythms.
From the smoking show opener "Southern Dew" to the closing, dead-on delivery of the Who's "Eminence Front" the band performed brilliantly this night. Maybe it's the small local venue, or possibly the lighter tour load from this year that allowed the group to play with such freshness. Or maybe being able to fly under the radar as they have the last few years has taken off some of the pressures of the industry. Whatever the case New Monsoon is a band that although gets sometimes overlooked, is one of the more talented groups in the jamband scene today.
Older fan favorites such as "Blue Queen", "Daddy Long Legs", and "Rattlesnake Ride" are played as well as they have ever been, while newer titles like the psycho-funk "Trippy Keys" and the bluesy "Greenhouse" show that the band prefers to encompass all genres into their repertoire.
Always adapt at stretching the boundaries of song structures, the boys show off their incredible talent of improvisation through dynamic jams heard during a 13-minute "Gelstream" (listen to bassist Marshall Harell and drummer Sean Hutchinson get dirty on this tune), as well as an extended "Painted Moon".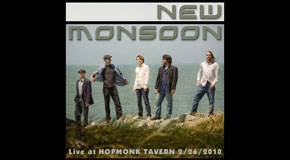 Core members Bo Carper (guitar/banjo), Phil Ferlino (keys), and Jeff Miller (guitar) have been with the group since the beginning and are the true ring leaders of this gypsy band. Their presence and effort has never been tighter and their talents shine brighter and brighter with each performance. Listening to this show, it became clear why these three musical troubadours have wanted to keep New Monsoon alive during their periods of ups and downs. They understand that with time comes chemistry needed to create the "right" music. And these days they are playing like a well-oiled machine.
The other thing that becomes very clear with this performance is that Jeff Miller has become a truly great rock guitarist. He has always been talented, but many times his skills got lost in the shuffle of the percussive sound this band was founded on. With the chance to step forward as he has in the last few years, Miller has proven he can hang with the best around. His gritty rock riffs and face-melting solos displayed during this performance showcase his exceptional abilities.
Though Live at the Hopmonk Tavern is not an "official" CD release, such as last year's New Monsoon Live (also a great collection), it is still probably the most intriguing of their catalog and is a must-have for any New Monsoon fan, as well as an ideal vehicle for any newbies looking to chase the storm.
Digital download and CDs can be purchased through Live Downloads.